The Best Cebu Restaurants to Splurge Over $40 On
When you marry food with luxury, it's certainly going to be a rewarding experience. Here's a list of our top 5 restaurants you can dine at for $40.
Cebuanos love to eat, evident in the fact that many restaurants and food spots are popping up all over the island. It's almost as if food is one of the few things that they wouldn't mind spending on. That being said, reward yourself with a luxurious meal at one of these restaurants. We made a list of dishes that are a must-try at these restaurants — we guarantee that you won't regret it!
COWRIE COVE
Punta Engaño Rd, Cebu, 6015 Cebu
Described in the Philippine Tatler's Best Restaurants 2011 as a menu that showcases "the best seafood dining", Cowrie Cove's selection of dishes promises pleasure for the palate. Enjoy a sumptuous selection of fresh seafood, succulent steaks and Asian-inspired dishes.
For starters, order Cowrie Cove's Spanish mackerel confit and quinoa salad with organic tomatoes, ricotta and lime. Priced at Php505, this is their signature dish. You can also opt to go for another of their signature dishes, which is their caesar salad with grilled prawns, croutons, anchovies and parmesan shavings, priced at Php500.
Moving on to the main dish, if you're up for seafood, why not try their slow-cooked octopus with Bohol prawns and potato confit? It's priced at Php575, but if you're not a fan of seafood, you can try their organic chicken and foie gras with corn congee and champignon, priced at Php560 — it's also one of their signature dishes. Or, if you're a vegetarian or just feeling a healthier option, they have a green tagliatelle with spicy tomato and sautéed spinach, priced at Php380.
And of course, dessert! Try their chocolate semifreddo with greek yoghurt and mango tartar, priced at Php280.
ABACA BOUTIQUE RESORT
Punta Engaño Rd, Lapu-Lapu City, 6015 Cebu
Abacá Restaurant provides a full service California-Mediterranean inspired restaurant and bar. Their menu – which uses the finest local and imported ingredients – was developed by their executive chefs and includes wood fired oven roasted meats and seafood, homemade pizzas and pastas, freshly baked breads, tapas and a wide array of salads and appetizers. The award winning restaurant is open to the public for lunch and dinner.
For your appetizer, you can ask their staff for their daily soup, priced at Php395. Their salt 'n pepper calamari is good too, with chili salt, lemon and traditional aiolo — priced at Php475. You can also opt for their Caesar salad with crisp egg, smoked bacon, lemon and a creamy parmesan dressing, priced at Php545.
Their wood-fired flatbread pizzas are also popular; try their prosciutto variation, with fire-roasted onions, mozzarella, parmesan and arugula, priced at Php525.
For the main course, their slow-roasted lamb shank paired with a creamy garlic mash and glazed vegetables is heavenly, priced at Php895.
To finish your luxurious meal, try their Tahitian vanilla creme brulee, priced at Php165, or their homemade fruit sorbet, Php165.
ENYE AT CRIMSON RESORT AND SPA
Crimson Resort & Spa Mactan, Seascapes Resort Town, Soong, Lapu-Lapu City, 6015 Cebu

Nowhere else but Spain boasts tapas with such intricate flavors, so Chef Chele Gonzalez has come home to Cebu and brought his family's kitchen with him. Enye is quite the pleasant spot where the surprising aesthetic never surpasses the combination of amazing flavours.
Start off with their flavourful jamon y parmesano, with Serrano ham and parmesan mousse on toasted sliced bread, Php85. Or try their charcuteria or cold cuts, particularly their degustacion jamon that has Serrano and Iberico ham, Php390. If you're up for seafood as a starter, you can have their gambas al ajillo, which is shrimp sauteed in olive oil with garlic and chili, Php460.
Their paella negra, or black ink paella with squid and octopus, is an indulgent main course, priced at Php690. Paired with a refreshing cucumber mule – made of cuke, ginger, ale, fresh lime juice priced at Php220, this makes for a pleasurable gastronomic experience.
Of course, you can't have a luxurious meal without dessert! Try their tarta de chocolate y helado de vainilla, a chocolate-orange tart with vanilla ice cream, Php290.
PIG AND PALM
Negros Rd, Cebu City, Cebu
The Pig & Palm is the first Filipino restaurant from Michelin-starred British chef Jason Atherton and his wife Irha Atherton. Located in Irha's hometown of Cebu, the restaurant offers a modern Spanish tapas menu with a focus on pork dishes. An adjoining bar serves innovative cocktails and bar snacks.
Their beef and foie gras mini burgers (that have bacon, cheese, onions and tomato relish) are very filling, priced at Php690. They also serve a pork truffle mac n' cheese with toasted breadcrumbs, priced at Php595. Or, if you're trying to keep away from eating pig (even though it's evident that their menu revolves around pork), you can have their beer-battered fish and chips with tartar sauce at Php810.
To finish your meal, try their matcha Cheesecake with raspberry, yuzu (Japanese orange) and white chocolate, Php380. You can also pair your meal with one of their many wine choices.
KAYU
32 Sanson Rd, Cebu City, Cebu
Taking inspiration from the world, KAYU's modern-fusion cuisine uses only the freshest and finest ingredients cooked with Chef Francis "Izzy"Sy's imagination and passion. KAYU is derived from the Bisaya word "kalayo" meaning fire or passion.
Start off your meal with their shishito peppers, priced at Php150. Or try their beetroot salad with goat's milk ricotta, tzatziki and guave gel, with an orange garam masala vinaigrette, Php270.
As an entree, try their braised shortrib with cornbread puree, braised shallot, beech mushroom and a demi glaze, Php950. Pair this with their virgin mojito, Php100.
To finish your meal, get their "potted" chocolate tiramisu, made of sabayon, a crunchy hazelnut meringue, coffee sponge cake, chocolate "sand", strawberry gelee and vanilla sauce, Php240.
The Uncommon Traditions that Mexicans and Filipinos share when celebrating the Day of the Dead.
Dia de los Muertos
By Allain Dumon Fonte
The 2nd of November is All Soul's Day, a holiday that is very important to many Filipinos to remember our loved ones who passed on. This is also widely celebrated in Mexico as "Dia De los Muertos" or in English, "The Day of the Dead". And Mexicans celebrate the 2nd of November grander than they celebrate Christmas. Well, you can witness it from the Disney movie, "Coco".
As All Soul's Day or Dia de los Muertos is about to end, here are some interesting traditions and superstitions that Filipinos and Mexicans share:
1. IT IS NOT ON THE 31st OF OCTOBER
Dia de los Muertos or All Soul's Day is not practiced on October 31st or on the Hallow's Eve as many other western cultures practice; but we celebrate it on the 2nd of November. We celebrate November 1st as All Saint's Day or the Day of the Holy, while in Mexico they call it Dia de los Innocentes or Dia de los Angelitos to commemorate the children who died too early in life.
2. THE RITUAL
Both in Mexico and in the Philippines, we visit the grave of our loved ones and we clean it well. This is a ritual to honour their resting places and to let them know that they are never forgotten.
3. FLOWERS INVITE SPIRITS
In Mexico, they believe that the scent of flowers attract spirits. So the flower offerings are invitation to their dead loved ones to visit the living families. While in the Philippines, we believe that flowers offered to the dead exalt the souls and somehow fill in the sadness that we feel when missing our dead loved ones.
Most of the time, Filipinos choose all-white flowers to offer because white is the absence of colour, which means the absence of Joy and happiness. White also symbolises purity of soul which we hope our dead loved ones will attain as they journey to heaven. While in Mexico, they have the yellow Mexican marigolds as the official flowers of the dead that will guide them in their journey to the afterlife.
4. THE LEGEND OF THE MONARCH BUTTERFLIES
Both cultures believe that monarch butterflies are dead loved ones who visit us and show their appreciation that we have not forgotten them. A presence of monarch butterflies also means that our dead loved ones are always there guiding us and looking after us.
5. A PICNIC IN THE GRAVEYARD
Spending a night at the graveyard and picnicking with the rest of the family may sound very creepy to many; but to both Filipino and Mexican cultures, picnicking and spending a night at the cemetery is a must to show our love to our dearly departed. It is the only time in the year that families gather and tell stories of the dead loved ones and how colourful or how great their lives were.
6. FOOD FOR THE DEAD
In Mexico, they have what they call "ofrendas" or an altar where the pictures of their dead loved ones are displayed and offered with flowers, candles, and their favourite food. Very similar to the Filipino culture of cooking the favourite food of our dead loved ones and everyone in the family enjoys the food for dinner.
My family tradition involves me driving all the way to Colon street and buy that famous Snow Sheen's "pancit canton". This is my granddad's favourite snack. Sadly, the old Visayan Restaurant is no longer there. My late uncle and my late grandpa love their sweet ad and sour fish. We also set up an "ofrenda" on their graveyard and eat their favourite food while picnicking in the cemetery. We do not spend a night in the cemetery; but while we are picnicking there, we usually play the songs of Pilita Corrales and Susan Fuentes that my late grandpa used to listen every afternoon while enjoying his coffee, pan de sal, and pancit canton.
What about your family traditions? Share your thoughts by commenting to this article.
MODEL: Michael Joseph Mortola Enriquez & Alexis Wingfield
PHOTOGRAPHER: Gianne Paolo Anciano
HMUA/DESIGNER: Hazel Ocaba
STYLING: GPA Lifestyle + Clothing
Catch Ted Lasso the Emmy Award Winning Comedy Series on Apple TV+
Rating: *****/ *****
The multi award–winning comedy series airing on Apple TV+ is one of my favorite shows.  Ted Lasso starring Jason Sudeikis is about a fun good-natured American football coached hired by a British soccer club (AFC Richmond in London) to become their new coach.  In spite of the fact that Ted has no experience or knowledge about British football/soccer, his positive demeanor and charm helps him overcome the animosity of the team's players, staff and fans.  Eventually Ted wins over the team and the locals as they fight for position in the English Premier League.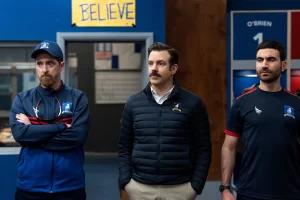 The show won the 2021 Primetime Emmy Award for Outstanding Comedy Series and 7 Emmy Awards in its 2 seasons and Season 3 is just around the corner.  You can catch Seasons 1 & 2 of Ted Lasso on Apple TV+
PANDEMIC DIARIES: Twelve Months Later
Photos taken by Pablo Quiza around Cebu City during the months of March, April and May 202
AS WE APPROACH ONE YEAR under pandemic times, we look back at March 2020 with fascination. And awe. We had 12 months of lockdown and survived the so called new normal. We lived with masks and alcohol even today. Carless roads and dark malls. Those were the early days of March, April and May.
It stretched to October and past Christmas. No Sinulog. Virtual parties on Zoom and virtual mass on You Tube and FB Live. We debated on the best meds to take if we get sick and whether to wear masks (please do!). We scampered for face shields and anti-viral sprays. Vitamins C and D and zinc. Later, we survived being swabbed and we learned the difference between a PCR and an anti-gene test. The latter cost less.
We dreaded the declarations of IATF mandated from Manila. And we got mad at the police chief who had a birthday party while his people were busy locking up everyone violating the lockdown. Most horrifying of all, we needed to produce IDs! Are you a resident of Barangay Lahug or Banilad? Are you employed and why are you still working? Everyone suffered thru endless checkpoints. Most sad of all are those using motorbikes, they seem to get the raw end of the deal since those with cars are not as scrutinized. We managed to trick the system by putting a big handwritten note in front of the car: COMPANY CAR, and zipped tru the police desks in the middle of the road. Don't even think of travelling, by plane, boat or bus. The collection of the required documents is enough for one to get exposed to Covid.
We learned to shop online, order groceries and necessities thru delivery. We slowly moved towards cashless payments. Gcash and banks like Union Bank and China Bank with friendly apps are heroes for making life easy for most of us to spend what little cash we have to spend on Lazada or pay the VECO bill. Oh and we binged on K dramas on Netflix and You Tube, kamsaminada.
As 2021 enters, there are some good news. For those obsessed with news, you already know that 7,000 vaccines arrived last March 2 in Cebu, with more expected in the next few weeks. The death rate is not as high among those who caught this pesky virus, which tells us that doctors in the hospitals have some proven expertise in dealing with Covid. More cures should be in the horizon.
Meanwhile, lets continue dreaming of the day when we can cross borders again, even if its just Bohol or Boracay, Bangkok or Hong Kong. Ready those luggages and bags bought during the 3/3 sale in Shopee in preparation for the day when we can take the ferry or the plane for new adventures.