Here's why Ethiopia is the newest addition to your travel bucket list
With a rich culture and history (including significant archeological discoveries), this Cradle of Mankind is a destination you should want to visit.
If a country's unique way of life and history is what gets you going, you have lots to 
get excited about in Ethiopia. What is remarkable about this empire on the Red Sea in northeastern Africa, is its cultural heritage, being home of the Ethiopian Orthodox Church, considered one of the oldest Christian churches in the world.
Apart from a five-year occupation 
by Mussolinis' Italy, it has never been colonized and the monarchy ended only in the coup of 1974. But to fully experience and understand Ethiopia's distinctive culture and history, the best way is to visit the various sites that dot the region. From museums and castles that define its origin, to exciting tours and townships and quaint villages, there's lots to see and do. Upon arrival we were met by Henok Tsegave, a knowledgeable tour guide who promised everyone an unforgettable experience in Ethiopia. And we were more than eager to start our adventure.
Addis Ababa is the capital city of Ethiopia and Africa's undisputed diplomatic headquarters of the African Union. Interesting sights include the merkato, the sprawling market that's home to anything and all things Ethiopian that you'd ever want to purchase, from pungent spices, to other interesting paraphernalia. Centrally located is the Radisson Blu Hotel which sets new standards for the discerning travellers. Combining excellent service with ultra-modern rooms,
a world-class restaurant and a well-equipped business center makes Radisson a perfect base from which to explore Ethiopia and its neighboring towns.
The National Museum houses artistic treasures as well as many of the most precious archeological finds such as the fossilized remains of early hominids the most famous
of which is "Lucy", the partial skeleton of a specimen considered
to be the earliest child. Why Lucy? Interestingly while the fossils were dug, the popular Beatles song entitled Lucy in the Sky With Diamonds was being played repeatedly.
Lalibela (The Eight Wonder of the world) is a town on the north famous for monolithic rock-cut churches and is considered one of Ethiopia's holiest cities. Each church was carved from a single piece of rock to symbolize humility and spirituality. It has been said that they were built with the help of angels, as they are exquisitely chiseled in the stone.
Among the churches we visited 
was Bete Medahine Alem, House of the Redeemer which is the largest with a vaulted dome, four aisles and 72 pillars. Bete Maryam, House of St. Mary is the most decorated among the rock hewn churches. Isolated from the others and undoubtedly the most famous is Biete Ghiorgis, the Church of St. George which is carved like a cross out of the red rock. The interior has no pillars, but four cross-shaped posts are connected
to the central part. All the eleven churches in Lalibela are UNESCO World Heritage Sites and represent a unique artistic achievement, in their execution, size and the variety and boldness of their form.
Gondar, the 17th century capital of Ethiopia and popularly called the Camelot of Africa was home of many Emperors and warlords, kings and courtiers who led the country from the 12th century to the last decade of the 20th century. Unfortunately, several historical buildings were damaged by British bombs during Ethiopia's liberation campaign of 1941. Nevertheless, most of the famous castles and imperial buildings survived the ravages of time and form one of Ethiopias's most captivating antiquities.
Bahar Dar, the third largest city in Ethiopia is situated on the southern shore of Lake Tana, the source of the Blue Nile, the longest river in Africa. Its main attraction is the selection of Ethiopian Christian monasteries which are found on some 20 of Lake Tana's 37 islands. The monasteries date from the 16th and 17th centuries and have changed little since their founding. They are simple huts decorated with colorful scenes from the Bible and lives of the saints.
Ethiopians are a creative bunch and everywhere you go, something colorful and striking will catch your eye. Whether it is the beautiful crosses and other religious objects masterfully created by silversmiths, or the intricate beaded works made by the local women , there's plenty to choose from. What's more, the arts and crafts are totally inspired by their past and include unique offerings like wall-hangings, basketry, etchings and other outstanding selections.
So how does one get there to experience the many exciting and exotic adventures? Ethiopian Airlines, Africa's largest airline and aviation technology leader, recently welcomed its 787 Dreamliner, a new-generation Boeing aircraft, that services the Manila-Addis Ababa route. It has won several awards for its exceptional international services playing a significant role in connecting Africa to the rest of the globe.
Ethiopian Airlines flies to Addis Ababa from Manila with a brief stop in Bangkok three times
 a week. To celebrate the launch of its Dreamliner service to Manila, Ethiopian Airlines offers special round trip prices for both economy and business class.
Today's Ethiopia is more than a must-visit destination. It's transcendent and magical with a flair found nowhere else in the world, a spirit as expansive as the landscape with many opportunities and lots of soul. Go fly and enjoy it.
Get Lost in this Not-so-distant Island Safari Paradise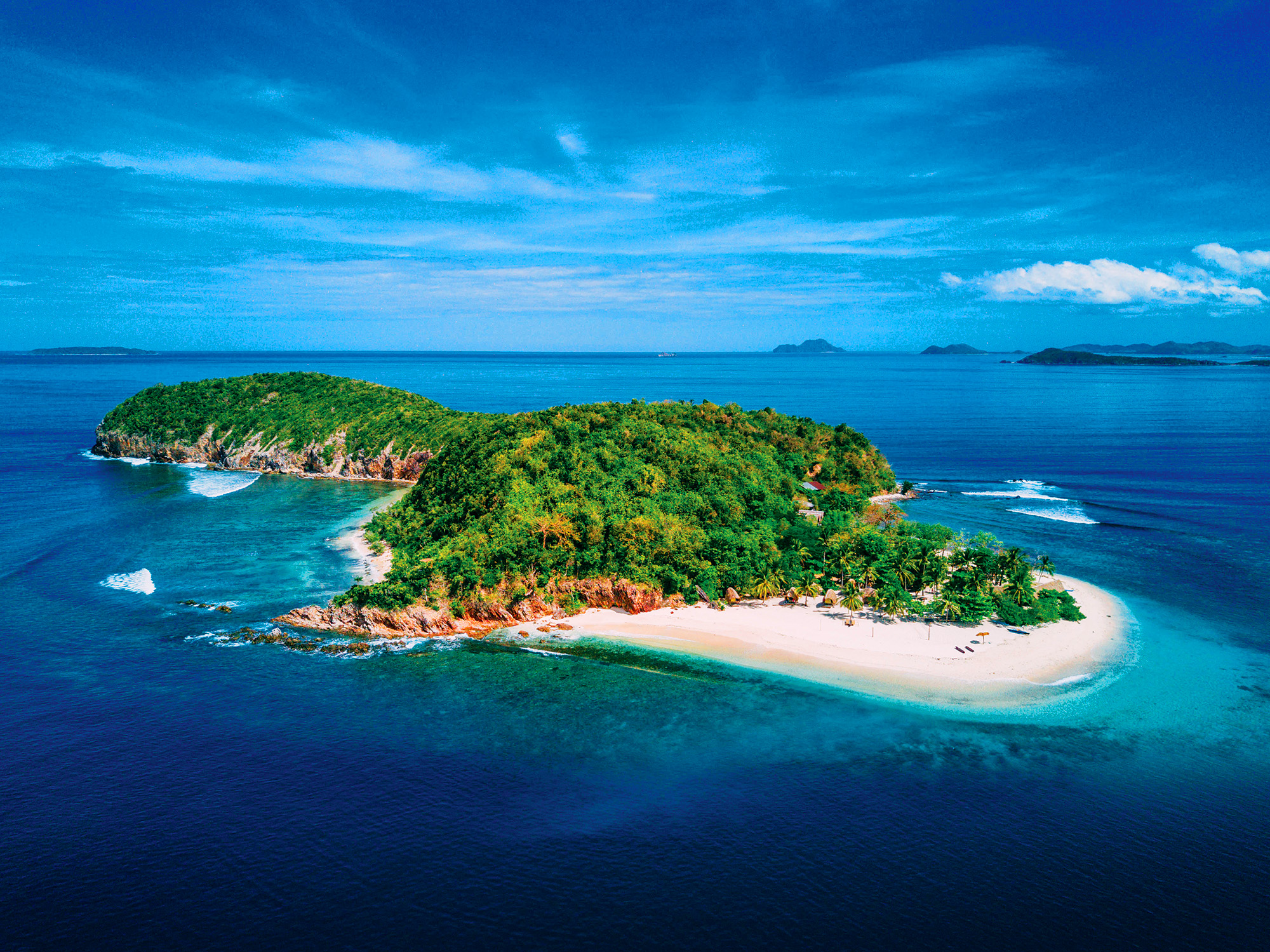 LOST IN PARADISE
Tao Philippines Crusoe-style deserted island camp paradise is perfect for those who understand the luxury of simplicity and disconnection.
by Melo E. Esguerra photography by Scott Sporleder
Just when you think Palawan is fast becoming a second Boracay, where congestion of concrete buildings and human bodies have begun to define the island experience more than the pristine beaches of white powdery sand, the Lostboys of Tao Philippines came up with a new island project that guarantees an escape to paradise. They call the island Camp Ngey Ngey.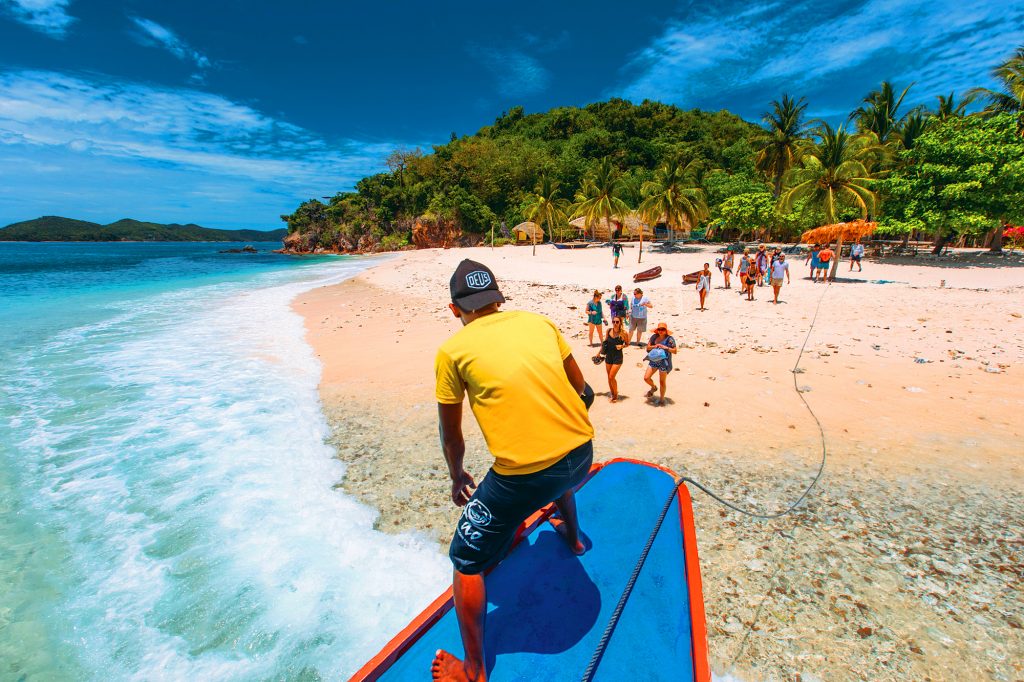 The Lostboys have taken over the abandoned resort of Manguengey in Busuanga, a remote island in Palawan. They have kept the ruins from the typhoon and built their signature bamboo Tuka huts around the main beach of the island, which serves as the camp area. Just a short walk away you'll find jungle trails that lead to three other wild beaches, preserved reefs and windswept cliffs encompassed by crystal blue waters. And on certain days, when the winds are strong, one side of the island becomes a good site for surfing.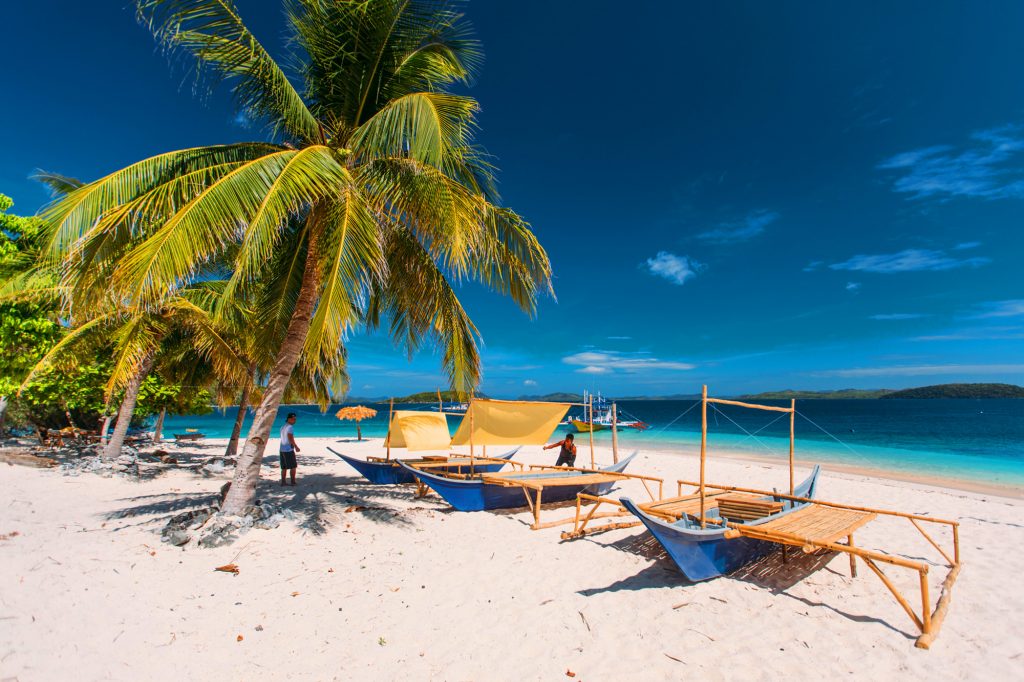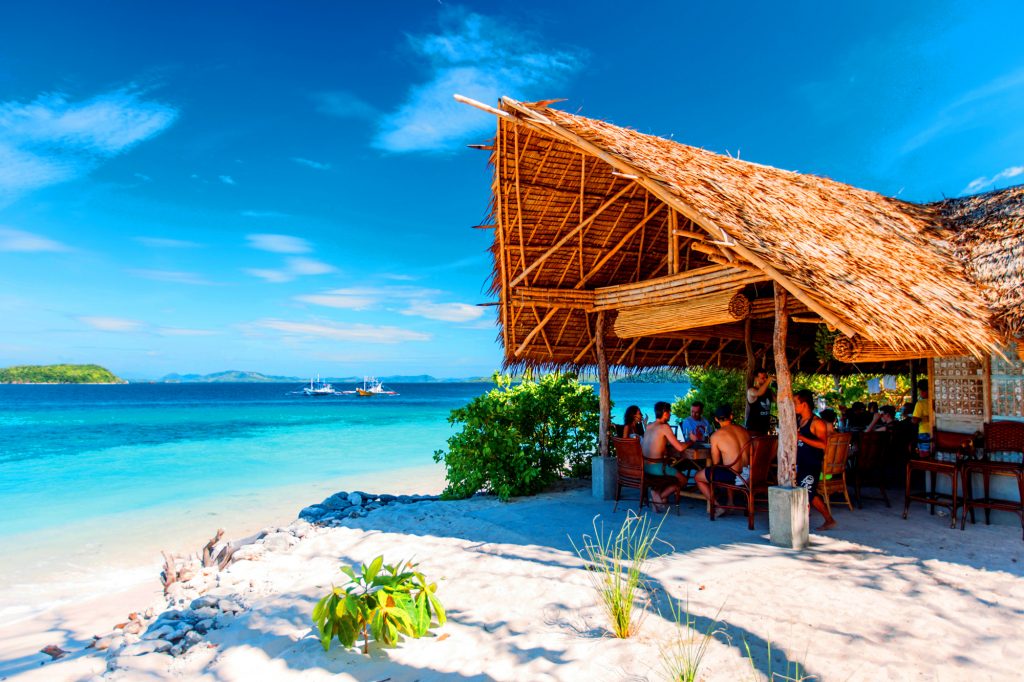 Eddie Brock, one of the founders of Tao Philippines, explains how this concept of an island safari came about. "When we took over Manguengey Resort, we were stuck with the idea of how to run it. We do not know how to cater to resort guests, the individual choices and needs, and menus," he admits. "Tao's expertise is to show travelers something new, something more raw and adventurous. We decided that we will not worry about things we don't understand, and stick to what we do best. One of the best aspects of a Tao trip is creating an atmosphere of connecting with other travelers, disconnected from digital clot—without the worry of planning, wallets and keeping a status. Five days out in the remoteness with the islanders in control leads to a positive attitude: guards down, inhibition is off and open to meet new friends."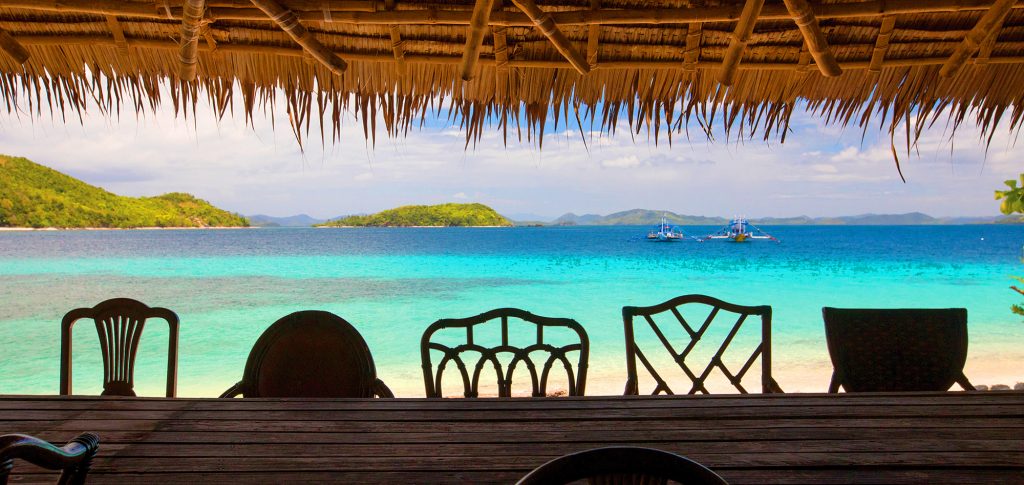 The camp is accessible through the three day/two night boat safari from Coron, with beach and reef stops en route the camp and back. Guests will be joining other travelers, staying in individual Tuka huts dotted along the beach. There are lounges, a dining and kitchen area, and open hang-out places. Currently, the big mansion from the old resort is being restored into a villa that can accommodate a family or group of friends.
The island can be reserved for big events like weddings, parties and other meaningful gatherings.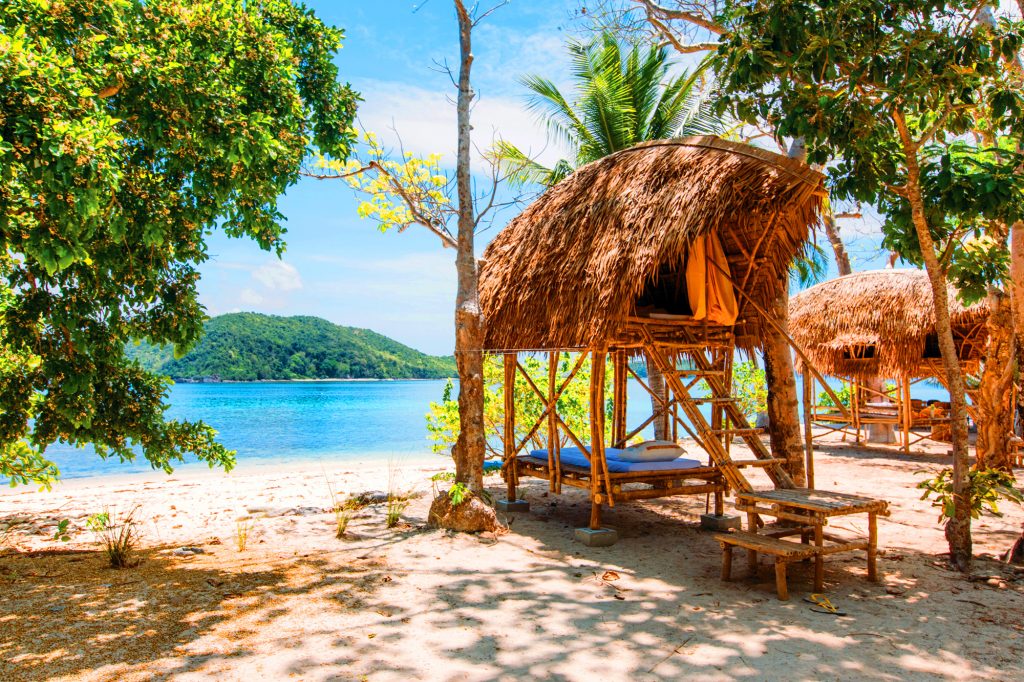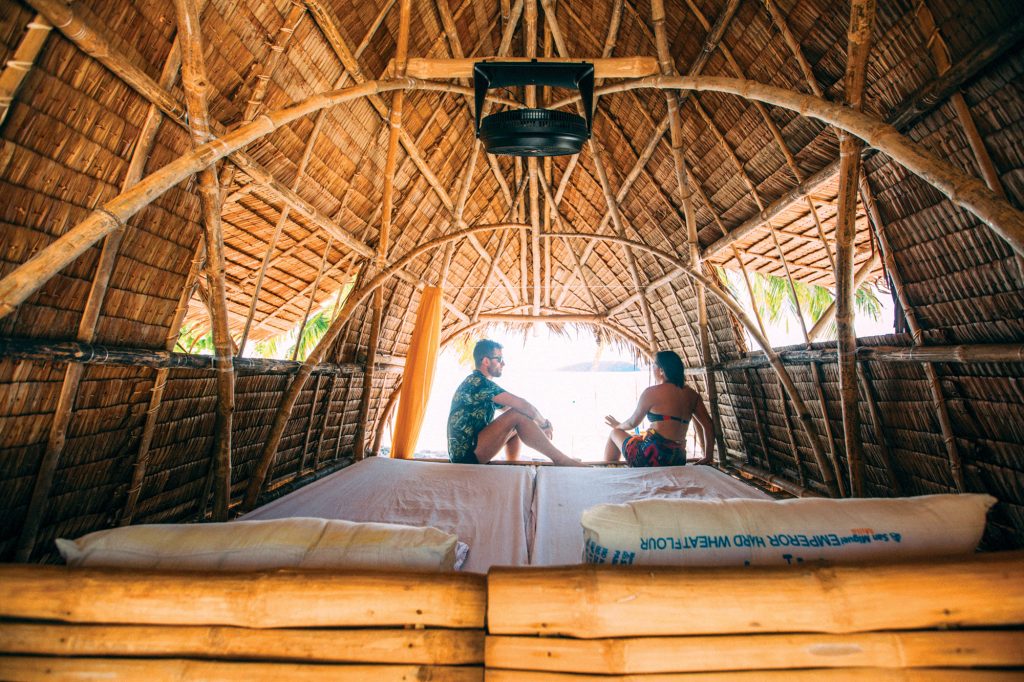 In the island, there is no room service, no menus, no WiFi. You will arrive as strangers, you will eat together, swim together, laugh together, drink together, and get to know each other offline. Become part of the magic of Tao, and see what happens!
For more information on how the trip to Camp Ngey Ngey works, log on to www.taophilippines.com
(This article has already been published in Zee Lifestyle's June 2017 Men's Issue, "Lost in Paradise" on pages 110-113.)
THROWBACK THURSDAY. Our Stylish Voyage on a Boat with Loida and Richard
FOR SAIL
With hosts Loida Montesclaros and Richard Forteau, we take entertaining to the high seas.
by Shari Quimbo photography Steffen Billhardt
The sky was decidedly gloomy on the Sunday afternoon Loida Montesclaros and Richard Forteau invited a small group of us for a sail, the clouds getting darker as I make my way to Porter's Marina, where the Blue Planet was docked.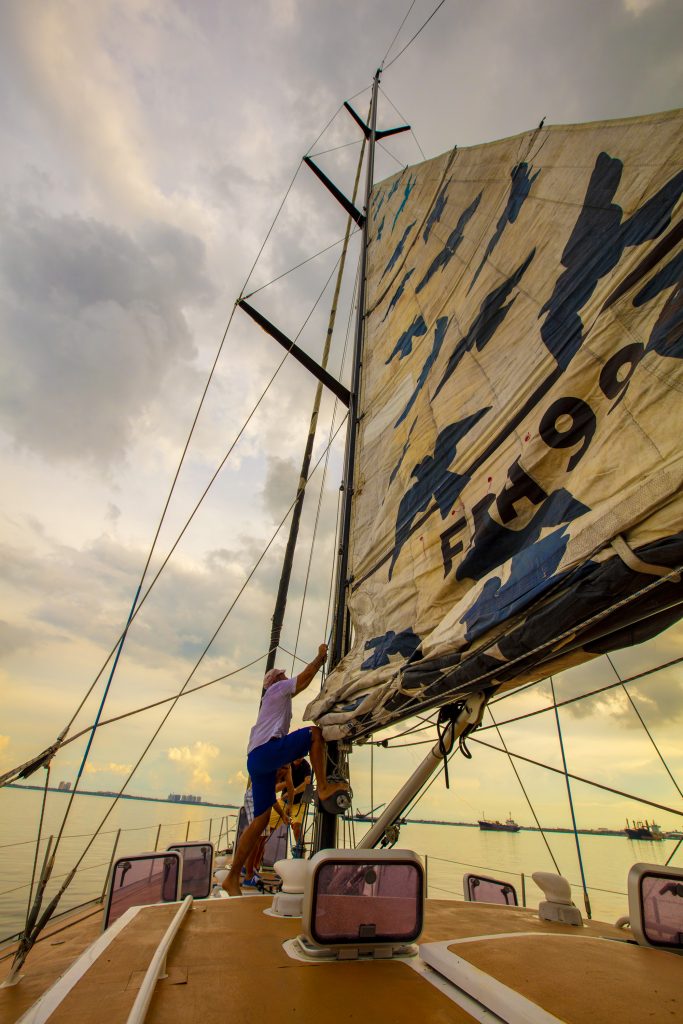 "Richard built the boat himself in Cebu," Loida explains, going on to share that he was the former honorary French consul in Cebu. "It was built here, and I designed the interiors."
All that work certainly paid off—Loida and Richard would often sail the boat out to different Philippine destinations such as El Nido, Siargao, Boracay and the Gigantes Islands in Iloilo. These could mean days-long journeys that sometimes meant dealing with some rough seas. Quick day trips, much like the one we were about to embark on, were also a regular past time.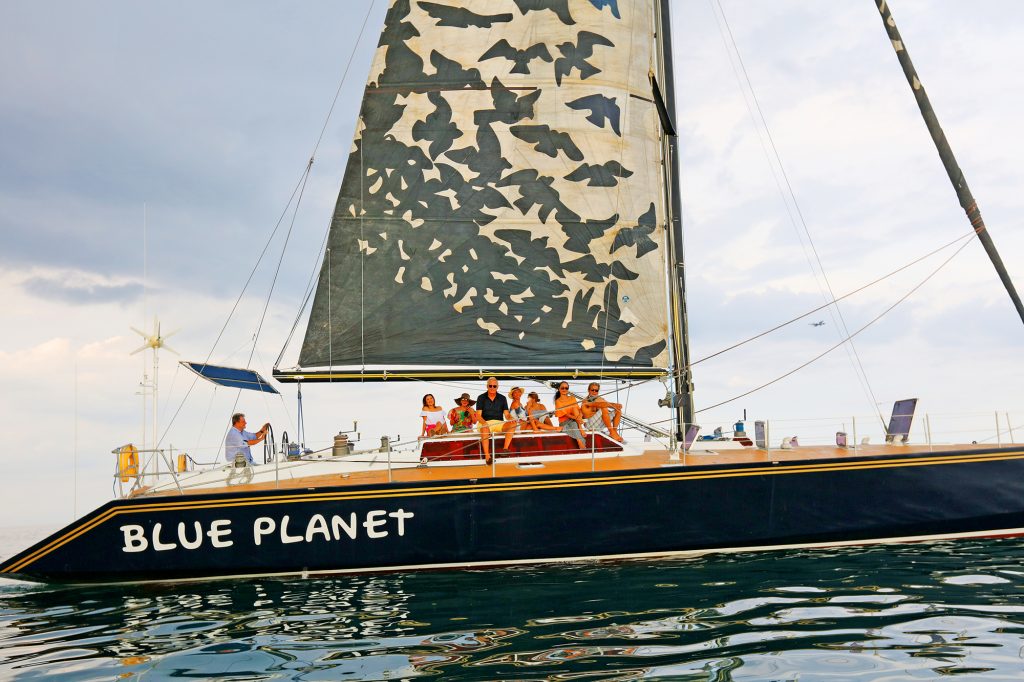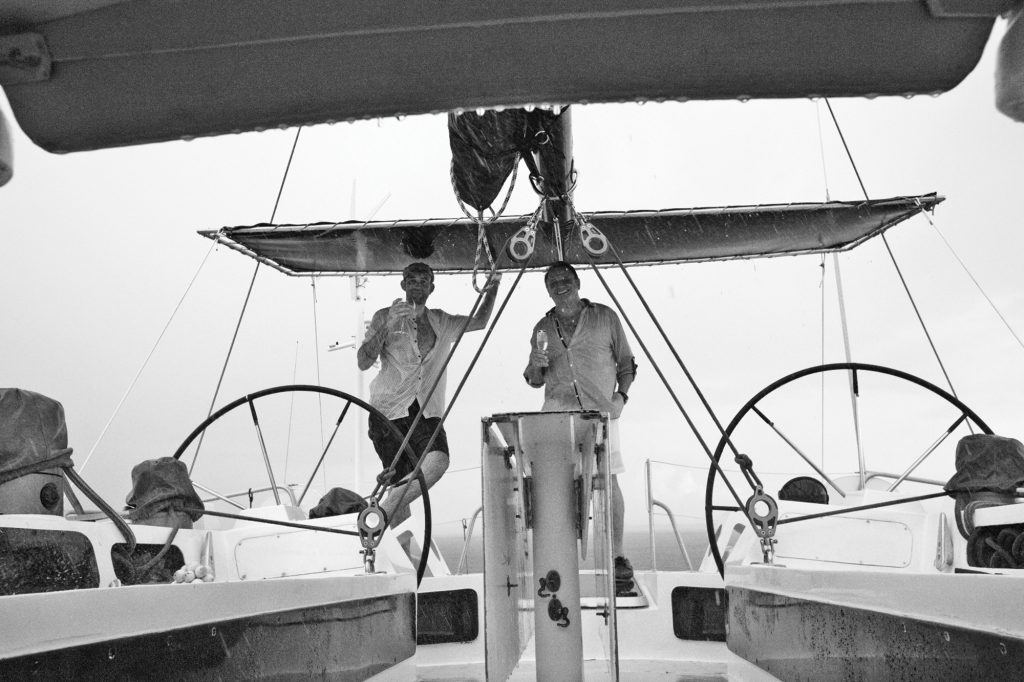 Loida gives me a quick tour of the boat then shows off her tropical spread. With its bright blue and white floral seating, the cabin's dining area is already a pretty festive site. "I wanted to keep it simple," she tells me, arranging her fresh fruits around on the banana leaf-covered wooden slabs she was using as serving trays. "And I wanted it to look more local, more tropical. We are on the water, after all."
The bamboo slats of the dining table were the perfect backdrop to Loida's spread, which featured tropical fruits alongside an entire roll of lechon belly, fresh lumpia, empanada and steamed shrimp.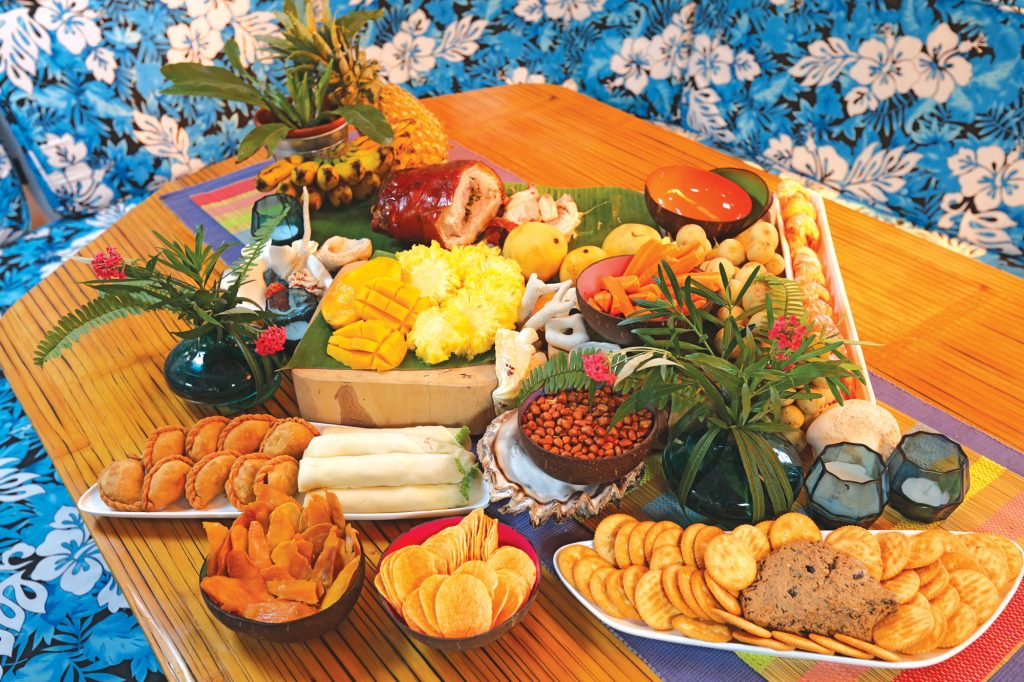 The highlight of the table, though, was the chicken liver pate, a dish that Richard makes himself. "Luckily, the French love to cook," Loida jokes conspiratorially.
Finally, it was time to take the vessel out onto the high seas, and the group makes its way above deck to enjoy the view. The cool sea breeze was a bit stronger than usual, something that had to do with the dark rain clouds looming above us—something that would have deterred any other group, but not this adventurous bunch. Armed with a glass of champagne in one hand and a biscuit smeared with pate on the other, many stand against the railing, admiring the sight of the sky turning orange above the Mactan Channel.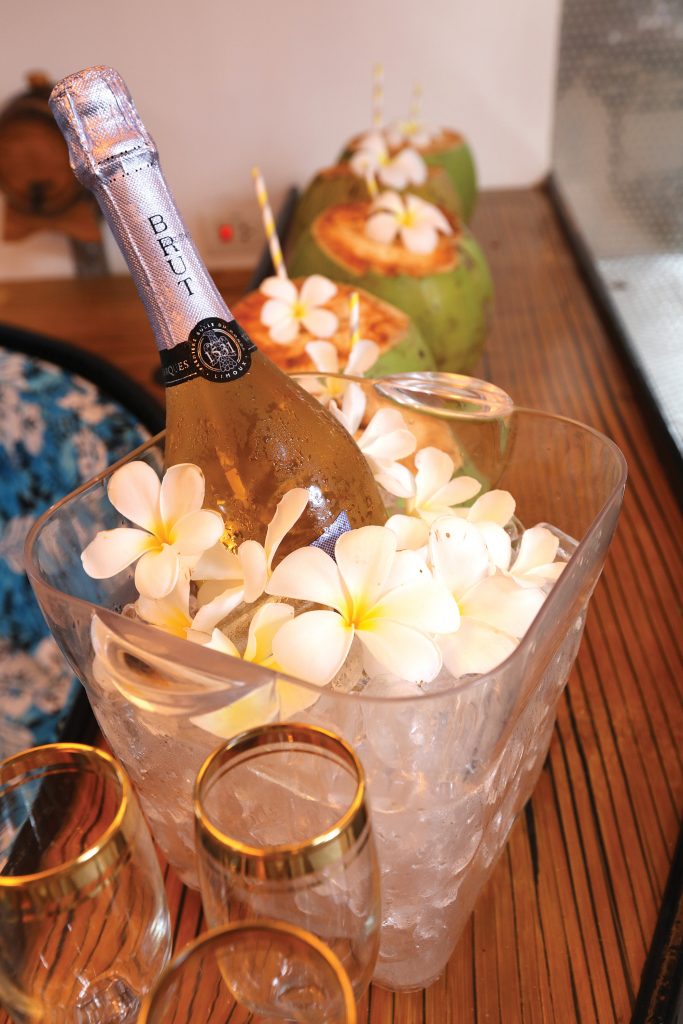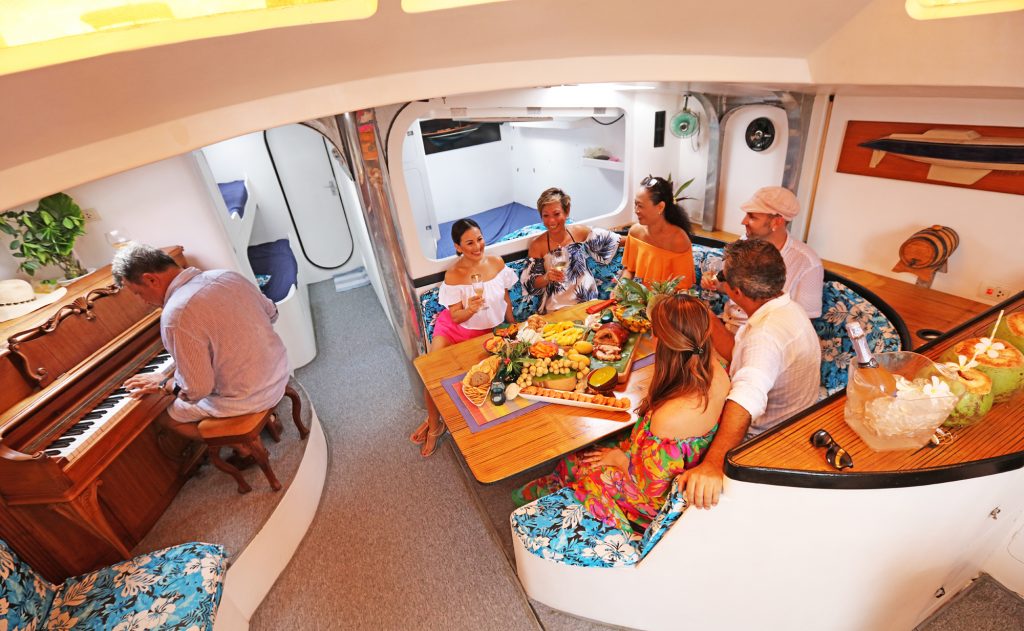 And then it starts to pour. No matter, though—as the rain pounds against the deck, the party finds its way down below. A bottle of wine is opened, and then another, while a second pot of pate is transferred on a plate. Our captain waits until the waves calm before he brings us back ashore.
(This story has already been published in the printed edition of Zee Lifestyle Magazine's November 2016 issue as one of the Entertaining Features on pages 82-85.)
Experience authentic Korean Barbeque at Da-In Restaurant
Filipinos are crazy for Korean barbecue. As such, there are a lot of places that are offering Korean barbecue. But Da-In restaurant isn't just one of those restaurants.
Located in Salinas Drive in Lahug, Cebu, Da-in restaurant is a joint project between the Creative Cuisine Group and Da-Won restaurant. With state-of-the-art grilling stations in each table and various Korean cuisines ready to be served, Da-In would surely sate your Korean barbecue cravings without any hassle.
Visit Da-In restaurant today!