4 Restaurants in Cebu You Probably Haven't Tried Yet
We check out some of the newest restaurants in the city that will inspire your wanderlust.
One can never go to too many restaurants. It's always fun and exciting to try new flavors, especially for foodies like the Cebuanos. With that in mind, we give you 4 new restaurants you should try. You can thank us later.
Palermo
by Patty Taboada
You can never really go wrong with Italian food, so heading out to Mactan Island for some pizza and pasta is worth the long drive, especially if you're going to Palermo at Plantation Bay Resort & Spa. For someone who has made that journey twice already, I can make this statement with confidence.
My first time around wasn't completely intentional: A friend and I planned to try the resort's nightly themed dinner buffet, but the terrible traffic on that particular payday Friday caused us to miss it altogether. The night wasn't a total waste, however, as opting to dine at Palermo instead made for a more intimate and wonderful dinner experience. Back then, the restaurant had wood furnishings and red terra cotta tiles which, along with the red-and-white checkered tablecloths, gave off a rustic trattoria vibe.
Charming as it was, Plantation Bay decided to give Palermo a new and contemporary look to appeal to more diners. The result is a stylishly casual restaurant with cool gray walls to balance out the warmth of the wooden accents. Lights were also significantly dimmed, so the stained glass details stand out even more. All of these, general manager Efren Belarmino explains, are proudly Cebu-made.
As for the menu, it was heartening to know that despite the design overhaul, Palermo has retained many of its tried-and-tested favorites, while welcoming new additions. Their Hot and Spicy Gambas are a crowd favorite, and the roasted bell peppers are an interesting combination of soft and spicy sweet. The Jamon Bellota, made with free-range Iberian pigs fattened on acorns and cured for up to three years, also proved to be quite the hit. There are several options for their pizzas, pastas and steak. The blue cheese lover in me immediately went for the Fusilli Con Gorgonzola. The macadamia nuts added texture to the otherwise creamy sauce with that unique blue cheese kick. Managing editor Shari Quimbo opted for the Rib Eye Steak with Potato Wedges—a hearty dish that's sure to be a crowd pleaser. All of these went down quite well with our wine.
Everything was so rich and filling that it was hard to make room for dessert, and it's quite a challenge to pass up on Palermo's delicious treats. The Banana Burnt Butterscotch Tart, also known as the Triple B, was a deliciously deadly treat, with a mix of flavors and textures. The Gelato Alla Menta—mint ice cream with chocolate chips in an almond basket—is also a must-try.
As far as Italian places go, there are a lot of choices within the city. But when you want to take the extra mile, you'll find that Palermo in Plantation Bay is a hidden gem that's worth the visit.
Plantation Bay Resort & Spa
Mactan Island, Lapu-Lapu City
6332. 505 9800
K-Pub BBQ
by Shari Quimbo
I confess, I was one of the many who went through a kpop phase. For a good two years after college, I was mesmerized by the bright colors, synchronized dance sequences and surprisingly catchy beats that seemed to be one of Seoul's major exports. I got over that phase (thankfully) but there are a few things that stuck—a fascination with their beauty products, a general compulsion to make faces for pictures, and a deep-rooted romance with Korean barbecue.
Maybe I'm just a meat-lover or perhaps I've seen way too many TV series where the leading man feeds a lettuce-wrapped serving of samgyeopsal to his lady; but there's something about a well-grilled piece of meat that appeals to me. Which is why, not surprisingly, when KPub's Meat-All-You-Can menus arrived in Cebu, I found myself more than a little excited.
KPub BBQ opened its first outlet in Bonifacio Global City in 2013, and it's been expanding its vibrant and fun way of Korean dining around the country since. "We're happy to bring the concept of KPub to Cebu, especially now that Korea is becoming a favorite dining destination of Cebuanos," says president and proprietor George Pua. "KPub brings in the vibrant food and culture for the local market to experience, and will be a welcome and unique addition to Cebu's growing culinary landscape."
While the restaurant has secluded VIP sections and an al fresco area, most of the restaurant is the main dining hall. Glossy marble-esque tables with built-in grills are arranged around a stage and three large screens that have, you guessed it, kpop music videos on loop. The playful songs seem to solidify the experience, especially when you take the waitstaff's military jackets with golden epaulets in consideration.
KPub has four different packages for diners to choose from, all of which offer a variety of Korean side dishes and unlimited portions of meat which you grill at your table. There's the Eat & Run package at P499 for an hour of grilling, which includes beef sukiyaki, pork belly, Korean-style bacon, marinated pork belly in sweet and spicy sauce, marinated pork chop, marinated chicken in sweet and spicy sauce and marinated chicken in sweet soy sauce. The Eat & Run Level Up at P699 includes all of the same dishes, plus garlic butter shrimp, marinated fish fillet, japchae, fish tofu, calamari, lamb chorizo and pizza. The No Limits package at P899 with unlimited grilling time, includes premium beef selections such as So Galbi (marinated beef short rib), L-A Galbi (marinated cross-cut beef short rib), So Bulgogi (marinated beef slice in sweet soy sauce), and Dwaeji Bulgogi (marinated pork slice in sweet soy sauce). If you're really feeling indulgent, though, get the To The Max package—at P999, you get everything mentioned above, plus salmon belly, salmon steak, fresh prawns, crab sticks, tempura platter, seafood pizza, seafood kimbab, seafood japchae, fried dumplings, assorted vegetables and fried spring rolls.
Of course, for those who are a bit more conscientious about their food intake, they can order a la carte or sample KPub's version of Korean chicken. Oppa! Chicken offers selections that are fried twice—the traditional Korean way which makes the skin more crispy—and comes in various flavors. The Original, Soy and Garlic, and Sweet and Spicy are surely flavorful, but my dining companions all agreed that the Snowing Cheese rose higher in taste than the rest.
This I can assure you—when you choose to eat at KPub BBQ, you are going to leave feeling very stuffed. With the amount of food their packages include, there is just no other way to it. Their incredibly delicious offerings and the very helpful staff make it an easy dining experience. In fact, if I could have grown another stomach, all the meat that I could would have been a lot more.
2F Terraces, Ayala Center Cebu
032 410 7590, 410 8592
[FB] KpubBBqTheTerracesCebu
Señor Kimchi
by Michael Karlo Lim
I'd reference the migratory clichés of Mexicans and Koreans, if only us Pinoys were immune to the same. But, no. If anything, there are more similarities among Mexicans, Koreans and Pinoys than meets the eye. Across the board, there's fantastical religiosity, extended families more knotted than their declared tightly knit, some generational and cultural scarring from some or several foreign occupations, what appears to be contentment with discontent and other sweeping generalizations. That last one was a disclaimer. Across the border, the American Dream. Of course, there's the love for food. I'll admit I thread myself through the uncomfortable knots at family gatherings only for the good stuff.
Downtown LA comes down to town via Señor Kimchi, one of the first purveyors of the MexiKor food trend on the island. Fusion cuisine can quickly morph into confusion but Mexican and Korean seem to marry well with similarities in punch and layered flavors. Both intricately layered and spiced, the divide is set between the earthier in the former to the tart and funky of the latter.
Extra large brown mushrooms are stuffed with crabmeat and cream cheese, battered and deep-fried, split, sprinkled with cilantro and drizzled with homemade spicy aioli in their Mushroom Poppers. The blank slate earthiness of the mushrooms make for a great base for the savory cheese and the briny kani. Frying made it golden; cilantro anchored Asia with the aioli putting it along the spice trade route of old. Easily my personal favorite, it's aptly named as there is a tendency to just keep popping one piece after another into your mouth.
A global nod to the fusions come by way of the Pandesal Sliders, among their house specials. The everyday-everyman explodes with baby spring onions, shredded greens and local tomato slices topped with spicy aioli and your choice of meat—in our case, Bulgogi Beef. The soy sauce, sugar, garlic and black pepper combination in the marinade is not quite unlike local preps. Eomeoni comes in with sesame oil profusions of scallions, onions and ginger to push the flavor beyond bistek to SoKor.
Flour tortillas are quite versatile, in that they can carry assortments of toppings that usually work. Fresh kimchi slaw and homemade pepper paste top spicy pork in Señor Kimchi's Korean BBQ Tacos. A special tropical salsa with mangoes pays homage to local pride.
Rice is an unnecessary starch in my book, but there is no denying the beautiful combination of the spicy pungency of kimchi on plain, boiled rice. A stir-frying to fuse the two is quite the Korean alchemist's trick with red bell peppers, onions and carrots figuring in the aromatics in the Kimchi Fried Rice. A generous topping of Bulgogi Beef and an oozy fried egg stood as solid proteins.
A variety of local and imported beers are available, but the obvious choice was a Corona. Mexican-American, you know? DTLA. This light, easy beer is pleasantly malty with a latent tartness brought about by that lemon wedge. Perfect for the bright and easy dining atmosphere packed with chic downtown details and arresting, thematic graffiti. Rough finishes, patchy tiling, "rusted" pendant lights, reclaimed wood look and bursts of color. The City of Angels may still be a US Visa approval away, but it might as well be right smack in the new neighborhood of Axis Entertainment Center. Si, señor, at Señor Kimchi.
Axis Entertainment Center-Vibo Place, Escario Street, Cebu City
0943 450 2445
Ramen Kamekichi
by Patty Taboada
"Spicy level three?" a good friend asked, part skeptical and part admiring, as I placed my usual order of a chashumen. This was at Ramen Kamekichi about a year ago—incidentally, this was the last time I found myself at their branch in Mabolo. Our other dining companions ordered their bowls of ramen at reasonable levels of hotness (that is, level one or not spicy at all), while I, a lover of all dishes with that extra kick, apparently have the tolerance of a superhero.
If there's one dish I could eat for the rest of my life, it's ramen. Ask anyone who knows me, and they'll tell you that the first place I'd suggest for a meal would be a ramen place, even if it's right in the middle of a summer heatwave. Ramen Kamekichi was one of my favorite places for ramen, so you can't possibly imagine the anguish I felt when I thought they had closed up for good.
Fast forward several months later, and I was brimming with excitement as I entered the new Ramen Kamekichi along Gorordo Avenue. While the original branch was comfortable and unassuming at best, the new restaurant embraces a modern and stylish look, decked with cool shades of teal and warm wooden accents—a definite upgrade. As much as I was impressed with the décor, however, I had a craving and an empty stomach to satisfy.
We start off the meal with a generous helping of Okonomiyaki, another favorite Japanese dish. Unlike the many others I've had, Kamekichi's version was topped with bonito flakes, giving the dish that distinctly alive look and a unique flavor. The Seafood Chahan was a crowd-pleaser with its hearty and filling taste. There were also plates of Gyoza, Buta Ika Shougayaki and Yakitori—all of them incredibly delicious, by the way. I would've finished them all if I wasn't anticipating the ramen.
Finally, the Jigoku Chashumen arrives—at spice level one only, but I had to play nice and share. While it lacked the kick I was used to, it was the same ramen I knew and loved from all the way back, complete with a big serving of noodles, some mushroom slices, chashu, spring onions and other spices. The broth was flavorful without being too overwhelming. We also try out the Tonkotsu Ramen and the Miso Ramen, and both were delicious in different ways, assuring there's something for everyone.
The regular patrons of the original Ramen Kamekichi would be pleased to know that while a different family now runs the restaurant, they have retained the chef as an industrial partner. The result is a much better restaurant and location, while serving the same dishes—and more offerings—that has made Ramen Kamekichi a longtime Cebuano favorite. As for me, I'm definitely going back for that spicy level three chashumen soon.
38 Gorordo Avenue, Cebu City
632. 261 1018
[FB] Ramen Kamekichi
[INSTA] @ramenkamekichi
---
Originally published in Zee Lifestyle, March 2016
Cebuano Pride: The National Museum of Cebu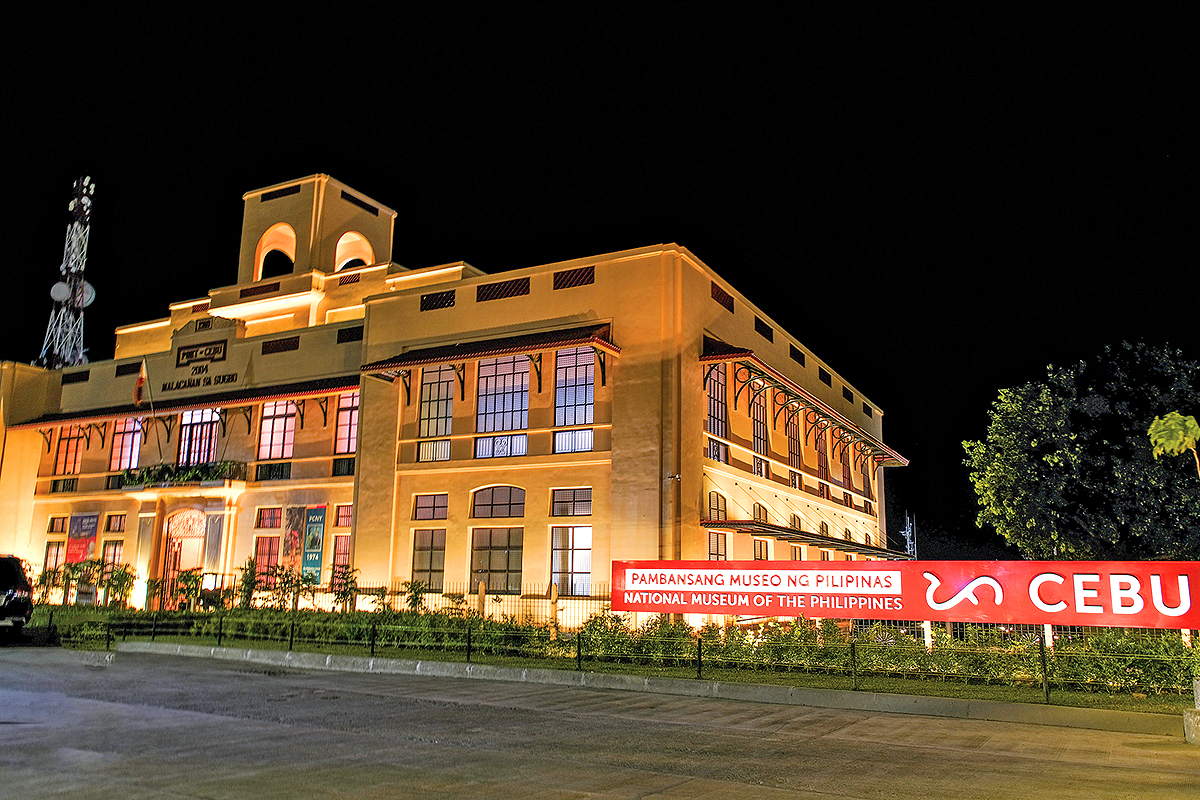 Pride of Cebu
By Eva Gullas 
photos courtesy of DOT
"With the National Museum of Cebu, the cradle of Christianity in the country, we open the doors to a temple in history and culture, inviting tourists and locals to witness our archaeological and natural treasures. The NMP-Cebu is not just a museum but a bridge to our past and a window into our future," declares Christina Frasco, our Secretary of Tourism, at the ceremonial opening last July 28.
Located at the heart of the city's historic port area, the former colonial Customs House, built in 1910, was transformed into an elegant edifice worthy of the city's place in history. It was in Cebu where the Spanish conquistadors first landed in 1521 and where Magellan met his end at the hands of the local chieftain Lapu-Lapu. Starting August 1, the National Museum of Cebu will open its doors daily from 9 am to 5 pm except Monday.
Worth checking is the first floor, where a few art pieces from national artists like Cebu's own Martino Abellana, Fernando Amorsolo, and Jose Joya take pride of place. On the right wing are finds from archeological digs found all over the islands. Called Ang Karaang Sugbo or Old Cebu, they include a gold death mask and ancient vases from China. There's also Kinaiyahan: Cebu's Natural Wonders, which features an impressive wall containing the different layers underneath our soil. There is also a display case that interactively showcases the various elements around the area, like gold, copper, and gypsum. Another wing is Paglawig: Cultural Movember Across the Seas, showcasing the islands' maritime history and sea bounty, including rare shells.
It is on the second floor, though, where the museum shines. Up the grand staircase, guests are greeted by Elmer Borlongan's massive Battle of Mactan, facing a facsimile of the Sta Maria galleon, Magellan's flagship. Then on to a limited-time exhibit on loan from the Philippine Center New York Core Collection of 1974, a treasure trove of almost 90 paintings collected by former First Lady Imelda Marcos, including Ang Kioks, Sanso, Manuel Rodrigues, and many more representing both avant-garde and classic Filipino masters. The New York collection is only available until March 2024 and is not to be missed.
The National Museum Cebu has been years in the making, and this cultural milestone has finally been made possible under the new administration of President Ferdinand Marcos Jr., who famously said during the inauguration, "I am a museum fan, and I can stay in art museums for hours and hours." He added, " museums are considered valuable natural assets to a nation as they build a sense of community, document history, inspire creativity, promote tourism, and unite people through a shared heritage." Kudos to the National Museum Board of Trustees, chaired by Andoni Aboitiz and Museum Director Jeremy Barnes, for this cultural gift to Cebu!
The Uncommon Traditions that Mexicans and Filipinos share when celebrating the Day of the Dead.
Dia de los Muertos
By Allain Dumon Fonte
The 2nd of November is All Soul's Day, a holiday that is very important to many Filipinos to remember our loved ones who passed on. This is also widely celebrated in Mexico as "Dia De los Muertos" or in English, "The Day of the Dead". And Mexicans celebrate the 2nd of November grander than they celebrate Christmas. Well, you can witness it from the Disney movie, "Coco".
As All Soul's Day or Dia de los Muertos is about to end, here are some interesting traditions and superstitions that Filipinos and Mexicans share:
1. IT IS NOT ON THE 31st OF OCTOBER
Dia de los Muertos or All Soul's Day is not practiced on October 31st or on the Hallow's Eve as many other western cultures practice; but we celebrate it on the 2nd of November. We celebrate November 1st as All Saint's Day or the Day of the Holy, while in Mexico they call it Dia de los Innocentes or Dia de los Angelitos to commemorate the children who died too early in life.
2. THE RITUAL
Both in Mexico and in the Philippines, we visit the grave of our loved ones and we clean it well. This is a ritual to honour their resting places and to let them know that they are never forgotten.
3. FLOWERS INVITE SPIRITS
In Mexico, they believe that the scent of flowers attract spirits. So the flower offerings are invitation to their dead loved ones to visit the living families. While in the Philippines, we believe that flowers offered to the dead exalt the souls and somehow fill in the sadness that we feel when missing our dead loved ones.
Most of the time, Filipinos choose all-white flowers to offer because white is the absence of colour, which means the absence of Joy and happiness. White also symbolises purity of soul which we hope our dead loved ones will attain as they journey to heaven. While in Mexico, they have the yellow Mexican marigolds as the official flowers of the dead that will guide them in their journey to the afterlife.
4. THE LEGEND OF THE MONARCH BUTTERFLIES
Both cultures believe that monarch butterflies are dead loved ones who visit us and show their appreciation that we have not forgotten them. A presence of monarch butterflies also means that our dead loved ones are always there guiding us and looking after us.
5. A PICNIC IN THE GRAVEYARD
Spending a night at the graveyard and picnicking with the rest of the family may sound very creepy to many; but to both Filipino and Mexican cultures, picnicking and spending a night at the cemetery is a must to show our love to our dearly departed. It is the only time in the year that families gather and tell stories of the dead loved ones and how colourful or how great their lives were.
6. FOOD FOR THE DEAD
In Mexico, they have what they call "ofrendas" or an altar where the pictures of their dead loved ones are displayed and offered with flowers, candles, and their favourite food. Very similar to the Filipino culture of cooking the favourite food of our dead loved ones and everyone in the family enjoys the food for dinner.
My family tradition involves me driving all the way to Colon street and buy that famous Snow Sheen's "pancit canton". This is my granddad's favourite snack. Sadly, the old Visayan Restaurant is no longer there. My late uncle and my late grandpa love their sweet ad and sour fish. We also set up an "ofrenda" on their graveyard and eat their favourite food while picnicking in the cemetery. We do not spend a night in the cemetery; but while we are picnicking there, we usually play the songs of Pilita Corrales and Susan Fuentes that my late grandpa used to listen every afternoon while enjoying his coffee, pan de sal, and pancit canton.
What about your family traditions? Share your thoughts by commenting to this article.
MODEL: Michael Joseph Mortola Enriquez & Alexis Wingfield
PHOTOGRAPHER: Gianne Paolo Anciano
HMUA/DESIGNER: Hazel Ocaba
STYLING: GPA Lifestyle + Clothing
Catch Ted Lasso the Emmy Award Winning Comedy Series on Apple TV+
Rating: *****/ *****
The multi award–winning comedy series airing on Apple TV+ is one of my favorite shows.  Ted Lasso starring Jason Sudeikis is about a fun good-natured American football coached hired by a British soccer club (AFC Richmond in London) to become their new coach.  In spite of the fact that Ted has no experience or knowledge about British football/soccer, his positive demeanor and charm helps him overcome the animosity of the team's players, staff and fans.  Eventually Ted wins over the team and the locals as they fight for position in the English Premier League.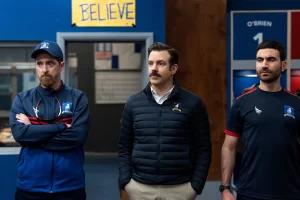 The show won the 2021 Primetime Emmy Award for Outstanding Comedy Series and 7 Emmy Awards in its 2 seasons and Season 3 is just around the corner.  You can catch Seasons 1 & 2 of Ted Lasso on Apple TV+