Vincent Eco is singing the soundtrack of your next break-up
A talented songwriter with a penchant for writing heartbreaking lyrics, Vincent Eco shows us his own version of the folk rock vibe with his first single I Know You Do.
Some of the best songs are written about heartbreak, and Vincent Eco's I Know You Do is one of them. "I will love you if you don't. I will hold you in my arms if you let go," the chorus goes. Your hugot heart sighs in agreement. It certainly tugs at the heartstrings–maybe event the tear ducts.
"It's about this guy who's trying hard to love a girl who does not love him anymore," Vincent explains, saying it was inspired by personal experience. It's a beautiful depiction of saving a relationship that's clearly on it's last leg, and highlights Vincent's talent as a songwriter. The words are simple, but the sentiment is real. It's made us all the more excited about the 12-track album that's currently in production with 22 Tango Records.
SONGWRITING SKILL
22 Tango's CEO Cattski Espina is producing the album, and picked I Know You Do as the debut single because of it's coming-of-age feel. "It's not every day you come across a guy like Eco," explains Cattski. "His writing style is not exactly Bob Dylan or Leonard Cohen level, since he's still in his early 20's, but for some reason he resonates a lot of that classic folk characteristic."
This Folk Americana sensibility is something that Cattski wanted to retain in the song, and in the rest of the album. "We stayed loyal to the song and Vincent Eco's unique sound," she continues. "We just played around with some embellishments–some strings and effects. Nothing crazy." For this, she worked with bassist Clarence Mongado, and sound engineers Jad Bantug and Anjelo Calinawan.
THE LAUNCH
Vincent Eco's I Know You Do will be launched in an intimate music session at A SPACE Cebu on March 17. This will be part of _Acoustic, the venue's regular music events series. Other artists performing are Mary Anchit, Lourdes Maglinte and Honeydrop. Door fee is P150, with the first 25 guests getting a free bottle of The Cebruery craft beer.
These Four Women Show Us How They Empower Themselves Through Pole Fitness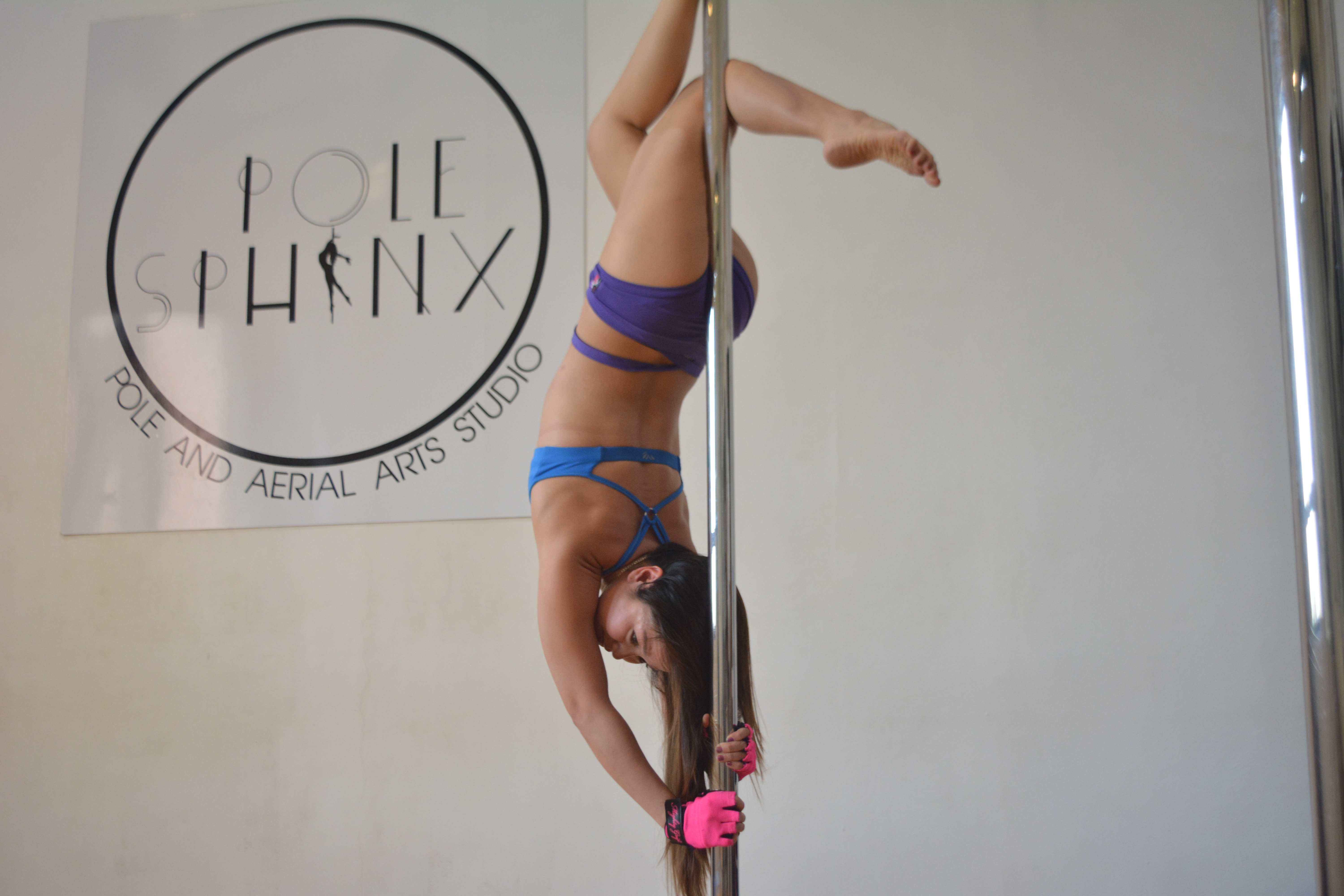 Charmaine, Jane, Ginie, and Ant are four women who take women empowerment on another level. With their daily morning routine of working their day jobs and attending to other matters, they all meet up in the afternoon to do one thing – Pole Fitness. Inside their studio, Pole Sphinx, they practice and teach other men and women about the beauty and grace of Pole Fitness and how it has helped them achieve much of what they are today.
Zee takes you inside their studio to fully know how these women empower others through Pole Fitness.
<iframe width="560″ height="315″ src="https://www.youtube.com/embed/LH-zKLUulHE" frameborder="0″ allow="accelerometer; autoplay; encrypted-media; gyroscope; picture-in-picture" allowfullscreen></iframe>
Rajo Laurel, Amina Aranaz-Alunan, and Bianca King Share Tips on How to Take Better Care of Your Clothes
To help keep your clothes in the best shape, check out these tips from Electrolux FashionCare Ambassador Rajo Laurel, along with the FashionCare Council members Amina Aranaz-Alunan and Bianca King.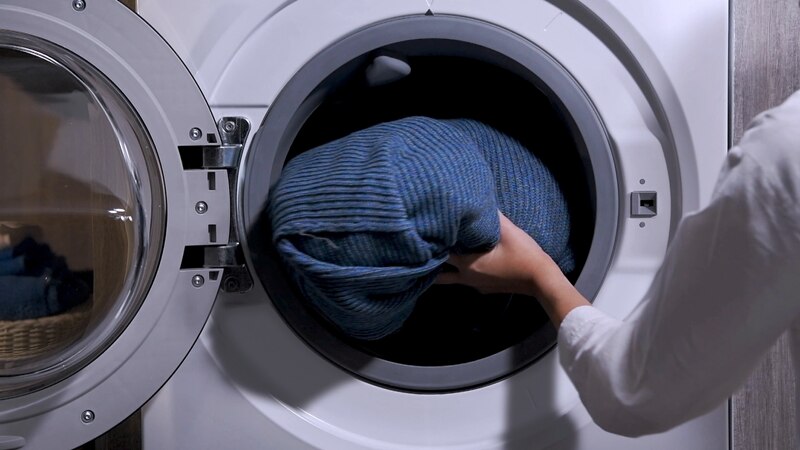 Wear it well without wearing it out! That is the fashion philosophy shared by Electrolux, a
leading global appliance company from Sweden, when it comes to clothes. You don't
need a lot of clothes to look stylish – just give them some TLC, especially when doing
your laundry.
To help keep your clothes in the best shape, check out these tips from Electrolux
FashionCare Ambassador Rajo Laurel, along with the FashionCare Council members
Amina Aranaz-Alunan and Bianca King. From washing to storing, these practical hacks
will help keep your clothes looking new for longer.
Check the Label
Acclaimed fashion designer Rajo Laurel shared that his number one rule when it comes
to caring for clothes is to check the care label, which teaches you everything from the
temperature, the kind of cycle and even instructions on drying, bleaching and ironing.
And if those laundry symbols look like hieroglyphics to you? Executive director and
teacher of SoFA Design Institute, and Creative Director of fashion accessories and bag
label ARANÁZ Amina Aranaz-Alunan's practical tip: print out a guide that explains the
symbols for laundry instructions.
Caring for White Shirts and Tops
A staple in anyone's wardrobe, the classic white tee is a great piece to build your
wardrobe around. It's easy to dress up and down, going from casual to business-chic.
To keep your white shirt looking new, before washing, unbutton your shirt including its
cuffs and collar. Check the label recommendations for care guidelines. Use a laundry
detergent that contains bleach to really make your whites, white.
And if your white shirt or polo gets wrinkled easily, check if your washing machine has a
Steam or Vapour Care setting – this relaxes the fibres and removes odours to bring back
that soft, fresh feel to your white top.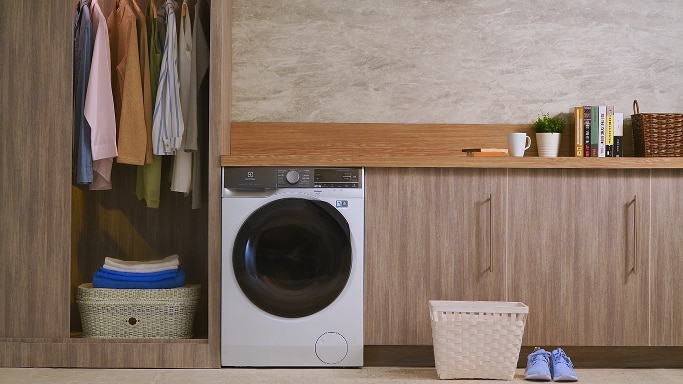 Caring for Colours
Having coloured pieces is a great way to make a look pop but they are also prone to
fading faster than dark or white clothing. To help make sure your coloured garments
don't lose their vibrance, sort your garments by colour before doing the laundry. Bright
clothes such as purples, reds and oranges can be washed together, so can bright blues
and greens. If a colour stands out on its own, consider washing it alone. Then check the
garment for stains and apply a small amount of liquid detergent to the stain and shake
gently in water. Turn your garments inside out to minimize rubbing of fibres. Choose a
low temperature and avoid hot settings that can cause fading. You can also use a gentle
wash cycle.
Caring for Jeans
Denim is durable but to make them last longer, especially the coloured and printed
denims or anything with a deep indigo wash, you need to give them extra special care.
The key to a long life is to wash at a low temperature and avoid over washing. First off,
be sure to wear your jeans for as long as possible before they are first washed to give
them a comfortable shape and a natural fade. Separate your jeans from white or other
brightly coloured clothes because they might bleed colour. Turn them inside out before
washing as well.
Dealing with Stains
The FashionCare Council members all share that it's best to deal with stains
immediately. Soak or try to wash them off right away. For food and wine stains, Laurel
shares that he uses salt and soda water on the stains before washing as these help to
lift the stains.
Here are some other helpful tips to remove common stains: For ink stains, blot the
stained area with alcohol using a clean cloth and rinse thoroughly. For coffee stains,
first try using cold water through the back of the stain for 10-15 minutes. If the stain is
not fully removed, use liquid laundry detergent and a little cold water, or try using dish
washing liquid. Gently rub the liquid detergent or dish washing liquid with your thumb to
loosen the stain for about five minutes.
Proper Storage
The FashionCare Council members also shared that storage can play a role in keeping
clothes looking their best. Model and actress, Bianca King advised people to keep their
closets neat so you have a full account of everything you own and to know which items
should be hung or folded (if it's a knit or weave). And speaking of hanging, Laurel and
Aranz-Alunan both mentioned the importance of using proper hangers – Laurel
mentioned avoiding those without foam defense as they could ruin the shape of clothes.
Another advantage of keeping a closet organized is it could help you plan your wardrobe
– you can rotate your pieces, as shared by Laurel, to help prolong their life.
This French Couple's Home Showcases Their Creativity
After a few years of wandering around Asia, French artist Delphine de Lorme and her husband, Henri de Lorme, a French film director, finally decided to settle in Cebu.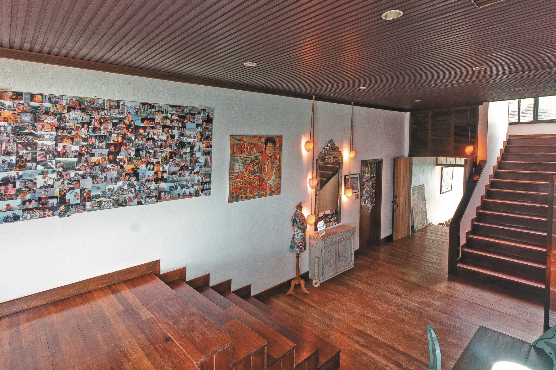 This story is taken from our archives. Originally published in the coffee table book, Inside Cebu.
After a few years of wandering around Asia, French artist Delphine de Lorme and her husband, Henri de Lorme, a French film director, finally decided to settle in Cebu. They looked for a house that could accommodate their large and growing art collection, provide studio space for her creative work, and, most importantly, serve as a refuge for their active family life.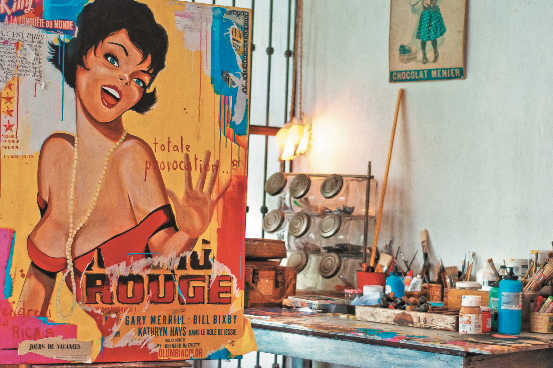 Delphine paints and produces artworks that are sold in major galleries all over the world. She also dabbles in furniture design, envisioning cutting-edge products for a design firm based in Cebu. Henri, on the other hand, has a rock band. Between them and their busy careers, they have three wonderful children. 
Thus, they chose a house that is modernist in design, built along clean horizontal lines, and with abundant flexible space. With lofty ceilings and amazing airiness, the interiors now harbor an eclectic collection of paintings, sculptures, and artifacts that would do any gallery proud, including Delphine's own paintings and collages of iconic images from Italian and French cinema.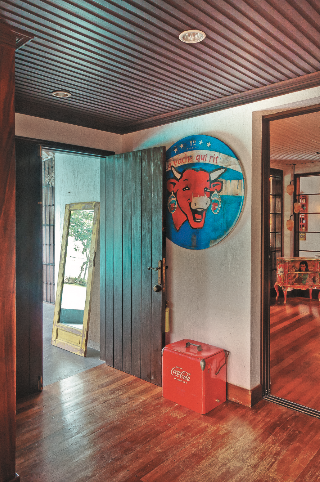 Walking through the hallways and the rooms of this very tactile home, one is instantly struck by a feeling of wonder and vitality. This is carefully achieved through a casual arrangement of the interesting pieces inside—welcoming, inviting you to come closer, to take a better look, and then to touch! And that is where the art gallery morphs into a comfortable and livable home. 
When her husband works out of town during the week, Delphine starts her day with breakfast with the kids on the terrace, which opens to the swimming pool. Then she moves to the light and airy studio in the mezzanine to work on her arts and crafts. She ends her day the same way she started it: dinner with the children, al fresco whenever possible. 
DETAILS
The openness of the spaces, the warmth of the lighting, and the welcoming atmosphere of the entire home, all combine to reflect the personality of the owners—adventurous, creative and energetic. The effect is altogether visually engaging.