Try Out This Summer Skincare Routine from Kiehl's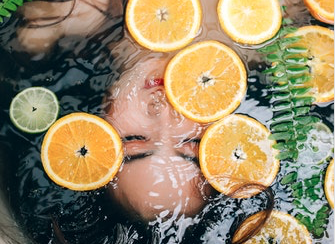 Summer may be nearly over, but for those of us who seek to soak up the last of the sun's rays before the season ends, it's far from it—especially with the searing heat in Cebu. Coupled with the rise of the Earth's average climate system, we're more likely to experience hotter days.
When going for a swim or an adventure outdoors, we're often advised to put on sunscreen to protect ourselves from the sun, and more often than not, it's the only time most people put on sunscreen. There's a widespread misconception among Filipinos that they don't need it because their skin isn't fair like Caucasians, who are more prone to skin cancer, but we actually do need it no matter the amount of melanin we have. Moreover, we need to apply sunscreen everyday—even if it's not sunny out, or even if we're not going to be out all day.
Sunscreen aside, there are many other ways to take care of your skin—and Kiehl's has the right routine for these last few days of summer. You may have heard of the company, but if not, Kiehl's is dedicated to providing the most efficacious and personalized skincare solutions to everyone, as part of their "Healthy Skin Guarantee". They source the highest quality natural and scientifically advanced ingredients in their formulas for skin, hair, and body. Since 1851, they've blended pharmaceutical, herbal, and medicinal expertise to serve the unique needs of their community.
Here's their 5-Step Summer Skincare Routine:
Tip 1: Use a gentle daily cleanser day & night to make sure your skin remains clean but not dehydrated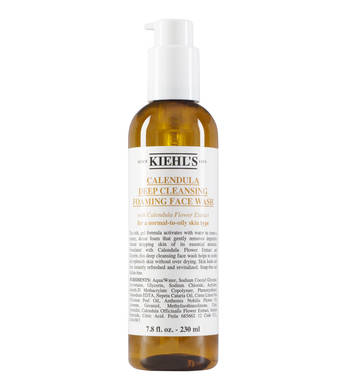 Try out the Calendula Deep-Cleansing Foaming Face Wash. It's sulfate-free, soap-free, fragrance-free and paraben-free, allowing it to cleanse skin without stripping it of moisture.
Tip 2: Prep your skin with toner for faster skincare absorption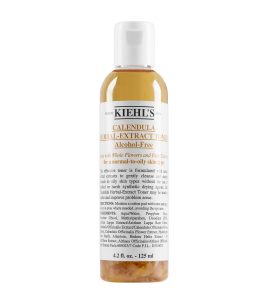 The Calendula Herbal-Extract toner is alcohol-free, and it gently cleanses and refreshes skin without harsh synthetic agents.
Tip 3: Use a Vitamin C serum to brighten your skin and reduce the dark spots/freckles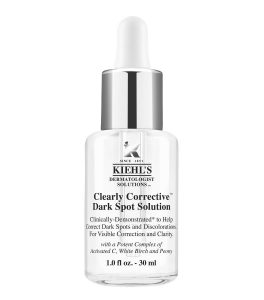 The Clearly Corrective Dark Spot Solution helps boost radiance and improve skin clarity. It's formulated with Activated C, White Birch and Peony Extracts, and helps visibly brighten skin and diminish the number and intensity of dark spots and skin discolorations over time.
Tip 4: Tip #4: Hydrate your skin with a gel-type moisturizer to keep your skin's hydration level balanced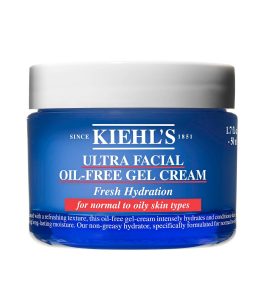 Try the Ultra Facial Oil-Free Gel Cream. With 24-hour hydration, this non-greasy moisturizer refreshes skin with an instant cooling effect. Stay hydrated and shine-free with this lightweight, non-comedogenic moisturizer.
Tip 5: Always use a sunscreen during the daytime, even if you're just staying indoors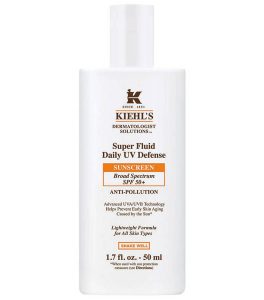 This Ultra Light Daily UV Defense help protect skin from the early signs of aging with SPF 50+. It's lightweight and helps defend against UV rays, pollution and free radicals.
Kiehl's opened their Store of the Future in Ayala Center Cebu last month. Check out these products, or have your skin tested by one of their specialists to find the best skincare products suited for your skin.
Quick and Healthy Back-to-School Lunch Ideas Your Kids Will Love
Going back-to-school means excitement for kids but can be stressful for busy moms. Make life easier with these quick and healthy school lunch ideas.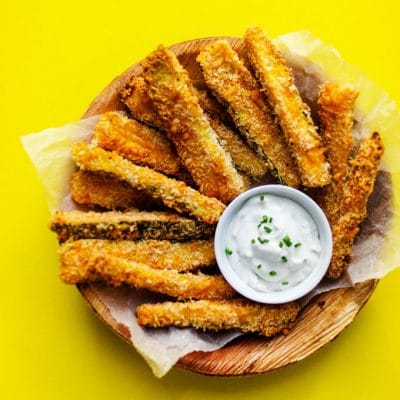 School season is here! Going back-to-school means excitement for kids but can be stressful for busy moms as meal planning comes into play. Preparing baon for your kids can be a struggle considering both their picky tastes and the nutritional content they need to grow strong and healthy.
Check out these recipes from the Electrolux Life App to help spark ideas for healthy and delicious baon for your kids.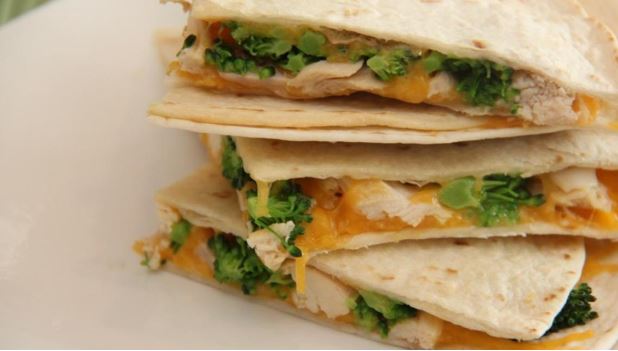 Cheese it up!
Since a lot of kids are not fond of eating vegetables, this Kid-Friendly Chicken & Broccoli Quesadilla recipe is a great way to add veggies in a way kids will enjoy. Start by placing Flour Tortillas on a plate, top it with cheddar cheese, add chicken and broccoli florets. Top it with another layer of Flour Tortillas then place it in a toaster oven at 350ºF and cook for 8-10 minutes or until golden brown. Cut the quesadilla using a pizza cutter, wait for it to cool and it's ready to be packed!
Potatoes are usually a crowd pleaser so why not make the most of your leftover mashed potatoes by making Spinach and Cheddar Potato Cakes.
Simply mix together the egg, frozen spinach, seasoned salt, onion powder and ground black pepper in a medium bowl. Add the mashed potatoes, cheddar cheese, breadcrumbs, and fresh chives. Mix it well until breadcrumbs have been absorbed. Form a scoop of the potato mixture into patties and fry the patties in a non-stick frying pan until golden brown. For the sauce, stir together sour cream and fresh dill and season with salt and pepper to taste. Serve the dip alongside the cakes!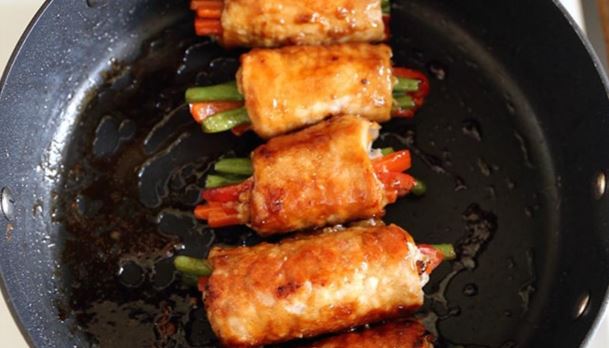 Turning Japanese
Bring a Japanese flavor to your kid's lunch with Teriyaki Pork Rolls with strips of green beans and carrots. In a pot of salted water, bring to a boil the thin strips of green beans, sliced carrot, and bell pepper for 2 mins. Once cooked, strain and dry with paper towel then set aside.
To make the sauce, mix soy sauce, white granulated sugar, and water in a small bowl and set aside. Take one of the thin pork cutlets and dust it with all-purpose flour on both sides. Add three of each of the green beans, carrot slices, and red bell pepper slices on the cutlet, season it with salt and pepper to taste. Then roll the pork and close it with toothpicks. Fry the pork until golden brown and remove toothpicks. Add the sauce, continue cooking for another 1-2 minutes until sauce thickened and all sides of the pork are coated.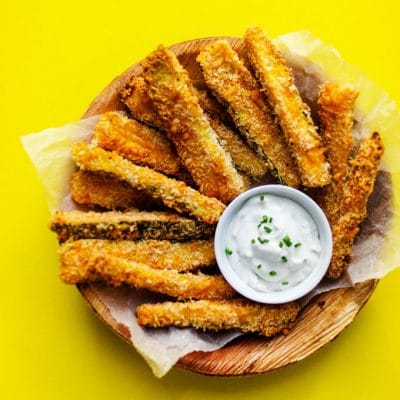 Healthy Sides
Put a new and healthier spin on your kid's snack time with this recipe of Baked Zucchini Fries!
First, preheat the oven to 425 degrees F. Cut zucchini into fries-like size, no need to peel them. In a medium bowl, combine panko, parmesan, salt, paprika, and pepper. Place whisked eggs in a separate medium bowl, and the flour in a third medium bowl. Dip zucchini pieces into the flour, then the egg, then the panko. Dip zucchini pieces into the flour, then egg, then the panko. Once all zucchini are breaded, bake it for 15 to 20 minutes, or until golden and crispy. For the sauce, just combine the yogurt, cheese, mayonnaise, and chives to a food processor and blitz until smooth.
Preparing your kids' healthy and tasty baon is easy with Electrolux kitchen appliances, like the Electrolux NutriFresh™ Inverter Refrigerators, which come with new features to keep produce fresh for longer. The new Electrolux NutriFresh™ Inverter French Door Refrigerator (EHE6879A-BPH) allows you to go from chilling the food to cooking them in minutes. With its special UltraChill -2ºC feature, it preserves the texture and nutrients of meat and fish for longer without having to defrost it.
Different food types require unique storage conditions to stay fresh and the new NutriFresh™ refrigerator comes with a FlexFresh drawer, an optimal storage compartment with five temperature settings (-23°C to +7°C). This enables you to store all types of food – from cheese and wine, meat and seafood, to cold drinks and frozen items – at the temperature they need to remain fresh.
To help retain the juiciness of produce, the NutriFresh™  Inverter French Door Refrigerator also comes with a TasteLock Crisper with AutoHumidity Control which automatically adjusts humidity levels depending on the contents of the drawer. The AutoHumidity Control releases excess moisture from the compartment to help keep fruits and vegetables fresh for up to 7 days. It also has a TwinTech Cooling System that cools the fridge and freezer compartments separately, so food stays fresher and odors don't mix.
If you are looking for a cooking range, check out the Electrolux Cooking Range with Induction Cooktop & Electric Oven (EKI64500OX). It not only comes with a spacious layout to help you prepare multiple dishes at once, but also has powerful induction zones for speedy cooking and precision heat control that allows you to accurately set your desired flame for perfectly cooked dishes.
To get the full recipes of these dishes, download the Electrolux Life app on the App Store or Google Play store and click the 'Recipe Finder Powered by SideChef' within the app to access thousands of global recipes from SideChef's database.
For more information on Electrolux and its products, please visit www.electrolux.com.ph and follow @ElectroluxPhilippines on Facebook and Instagram.
The Best Trick to Looking Effortless Everyday
Don't we all wish we could wake up, do our morning routines and go about our day without having to worry about how we look?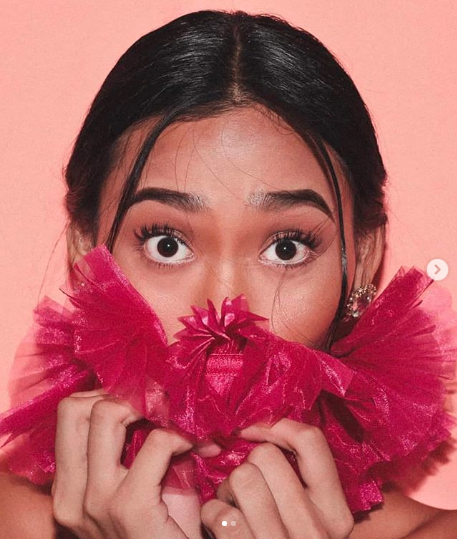 by Gia Mayola
Managing Editor
Don't we all wish we could wake up, do our morning routines and go about our day without having to worry about how we look?
For people who spend a lot of time on makeup, most would find themselves wishing it was easier. In the fast-paced world we live in today, every second counts, and the time spent on making yourself look presentable before going out takes a good chunk of our day. The moments we spend retouching our makeup or fixing our appearance throughout the day notwithstanding, getting ready probably averages an hour each day. Imagine the things we could be doing with that hour—maybe taking our time to enjoy our morning brew or lazing around a bit more in bed—and you'll find yourself thinking: how can we make it quicker?
Here's the answer: eyelash extensions.
No, they're not a new thing. In fact, eyelash extensions date back to the 19th century, when Parisians sewed hair onto their eyelids. Yes, sewn onto eyelids. As horrifying as that sounds, the methods used for eyelash extensions have drastically improved throughout the years (to the point that they look like one's natural lashes) and most importantly, are painless. Eyelash extensions are available at many salons or clinics nowadays, and anyone—so long as they have the means—can book an appointment and get full, fluttery lashes in an hour or two.
The search
Allow me to tell you an anecdote. A month ago, I received an invitation to the launch of a certain name brand's trunk show (read more about the trunk show here). Because this brand is popular among women, a lot of Cebu's most stylish female personalities were in attendance. As with any social event, I did my introductory rounds, said my hellos to those I knew…and realized that every woman present was wearing lash extensions. Well, save for me and two others. Still, realization hit me like a bolt of lightning: eyelash extensions seemed worth it. I had always been curious about the procedure and wanted to try it out for myself, but never got around to it.
It wasn't until I got home from that event did I do my research. Questions along the lines of "What are the pros and cons?", "What should I expect before and after getting them done?", and "Where is the best place to get lash extensions in Cebu?" were typed into my internet browser's search bar. After extensive research, I had a place in mind to get them done, but I was a bit adamant since I knew this place better as a nail salon (in my opinion, I believe they're one of the best nail salons in the city). That put my plans on hold. Was I really going to risk getting eyelash extensions at a nail salon? Despite the glowing reviews of their lash services, I wasn't so confident.
While scrolling through Instagram days later, I came across a post of one of Metro Manila's best lash places. Called New Lounge, they were a relatively new player in the field, having opened in 2017. Despite that, they're the go-to for celebrities like Heart Evangelista (one of our favourite cover girls—read here for the nostalgia story!), Nadine Lustre, Miss World Philippines 2018 Katarina Rodriguez and more. New Lounge announced that they were setting up shop in Cebu soon. After checking their reviews, I was wholly convinced that I would get my lashes done at New Lounge once they opened.
The wait didn't take long. A few days before their soft opening on July 28, they were already accepting appointments. Booking a 5:30PM appointment on that day was a breeze; you can easily pick your preferred time and date, and fill in the needed information such as your name, email and contact number. From there, you're sent an email and contacted by their staff to confirm your appointment.
The prep
Before your appointment, it's important to remember that you shouldn't wear any eye makeup. This is to avoid taking up too much time. Base makeup and putting on eyebrows are acceptable, though. But for best results, make sure you're freshly showered and come bare-faced.
Avoid applying any creams or oils on the eye area as well, since these might reduce the effectiveness of the lash glue.
The process
When the date of my appointment rolled around, I was buzzing with nervous excitement—and thirty minutes early. The lounge was pretty much unoccupied save for one lady; she was finishing up her appointment and then I was the only guest left.
Whether or not you're new to eyelash extensions, a consultation is always done before anything happens. My lash specialist for the day was Kemberly, who spoke comfortably with me in Cebuano. I showed her a photo of the look I wanted to achieve, but requested a shorter length, as it was my first time trying lash extensions. She recommended their Signature Volume Eyelash Extensions, which was a full set, using a mix of 9mm and 10mm lashes.
When it came to the application stage, Kemberly noted that the lashes were the same length as my natural ones and asked if I would be okay with it. Since it was my first time, I told her that I didn't mind.
"Anyway, if I really like it, I might ask for a longer length when I come back," I added. She couldn't help but laugh at that.
The results
It was a gloomy day because of the rain, but the sound of the raindrops added to the ambient sound of the lounge. The application took nearly two hours; I dozed off for a short time in between. It didn't hurt at all, if falling asleep is any indication.
When Kemberly told me that we were done, she handed me a mirror to show how it looked. The lash extensions were very flattering, and complemented my eye shape well. While they weren't very long, they were voluminous. Best of all, the lashes felt weightless.
I was floored. There was such a big difference. While my lashes were fairly nice prior to application (thank you for these genes, daddy), the eyelash extensions brought all the attention to my eyes because of how fluttery they looked.
The aftercare
To help take care of my lashes, Kemberly gave me some pointers:
Use eyelash treatments such as coating & grower for long wearing lashes
Brush your lashes regularly
Avoid oil-based makeup
Use oil-fee makeup removers in cleaning your makeup
Use a clean mascara brush to separate your lashes after a shower
Avoid rubbing your eyes
Avoid pulling your eyelashes
Avoid using mascara and lash curler
Avoid steam and sweat
It's recommended to come back for 2 to 3 weeks touch-up or repair
Change to new set every 3 months
The verdict
As of writing, it's been a little over two weeks since my first appointment, and I just had my touch-up. Very little fallout happened, and I opted to go for a longer length. I wanted the 12mm lashes (which is the longest), but Kemberly advised that I do the change gradually so that the lashes blend as natural as possible to the previous application—jumping from a mix of 9mm and 10mm to 12mm would make it look awkward.
Honestly, lash extensions are definitely worth it. As someone who wears makeup daily, my time spent on applying it has been reduced by half (40 minutes is the average when I'm taking my sweet time). I barely have to exert effort now that my lashes look bomb. They don't bother me at all, and I can even go sans makeup on some days.
Overall, I'd say that eyelash extensions help you look effortless. It gives you a confidence boost too. If you're looking to get them done, I recommend doing your research and consulting with the lash specialists beforehand, and try to see what suits you best.
New Lounge Cebu is located at One Paseo Building, Paseo Saturnino, Banilad. They're open from 10:00am to 9:00pm from Mondays through Sundays. You may book your appointment here.
7 Effective Skincare Products That Don't Break the Bank
Get great skin without having to break the bank. Score these great finds at a supermarket or a drugstore near you!
Skincare is an investment that requires commitment, but it doesn't always have to be expensive to yield satisfying results. After all, price tags don't define products.
From cleansers to sheet masks, there are many skincare products lining the aisles of your local supermarket or drugstore that are just as effective as the fanciest brands.
Here is a list of skincare products that will help you feel and look good for under Php 500: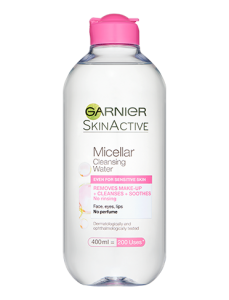 Garnier Micellar Cleansing Water, Php 249
In need of a makeup remover? Try this brand of micellar water! It wipes off makeup and oil buildup in just a few swipes without the need for rinsing and the risk of breaking out. Bonus point for the fact that it's a cleanser, a toner, and a moisturizer in one.
Quick tip: Buy the bottle with the pink cap if you have dry to normal, or sensitive skin. If you have oily skin, the one with the blue cap is for you.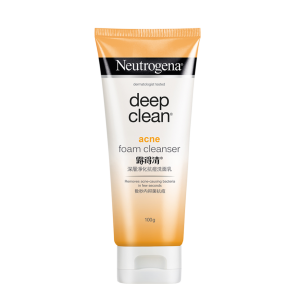 Neutrogena Deep Clean Acne Foaming Cleanser, Php 241
This cleanser is perfect for acne-prone and oily skin. A pea-sized amount of it is enough to create a rich lather that lifts out impurities from your pores, leaving you with a clean and smooth face. They really mean it when they say, "deep clean."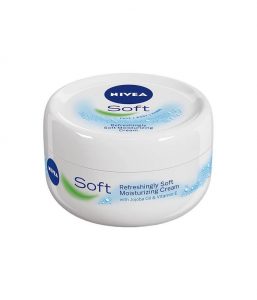 Nivea Refreshingly Soft Moisturizing Cream, Php 264
A lightweight formula—lighter than its original counterpart—enriched with Jojoba oil (a botanical substance that locks in moisture by sealing your skin with a protective barrier) and vitamin E that keep your skin refreshingly smooth and soft without leaving traces of grease behind.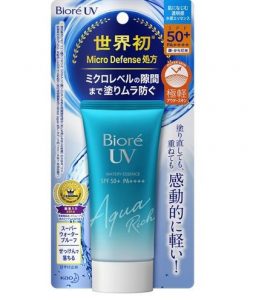 Biore UV Aqua Rich Watery Essence SPF 50+, Php 488
Are you a member of the oily/combination skin club? Then slather on SPF daily without looking like a greasy ghost using this cooling water-based sunscreen. Its lightweight formula contains Hyaluronic acid (the Holy Grail to wrinkle-free, hydrated skin) and citrus essence that do more than just protect your face from the searing heat of the sun. It wears well under makeup, too!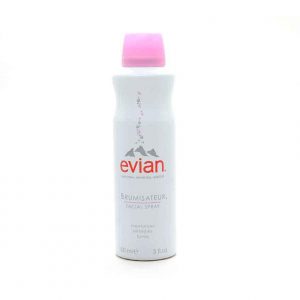 Evian Facial Spray, Php 349
Hot days, or cold ones spent in an office, call for a hydration boost, and that's what the Evian Facial Spray is for. A couple of spritzes will water (literally) and freshen your skin. It also works as a setting spray or a mist to tone down the thickness of your makeup. Definitely one to up your selfie game!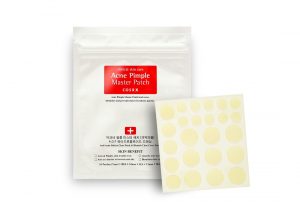 COSRX Acne Pimple Master Patches, Php 200
You only have to wait overnight to get rid of pesky pimples with these skin-blending clear patches. Dubbed as a "Hydrophilic Wound Dressing," the COSRX patches treat popped pimples for what they technically are: open wounds caused by bacterial infection. The patches suck the bacteria, oil, and other impurities out of your skin without scarring and drying it. They come in three varied sizes, so you have more options.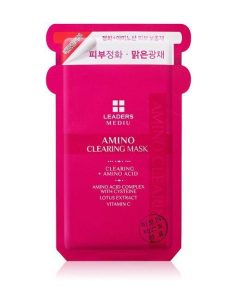 Leaders Mediu Amino Clearing Mask, Php 94
This mask is enriched with not one, not two, not even five, but seventeen different types of amino acids that, along with lotus flower extract and vitamin C, hydrate, moisturize, and leave skin feeling fresh and looking radiant. It also soothes redness and pimples. All these benefits in one!
Other than being wallet-friendly, it helps that these products are easily accessible for the long haul, which is important as it's not enough to use a skincare product only for a while. So, try them out!
All products featured on Zee are independently selected by the writer. Products are on the shelves and prices are accurate at the time of writing.