It's a Healthy White Christmas at SaladStop!
SaladStop! has a Yuletide offering for those who'd still want to have a dose of a healthy meal this season.
Christmas parties are happening left and right, bringing with them sumptuous feasts and irresistible desserts. While it can get very tempting to indulge, staying healthy doesn't necessarily mean one will have to miss out on some holiday treats. This season, SaladStop!, Asia's leading salad bar chain, tosses up the 'White Christmas', a Yuletide offering that evokes fond memories of Christmas morning.
This seasonal salad and wrap is a rich, delectable mix of romaine lettuce, kale, croutons, turkey ham, and grapes, with a generous helping of their special walnut snow. To bring them all together, SaladStop! added a Christmas twist to it by using the staple Queso de Bola into its dressing, making the White Christmas taste truly like… well, Christmas. The White Christmas Salad and Wrap is available until January 6, 2018.
With over 60 toppings and 18 homemade dressings, diners have the option of making their own salad, or choosing from their Classic and Signature offerings such as the bestselling Hail Caesar and the Oh Crab Lah!
SaladStop! also founded the Eat Wide Awake movement to raise people's consciousness on what they are putting into their bodies. This advocacy spans throughout Asia, at SaladStop!'s outlets in Singapore, Japan, Indonesia, and the Philippines.
In Cebu, SaladStop! is located at the Level 4 Garden Area of Ayala Center Cebu and is open from 10:00 a.m. to 10:00 p.m. from Sunday to Thursday, and until 11:00 p.m. on Fridays and Saturdays. Visit their Facebook at http://www.facebook.com/SaladStopPH, or follow them on Instagram and Twitter at @saladstopph for the latest updates.
Shangri-La Mactan's Best-Kept Secret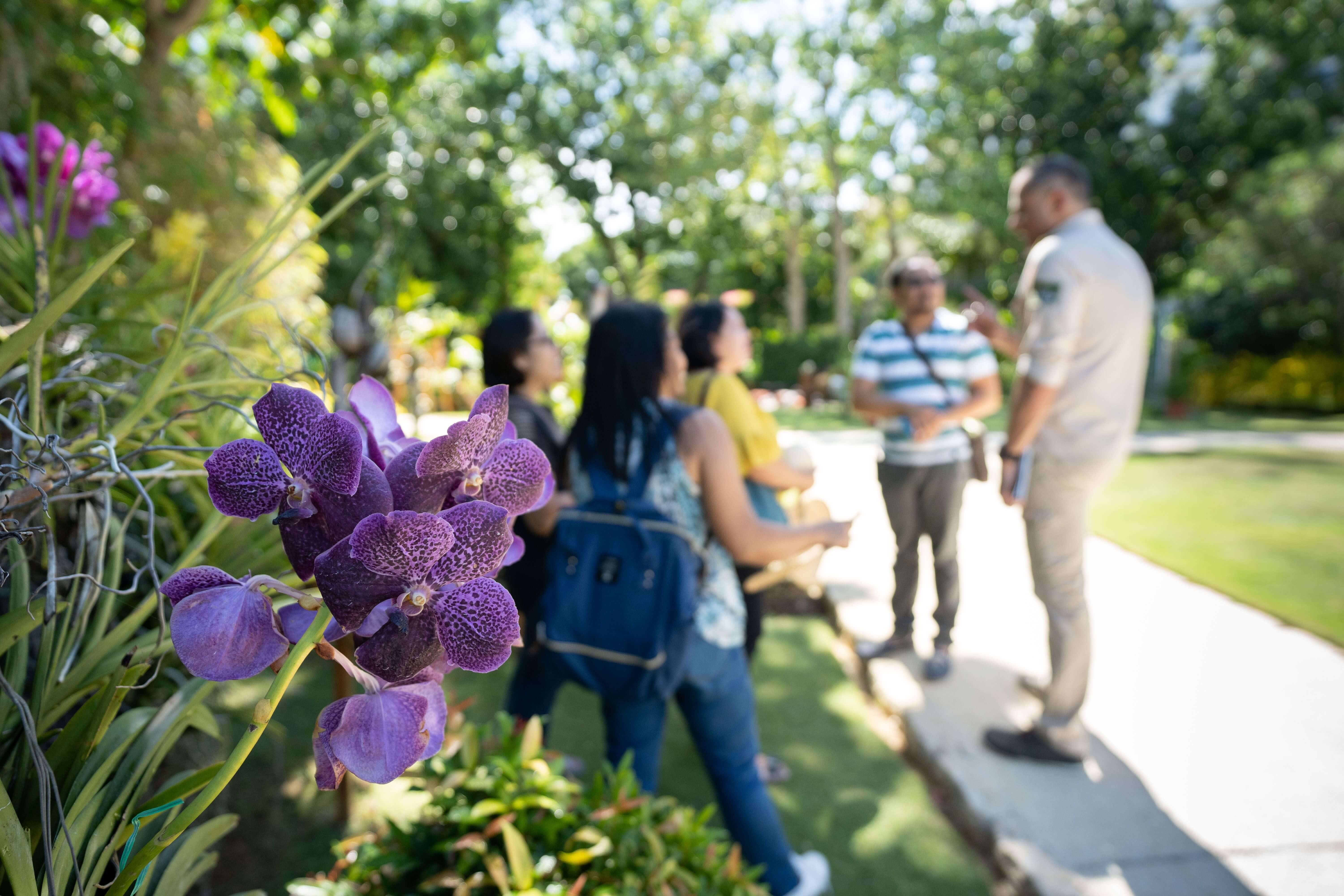 Every year on June 5th, people find different ways to celebrate World Environment Day, the United Nations Environment Programme's platform for positive environmental action. This year in Cebu, Shangri-La's Mactan Resort & Spa chose to celebrate the day by expanding its commitment to biodiversity conservation through its launching of the Eco-Trail.
A botanical sanctuary more than just a local attraction, the Eco-Trail features over 65 plants that form a route of lush greenery around the resort. Included in this collection is the recently discovered Cynometra Cebuensis, a flowering plant classified as critically endangered due to the rapid deterioration of its natural habitat. The plant's adoption in the Shangri-La Mactan Eco-Trail is a move to save it from extinction, a move for earth.
The trail begins at the Ranger Base and takes approximately an hour. Foreign guests need not worry about language barriers as each plant overview comes in multiple languages. Specialized resort rangers conduct the tours. These rangers are local experts who all share one thing: a passion for Cebu's flora and fauna, and a desire to share it with resort guests. Rangers received training from the University of San Carlos – Biology Department and the Department of Environment and Natural Resources.
To make the most of the experience, guests have the option to partake in a chocolate journey with the resort's chocolate sommelier at La Tierra del Chocolate After all, there is something so soothing about drinking a mug of hot (or cold) sikwate, a Cebuano chocolate drink, while basking in nature's glorious creations. (Some of Cebu's most stylish personalities enjoyed the Cacao Garden here!)
The Eco-Trail is initiated by General Manager René D. Egle and serves as the resort's testament to making taking care of Cebu's natural heritage an everyday advocacy.  
For more details, get in touch with the resort rangers at (63 32) 231 0288 or send an email to mac@shangri-la.com.
The Best Way to Donate to Charity Through GCash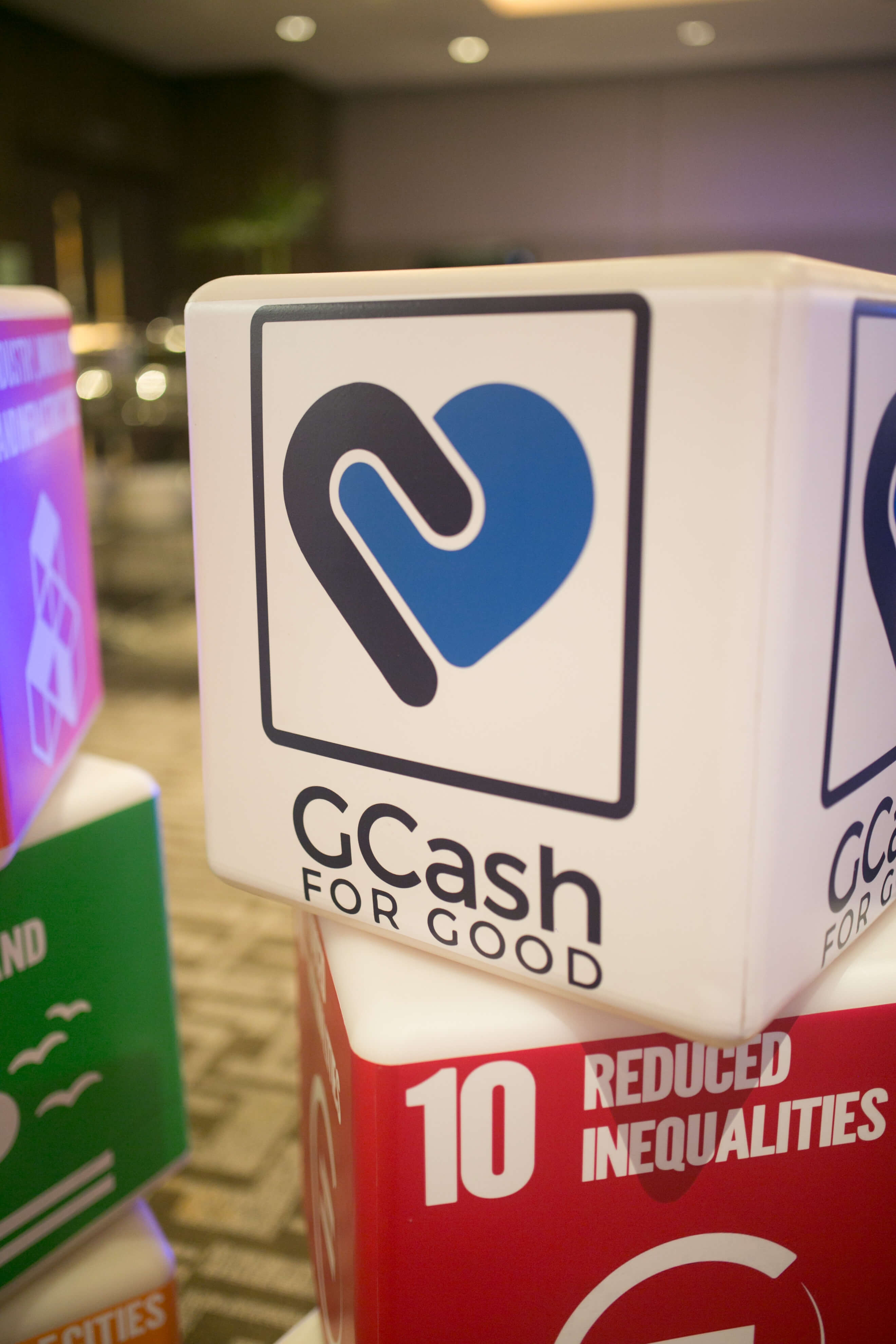 GCash introduces a program for advocacy that addresses different issues faced by society across different levels. GCash for Good is a pioneering corporate social responsibility program that encourages Filipinos to donate to non-government organizations for worthy advocacies such as education, environment, animal welfare and other social issues.
"It all starts with your decision to do good," says Reyner Villasenor, the VP for corporate communications. "GCash for Good is another big step to further develop the GCash app into a more socially relevant and sustainable platform that helps address issues across different levels," he adds. With the launch of the GCash for Good Program, GCash invites NGO Partners from Cebu and nearby cities to join a community of doing good and giving back through the program.
"Globe Fintech Innovations Inc. (Mynt) operates GCash as a springboard for donations to non-government organizations that champion various advocacies, thanks to its scale and innovative digital platform," says Reyner. "With GCash for Good, GCash users can use the GCash app to donate to various groups to create an impact on society," he adds.
The GCash for Good program currently involves 35 NGOs, including UNDP, ABS-CBN Lingkod Kapamilya Foundation, ECHOstore, Caritas Manila, WWF- Philippines, and more.
"The team at GCash really need to be commended for providing concerned citizens with a highly accountable platform to support the causes they are passionate about," says Titon Mitra, county representative for UNDP. "I doesn't matter how much one can afford to give- every peso to a good cause counts. GCash can be a powerful tool for direct citizen engagement and an important contribution to helping the Philippines to meet the Sustainable Development Goals," he adds.
"I am calling all our NGO friends in Cebu and other nearby locales to join us as we spread the power of good through GCash," says Reyner. Regulatory requirements are need to be completed by interested NGOs before becoming official GCash for Good partners to ensure the organizations are legitimate and the money donated cannot be abused.
"People now prefer to donate online, as this removes the hassle of having to go through long queues and processes, giving them more time to focus on their daily lives," says Reyner during the launch of the GCash for Good program in Cebu. With that, partners of the program are happy that GCash has launched a program where people can be comfortable to donate their money.
"After a decade in development work supporting our social enterprises, I have seen the difficulties that non-government organizations face in mobilizing funding support for even the most worthy causes," says Jeannie Javelosa, the director for ECHOsi Foundation, one of program's current partner. " I am excited to see what GCash for Good can do for the development community. With more Filipinos feeling comfortable about giving online, GCash for Good could be a game-changer," she adds.
Reyner Villasenor stresses during the launch that through GCash, doing good is made easier and more efficient for people who wish to do so. "With GCash for Good, users will also have direct access to where their donations go. It showcases a more transparent and user-friendly interface for anyone to access," Reyner says.
5 Things We Love at SaladStop!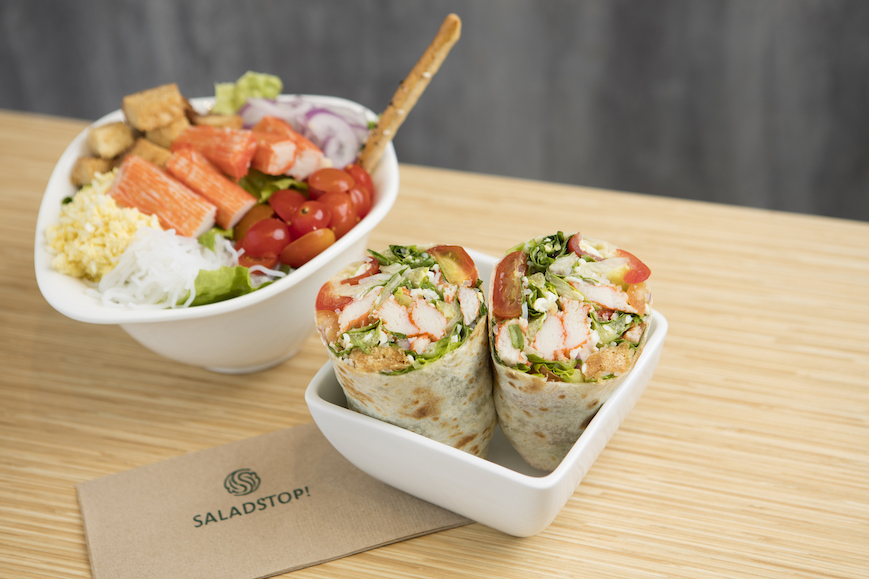 The search for shops in Cebu with healthy food is still on the run and SaladStop! just opened a second branch at Oakridge Business Park, just in time for more people to try their delicious and healthy goodies.
SaladStop! offers a variety of flavors and exciting twists to the usual salad that we make at home, and we can't help but love them for that. That being said, here are 5 things we love at SaladStop!
Their sweet and tasty Whole Wheat Chocolate Chip Cookies
The Wheat Chocolate Chip Cookies from SaladStop! allows you to indulge in sweet goodness with no guilt and regrets because it tastes like your regular chocolate chip cookie but it's vegan which makes it have healthier benefits than your usual chocolate chip cookie.
For less than a hundred pesos, you get to enjoy their flavorful and tasty whole wheat chocolate chip cookies and it's totally worth it. The cookies are sold in 15 pieces per pack which makes it even more better than any other cookie you get to taste.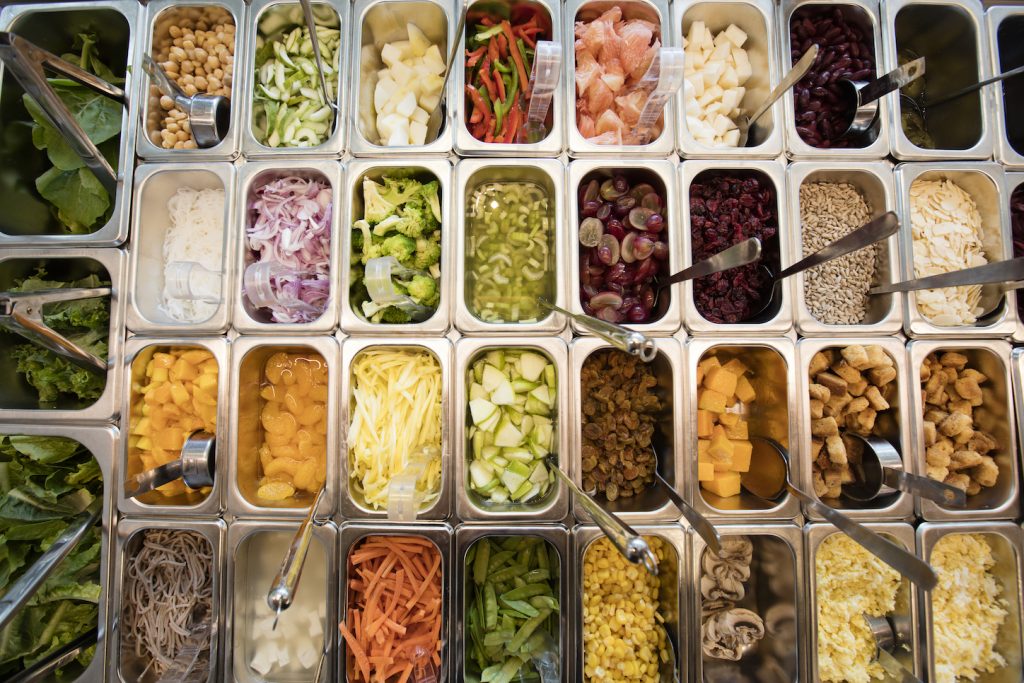 Their freshly-made salads with a variety of choices for toppings and dressings
The best thing about SaladStop! is that you get to create your own salad with a variety of toppings and dressings that you can choose from. Just tell the salad artist and they'll make the salad right in front of you. With more than 50 choices for toppings and 18 homemade dressing, surely you'll get to enjoy the salad flavor that suits your taste best.
Of course, SaladStop! wouldn't settle for just that. SaladStop! also has a menu of various salad choices that they've put together like their bestselling Oh Crab Lah! Salad.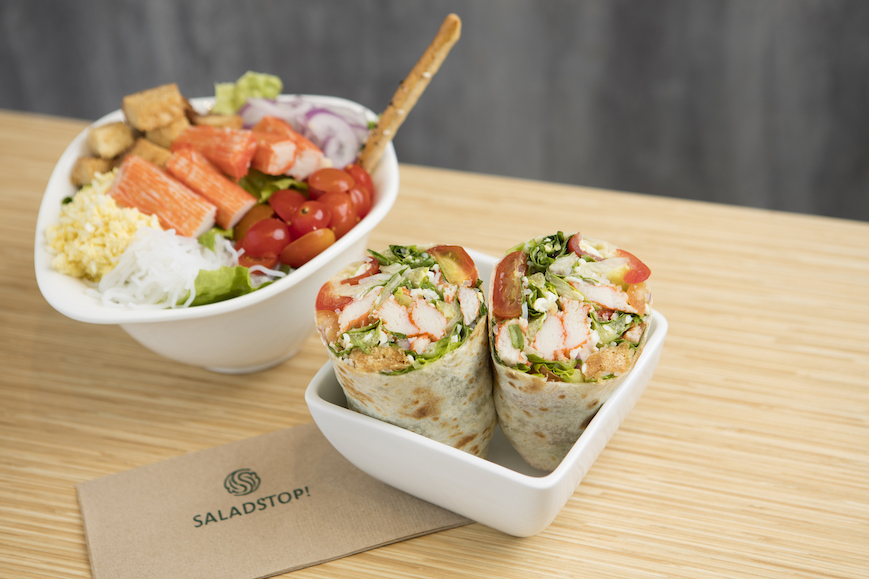 Their bestselling Oh Crab Lah! Salad
As mentioned, SaladStop! offers a variety of salads with exciting twists to their flavor and one of them is their Oh Crab Lah! Salad. Originally from the flavors of Singaporean cuisine, the flavors of this salad will definitely dance in your tongues with its appetizing taste of Singapore's famous chili crab dish mixed with your greens.
Ingredients: Romaine, Crab Sticks, Grated Eggs, Vermicelli, Cherry Tomatoes, Red Onions, Croutons and Singapore Chili Crab.
Healthy all the way menu
Another thing we love about SaladStop is that we don't get tempted into purchasing anything that makes us regret buying like soda. Yes, you read that right. SaladStop does not sell soda. There, you get to maintain your healthy diet because they only sell juices and smoothies with high nutritional values. Of course, they wouldn't forget water above all else.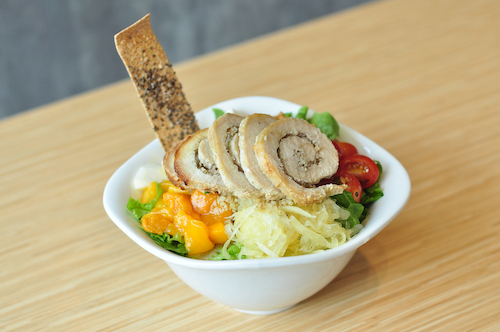 Their new "Bring It Chon" salad
With the recent opening of their new branch, SaladStop! also introduces the new variety to their healthy menu called Bring It Chon, which is exclusively available in Cebu until June 12, 2019. Bring It Chon is a mix of your favorite fresh salad ingredients with a twist of Cebu Lechon's savory flavor.
Ingredients of the Bring It Chon salad include: Romaine Lettuce, Quinoa, Cherry Tomatoes, Pickled Green Papaya, Fried Garlic, Ripe Mango, Turnip, Mango Cilantro Dressing and Lechon