Paradise Found: The Dusit Thani Mactan Cebu Resort
Consistently named among the best islands in the world, Mactan has a new ace up its sleeve: the Dusit Thani Mactan Cebu Resort.
The island of Mactan in Cebu offers so much to travelers, from those seeking sea, sand and sun to those eager to learn about its rich history and local culture. With the fast-approaching opening of the Dusit Thani Mactan Cebu Resort, discriminating travelers will be further spoilt for choice.
Owned by Robinsons Land Corporation and managed by Thailand's Dusit Hotels & Resorts, the five-star beachfront resort is located on the northwestern tip of Mactan Island, in the picturesque barangay of Punta Engaño.
"Teaming up with Dusit Hotels & Resorts, a well-established international brand, is a step in the proper direction for the company," says Arthur Gindap, the newly appointed SVP and Business Unit General Manager of Robinsons Hotels and Resorts. "We are proud of our real estate development experience, and are driven to constantly introduce new and exciting brands and concepts to this quality-conscious market. As the market matures in sophistication and as competition continues to increase, introducing a global brand will further fortify our presence in Cebu."
Once a quiet seaside fishing village, the resort's ideal location has developed in recent years into one of the prime resort and residential destinations in Cebu.
It's also very easy to get to the five-star paradise–being only a short drive away from the recently opened Mactan-Cebu International Airport. Guests can also take the more scenic route, via the resort's exclusive water transfer service. Whichever you choose, it's a quick getaway from the hustle and bustle of the city.
Guests arriving at the property will be greeted by the inviting architecture of the resort's main buildings, three low-rise structures that effortlessly blend in harmony with their surroundings. After being ushered inside the open-air Grand Lobby, a sense of wonder takes over. The eye is immediately drawn to the sweeping views of Magellan Bay, with the hazy hills and mountains of Liloan, Cebu, in the distance. Sure to be the hands-down favorite spot to unwind is the resort's signature 100-meter long infinity pool, which seemingly merges into the sea.  The dramatic pool is complemented by the boardwalk promenade below, beautifully landscaped and perfect for sunbathing or a leisurely stroll. These unique features overlook the resort's exclusive beach, offering exceptional views and an unparalleled experience to every guest.
From this point, guests make their way to their accommodations, with several room types to choose from. These include the cozy Deluxe Garden View or Deluxe Sea View rooms, and the well-appointed Dusit Club Rooms, the medium-sized suites (Governor's, Captain's, and Executive), and finally, the majestic three-bedroom suites: the JG Suite and the Admiral's Suite. Each of the resort's almost 300 rooms has complimentary wi-fi, internet-ready TVs, coffee and tea making facilities, comfortable beds, and many other thoughtful amenities and modern conveniences. Guests may be tempted to stay in, though they'd be missing out, as there's much more to see and experience at Dusit Thani Mactan Cebu.
Some may choose to combine business with pleasure, so for that there are six event venues that can host celebrations, meetings, or seminars. The largest of these is the 1,235 sq.m Dusit Ballroom–the largest pillarless ballroom in Mactan–which can comfortably seat 600 guests for banquets or up to 1,000 guests for cocktails. At 500 sq.m, the Pre-Function Area can host cocktails for 400 guests, while the four smaller Salons, ranging from 95 to 100 sq.m., can seat a maximum of 60 guests for dinner or 80 guests for cocktails. Let's not forget the versatile Sky Garden, which has a sweeping view of the sea, the resort's pool, and the beach. This scenic area is perfect for teambuilding sessions, outdoor receptions, or health and fitness-related activities.
To complement these facilities, the resort also offers the TechnoGym-equipped D-FiT Fitness Center, the Namm Spa for relaxation, the Indoor Kid's Zone, a World Class Dive Center, plus a wide variety of Water Sports and Activities, and more.
After a day's worth of activities, resort guests will surely savor replenishing those burnt calories at Dusit Thani Mactan Cebu's world-class restaurants, such as the Sea Breeze Cafe featuring an international buffet; Benjarong, Dusit's signature contemporary Thai restaurant; the Sunset Bar, a poolside sports bar and gastro pub; the open-air Lobby Lounge, and the upscale Dusit Club Lounge. With tall coconut fronds swaying gently overhead, laze away the afternoon here with a refreshing drink in hand, and get ready for possibly the best sunset view in all of Cebu. They say that no two sunsets are alike; travelers surely wouldn't mind coming back again and again if only to prove that it's true.
"Graciously Dusit by caring people," says the resort's General Manager, David Baldwin. "Dusit Thani Mactan Cebu combines the best of Filipino and Thai hospitality and grace, and we look forward to contributing to Mactan's hospitality landscape. The growth of internationally-known resort brands like Dusit Thani in Mactan and the new International Terminal at MCIA are strengthening Mactan's position as the country's top tourism destination. We are proud to enter the dynamic Mactan market."
Robinsons Land has other developments in Cebu with its 3 malls, 3 office projects, 7 residential buildings, 2 subdivisions, as well as 2 other hotels.
For inquiries, email Dusit Thani Mactan Cebu Resort General Manager David Baldwin at
dtmc@dusit.com.
Enjoy a Funtastic Easter Sunday with the Kids at Rustans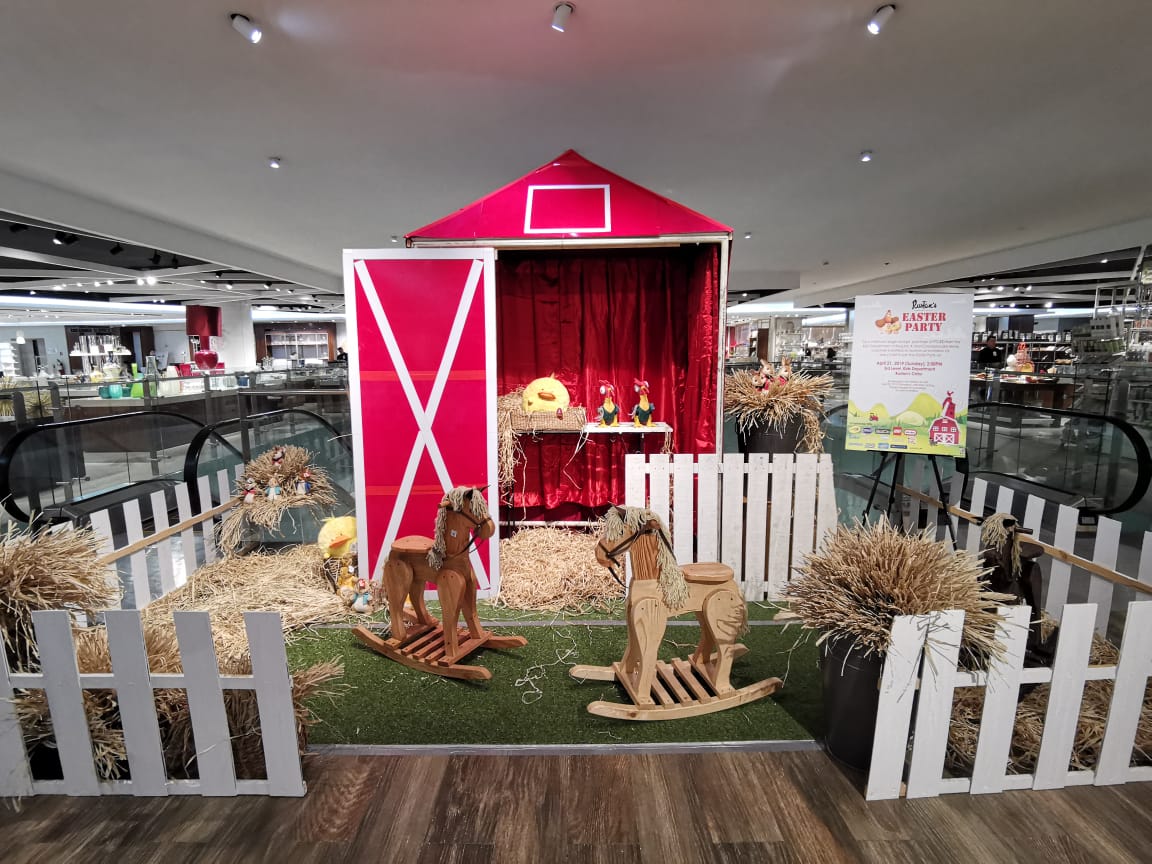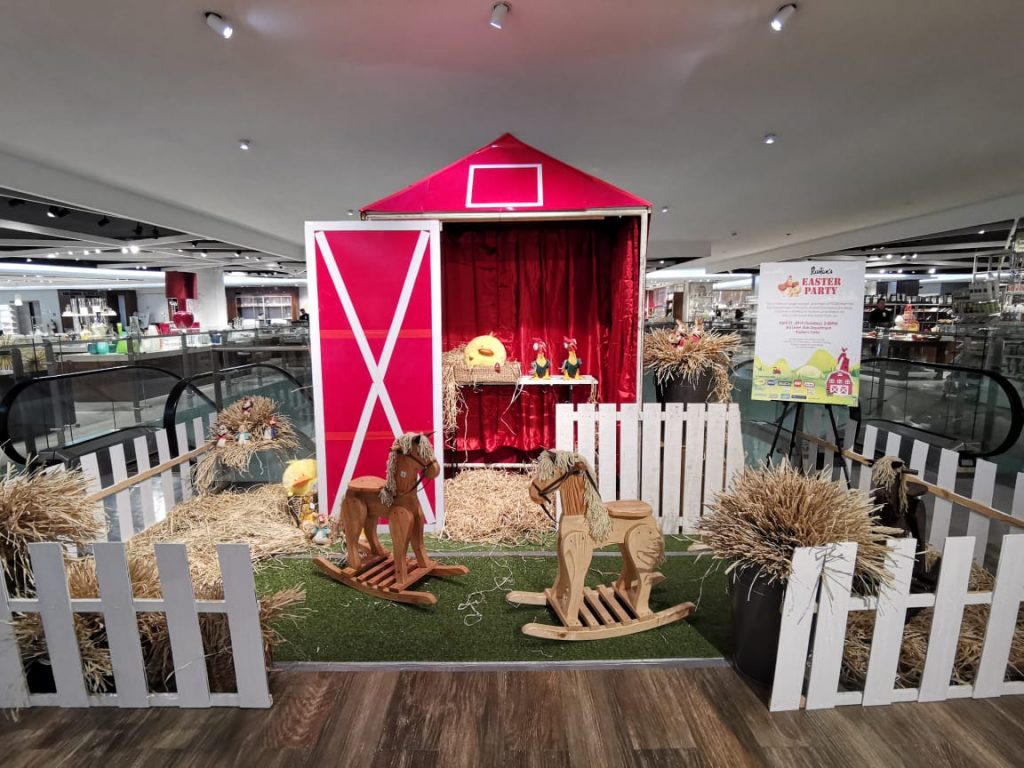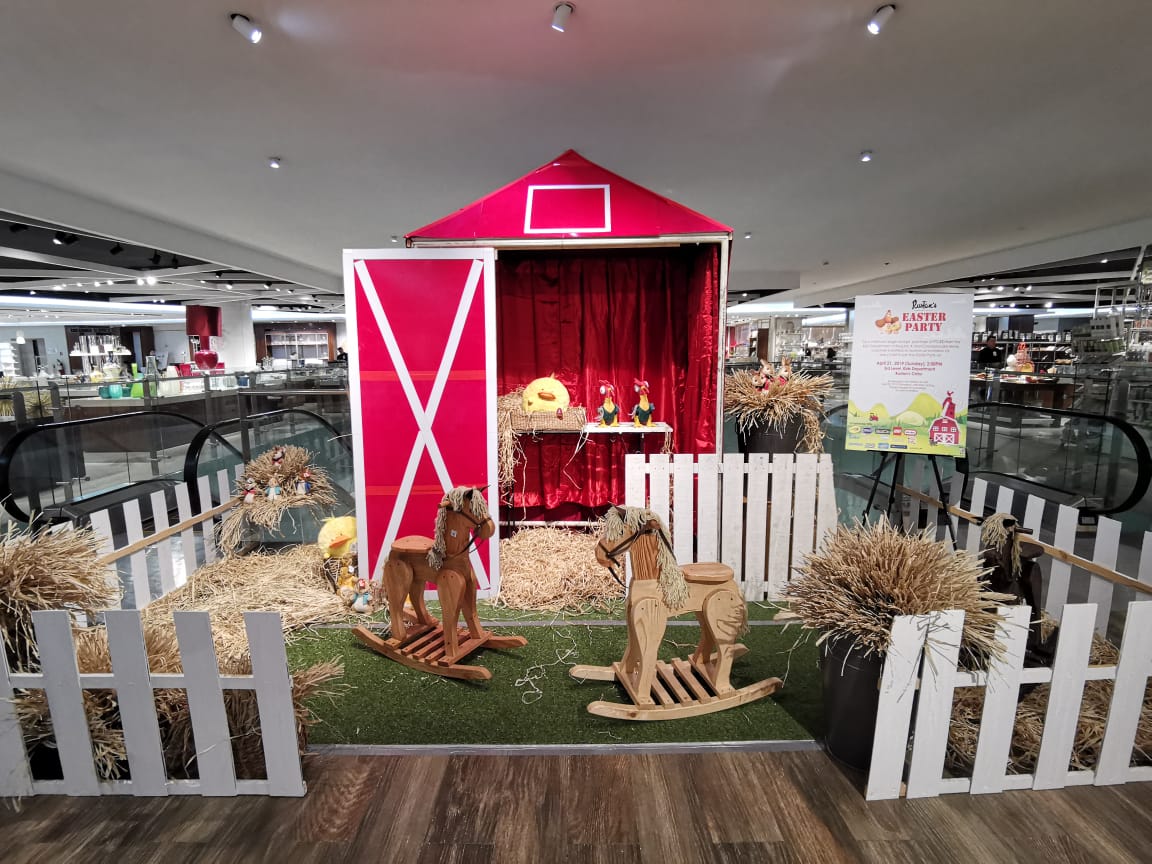 Easter is just a skip away, and for kids it's really a super fun holiday.
Egg-citing treats and surprises await them at the Rustan's Easter Party on Sunday, April 21, 2 p.m. at the Rustan's Children's Department, Ayala Center Cebu. For a minimum single receipt purchase of P 3,000 from the Kids' Department, come and enjoy the following:
Food Carts
Sure to delight kids are a selection of food carts filled with yummy sweet and savory snacks.
Easter Egg Hunt
The Easter Bunny hid many colorful Easter eggs at the barnyard for our precious little hunters to find. Hop along and join the search for a chance to win special prizes from our different kids' brands. Each participant also gets a Kinderjoy egg!
Easter Egg Decorating
Kids get to design and take home their one-of-a-kind egg creation at the Easter egg decorating station.
Crayola Art Activity
Let your kid's inner artist shine. Make a splash with pastel shades, bright patterns or rainbow colors.
Lego Building Contest
Fancy building an Easter bunny or a giant Easter egg? Let kids' imaginations take flight with the Lego Building Contest at the Lego Corner. Exciting prizes are in store for those with the most creative and imaginative Lego creations.
It's going to be a very hoppy Easter celebration at the Rustan's Department Store.
For more information and updates, visit https://rustans.com.ph and @rustansph on Facebook and Instagram
Here's What Cebu's Restaurateurs are Preparing for Easter Week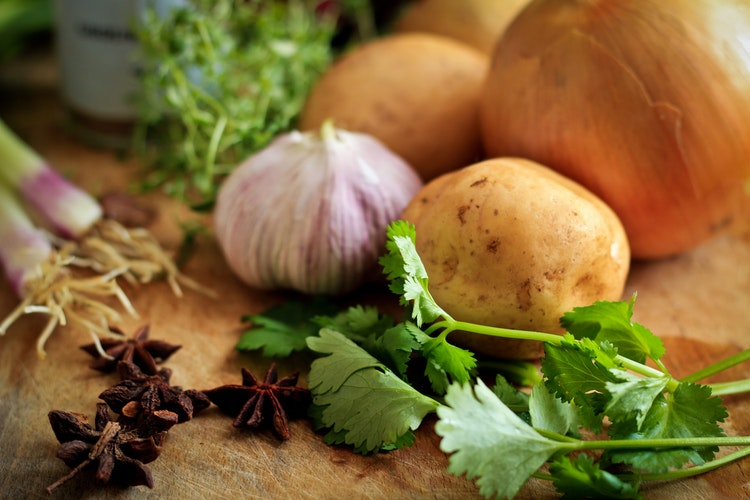 The arrival of Holy Week often means a mass exodus out of the city—whether it's for a trip back to one's hometown or an opportunity for a vacation. That being said, food choices during this time are often limited, with restaurants cutting down hours to prepare for the holidays, or creating menus that suit the season.
While it's interesting to know what these food spots will offer, we're curious about what the people behind them prepare at home. To satiate our curiosity, we asked some of Cebu's notable chefs and restaurateurs what they're cooking up this week.
"For Most Holy week days, we're most likely out of town. But buona pascqua is huge in Italy. So when we're in town, we're spending Sundays around the kitchen. We do gnocchi in all sorts of forms. We're rolling it, then pan frying, adding reduced liquid , adding meat. Using cauliflower to make it healthier. And how can Easter be without a sweet? A Burnt Caramelized mini "otap" Tart with pear is our choice." —Kate Anzani, Anzani
"One day this Holy Week, it's going to be ribeye, mashed potatoes, puttanesca pasta for dinner and homemade tacos & margarita for the afternoon. Other days, we dine out." —Jan Rodriguez, Weekend
Here's How Cebu's Milk Tea Shops Are Changing How We Enjoy Milk Tea
Milk tea shops are always filled to the brim daily by tens and hundreds of milk tea lovers from all around the city to savor their favorite iced milk tea drinks. At this point, milk tea businesses are upping their game with the tough competition.
The milk tea frenzy continues to go viral in the city of Cebu and it's not going anywhere anytime soon. Milk tea shops are always filled to the brim daily by tens and hundreds of milk tea lovers from all around the city to savor their favorite iced milk tea drinks. At this point, milk tea businesses are upping their game with the tough competition, may it be creating new and unique flavors to add to their menu, creating delivery systems for easier transactions in the comforts of their customers' homes or innovating new products that are inspired from the flavorful milk tea drink.
That being said, we prepared a list of the different ways to enjoy milk tea in Cebu for all the milk tea lovers out there.
Milk Tea Shake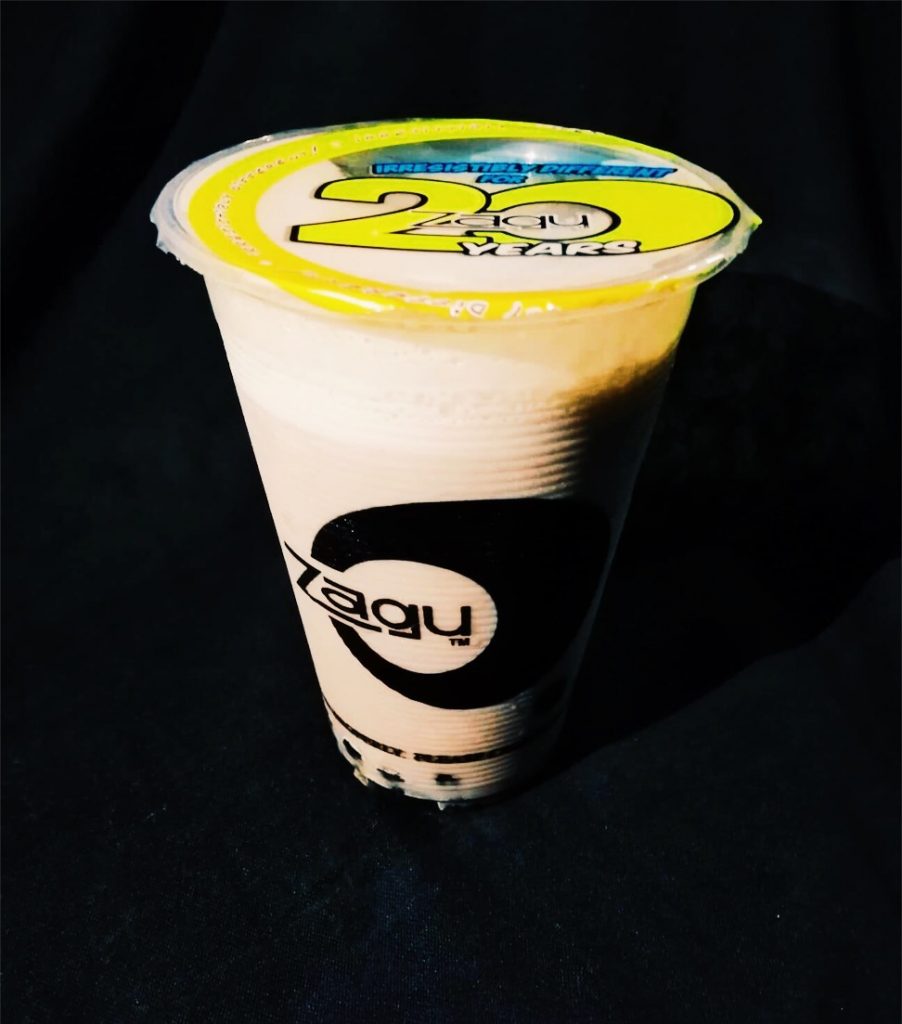 Zagu's Pearl Milk Tea
Way before this nationwide obsession for milk tea had started, Zagu, the famous pearl shake brand in the Philippines, was one step ahead of bringing us a shake flavor that would unknowingly become a trend in the upcoming years. Zagu has been serving our favorite flavored drink for years now and people are still talking about it.
Zagu's Pearl Milk Tea is fairly sweet just like any typical iced milk tea drink that you can buy but this one has a unique twist to its texture that you cannot find in any tea shop around the city. With the summer coming along, this milk tea will definitely cool you from the heat and satisfy your milk tea cravings as well. The best thing about it is that you don't have to go through great lengths in finding a Zagu. You can basically find it in any mall in Cebu. Just go to a food court and you'll surely find one.
Milk Tea Float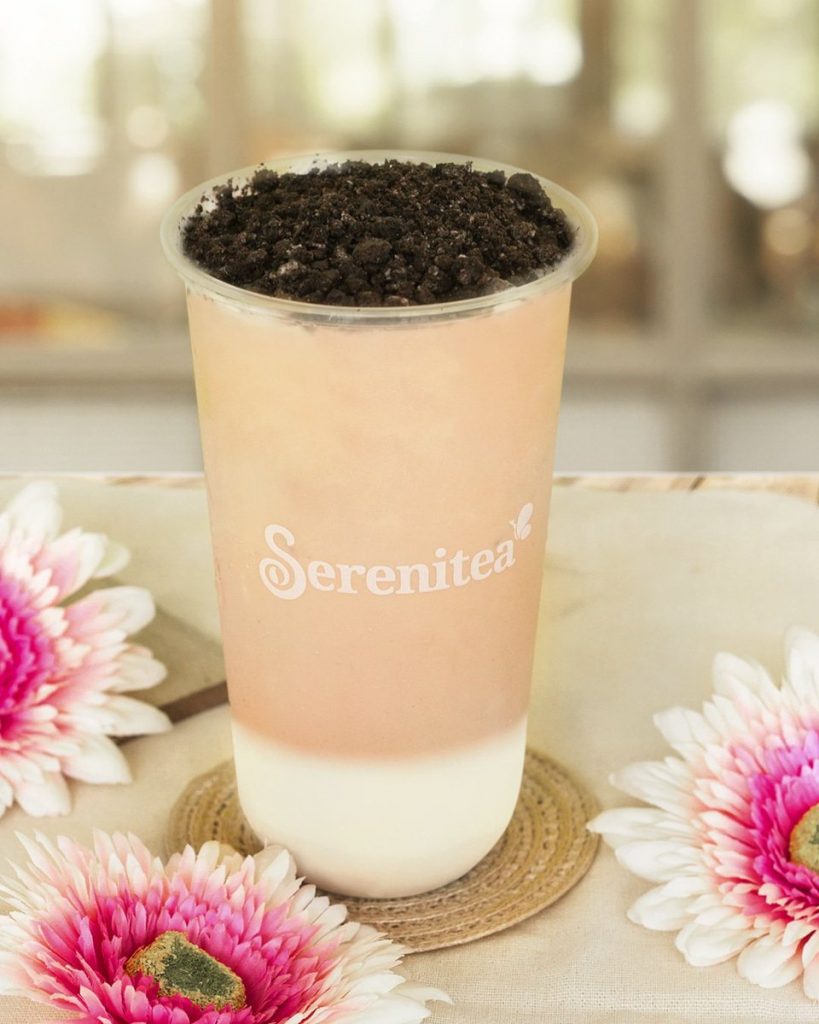 Cocoa Cookies and Cream Milk Tea Ice Cream
Photo owned by Serenitea
Coke floats and coffee floats from famous fast food chains were all the rage years ago. With today's trends it's no surprise that someone would definitely create something similar to a float. That being said, Serenitea brings us the joy of enjoying everyone's favorite drink in a way we're used to, a cold drink with sweet goodness on top.
Serenitea brings you a drink and a treat, all in one cup, with their milk tea float served in a variety of flavors that you can choose from. Beat the summer heat by enjoying Serenitea's Milk Tea Ice Cream drinks that comes with various flavors that you can choose from and enjoy.
Serenitea is located at Calyx Centre, Cebu IT Park, Apas.
Milk Tea Soft Serve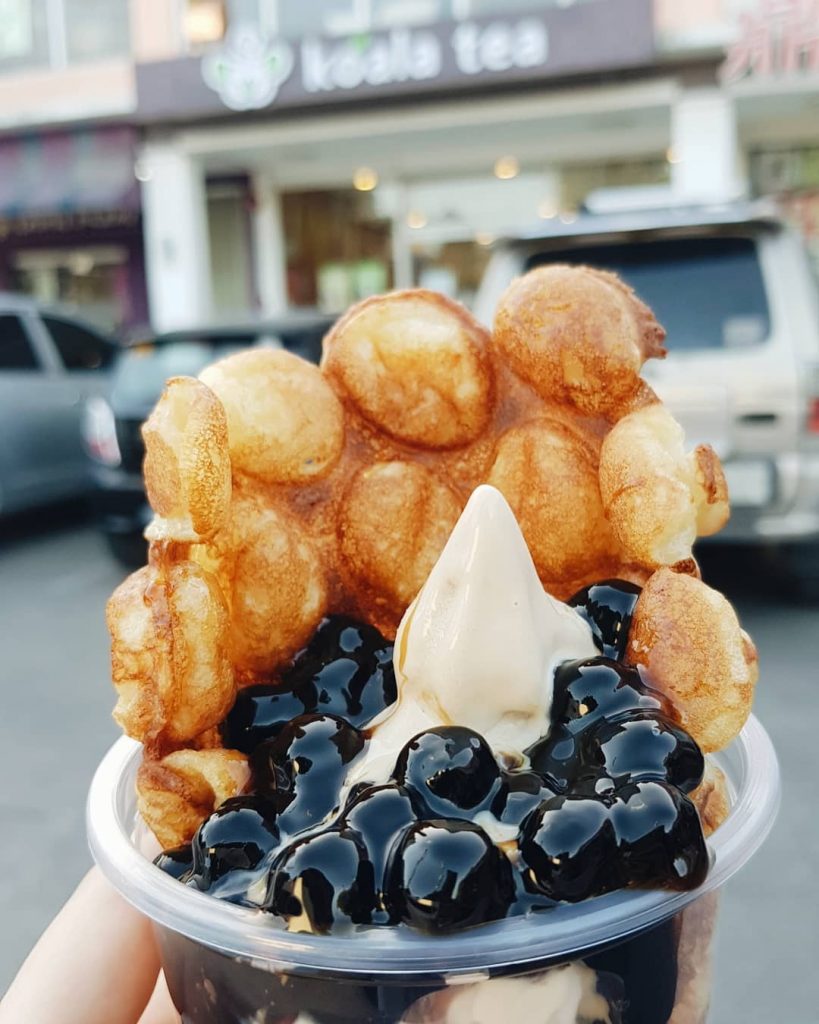 Koala Tea's Milk Tea Soft Serve With Pearls and Waffle
Photo owned by Koala Tea
The latest trend among everything in the list is the new milk tea soft serve that is available in a milk tea shop that is also new in Cebu. The famous milk tea soft serve from Koala Tea definitely broke the internet when they introduced the soft serve last month, making every milk tea lover shake with excitement as they try a new way to enjoy their milk teas.
Koala Tea serves their milk tea soft serve with pearls or oreo as a topping but if the two doesn't float your boat, it's okay! Koala Tea prepared a variety of toppings that you can add with your soft serve such as pudding, cream cheese and many more. They even have a waffle to go with your soft serve. How amazing is that? With the variety that they offer, surely, you'll find one that suits your taste.
Koala Tea is located at SSY Business Center, Salinas Drive, Lahug.
Milk Tea Frappe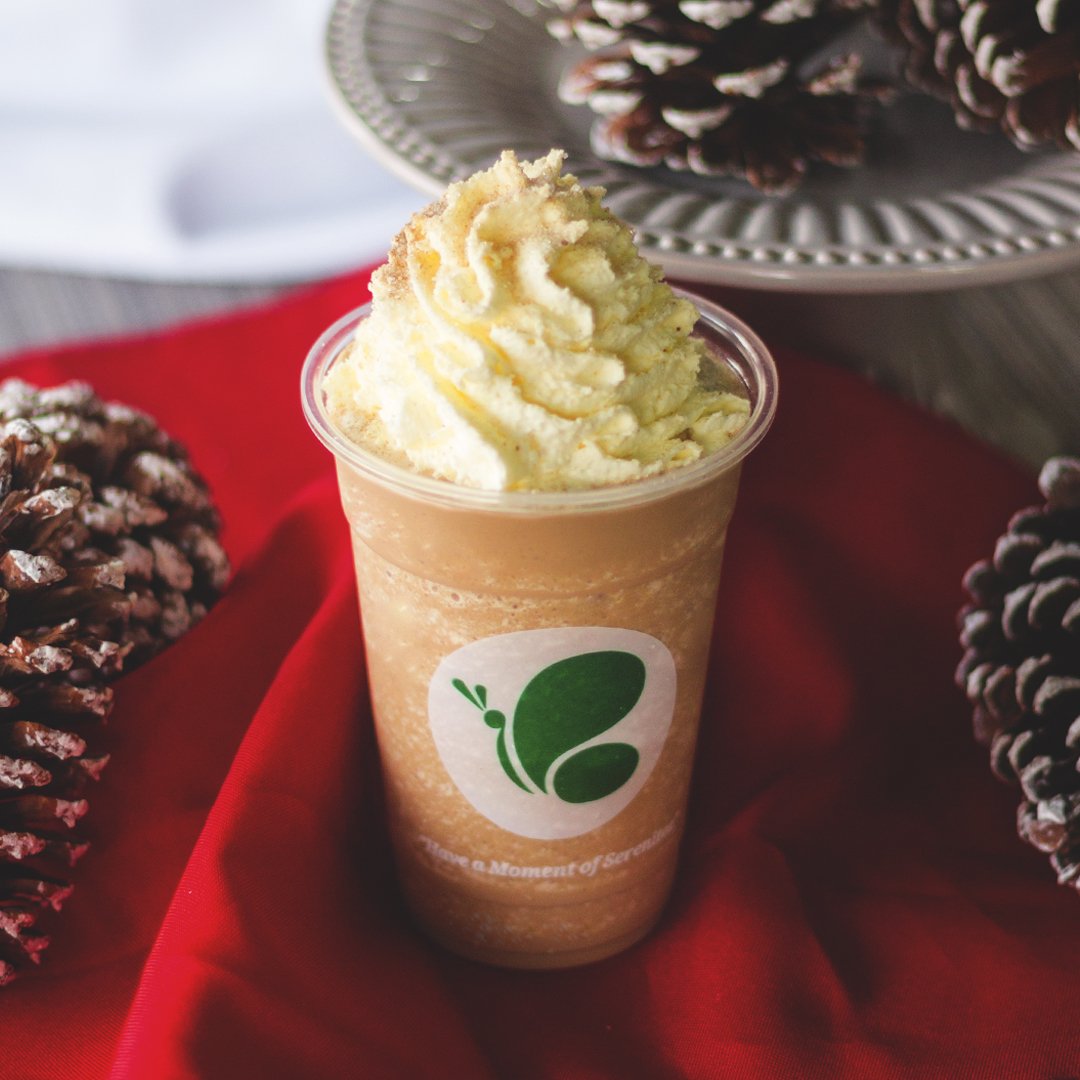 Serenitea's Okinawa Arctic Slush
Photo owned by Serenitea
Serenitea has done it again with this new way of serving milk tea. Just recently, they introduced their Arctic Slush line that consists of cold beverages including their new milk tea frappe.
Their bestselling Okinawa flavored milk tea is now served in an ice blend topped with whipped cream and drizzled with caramel syrup and Okinawa powder. What better way to thank all the Serenitea lovers than bringing them a variety of choices to enjoy their favorite drink? Now, you don't have to choose between ordering a frappe and a milk tea because Serenitea serves them both in one cup for you.
Grab your milk tea frappe at Calyx Centre, Cebu IT Park, Apas.