Level Up Your Flights with PAL's Brand-New Airbus A350 and A321neo Planes
Inflight comfort and luxury are redefined with Philippine Airlines' (PAL) brand-new Airbus A350-900 XWB and A321neo airplanes. Generous legroom, enhanced entertainment, and high-speed Wi-Fi connectivity await passengers across all travel classes beginning July 2018.
Inflight comfort and luxury are redefined with Philippine Airlines' (PAL) brand-new Airbus A350-900 XWB and A321neo airplanes. Generous legroom, enhanced entertainment, and high-speed Wi-Fi connectivity await passengers across all travel classes beginning July 2018.
"PAL aims to provide excellent standards of service for its passengers throughout the entire travel experience and be at par with the world's best airlines. We are taking our flights to the next level by modernizing our fleet and enhancing our cabin amenities and inflight offerings, on top of ensuring that we consistently provide that distinct brand of heartfelt service PAL is known for," said PAL President and COO Dr. Jaime J. Bautista.
"The arrival of the Airbus A350 and A321neo forms part of our journey towards attaining our goal of being the only 5-Star airline in the next few years from our 4-Star global airline rating.", he added.
In partnership with airline design specialist LIFT Strategic Design, PAL equipped the new planes with both function and form in mind, promising an enhanced passenger experience.
"With state-of-the-art modifications based on the latest technologies, these new aircraft will bring more benefits not only to passengers and crew but to the environment as well," said Bautista.
Here are four things you can expect from PAL's brand-new planes:
A Whole New World of Flights
These planes unlock PAL's true potential with the new long-range aircraft capable of flying non-stop, up to 17 hours for the A350 and up to 8 hours for the A321neo.
The new A350 will open a whole new world of access to long-haul destinations in North America and Europe. Starting October 2018, passengers can enjoy travelling to New York City nonstop for the first time in ultimate comfort and style with the introduction of the A350's Tri-Class cabin experience. The A321neo, on the other hand, has commenced non-stop flights to Brisbane last July 2nd and will soon explore Sydney, Port Moresby, and Sapporo.
Space for Days (Or hours)
The new A350 and A321neo pack an impressive space in the cabin so that every passenger, regardless of class of service, enjoys the maximum comfort possible during the flight. These new aircraft also feature an innovative cabin layout and seat design.
Business Class passengers aboard the A321neo can enjoy full-flat seats up that extend up to 78 inches, a first in PAL's narrow-body fleet and a first for A321neos worldwide.
Meanwhile, all Business Class passengers aboard the A350 have direct access to the aisle with the 1-2-1 seat configuration.
Business Class passengers aboard the A350 enjoy top-level comfort that matches the best competitors globally with seats that can be reclined to full-flat beds, equipped with adjustable air cushions and massage functions. Plus, with enhanced amenities and services such as our new plush duvets and Dine-on-Demand meal service, passengers can expect a cozier and more enjoyable long-haul journey.
The Premium Economy Class onboard the A350 – a first of its kind to be offered on PAL's destinations in the US Mainland and the UK – offers passengers an upgraded experience without the lavish price tag, with 38-inches of legroom and seats that can recline up to eight inches. Passengers seated in the Premium Economy Class also enjoy privacy and exclusivity with only 24 seats available and a dedicated lavatory in the cabin.
Economy Class on the A350 has also been enhanced with seats that recline up to six inches and a spacious legroom with seat pitch of up to 33 inches, offering industry leading comfort.
Put Boredom Behind
The A350 and A321neo provides more options and control to passengers seeking personal entertainment during a long-haul flight. All seats are equipped with personal TV screens with an up-to-date selection of movies, TV shows, music and more for every generation.
Starting October 2018, passengers will have more control to select content from their mobile phone aboard the A350 via the myPAL Player App. Guests simply need to download the app, pair it up the personal TV screen assigned, and have full control on the entertainment.
The A350 boasts of having the first high-speed Wi-Fi in the PAL fleet – so you can surf and watch videos on Facebook or YouTube, or even shop online starting October 2018. The new aircraft is also equipped with experience-enhancing mood lighting with scenes designed specifically for PAL, giving the cabin a "distinctly PAL" ambiance.
Less Noise, More R&R
You can sleep soundly when flying via the A350 and the A321neo — their state-of-the-art engines produce less noise both inside and outside the cabin, compared to other previous-generation aircraft. In fact, the A350 has four times less noise than its competitor aircraft, making it the quietest twin-aisle aircraft to date.
Artisanal Cebu: Aspiring calligraphy artist Abigail Condrado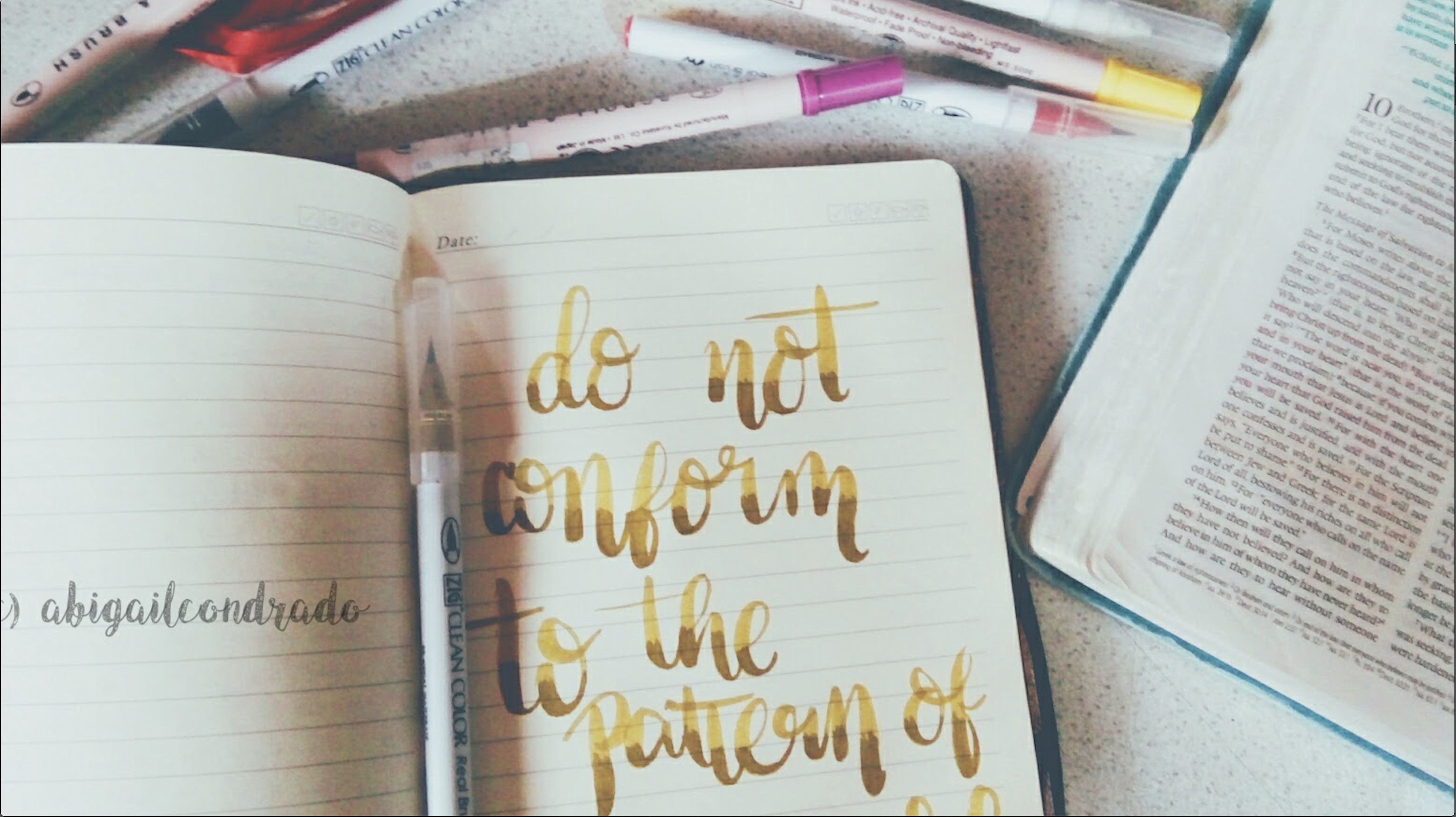 In the third installment of Artisanal Cebu, we feature the wonderful artwork and calligraphy style of Sarah Abigail Condrado – a freelance calligraphy artist.
Abigail is one of the rising singers and performers of Cebu today, with singles such as "Bisan Asa" and her famous cover of "Duyog" by Jewel Villaflores. Currently working as the Marketing and Relations Manager of St. Paul College Foundation Inc., she has one other skill that only a few knew: her talent in the art of calligraphy.
Watch on how she began her journey in becoming a freelance calligraphy artists.
Sugilanon sa Pasko Celebrates Christmas in a Uniquely Cebuano Way
Editorial consultant Allain Fonte shares his first Christmas experience at Cebu Parklane International Hotel.
by Allain Fonte
For the past years, I had been spending my Christmases overseas away from family and friends; and worst, away from my mom's delicious cooking for the Noche Buena.  In those three years, I spent my Christmases in the refugee camps in Egypt and in Java, assisting lawyers process the relocation of refugees to Canada, Australia, Germany and France.  Although it is delightful to be the bearer of good news on Christmas day, informing them that their relocation has already been processed, it is also heart breaking to tell the other refugees that their applications have been denied and that they must wait for another year in the camps.  What a whirlwind experience to celebrate three Christmases!
This year, I am very excited because I shall be celebrating Christmas in my most loved city, Cebu.  As early as September, you can see Christmas lights blinking, even from a distance. And, there is something comforting about the rain; most especially when you hear Jose Mari Chan singing in the background.  Alas, November came and the spirit of Christmas is much stronger, as you hear Christmas carols almost everywhere, Christmas decorations brighten houses and buildings, Christmas lights lit every corner of the streets, and most of all, you will hear lots of merry-making in pre-Christmas dinners and parties.  
On the 12th of November, Christmas has officially started at Cebu's premier business hotel, Cebu Parklane International Hotel.  It was one of the grandest pre-Christmas parties in the city; with the guest of honour, no less than the governor of the province of Cebu, the Hon. Gwendolyn Garcia.  What made this event extra special is the theme of the party, which was uniquely Cebuano. The marketing and events offices of the hotel prepared a very entertaining program that showcased Cebuano culture, and presented by Cebu's most talented artists from the MDF productions.  The hotel's general manager, Madame Cenelyn Manguilimotan, explains that the program is meant to welcome home the balikbayans and remind them, including the locals, on how beautiful the Christmas celebrations are in Cebu.  It is also to let the foreign guests experience the best of the cultures of Cebu and what it is like to be celebrating Christmas in the Queen City of the South.  For someone who celebrated three Christmases away from home, the pre-Christmas program got me teary-eyed; especially, the re-enactment of the nativity and the heart-touching Christmas carols of the MDF Chorale.  Every guest was smiling with the nostalgic presentations and dance performances from the MDF cultural dance company. Even the kind governor stayed throughout the event, amidst her tight schedule. Hence, I had to compliment the Marketing and Communications manager of Cebu Parklane International Hotel, Miss Jaybee Aquino, for hosting one of the best pre-Christmas celebrations ever staged, and she gracefully shared that in Cebu Parklane International Hotel the practice of excellence is a culture; so, the Marketing and Communications office was pressured to put up only the best for their guests and partners.   
The pre-Christmas program was highlighted by the lighting of the Christmas tree.  Following the hotel's mission to the environment, their 25-foot Christmas tree was made from old newspapers.  The newspapers were dyed in the colours of autumn, and were cut into 15,000 pieces of maple-leaf-shaped ornaments decorated all over the tree.  Under the tree are life-sized figures of the nativity made from papier-mâché. The whole lobby of the hotel glimmer in Christmas decorations.
The program concluded with a sumptuous Noche Buena prepared by their Food and Beverage team at the Victoria ballroom.  To my surprise, the hotel's Corporate Executive Chef, June Rhoses Fernandez, partnered with the local municipalities in Cebu, and served all of Cebu's most exquisite delicacies.  It was an adventure for the palate. The buffet table took us all around Cebu; from Carcar's lechon and chicharon, Asturias' budbud moron, Argao's torta, Lilo-an's rosquillos, to Boljoon's hamonada.  Although I am on a strict diet plan and would only have Sundays as my cheat days, I totally lost myself with what Chef June served.  Every food on the table was a must-try, and nothing on the table disappointed me. Every food served was competing to be the best. However, my personal favourite was the chef's specialty, Ube champorado and Dilis.  The champorado is literally translated as 'chocolate rice'; yet, this champorado was not made with cacao but with purple yam and coconut milk.  When I took the first bite of the Ube champorado and Dilis, it took me to a whole new world; and, I almost forgot my name because it was just amazing.  This is something only The Parklane can offer, truly an experience not to miss. The Parklane's heritage and cultural ambassador, Associate Professor Gavin Sanson Bagares, construes that The Parklane does not only provide international standards of excellent hospitality service to its guests, but is also committed to promote Cebuano heritage and culture to the world, making the Filipino products world-class; thus, the authentic Cebuano cuisine can only be experienced at The Parklane.
It was a night that I shall never forget.  Cebu Parklane International Hotel did not only remind me on how beautiful it is to celebrate Christmas in Cebu; but it also rekindled my spirit of nationalism, making me proud to be a Filipino, and even prouder to be Cebuano.  Maayong Pasko Cebu Parklane International Hotel!  Maayong Pasko Cebu!!!
Here's a Glimpse of The Mactan Newtown Lifestyle
The idea of coming home—whether for a short visit or as permanent residence—to a place where everything you need is within reach is an appealing one. Here's why each day is a tasteful living experience at The Mactan Newtown.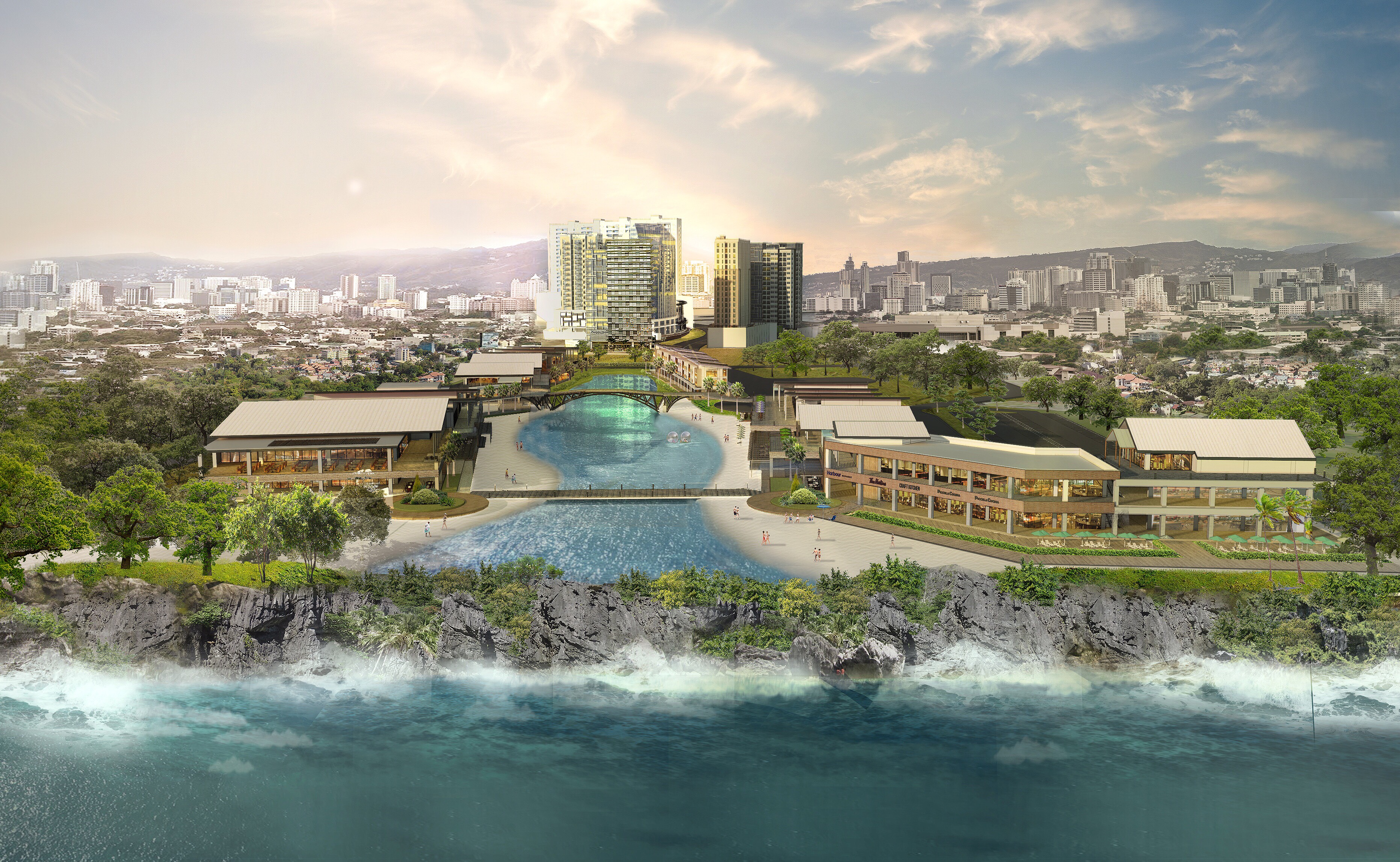 Scattered around the globe are remarkable islands offering stretches of fine, white sand, stunning vistas of deep blue waters teeming with colourful life underwater, and warm, glowing sunsets, but there's nothing quite like Mactan Island.  
Named as one of the best islands in Asia—as part of Cebu—just recently, Mactan Island is a getaway paradise in and out itself. With people flocking from all over the world to get a glimpse of the island's pristine white sand beaches and glimmering blue seas, it's no wonder that it's become not just a premier tourist destination in the Philippines, but a prime residential area as well. As one of the major tourist islands of Cebu, Mactan boasts of some of the best diving, island hopping, sailing and cultural activities in the country.
It's for these reasons that real estate giant, Megaworld Corporation, decided to set foot on the shores of the historic resort city. For the last 30 years, Megaworld Corporation has built communities across major cities in the Philippines—and the 30-hectare property in Mactan, called The Mactan Newtown, is the first major township development outside Metro Manila.
Since opening in 2016, The Mactan Newtown has brought in a lot of opportunities that encompass its "live-work-play-learn" concept; the township is steadily growing, and its residential buildings, office spaces, 24-hour grocery, food spots, beach, and even school, are evidence of the company's efforts to create a thriving, holistic community.
The idea of coming home—whether for a short visit or as permanent residence—to a place where everything you need is within reach is an appealing one. Here's why each day is a tasteful living experience at The Mactan Newtown: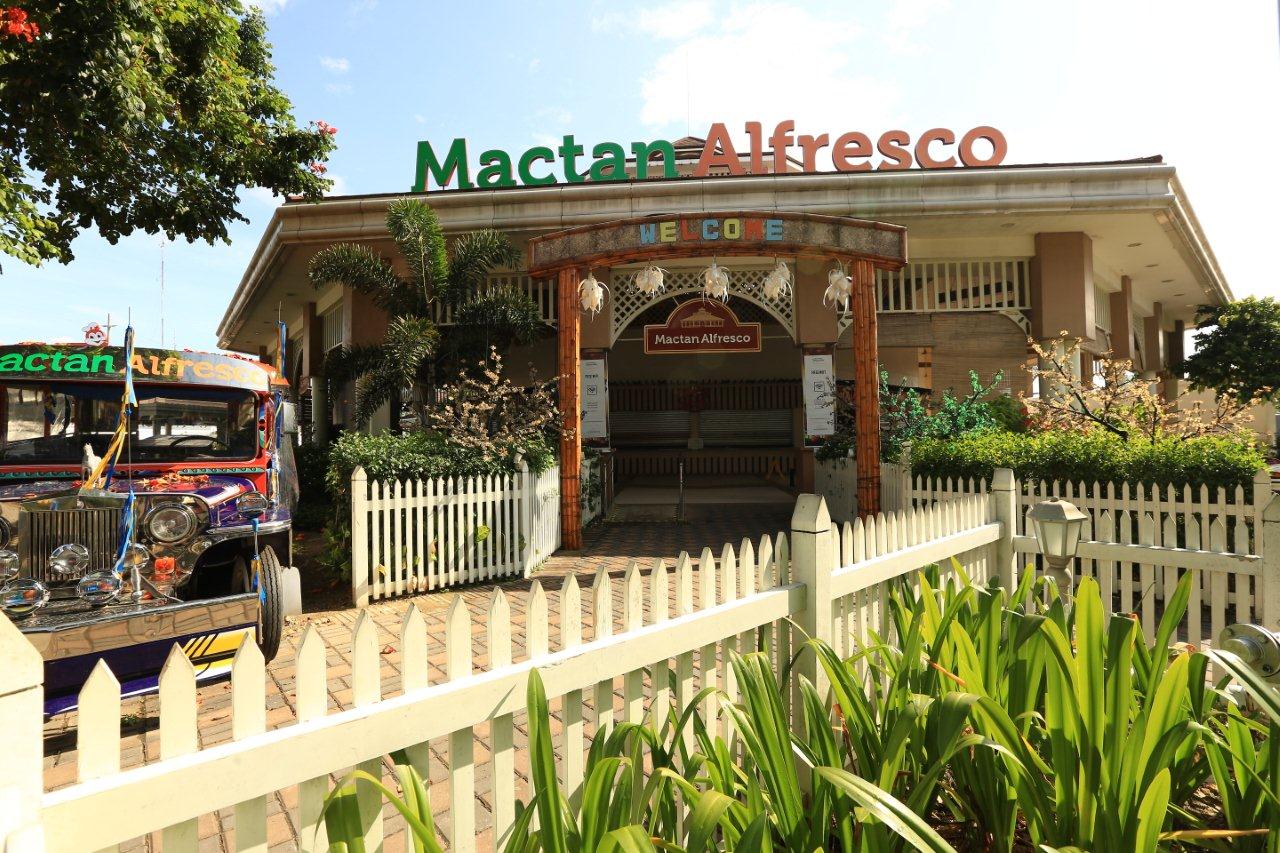 It's a foodie's paradise
There's no denying that Cebu is a culinary melting pot—aside from years of trading relations and colonial influence, there's also the island's magnetic pull of tourists (whether local or foreign) that drives demand, especially for delicious, authentic fare. To ensure a complete gastronomic experience, The Mactan Alfresco houses a variety of food spots that are worth trying. 
Patterned after Singapore's famed hawker centers, The Mactan Alfresco is a covered dining strip that is designed to showcase the best authentic Cebuano cooking and cuisine—it isn't hard to embark on a food trail here, as the space has everything from snacks, main courses, desserts, and drinks. 
Whet your appetite with short orders, sink your teeth into the day's freshest catch, breathe in the signature smokiness of charcoal-grilled meat, and cap off your meal with sips of refreshing, fruity drinks. 
Of course, no trip to Cebu will be complete without sinking teeth to its culinary pride: lechon. At Mactan Alfresco, diners can enjoy 'the world's best pig' (as the late Anthony Bourdain puts it) in the most delectable and crispest of ways with its 'Lechon Pit'. And, here's a pro-tip: if you're looking to enjoy Cebu lechon, make sure to drop by The Mactan Alfresco during August, as they hold the annual Lechon Festival that showcases the island's most mouthwatering roasted pig!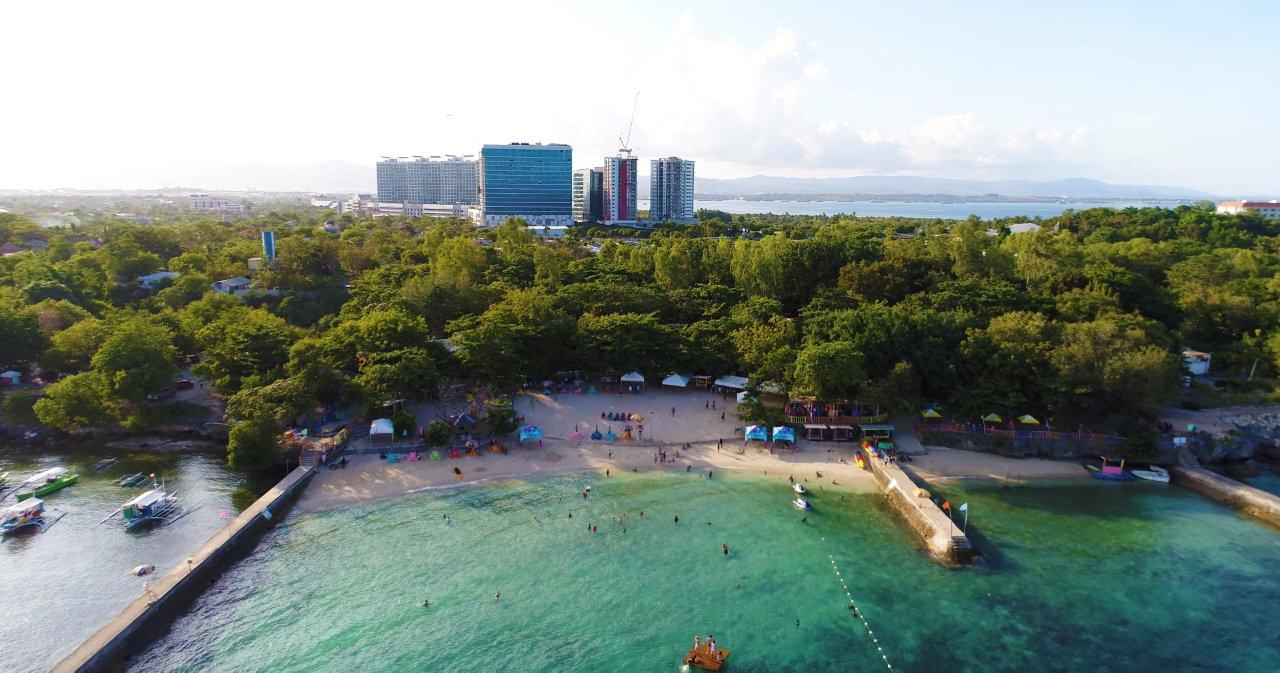 The beach is (quite literally) just a stone's throw away
Mactan Island's charm lies in its clear blue waters and sandy white shores, so of course, it is only natural that The Mactan Newtown has its own beach. Aptly called The Mactan Newtown Beach, it's a quick escape from the hustle and bustle of the city without having to leave the island.
Accessibility aside, the beachfront is dotted with colourful cottages and lounge chairs perfect for relaxation, or a quick snap for a social media post.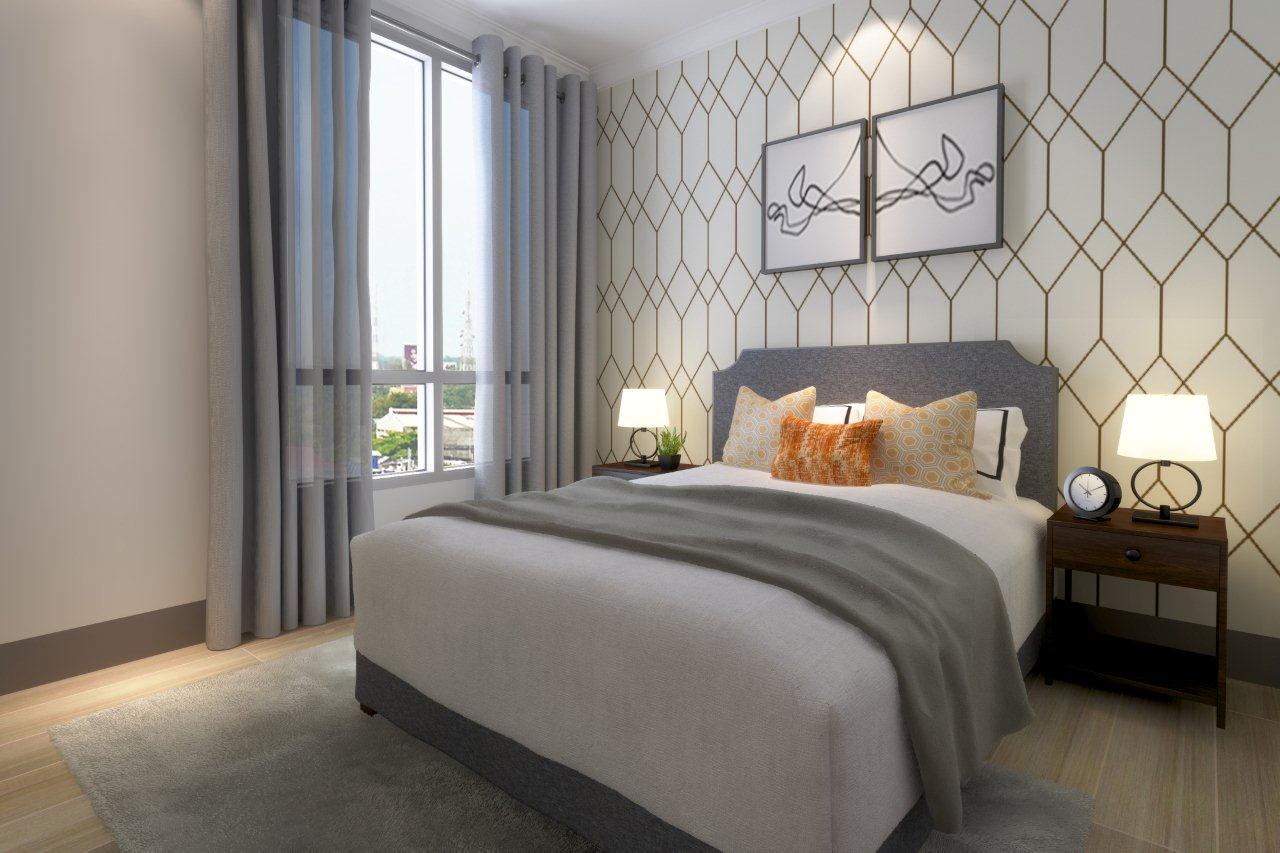 You get to come home to paradise
No township project by Megaworld Corporation is complete without a residential aspect. Currently, at The Mactan Newtown stands 8 Newtown Boulevard, One Manchester Place and One Pacific Residence. 
There's also the soon-to-rise La Victoria Global Residences, which is heavily inspired by Spanish architecture. More important than its overall aesthetic, though, is how La Victoria Global Residences highlights the historical significance of Ferdinand Magellan's 'Galleon Victoria', the first ship to have circumnavigated the globe back in 1521.
Each residence offers a wide variety of amenities and facilities, from spacious receiving areas or lobbies to wide hallways, to manicured lawns and refreshing pools, well-equipped gyms and leisure centers, down to the thoughtfully-planned livability in each unit. 
Whichever residential development one chooses to have as their domicile, it's guaranteed to be a space meant for one to enjoy coming home to at the end of the day. 
For travellers who'd like a taste of what it's like living in Mactan, the up-and-coming Savoy Hotel Mactan—one of Megaworld Corporation's homegrown hotel brands—is set to open this November, with 547 guestrooms and suites, so stay tuned for that.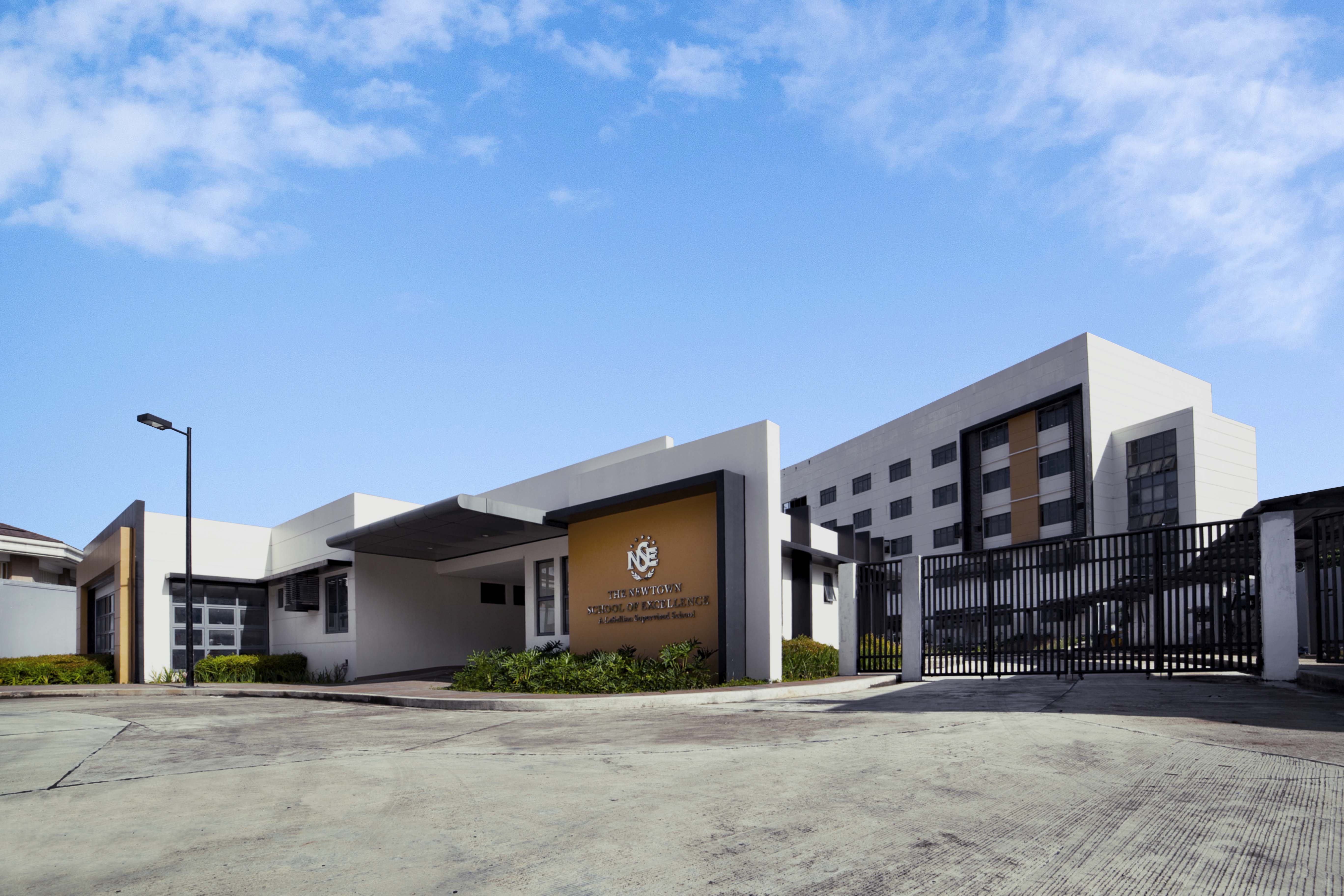 The hustle isn't a hassle
Now that we've touched upon the "play" and "live" aspects of the township, let's move on the the "work" and "learn" parts—The Mactan Newtown further cements these concepts with the establishment of its high-end office towers and school. 
The township is home to a couple of office buildings which house international business process outsourcing (BPO) companies, which comes as no surprise, seeing as the Philippines is one of the best and biggest BPO service providers worldwide—in fact, in Cebu alone, the BPO industry registered a 19% hiring growth in the first half of 2019.
For parents who seek to provide quality education for their children, the township has The Newtown School of Excellence, supervised by the Lasallian Schools Supervision Services Association Inc. (LASSSAI).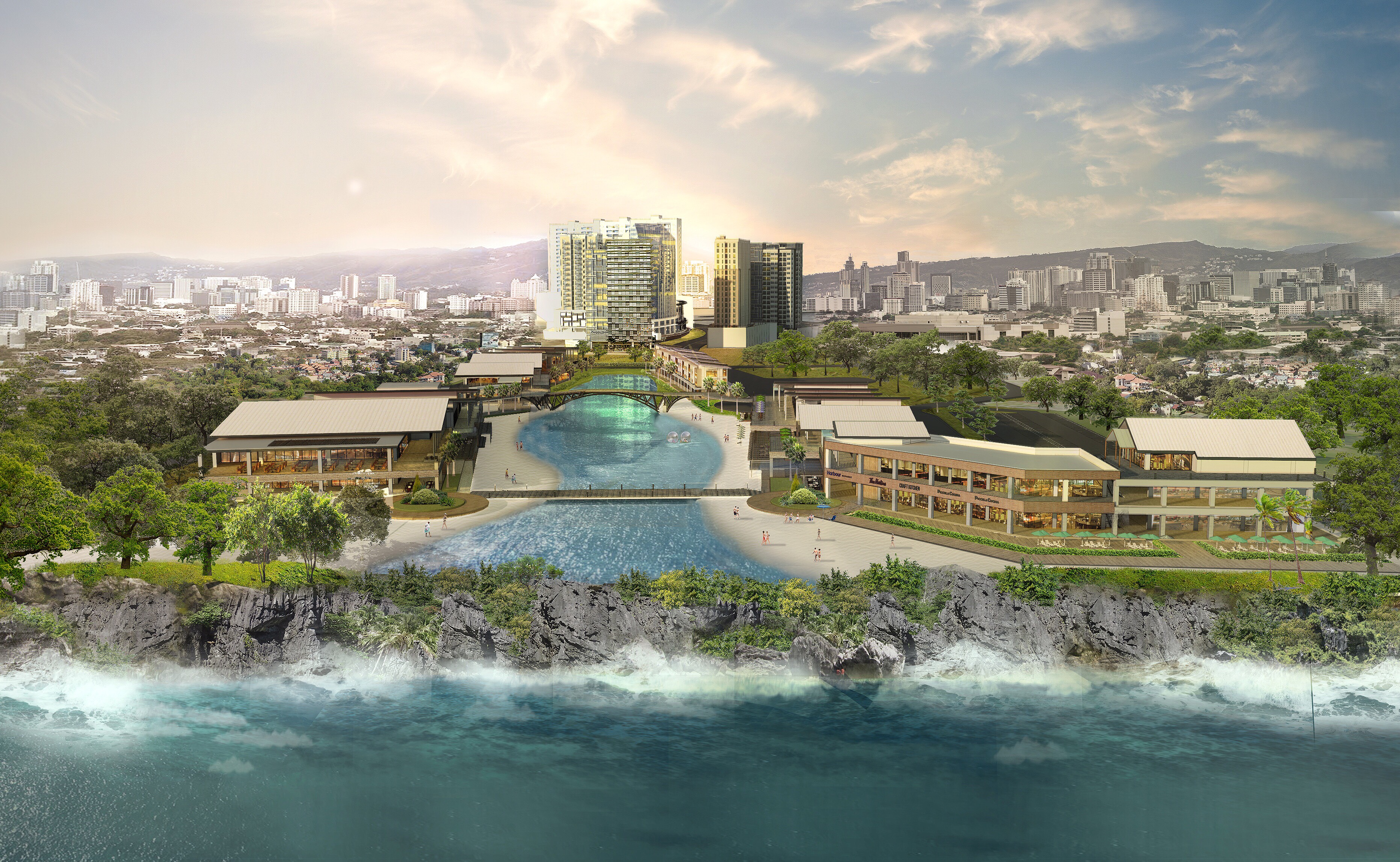 There's no need to go far to grab your essentials
With such a large market to cater to, it's a given that the township has an array of shops and services to provide for their needs. There's a convenience store, a grocery, and a pharmacy, which are readily accessible throughout the day and up until late at night. 
Soon, the township will get to enjoy the P1.5B Mactan Newtown Beach Walk. Set to be built on a shoreline cliff, the mall will be highlighted by a man-made lagoon, boutique hotel, garden chapel, beach walk, and rows of retail shops & restaurants including four cinemas. 
True to its commitment to sustainability, this project will use solar roof panels, and will utilize an open layout scheme for passive cooling and natural lighting in most of the development's common areas.
Over the past few years, The Mactan Newtown has changed the landscape of Mactan Island. With so much more developments in store, one can only wonder how it will be like. Glimpses of the Mactan Newtown lifestyle should be enough…for now.