Have you met Romero?
A tribute to longtime makeup artist Romero Vergara with these Romerisms – nuggets of wisdom which he delivers through seemingly nonsensical statements that, when analyzed closely, make eminent sense while entertaining immensely.
Twenty years ago, at the very first fashion shoot for Zee Lifestyle's maiden issue, I met Romero Vergara.
It was life-transforming, just as that fashion shoot was challenging. Featured were the collections of six different designers and fashion brands. That meant creating six different looks in six different locations for two male and four female models. Impressively, Romero Vergara and assistant brought it all off brilliantly, even directing some of the poses for the female models.
What immediately stood out was how deft his graceful hands were and how remarkably professional he was in his outlook. Without missing a beat, he could instantly change a model's look to fit the mood required. He worked quietly and quickly, yet the most delightful surprise of all was his incredibly delectable sense of humor as he dished out quip after funny quip.
A little background here about those early days: We didn't work with "pegs" (slang for images) then, we didn't copy shamelessly. For inspiration and to rev up our artistic imagination, we talked about mood, movies, color palettes and art movements so we could achieve a certain look. Romero was then fresh from doing runway shows with Patrick Rosas in Manila and Japan, where innovation was the norm. Nothing was too outrageous for him, that was the exciting part. I personally thought that he was outrageous, marvelously so. Back then he was the only makeup artist in Cebu who could deliver the high quality of work that my fashion pages and fashion shows tried to uphold. Today he holds the distinction of being the only Cebu-based artist to come up with a styling book on Cebu personalities, evidence of his thoroughness and talent and artistry.
Working with Romero continues to be exciting and inspiring, especially now that he has broadened his artistic horizons. These days, he is doing volunteer work as Head of Hair and Makeup for Siddhartha the Musical. "It's time to give back. Through my talent, I'm touching people's lives all over the world," he happily declares.
It was on one of our recent trips abroad that I thought of putting together some of the one-liners and amusing repartěe for which Romero has garnered quite a following. Here thus are some ROMERISMS, nuggets of wisdom which he delivers through seemingly nonsensical statements that, when analyzed closely, make eminent sense while entertaining immensely.
While walking along Rodeo Drive a blond lady in sporty clothes came down the street and confronted Romero who was taking video footage of the nearby designer stores and the woman had accidentally been included.
Blond Girl: Hey, I see you are taking a video and you have captured my image. Please delete it now; you don't have my permission to post it anywhere.
Romero: Why? Are you the one of those glittering in the sky? I am the star of the show. Good day.
On the night we arrived at Orange County for a friend's wedding.
OJ: Romero, please stop unpacking, let's sleep. We might have a long day tomorrow.
Romero: Tomorrow is for touring. Let's tell Kim (our host) to bring us to California
OJ: Why, where are we?
Romero: Duhh, Orange County. Didn't you see the orange trees at the backyard?
On Facetime while touring New York.
Romero: Look behind me, that's New York. That's a beautiful building. I'm here in the Empire State of the mind.
On the phone, a day prior to returning home from the U.S..
Romero: My nieces insisted that I stay longer. My Mexican nephews feel bad that I didn't have time to visit them.
OJ: Why, Mexico's another country, you need a visa to get there.
Romero: No, they live in Aburlesque. That is still here in the U.S.A., my dear. (He meant Albuquerque, New Mexico.)
On a comment that New Yorker Emmanuel Hamoy posted upon landing at Mactan Airport.
Romero: OJ, Hamoy is turning charismatic. "Jesus is alive," it says on Facebook.
OJ: Really? Let me take a look.
Emmanuel Hamoy's post: Je suis arrivé.
Upon seeing his favorite Italian clothing company at The Galaxy Resort in Macau.
OJ: Romero, where are you going? We're heading for Hotel Okura. It's this way.
Romero: No, let's go this way first. There's my favorite store, Loro Diana (Loro Piana).
At Solaire after watching Les Misěrables.
Romero: Theater is my life. I'll never do fashion again. So… when is our cover shoot for Zee?
At Resorts World Manila.
Romero: Here's another Italian store I like, OJ. Erme… Ermeneneldo Zegna (Ermenegildo Zegna). If it was easier to pronounce, I'll surely buy from them.
After watching Annie at The Newport Performing Arts Theater.
Romero: (singing) "The sun will come out tomorrow." Oh Daddy Starbucks, please find me now!
(He meant Daddy Warbucks.)
Preparing his clothes for the curtain call of Siddhartha The Musical at Christchurch, New Zealand.
Romero: I think I'll wear this shirt and slacks. I'll also have to wear this jacket. The look is formalin. We are in The Isaac Theater Royal after all.
Meeting a 19-year-old boy in Auckland, Romero engaged him in a charming conversation.
Romero: Hi, are you a Kiwi Boy? You are very tall and handsome.
Kiwi Boy: Yes I am, may I help you?
Romero: Yes, can you polish my leather shoes? Only Kiwi polish works with them. (The baffled Kiwi boy looked at him helplessly.)
After applying the stage makeup of Benjie Layos as the Buddha for the play Siddhartha.
Romero: Benjie, this is your pureless look (he meant poreless). This is foundation by Mitsuyoshi.
An assistant hairdresser pointed out an imperfection.
Gino: Romero, you should have your teeth fixed because you're a socialite.
Romero: Nothing wrong with my teeth. They are like the logo of the computer, Windows.
Dropping in at my atelier to view my Zen drawings. He saw the invitation to the exhibit.
Romero: Empty Line, Full Heart? Change this to Fool of Heart!
OJ: Hahahaha, which one is your favorite ink drawing?
Romero: They are all the same but the paper is beautiful.
OJ: Yes, all these are empty lines.
Romero: Poor buyers. They are only paying for the paper and frame. Hahahahah…
You Can't Miss the Benefit Performance of The Vagina Monologues for V-Day Cebu's 17th Year Anniversary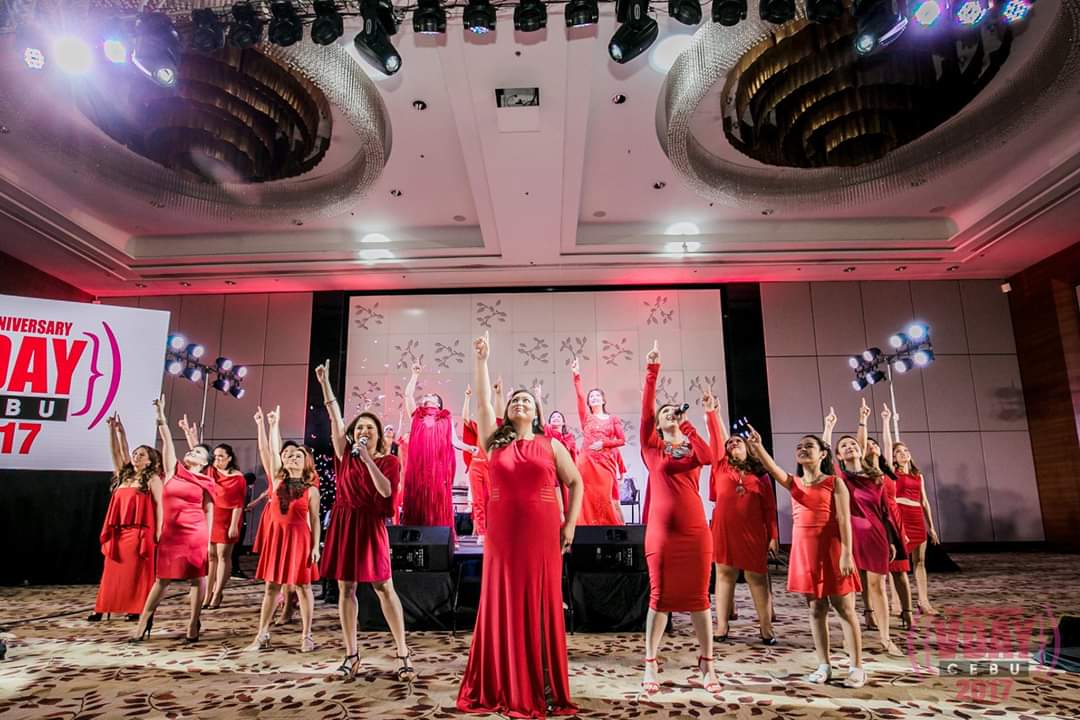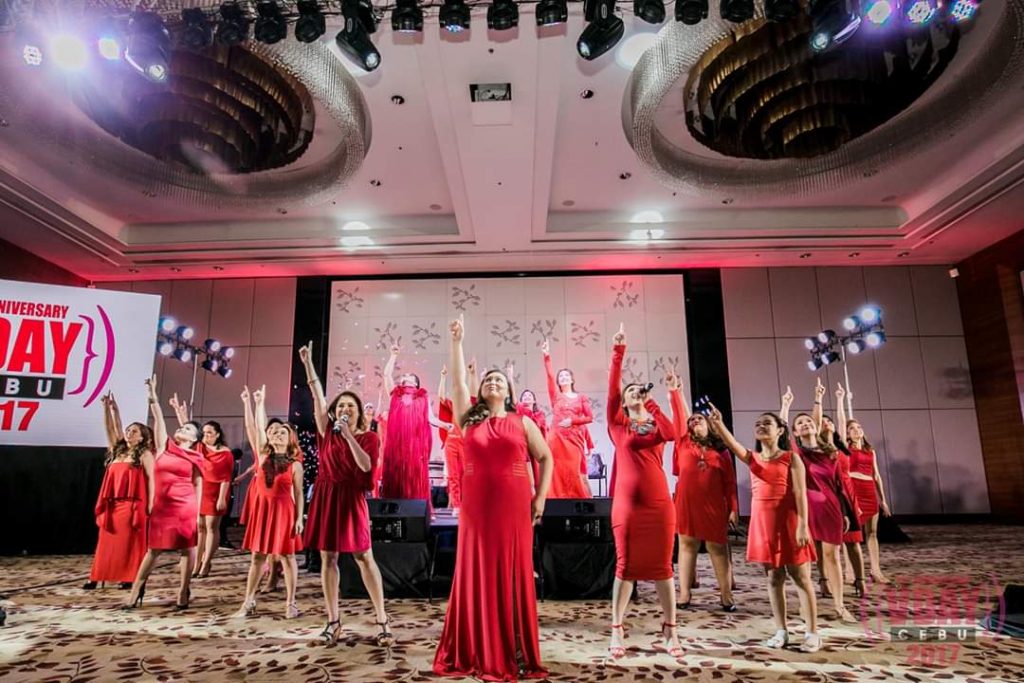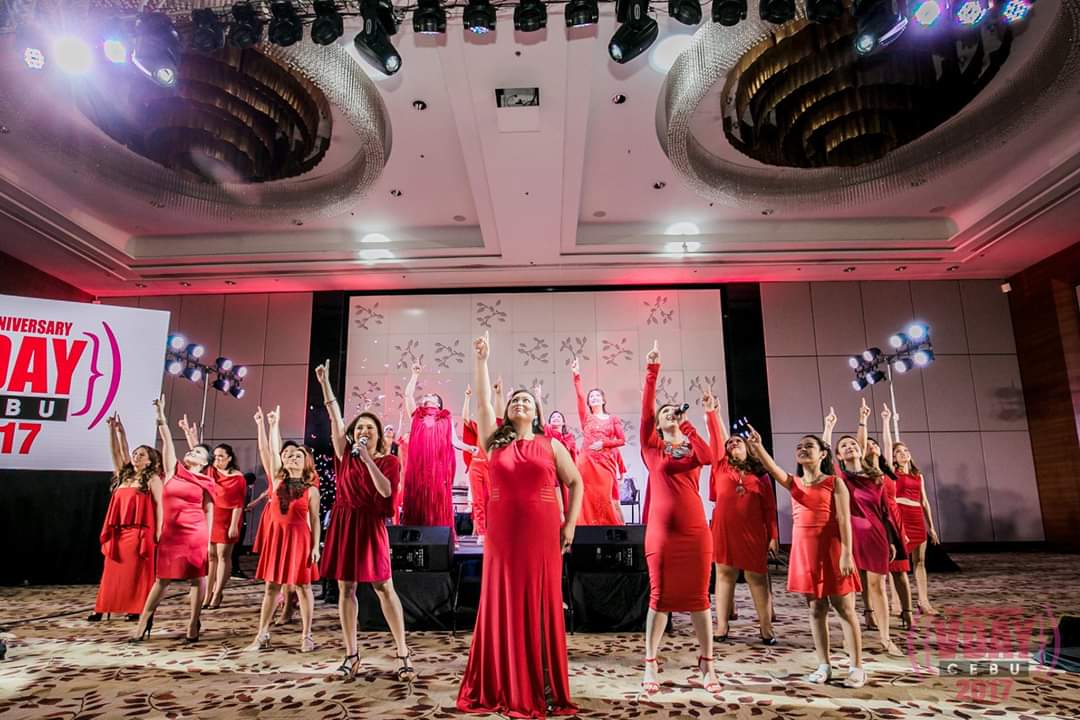 This year, join the Vagina Warriors as they celebrate V-Day yet again with a benefit performance of Eve Ensler's award-winning play, The Vagina Monologues on March 7 & 8, 2019 at 8PM at Asmara Urban Resort & Lifestyle Village.
V-Day Cebu and its current campaign ONE BILLION RISING: REVOLUTION is just one of the thousands of benefits held around the globe to raise funds and awareness toward the empowerment of women. Through the performances of The Vagina Monologues , these events help spread the message of equality, dignity, and freedom for all.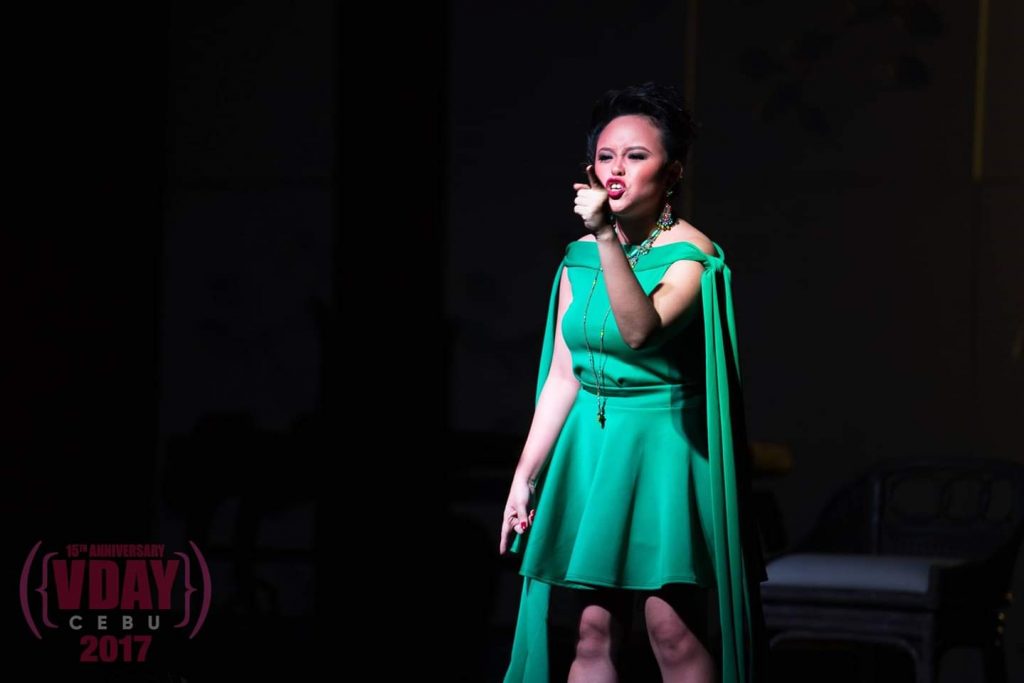 Marking the seventeenth year of V-Day Cebu, this special benefit of The Vagina Monologues will be performed by influential and affluent ladies. Featuring Alem Garcia, Andrea Pateña-Matheu, Anya Lim, Bea Algar Evardone, Brazzy Valdez, Charlene Virlouvet, Christine Tan, Gembelyne Icamen, Jo-ann Abesames Zalumbide, Kim Covert, Liana San Diego, Lourdes May Maglinte, Shiella Pestaño-Gemperoa, Shifrah Bouchikhi-Enclona, Stephanie Sitoy, and Tiffany Neri, and directed by Sarah Mae Enclona-Henderson, this two-night performance will surely touch the hearts of those privileged to see them on stage.
The Vagina Monologues will be performed at the Asmara Urban Resort & Lifestyle Village on March 7 & 8, 2019. Tickets are at priced at ₱500, which also offers all ticket buyers 50% off on all hair-related services at Mira Beauty by Design, located at Basement 1, Robinson's Galleria Cebu. For tickets and reservations, please call 2TinCans at +63 917 896 2181. You can also email plays@2tincans.ph or visit V-Day Cebu and 2TinCans Philippines Inc. on Facebook.
This event is produced by 2TinCans Philippines Inc. and co-presented by Asmara Urban Resort and Lifestyle Village, Atelier-a, Mira Beauty by Design, and Your House Doctors.
Advanced Audio Mixing Master Class with Jad Bantug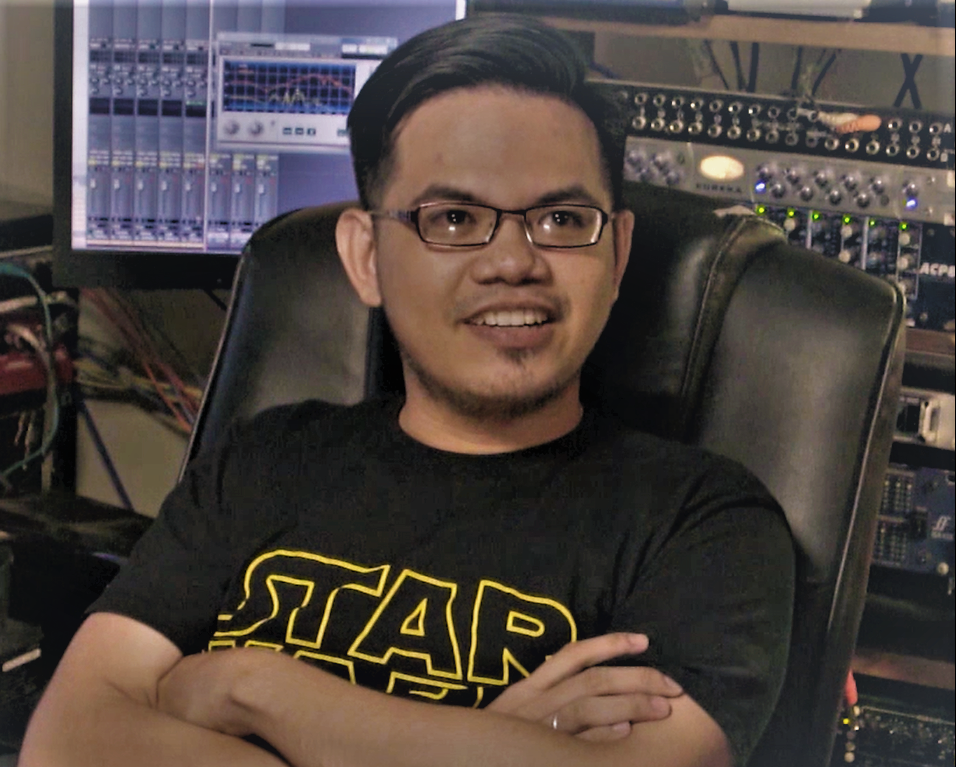 Learn advanced tips, tricks and techniques for getting a great mix!
On February 16, 2019, join the Advanced Audio Mixing Master Class with Jad Bantug at the Room Eleven Recording Studio.
Jad Bantug is a music producer, composer, multi-instrumentalist and recording/mixing engineer. He owns and operates 1032 studios in Cebu City, Philippines, and mixes at Private Ear Recording in Canada where he is currently based.
His works are diverse – ranging from pop, folk, indie and electronic to alternative, blues, rock and heavy metal. He also works on musicals both local and international and does a lot of composition and music production work for radio and TV commercials, films and game audio. In Visayas, he is known for his "sound" and production work on the VISPOP catalog, which sparked a music movement and a renaissance of Bisaya music.
This workshop will teach you how to achieve release-quality mixes on a budget within a typical small-studio environment by applying advanced techniques. The information here is "platform-neutral" and you can make use of it whether you're on ProTools, Sonar, LogicPro, Reaper or Reason.
The early bird participation fee is Php 1,800 per person and will be valid until February 5, regular rate of Php 2,000 will apply afterwards. Early bookings are recommended as there are limited slots available. You may also do online registration, simply message Room Eleven Recording Studio on Facebook to get the online form. Payments can be accepted through online bank transactions or direct payment at Room Eleven Studio.
This workshop is brought to you by 22 Tango Records and Room Eleven Recording Studio as part of our continuing music education efforts. For bookings and inquiries, call (032) 3832916 or 09055622137.
Room Eleven Recording Studio is located at the Mango Square Annex Building, Gen. Maxilom Ave., Cebu City.
Golden Prince Hotel's Sinulog Royalty Experience
Golden Prince Hotel celebrates a unique Cebuano Royalty experience by making a line up of activities incorprated by the festive mood of Sinulog 2019.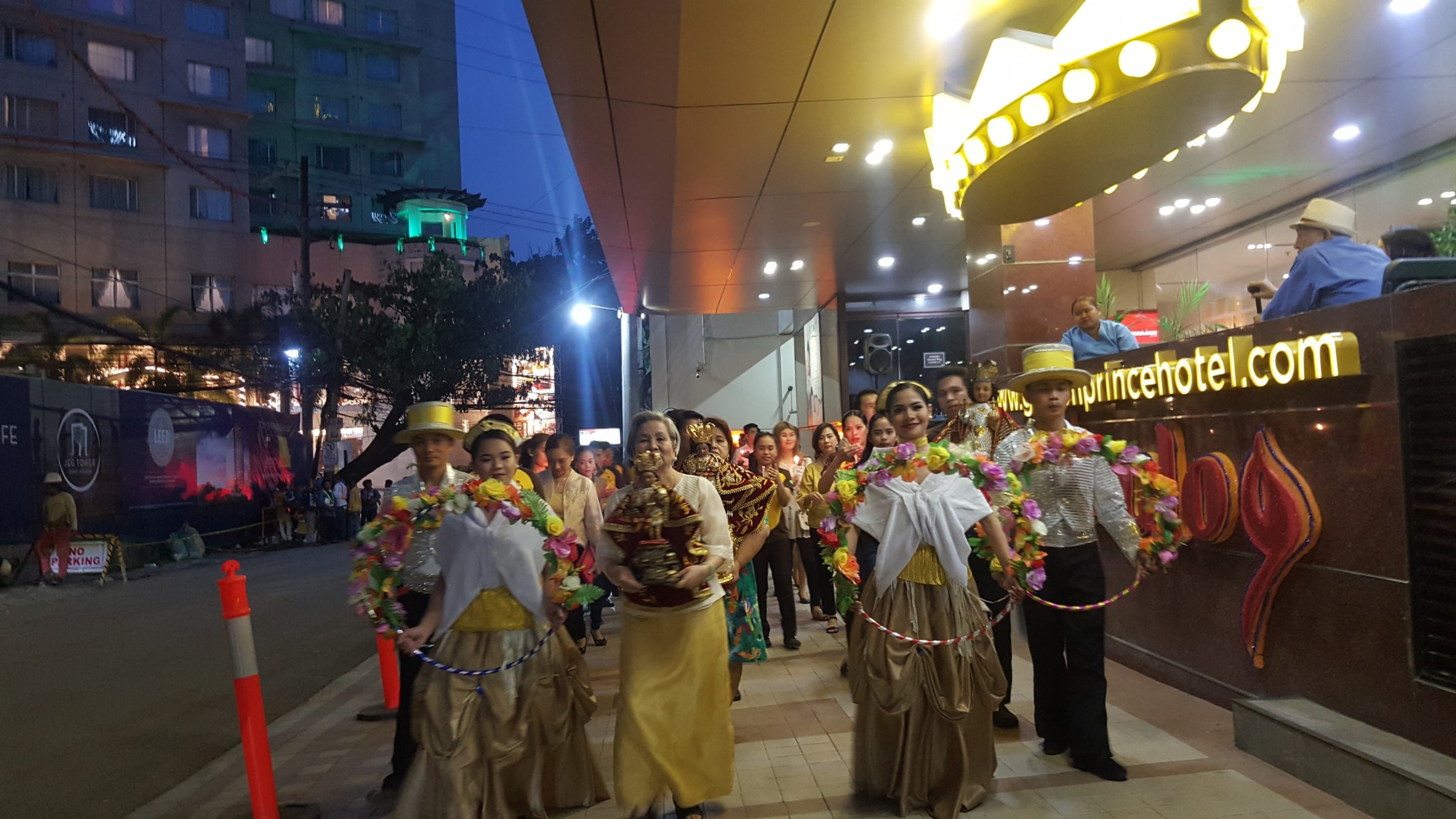 What Cebu embodies and strengthen their religious endeavour is venerating the Holy Child, Jesus. Since Spanish times, the symbol of Santo Nino de Cebu has been a symbol of hope by the Cebuano people that whenever in trouble, there is always the child Jesus who reminds us that love conquers and hopes all in good things. Reflecting with us Filipinos who also loves children the way we love the image of the Santo Nino.
Golden Prince Hotel, one of the most Cebu culture-focused hotels that promotes only not how Cebuanos be top-tier in hotel accommodation but also how they introduce the richness of Cebuano culture that presents them as one of the unique hotels around town. Last January 11, they gladly hosted Bato Balani sa Gugma: Pasundayag sa Kapistahan sa Sugbu, activity lines up with an exhibit of Santo Nino figures and images collected by equally loving devotees of Santo Nino de Cebu. Bato Balani is a song of "Pasalamat", which is a Cebuano word meaning: thanksgiving. It was highlighted with an exhibit of different images of the Santo Niño. About 15 images were on display at the hotel lobby owned by 12 collectors from Hijos de Maria, Doxch Tiro, Ruel Manzanares, Kevin Mahusay, Ellis Manuel Mendez, James Donell Guinitaran, John Paul Anore, Jessam Felicano, Mark Steven Go, Alex Cedeno, Alvin Agnes and Alexandre Pierre Pardillo Heyrosa. Images has their own interpretation and style of how they were portrayed as the child Jesus and some of these collections are dated way back in the late 1900s that are well-kept. Unlike collecting toys or in any other hobbies, this group of "collectors" does not only keep these images for the sake of collection but it is also an expression of love for Santo Nino whole year around and not only for Sinulog.
According to Ellis Mendez, the core of these images is always to reincarnate the love of God and one way of expressing devotion since Filipinos has different kinds of showing their love for God, there's them who keeps Santo Nino images. "It is also part of us being Filipino to be child-loving in a view whenever we see a child or a baby, it is the same joy we feel whenever we see or keep the "Ninos", Ellis added. It is not only from collecting they stop but also in taking care and dressing them with its intricacy of design from how they should be dressed up to the right materials also matter. Mark Go, who owns 2 oldest pieces of his Ninos, observed that some of the images in Cebu or few of the establishments has alters of how they are dressed up disregarding the sacredness, though it is dressed in many ways, there is always a formal and scriptural correct way of how the clothes are fit for the Child King, emphasizing the regality and beauty of the image.
What strikes among all of the images is the "Sleeping Santo Nino" by Alvin Agnes, the uniqueness of how a very peaceful portrayal of a resting baby Jesus resonating the calmness and love of its face. Alvin started as a devotee of Santo Nino de Cebu and wondered as to how is he going to strengthen his love for God and figured out to keep Santo Nino images till he found a group who collects them as well. The Sleeping Santo Nino came from Manila and was originally part of a "Belen" or the Christmas portrayal of the Holy Family in the manger. "Even though he was born in the manger, nations have already respected this image who said would be the Saviour, despite its vulnerability it still the same Jesus we venerate." Agnes added.
Another beautifully-dressed and crafted Nino owned by Doxch Tiro, the Festejado: Santo Nino de Cebu which was recognized to by regal colors and very detailed accessories and has been endorsed in a lot of campaign materials for Sinulog. "Because of the love for the Nino, we are always particular to its materials as we want them to present them in its glorious form and something not from the ordinary." Images are displayed in the lobby for viewing, reminding us that the Sinulog Celebration is not only the parade of dancing colors or the parties that follow it but also how we are reminded of the share of religious faith we had as a Cebuano believing that Santo Nino de Cebu is the reason and should be paid homage to.
As Golden Prince continues their Sinulog kick-off, line-up of activities continues with guests both local and foreign, experience a festive welcoming mood with the theme: Bulawanong Sinulog with the drumbeats of Abyan Ensemble and dance performances by the 10G Troupers.
For guests who want to try local favorites such as Lechon, it will available during lunch and dinner buffets at, Le'Mon Restaurant. Guests can also fully immerse themselves at Cebu's First Heritage Home in a Hotel: our brand new Kabilin (Heritage Lounge), for some merienda (afternoon snacks) from 2pm onwards.
A special Sinulog room promo is also available for those who won't make it to the Sinulog weekend. "Yay! It's Sinulog Friday" is an overnight stay only for January 18, 2019 at a Deluxe room with breakfast for two, Painit sa Kabilin (snack buffet) for two, and Brewed Coffee (at Q Cafe) for two.
To make your Sinulog 2019 memorable, celebrate it with the only hotel in Cebu that provides a Unique Cebuano Royalty Experience! For more details, visit www.goldenprincehotel.com or (032) 230-1500 for room reservations; (032) 230-1555 for banquet inquiries; (032) 230-1588 for dining options.