Have you met Romero?
A tribute to longtime makeup artist Romero Vergara with these Romerisms – nuggets of wisdom which he delivers through seemingly nonsensical statements that, when analyzed closely, make eminent sense while entertaining immensely.
Twenty years ago, at the very first fashion shoot for Zee Lifestyle's maiden issue, I met Romero Vergara.
It was life-transforming, just as that fashion shoot was challenging. Featured were the collections of six different designers and fashion brands. That meant creating six different looks in six different locations for two male and four female models. Impressively, Romero Vergara and assistant brought it all off brilliantly, even directing some of the poses for the female models.
What immediately stood out was how deft his graceful hands were and how remarkably professional he was in his outlook. Without missing a beat, he could instantly change a model's look to fit the mood required. He worked quietly and quickly, yet the most delightful surprise of all was his incredibly delectable sense of humor as he dished out quip after funny quip.
A little background here about those early days: We didn't work with "pegs" (slang for images) then, we didn't copy shamelessly. For inspiration and to rev up our artistic imagination, we talked about mood, movies, color palettes and art movements so we could achieve a certain look. Romero was then fresh from doing runway shows with Patrick Rosas in Manila and Japan, where innovation was the norm. Nothing was too outrageous for him, that was the exciting part. I personally thought that he was outrageous, marvelously so. Back then he was the only makeup artist in Cebu who could deliver the high quality of work that my fashion pages and fashion shows tried to uphold. Today he holds the distinction of being the only Cebu-based artist to come up with a styling book on Cebu personalities, evidence of his thoroughness and talent and artistry.
Working with Romero continues to be exciting and inspiring, especially now that he has broadened his artistic horizons. These days, he is doing volunteer work as Head of Hair and Makeup for Siddhartha the Musical. "It's time to give back. Through my talent, I'm touching people's lives all over the world," he happily declares.
It was on one of our recent trips abroad that I thought of putting together some of the one-liners and amusing repartěe for which Romero has garnered quite a following. Here thus are some ROMERISMS, nuggets of wisdom which he delivers through seemingly nonsensical statements that, when analyzed closely, make eminent sense while entertaining immensely.
While walking along Rodeo Drive a blond lady in sporty clothes came down the street and confronted Romero who was taking video footage of the nearby designer stores and the woman had accidentally been included.
Blond Girl: Hey, I see you are taking a video and you have captured my image. Please delete it now; you don't have my permission to post it anywhere.
Romero: Why? Are you the one of those glittering in the sky? I am the star of the show. Good day.
On the night we arrived at Orange County for a friend's wedding.
OJ: Romero, please stop unpacking, let's sleep. We might have a long day tomorrow.
Romero: Tomorrow is for touring. Let's tell Kim (our host) to bring us to California
OJ: Why, where are we?
Romero: Duhh, Orange County. Didn't you see the orange trees at the backyard?
On Facetime while touring New York.
Romero: Look behind me, that's New York. That's a beautiful building. I'm here in the Empire State of the mind.
On the phone, a day prior to returning home from the U.S..
Romero: My nieces insisted that I stay longer. My Mexican nephews feel bad that I didn't have time to visit them.
OJ: Why, Mexico's another country, you need a visa to get there.
Romero: No, they live in Aburlesque. That is still here in the U.S.A., my dear. (He meant Albuquerque, New Mexico.)
On a comment that New Yorker Emmanuel Hamoy posted upon landing at Mactan Airport.
Romero: OJ, Hamoy is turning charismatic. "Jesus is alive," it says on Facebook.
OJ: Really? Let me take a look.
Emmanuel Hamoy's post: Je suis arrivé.
Upon seeing his favorite Italian clothing company at The Galaxy Resort in Macau.
OJ: Romero, where are you going? We're heading for Hotel Okura. It's this way.
Romero: No, let's go this way first. There's my favorite store, Loro Diana (Loro Piana).
At Solaire after watching Les Misěrables.
Romero: Theater is my life. I'll never do fashion again. So… when is our cover shoot for Zee?
At Resorts World Manila.
Romero: Here's another Italian store I like, OJ. Erme… Ermeneneldo Zegna (Ermenegildo Zegna). If it was easier to pronounce, I'll surely buy from them.
After watching Annie at The Newport Performing Arts Theater.
Romero: (singing) "The sun will come out tomorrow." Oh Daddy Starbucks, please find me now!
(He meant Daddy Warbucks.)
Preparing his clothes for the curtain call of Siddhartha The Musical at Christchurch, New Zealand.
Romero: I think I'll wear this shirt and slacks. I'll also have to wear this jacket. The look is formalin. We are in The Isaac Theater Royal after all.
Meeting a 19-year-old boy in Auckland, Romero engaged him in a charming conversation.
Romero: Hi, are you a Kiwi Boy? You are very tall and handsome.
Kiwi Boy: Yes I am, may I help you?
Romero: Yes, can you polish my leather shoes? Only Kiwi polish works with them. (The baffled Kiwi boy looked at him helplessly.)
After applying the stage makeup of Benjie Layos as the Buddha for the play Siddhartha.
Romero: Benjie, this is your pureless look (he meant poreless). This is foundation by Mitsuyoshi.
An assistant hairdresser pointed out an imperfection.
Gino: Romero, you should have your teeth fixed because you're a socialite.
Romero: Nothing wrong with my teeth. They are like the logo of the computer, Windows.
Dropping in at my atelier to view my Zen drawings. He saw the invitation to the exhibit.
Romero: Empty Line, Full Heart? Change this to Fool of Heart!
OJ: Hahahaha, which one is your favorite ink drawing?
Romero: They are all the same but the paper is beautiful.
OJ: Yes, all these are empty lines.
Romero: Poor buyers. They are only paying for the paper and frame. Hahahahah…
Bringing Detalia Aurora's Iconic Furniture into the Future
With more substantial roles in the family business, Paula and Vikki Rodriguez are bringing Detalia Aurora into the future by nurturing their design processes, fostering their close-knit community, and bringing passion into everything they do.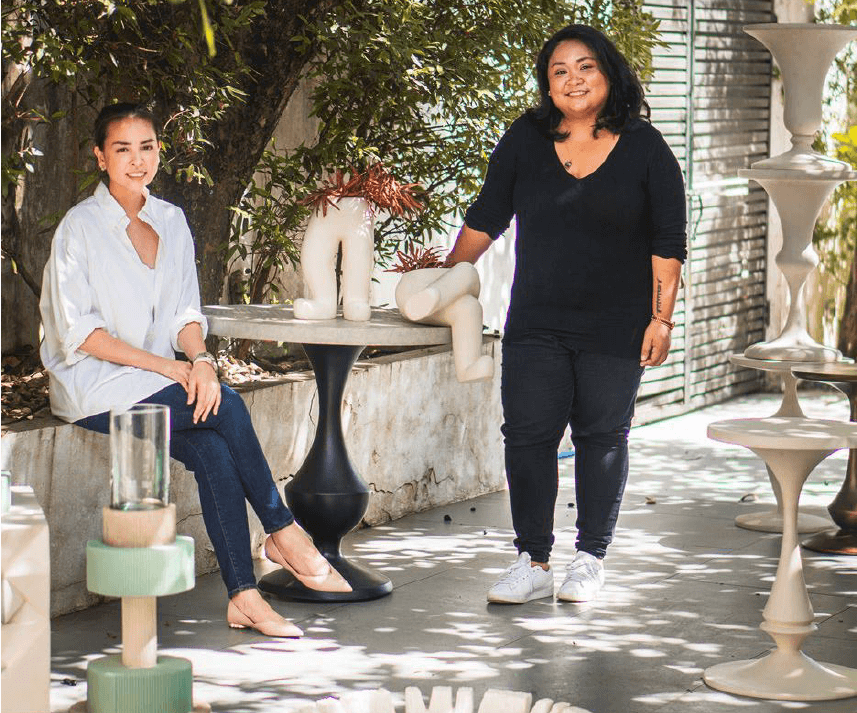 by Shari Quimbo
photography by Ezekiel Sullano
This story is taken from our archives. Originally published in Zee Digital Vol. 2 2018.
Detalia Aurora is certainly no stranger to our pages, or to the homes of Cebu's most discerning residents. For years, the company has been in the furniture export industry, producing pieces that have become iconic in their own right—the Shellf bookcase shaped like a nautilus; the Tera wall art, which is a map made of corks; and the eye-catching Gaia chair.
The brand's staying power is truly a testament to the talent and skill of the team behind its creations, but perhaps some credit also goes to sisters Paula and Vikki Rodriguez, who, since becoming more involved in the family business, have worked on streamlining processes and nurturing their edge in product design.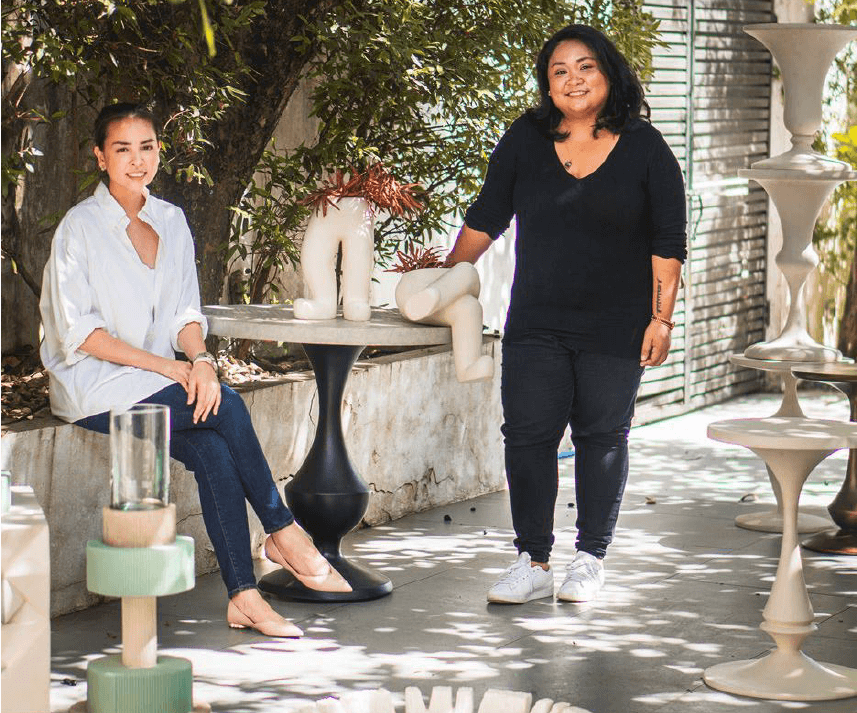 "We needed our company to not just evolve, but to adapt to the changing market," Vikki explains. "It wasn't enough for us to create new products anymore. We needed to think about more than just aesthetics. We needed to change as a whole, which involved ingenuity from design, construction, cost and market strategy. It's a slow but steady process."
The process began, according to Paula, with finding a way to adapt to the industry's changing demands and expectations. "We decided to work within the company," she says, explaining that they started working
closely with buyers to collaborate on specific collections. ìWe made sure that they will always come to us to develop new ideas and create products together."
Then they started looking inward, with the goal of creating a close-knit working family within Detalia Aurora. "From the beginning, Vikki and I wanted a co-working atmosphere in all aspects of the company. Detalia's biggest asset is not just design anymore—there is no more disconnect," Paula continues. "Our company's asset is its people, and the products we create. Creating that level of teamwork, they reiterate, is what gives them more time to work on developments with buyers.
"Material and design innovation will always set us apart from the rest of the international design market."
-Vikki Rodriguez
Among the challenges they both had to face was surviving the global recession a few years back, which was said to have had a considerable effect on the local furniture industry. To Paula, though, it was more of a challenge than a setback.
"Here's my two cents—I believe that those who are still here in the furniture industry are those who have found smart ways to keep the business going—may it be in product or in company structure," she shares. "Those companies we keep in contact with are those who have found their niche in their respective markets."
The furniture industry in 2018 is a whole new landscape, and it's something both women are excited about moving forward. "I think the Cebuano design industry has changed in a way that there are no more boundaries," Vikki says. "Creatives, entrepreneurs and other individuals from different industries are open and excited to collaborate with each other—it doesn't matter what field you're in."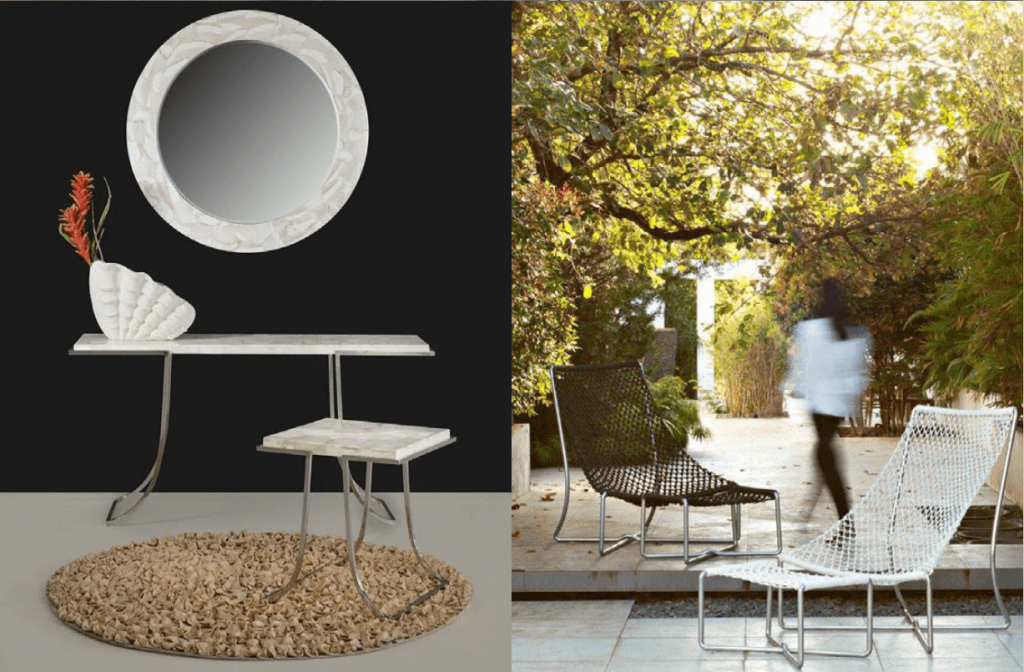 Despite the changes, both also believe that what makes Cebuano furniture different from the rest of the products on the global market remains the same. "Material and design innovation will always set us apart from the rest of the international design market," Vikki shares. "More importantly, I think the pride we have for our work also speaks for itself."
This is also why they hope that more young design students become interested in the local production process. "I really do feel that there is a comeback and a growing interest in design for the furniture industry," Paula shares, adding that they've seen a sizable increase in local internship applications as opposed to the international ones they had gotten a few years ago. "I believe the design students in Cebu are becoming more aware of the capabilities of Cebu furniture manufacturers. With easy access to information online, like websites or social media, I feel that they are able to see Cebu's skills in handcrafted design, and appreciate the products coming out of the industry."
"I hope this continues so more young designers are better able to work with indigenous material and promote local craftsmanship to help keep the design industry and Cebu's handicraft industry going," she continues.
It's clear that both Paula and Vikki have settled into their roles at Detalia Aurora. And although they have both been involved in business operations, their passion lies in creating.
Having once been design students themselves, Paula and Vikki have settled into—and are relatively thriving at—their roles at Detalia Aurora. At the core of their efforts, though, remains the passion for the business their family has created, and for the art of production.
"I've always been interested in the industry, although when I was younger, it was not particularly about design," Paula shares. ìI was intrigued by the development, innovation, craftsmanship and materials that Cebuano furniture manufacturers were developing on a global scale. I knew I wanted to take part in it."
"I wanted to be part of the process," Vikki agrees. "I saw it as a challenge to create, and creating something
goes beyond design. It's imagining the possibilities but understanding the physical limits." She adds, "I saw how proud my parents were of this business and I saw how hard they worked for it. I saw how everyone in the company worked hard for it, and I still see that today. I am grateful to be in that community, and to contribute as best as I can."
Get an Insider Look at Blake Go and Divine Lee-Go's Sleek Home
Subtle touches of luxury and modern classic pieces give Blake Go and Divine Lee-Go's home a sleek aesthetic that's as cozy as it is sophisticated.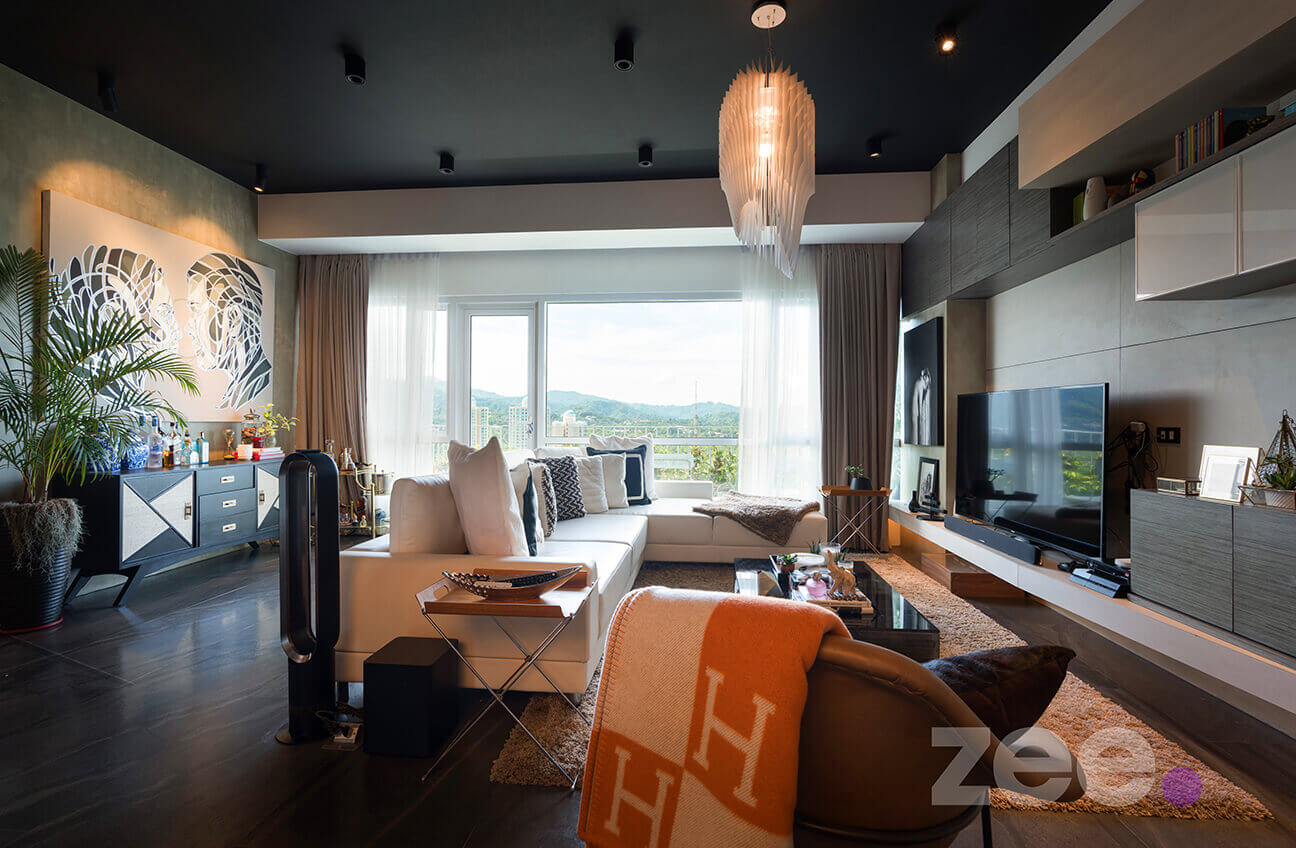 by Shari Quimbo
photography by Oliver Echevarria
hair and makeup by Arnauld
This story is taken from our archives. Originally published in Zee Digital Vol. 2
A pair of Pekingese dogs greeted us as we entered the home of Blake Go and Divine Lee-Go for the photoshoot, excitedly sniffing at our feet before running across the black tiled floors. "He's my eldest son," Blake jokes as he reaches out to scratch the head of Pompeii, the older pet.
Cute as the canines are, the real superstar of the house is clearly baby Baz. Despite being just a few months old at the time of the shoot, he looks up at us with adorable wide eyes. "Having a baby really changes everything," Divine says with a laugh. "We were lucky we got this place cleaned up in time for the shoot!"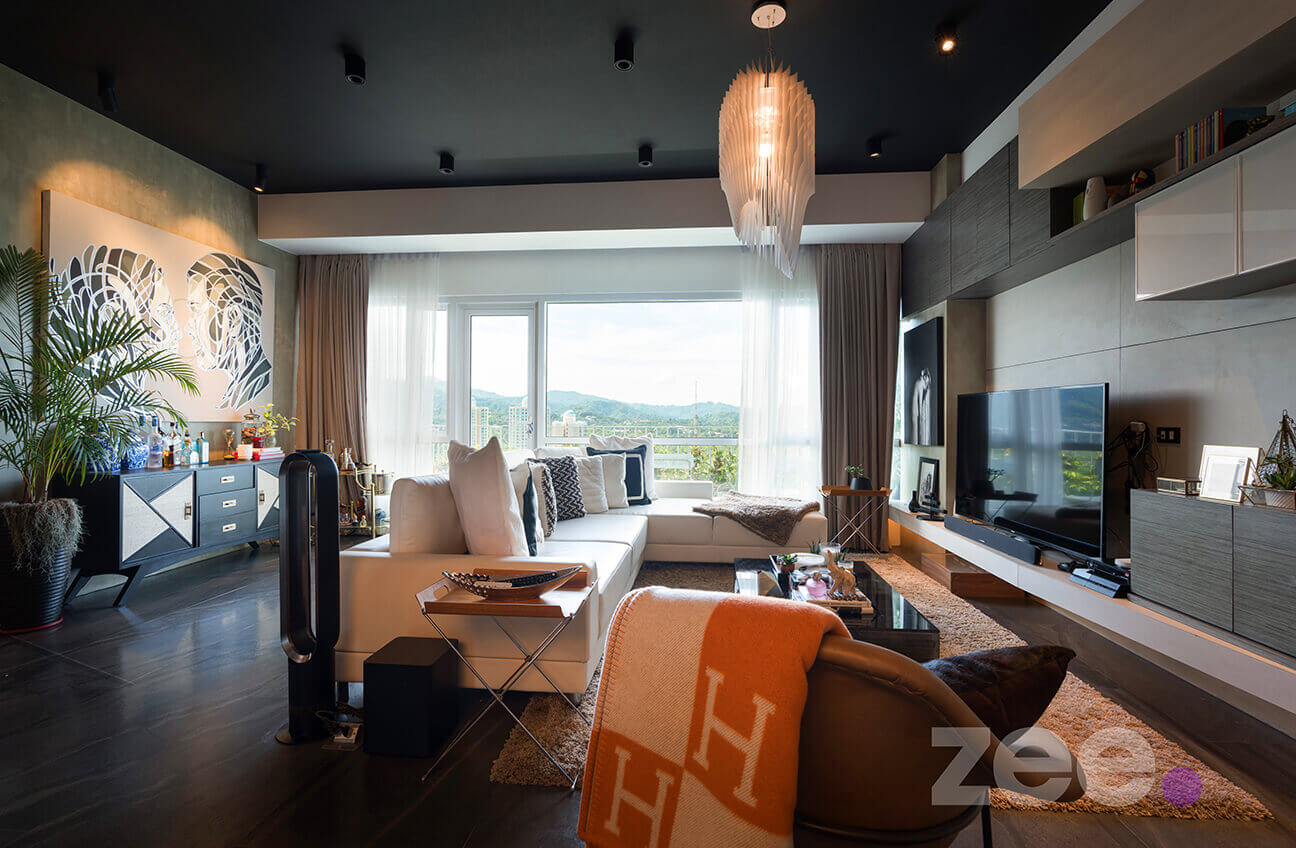 Any apology the couple might have offered for the clutter was completely unnecessary—a sleek stroller was parked at one corner, but all in all, the residence remained a chic and cosmopolitan abode in the middle of Cebu City.
The home is done in shades of dark neutrals, with some bare concrete walls to perfectly showcase their art collection. "Our inspiration for the house is very modern, very hotel-like," Divine shares. "Technically, I wanted a blank canvas, and we just put a lot of accessories to liven up the place."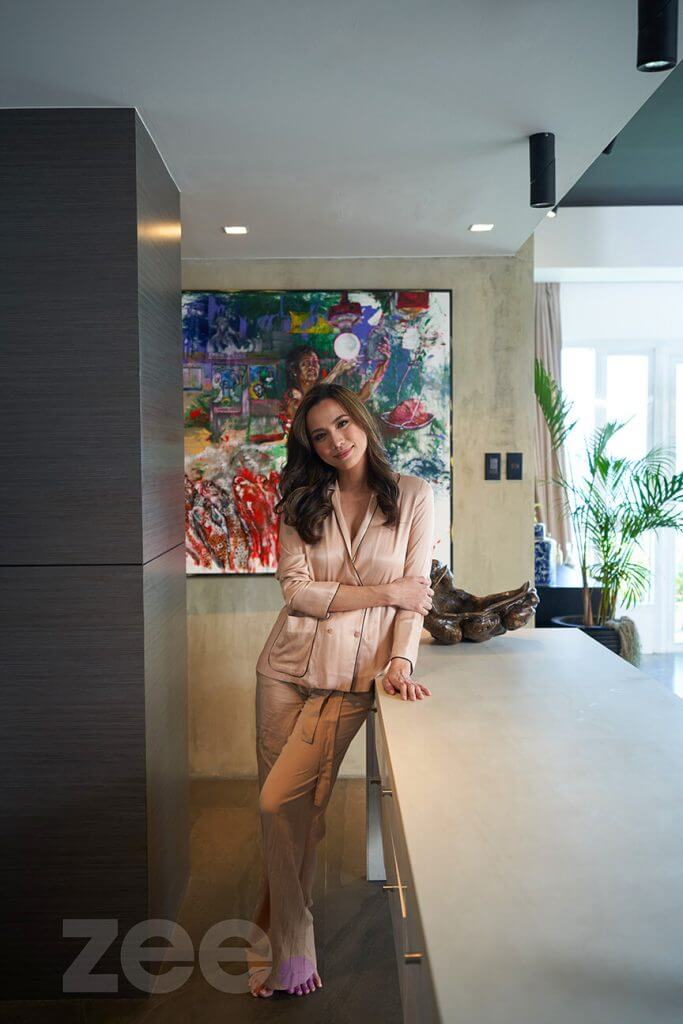 The young couple did most of their furniture shopping in Manila at such stores like Furnitalia. Most lot of the design elements were Divine's choice as her way of coping with homesickness when she moved to Cebu. "If people see my house in Manila, it's basically the same thing—the same materials, the same color palette." She continues by saying, "For me, there was an adjustment period. So this made me feel like I was still home in Manila."
Their unit enjoys an open layout, which allows the sunlight from the large glass windows to fill the interiors and create a sense of airiness. However, this wasn't always the case. "We had to tear down some walls," Blake reveals, sharing that the kitchen had been enclosed when the unit was turned over. Now, their open kitchen features a long counter and sleek cabinetry.
Just off the kitchen is the dining area, where one mirrored wall gives the illusion of even more space. There are sculptural benches interspersed with single-seater chairs to accommodate more people when they entertain. Choosing the dining table followed the same thought process—the glass-topped table extends on both ends to seat four more diners. The chandelier above it is definitely a conversation piece as Blake demonstrates how the lighted beams can be moved around to create a different design.
Strategically placed alcoves and cabinetry were installed to address the need for storage. The largest wall of the room, though, is covered in a beautiful tile that the couple imported from Europe and was the most difficult item to bring into the unit. "It wouldn't fit in the elevator," Blake says about the large slabs. Instead, they had to install a crane system in the stairwell so they could bring it up all the way from the ground floor. Admittedly, the work was worth it, considering the subtle but sophisticated touch it adds to the space.
In the living area is an oversized L-shaped sofa, the lightest piece of furniture in the room. It is punctuated by black and white patterned pillows, textured throws and rugs, and a rich butterscotch-colored leathered seat. "This is my favorite space in the home," Blake reveals, "because I like to sit here and watch the Golf Channel and Formula One."
The entire area is illuminated by something Blake admits he's proud to have, a Zaha Hadid Aria chandelier. Its cascading fins cast a soft glow, while its sculptural shape and distinguished pedigree add a touch of luxe to the space.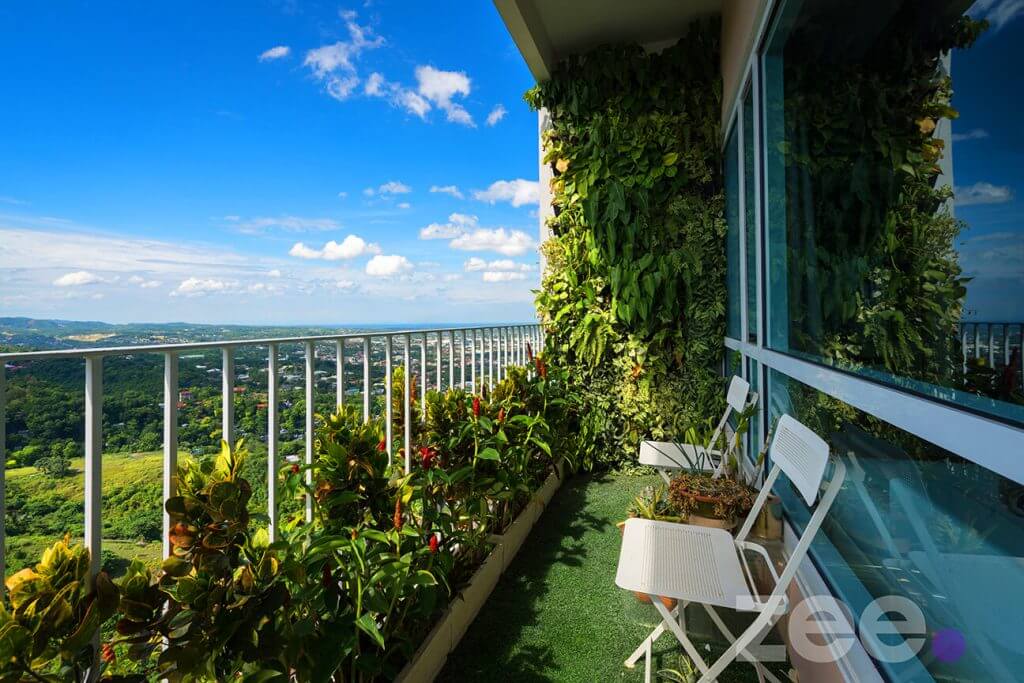 Against the home's subdued color palette, the greenery of the balcony and the view beyond are particularly striking. Aside from being in a building already perched high on Cebu's Nivel Hills, the Gos also live on the top floor of their tower. Needless to say, the sweeping views of their surrounding vista are unparalleled.
The couple decided to echo the greenery from the outside into their own little outdoor space. A plant box lines the railings, while leafy vines climb up the far wall. "It's not much because we live in a condo, but we thought it would be nice to still have an area out here where we can sit and get some fresh air," Blake says. "Plus, the dogs love it."
The master suite had been two bedrooms, which they combined to make room for his and her walk-in closets and a more spacious sleeping area. The signs of being parents to a newborn are particularly evident here, and somehow bring an approachable charm to the space—the crib in the corner, a collection of toys on the bedside table. The whole space is kept neat though and enjoys some pretty great bones, like the clean-lined bed and the large corner windows.
Baz, of course, has his own room, a nursery that the then-expectant parents had excitedly and stylishly put together before he was born. "It was very arranged—I had toys, books and even plants on display," Divine shares, laughing. "But when Baz was born, everything got rearranged!"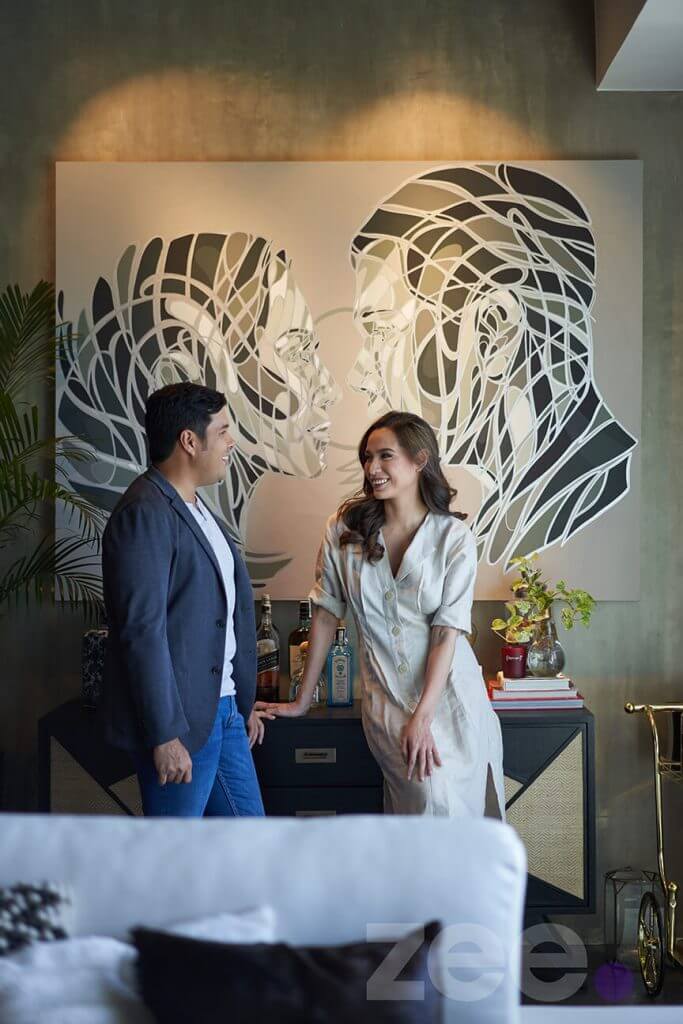 Despite the lifestyle changes that came with having a new baby, it's clear that Blake and Divine are near-blissful in their home. With Baz, the pair of pooches and a constant wave of visiting family and friends, this chic residence certainly feels like a home—if only for a few more years. "We're definitely going to move into our own house, especially when Baz gets bigger," says Blake. "Maybe in two or three years."
Whenever the move will be happening, one thing's for sure—the Gos will be enjoying a truly stylish and homey residence until they do.
Getting to Know Badian's Pride, Binibining Cebu 2017 Apriel Smith
As the first ever Binibining Cebu, Apriel Smith is set to use her crown to inspire the youth, and to champion the causes close to her heart.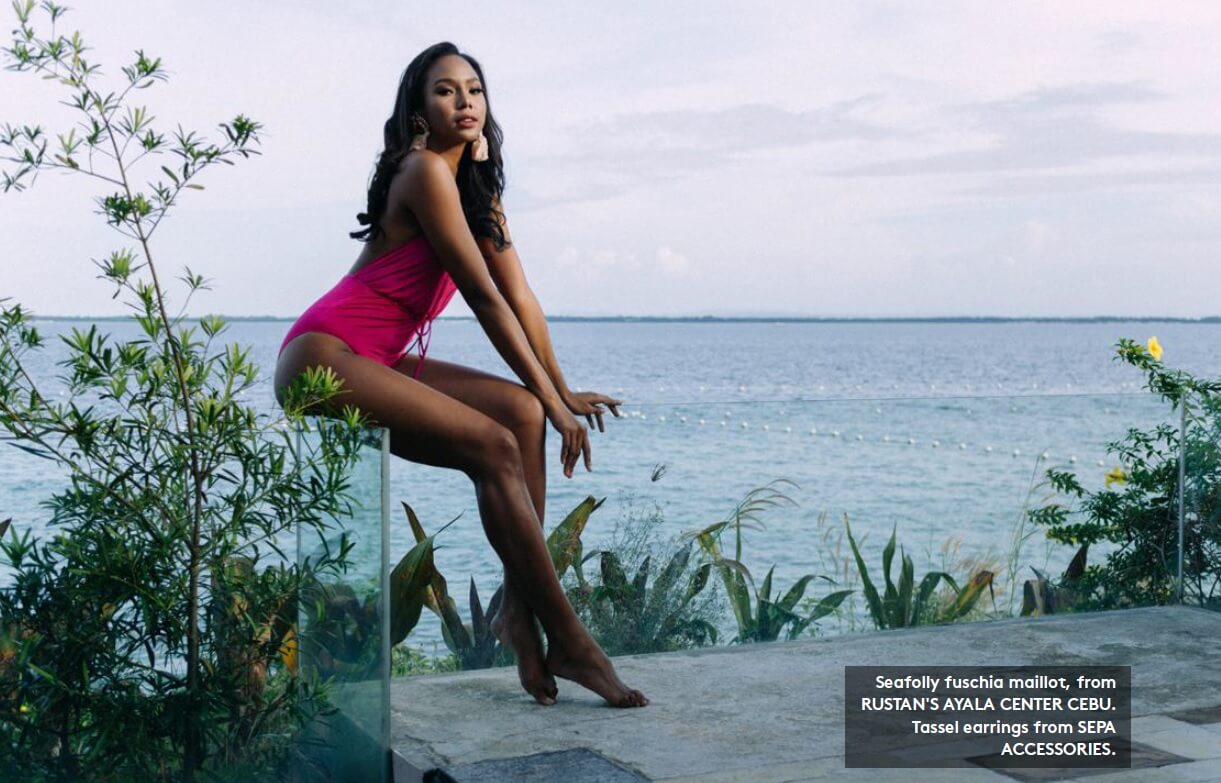 by CARLO RIVERA
photography NATH YBANEZ
hair and makeup CHADY PANTALEON
locale CRIMSON MACTAN RESORT AND SPA
This story is taken from our archives. Originally published in Zee Digital Vol. 1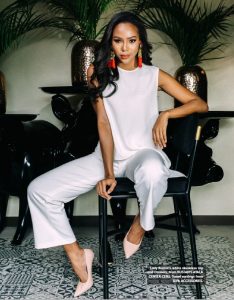 It was a sunny afternoon when we had our photoshoot with the first Binibining Cebu Apriel Smith. we were setting up for the first layout at Enye, where the staff were busy preparing for that night's dinner service. All
commotion stopped, though, once Apriel walked into the room.
With her statuesque figure and skin a delicious shade of mocha, it was clear that Apriel could command attention—even if she wasn't in full hair and makeup, or wearing the coordinated Josie Natori set we had set out for her. She moved elegantly and gracefully, as if she was always wearing a crown and sash. A childlike candor breaks free every once in a while though—in between takes, she makes funny faces and poses, a refreshing break from her calculated poise.
It's probably a combination of the two characteristics that won her the prestigious honor of being crowned the first Binibining Cebu. "I am so happy. Winning the crown was sentimental to me because I was crowned on the day of my birthday," she shares. If any proof was needed for how emotional she was on that stage, there are a number of photos on social media that chronicled her reaction.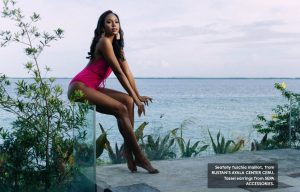 Despite her extensive modeling and pageant experience, the 22-year-old Miss Badian confessed that she wasn't prepared for the roller coaster ride that led to the crown. "It was fun, challenging and surprising, all in one," she laughs.
For now, she is juggling her duties with her modeling gigs and being a tourism student at the University of San Carlos. "Being the Binibining Cebu crown-bearer comes with a lot of responsibilities and obligations," Apriel shares. her
advocacy is sports—she is working on establishing a sports clinic in Badian, gathering partners and sponsors herself. "Since I play volleyball too, it felt like the natural thing to do as part of my reign."
She also believes that the pageant helps to empower women, and inspires them to embrace their natural Cebuana beauty. In fact, she admits to having to face bullies, and that beauty pageants have shown her she is beautiful as she is. "When Leila Lopes from Angola won Miss Universe in 2011, I was inspired that black beauty can conquer the stage," she says.
From there, she had gone on to add several titles to her belt—Miss Milo Little Olympics in 2010, Miss Dumajug in 2011, Miss Cebu City Olympics 2012, Sinulog Queen 2012. She has also been in the courts of Miss Mandaue, Miss Badian and Reyna ng Aliwan. "Beauty pageants are enlightening, and it changes how a woman sees the world,"
Apriel shares. "The different pageants I have been part of taught me how to be mature and selfless, and to always rise to the challenge."
Truly, she's come a long way from when Danny Booc of Ozar Models discovered her. "It all started when I
bought barbecue near our house, and they saw me! I never expected it would be the start of my career," she laughs.
As preparations are underway for the next iteration of the pageant, Apriel hopes her journey to the crown is one that will inspire many other young women. To them, she says, "Never give up on your dreams, even when nobody else believes they can come true."
"Pageants help to empower women, and to embrace their natural Cebuana beauty."