Golden Prince Hotel's Sinulog Royalty Experience
Golden Prince Hotel celebrates a unique Cebuano Royalty experience by making a line up of activities incorprated by the festive mood of Sinulog 2019.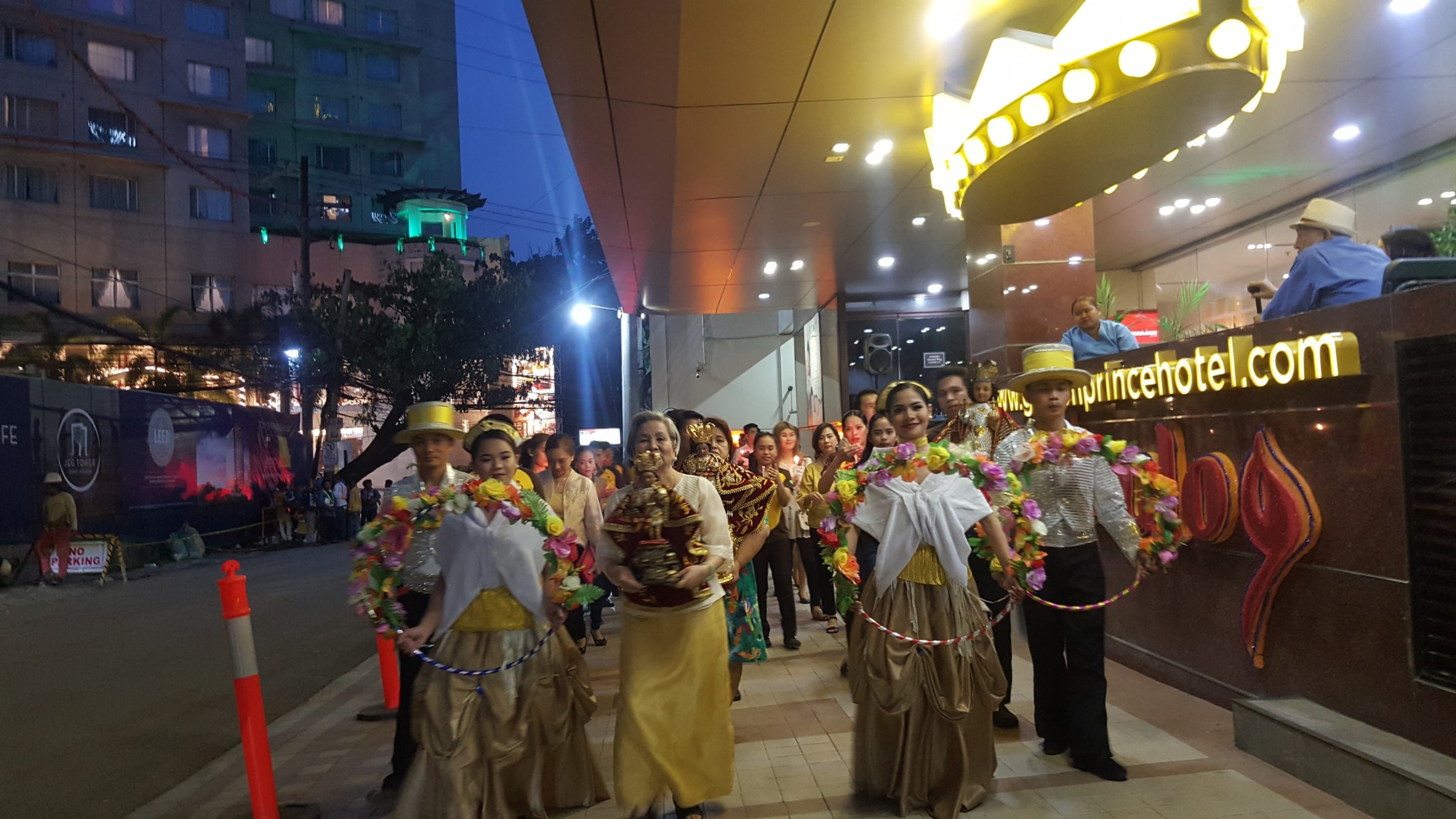 What Cebu embodies and strengthen their religious endeavour is venerating the Holy Child, Jesus. Since Spanish times, the symbol of Santo Nino de Cebu has been a symbol of hope by the Cebuano people that whenever in trouble, there is always the child Jesus who reminds us that love conquers and hopes all in good things. Reflecting with us Filipinos who also loves children the way we love the image of the Santo Nino.
Golden Prince Hotel, one of the most Cebu culture-focused hotels that promotes only not how Cebuanos be top-tier in hotel accommodation but also how they introduce the richness of Cebuano culture that presents them as one of the unique hotels around town. Last January 11, they gladly hosted Bato Balani sa Gugma: Pasundayag sa Kapistahan sa Sugbu, activity lines up with an exhibit of Santo Nino figures and images collected by equally loving devotees of Santo Nino de Cebu. Bato Balani is a song of "Pasalamat", which is a Cebuano word meaning: thanksgiving. It was highlighted with an exhibit of different images of the Santo Niño. About 15 images were on display at the hotel lobby owned by 12 collectors from Hijos de Maria, Doxch Tiro, Ruel Manzanares, Kevin Mahusay, Ellis Manuel Mendez, James Donell Guinitaran, John Paul Anore, Jessam Felicano, Mark Steven Go, Alex Cedeno, Alvin Agnes and Alexandre Pierre Pardillo Heyrosa. Images has their own interpretation and style of how they were portrayed as the child Jesus and some of these collections are dated way back in the late 1900s that are well-kept. Unlike collecting toys or in any other hobbies, this group of "collectors" does not only keep these images for the sake of collection but it is also an expression of love for Santo Nino whole year around and not only for Sinulog.
According to Ellis Mendez, the core of these images is always to reincarnate the love of God and one way of expressing devotion since Filipinos has different kinds of showing their love for God, there's them who keeps Santo Nino images. "It is also part of us being Filipino to be child-loving in a view whenever we see a child or a baby, it is the same joy we feel whenever we see or keep the "Ninos", Ellis added. It is not only from collecting they stop but also in taking care and dressing them with its intricacy of design from how they should be dressed up to the right materials also matter. Mark Go, who owns 2 oldest pieces of his Ninos, observed that some of the images in Cebu or few of the establishments has alters of how they are dressed up disregarding the sacredness, though it is dressed in many ways, there is always a formal and scriptural correct way of how the clothes are fit for the Child King, emphasizing the regality and beauty of the image.
What strikes among all of the images is the "Sleeping Santo Nino" by Alvin Agnes, the uniqueness of how a very peaceful portrayal of a resting baby Jesus resonating the calmness and love of its face. Alvin started as a devotee of Santo Nino de Cebu and wondered as to how is he going to strengthen his love for God and figured out to keep Santo Nino images till he found a group who collects them as well. The Sleeping Santo Nino came from Manila and was originally part of a "Belen" or the Christmas portrayal of the Holy Family in the manger. "Even though he was born in the manger, nations have already respected this image who said would be the Saviour, despite its vulnerability it still the same Jesus we venerate." Agnes added.
Another beautifully-dressed and crafted Nino owned by Doxch Tiro, the Festejado: Santo Nino de Cebu which was recognized to by regal colors and very detailed accessories and has been endorsed in a lot of campaign materials for Sinulog. "Because of the love for the Nino, we are always particular to its materials as we want them to present them in its glorious form and something not from the ordinary." Images are displayed in the lobby for viewing, reminding us that the Sinulog Celebration is not only the parade of dancing colors or the parties that follow it but also how we are reminded of the share of religious faith we had as a Cebuano believing that Santo Nino de Cebu is the reason and should be paid homage to.
As Golden Prince continues their Sinulog kick-off, line-up of activities continues with guests both local and foreign, experience a festive welcoming mood with the theme: Bulawanong Sinulog with the drumbeats of Abyan Ensemble and dance performances by the 10G Troupers.
For guests who want to try local favorites such as Lechon, it will available during lunch and dinner buffets at, Le'Mon Restaurant. Guests can also fully immerse themselves at Cebu's First Heritage Home in a Hotel: our brand new Kabilin (Heritage Lounge), for some merienda (afternoon snacks) from 2pm onwards.
A special Sinulog room promo is also available for those who won't make it to the Sinulog weekend. "Yay! It's Sinulog Friday" is an overnight stay only for January 18, 2019 at a Deluxe room with breakfast for two, Painit sa Kabilin (snack buffet) for two, and Brewed Coffee (at Q Cafe) for two.
To make your Sinulog 2019 memorable, celebrate it with the only hotel in Cebu that provides a Unique Cebuano Royalty Experience! For more details, visit www.goldenprincehotel.com or (032) 230-1500 for room reservations; (032) 230-1555 for banquet inquiries; (032) 230-1588 for dining options.
Shangri-La Mactan's Best-Kept Secret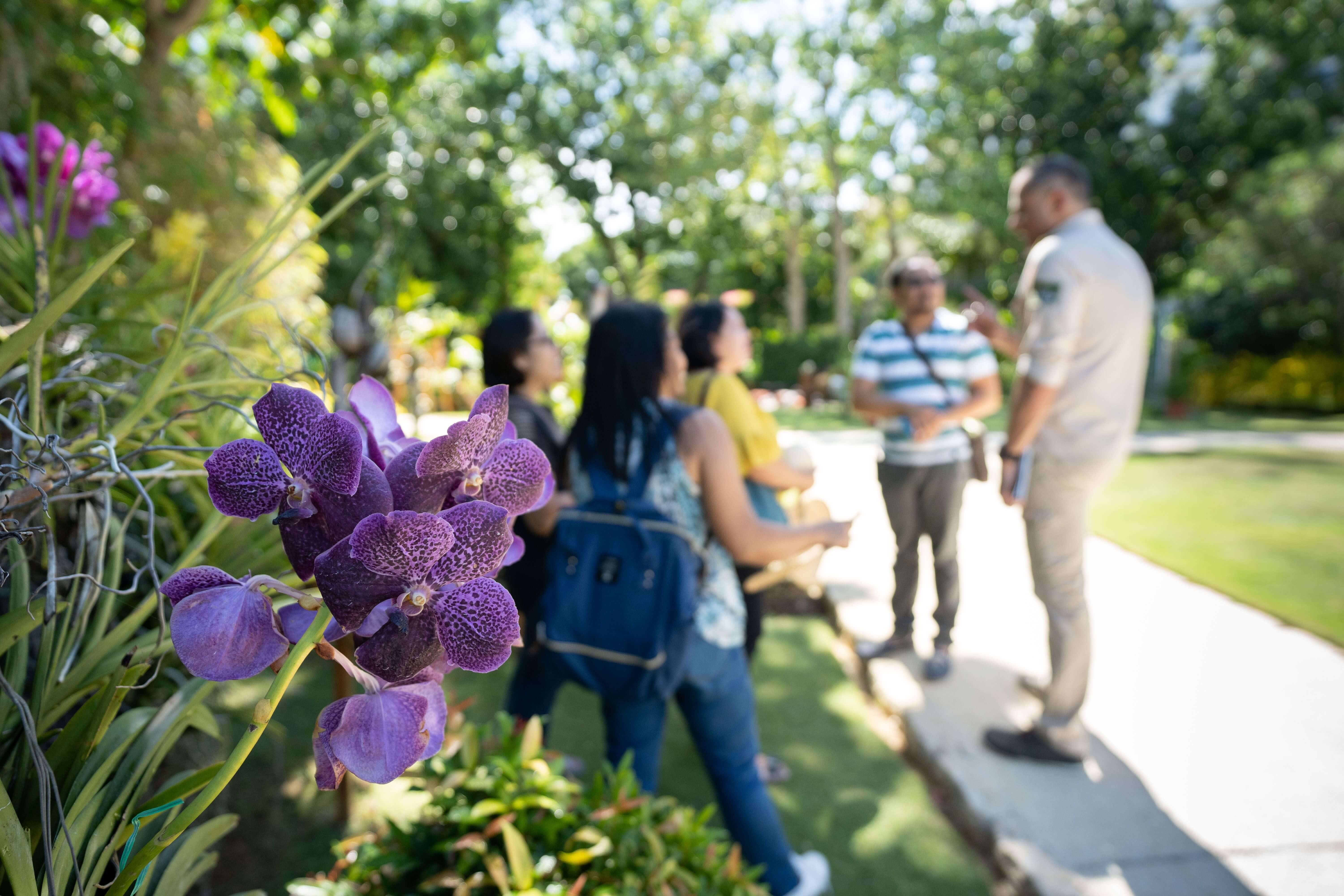 Every year on June 5th, people find different ways to celebrate World Environment Day, the United Nations Environment Programme's platform for positive environmental action. This year in Cebu, Shangri-La's Mactan Resort & Spa chose to celebrate the day by expanding its commitment to biodiversity conservation through its launching of the Eco-Trail.
A botanical sanctuary more than just a local attraction, the Eco-Trail features over 65 plants that form a route of lush greenery around the resort. Included in this collection is the recently discovered Cynometra Cebuensis, a flowering plant classified as critically endangered due to the rapid deterioration of its natural habitat. The plant's adoption in the Shangri-La Mactan Eco-Trail is a move to save it from extinction, a move for earth.
The trail begins at the Ranger Base and takes approximately an hour. Foreign guests need not worry about language barriers as each plant overview comes in multiple languages. Specialized resort rangers conduct the tours. These rangers are local experts who all share one thing: a passion for Cebu's flora and fauna, and a desire to share it with resort guests. Rangers received training from the University of San Carlos – Biology Department and the Department of Environment and Natural Resources.
To make the most of the experience, guests have the option to partake in a chocolate journey with the resort's chocolate sommelier at La Tierra del Chocolate After all, there is something so soothing about drinking a mug of hot (or cold) sikwate, a Cebuano chocolate drink, while basking in nature's glorious creations. (Some of Cebu's most stylish personalities enjoyed the Cacao Garden here!)
The Eco-Trail is initiated by General Manager René D. Egle and serves as the resort's testament to making taking care of Cebu's natural heritage an everyday advocacy.  
For more details, get in touch with the resort rangers at (63 32) 231 0288 or send an email to mac@shangri-la.com.
22 Tango Records Celebrates 9 Years with Roll-Out
The music label celebrates 9 years of homegrown music.
22 Tango Records celebrates its 9th year of producing and releasing quality local
music by hosting an anniversary event on Saturday, March 30, 2019 at Draft Punk, Mango Square. "Roll-Out" will feature live acts from a carefully curated list of artists signed under the label.
Performing on stage will be Wonggoys, Bethany, Vincent Eco, Lourdes Maglinte, The Labrats, and Mother Folker (aka Cattski).
Along with this grand celebration will be the unveiling of 22 Tango Records' new website, with updated features, music articles, events calendar, lots of music and valuable content not just about the label but also about the local music scene.
"As much as I feel like there's reasons to celebrate, I feel like there's still so much work to do." Cattski expressed, when asked about their anniversary celebration. "We still have a long way to go. But, looking back, I'm proud of what we've done. We've explored the different aspects in the music business – from music creation, promotion, education, distribution, publishing and production – all in the hopes that we'll ultimately co-create a sustainable local music industry."
22 Tango Records has given opportunities for artistic growth and development for all their artists in the span of 9 years, training and guiding them to become better at their craft. The label plans to keep giving its support by continuously creating events designed to cater to different genres and music listeners, giving each a unique brand and working hard to keep it consistent.
"I believe in our potential." Cattski says, "I think to have our own hyper local music industry is something that we strive for. We want the future to have thriving musicians capable and empowered to work for their music using the latest technology, communication means and with a supportive community".
Chief Finance Officer and Co-founder Anne Muntuerto also shares her thoughts about 22 Tango Records advancing into bigger, more eventful years.
"I'm so proud of how 22 Tango Records has made a mark in the Cebu music scene no matter how small it may seem in the last 9 years," she says. "We have been extremely lucky to be supported and surrounded by people who believe in our advocacy— our dedicated street team members, artists, brands and companies who have supported us, and 22T's loyal listeners and followers. It takes a village. And it's this tribe that inspires us to keep going."
Catch Roll-Out on March 30th, Saturday, in Draft Punk, Mango Square. Music starts at 8PM with a door fee of P150, inclusive of one free drink.
For more updates and information, follow us on Facebook, Instagram, and Twitter (@22tangorecords).
You Can't Miss The Final Performances of M. BUTTERFLY in Cebu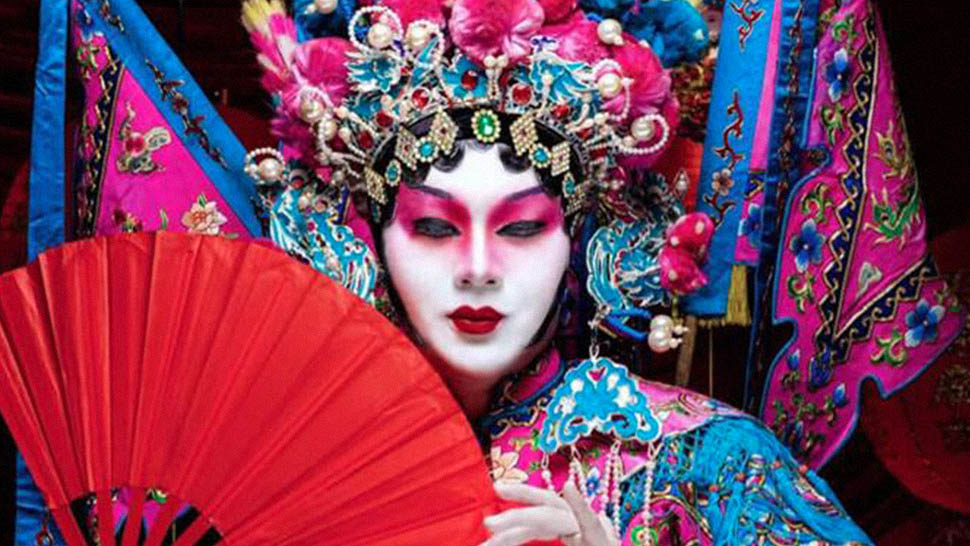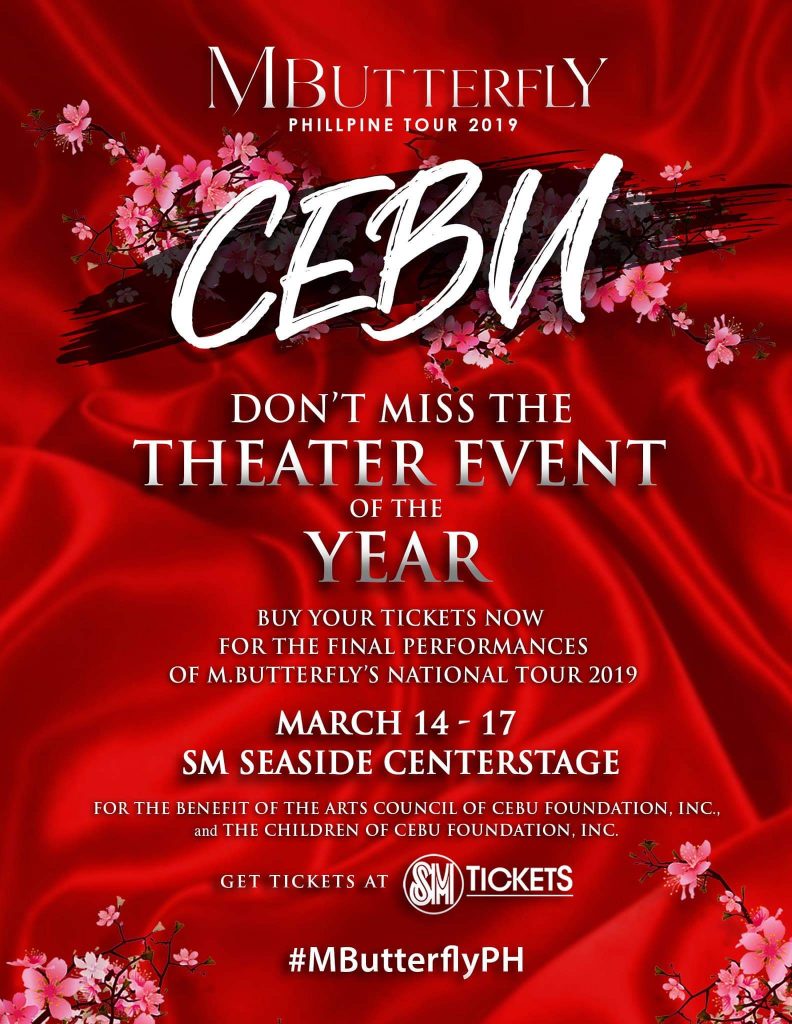 For its final performances, the M. BUTTERFLY National Tour 2019 will spread its wings at SM SEASIDE CEBU from March 14 – 17. Presented by Tony and Grammy award winning producer Jhett Tolentino and FRONTROW Entertainment (producer of highly-acclaimed independent films Bhoy Intsik and Bwaya), this world-class masterpiece is brought closer to those who did not have the opportunity to catch its 2018 Manila run. After all, location should not limit one's exposure to the arts and culture.
Due to many challenges and technical details that come with productions, most theatre companies in the Philippines are often hindered from bringing their projects to other key cities. Because of this, Jhett Tolentino and FRONTROW Entertainment are taking this bolder step to carry on their mission and advocacy in the performing arts and to further enhance audience development throughout the Philippine archipelago.
A revival production of David Henry Hwang's M. BUTTERFLY, this is the winner of the 2018 ALIW AWARDS for Best Play, Best Actor and Best Director and nominations for The Best Featured Actress in a Play.
Targeting audiences between ages 18 and beyond, the producers are
hoping that this classic drama, inspired by Giaccomo Puccini's opera 'Madame Butterfly', will likewise resonate to theater audiences from Luzon, Vizayas and
Mindanao that " love, power and deception holds no boundaries – whether this be
in a rural or urban setting."
The M. BUTTERFLY NATIONAL TOUR 2019 will benefit the following charitable institutions namely: Iloilo Prima Galaw, Philippine National Red Cross Iloilo Chapter, The Children of Cebu Foundation, Silliman University Culture and Arts Council and the Arts Council of Cebu Foundation.
The schedule of performances of M. BUTTERFLY in Cebu are as follows:
Mar. 14 – Thursday – Opening Night – 7pm
Mar. 15 – Friday – 7pm
Mar. 16 – Saturday – 2pm / 7pm
Mar. 17 – Sunday – 2pm / 7pm
VENUE : SM Seaside City Centerstage
For tickets, you can get them at SM Tickets through any SM Mall or SMTickets.com.