The Four Cebuano Artists to Look Out For
Taking a stand against censorship, young Cebuano digital artists bare all on the streets of Cebu true to their carnal nature.
Taking a stand against censorship, young Cebuano digital artists bare all on the streets of Cebu true to their carnal nature.
By Jeff Cruz
Danielle Sea
Danielle Sy was kinetic when she entered Sprockets Café near University of San Carlos-Technological Campus straight from her class. Rapport was not an issue—her joyously unrestrained smiles assured us that everything was going to go smooth. We told her we didn't prepare interview questions; we wanted the short meet-up to be candid and interviews get more engrossing when questions are answered instantly without conscious thought. Admittedly, the interview started slightly clumsy. "I am talkative," she said cheerfully, dismissing the whiff of awkwardness—the rest of the time interviewing Sea (a name her friends fondly call her) was like talking to a long-lost friend.
You're taking up Advertising Arts at USC. Is this what you really wanted to finish since you were a kid?
Actually I realized I really don't like advertising. I just enjoy the company of people around me and what we're doing. I don't think I will be in an advertising after college. But I love illustrating! I am not really that good in my class but I achieve in my own terms.
What did you learn that you could illustrate?
When I was a little girl I used to draw stick houses with gardens. Back then I had an older cousin who was taking up interior design, and she saw my drawing and said it was good. Then I started to doodle on newspaper, and now I'm the only person in the family pursuing arts. They all stopped.
What was your first break and how did you feel about it?
I first joined an exhibit with Street Konect through The Little Secrets: Venus held in ALPS Café in Guadalupe. It was an all-girl exhibit that showcases a diverse set of artwork, and it was really kind of an achievement for me. The second one was The Box of Little Secrets: X held at Chillage last February—we displayed 40 postcard-sized pieces of erotic art.
Have you tried illustration for companies or films?
I have projects now. I was one of the artists who were commissioned to paint a mural at Lantaw Floating Restaurant in SRP. I think it was awesome because it was really big. I was also commissioned to work on a Converse mural.
Was it hard finding your own voice and making your work distinguished from others?
More artists are already using digital, but I stayed with watercolor and paper. I want to feel the paper. I tried digital, but it doesn't feel the same. I'm also an artist who needs to control my emotions—I've learned that when I am too emotional while painting, I tend to ruin the paper. My classmates tell me that I look like my work—when they see an illustration, the know that it's mine.
Kathyrn Layno
Kathryn Layno was aware that she has a gift for the visual arts. Like other artists, he has explored her capabilities well enough, having wielded enough pencils to create stunning outputs since she was a little girl. She has refined herself as an artist, though she admits she didn't get into it seriously until her late teens. It was then that she realized the old saying was true, that "when you're good at something, do not do it for free"—it was about time she made the arts her bread and butter. Kat tells us she wanted to commit her hands to animation and work for Disney but she also bore a strong love for comics, so when an opportunity to do both came knocking, she grabbed it by the neck.
What was your big break?
The first time I got involved drawing superheroes was on Upperdeck's "Marvel Masterpieces" sketch cards. An artist friend of mind on Deviantart announced she was on the set, and I inquired about how to apply. That's pretty much how I got into sketch cards. I also applied at the Marvel talent-scouting event when Marvel editor C.B. Cebulski was in Manila, and was one of two artists from Cebu to get an interview, the other being my good friend Miko Puns. As far as coloring for DC, I collaborated with Drew Johnson on other independent projects, and when he got a gig with DC on Masters of the Universe, he brought me on as a colorist. I've been very lucky with my chances.
How do you describe your creative process?
I tend to make moodboards before I start things. I collect pictures and put a montage of them together that coincide with the themes I'm trying to portray, sometimes have a movie with the same characteristics playing. Sometimes I'll have audiobooks or documentaries playing in the background. Once I'm immersed, I start with very quick rough sketches, trying to nail the composition down. Lines, colors, values and everything else follow after that fairly smoothly.
People who go into the arts in the Philippines are often discouraged. Were you worried while taking up Fine Arts?
It's sad that it is that way. Most people I know that make a living from illustration do so by working for clients overseas since they pay higher. But I am incredibly stubborn and resilient. If something scares me, I don't like losing to that fear—it makes me want to prove others and myself wrong. I'm glad it worked out well for me.
Have you collaborated with Pinoy artists?
I joined a comic anthology group called Sukol Mo when I was 14. That was probably the first time I collaborated with other Filipino artists, and I learned a lot. Since then, I've done a few with my friends for comics and exhibitions.
What is your dream project?
My husband and I would love to work on an indie game eventually. We know the right people for the team, but finding the time is a problem.
The Hermit is Out
Although a bubbly extrovert who feels right at home in the middle of a party, the personality behind The Hermit is Out feels that his name is perfect for his artist alter ego—"it's a side of me that people don't usually see." As something he does on the side, his art is a collection of digital erotic drawings splashed in color. So are these scenes rooted in reality? "Maybe it's more of a fantasy," he laughs.
How did you start out with your art?
Doodling in pages of my notebook back when I was in high school.
What is your creative process like?
I don't necessarily have a creative process when it comes to my drawings. Whenever I'm bored at home, I just play around with my drawing tablet. Whenever I'm traveling, I tinker with Adobe Idea apps on my iPad. I guess watching the occasional porn helps.
Do you remember the first piece that you did?
Nope. My earlier work was tamer.
Do you think the Cebu art society is ready for pieces like this?
I'm not really sure. Some of my friends ask me if I'm trying to convey any message with my drawings. I don't. I just draw what I feel like drawing—there's no agenda behind it.
Do you have any plans of doing an exhibit in the future?
If time permits. Right now, I'm quite busy putting up my own dessert shop. But I'm slowly working on my portfolio site where I plan on putting my most recent work.
Jan Sunday
For Jan Sunday, art is a diary—instead of writing, she draws how she feels and sees herself. She agrees that not everyone will find her work sublime; in fact, she knows that some might find it offensive and uncomfortable. Her work does not always portray what the eyes want to see, instead harboring things that conventional artists might dare not portray. Most of her pieces are inclined to women and sexuality, but this does not necessarily mean our eyes should shy away from the visual display. Jan's artwork grabs our attention—it demands to be beheld.
When did you discover that you were capable of all this visual art?
So cliché—ever since I was a kid, I've always loved drawing. I'm an only child and it's kept me company for years.
Can you describe your creative process?
It just happens. I don't really plan it. My best work is when I'm most depressed—it's like therapy.
How would you describe your work?
Low-brow, provocative self-portraits. Feminist-oriented. Sometimes I feel a bit out of place at shows, but I've always known that "different" is not bad.
Where do you get your inspiration?
I'm driven by life's tragedies and the looking mirror. I don't think anyone else has inspired me to create what I've created. It's all me, it's all organic. I don't even know if I've followed someone else's illustration style. I'm fond of black and white nude and vintage photography, and surreal films. I don't really keep track of names but I have them bookmarked on my computer and written on my journal.
When was your first big break?
It all started with !HA?, not a PunkShow (Manila) and Little Secrets popup art shows. Those aren't really "big breaks" but it got my name out there. This feature's probably it. I'm just glad and thankful some people are interested in my work.
What is the most meaningful project you did?
My band's album cover illustration — Tiger Pussy-People You Hate album. Dark, deranged and girly.
What is your dream project?
Just to be able to put out more work and maybe paint on a larger medium—that's enough for me. Like I said, it's all personal. I don't do this for the world.
OJ Hofer Recommends the Fashion Designers You Should Be Looking Out For
With a fashion community that's growing everyday, Cebu is home to many young designers. Oj Hofer names his picks for the five up-and-coming names in the industry, who he feels will be dressing some big names soon.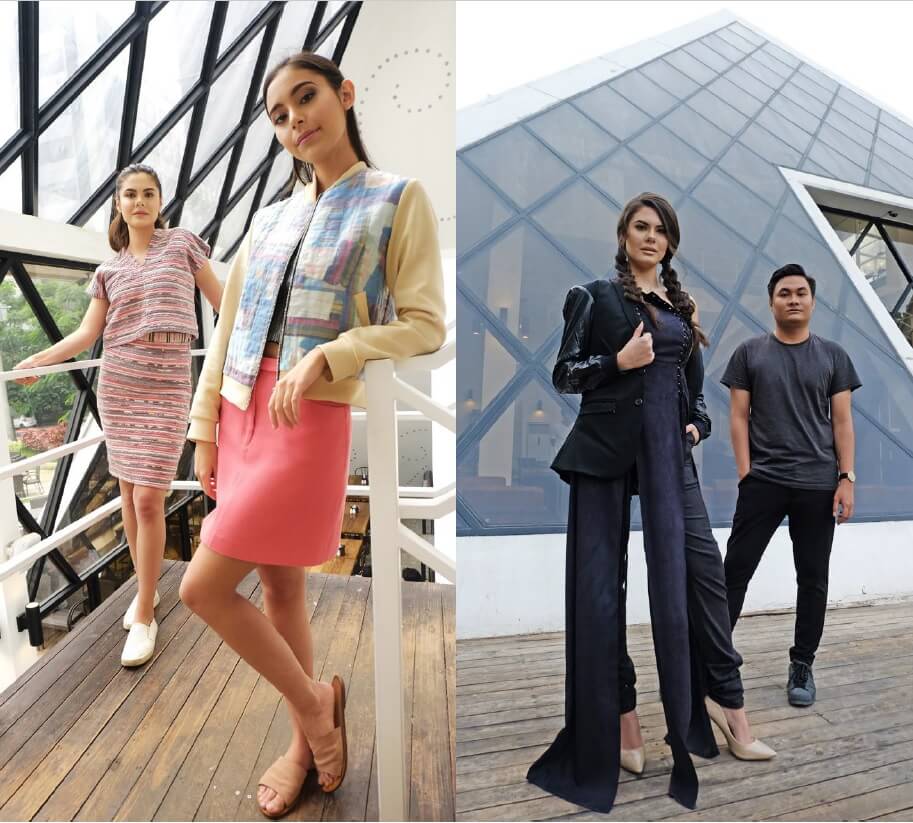 With a fashion community that's growing everyday, Cebu is home to many young designers, each with their own statement to share. Fashion designer and Zee's fashion editor Oj Hofer names his picks
for the five up-and-coming names in the industry, who he feels will be dressing some big names soon.
photography KODA
hair and makeup JANICE BARILLO And NICKO DELA PEÒA
locale THE PYRAMID
Originally published in Zee Digital Vol.1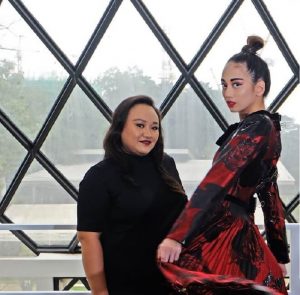 PERCIE LOVE REQUIERO
When did you know you wanted to be a fashion designer?
when I was younger, I fancied clothes, especially those with elaborate details. It started out as a hobby-making clothes for my daughter. It was two years ago when I finally decided to get formal training, and realized that designing is my passion.
How did you break into the industry?
In 2016, my group and I represented FIDA in a competition. Then, more opportunities came.
How would you describe your style?
Tailored, simple and timeless
Who are the Cebuano designers you look up to?
There are a lot of designers that I look up to, especially my FIDA mentors. Each of them has their own expertise that honed me to be where I am today.
What are your plans for 2018?
As a beginner, this year, I want to focus on having more exposure, experience, and to get to know more about the industry. I want to gain additional
knowledge from seasoned designers on how to handle challenges in the business, and at the same time, establish my brand.
YOKO SATO-LI
When did you know you wanted to be a fashion designer?
Ever since I was young, it was really my dream to be a fashion designer, but eventually I forgot about that because of other priorities. My mom wanted me to take up nursing, so I followed her and even got my license. I also worked as a Loans Associate, and a bank teller for almost three years. It went well, but something still seemed missing. I rekindled my love for fashion. I tried to enroll in FIdA several times, but had doubts pushing through since I had a hard time giving up my stable job at the bank. I talked to some of my friends and family, but most of them weren't supportive about taking the risk. It was my husband who was very supportive, and motivated me to follow my dream. I weighed things, and didn't want to grow old and have regrets about not pursuing what I really love to do. I then realized that it meant a lot to me, and I fought for my passion and chased my dreams.
How did you break into the industry?
As someone who is still starting in the fashion industry, I think the FIdA Graduation Show Beyond Borders opened me up to a lot of opportunities.
How would you describe your style?
I am actually an eclectic person. I love to mix and match different styles and make it my own. It is important to have an eye for what you like, and what suits you or your client. I tend to like classic
style and go for a minimal look, but I also love trends. I donít really limit myself. I just want to make sure that it looks feminine but edgy, sexy but elegant and sophisticated, simple but unique, and also
clean polished.
Who are the Cebuano designers you look up to?
Cary Santiago, Philip Rodriguez and Harvey Cenit
What are your plans for 2018?
Hopefully starting up my own boutique
EDWARD JAMES CASTRO
When did you know you wanted to be a fashion designer?
Ever since I could remember. For me, what really triggered this love for fashion was watching Cinderella at a very young age. Watching the mice sew her pink dress was something I aspired to do when I was old enough to handle needles and scissors. I would practice draping handkerchiefs on my sister's Barbie dolls. So I pretty much got into it at a very young age.
How did you break into the industry?
It wasn't until high school when I started considering fashion design as a career. Before, it used to be only on paper. Being in an all-boys high school made me want to develop my own identity. Most of my peers wanted to be doctors, architects, engineers—I think I was the only one in my batch who showed up for the fine arts college orientation. Fast forward, I didn't really take up fine arts in college, but I got my big break designing for the college pageants, and winning a few design competitions in school. I met a few established designers when I graduated, and they helped me get into the fashion scene. Eventually I got into Clothes for Life, and since then, I went from this wide-eyed neophyte to a full-time designer and stylist. #DreamsDoComeTrue
How would you describe your style?
My style is very eclectic. I can be at opposite ends of the spectrum. One day I could be fun, nonchalant and colorful. Some days, serious, dark and melancholy. It's a bipolarity I have embraced with open arms.
Who are the Cebuano designers you look up to?
Cebuano designers are very talented, to say the least, but I have a few whose aesthetics resonate with me a lot. Protacio, for his clean lines and tailoring. Jun Escario for timeless glamour. Cary Santiago for his vision, and how he tells a story with his collection.
What are your plans for 2018?
For 2018, I'm planning to focus more on bridal wear. It's something I really want to do, but didn't have time to because of so much freelancing work. I want to develop a bridal line that reflects my design philosophy, at the same time relatable and marketable.
JESSICA OUANO
When did you know you wanted to be a fashion designer?
I was always into clothes, ever since I was a little kid—actually costumes to be precise. Halloween was my favorite day of the year, and I loved being in theater because of costumes. I am also very much into cosplay, and I love making things. When I was in high school, I knew that fashion design was something I wanted to pursue.
How did you break into the industry?
My first big opportunity was creating a collection for the Kansai Collection fashion show in Osaka, Japan, with the help of a good friend of mine, Nobuo Koizumi. The collection was a collaboration with another designer from College of Saint Benilde, Jason Patricio. Jason did the designs for the garments, and I worked on the textiles. The project was also how I got into handwoven textiles, and working with the local weaving communities. I was also very fortunate to have been mentored by Oj Hofer for this project.
How would you describe your style?
My style is experimental and quirky. I love garments with simple silhouettes, combined with interesting textile applications. I love experimenting with textiles very much, and I always try to make it the highlight of the garments that I design.
Who are the Cebuano designers you look up to?
I love the work of Oj Hofer, he is such a master at draping. I also love the beautiful, intricate details of the work of Cary Santiago. They are both extremely talented.
What are your plans for 2018?
For 2018, I plan to focus more on experimenting with handwoven textiles, and creating more innovations together with the team at AnTHILL.
MIKE YAPCHING
When did you know you wanted to be a fashion designer?
The love for making clothes came at a young age for me, growing up and observing my grandmother and my aunt, who are both seamstresses. It was during high school when I got obsessed with designing clothes.
How did you break into the industry?
It was in my second year in college when the eighth edition of Mega Young Designers's Competition was calling for entries. I was fortunate to have been shortlisted from countless submissions. It was a very big platform for me then, as a budding designer, as MYDC was the stage where prominent and renowned Cebuano designers started out, like Edwin Ao, Oj Hofer and Furne One.
How would you describe your style?
I have grown to love evening wear with a minimalist sensibility. Streamlined looks with little details that make for a maximum effect.
Who are the Cebuano designers that you look up to?
Of course, Edwin is always on top of my list. We may have different aesthetics, but the knowledge he has imparted me with are priceless. I admire Arcy Gayatin, Cary Santiago, Oj Hofer and Philip Rodriguez.
What are your plans for 2018?
To live in the moment.
Art Curator Maris Holopainen Recommends Top 5 Young Cebuano Artists You Should Know About Now
Having worked with many artists through Qube Gallery and an avid art collector herself, Maris Holopainen has been advocating young and local talent.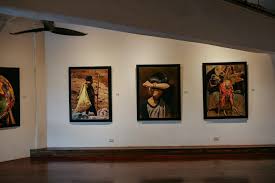 Originally published in Zee Digital Vol. 1.
Photography by Kyla Estoya
Having worked with many artists through Qube Gallery and an avid art collector herself, Maris Holopainen has been advocating young and local talent. Besides representing Cebuano artists at shows around the world, the gallery is also a platform of sorts for creatives who are hoping to make a name for themselves in the industry. Maris shares five up-and-coming artists she believes will soon become buzzed about in the local art scene.
GI Pongasi, Painter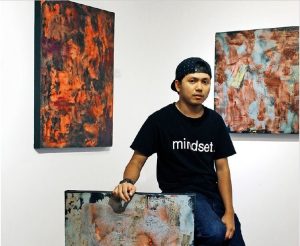 Describe your art.
Mixed media, non-figurative.
How did you break into the industry?
I joined different group exhibitions, and eventually had a chance to mount my own solo exhibit.
Plans for 2018?
After a successful one man show this January, I will continue to create a new series of work, and will be joining group exhibitions. Also, I'm planning to join major art competitions.
Borj Padron, Sculptor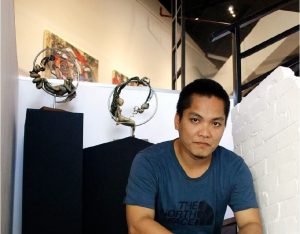 Describe your art.
I am into metal. Even when I was doing my thesis, I was working with metal cables, and stuff like that. Now, I like working with stainless steel.
How did you get into art?
Even when I was a kid, I was into arts. My parents didn't send me to art school; they made me take engineering. when I got to my senior year, I shifted from
engineering and pursued art.
Plans for 2018?
I want to do collaborations with my coartists. I also plan on studying more on metal and wood.
Almun Rey Logronio, Sculptor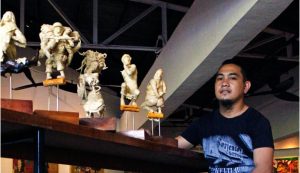 Describe your art.
My art is about comedy. I wanted to avoid the problems, so I converted them into something happy. At least for a moment, I can relieve your stress through my artwork. I experimented with 3D
painting and other materials, and some challenging techniques. For materials, I use polymer resin. My subjects are usually normal people that you'd see everyday.
How did you get into art?
I studied painting in college, but when I went to Dubai, I saw and discovered that I could do sculptures. I practiced and experimented with the materials.
Plans for 2018?
I have plans on doing another exhibit, and continuing making comedy as a statement. I want everyone to be happy. I hope I can make better pieces, and that people will like it more. And I'm planning
to add painting to my sculptures soon.
Mark Belicario, Painter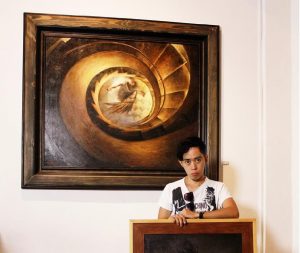 Describe your art.
My art is realism with a bit of surreal, it has some imagination. My medium is oil on canvas.
How did you break into the industry?
I started painting in 2008, together with my co-artists. They have influenced me to do the same. I was inspired by their work. From there, I attended exhibits, competitions, that's where it all started.
Plans for 2018?
To conduct more exhibitions here and abroad, and create another painting. Maybe try a different style of my art.
Francisca Ricablanca, Painter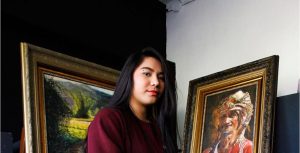 Describe your art.
I describe my art as realism, because in realism I can express my feelings and appreciate the beauty of nature. I feel like I have been enlightened by the Lord, because of what I've seen and what I put
in my art.
How did you get into art?
I started painting when I was 16 years old, and encouraged by a co-artist to join a trip to Samboan. I had no idea
what we were going to do there, I thought it was just another trip. It turned out they were going to do paintings on the spot. One day, they gave me a small canvas, and I finished my painting right away. The next day, they gave me a bigger canvas, and I started painting the guava tree; they were surprised that I was so quiet. I was actually drawing each leaf individually. That's when I started.
Plans for 2018?
I want to continue, and strive harder so that I can make artwork that's even better than what I did last year. I want to continue my career as an artist.
Jinah Oh Tells Us What It's Like to Be a K-Beauty Expert in Cebu
As the woman behind Time For Myself Beauty Salon, Jinah Oh shares how K-Beauty has made it into the lives of Cebuanos.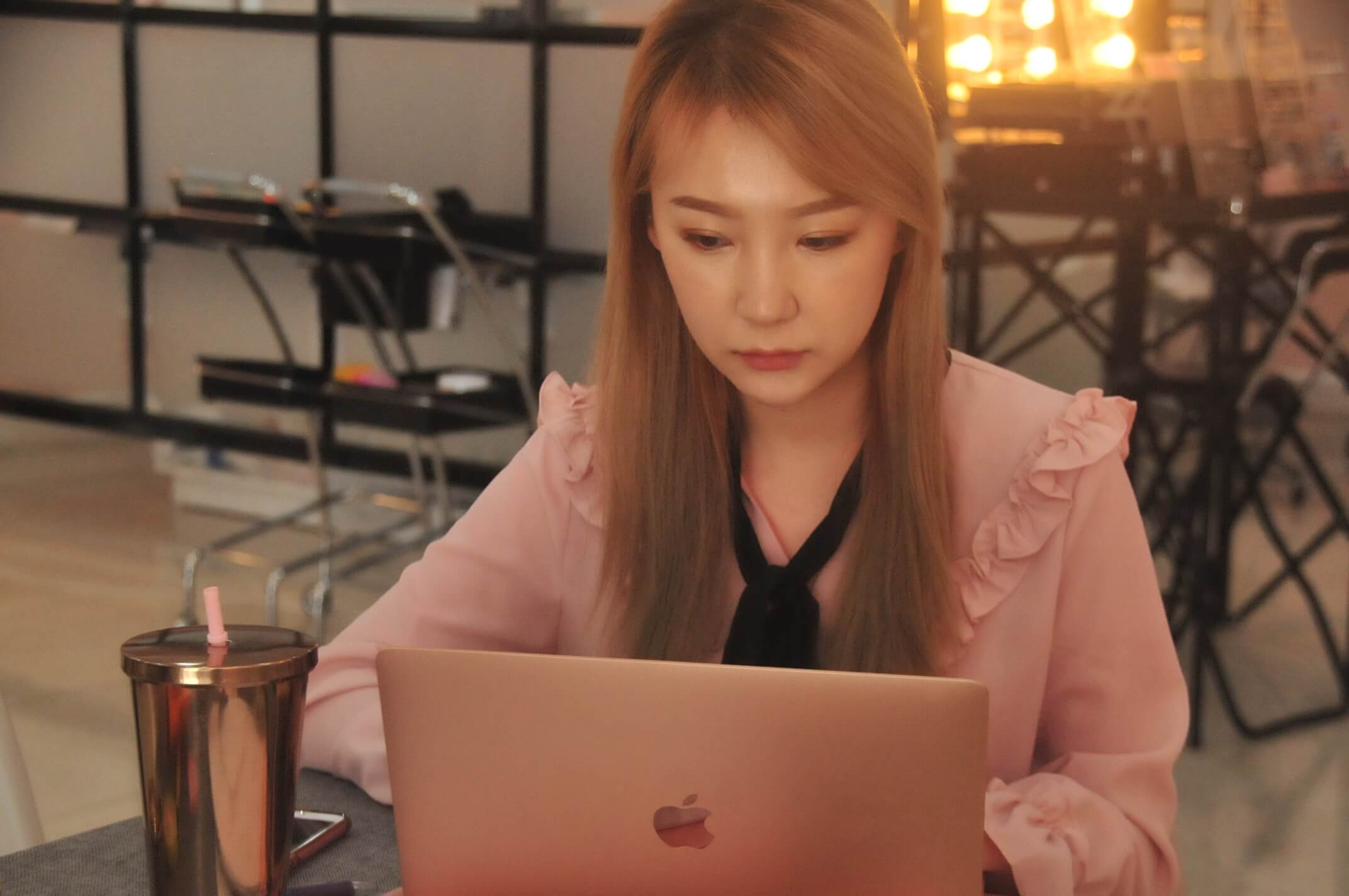 Beauty has always been an important part of Korean culture. Beginning from the early dynasties of the country, Koreans have always been very particular on how they take care and present themselves. Today, Korea's beauty industry is as big as ever, and the rest of the world are now venturing into experience pampering in the hands of Korean beauty experts.
Just last year, Time For Myself Beauty Salon opened in Banilad. The woman behind it is Jinah Oh, a Korean beauty expert. Time For Myself is a beauty salon where you can get a total beauty service. They offer a variety of services from your head down to your toes—including hair, makeup, eyebrow microblading, piercing, and nails.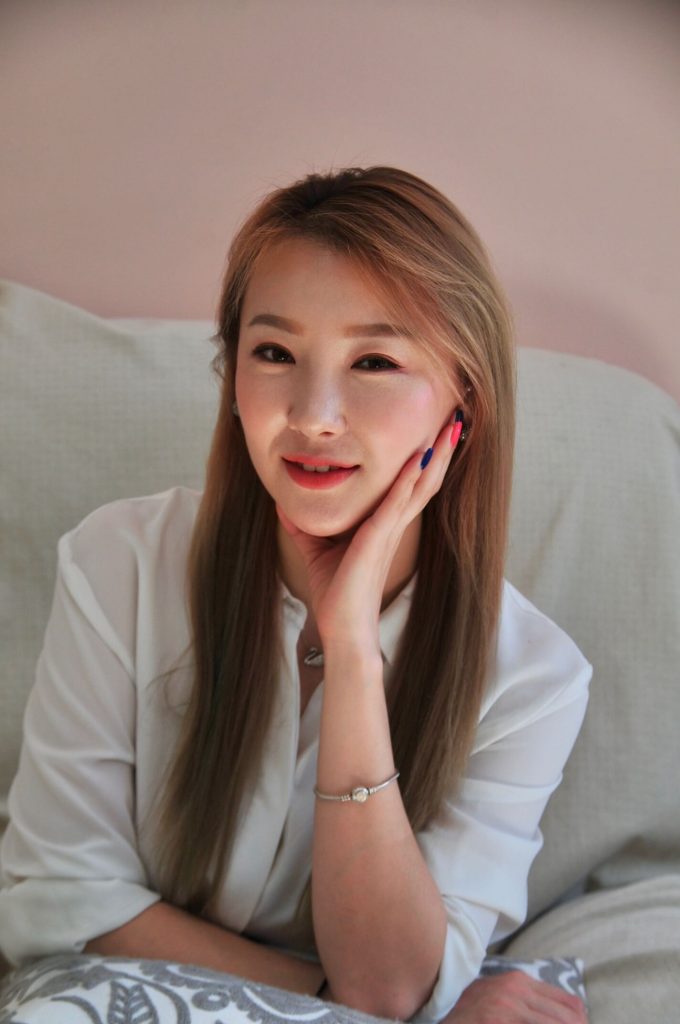 While living in Korea, Jinah worked as a makeup artist for K-dramas. Although her salon here in Cebu is fairly new, she has been in the industry for 8 years now, and she's happy to share her expertise in Cebu.
"I want my customers to experience more about the Korean beauty skills and techniques and be satisfied," says Jinah. She spent most of her education—high school and university, in particular—in Cebu, so it's not hard to see why she wants to share a part of her culture to the Cebuanos.
Unlike many beauty shops in the city, Jinah is hands-on when it comes to working at Time For Myself. Particular with providing good service for her customers' satisfaction, she goes to work regularly to tend to her customers as much as she can.
"I come to the salon at around 9 in the morning. I usually prepare myself first, arrange the schedules for the customers and then wear my apron and work," says Jinah when asked what a typical work day is like for her. "Since I handle the salon's social media, I reply to all the messages and comments one by one in between my breaks. Sometimes, I would do my nails," she adds.
During her days off, she's still running errands for the salon. "I have to go to many places to buy what we need in the salon and I do the groceries as well," Jinah says. "I also reply to the salon's social media messages but sometimes, I hangout with my friends and grab some beer."
A perfect day for her is when she can do what she wants to do, and eat what she wants to eat. "Just spending a simple life without any worries would make a perfect day," she adds. Although salon work really keeps her occupied, she is quite happy with what she is doing now. "This is what I have always wanted for in my life. I've worked in different beauty events in Korea under other people's names but now, I can do what I love most in a place that is my own," she explains.
Jinah recounts her experience as a makeup artist in Korea, and shares that she barely got sleep or rest days, which put a lot of stress on her body. "Having worked as a staff in a Korean drama, I wouldn't say that my job right now is challenging," she says, and goes to describe what she finds challenging in her current job. "When you work so much, you don't really get stressed," she adds.
With everything that she has achieved for her dream, Jinah also wishes that she can share her knowledge on beauty to Filipinos.
"I've been wishing for beauty to become one of the university courses so that they can have the basic knowledge about the beauty industry since the beauty market in the Philippines is growing fast. In Korea, it's standard for us to learn about it," she divulges.
This begs the question: is beauty not that big of a thing in the Philippines yet? Considering the many brands and products popping up in the market, it does make you think if this holds any truth. Nevertheless, whatever the beauty industry's status is here, it seems to be leagues away from Korea's beauty industry, and it's evidenced in how many Filipinos follow their skincare routines and makeup styles.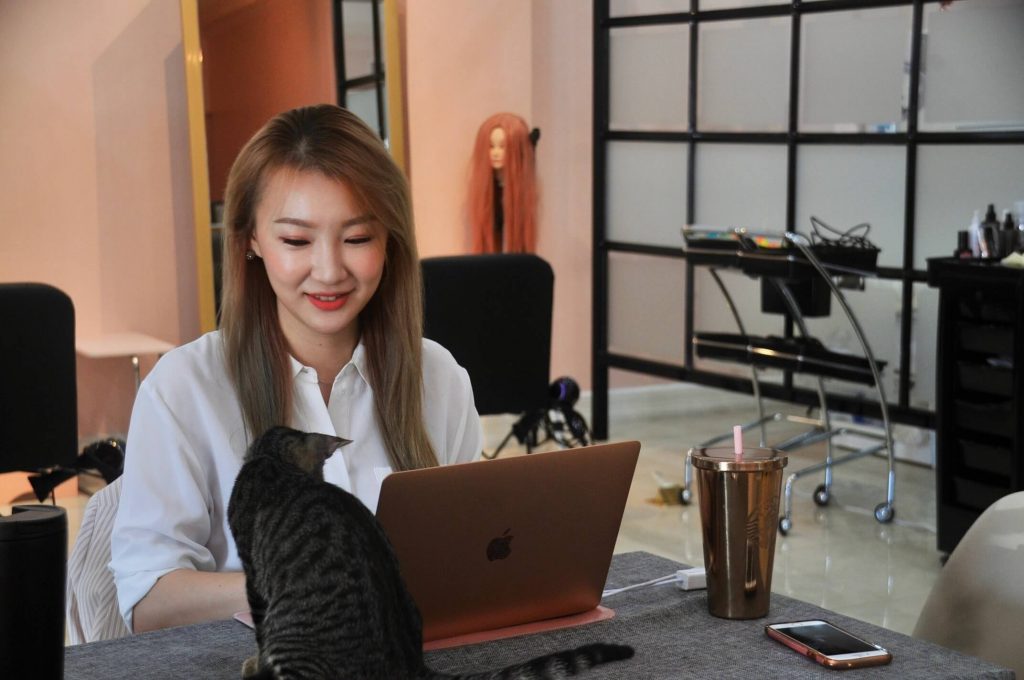 This beauty expert's life is quite interesting, but just like any other person, she dreams of doing the little things that every one of us might have thought about at some point of our lives. Like most people, Jinah also loves pets. She even has a cat that she brings with her when working in the salon.
"If there was one thing I could do for the rest of my life, I would build a huge house where all the homeless dogs and cats live together," she shares. Her cat was a stray that she plucked off the streets, and is now living a life where she's well taken cared of.
Of course, getting a makeup or skincare tip from Jinah would be a must and that's exactly what we asked from her. "I always moisturize my skin right after I take a bath so that I do not give time for my skin to dry. I do not use too much products for skin care because it might block my pore and irritate my skin," she replies. "As for makeup, I wear anything but remember, proper cleansing is more important than wearing makeup."
Check out Time For Myself Beauty Salon at Banilad, Cebu City. While you're there, get a chance to meet Jinah. Who knows, you might get a chance to ask her more tips on skincare and makeup. With the quality services she provides, your time there would really be worth it.