Cebu's Most Stylish Personalities Talk About Fashion
Set against the tranquil background of La Tierra del Chocolate at Shangri-La's Mactan Resort and Spa, we bring together some of the city's most stylish young personalities that come from different backgrounds. Together, they talk about trends and uniforms, early outfit rebellions, and why the wrong outfit can ruin the day.

THE SPREAD
"Oh, this is so cute!" Neil San Pedro explains as we emerge from the canopied pathway and into the clearing that was Shangri-La Mactan's La Tierra del Chocolate. Hidden from the rest of the resort by towering trees, the area has a heavy wooden table, a considerably sized plant box with sprouting cacao seedlings and a series of stations that chronicles the various stages of harvesting the cacao bean.
General manager Rene D. Egle had learned about the rich traditions that came with the Philippine Cacao when he moved to Cebu, and believed the story was a platform on which they could build a new cultural experience for locals and tourists alike. Partnering with Racquel Choa and The Chocolate Chamber, he offers an immersive experience that celebrates local chocolate.
The Chocolate Sommeliers, who had led us from the lobby to the garden, gave us a tour of the Viaje Por El Jardin del Cacao (which literally translates to Traveling in the Garden of Cacao). It starts with Harvesting, although they note that as of now, Shangri-La's actual crops are still too young to harvest. They do, however, show how the cacao pods are split open, and the beans scooped out. We then move over to Fermentation, which traditionally has the beans dried under the sun, and then Roasting in a large wok. After that, Winnowing is for removing the outer shell of the bean, leaving behind the cacao nib—the group was invited to sample the tiny nib, which had a rich, nutty flavor. Last comes the Poundings, where beans are crushed in a mortar and pestle until it turns into a paste that is molded into the tablea.
Seeing the process behind its creation certainly made us appreciate our chocolate high tea, which highlighted three different kinds of sikwate (local hot chocolate)—the full-bodied version from The Chocolate Chamber in Cebu, the light Dalareich Tableya from Bohol, and the medium-bodied Malagos from Davao. These were perfectly paired with biko (glutinous rice cake) and slices of ripe mangoes for a truly Filipino gastronomic experience, and was the perfect accompaniment to the afternoon's light conversation.
THE CONVERSATION
Zee: Let's start with asking, what is fashion for you?
Neil: I think fashion is basically a personal extension of who you are. It can be depending on your lifestyle, or how you feel on that day. If you want to dress down like Mark Zuckerberg, or you want to dress up to the point where you're like an Iris Apfel—which I wish we could dress up like.
Gillian: I think also it's about what you do during the day, and how the clothes that you wear adjust to the type of things that you do daily. Like, for me and Erika, we usually go to construction sites and do measurements on the spot, so we go for functionality. But then we have to rush to a furniture store or a client meeting, so we also have to look presentable.
Rachel: For me, it's about being unapologetic for what you're wearing. If it's your style, then it's your style. You don't have to think about what people are going to say about you or what you're wearing.
Vanessa: I grew up on a very small island, it was a mining community. Everybody wore the same thing, and we could only go to the city every weekend. So fashion was a very foreign thing to me, but I remember I wore pink shoes to school. I would lie to my teacher and tell her we didn't have enough money to buy black shoes, even if I had two pairs at home. Those were the kinds of stories my lola would tell me—she would say I was so arte growing up. But I wasn't being maarte. It was just me wanting to do what I wanted. People have always said that I was so weird, so I didn't associate fashion with me. I was just weird.
Zee: Does anyone else have early fashion memories?
Gillian: I remember this very clearly. My mom told me to wear a denim jumper to SM—SM had just opened at the time. I was eight or nine and I didn't want to wear a jumper, so I wore a fluffy red party dress. That was my fashion moment.
Erika: I grew up with three brothers, so I love anything that has a masculine spirit. I'm comfortable wearing baggy blazers or baggy white shirts. I also think my dad is very stylish—not fashionable, but stylish. I see him wearing a black or red shirt with white pants all the time. That's his signature look, and I grew up very close to him so it became innate for me too.
Vanessa: I always feel like there's someone who influences you. I think for me, it was my mom. I remember her nail polish, red lipstick.
Neil: My grandmother. She used to go to all these events. She would wear these pieces—I don't know if it was lace or embroidery, but it was really beautiful and delicate. And she did everything with such grace, matching her outfits to her bag and huge-ass pearls. She was, and still is, one of my most favorite muses.
Ixa: For me, it's my mom. I would dress her up whenever she went out ballroom dancing. I'd be there in her room, wearing her sandals, and she would ask me what I thought. I think that's where I picked up the touch of masculinity, because my mom was so sexy and I didn't like her going out in a strapless dress or something. So I'd get my dad's coat and ask her to wear it, and she'd say, yeah it works. I think that's where it all started—my mom is like the Mary Kate Olsen of my life.
Zee: And from there, how were able to develop your own personal style?
Vanessa: I really don't think it's a conscious effort. I don't even want to look at my old photos.
Gillian: Me too! I feel like it's trial and error all the way. I was telling Vanessa that I don't want to look at those old photos of ours—where we pile on all the prints, all the accessories. It's a constant evolution.
Zee: What did you use to wear that you're embarrassed of now?
Neil: Floral shirts! I had a lot of floral shirts—I looked so tropical! Now, if you notice, it's all plains. I definitely agree with Gillian about the trial and error. I understand the concept of Mark Zuckerberg, how he just wears the same outfit every day. I've been stuck with all black, all white, or all gray. It's just so tiring to think. I remember how we used to plan all our outfits the day before, but nowadays, I just want to take a good bath and sleep.
Ixa: For me, I don't have a constant style, but I'm not afraid of colors and I love oversized shirts. I don't really shop, like my brother Rei. We're so busy making clothes for other people. My "mall" is my dad's closet. This is my dad's polo that I cut. I can get some from my brother too. I just mix and match.
Erika: I gravitate towards classic pieces. I don't like the trendy ones because everyone's wearing it.
Gillian: But I think that's the great thing about styling. You can pick any trend, and then incorporate it as your own. Or you can pick out a classic and transition it into a trend to make it fit your body type or style, or where you're going that day. Sometimes you don't even have to buy the trend, it might already be sitting in your closet.
Zee: Where do you usually find the inspiration for how you dress though? Like for Gillian and Erika, since you're both in interiors, does that somehow find its way into how you dress?
Gillian: I think it can go both ways, but it depends. Sometimes I meet a client and I'm like, whoa, she has great clothes. I need some styling tips from her. Or the other way around—I'll be like, let me help you out.
Erika: Or when I look for interior inspiration, I go to the classic ones like Frank Lloyd Wright. When I research, I look up the person and I'd see their photo and be like, their outfit is nice. Like Picasso—he looks so good with his red cropped pants and white top. So it could start from there.
Gillian: Actually Erika's right. I guess that's why I started my blog, because I found out during my studies that some of the principles of design affects all the other design aspects. It also works with fashion, or multimedia and advertising. Like proportions in interiors—it has an outlet in fashion, like matching a narrow waist with a wide shoulder. I guess that's how I started to understand and appreciate fashion more.
Zee: What do you guys think about Cebuanos' style now?
Ixa: it's very safe, very laidback. But there's a kind of laidback that's still stylish.
Vanessa: I'm okay with people who want to be laidback. That's fine—but I want to wear heels.
Neil: I have to admit that Cebu's style is much better now than it was five to ten years ago.
Gillian: I think we have more choices now.
Ixa: It's social media also. A few years ago, not everyone could afford magazines like Vogue. Now people can find inspiration easily and go a little extra on their outfits because it's like, oh, I want to dress like a Kardashian.
Neil: The accessibility of information has changed everybody nowadays. You have to make sure that the outfit is Instagram-able.
Zee: How do you feel your style helps you in your everyday life?
Vanessa: I think it really is just for me. People will say, oh you'll comfortable in a T-shirt, and I'm like, no. I'll be sad in a T-shirt. Comfort is really subjective. I won't feel comfortable in a T-shirt, but good for you if you do.
Neil: Mine has to be a perfect balance between comfort and my preferred aesthetic. Like a certain comfortable shoe is just a big no-no—Crocs! I don't care how comfortable that is, but it's the ugliest thing I've ever seen.
Rachel: I think you really just wear what you're comfortable with, and the confidence will follow. Then people will say, yeah you look good!
Gillian: I don't know about everybody else at the table, but if I end up wearing something I don't like, it really affects my whole day. I'll be so bothered, to the extent that I can't work. Other people might think it's shallow, but really it's just how I feel.
Cebuano Haute Couture Shines at 2021 Cebu Wedding Expo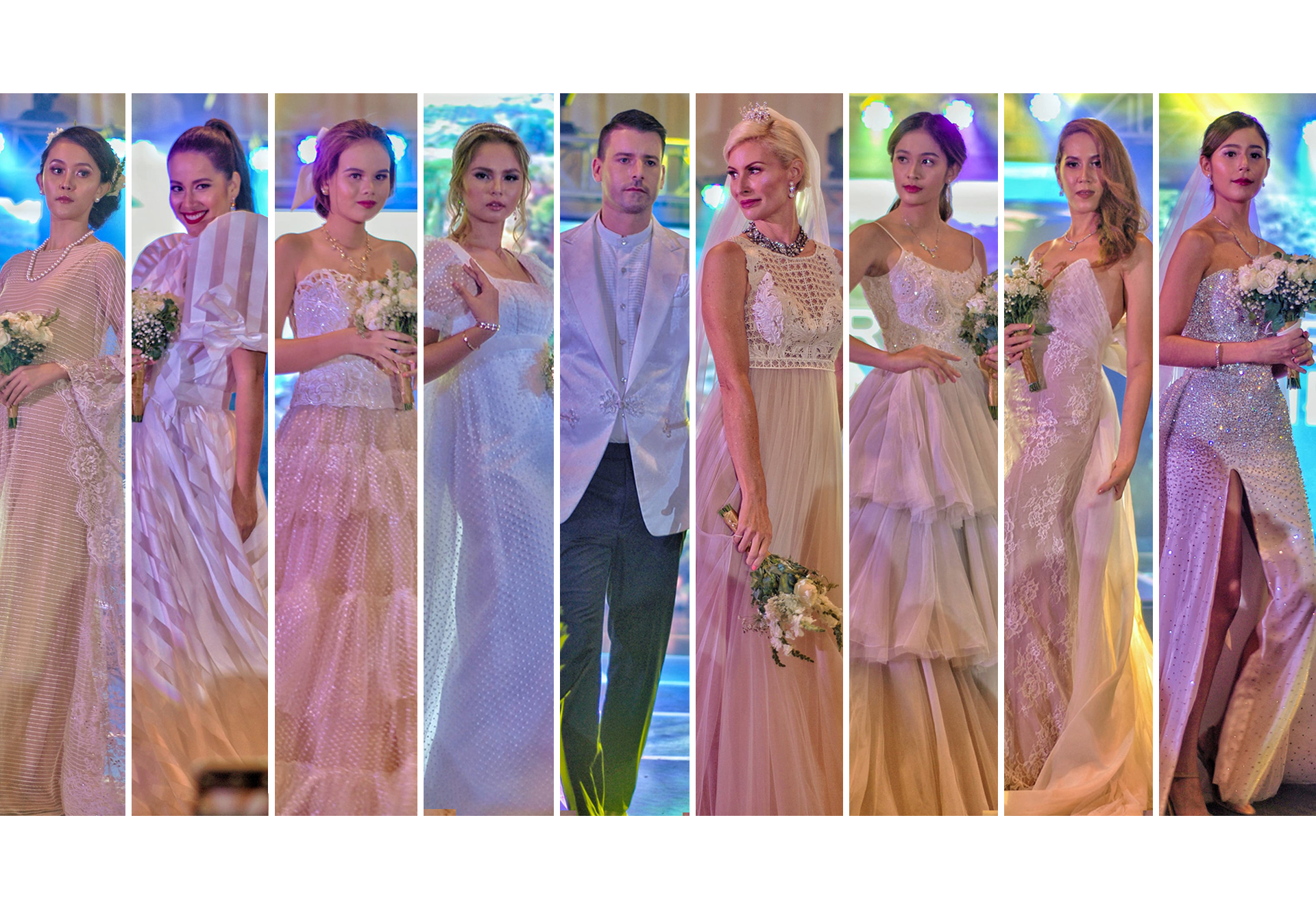 Forever at Soltana
by Allain Dumon Fonte
Soltana Nature Residences host the grandest wedding destination expo for 2021. In their grandiose Events at Soltana venue, wedding suppliers, event coordinators, events stylists, fashion designers, and exhibitors gathered to showcase their best to excited couples and clients.  The grand expo was opened by the Chairperson of Lapu Lapu City's Tourism Commission and first lady of this historic resort city, Madam Cynthia Cindy King Chan; she was with city counselor, Hon.  Queenie Malingin Amman; Taft Properties COO and Vice President, Myra Lynn Gilig; Taft Properties CFO, Feliz Tiukenhoy; and Mr. Justin Gaisano of Taft Properties. 
To set the event's mood, AD models Kevin Lahousse and Gingie Alducente acted as newlyweds joining the expo and leading the guests to the exhibitors' booths.  Yet, the highlight of the event was the glamorous fashion show set in the world's most visited wedding destinations, as the mannequins of AD models paraded the haute couture creations of Cebu's A-list fashion designers.
The show was opened by Miss Earth 2008, Karla Henry-Amman, wearing a bridal gown designed by Hanz Coquilla.  Her wedding mood was the historic streets and sceneries of Vigan, Philippines.  Coquilla created a Filipiniana-inspired bridal dress with perfectly constructed butterfly sleeves, exquisitely clean lines, and masterfully crafted bias skirt of balanced cones and flows.  Valerie Alvez showcased a bridal dress made of vintage Chantilly lace.  Alvez proved her skills in manipulating laces to be impeccable; the bow detail at the back added glamour to the dress, exuding luxury to the bride wearing Alvez's masterpiece.  Wendell Quisido set her wedding theme to the dreamy beaches of Ipanema; and as her model glided on the runway, everyone in the audience dropped their jaws to the intricately detailed bridal dress that Quisido made. Quisido designed a bustier dress with well-balanced panels that wonderfully fitted the model's figure; but what made Quisido's dress jaw-dropping are the countless Swarovski crystals that covered the dress.  Dexter Alazas joined the fashion show with a 1920's inspired wedding dress of vintage tulle and embroidered in the decade's popular baroque patterns.  Alazas has shown the wonders of working with delicate fabrics and the opulence of vintage embroidery patterns.
The fashions show also brought us to the rich sceneries of Mallorca, Spain with Ren Manabat's three-tiered wedding dress.  The labor-intensive layers upon layers of soft English tulle made Manabat's artwork stand out, among others.  Another head turner is a dress that was carefully planned and architecturally constructed, the bridal gown designed by Protacio.  Protacio has obviously studied well which fabrics to use and how each fabric is sewn to the other to create an illusion of nudeness under layers of vintage Italian mesh. The dress was architecturally constructed like the Burj Khalifa where every piece sits perfectly with each other in harmony and balance.  Fashion connoisseur Marichu Tan-Geson created an extremely detailed bodice lined with Swarovski crystals, and a skirt made from layers of dotted soft English tulle.  Tan-Geson's manipulation techniques on the soft tulle and how she delicately draped every layer of the tulle upon the other is interesting and intriguing.  With a work of art as beautiful as that, I could say that Tan-Geson is the Madame Gres of Cebu fashion.  The show ended with a groom and a bride wearing a 19th century English-inspired wedding ensemble by master couturier, Philip Rodriguez.  Rodriguez has proven once again his artistry and expertise in fashion by creating an empire-waist gown with ruffled sleeves made from dotted Italian mesh of 100% silk and vintage silk taffeta.  Rodriguez presented a truly elegant wedding dress; lesser on the intricacy but more on the richness of the materials being used.  The rarity of Rodriguez's fabrics already makes his dress worthy to a MET gala exhibition. 
The models wore the timeless and recherche jewelry collections from Royal Gem to match the bridal dresses of the featured designers.  Every jewelry piece is made to complement a woman who loves fashion and whose self-awareness dictates her own style.  From green sapphires to yellow diamonds, every jewelry piece is stunning.  No wonder why socialite and fashion icon, Heart Evangelista, loves and promotes Royal Gem. All models are wearing Shandar bridal footwear.
The Grand Wedding Destination Expo at the Events at Soltana will run until the 24th of May 2021 with exciting activities:  a maquillage session with Jessie Glova, a bridal make-up competition and show, a financial literacy session for new couples, a talk on real estate investments, a session  with Rod Bautista and Eddie Jamin from the Centerpiece Weddings and Events about wedding destinations in Cebu and the new norms in wedding celebrations, and a whole lot more of raffle prizes from Plantation Bar Resort and Spa, Solea Mactan Resort, Savoy Hotel Mactan, and others.
CEBU'S GALLERY OF ROUGE: Mistress of Disinfo, Vixen of Vexation and the Duchess of Disorder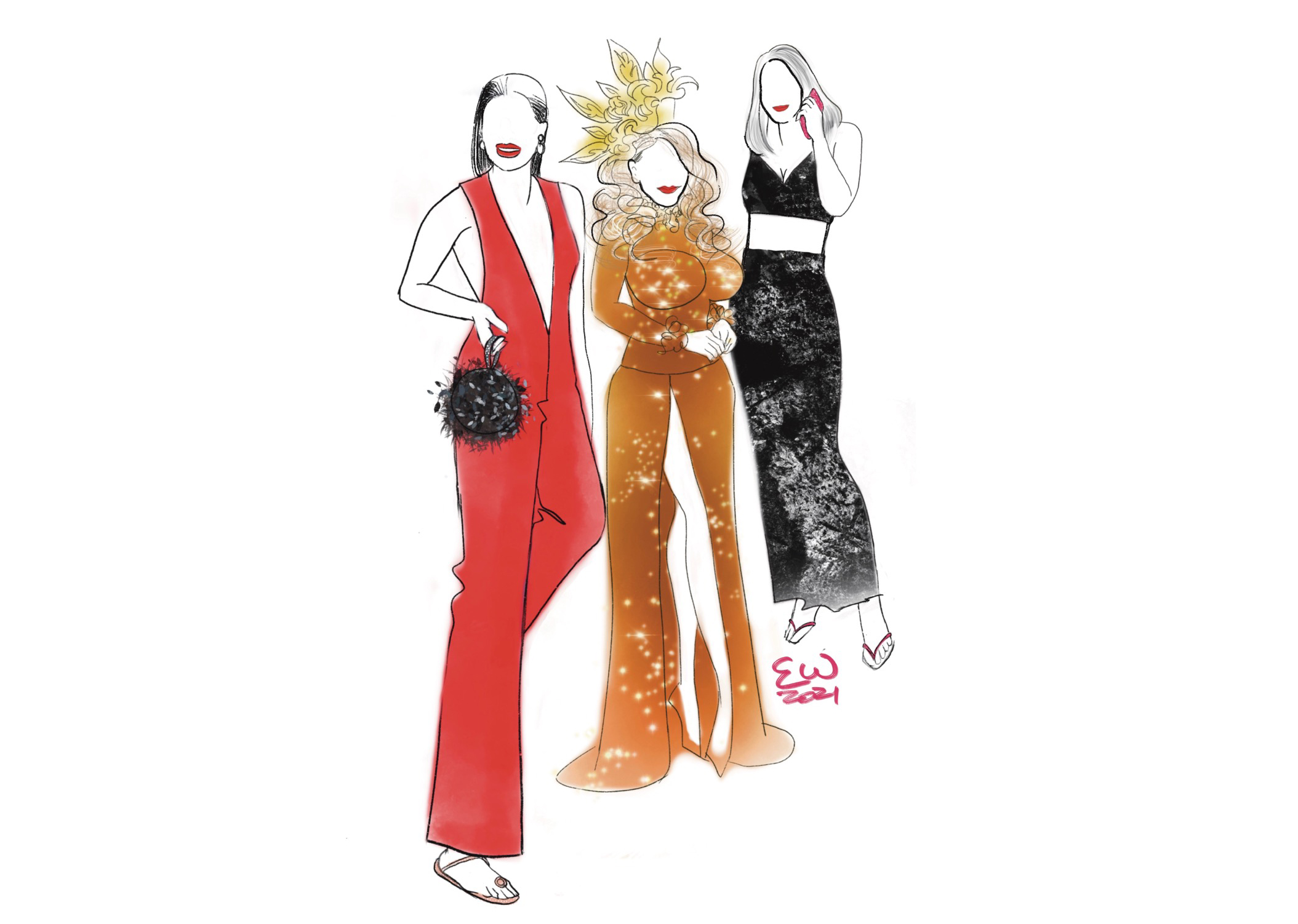 Ogle La La
By Alexandra Fortabat de Hermès
Cebu's own Lady Whistledown is back after a long hiatus and talks about the naughty ones who comprise the initial #TroubleTrifecta, three ladies who you may or may not know…
It's been eight years since someone's picked up this particular (jewel-encrusted) quill so thought it rather apropos to begin sharpening those French-manicured talons and polishing our sardonic wits once again. After all — dear amigas — there is only so much Netflix one can watch, or peloton one can engage in, or caviar-topped foie to prepare, while we've all been locked down in our kubôs for well over a year!
To be sure the last twelve months have been a rollercoaster of emotions, a carousel of follies and a series of blunders that have reversed decades of growth resulting in historical levels of unemployment while a very few have been channeling  Winston Churchill's adage of "never waste a good crisis" a bit too much. While we can go on and on about the bungled and disastrous government response, we will limit our political commentaries here as we have no interest – nor inclination — to open that rather voluminous Pandora's box. 
The armoires that we will explore will belong to three types of our island's "alta" sociedad who – in this last revolution around the sun – made us cringe and bust out many tubs of popcorn through their sheer audacity, lack of sensitivity, and overall dopiness.  This –  ladies (and lady wannabes) – is therefore the debut edition of the  #TroubleTrifecta.
The first is that amiga who, by choice or plain predilection, just cannot keep her facts straight.  Let's call her Mistress of Disinfo coz one simply cannot trust what comes out of her well-lined lips or read from her often convoluted (and run-on) status updates. In this age of ubiquitous and nearly instantaneous information and the proliferation of fake news, the least one can do is check the veracity of what one puts out in the social media realm.  As with anything else, quality is key!
The next Vixen of Vexation is that overbearing arriviste who is desperate to bowdlerize her courtesanal past by plastering her obviously enhanced and Gluta-enabled mug on every surface (and platform) known to modern man.  This self-proclaimed Madame Multiverse is quick to brandish her (dubious) accomplishments, has an affinity for B (or C?) rated actors and milks her closeness to certain members of the Old Guard.   In her perpetual quest for legitimacy and acceptance by the upper echelons, perhaps this Señorita aspirant should heed the advice of  Malcolm Forbes when he declared: "How to Succeed: Try Hard Enough; How to Fail: Try Too Hard."
Our last Duchess of Disorder is definitely NOT the least in this Gallery of Rouge and has actually been the source of not just consternation but of many a disruption – and not in a good way.  This Soaper Woman is so-called due to her propensity to air out all her filthy lavada to anyone who will listen or bother to read her IG stories. Besides giving any Grammar Nazi a massive coronary, this Fräulein of Fracas has been known to commit acts of arson, has no qualms of engaging in online character assassinations AND seems to have a never-ending bevy of skeletons that are constantly feasting in her many closets. 
Ladies, please!  While we have to admit that we derive a certain guilty pleasure from your virtual explosions and implosions, they do get very prosaic – very quickly.  Discretion, like intelligence and proper manners, truly never goes out of style.
So there you have it folks. These tumultuous times we live in certainly do not need any more brouhaha so  please remember to be precise, don't try too hard and always maintain a  certain sense of delicadeza. Not only will your lives be simpler and more pleasurable but maybe, just maybe, you may finally crack that clique that you've been clawing your way to be a part of.  
New Year's Eve Dressing for 2020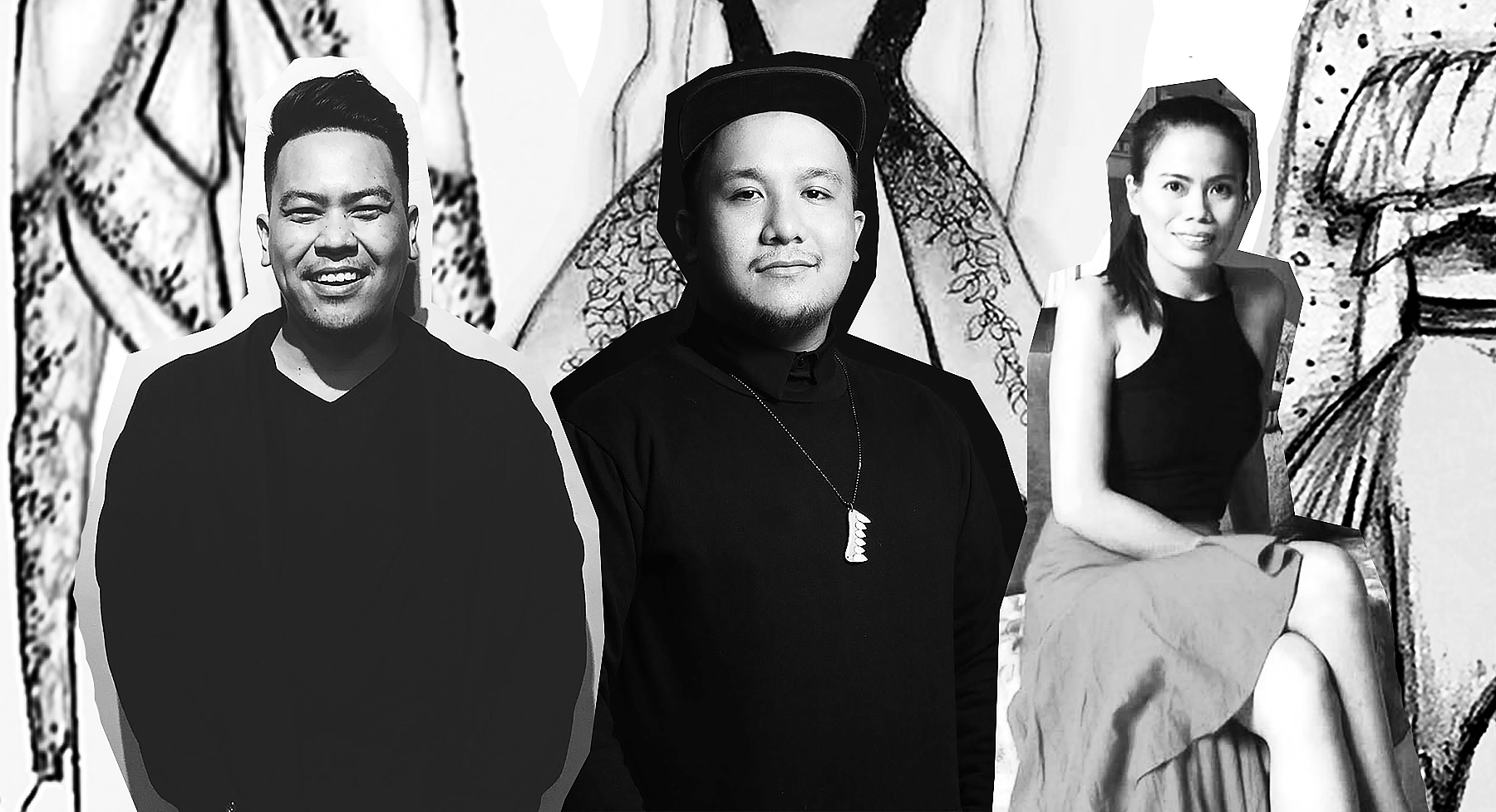 What's an ideal New Year's Eve soirée outfit? Three of Cebu's young fashion designers share their suggestions for the ladies on how to ring in the year 2020 in style…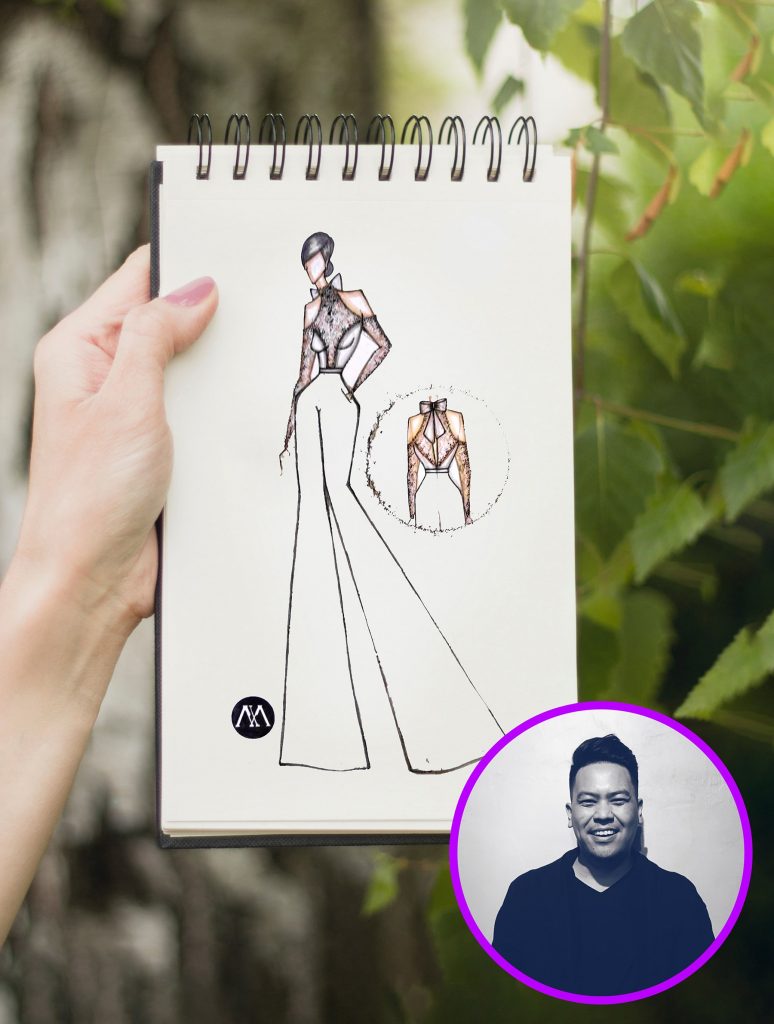 "Holiday dressing is all about sheer skin and comfort. A silver gray palazzo jumpsuit with sheer lace cut-outs is in order." -Mikhail Achas, Fashion Designer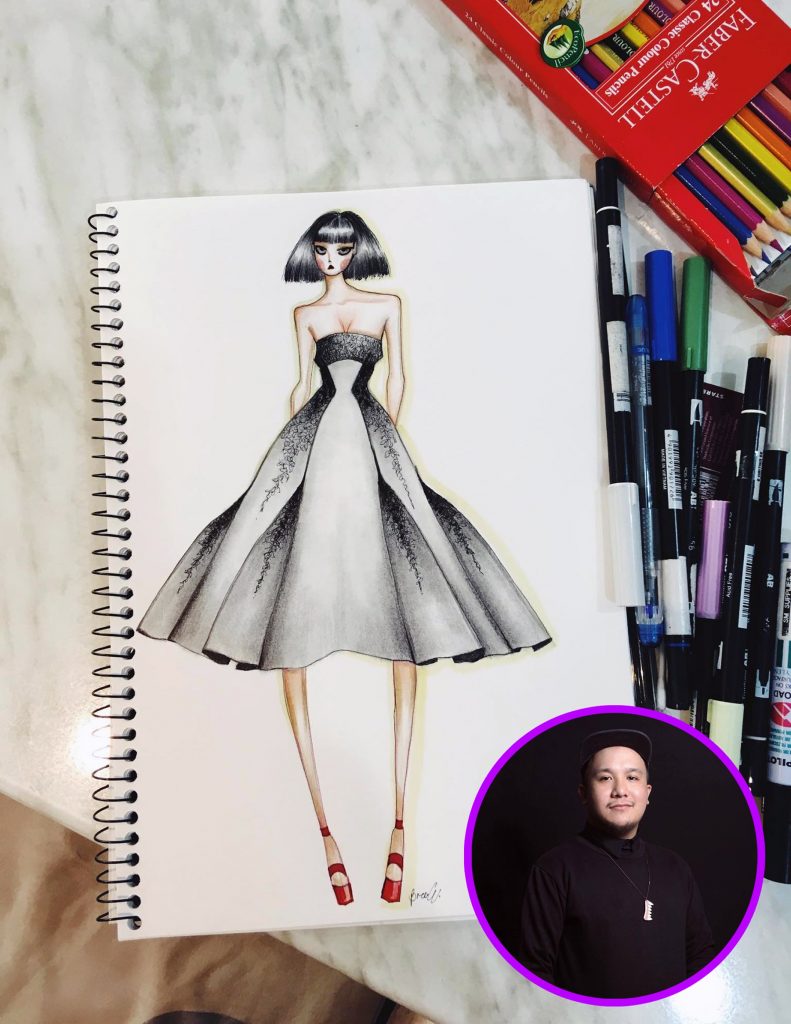 "Holiday dressing is all about clean lines and sophistication. A tailored blacked tea dress with godet insertions will totally give out a modern vibe with a toast to the 50s." -Bree Esplanada, Fashion Designer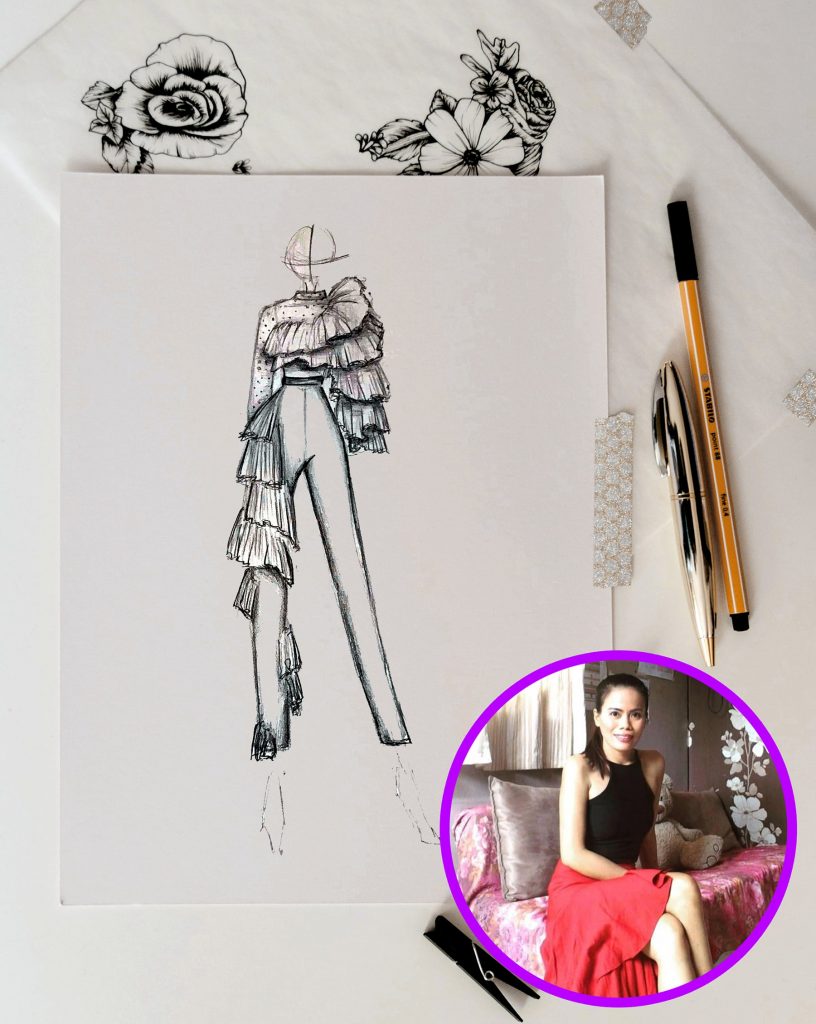 "I chose this design because it is so comfy and light. The raffles make it look elegant and versatile for different events, like awarding ceremonies or a New Year's Eve party." -Eve Navales, Fashion Designer
***
Something to watch out for this year from these young designers will be their collection exclusively designed for the cast of Eve Ensler's The Vagina Monologues for V-Day Cebu 2020, which will be staged in March. For more information, visit the Facebook page V-Day Cebu.