Bali: Island of the Gods
Bali is a hot destination. Has been for years, and that reputation was once more reinforced by Elizabeth George's book and movie," Eat, Pray, Love." It is home to several five-star hotels and resorts – three Amans, two Four Seasons, a W hotel soon to open; the names go on. Bali is the destination of choice for sybaritic travelers as well as backpackers, and tops the must-visit islands list.
The Balinese are practicing Hindus that believe in karma and accept their lives and situation as is. Hence, there is no animosity towards outsiders who may have more than they do. This leads to a harmony and co-existence between the resort and the village that is a wonderful reflection of Bali and its people – in fact, a situation that cannot be found in many other parts of the world.
from Amandari's Welcome Folder
Bali is a hot destination. Has been for years, and that reputation was once more reinforced by Elizabeth George's book and movie," Eat, Pray, Love." It is home to several five-star hotels and resorts – three Amans, two Four Seasons, a W hotel soon to open; the names go on. Bali is the destination of choice for sybaritic travelers as well as backpackers, and tops the must-visit islands list.
We came to Bali not for its beaches. Coming from Cebu where we have sugar-fine white sand, the black coastlines of Kuta and Seminyak are not much of a comparison. We were there instead to discover what makes it different. Despite decades of being in the limelight, its claim of "not being ruined" still runs true and this was clear the moment we rounded the city center. Even with foreign influences, the spirit of Bali is strong, its culture and Hindu religion too imbued for it to lose its identity.
To fully appreciate its customs and traditions, we chose the town of Ubud, located in the center of Bali. Perhaps because of its royal history, which in contemporary times is more religious in role than political, there are several palaces around. The royal houses were the catalyst to local arts and crafts, producing carvers, musicians and dancers; even the massage parlors proliferate on the island. And temples. Each family worth their salt has a shrine in the front courtyard, in addition to the abundance of the bigger village temples. This rich visual display of intricate stone and wood edifices, carved Garuda statues, ornamental effigies wrapped in checkered black and white cloth (for balance) laid with small banana leaf baskets filled with frangipani petals as prayer offerings, is perhaps the single defining image of Bali, earning it the name, "Island of the Gods."
Ubud is a bohemian community – filled with artists, free spirits and those looking for enlightenment. In this community are hilltop villas and luxury hotels all discreetly tucked away. Amandari is one of them. Its entrance is inconspicuous, blending easily with its surroundings so that it was easy to imagine David and Victoria Beckham just popping out and crossing the narrow village street for a stroll, which is exactly what they did in one of their recent visits.
Amandari opened its doors in 1989 and immediately set the luxe bar higher in this remote area. Its horizontal layout was quite a novelty at an era of tall vertical structures. Noted Australian architect Peter Muller designed it as a Balinese village, with highly defined spaces for public and private use. He elaborates, "Each family retains its own privacy with a wall to defend the house. This is not so much a fortress idea as a simple method of retaining individuality in a community which demands many communal rituals."
An Aman-stay is designed to be seamless – you are whisked off to the VIP line in the airport immigration and there are cold towels and Indonesian beers during the drive to the resort. A welcome delegation of ever-smiling guest relations staff is always on hand, greeting arrivals with a respectful Ibu for madam, and Bapak for the gentlemen. But most welcome of all was the availability of a car service to drop off and pick up guests to the town center and its vicinity; it was like having a personal chauffeur at your beck and call.
Amandari offers a whole page of cultural activities. There are cooking lessons, river rafting, even a visit to the local medicine man for those who want to channel Julia Roberts. We signed up for a guided trek along the Ayung Valley. The two-hour walk starts early in the day, past rice paddies and the roar of the Ayung River. What a lot of people tend to forget is that Indonesia was once part of the Dutch East India Company's vast Asian network during the last century. In Ubud, there remains a semblance of their influence and this can be seen in the dikes that meander thru the narrow gorges on their way to vegetating the plantations. Just outside Amandari's complex, we passed John Hardy's original house. The Canadian-born Mr. Hardy is one of the island's most famous residents, setting his jewelry design shop here long before anybody else. He has since moved on to another location and to other projects.
Our guide, Dharma, has been taking guests through these walks. He pointed out to us the locales' deep respect for nature. In the same breath, he mentioned the American President who walked the same path. "He told me to call him Mr. Peanut," said Dharma, referring to Jimmy Carter, the peanut farmer from Georgia who visited Bali during the Indonesian elections of 2008. In true Aman way, the trek ended in a specially constructed Bale at the other side of the valley overlooking a spectacular view of the river and the mountains around it. There, a butler waited with starched napkins and carafes of fresh coffee and orange juice. After that, a car waited to drive us back to the resort, but not before stopping by Bongkasa village where we saw the oldest banyan tree on the island, spanning several man-widths.
Food is a major feature as well in this part of the world, harking back to its monarchical society and festival feasts. The more traditional dishes are nasi goreng, gado-gado and satay. They also have their own version of lechon or roasted pig called babi guling. We went to a local favorite, Bu Oka, upon the recommendation of the concierge, and found ourselves sitting on the floor with a serving of crispy skin and a slab of roasted meat and rice that was deliciously full of spices.
Ubud's main artery is lined with swanky restaurants sitting side by side with tiny cafes and art galleries full of local charms. Peeking in between this is normal village life – sari-sari stores, rice paddies, vegetable patches and the ubiquitous family shrines. Ubud has obviously grown in the last years, but not once has it lost its beat of authenticity.
THROWBACK THURSDAY. Our Stylish Voyage on a Boat with Loida and Richard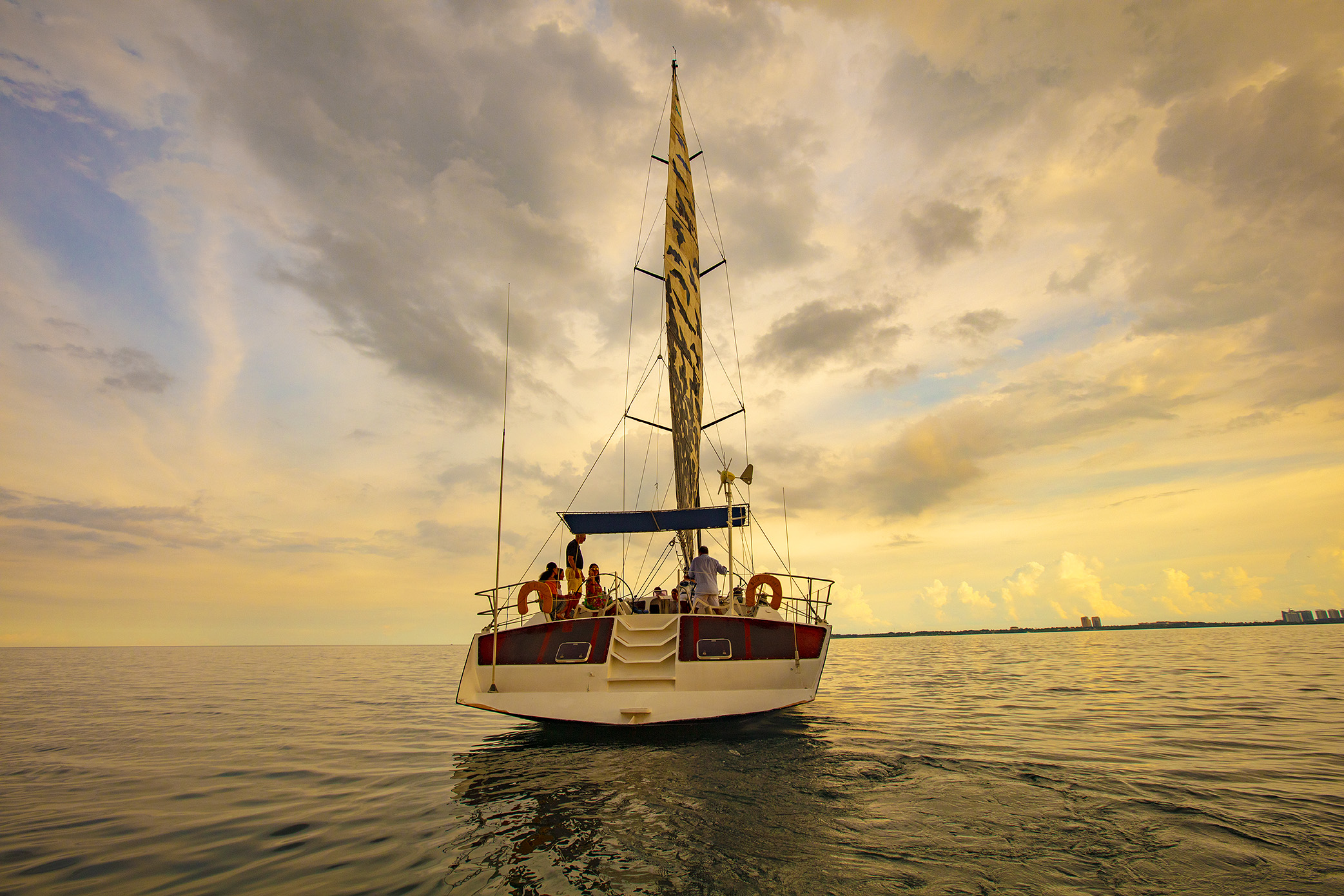 FOR SAIL
With hosts Loida Montesclaros and Richard Forteau, we take entertaining to the high seas.
by Shari Quimbo photography Steffen Billhardt
The sky was decidedly gloomy on the Sunday afternoon Loida Montesclaros and Richard Forteau invited a small group of us for a sail, the clouds getting darker as I make my way to Porter's Marina, where the Blue Planet was docked.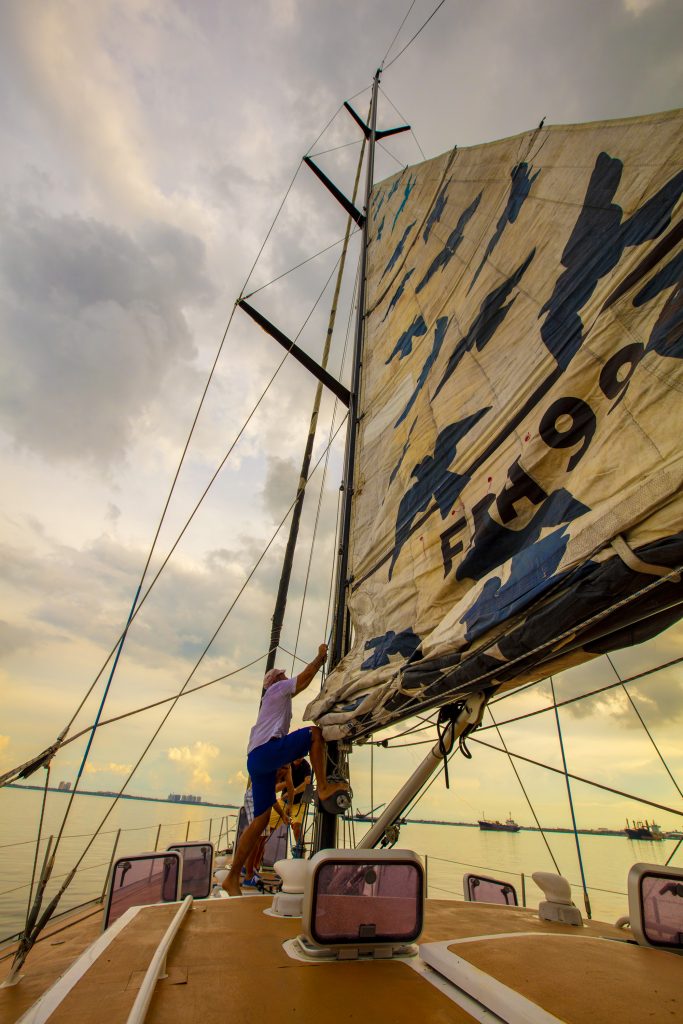 "Richard built the boat himself in Cebu," Loida explains, going on to share that he was the former honorary French consul in Cebu. "It was built here, and I designed the interiors."
All that work certainly paid off—Loida and Richard would often sail the boat out to different Philippine destinations such as El Nido, Siargao, Boracay and the Gigantes Islands in Iloilo. These could mean days-long journeys that sometimes meant dealing with some rough seas. Quick day trips, much like the one we were about to embark on, were also a regular past time.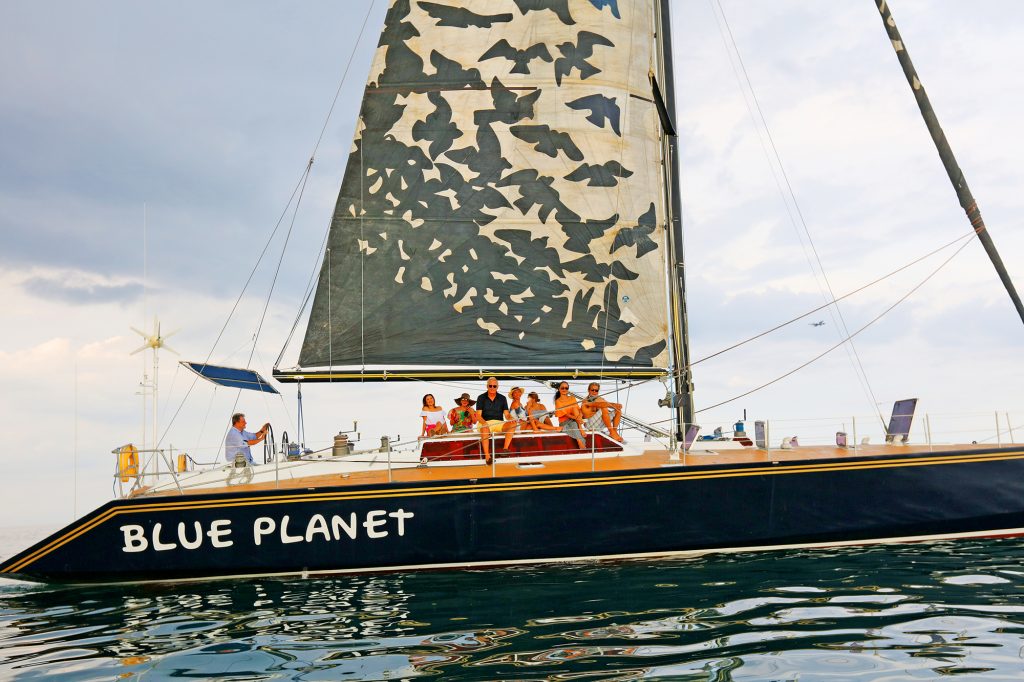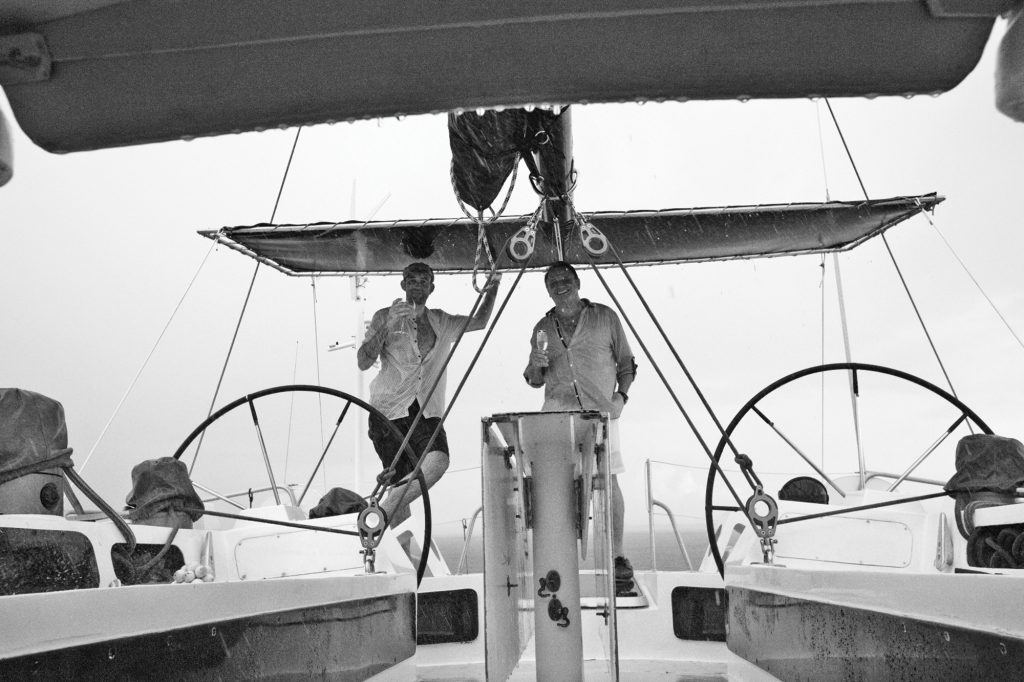 Loida gives me a quick tour of the boat then shows off her tropical spread. With its bright blue and white floral seating, the cabin's dining area is already a pretty festive site. "I wanted to keep it simple," she tells me, arranging her fresh fruits around on the banana leaf-covered wooden slabs she was using as serving trays. "And I wanted it to look more local, more tropical. We are on the water, after all."
The bamboo slats of the dining table were the perfect backdrop to Loida's spread, which featured tropical fruits alongside an entire roll of lechon belly, fresh lumpia, empanada and steamed shrimp.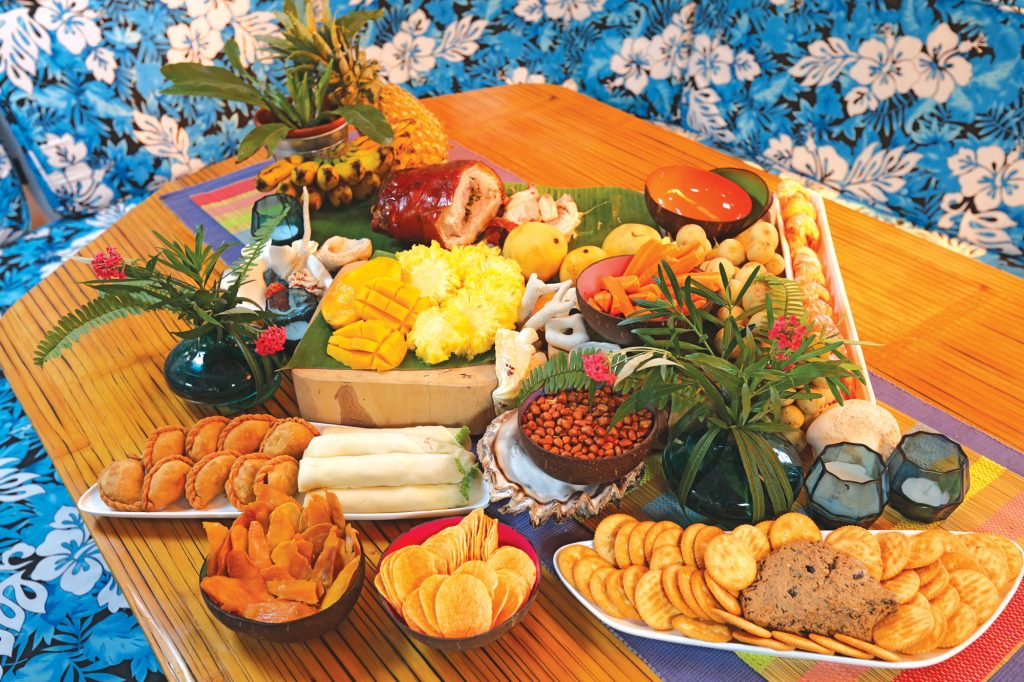 The highlight of the table, though, was the chicken liver pate, a dish that Richard makes himself. "Luckily, the French love to cook," Loida jokes conspiratorially.
Finally, it was time to take the vessel out onto the high seas, and the group makes its way above deck to enjoy the view. The cool sea breeze was a bit stronger than usual, something that had to do with the dark rain clouds looming above us—something that would have deterred any other group, but not this adventurous bunch. Armed with a glass of champagne in one hand and a biscuit smeared with pate on the other, many stand against the railing, admiring the sight of the sky turning orange above the Mactan Channel.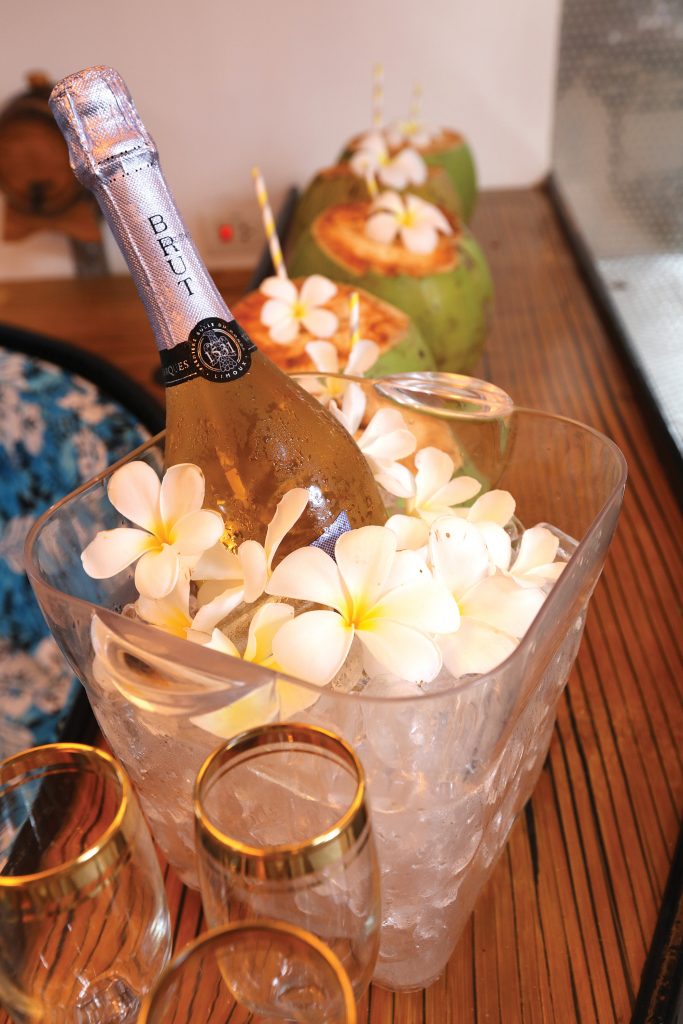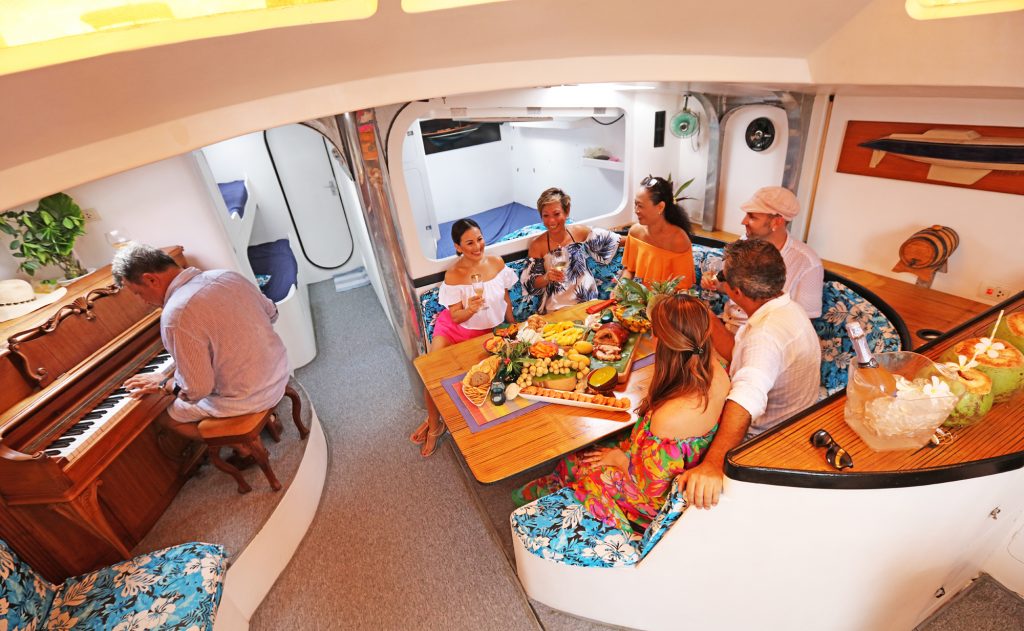 And then it starts to pour. No matter, though—as the rain pounds against the deck, the party finds its way down below. A bottle of wine is opened, and then another, while a second pot of pate is transferred on a plate. Our captain waits until the waves calm before he brings us back ashore.
(This story has already been published in the printed edition of Zee Lifestyle Magazine's November 2016 issue as one of the Entertaining Features on pages 82-85.)
Experience authentic Korean Barbeque at Da-In Restaurant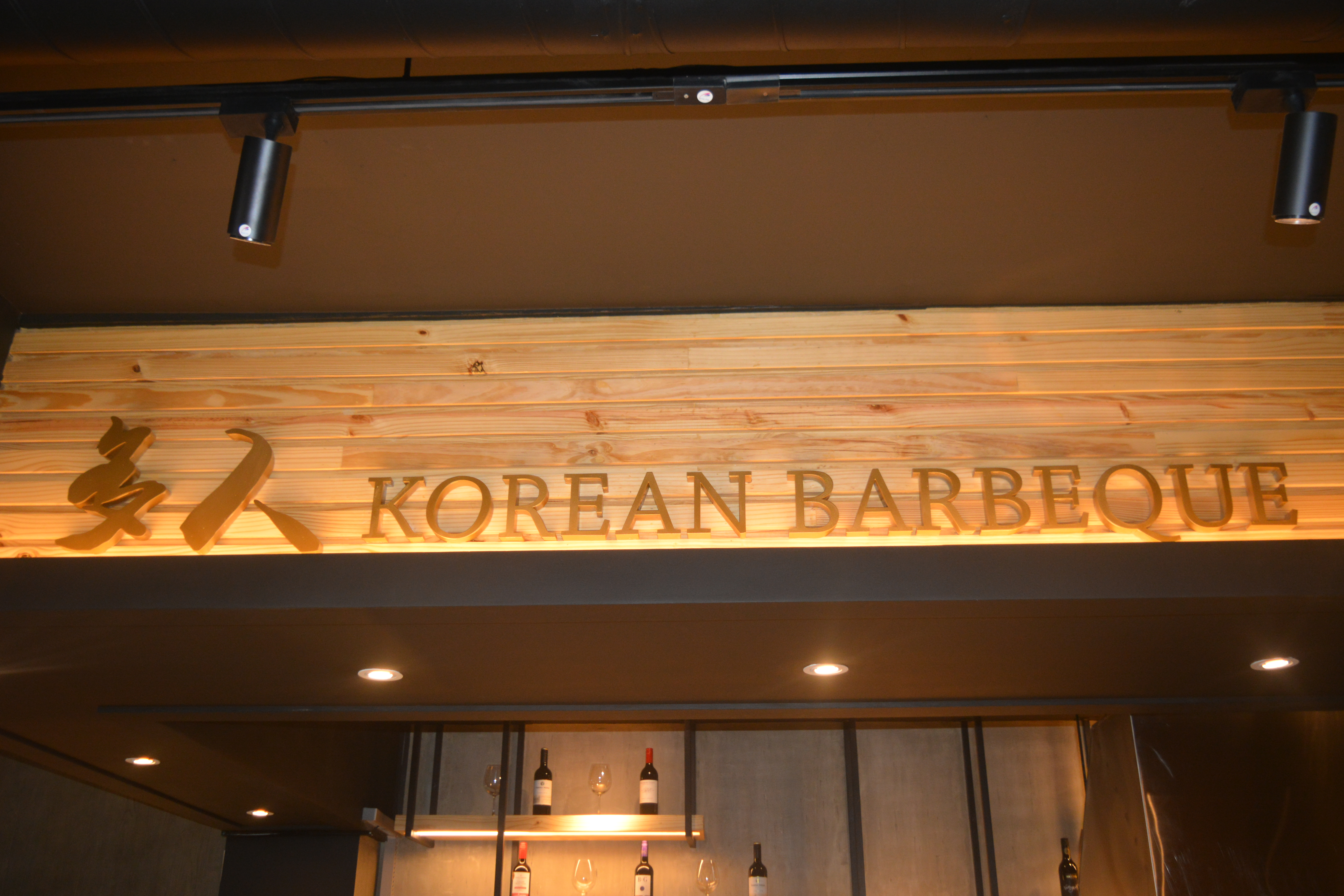 Filipinos are crazy for Korean barbecue. As such, there are a lot of places that are offering Korean barbecue. But Da-In restaurant isn't just one of those restaurants.
Located in Salinas Drive in Lahug, Cebu, Da-in restaurant is a joint project between the Creative Cuisine Group and Da-Won restaurant. With state-of-the-art grilling stations in each table and various Korean cuisines ready to be served, Da-In would surely sate your Korean barbecue cravings without any hassle.
Visit Da-In restaurant today!
Head Up North, Where A Relaxing Escapade is in Store at Maayo San Remigio
On your next trip out of the city, head up North to Maayo San Remigio, where a relaxing escapade awaits.
Oftentimes, when it comes to deciding the next travel destination, the Northern part
of Cebu is overlooked in favour of its Southern end. The South boasts of sunny beaches,
cascading waterfalls and the popular whale sharks who have made its waters their home.
While these are beautiful aspects that the South has to offer, the North is just as—if not
more—abundant in offerings. The North's natural scenery is relatively untouched, and on top
of that, it's less likely to be flocked by tourists.
This means more opportunities for a retreat away from the hustle and bustle of the
city. The roads heading North are long and winding, yet the beauty that lies at the end of the
journey proves that the trip is worth it. Knowing that, where does one go in the North?
Hidden away in the northern part of Cebu, Maayo San Remigio is a haven for those
who seek peace and serenity, making it an alluring abode for a sojourn on the island.
Approximately a 3-hour drive from the city, the resort grants access to a tropical
retreat with a captivating beachfront setting—a charming destination away from the daily
hustle. Whether on its fine white sands and blue waters or inside the cozy rooms, Maayo
San Remigio is a delight to local and foreign tourists alike.
A newly-opened resort under Maayo Hotels flagship, Maayo San Remigio is a
destination that guarantees a refreshing, laidback experience, sure to wash away the worries
you brought with you from the city.
It's equipped with a mix of luxurious relaxation and wellness, fun and entertainment,
and enticing wining and dining options. This Caribbean-inspired resort is a serene hideaway
on a lush slice of tropical paradise with emphasis on ultimate comfort and exclusivity.
The resort's location makes it doubly precious; scattered throughout the resort
grounds are viewing areas that grant you access to the sunset. Watch the sun sink down the
horizon by the infinity pool, on the beach's shoreline, or atop the cliffside with the waves
crashing below. When night falls, the stars come out to dance across the clear skies, making
for an unparalleled stargazing experience.
Maayo San Remigio blends authentic Cebuano hospitality with its tranquil
atmosphere and exceptional design. Its well-appointed rooms and villas ensure a relaxing staycation, while its thoughtful amenities and facilities evoke a feeling of belonging in
paradise. The resorts brings the culinary excellence that is found in the Maayo Hotels brand,
creating palate-pleasing Filipino dishes with a modern twist. Complemented by the resort's
wide menu of drinks—from juices to cocktails to shakes—one will truly enjoy a stay here.
So on your next trip out of the city, head up North to Maayo San Remigio, where a
relaxing escapade awaits.