The Night Shift
It didn't happen overnight. Slowly but surely, Cebu became the capital of fun.
It didn't happen overnight. Slowly but surely, Cebu became the capital of fun.
Strewn with clubs, pubs, resto bars and lounges that cater to an eclectic, gung-ho crowd, the after hours have never been longer with nightspots that ooze their own definitive flavors. Find your niche and you're likely to mix with other insomniacs.
The Penthouse
Giving heightened definition to partying is one of the country's premier clubs—The Penthouse. Located in the part of Cebu that never sleeps (Asiatown IT Park a.k.a. call center jungle), it is a solid authority on hardcore clubbing with five resident DJs, and has hosted a string of events for international bigshots Ministry of Sound, Miss Nine, Junior Sanchez, Rosie Romero and Kaskade, among others. With a capacity to hold four hundred and fifty, you can just picture the mayhem that goes on when heads bob in unison to the blaring beats of House, RnB and Hiphop. (PE)
The Penthouse Cebu
3/F CJRS Point, Asiatown I.T. Park, Cebu City
Business hours: 10:00pm to 5:00am Fridays and Saturdays
Tel: 6332.231 3284, 238 0532
The Veranda
Restaurant by day, hangout by night. The original Veranda was a house-turned-restaurant which eventually transformed into a club. Now in a mall location and staying true to its roots, Veranda offers Filipino-Spanish comfort food, but doesn't stop there. By 7:00pm on weeknights, diners can also appreciate live music with their meals. Acoustic pop sessions reign from Sundays to Fridays, whereas Saturdays showcase local band talents Pandora, Purple Helmets, Shades of Blue, Mr. Mustache, Kage and Johnny, who perform mostly 90s and early 2000 covers by the 10:00pm. You need not worry about being overdressed at Veranda; many clubbers like to make it an early night stopover before they brave the rave. (PE)
The Veranda Cebu
Parkmall, Mandaue Reclamation Area, Mandaue City, Cebu
Business hours: 10:00am to 2:00pm daily
5:00pm to 12:00mn Sundays thru Thursdays
5:00pm to 2:00am Fridays and Saturdays
Tel: 6332.505 0007
Treff
From the driveway of the Waterfront Hotel, one's eyes can't help riveting to a tall glass structure on the second landing. Derived from the German word "Treffen" which means "to experience," Treff certainly piques the senses. The bar's contemporary mix of white walls and furniture with dark wood and aluminum accents make it the choice of the chic social butterfly. Not to mention the transparent Philip Starck ghost chairs that mirror the all-glass roofing. Catch Treff's happy hour everyday—50% off on a premium selection of wines, spirits, cocktail drinks and a hard-to-find picking of imported beer. (PE)
Treff
Waterfront Cebu City Hotel and Casino, Salinas Drive, Lahug, Cebu City
Business hours: 5:00pm to 12:00mn Sundays thru Thursdays
5:00pm to 2:00am Fridays and Saturdays
Tel: 6332.232 6888 local 8628
The Joker's Arms
A massive wooden bar counter and a framed collection of funny English anecdotes on the brick walls may make The Joker's Arms look like an English pub, but it's really the interactive atmosphere that seals the deal. The Joker's Arms is a melting pot of different nationalities—ex-pats, locals and out-of-towners cheering their teams on during the World Cup, trying their hand at a game of pool, or battling it out for the weekly Trivia Night. Even families go to Joker's on Sundays and bond over traditional English fare like the hearty Sunday Roast. (PE)
The Joker's Arms
A.S. Fortuna Street, Mandaue City, Cebu
Business hours: 3:00pm to 12:00mn Sundays
5:00pm to 2:00am Mondays
4:00pm to 3:00am Tuesdays thru Saturdays
Tel: 6332.505 3193
Z Bar
Z is definitely one of the most unique bar concepts Cebu, perhaps even the world, has seen. The interiors are an original creation by internationally acclaimed and Cebu grown designer Kenneth Cobonpue. By reinforcing bamboo twigs with steel and tying these with rattan to create cocoon-like shapes in the ceiling and over tables, Z Bar exudes an element of whimsy, and the play of mood lights enhance it. A wide selection of wines and spirits is available, best paired with an assortment of cheeses and cold cuts from The Tinder Box deli below. (PE)
The Tinder Box
Archbishop Reyes Road cor. Bauhinia Drive, Banilad, Cebu City
Tel: 6332.234 1681-85
Cowrie Cove
Part of luxurious Shangri-La Mactan, Cowrie Cove is the perfect balance between urban living and nature. Indulge in fresh seafood in a trendy setting overlooking the vast sea. The adjacent Chill Out bar is a favorite among professionals and couples looking for a rendezvous to share the day's experiences over early evening cocktails. Try the kilawin tangigue (Filipino-style ceviche) and the seafood platter, which is heaped with lobster, prawns, mussels, clams and crabs, for dipping in Cowrie Cove's signature sauce. (PE)
Cowrie Cove
Shangri-La Mactan Resort & Spa, Punta Engano Road
Business hours: 6:00pm to 10:00pm
Tel: 6332.231 8224
VUDU
VUDU continues to keep the magic alive under one roof. Their dance club, Luxx, sports two floors playing either House or R&B. On weekdays, there's a slew of other entertainment style options including a rock band night and "VUDU-oke." They've also recently opened Gilt, the first single malt whiskey lounge in Cebu that also serves a bevy of everyone's favorite European beers, best paired with their baked oysters or potato fries. For company events, Luxx can accommodate 300 persons while Gilt can take up to 60, comfortably. (IB)
VUDU
Crossroads Mall, Banilad, Cebu City
Business Hours: 9:00pm till late Wednesdays thru Sundays
Tel: 6332.234 0836
FORMO Restaurant and Lounge
The most loved mojitos and homemade potato chips in town can be found at FORMO Restaurant and Lounge. They boast of the longest happy hour in Cebu from 6:00pm to 10:00pm all week long, on cocktails and below-zero beers. Each night of the week is also dedicated to a different music genre including Fridays being House, Saturdays being Disco, and Sundays being Chillout. FORMO is also available for group functions accommodating 180 persons comfortably in their al fresco and non-smoking areas combined. (IB)
FORMO Restaurant and Lounge
Banilad Town Center, Banilad, Cebu City
Business Hours: 6:00pm to 3:00am daily
Tel: 6332.416 1990
MAYA Taqueria and Tequila Bar
Maya Taqueria and Tequila Bar mixes ancient Aztec charm with modern sophistication. They offer indoor and al fresco seating with soft reverberating beats for a subdued Latin ambiance. Tuesdays and Thursdays are "buy one, take one" on their famous tacos. Enjoy their happy hour on a wide selection of local and imported beers. And what's a tequila bar without a few cocktails? Maya takes it to the next level with gourmet Mexican dishes like queso fundido with tortillas to complement your margarita. (IB)
Maya Taqueria and Tequila Bar
Crossroads Mall, Banilad, Cebu City
Business Hours: 5:00pm till late
Tel: 6332.238 9552 (Call 416 2442 for deliveries.)
Level Ei8ht
If you love the nightlife and love to boogie, then this is the place for you. Whether it's a sumptuous serving of calamares, salpicao or tandoori chicken that you crave, it will go perfectly with the stunning view of the city as you dine al fresco in the terrace, or inside as you get serenaded by the live band for the night. Reminisce the night away to the nostalgic tunes of the 70s and 80s while sipping their quirky drink, "Dancing Queen"—a must-try for curious cocktail cats out there along with many others that you might want to gulp down before hitting the dance floor. (PM)
Level Ei8ht
8/F Adnama Building, Larrazabal Avenue, North Reclamation Area, Cebu City
Business hours: 6:00pm to 2:00am Mondays thru Saturdays
Tel: 6332.236 0027-28
Bellini Champagne Bar
What could be more exquisite than sipping champagne from an alfresco lounge overlooking the city? From the Dedon furniture to the oversized, illuminated planters, Bellini basks in what would be a modern interpretation of old world European charm. Help yourself to their bestselling bufala cheese mozzarella, and make your choice from six different bubblies to accompany it. Bellini is also the first in Cebu to introduce a variety of champagne cocktails such as mimosa's, bellini's, kir royale and szazerac. With a bottomless special-blend bellini for the dames on Wednesday nights, Ladies Night has never looked so good. (PE)
Bellini Champagne Bar
Panorama Heights, Nivel Hills, Lahug, Cebu City
Business hours: 6:00pm to 2:00am Mondays thru Saturdays
Tel: 6332.232 7375, 236 0097
Blu Bar & Grill
You can never go wrong with a scenic elevator that shoots straight up to a hotel roofdeck, revealing a cityscape view from every vantage point at 1,000 feet high. At Blu, you can chill and dine with friends and colleagues, or set the right mood for a romantic date. Their continental cuisine is best paired with their signature cocktails—Blu frozen margarita, wild fantasy and déjà vu. Those coming from dinner at the other Marco Polo Plaza outlets can opt to munch on sumptuous pica pica or appetizers, like the slightly spicy gambas (shrimp in garlic sauce), beef tenderloin and sautéed garlic mushrooms. The best part is that you need not drive far to reach this trendy nightspot.
Blu Bar & Grill
Marco Polo Plaza Cebu, Nivel Hills, Apas, Cebu City
Business hours: 4:30pm to 12:00mn Tuesdays thru Sundays
Tel: 6332.253 1111
The Outpost
Great music doesn't necessarily have to come at a price. If you dig a bohemian vibe and support the local music industry, then check out The Outpost. Because it used to be a house, The Outpost makes you feel as though you're just walking into your friend's place for a jamming session. True artistry comes to life from painting-adorned walls and originals (mostly alternative) performed by local bands. You have the option to stay inside for the performances, or grab a cold beer in the al fresco area while rubbing shoulders with the free-spirited lot that frequent the place. (PM)
The Outpost
976-A Veteran's Drive, Nivel Hills, Lahug, Cebu City
Business hours: 6:00pm to 2:00am Tuesdays thru Sundays
Tel: 6332.417 2929
St. Patrick's Day Celebration at Marco Polo Plaza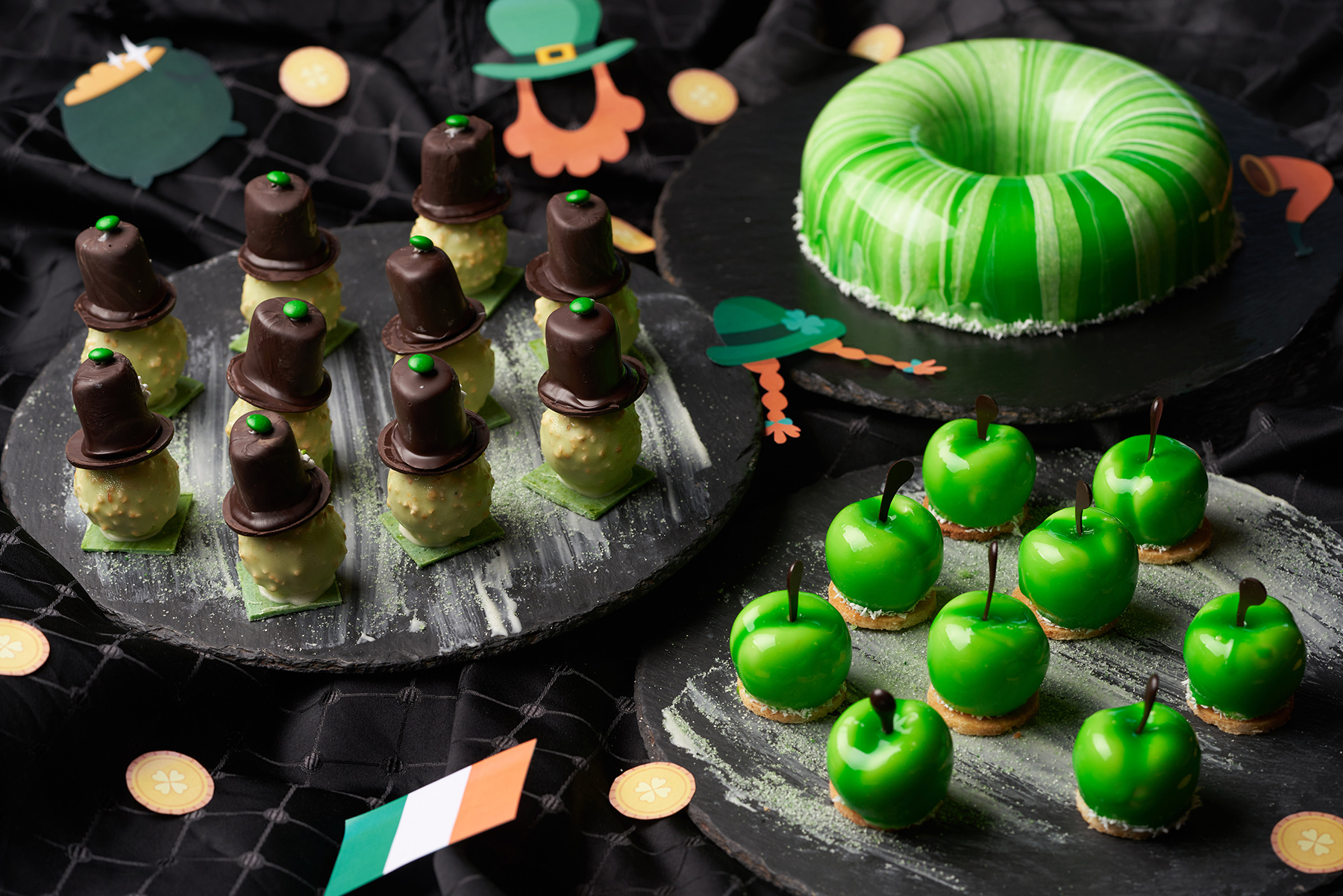 Marco Polo Plaza will be celebrating St. Patrick's Festival with the rest of the Irish community! It's not only a feast of greens and four-leaf clovers but of good food too! From March 17 to 19, dig in and enjoy traditional Irish dishes and delights such as Irish Stew, Potato Nachos, Cheesy Reuben Loaf, Guinness Beef Stew Pot Pie, Beer Mac N' Cheese and many more. These on top of the international lunch and dinner buffet at Cafe Marco. Complete the experience in true Irish fashion with an ice-cold mug of Irish Beer, also available at Cafe Marco.
Gastronomic adventures await at Café Marco! For inquiries and reservations, you can call (032) 253-1111. For real time updates, like the Facebook page at facebook.com/marcopolocebu or follow on Twitter at @5StarInCebu. Visit the website at www.marcopolohotels.com.
For inquiries and reservations, call 253-1111 or email hospitality.ceb@marcopolohotels.com.
La Liga Henerales: Shaping History Awareness Back Again in Cebu
La Liga Henerales is a community of young talents passionately promotes historical awareness through periodic costumes carefully researched for its authenticity and accuracy and promoted as well in events and schools.
Only few individuals before were into pursuit in this historical awareness project until the age of communication where internet is convenient in the palm of our hands through our gadgets. New information travel fast and data is retrievable, yet also possess a disadvantage with the plethora of different social media platforms carried by various makers as well. In a daily basis, historical backgrounds are unearthed making its trend until now as new discoveries are released, but the idea of these information being shown and shared is as close as not valuing or commemorating to its sources leaving this information just a trend.
There is a certain community of Cebuanos that are taking a quest to rewrite and restructure what was in the past, filling the gaps in facts with further research of variable sources that are made debatable but sticks to it true cause, to unveil the truths of our heritage and our origins, as Cebuanos and as Filipinos as well.


La Liga Henerales is a Cebu-based, non-profit organization composed of a group of talented, committed and respectable individuals from different walks of life, schools and profession whose primary aim is to promote both, Cebuano and filipino culture and heritage that was depicted before in pre-colonial and colonial eras via re-enactment with costumes vested in proper research and investigation to achieve authenticity. They also push their cause on schools and other social gatherings promoting and spreading awareness about our local, and national heroes that we look up to. With these said, they also portray a closer look of the lifestyle of the past to where they perform stories, perform forgotten dances and rituals and portray their individual roles, vital in the fight of our country's future during those challenging times, and in honor to spread awareness of the lost practices we had in those times.
The Founder
Louis Kenneth Villaflor, an entrepreneur and an avid history enthusiast and costumer, founded the group on the purpose of re-educating the youth about real local and national history, he saw the opportunity to combine his favourite hobbies which is costuming and story role-playing and the process to instill the historical awareness and value among the youth and in schools, along with a group of fellow enthusiasts who shares his passion about research and history, they took it among themselves to be purposeful in the advocacy in spreading historical awareness in schools or events by wearing periodically correct costumes and sharing the stories and its value to the youth.
Behind the Garments
Meet Rodney "Pee-Wee" Senining, who has been in the fashion industry since the late 90's, strives  in concepts of avant-garde, innovation and cutting edge-fashion forward design. And also a teacher of Architecture, Fine Arts and Design of University of San Carlos, he had grown into research of books like the holy grail in the Library Resource Center and is always fascinated of the periodical times and how to preserve it; Hence, his interest had grown for the affinity of Periodical Costumes and Sustainable Fashion.
 Being part of the group La Liga Henerales, he was tasked to instantly be their mentor for the young talents and as the organization is still new and developing with limited funds, resourcefulness and research were done to come up with a good output of photo shoot and was quite proud of it and still promise on the next editions of pieces to be more historically accurate. Even as teacher for Fashion Design in SAFAD, his expertise comes hand in hand with the members as he helps them do research as well. His passion and interest somehow led him with enough knowledge to key the insights of the significant periods and historical backgrounds of it.
Historical Awareness in Cebu
The strength and progress of a country is anchored on how well they know and honor its history. The means of historical awareness in Cebu is almost non-existent among the Cebuanos, although we push forward in tourism and promote beauty through sceneries and other aspects of culture yet never commemorate deeply on historical icons such as our other local heroes, and ancient cultures as well that is almost been forgotten in an urban Cebu. Nevertheless, as long as communities' like La Liga Henerales are now evolving in a learning state by real discovery by multiple resources, this will always reflect of how we appreciate love, patriotism and honor to our country and would look forward to progress.
Christmas in Colonial Cebu: A Themed Exhibit by Teresin Mendezona and Eva Gullas for Stylescapes 2019
Ever wonder how the yuletide season is celebrated in colonial times? This year at Stylescapes 2019, Teresin Mendezona and Eva Gullas collaborated to showcase the elegance of Christmas during the colonial period, specifically most of the Spanish regime.
This pop-up radiated the ambience of Christmas in the colonial times through the various details used within the setting. Specific pieces like the gansilyo table cloth, oil lamp, and the sketches were from Ms. Mendezona and Gullas themselves.
Aside from that, various table and living room pieces were sourced from Rustans and Metro Ayala, and was curated by Doro Barandino.