The Green Mile
In the new home of a young Tacloban public figure and his family, going the extra green miles brings in a breath of fresh air and the little theatrical drama they need for a great start.
In the new home of a young Tacloban public figure and his family, going the extra green miles brings in a breath of fresh air and the little theatrical drama they need for a great start.
DRIVING INTO THE Yaokasin compound at dusk in Tacloban City, Leyte, one can't help but shift their attention to the dramatically-lit house of Councilor Jerry "Sambo" Yaokasin. Immediately, from the subtle asymmetrical PVC and aluminium roofing, it was clear that this was done by Architect James Jao, and that this was going to be another eco-blueprint, and a first of its kind in this city.
But before anything else, let's get some things right. Going "green" doesn't always and necessarily mean covering your house with solar panels, or spending a fortune, or even growing your own organic garden. It can also mean simply taking measures and initiatives by using products, materials and design schemes that encourage less energy use, and are health-friendly.
This 600-square-meter house is one of two residential houses that rest in this 3,000-square-meter compound beside the Kankabatok Lake. Just like the man of the house who is a father, a businessman, a pastor, and a city councilor, the home is multi-faceted: it incorporates eco-friendly materials and stratagem with modern design. This was going to be an eco-home that not only minimized energy consumption but maximized comfort.
The homeowners were very hands on with the design which took about three months to plan but the construction was not completed until two years. Kathleen, the lady of the house, is the Cebu link, originally being from Lahug. Architect James Jao was recommended by her close friend, Jane Ong, of much-loved Cebu pastry shop Leona fame, and the rest, as they say, is history.
The driveway alone is already eco-friendly. The pavers brick is porous and sturdy. It absorbs the moisture and is therefor very low maintenance. A head turner early on in the entrance is the totem pole-like structure in the fore-garden. Is it an abstract sculpture or just a fossilized wood-plank? "Carved by nature," Architect Jao exclaimed of the drift-wood Councilor Yaokasin had secured from a trip to the nearby provinces. The plank-cum-sculpture adds the perfect touch to the landscape done by Oscar Villanueva.
Taking a small step back, the architect's "interpenetrating" technique allows some flora to break the solidity of the house's design, adding life to the structure itself. Still from a distance one can see that very basic Feng-shui was applied to the structure, but so elementary as it was purely out of logic: the main door faces the east because to the west is a wall to mark the property's boundary; and all downspouts were positioned to be against this same wall so that no water would obstruct the pathways when it rains and thus the rain water is also easily captured (rain water harvesting) and lightly-filtered to be used for household work like laundry or washing cars.
Coming closer to the house, the exterior walls are sandstone tiles from Kaufman in Manila. The solid hardwood double door opens into the foyer and also to the breezeway, a narrow path that leads to the atrium, where another drift-wood-cum-art piece rests. The breezeway distances the rest of the living spaces from the most exterior glass wall. It's not just to minimize the heat but also to allow a little more privacy while still allowing the glass to let in as much natural light as possible. Architect Jao used low-E (Emissivity) glass, which keeps in the cool and in effect lessens the air-conditioning required. As for the air conditioners, the family opted for Samsung's inverter air conditioners. Sure they might be a little heavier on the pocket, but they consume and cost less per kilowatt hour. Going green is about encouraging lower maintenance and in effect, later but bigger, savings.
A whole gamut of other energy conserving techniques were applied to the interiors including the floor tiling, which uses Inalco Slimmker tiles, brought in from their Cebu supplier. What makes these tiles eco-friendly is that they are slimmer, and therefore were produced with seventy percent less of the manufacturing carbon footprint without compromising their durability.
Where there is no low-E glass there is tile, and where there is no tile there is low-VOC paint (a non-toxic, fast-drying paint), "Healthy Home" paint, from Boysen Paints. It is perfect for families with small children. Where there is no paint there is wall-art, a James Jao interior signature. The elegant floor-to-ceiling wall-art in the Yaokasins' living room is of locally-sourced tigerwood: wood bricks shaped by the architect into an abstraction of a mother's womb.
Lighting was also a key element of the overall design, something that the architect is also very particular with. His background in stage design and lighting–having been mentored by National Artist for Theatre, Rolando Tinio, and CCP's Teddy Hilado, in the mid to late 80's–makes Architect Jao very passionate about dramatic lighting. "Because it's all about drama," he mustered. "Everything is basically reflected light, except of course, in the dining and foyer areas, where you need to see everything." All the lighting equipment was secured from Megaman, distributed by Cebu Home and Builders. The up-light in the living room, for example, is a metal-halide, by Endo from Licht and Design. The architect used this instead of the usual chandelier because of its low-maintenance and ambient lighting effect.
The truth is, a green home is more expensive to build, with twenty percent more cost, explained Architect Jao. Cutting costs and corners in design is not what going green is about, but instead it is in taking of such measures that will, in the long run, significantly reduce energy consumption and house bills, and this will surely make the neighbors green with envy.
LONDON IN FULL BLOOM: An Exclusive Look at the recent Chelsea Flower Show
The Chelsea Flower Show in London, one of the most prestigious horticultural events in the world, returned in full glory in May 2023, captivating visitors with its stunning displays and landscape designs. Held annually on the grounds of the Royal Hospital Chelsea in London, this year's show proved to be a true feast for the senses, showcasing an array of breathtaking gardens, vibrant floral arrangements, and innovative landscaping. The 3-day event showcased 36 outdoor gardens, including four balcony gardens for small spaces. Inside the giant pavilion, blooms compete with each other, exotic flowers, roses, and many more.
The 2023 Chelsea Flower Show embraced a Nature's Harmony theme, with a strong focus on sustainability and mental health. The show's organizers emphasized the importance of sustainable gardening practices and biodiversity conservation, inspiring attendees to create beautiful outdoor spaces while preserving and protecting the environment.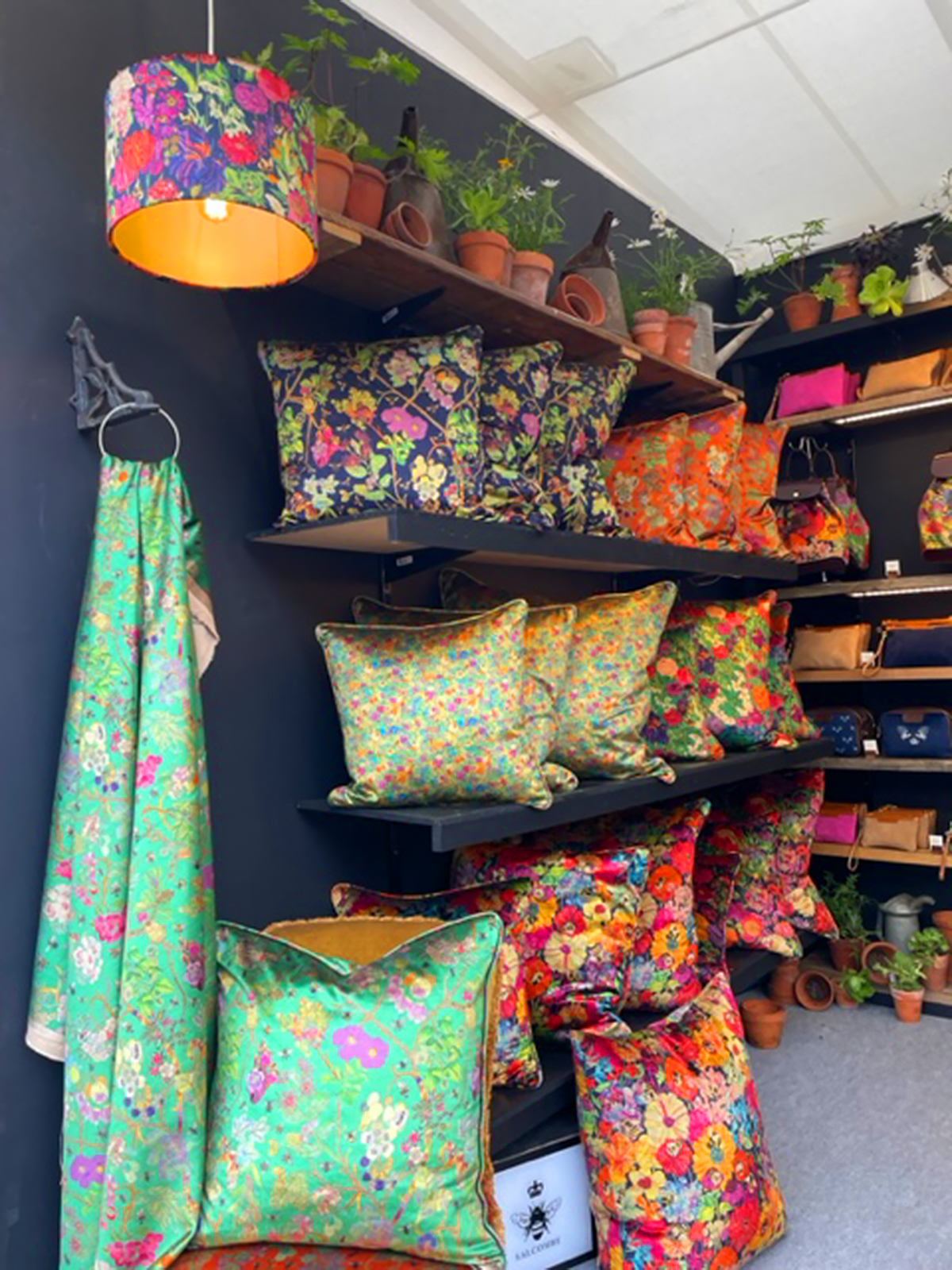 What's Cebu got to do with the Chelsea Flower Show in London? One person. James Doran Webb (https://www.jamesdoranwebb.co.uk), an Englishman working with driftwood, has been displaying his artworks for several years. James collects cast-off driftwood and shapes them into beautiful animal shapes that find places in some of the most iconic gardens. Leaping horses, owls, reindeer, and the occasional dragon, James Webb's creations are avidly collected by landscapers to add accent to gardens in all sizes, using cast-off wood, fitting perfectly with the sustainable element—something Mr. Webb has done quite well for the last decade.
***
The Philippine International Flower Festival will be held at the PICC in Manila from January 14 to 18, 2024. Watch out for more info from our website!