The Gift that Keeps on Giving
The holiday season kicks off officially with Thanksgiving. A time to be grateful for family, friends and blessings. Although this is not usually practiced in our tropical country, there are, however, families like the Woolbrights for whom this is a time-honored tradition.
The holiday season kicks off officially with Thanksgiving. A time to be grateful for family, friends and blessings. Although this is not usually practiced in our tropical country, there are, however, families like the Woolbrights for whom this is a time-honored tradition.
Eddie Woolbright was among the thousands of G.I.'s that landed on the shores of the Philippines during the Japanese occupation. After the war, a few enterprising American soldiers came back, including the 24-year old Eddie who made Tacloban his home, before settling down in Cebu in the 1950s and opened a restaurant and a hardware store downtown—Eddie's Log Cabin and Eddie's Hardware and Auto Supply, respectively.
Eddie's Log Cabin quickly became the hub of social, political and even military scene. It was the first air-conditioned café in town, and more importantly, it offered American diner food including a soda fountain and an ice cream parlor. It was patronized by one and all for its reputation for good food and service.
It also didn't take long for the fearless Eddie Woolbright to realize that the real estate in the sleepy hillside suburbs was ripe for development. "I will show Cebu what a good planned subdivision is," Eddie had said, when the late Senator Marcelo Fernan, then a young legal counselor for Columbian Rope Co., took Eddie to see the property. Pretty soon, Eddie had purchased over thirty-three hectares of otherwise undeveloped land from the heirs of the late Arlington Pond.
"Buy land," Eddie Woolbright was known to quote the late humorist Will Rogers, "because they ain't gonna make more."
With his added access to army surplus, he bulldozed tracts of land, and a decade later, Beverly Hills, the first major subdivision in Cebu City, was created, and marketed to the city's growing well-to-do locals, with the subdivision's connotations of Hollywood and colonial American aesthetic. Eddie's belief in the business potentials of central Cebu city enabled him to see much growth in his investments in land development, water drilling, construction, and general trading.
Eddie had nine children: Rick, Anita, Marc, Gilbert, Alice, Kathy, Kristy, Karen and Joy. All recall that each holiday was as important to them as Christmas. Turkey Thanksgiving dinners, for example, as it was known in the Woolbright household, began when Eddie's mom, Nell, came to visit sometimes in the 1960s. Eddie would buy a butterball turkey from the American base in Clark and she whipped up a traditional feast complete with cornbread stuffing, cranberry jelly, candied yams, garlic mashed potatoes and her famous giblet gravy which was poured literally all over the bird, as they do back in her home in Oklahoma. Grandma Nell also taught the cooks at Eddie's Log Cabin to make the famous Coconut Cream Pie, another Eddie's Log Cabin standard. Kathy also recollects, "It was also dad's idea that the restaurant and the hotel should serve breakfast 24 hours, and since I loved my Mexican omelet, sliced ham, buttered toast I enjoyed being able to eat breakfast any time of the day."
Shortly after, turkey was introduced in the menu of Eddie's Log Cabin, both Americans and Cebuanos, with a penchant for this wholesome meal, look for it when November came, and more especially on Thanksgiving Day. "Dad loved quality meat, and passed on this fondness to us, his children," noted Karen, "So special meals always consisted of a good steak or the tender Prime Rib Roast. Of course, the year was never complete without a Turkey once or twice."
As the sisters change into various outfits for the photo shoot in their childhood home, each one recalled the happy memories this holiday brings.
Alice, recalls disliking the giblet gravy as a child but since her dad would serve her at the dinner table she had no choice but to eat it. She adds, "He would get upset if we did not try everything." Funnily enough, she now looks forward to the giblet gravy and can't imagine turkey without it.  Her dad, she said, employed the same tactic with his customers at the restaurant so after a while, they ended up getting used to it, and will not have their turkey any other way.
Joy Woolbright-Sotto fondly remembers watching her dad carve the bird. "He made sure that each one of the kids learned how to do it properly, with the white meat sliced thinly enough, and followed last by the dark meat," she says. A feat she now does with ease. Future doctor Karen says that her dad would always carve the wings and serve it to her, which is still her favorite part of the fowl. Kathy though, considers turkey her comfort food. But she says that she loves the Coconut Cream Pie, which is also served on the restaurant's menu, and that as a child she could eat half a pie in bed.
Cebu in the 60s and 70s was a very small town, if you wanted to celebrate Thanksgiving, you went to Eddie's. Eddie's Log Cabin, like its owner was a trailblazer, the balut dice game originated there, many singers' careers such as Elizabeth Ramsey's were given their first break there.
The torch has been passed on to his children, and they too celebrate it with turkey dinners and all the trimmings, ensuring that the restaurant still serves the traditional menu, down to the Coconut Cream Pie.  Thanksgiving will always be celebrated at their homes, and the Beverly Hotel, the last legacy that Eddie Woolbright gave his children to run.
Another legacy that Eddie left to his children was a love for food and Alice was quick share that she got it too, "I'm usually home during the day and I find myself in the kitchen trying to cook up new dishes to serve."
Back at the Woolbright ancestral home, which is also now Alice's home, the dining table has been set, evoking autumn and harvest, the candles are lit, the wine is being poured, the buffet table is groaning under the weight of the Thanksgiving repast. The sisters are seated at the table, each with a glass of wine discussing whose turn it is to carve. The annual Woolbright turkey dinner is about to start and I am glad to be invited to join them at their family home. Happy Thanksgiving, indeed.
The Woolbright signature turkey is available for home orders at the Beverly Hotel. Call 254-8570 to 76. And check www.balut.org for rules of the mentioned balut dice game that started at Eddie's Log Cabin in the 1970s.
by Janine Taylor sittings editor Katsy Borromeo fashion stylist Mikey Sanchez food stylist Nicolette Gaw-Yu production manager David Jones Cua intern Danica Ronquillo hair and make-up Jessie Glova assistant Jojo Embalzado photography Joseph Ong
locale Woolbright Residence
St. Patrick's Day Celebration at Marco Polo Plaza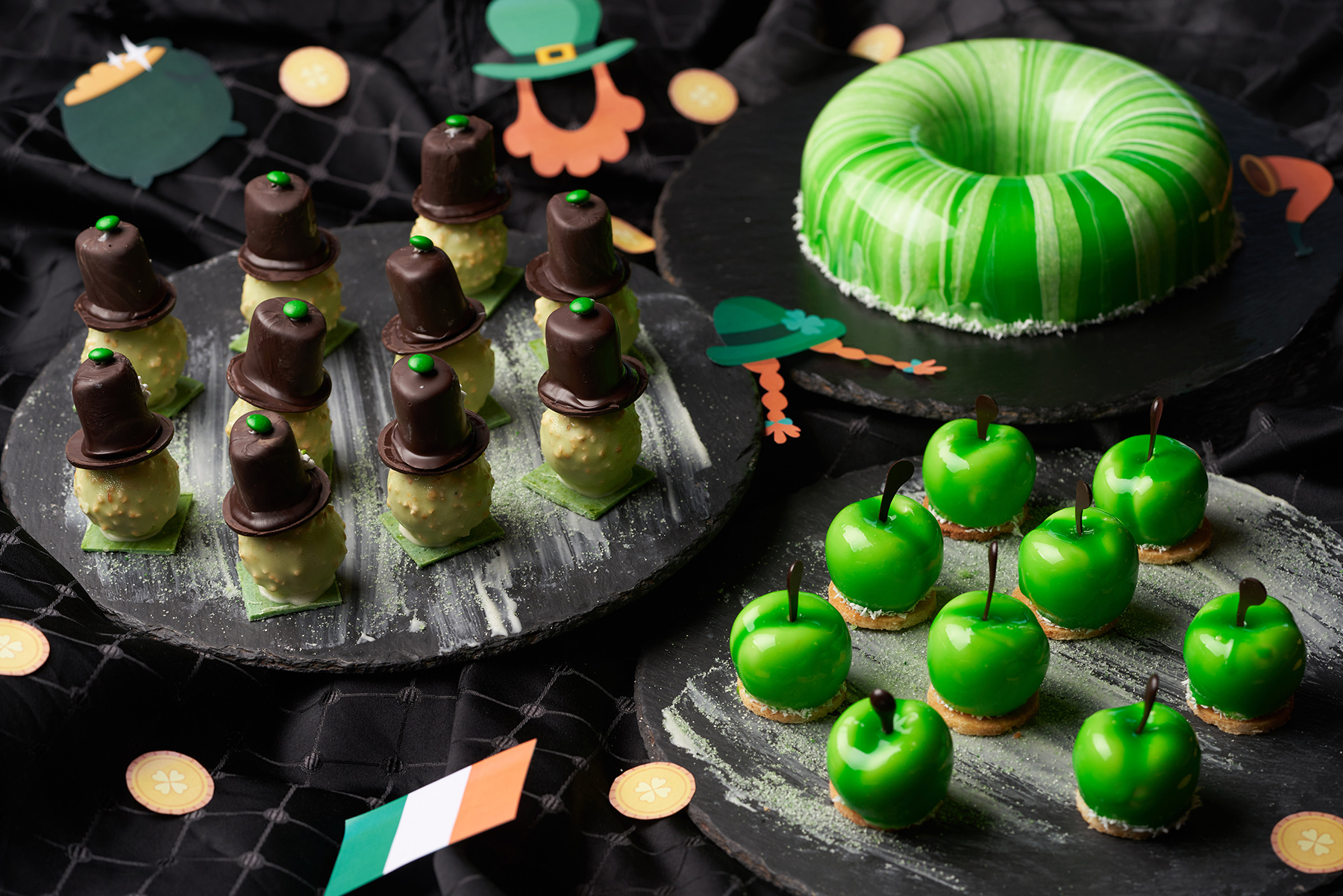 Marco Polo Plaza will be celebrating St. Patrick's Festival with the rest of the Irish community! It's not only a feast of greens and four-leaf clovers but of good food too! From March 17 to 19, dig in and enjoy traditional Irish dishes and delights such as Irish Stew, Potato Nachos, Cheesy Reuben Loaf, Guinness Beef Stew Pot Pie, Beer Mac N' Cheese and many more. These on top of the international lunch and dinner buffet at Cafe Marco. Complete the experience in true Irish fashion with an ice-cold mug of Irish Beer, also available at Cafe Marco.
Gastronomic adventures await at Café Marco! For inquiries and reservations, you can call (032) 253-1111. For real time updates, like the Facebook page at facebook.com/marcopolocebu or follow on Twitter at @5StarInCebu. Visit the website at www.marcopolohotels.com.
For inquiries and reservations, call 253-1111 or email hospitality.ceb@marcopolohotels.com.
La Liga Henerales: Shaping History Awareness Back Again in Cebu
La Liga Henerales is a community of young talents passionately promotes historical awareness through periodic costumes carefully researched for its authenticity and accuracy and promoted as well in events and schools.
Only few individuals before were into pursuit in this historical awareness project until the age of communication where internet is convenient in the palm of our hands through our gadgets. New information travel fast and data is retrievable, yet also possess a disadvantage with the plethora of different social media platforms carried by various makers as well. In a daily basis, historical backgrounds are unearthed making its trend until now as new discoveries are released, but the idea of these information being shown and shared is as close as not valuing or commemorating to its sources leaving this information just a trend.
There is a certain community of Cebuanos that are taking a quest to rewrite and restructure what was in the past, filling the gaps in facts with further research of variable sources that are made debatable but sticks to it true cause, to unveil the truths of our heritage and our origins, as Cebuanos and as Filipinos as well.


La Liga Henerales is a Cebu-based, non-profit organization composed of a group of talented, committed and respectable individuals from different walks of life, schools and profession whose primary aim is to promote both, Cebuano and filipino culture and heritage that was depicted before in pre-colonial and colonial eras via re-enactment with costumes vested in proper research and investigation to achieve authenticity. They also push their cause on schools and other social gatherings promoting and spreading awareness about our local, and national heroes that we look up to. With these said, they also portray a closer look of the lifestyle of the past to where they perform stories, perform forgotten dances and rituals and portray their individual roles, vital in the fight of our country's future during those challenging times, and in honor to spread awareness of the lost practices we had in those times.
The Founder
Louis Kenneth Villaflor, an entrepreneur and an avid history enthusiast and costumer, founded the group on the purpose of re-educating the youth about real local and national history, he saw the opportunity to combine his favourite hobbies which is costuming and story role-playing and the process to instill the historical awareness and value among the youth and in schools, along with a group of fellow enthusiasts who shares his passion about research and history, they took it among themselves to be purposeful in the advocacy in spreading historical awareness in schools or events by wearing periodically correct costumes and sharing the stories and its value to the youth.
Behind the Garments
Meet Rodney "Pee-Wee" Senining, who has been in the fashion industry since the late 90's, strives  in concepts of avant-garde, innovation and cutting edge-fashion forward design. And also a teacher of Architecture, Fine Arts and Design of University of San Carlos, he had grown into research of books like the holy grail in the Library Resource Center and is always fascinated of the periodical times and how to preserve it; Hence, his interest had grown for the affinity of Periodical Costumes and Sustainable Fashion.
 Being part of the group La Liga Henerales, he was tasked to instantly be their mentor for the young talents and as the organization is still new and developing with limited funds, resourcefulness and research were done to come up with a good output of photo shoot and was quite proud of it and still promise on the next editions of pieces to be more historically accurate. Even as teacher for Fashion Design in SAFAD, his expertise comes hand in hand with the members as he helps them do research as well. His passion and interest somehow led him with enough knowledge to key the insights of the significant periods and historical backgrounds of it.
Historical Awareness in Cebu
The strength and progress of a country is anchored on how well they know and honor its history. The means of historical awareness in Cebu is almost non-existent among the Cebuanos, although we push forward in tourism and promote beauty through sceneries and other aspects of culture yet never commemorate deeply on historical icons such as our other local heroes, and ancient cultures as well that is almost been forgotten in an urban Cebu. Nevertheless, as long as communities' like La Liga Henerales are now evolving in a learning state by real discovery by multiple resources, this will always reflect of how we appreciate love, patriotism and honor to our country and would look forward to progress.
Christmas in Colonial Cebu: A Themed Exhibit by Teresin Mendezona and Eva Gullas for Stylescapes 2019
Ever wonder how the yuletide season is celebrated in colonial times? This year at Stylescapes 2019, Teresin Mendezona and Eva Gullas collaborated to showcase the elegance of Christmas during the colonial period, specifically most of the Spanish regime.
This pop-up radiated the ambience of Christmas in the colonial times through the various details used within the setting. Specific pieces like the gansilyo table cloth, oil lamp, and the sketches were from Ms. Mendezona and Gullas themselves.
Aside from that, various table and living room pieces were sourced from Rustans and Metro Ayala, and was curated by Doro Barandino.