The Gift that Keeps on Giving
The holiday season kicks off officially with Thanksgiving. A time to be grateful for family, friends and blessings. Although this is not usually practiced in our tropical country, there are, however, families like the Woolbrights for whom this is a time-honored tradition.
The holiday season kicks off officially with Thanksgiving. A time to be grateful for family, friends and blessings. Although this is not usually practiced in our tropical country, there are, however, families like the Woolbrights for whom this is a time-honored tradition.
Eddie Woolbright was among the thousands of G.I.'s that landed on the shores of the Philippines during the Japanese occupation. After the war, a few enterprising American soldiers came back, including the 24-year old Eddie who made Tacloban his home, before settling down in Cebu in the 1950s and opened a restaurant and a hardware store downtown—Eddie's Log Cabin and Eddie's Hardware and Auto Supply, respectively.
Eddie's Log Cabin quickly became the hub of social, political and even military scene. It was the first air-conditioned café in town, and more importantly, it offered American diner food including a soda fountain and an ice cream parlor. It was patronized by one and all for its reputation for good food and service.
It also didn't take long for the fearless Eddie Woolbright to realize that the real estate in the sleepy hillside suburbs was ripe for development. "I will show Cebu what a good planned subdivision is," Eddie had said, when the late Senator Marcelo Fernan, then a young legal counselor for Columbian Rope Co., took Eddie to see the property. Pretty soon, Eddie had purchased over thirty-three hectares of otherwise undeveloped land from the heirs of the late Arlington Pond.
"Buy land," Eddie Woolbright was known to quote the late humorist Will Rogers, "because they ain't gonna make more."
With his added access to army surplus, he bulldozed tracts of land, and a decade later, Beverly Hills, the first major subdivision in Cebu City, was created, and marketed to the city's growing well-to-do locals, with the subdivision's connotations of Hollywood and colonial American aesthetic. Eddie's belief in the business potentials of central Cebu city enabled him to see much growth in his investments in land development, water drilling, construction, and general trading.
Eddie had nine children: Rick, Anita, Marc, Gilbert, Alice, Kathy, Kristy, Karen and Joy. All recall that each holiday was as important to them as Christmas. Turkey Thanksgiving dinners, for example, as it was known in the Woolbright household, began when Eddie's mom, Nell, came to visit sometimes in the 1960s. Eddie would buy a butterball turkey from the American base in Clark and she whipped up a traditional feast complete with cornbread stuffing, cranberry jelly, candied yams, garlic mashed potatoes and her famous giblet gravy which was poured literally all over the bird, as they do back in her home in Oklahoma. Grandma Nell also taught the cooks at Eddie's Log Cabin to make the famous Coconut Cream Pie, another Eddie's Log Cabin standard. Kathy also recollects, "It was also dad's idea that the restaurant and the hotel should serve breakfast 24 hours, and since I loved my Mexican omelet, sliced ham, buttered toast I enjoyed being able to eat breakfast any time of the day."
Shortly after, turkey was introduced in the menu of Eddie's Log Cabin, both Americans and Cebuanos, with a penchant for this wholesome meal, look for it when November came, and more especially on Thanksgiving Day. "Dad loved quality meat, and passed on this fondness to us, his children," noted Karen, "So special meals always consisted of a good steak or the tender Prime Rib Roast. Of course, the year was never complete without a Turkey once or twice."
As the sisters change into various outfits for the photo shoot in their childhood home, each one recalled the happy memories this holiday brings.
Alice, recalls disliking the giblet gravy as a child but since her dad would serve her at the dinner table she had no choice but to eat it. She adds, "He would get upset if we did not try everything." Funnily enough, she now looks forward to the giblet gravy and can't imagine turkey without it.  Her dad, she said, employed the same tactic with his customers at the restaurant so after a while, they ended up getting used to it, and will not have their turkey any other way.
Joy Woolbright-Sotto fondly remembers watching her dad carve the bird. "He made sure that each one of the kids learned how to do it properly, with the white meat sliced thinly enough, and followed last by the dark meat," she says. A feat she now does with ease. Future doctor Karen says that her dad would always carve the wings and serve it to her, which is still her favorite part of the fowl. Kathy though, considers turkey her comfort food. But she says that she loves the Coconut Cream Pie, which is also served on the restaurant's menu, and that as a child she could eat half a pie in bed.
Cebu in the 60s and 70s was a very small town, if you wanted to celebrate Thanksgiving, you went to Eddie's. Eddie's Log Cabin, like its owner was a trailblazer, the balut dice game originated there, many singers' careers such as Elizabeth Ramsey's were given their first break there.
The torch has been passed on to his children, and they too celebrate it with turkey dinners and all the trimmings, ensuring that the restaurant still serves the traditional menu, down to the Coconut Cream Pie.  Thanksgiving will always be celebrated at their homes, and the Beverly Hotel, the last legacy that Eddie Woolbright gave his children to run.
Another legacy that Eddie left to his children was a love for food and Alice was quick share that she got it too, "I'm usually home during the day and I find myself in the kitchen trying to cook up new dishes to serve."
Back at the Woolbright ancestral home, which is also now Alice's home, the dining table has been set, evoking autumn and harvest, the candles are lit, the wine is being poured, the buffet table is groaning under the weight of the Thanksgiving repast. The sisters are seated at the table, each with a glass of wine discussing whose turn it is to carve. The annual Woolbright turkey dinner is about to start and I am glad to be invited to join them at their family home. Happy Thanksgiving, indeed.
The Woolbright signature turkey is available for home orders at the Beverly Hotel. Call 254-8570 to 76. And check www.balut.org for rules of the mentioned balut dice game that started at Eddie's Log Cabin in the 1970s.
by Janine Taylor sittings editor Katsy Borromeo fashion stylist Mikey Sanchez food stylist Nicolette Gaw-Yu production manager David Jones Cua intern Danica Ronquillo hair and make-up Jessie Glova assistant Jojo Embalzado photography Joseph Ong
locale Woolbright Residence
LONDON IN FULL BLOOM: An Exclusive Look at the recent Chelsea Flower Show
The Chelsea Flower Show in London, one of the most prestigious horticultural events in the world, returned in full glory in May 2023, captivating visitors with its stunning displays and landscape designs. Held annually on the grounds of the Royal Hospital Chelsea in London, this year's show proved to be a true feast for the senses, showcasing an array of breathtaking gardens, vibrant floral arrangements, and innovative landscaping. The 3-day event showcased 36 outdoor gardens, including four balcony gardens for small spaces. Inside the giant pavilion, blooms compete with each other, exotic flowers, roses, and many more.
The 2023 Chelsea Flower Show embraced a Nature's Harmony theme, with a strong focus on sustainability and mental health. The show's organizers emphasized the importance of sustainable gardening practices and biodiversity conservation, inspiring attendees to create beautiful outdoor spaces while preserving and protecting the environment.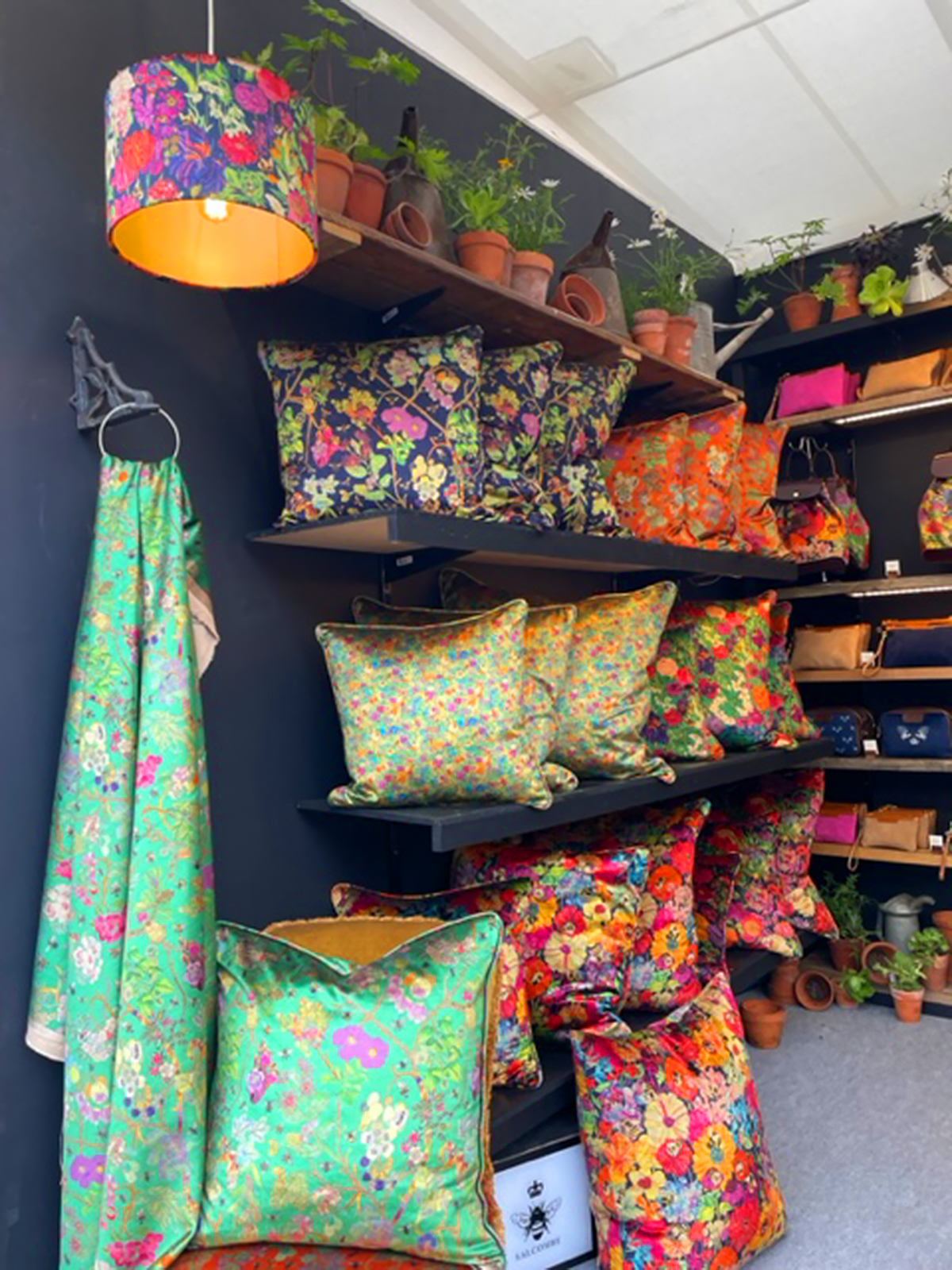 What's Cebu got to do with the Chelsea Flower Show in London? One person. James Doran Webb (https://www.jamesdoranwebb.co.uk), an Englishman working with driftwood, has been displaying his artworks for several years. James collects cast-off driftwood and shapes them into beautiful animal shapes that find places in some of the most iconic gardens. Leaping horses, owls, reindeer, and the occasional dragon, James Webb's creations are avidly collected by landscapers to add accent to gardens in all sizes, using cast-off wood, fitting perfectly with the sustainable element—something Mr. Webb has done quite well for the last decade.
***
The Philippine International Flower Festival will be held at the PICC in Manila from January 14 to 18, 2024. Watch out for more info from our website!