The Ñ Game: A Culinary Genius
The whispers of Crimson Resort & Spa partnering with Chef Chele Gonzalez have been circulating the city since last year, when the resort invited select members of the media to dine at VASK in Manila. It was here that the culinary virtuoso had been winning over hearts and palates with modern interpretations of traditional Spanish cuisine.
Of course, this wasn't the first time we'd sampled Chef Chele's kitchen prowess. During Zee Lifestyle's Bohol Break last year, host Be Grand Resort had flown him in to create a sampling menu that had our guests raving for weeks. The Pulpo a la Gallega, perfectly seasoned octopus on a bed of potatoes, was my personal favorite—the explosion of flavors that come with the seemingly simple dish is a testament to the chef's talent.
Suffice to say, this particular restaurant was highly anticipated, and when the invitation to the launch finally arrived, people were willing to brave the Mactan's rush hour topic for a seat at the table.
The name itself already suggests more than just a Spanish influence over the menu—Enye by Chele Gonzalez was named after the letter Ñ, the last letter from the Spanish alphabet that remains heavily used in the Philippines today. It signifies the close ties between the two cultures, further evidenced in how the plates coming from the kitchen present flavors that are somehow familiar and new at the same time.
Authenticity is definitely on the table—born in Santander, Spain, Chef Chele's earliest cooking experiences were in his own family's kitchen, where we imagine he'd learned traditional techniques that have been passed on throughout the generations. The pepper and onion vinaigrette-marinated seafood dish Salpicon de Marisco; the Rabo al Vinto Tito, a slow-cooked oxtail in red wine and potatoes; and of course, the paella—these are just some of the dishes that are grounded in classic Spanish culinary sensibilities.
It is in the modern interpretations, in my opinion, that Chef Chele's mastery of the craft truly comes through. Of course, this doesn't come as much of a surprise—his career includes time clocked in at Michelin-starred kitchens, the celebrated Arzak restaurant in San Sebastian (where he developed a keen appreciation and understanding for fine cuisine while developing new dishes in the Arzak Lab), and El Bulli, which had been the number one restaurant in the world at the time. The career had thankfully led to the Philippines, where Chef Chele worked in luxury hotels like Sofitel and Shangri-La, before he decided to open the various concepts of VASK.
The years of experience in some of the best restaurants in Europe (and probably the world, really) had given Chef Chele the confidence and skill set to introduce new subtleties and flavor profiles to already beloved dishes. Perhaps this is what makes dining at Enye feel like a culinary adventure—it's a juxtaposition of tastes you expect and some that surprise your palate.
The curated menu of the restaurant's opening bring together the best of both, properly introducing diners that are yet unfamiliar with Chef Chele's style of cooking. Before dinner, a medley of appetizers and cocktails were passed around—the Mantegalo Seco, a Chardonnay-based drink with cachaca, lime, brown sugar and pineapple; and the Croqueta Jamon y Pollo, bechamel croquettes with ham and chicken, were instant stand-outs.
In true Spanish fashion, dinner was leisurely and stretched into the later hours of the night. The Carpaccio de Wagyu was served with parmesan ice cream and pine nuts for an interesting flavor, while the Lechon Cebu Tacos was a delicious homage to the province's most famous dish. Of course, it's not a tapas tasting without the Gambas al Ajillo, or a serving of paella, with Enye's Arroz con Bogavante featuring stewed lobster tails for a truly rich flavor. The fourth course was something particularly interesting—the Solomillo a la Española is tenderloin with grilled Manchego cheese, rioja wine jus and mushroom mashed potatoes.
As amazing as the dishes were, it was the desserts that truly won me over. The dinner culminated with the Crema Catalana de Calabaza (Catalan pumpkin creme brulee), the Torrija (brioche dipped in milk with anise ice cream), and Texturas de Calamansi (calamansi cake, mousse, ice cream and biscuits)—all of which had us reaching for second servings, despite the fact that we were all relatively stuffed from the previous courses. If you only had the chance to sample a few dishes from Enye, I wholeheartedly suggest you get these three.
I'd arrived at Enye already a believer of Chef Chele's culinary genius, and left it even more convinced. His understanding of traditional techniques is complemented by his boldness at turning these traditions on their head to create more modern plates, making him a chef to definitely watch. I'll certainly be watching, and counting down the days I can make the trek across the channel to once again embark on the culinary adventure of Enye.
The Uncommon Traditions that Mexicans and Filipinos share when celebrating the Day of the Dead.
Dia de los Muertos
By Allain Dumon Fonte
The 2nd of November is All Soul's Day, a holiday that is very important to many Filipinos to remember our loved ones who passed on. This is also widely celebrated in Mexico as "Dia De los Muertos" or in English, "The Day of the Dead". And Mexicans celebrate the 2nd of November grander than they celebrate Christmas. Well, you can witness it from the Disney movie, "Coco".
As All Soul's Day or Dia de los Muertos is about to end, here are some interesting traditions and superstitions that Filipinos and Mexicans share:
1. IT IS NOT ON THE 31st OF OCTOBER
Dia de los Muertos or All Soul's Day is not practiced on October 31st or on the Hallow's Eve as many other western cultures practice; but we celebrate it on the 2nd of November. We celebrate November 1st as All Saint's Day or the Day of the Holy, while in Mexico they call it Dia de los Innocentes or Dia de los Angelitos to commemorate the children who died too early in life.
2. THE RITUAL
Both in Mexico and in the Philippines, we visit the grave of our loved ones and we clean it well. This is a ritual to honour their resting places and to let them know that they are never forgotten.
3. FLOWERS INVITE SPIRITS
In Mexico, they believe that the scent of flowers attract spirits. So the flower offerings are invitation to their dead loved ones to visit the living families. While in the Philippines, we believe that flowers offered to the dead exalt the souls and somehow fill in the sadness that we feel when missing our dead loved ones.
Most of the time, Filipinos choose all-white flowers to offer because white is the absence of colour, which means the absence of Joy and happiness. White also symbolises purity of soul which we hope our dead loved ones will attain as they journey to heaven. While in Mexico, they have the yellow Mexican marigolds as the official flowers of the dead that will guide them in their journey to the afterlife.
4. THE LEGEND OF THE MONARCH BUTTERFLIES
Both cultures believe that monarch butterflies are dead loved ones who visit us and show their appreciation that we have not forgotten them. A presence of monarch butterflies also means that our dead loved ones are always there guiding us and looking after us.
5. A PICNIC IN THE GRAVEYARD
Spending a night at the graveyard and picnicking with the rest of the family may sound very creepy to many; but to both Filipino and Mexican cultures, picnicking and spending a night at the cemetery is a must to show our love to our dearly departed. It is the only time in the year that families gather and tell stories of the dead loved ones and how colourful or how great their lives were.
6. FOOD FOR THE DEAD
In Mexico, they have what they call "ofrendas" or an altar where the pictures of their dead loved ones are displayed and offered with flowers, candles, and their favourite food. Very similar to the Filipino culture of cooking the favourite food of our dead loved ones and everyone in the family enjoys the food for dinner.
My family tradition involves me driving all the way to Colon street and buy that famous Snow Sheen's "pancit canton". This is my granddad's favourite snack. Sadly, the old Visayan Restaurant is no longer there. My late uncle and my late grandpa love their sweet ad and sour fish. We also set up an "ofrenda" on their graveyard and eat their favourite food while picnicking in the cemetery. We do not spend a night in the cemetery; but while we are picnicking there, we usually play the songs of Pilita Corrales and Susan Fuentes that my late grandpa used to listen every afternoon while enjoying his coffee, pan de sal, and pancit canton.
What about your family traditions? Share your thoughts by commenting to this article.
MODEL: Michael Joseph Mortola Enriquez & Alexis Wingfield
PHOTOGRAPHER: Gianne Paolo Anciano
HMUA/DESIGNER: Hazel Ocaba
STYLING: GPA Lifestyle + Clothing
Catch Ted Lasso the Emmy Award Winning Comedy Series on Apple TV+
Rating: *****/ *****
The multi award–winning comedy series airing on Apple TV+ is one of my favorite shows.  Ted Lasso starring Jason Sudeikis is about a fun good-natured American football coached hired by a British soccer club (AFC Richmond in London) to become their new coach.  In spite of the fact that Ted has no experience or knowledge about British football/soccer, his positive demeanor and charm helps him overcome the animosity of the team's players, staff and fans.  Eventually Ted wins over the team and the locals as they fight for position in the English Premier League.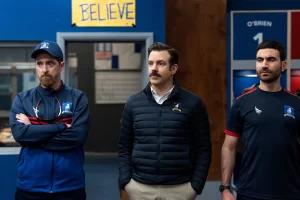 The show won the 2021 Primetime Emmy Award for Outstanding Comedy Series and 7 Emmy Awards in its 2 seasons and Season 3 is just around the corner.  You can catch Seasons 1 & 2 of Ted Lasso on Apple TV+
PANDEMIC DIARIES: Twelve Months Later
Photos taken by Pablo Quiza around Cebu City during the months of March, April and May 202
AS WE APPROACH ONE YEAR under pandemic times, we look back at March 2020 with fascination. And awe. We had 12 months of lockdown and survived the so called new normal. We lived with masks and alcohol even today. Carless roads and dark malls. Those were the early days of March, April and May.
It stretched to October and past Christmas. No Sinulog. Virtual parties on Zoom and virtual mass on You Tube and FB Live. We debated on the best meds to take if we get sick and whether to wear masks (please do!). We scampered for face shields and anti-viral sprays. Vitamins C and D and zinc. Later, we survived being swabbed and we learned the difference between a PCR and an anti-gene test. The latter cost less.
We dreaded the declarations of IATF mandated from Manila. And we got mad at the police chief who had a birthday party while his people were busy locking up everyone violating the lockdown. Most horrifying of all, we needed to produce IDs! Are you a resident of Barangay Lahug or Banilad? Are you employed and why are you still working? Everyone suffered thru endless checkpoints. Most sad of all are those using motorbikes, they seem to get the raw end of the deal since those with cars are not as scrutinized. We managed to trick the system by putting a big handwritten note in front of the car: COMPANY CAR, and zipped tru the police desks in the middle of the road. Don't even think of travelling, by plane, boat or bus. The collection of the required documents is enough for one to get exposed to Covid.
We learned to shop online, order groceries and necessities thru delivery. We slowly moved towards cashless payments. Gcash and banks like Union Bank and China Bank with friendly apps are heroes for making life easy for most of us to spend what little cash we have to spend on Lazada or pay the VECO bill. Oh and we binged on K dramas on Netflix and You Tube, kamsaminada.
As 2021 enters, there are some good news. For those obsessed with news, you already know that 7,000 vaccines arrived last March 2 in Cebu, with more expected in the next few weeks. The death rate is not as high among those who caught this pesky virus, which tells us that doctors in the hospitals have some proven expertise in dealing with Covid. More cures should be in the horizon.
Meanwhile, lets continue dreaming of the day when we can cross borders again, even if its just Bohol or Boracay, Bangkok or Hong Kong. Ready those luggages and bags bought during the 3/3 sale in Shopee in preparation for the day when we can take the ferry or the plane for new adventures.