Here's What's on the Zee Lifestyle Team's Holiday Wishlist!
We're making a list and checking it twice! Just in time for the holiday season, the Zee Lifestyle team shares what's on top of their wish list this year.
EVA GULLAS
Publisher
Orient Express
If you're looking for a trip to the Orient, the Aman Summer Palace in Beijing should be first on your itinerary. Simple and elegant, the Aman Summer Palace is a trip through time, with a traditional courtyard style reminiscent of the aesthetics from the glory days of the Ming and Qing dynasties.
There are 51 rooms and suites, all featuring period furniture like intricately carves screens, bamboo blinds and clay tiles. The dining experience is extraordinary, from the centuries-old tea ceremony to the selection of classics like the Szechuan Chicken and Peking Duck.
1 Gongmenqian Street, Summer Palace, Beijing, PRC 100091
amansummerpalace@aman.com
Slim Picks
Although giving is truly what makes the season bright, the holidays can also be a great time to love yourself. Indulge in the advanced Radio Frequency (RF) Treatment, a non-surgical procedure for cellulite reduction, collagen stimulation and tightening the skin. The machine works using thermal waves to target fat cells, with the Exilis Elite dual energy delivery that causes the cells to shrink by speeding up metabolic activity.
The treatment is available at Dr. Hopee Solano's clinic, where she offers a wide range of services. We've never been disappointed with an experience with Dr. Hopee, who addresses any questions and concerns you might have before the procedure, and her staff.
Rm. 316, Cebu Doctors Medical Arts Building 2, (032) 53 8358
[Facebook] A Touch of Hope
SHARI QUIMBO
Managing Editor
Hair Today
Few feelings are quite as enjoyable as walking out of the salon with freshly colored hair—what's not as fun, though, is finding the time to touch up your roots. Thankfully, Piandre introduced lived in color this year, a technique that brings different tones to your hair color for a natural sun-kissed look. There's the option for darker roots that gradually fade into light ends (a modern, softer take on the ombre look), or lighter shades to frame and flatter the face.
Oakridge Business Park, AS Fortuna Street, Banilad, Mandaue City
(032) 412 1824
Getaway Gifts
It's no surprise that Hong Kong remains one of Cebu's favorite destinations for quick weekend trips—the city offers so many experiences, from food and culture, to shopping and recreation. Of course, staying at the Gateway Hotel will give your holiday a bit of an edge.
Part of the Marco Polo Hotels group and located centrally in Harbour City in bustling Tsim Sha Tsui, Gateway Hotel features a modern, sleek and artsy design that creates a boutique hotel feel with a five-star twist. There's also a complimentary mini-bar, a Handy Phone with unlimited data connectivity, and a chocolate cake at Three on Canton that I'm maybe planning my next trip for.
No. 13 Canton Road, Harbour City, Tsim Sha Tsui, Kowloon, Hong Kong
gateway@marcopolohotels.com
CARLO RIVERA
Features Editor
Beach Blitz
It's always been on the wish list to spend Christmas Eve by the beach, and Crimson Mactan's villa is just the right place to do it. The bed is perfect for sleeping in, and the view is picture-perfect.
For when you do feel like going outside, the plunge pool and infinity pool will make it feel like summer in December, while Crimzone will keep the little ones happy throughout the day. And of course, there's the amazing selection of tapas from Chef Chele Gonzales at Enye—this could be the best noche buena ever!
Seascapes Resort Town, Soong, Lapu-Lapu City
crimsonhotel.com/mactan
If the Shoe Fits
The recent trunk show of Spectre Manila in Cebu introduced me to the Loake Shoemakers, the British shoemaker with a Royal Warrant of Appointment by Her Majesty, Queen Elizabeth II. The impressive lineage stands out really stands out, but this pair does that even on its own. With its polished leather and intricate details, it's the perfect footwear for special occasions.
916 Luna Mencias, Mandaluyong, Metro Manila
[Instagram] @spectremnl
Best Laid Plans
Every year, Tita Witty releases her unconventional and hilarious planner. With relatable quotes (like hugot lines from One More Chance) and weight-loss pointers, it's the perfect companion for 2018.
www.wittywillsavetheworld.com
MELO ESGUERRA
Editor-at-Large
A romantic holiday with the man I love at Dedon Island Resort.
JANET ALFAFARA
Copyeditor
A romantic holiday with the man I love at Dedon Island Resort.
EHDS JAVIER
Artistic Director
Though the world is becoming digital, some of us still prefer analogue. The super portable Polaroid ZIP Instant Photoprinter would be the perfect gadget to up my fame in setting up an awe-inspiring polaroid bunting display without the actual Instant Camera–just my smartphone.
ROMERO VERGARA
Makeup artist
A limited supply of Dior shirts! I am a big fan because they're comfortable, and it will always look good on you.
Gia Mayola


Editorial Assistant
Anyone who knows me, knows about my extensive love for boots. This year, Gucci came out with the most beautiful pair that I've ever seen. This pair is made of Bordeaux leather and features the house's stripes with dragon embroidery. A great statement piece, this boot's pointed toe can instantly make you look sleek and sophisticated.
KYLA ESTOYA


Writer
My holiday wishlist is simple: a Moleskine Watercolor Sketchbook. I've been visiting Lazada.ph almost everyday staring at it and I never had the guts to buy it. I really think Santa should give it to me as a present. If he can't, I'll stare at the website again.
TJ DELIMA


Graphic Artist
After my 6 year old Canon camera died recently I've decided that my holiday wish list is the new Sony a7s II camera. It's small, easy to carry and it can shoot 4k videos. Very useful since I also shoot videos for work.
The Uncommon Traditions that Mexicans and Filipinos share when celebrating the Day of the Dead.
Dia de los Muertos
By Allain Dumon Fonte
The 2nd of November is All Soul's Day, a holiday that is very important to many Filipinos to remember our loved ones who passed on. This is also widely celebrated in Mexico as "Dia De los Muertos" or in English, "The Day of the Dead". And Mexicans celebrate the 2nd of November grander than they celebrate Christmas. Well, you can witness it from the Disney movie, "Coco".
As All Soul's Day or Dia de los Muertos is about to end, here are some interesting traditions and superstitions that Filipinos and Mexicans share:
1. IT IS NOT ON THE 31st OF OCTOBER
Dia de los Muertos or All Soul's Day is not practiced on October 31st or on the Hallow's Eve as many other western cultures practice; but we celebrate it on the 2nd of November. We celebrate November 1st as All Saint's Day or the Day of the Holy, while in Mexico they call it Dia de los Innocentes or Dia de los Angelitos to commemorate the children who died too early in life.
2. THE RITUAL
Both in Mexico and in the Philippines, we visit the grave of our loved ones and we clean it well. This is a ritual to honour their resting places and to let them know that they are never forgotten.
3. FLOWERS INVITE SPIRITS
In Mexico, they believe that the scent of flowers attract spirits. So the flower offerings are invitation to their dead loved ones to visit the living families. While in the Philippines, we believe that flowers offered to the dead exalt the souls and somehow fill in the sadness that we feel when missing our dead loved ones.
Most of the time, Filipinos choose all-white flowers to offer because white is the absence of colour, which means the absence of Joy and happiness. White also symbolises purity of soul which we hope our dead loved ones will attain as they journey to heaven. While in Mexico, they have the yellow Mexican marigolds as the official flowers of the dead that will guide them in their journey to the afterlife.
4. THE LEGEND OF THE MONARCH BUTTERFLIES
Both cultures believe that monarch butterflies are dead loved ones who visit us and show their appreciation that we have not forgotten them. A presence of monarch butterflies also means that our dead loved ones are always there guiding us and looking after us.
5. A PICNIC IN THE GRAVEYARD
Spending a night at the graveyard and picnicking with the rest of the family may sound very creepy to many; but to both Filipino and Mexican cultures, picnicking and spending a night at the cemetery is a must to show our love to our dearly departed. It is the only time in the year that families gather and tell stories of the dead loved ones and how colourful or how great their lives were.
6. FOOD FOR THE DEAD
In Mexico, they have what they call "ofrendas" or an altar where the pictures of their dead loved ones are displayed and offered with flowers, candles, and their favourite food. Very similar to the Filipino culture of cooking the favourite food of our dead loved ones and everyone in the family enjoys the food for dinner.
My family tradition involves me driving all the way to Colon street and buy that famous Snow Sheen's "pancit canton". This is my granddad's favourite snack. Sadly, the old Visayan Restaurant is no longer there. My late uncle and my late grandpa love their sweet ad and sour fish. We also set up an "ofrenda" on their graveyard and eat their favourite food while picnicking in the cemetery. We do not spend a night in the cemetery; but while we are picnicking there, we usually play the songs of Pilita Corrales and Susan Fuentes that my late grandpa used to listen every afternoon while enjoying his coffee, pan de sal, and pancit canton.
What about your family traditions? Share your thoughts by commenting to this article.
MODEL: Michael Joseph Mortola Enriquez & Alexis Wingfield
PHOTOGRAPHER: Gianne Paolo Anciano
HMUA/DESIGNER: Hazel Ocaba
STYLING: GPA Lifestyle + Clothing
Catch Ted Lasso the Emmy Award Winning Comedy Series on Apple TV+
Rating: *****/ *****
The multi award–winning comedy series airing on Apple TV+ is one of my favorite shows.  Ted Lasso starring Jason Sudeikis is about a fun good-natured American football coached hired by a British soccer club (AFC Richmond in London) to become their new coach.  In spite of the fact that Ted has no experience or knowledge about British football/soccer, his positive demeanor and charm helps him overcome the animosity of the team's players, staff and fans.  Eventually Ted wins over the team and the locals as they fight for position in the English Premier League.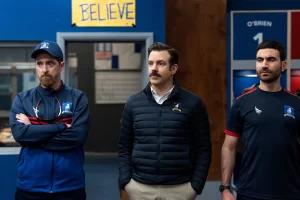 The show won the 2021 Primetime Emmy Award for Outstanding Comedy Series and 7 Emmy Awards in its 2 seasons and Season 3 is just around the corner.  You can catch Seasons 1 & 2 of Ted Lasso on Apple TV+
PANDEMIC DIARIES: Twelve Months Later
Photos taken by Pablo Quiza around Cebu City during the months of March, April and May 202
AS WE APPROACH ONE YEAR under pandemic times, we look back at March 2020 with fascination. And awe. We had 12 months of lockdown and survived the so called new normal. We lived with masks and alcohol even today. Carless roads and dark malls. Those were the early days of March, April and May.
It stretched to October and past Christmas. No Sinulog. Virtual parties on Zoom and virtual mass on You Tube and FB Live. We debated on the best meds to take if we get sick and whether to wear masks (please do!). We scampered for face shields and anti-viral sprays. Vitamins C and D and zinc. Later, we survived being swabbed and we learned the difference between a PCR and an anti-gene test. The latter cost less.
We dreaded the declarations of IATF mandated from Manila. And we got mad at the police chief who had a birthday party while his people were busy locking up everyone violating the lockdown. Most horrifying of all, we needed to produce IDs! Are you a resident of Barangay Lahug or Banilad? Are you employed and why are you still working? Everyone suffered thru endless checkpoints. Most sad of all are those using motorbikes, they seem to get the raw end of the deal since those with cars are not as scrutinized. We managed to trick the system by putting a big handwritten note in front of the car: COMPANY CAR, and zipped tru the police desks in the middle of the road. Don't even think of travelling, by plane, boat or bus. The collection of the required documents is enough for one to get exposed to Covid.
We learned to shop online, order groceries and necessities thru delivery. We slowly moved towards cashless payments. Gcash and banks like Union Bank and China Bank with friendly apps are heroes for making life easy for most of us to spend what little cash we have to spend on Lazada or pay the VECO bill. Oh and we binged on K dramas on Netflix and You Tube, kamsaminada.
As 2021 enters, there are some good news. For those obsessed with news, you already know that 7,000 vaccines arrived last March 2 in Cebu, with more expected in the next few weeks. The death rate is not as high among those who caught this pesky virus, which tells us that doctors in the hospitals have some proven expertise in dealing with Covid. More cures should be in the horizon.
Meanwhile, lets continue dreaming of the day when we can cross borders again, even if its just Bohol or Boracay, Bangkok or Hong Kong. Ready those luggages and bags bought during the 3/3 sale in Shopee in preparation for the day when we can take the ferry or the plane for new adventures.