10 Things to Do When You're Single on Valentine's
While scrolling through Facebook last night, I came across a photo of a heart-shaped arch on fire outside a mall. A bit more snooping revealed it was a decorative installation at the SM City Cebu entrance across APM, and it looked like someone set it on fire.
Now, that might seem like extreme bitterness, but that's the sort of outburst that people have come to expect from singles on Valentine's Day. It's one of the few days in the year that seems to shine the spotlight on your "singleness," and it's easy to get caught up in the loneliness, envy and anger at the sight of another woman carrying a bouquet of flowers.
Here's some news for you: flowers wilt. I'm not saying their relationships will too–but just like how the Valentine gifts everyone received will soon lose its luster, this day will be over. By tomorrow, people will go back to complaining about their significant others, and you can go back to saying you're happily single–and actually have the conviction to make it sound convincing.
In the meantime, suck it up and stick it out. Here's a few tips on how:
1. Have a big group lunch with your other unattached friends. There's safety in numbers, and when you're with a group of people, you're less likely to throw food at a couple who spent the last 30 minutes gushing about how perfect they are together. Also, if none of your friends are single, go outside your usual circle and invite acquaintances who are. The failure to hang out with new people might be the reason you're still single.
2. Buy yourself something nice. No other time does the Miss Independent thing come in handy. Whatever it is, though, make sure it's something you really want. That way, when you feel sad that you had to get it for yourself, you'll look at that new bright orange Zara shift dress and think, "who cares? It's mine and I love it!"
3. Give your mother flowers. Whether she's to blame for your commitment issues or she's selling you off to her friends because she wants grandchildren NOW, no one in the world loves you like your mother does. Appreciate that.
4. Keep moving. Go for a run, take a yoga lesson, finally say yes to that friend who's constantly filling your Facebook timeline with motivational posters convincing you to try Crossfit. To loosely quote Elle Woods: exercise gives you endorphins, endorphins make you happy, and happy people don't kill the couple making PDA in the corner of the cafe.
5. Marathon. I don't mean the running kind, I mean the TV one. Binge-watch your favorite shows to catch up on the latest season, or finally start watching the ones you've been wanting to see. A season of 24 episodes at 45 minutes each totals to 18 hours–that's your entire day gone already. Then you can freak out about how you've completely wasted the day and yet all you can think about is starting on the next season–but that's a whole other issue.
6. Pour yourself a glass of red wine. Whatever it is about a bottle of Merlot, a good red is the perfect drink to calm you down. You don't need the drunken energy Margaritas or vodka is going to give you today–a glass of red is gonna get you to relax. Then one glass is going to turn into four, and you're going to be all "Valen-WHUT? I'm fine!" before sobbing. Just kidding! Or maybe not, we won't judge you.
7. Tinder binge. I think the whole appeal to Tinder is feeling in control of the dating scene, which is, of course, such an illusion because that's one of the most unpredictable experiences in life. But there's something therapeutic about swiping left, left, left, ooh right, ew left, left, left, left, left. Also, there's also the slightest chance you could meet someone who's not a total psycho. (We'll admit, though, that's the tiniest chance, and what you're probably gonna get is an indecent invitation and a request for nude pics at 10 in the morning.)
8. Have dessert. Nothing in life is too bad that chocolate can't make better. Nothing.
9. Go on a blind date. If you've been single for a while, you probably have a ton of friends who are dying to set you up with their cousin, colleague or distant acquaintance. Let them. It might put some pressure on the whole thing, having your first date on V-day, but what the hell? If you really want to feel like you're part of the holiday, then do it. (Of course, there's the possibility that your friends have given up on you a long time ago because you're too picky/you have weird taste in men/you're actually bats**t crazy. If that's the case, I know that feels and we should be friends.)
10. Wallow. If you're feeling beyond depressed about having to spend today alone again, then go ahead and mope. Eat your ice cream, listen to Lana Del Rey's disenchanted melodies all day, and schedule a sobbing phone call to your best friend for later in the day in which you cry, "what's wrong with me?" Nothing is, by the way. We're only human, and emotions like that are better let out than kept in. That's how you keep yourself from burning down a heart-shaped arch at the mall.
by Shari Quimbo
LONDON IN FULL BLOOM: An Exclusive Look at the recent Chelsea Flower Show
The Chelsea Flower Show in London, one of the most prestigious horticultural events in the world, returned in full glory in May 2023, captivating visitors with its stunning displays and landscape designs. Held annually on the grounds of the Royal Hospital Chelsea in London, this year's show proved to be a true feast for the senses, showcasing an array of breathtaking gardens, vibrant floral arrangements, and innovative landscaping. The 3-day event showcased 36 outdoor gardens, including four balcony gardens for small spaces. Inside the giant pavilion, blooms compete with each other, exotic flowers, roses, and many more.
The 2023 Chelsea Flower Show embraced a Nature's Harmony theme, with a strong focus on sustainability and mental health. The show's organizers emphasized the importance of sustainable gardening practices and biodiversity conservation, inspiring attendees to create beautiful outdoor spaces while preserving and protecting the environment.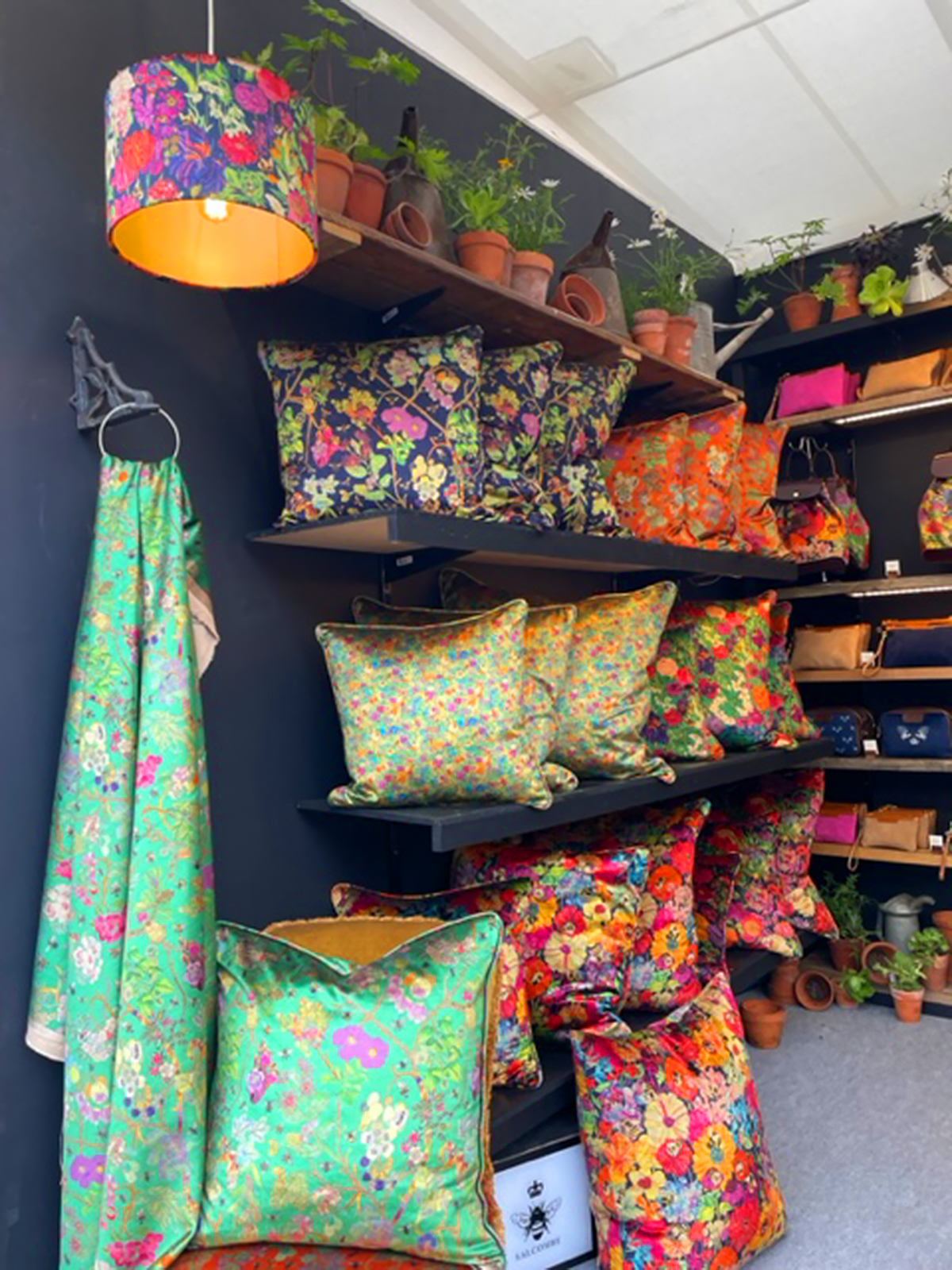 What's Cebu got to do with the Chelsea Flower Show in London? One person. James Doran Webb (https://www.jamesdoranwebb.co.uk), an Englishman working with driftwood, has been displaying his artworks for several years. James collects cast-off driftwood and shapes them into beautiful animal shapes that find places in some of the most iconic gardens. Leaping horses, owls, reindeer, and the occasional dragon, James Webb's creations are avidly collected by landscapers to add accent to gardens in all sizes, using cast-off wood, fitting perfectly with the sustainable element—something Mr. Webb has done quite well for the last decade.
***
The Philippine International Flower Festival will be held at the PICC in Manila from January 14 to 18, 2024. Watch out for more info from our website!