The top 10 things to do in South Korea during summer
Summer in South Korea is severely underrated. Most people who plan on traveling there usually aim for the seasons of autumn, winter and spring to experience the best of the Land of the Morning Calm—all with perfectly good reasons, of course. But South Korea is equally beautiful in the light of the summer, and having a clear day for a backdrop often results in gorgeous Instragram-worthy snapshots.
Satisfy your wandering Seoul with Zee Lifestyle's guide to South Korea.
BASIC INFORMATION
South Korea is a country located in East Asia. Its capital and largest city is Seoul. It is approximately a five-hour flight from the Philippines, and is also one hour ahead in terms of timezone (UTC+9). Their currency is the South Korean won, with a currency exchange of roughly PHP 1 = KRW 23 (as of press time). They have four seasons, with summer running from May to September, autumn from September to November, winter from November to March, and spring from March to May.
Going to South Korea requires a visa for Philippine passport holders, which is easily obtainable from the Korean embassy, located on the 12th floor of the Chinabank Corporate Center in Cebu Business Park. Processing time is five days, and fees are gratis for a stay of 59 days or less.
Philippines AirAsia flies direct to Incheon, South Korea from Mactan, Cebu every day. They also have flights to Incheon from Manila and Kalibo, as well as to Busan from Kalibo. For bookings, visit airasia.com.
THE TOP 10 THINGS TO DO IN KOREA DURING SUMMER
1. Explore Incheon International Airport
Okay, so we'd actually rather save this for the last day of the trip while you wait to board your flight, but Incheon International Airport is a destination in itself when you're in South Korea. It's one of the world's best airports for good reason: There's an abundance of amenities, from duty-free shopping and top-notch dining establishments, to sleeping and shower areas and cultural shows. You'd find you wouldn't really mind long layovers or delayed flights.
INCHEON INTERNATIONAL AIRPORT
272 Gonghang-ro, Jung-gu, Incheon, South Korea
2. Don a hanbok and stroll through Gyeongbokgung Palace and Bukchon Hanok Village
South Korea is a highly urbanized and modern city, yet you can still get glimpses of history and culture here and there. Gyeongbokgung Palace is the largest of Korea's Five Palaces and was home to the Royal Family back in the Joseon Dynasty, while the Bukchon Hanok Village is a quaint neighborhood of traditional Korean homes known as hanok. Rent a colorful hanbok (traditional costume) to get the most likes on your social media posts. Plus: Entrance to the Palaces is free when you're in costume.
GYEONGBOKGUNG PALACE
161 Sajik-ro, Jongno-gu, Seoul, South Korea
BUKCHON HANOK VILLAGE
Gye-dong, Jongno-gu, Seoul, South Korea
3. Dip your toes into the cool waters of the Cheonggyecheon Stream
The Cheonggyecheon Stream, which runs throughout downtown Seoul, is the perfect example of urbanization coordinating with nature. This waterway was neglected for years, until the government pursued efforts to restore it in the early 2000s. Today, it's one of the most popular public parks where people can sit by the river and even dip their toes into the cool waters pumped from the Han River.
CHEONGGYECHEON STREAM
Cheonggyecheon-ro, Jongno-gu, Seoul, South Korea
4. Have samgyetang in Nam Chon Ok
Samgyetang is chicken ginseng soup that's quite popular during summer. This specialty is basically a whole young chicken stuffed with rice, and is also surrounded with noodles. Pro tip: Make sure you're REALLY hungry so you can finish off this dish.
NAM CHON OK
20 Gwang-hi-dong, Jung-gu, Seoul, South Korea
5. Get a lot of skincare and makeup freebies at Myeongdong
Even though you haven't been bitten by the K-pop craze, even you'd have to admit that Korean skincare is amazing. Myeongdong is a street where you can find popular beauty brands one stall after another, from Etude House to Tony Moly, Innisfree, Missha and Nature Republic. Not only do these stores sell their products at great deals, but they'd throw in a lot (and we mean a lot) of goodies on your way out—or heck, even if you just browse through their selections.
MYEONGDONG STREET
Jung-gu, Seoul, South Korea
6. Admire the neofuturistic architecture at the Dongdaemun Design Plaza
Largely contributing to Korea's honorific as the World's Design Capital is the Dongdaemun Design Plaza, a massive and sprawling structure with almost-impossible curves and striking lines designed by Iraqi-British architect Zaha Hadid in collaboration with Korean studio Samoo. We challenge you to find the perfect angles for your Instagram shots.
DONGDAEMUN DESIGN PLAZA
281 Eulji-ro, Jung-gu, Seoul, South Korea
7. Get a good night's rest at the T-Mark Grand Hotel
Of course, you can't just zoom past all the sights without having decent sleep. But just because you're off to dreamland doesn't mean you should stop experiencing the best of what Korea has to offer. The T-Mark Grand Hotel, one of the city's newest hotels, is highly recommended. Besides offering all the amenities you would ever need, it's also right across the Nandaemun Market and just a short walking distance to Myeongdong.
T-MARK GRAND HOTEL MYEONGDONG
52 Toegye-ro, Jung-gu, Seoul, South Korea | website
8. Indulge in banana milk in one of Korea's many convenience stores
If banana milk isn't Korea's national drink, then we don't know what is. The drink, which comes in cute plastic bottles, makes for the perfect refreshment in between all the sightseeing. It's also filling enough to stave off hunger pangs when necessary. Should you wish to bring some home, we recommend buying them at the airport after checking in.
9. Seal your love at N-Seoul Tower
Following Paris' lead, several countries now have their own versions of lovelocks, in which couples proclaim your love with a special padlock to signal everlasting togetherness. In South Korea, you can seal your love at the N-Seoul Tower, which also has love benches bent into a curve right in the middle, designed to bring two people together.
N-SEOUL TOWER
105 Namsangongwon-gil, Yongsan-gu, Seoul, South Korea
10. Shop 'til you drop at Insadong Antique Alley and Namdaemun Market
No trip anywhere is complete without shopping. If you haven't had your fill from Myeongdong, Insadong Antique Alley has a lot of interesting and unique trinkets to bring back for your loved ones. For even greater sales, especially on bags and shoes, Namdaemun Market is where it's at.
INSADONG ANTIQUE ALLEY
29 Insadong-gil, Jongno-gu, Seoul, South Korea
NAMDAEMUN MARKET
21 Namdaemunsijang 4-gil, Jung-gu, Seoul, South Korea
text and photos by Patty Taboada
For Our Next Travel Destination, We Dream About Koh Samui in Thailand
Silent Sanctuaries
Mayenne Carmona discovers the Four Seasons Resort in Koh Samui is a quiet oasis to recharge and rejuvenate…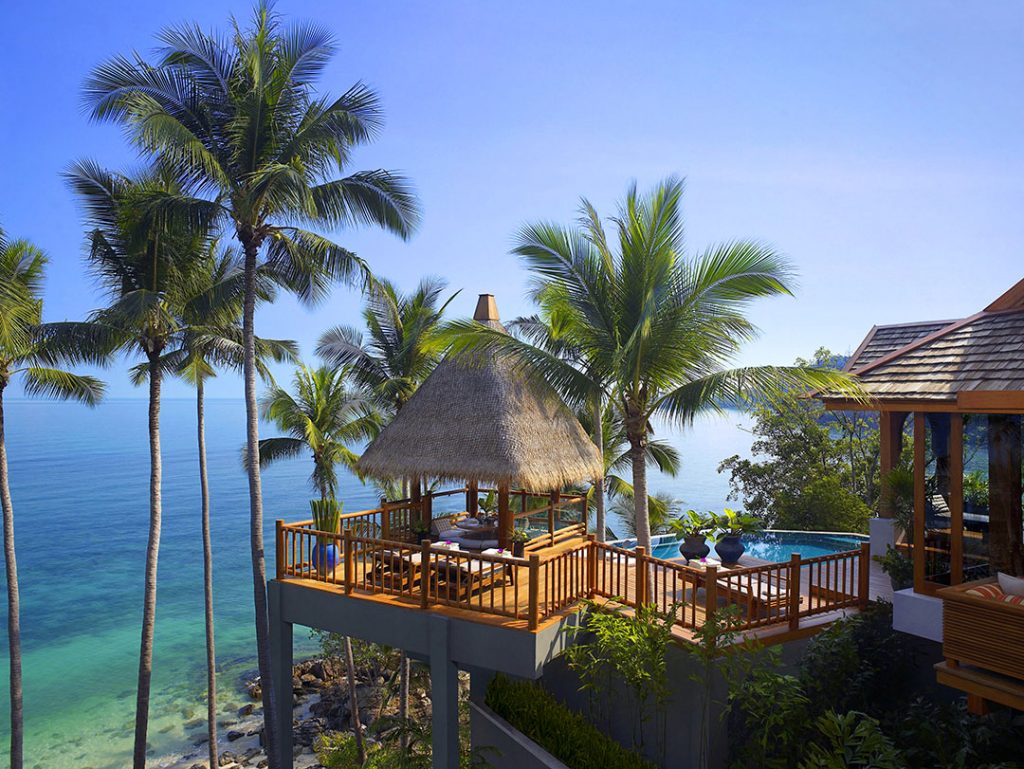 What does one expect from a Four Seasons Resort? Everything! Firstly, it will definitely be ranked no less than a five-star hotel or resort. Most importantly, it would not fall short of all your expectations: excellent cuisine, topnotch comfort at your fingertips in a well-appointed villa, courteous staff who offer impeccable service, and every other detail you could possibly need—down to the last cotton bud. After all, a Four Seasons Resort is always designed by a top-rated architectural team and interior designers.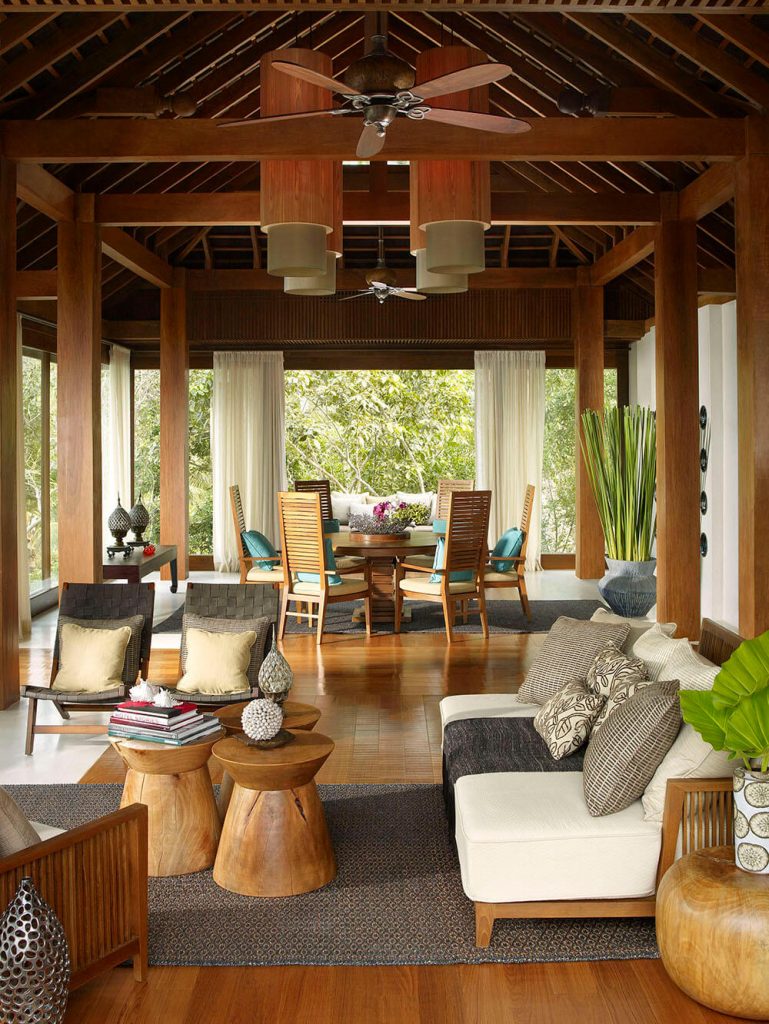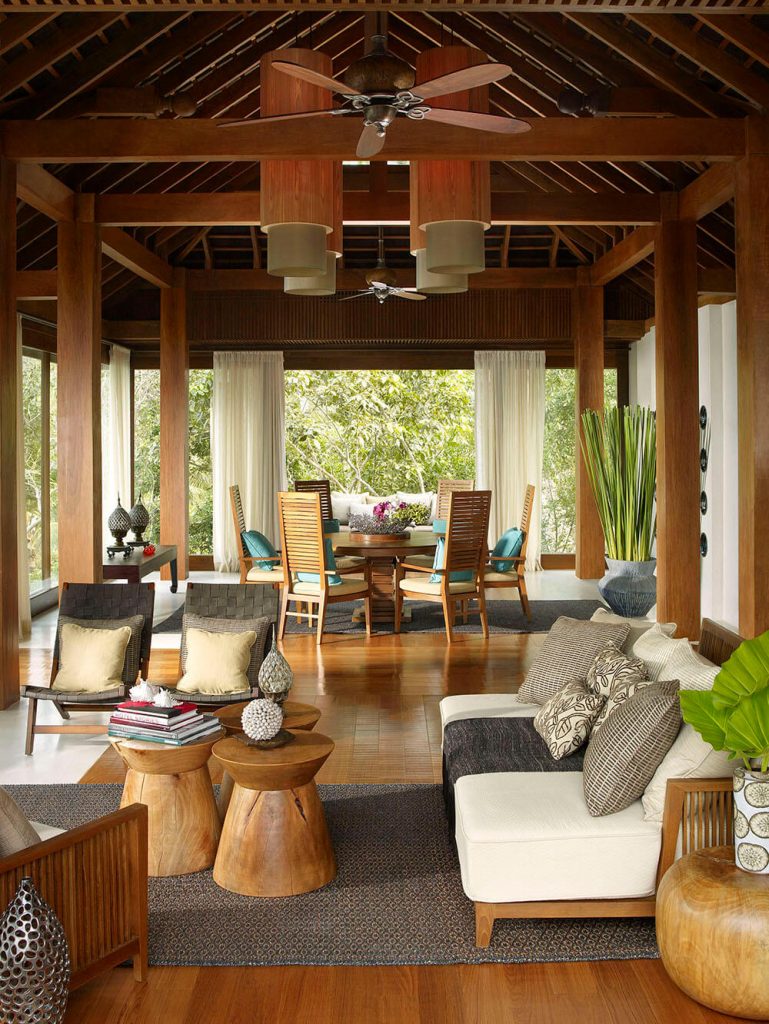 The moment I stepped into the Four Seasons Resort at Koh Samui, I felt all my cares washed away by the soft waves of the bluest sea. The fresh air cleared my sinuses in no time, and the gentle breeze was a much needed caress to a tired mind and body. It was truly paradise regained for me and my friends. We were a motley group of career-oriented people who needed a much-awaited break from work, and this was the perfect choice for us.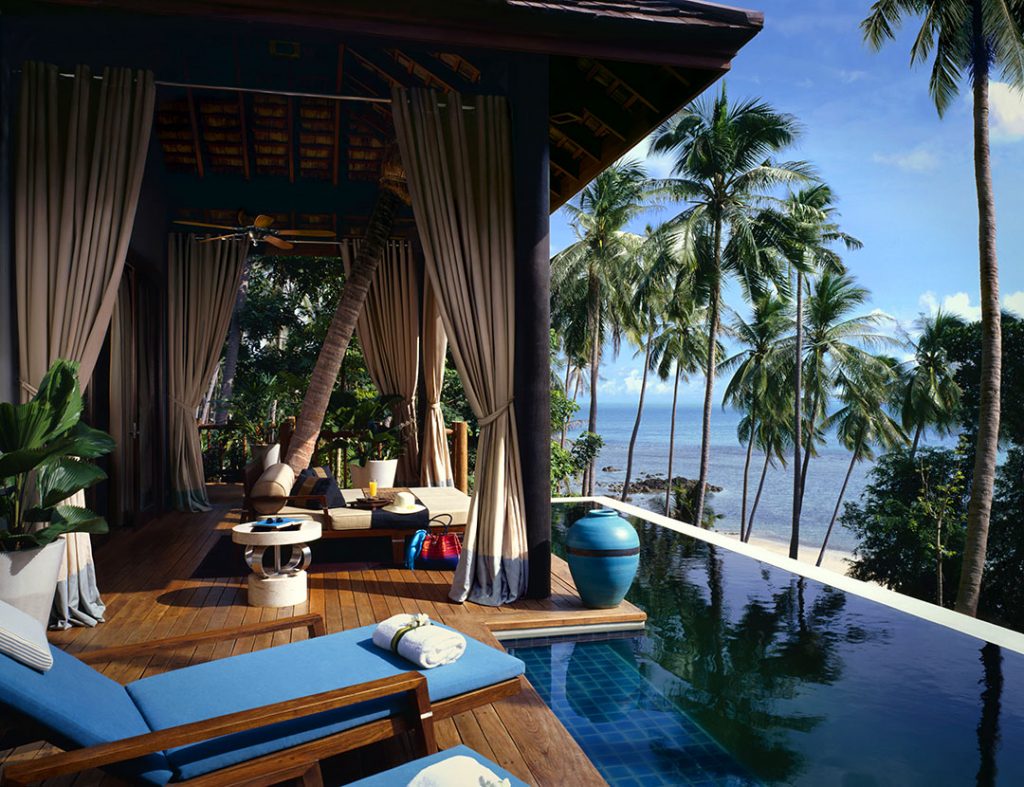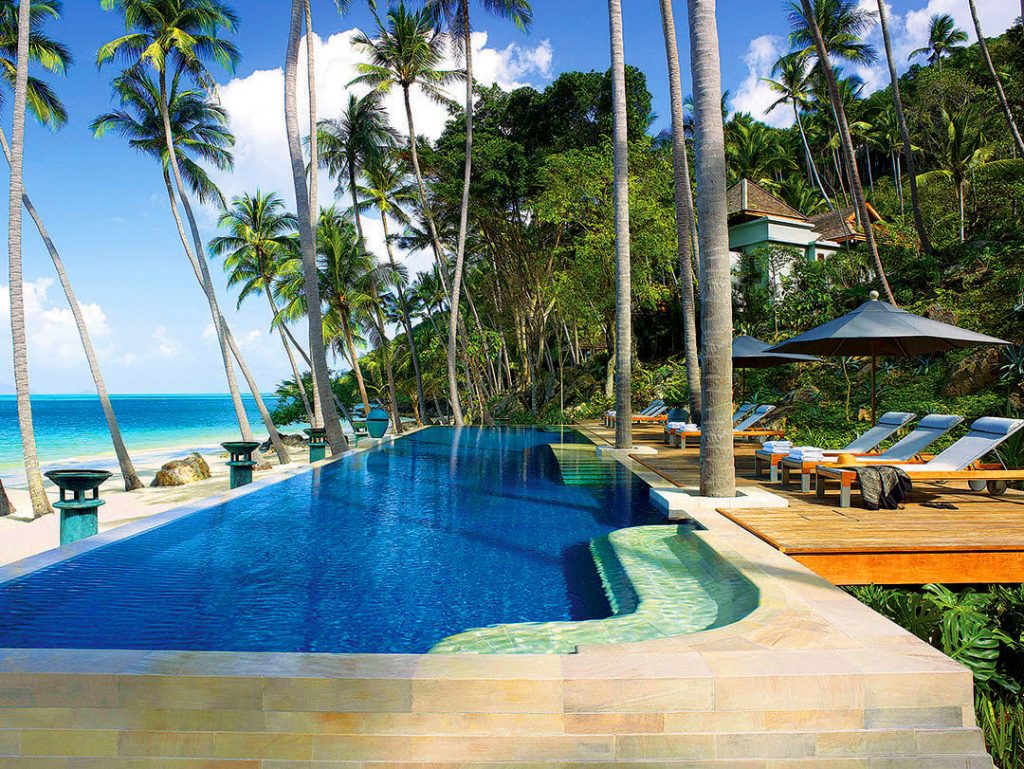 Each Villa has a butler to cater to the guests' every whim. The afternoon we arrived, we requested a sunset dinner by the beach, and much like a genie, our butler whipped up a romantically set candlelit dinner for six. A five-course delicious Thai dinner was prepared by their well-trained chef.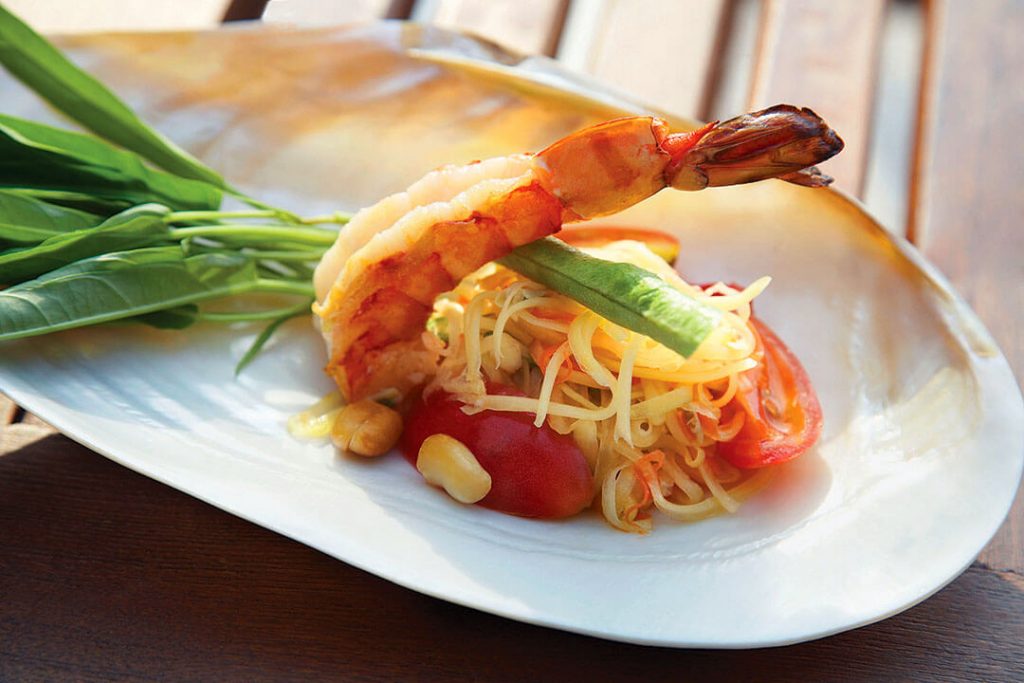 Our days were spent languishing by the beach, having daily massages, attending yoga classes, doing water sports and enjoying every bite of Thai cuisine. Golf carts transported us wherever we wanted to go within the resort. This vacation brought all my senses to another realm, and restored a weary soul to perfection.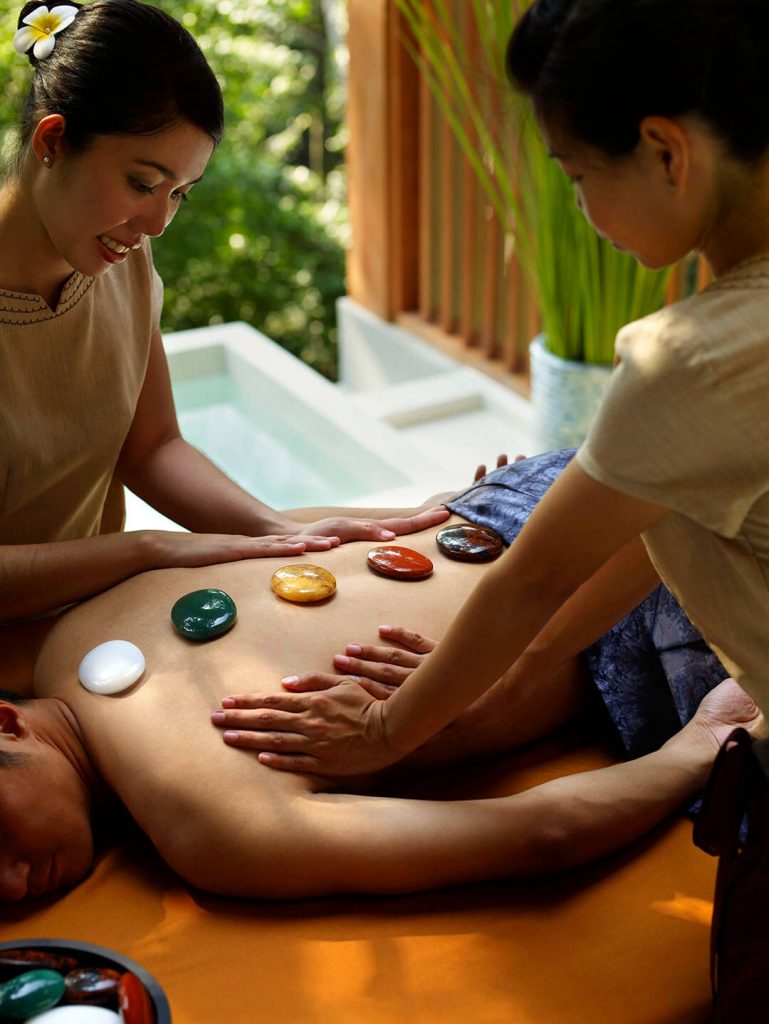 Four Seasons Koh Samui, I look forward to seeing you again!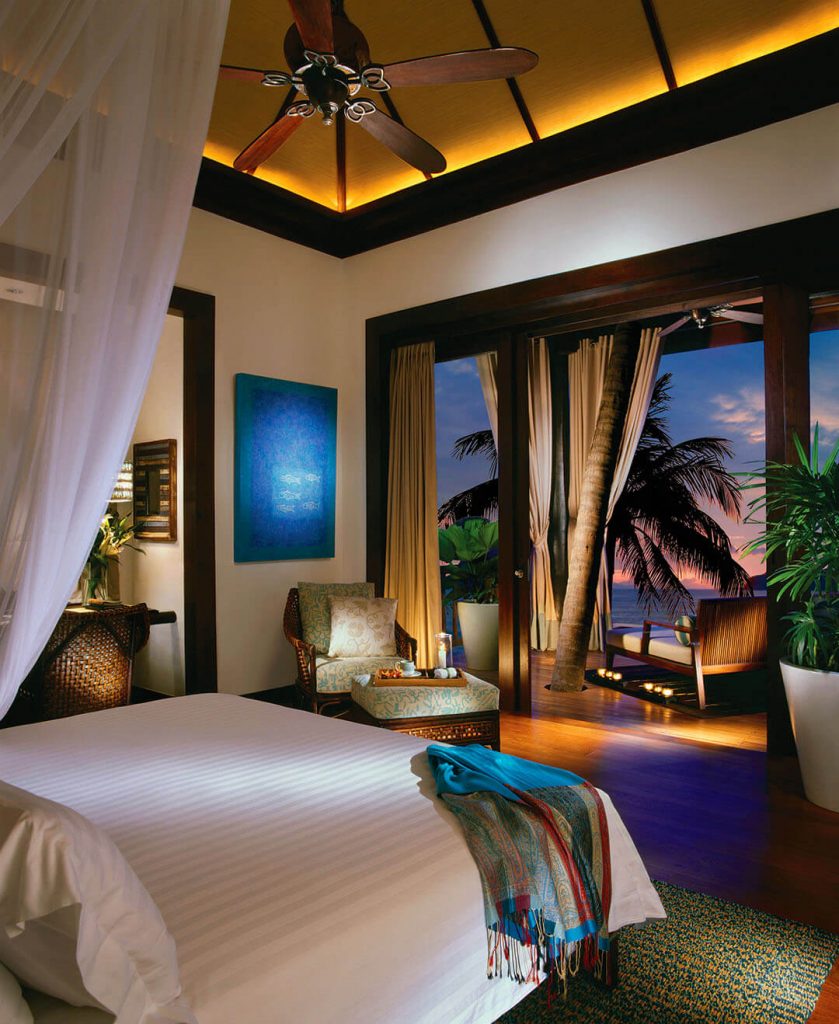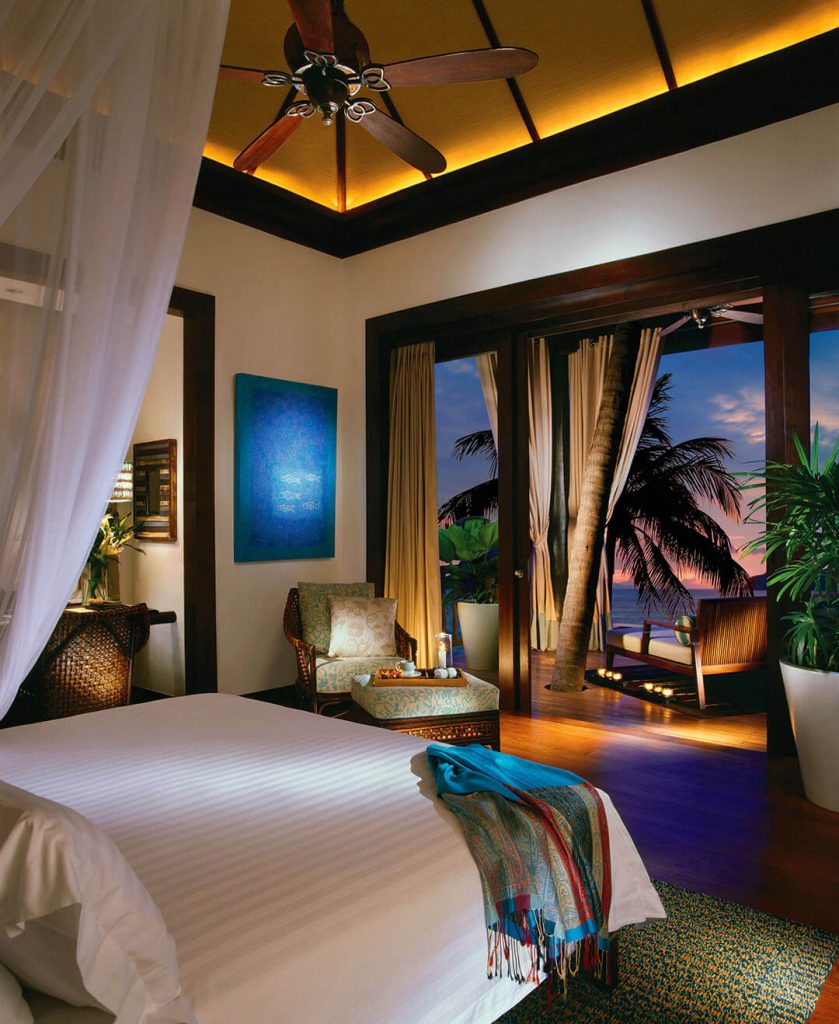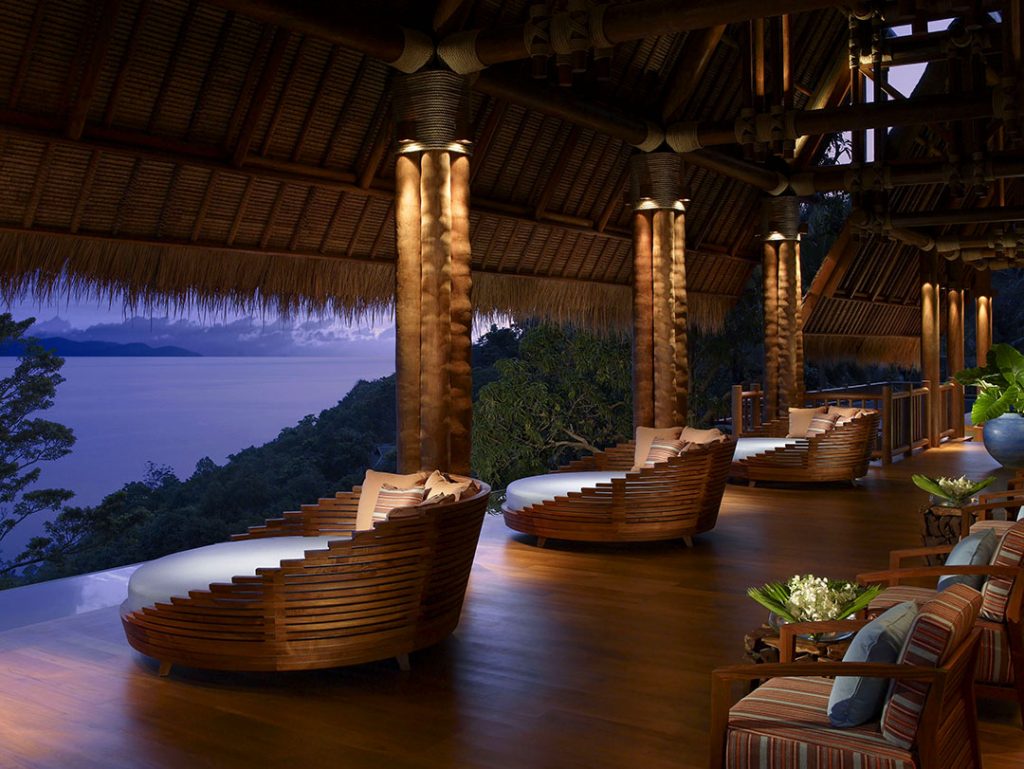 Koh Samui is the third largest island of Thailand in the scenic Gulf of Siam. It is a 45 minute flight from Bangkok. Sandy beaches, coral reefs, coconut trees and abundant tourist resources make it a popular holiday destination.
For more information on Four Seasons Resort, visit their website at https://www.fourseasons.com/kohsamui/
(This article has already been published in Zee Lifestyle's March 2016 Travel Issue, "Silent Sanctuaries" written by our columnist Mayenne Carmona for La Vie En Rose on pages 32-33.)
Get Lost in this Not-so-distant Island Safari Paradise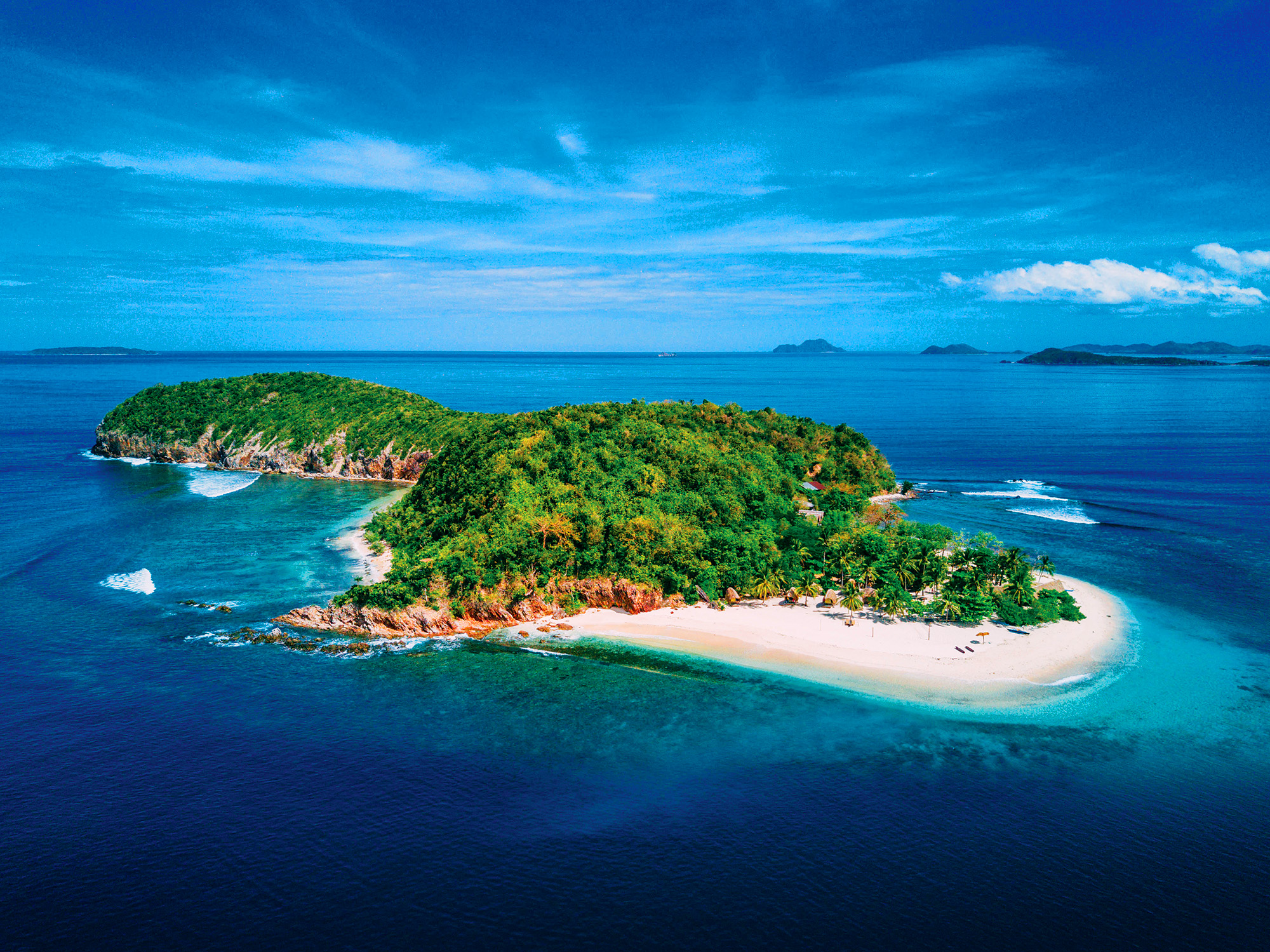 LOST IN PARADISE
Tao Philippines Crusoe-style deserted island camp paradise is perfect for those who understand the luxury of simplicity and disconnection.
by Melo E. Esguerra photography by Scott Sporleder
Just when you think Palawan is fast becoming a second Boracay, where congestion of concrete buildings and human bodies have begun to define the island experience more than the pristine beaches of white powdery sand, the Lostboys of Tao Philippines came up with a new island project that guarantees an escape to paradise. They call the island Camp Ngey Ngey.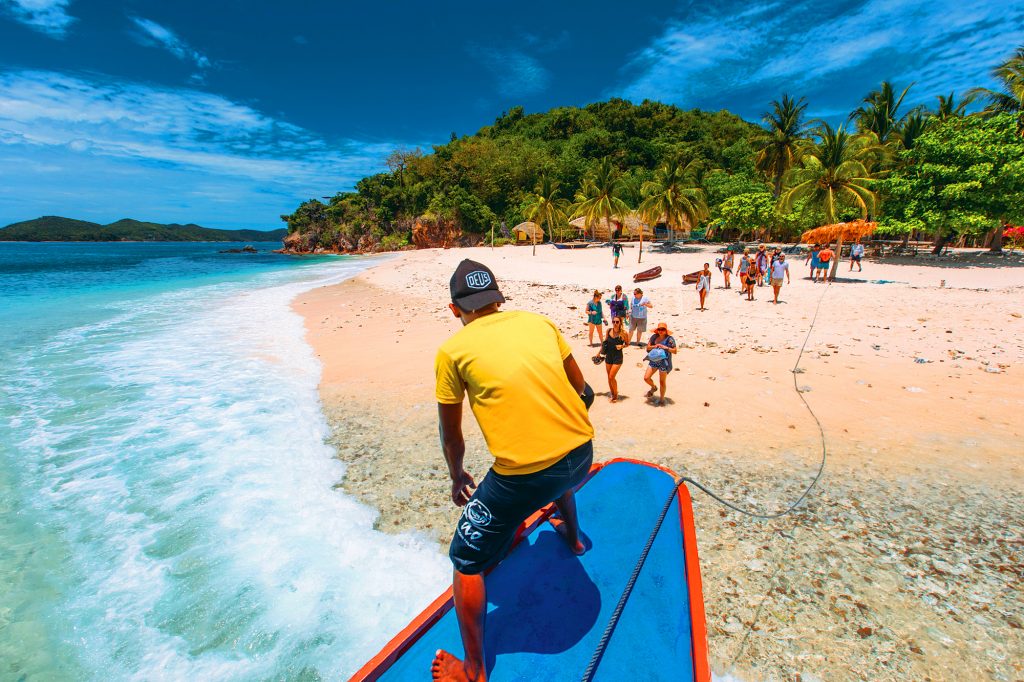 The Lostboys have taken over the abandoned resort of Manguengey in Busuanga, a remote island in Palawan. They have kept the ruins from the typhoon and built their signature bamboo Tuka huts around the main beach of the island, which serves as the camp area. Just a short walk away you'll find jungle trails that lead to three other wild beaches, preserved reefs and windswept cliffs encompassed by crystal blue waters. And on certain days, when the winds are strong, one side of the island becomes a good site for surfing.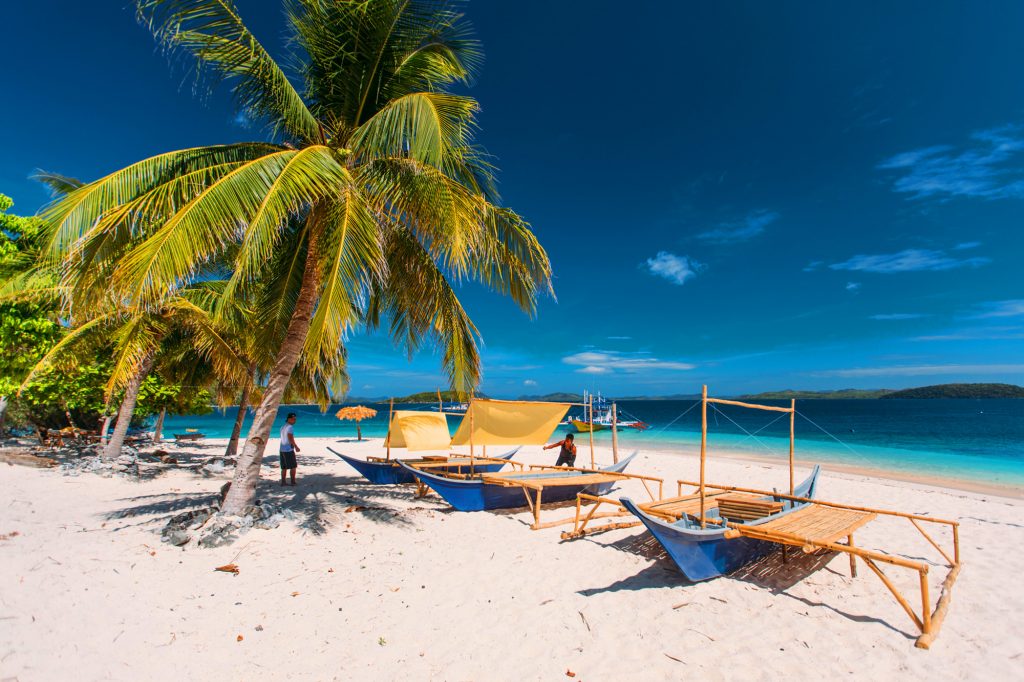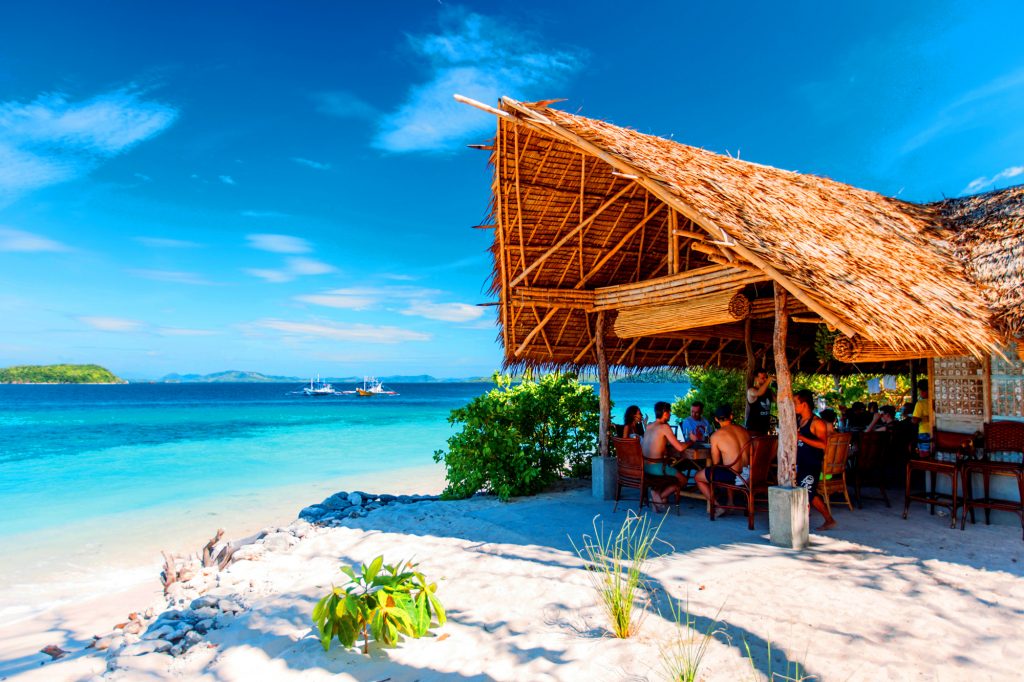 Eddie Brock, one of the founders of Tao Philippines, explains how this concept of an island safari came about. "When we took over Manguengey Resort, we were stuck with the idea of how to run it. We do not know how to cater to resort guests, the individual choices and needs, and menus," he admits. "Tao's expertise is to show travelers something new, something more raw and adventurous. We decided that we will not worry about things we don't understand, and stick to what we do best. One of the best aspects of a Tao trip is creating an atmosphere of connecting with other travelers, disconnected from digital clot—without the worry of planning, wallets and keeping a status. Five days out in the remoteness with the islanders in control leads to a positive attitude: guards down, inhibition is off and open to meet new friends."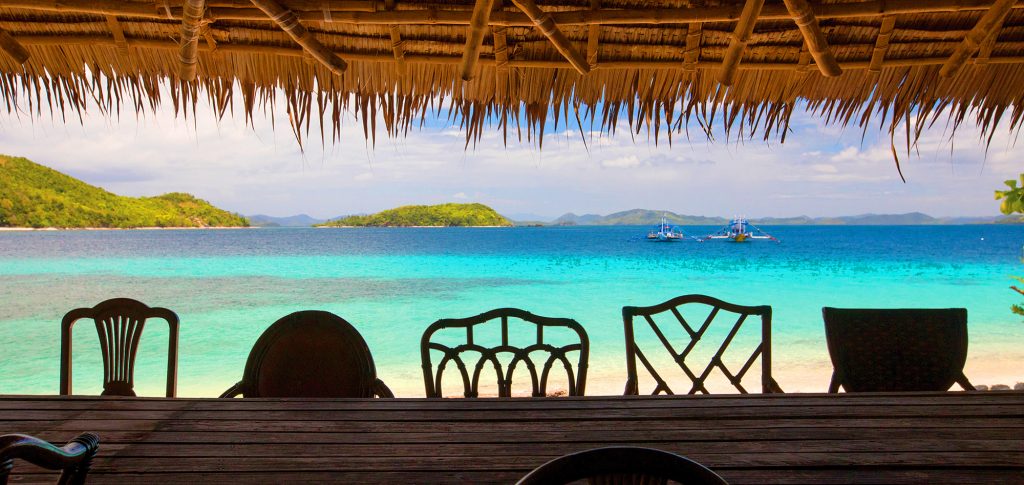 The camp is accessible through the three day/two night boat safari from Coron, with beach and reef stops en route the camp and back. Guests will be joining other travelers, staying in individual Tuka huts dotted along the beach. There are lounges, a dining and kitchen area, and open hang-out places. Currently, the big mansion from the old resort is being restored into a villa that can accommodate a family or group of friends.
The island can be reserved for big events like weddings, parties and other meaningful gatherings.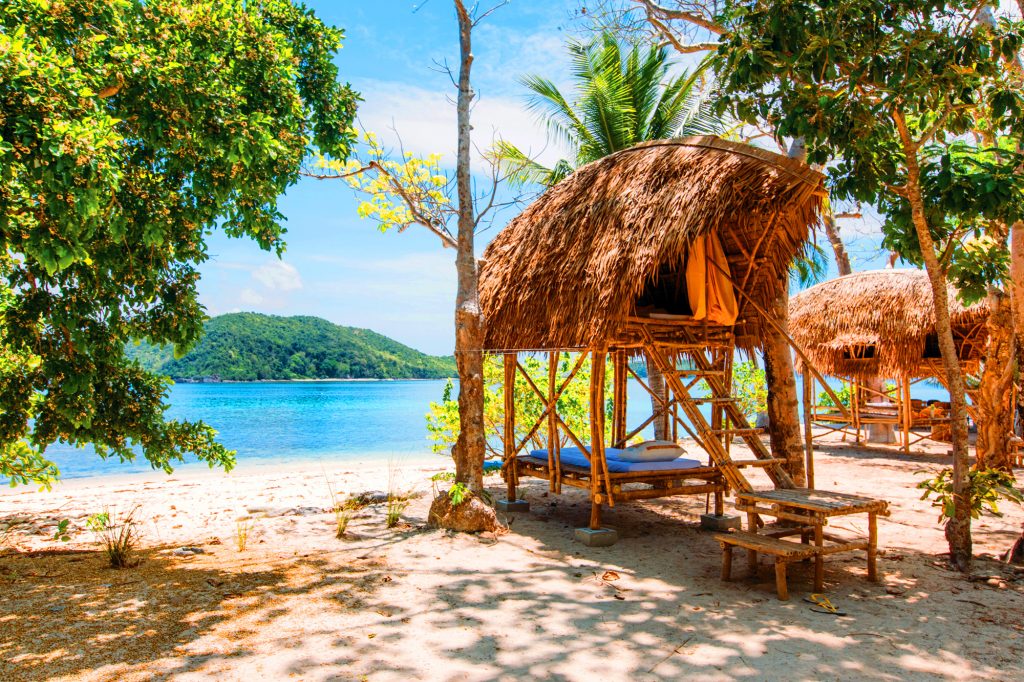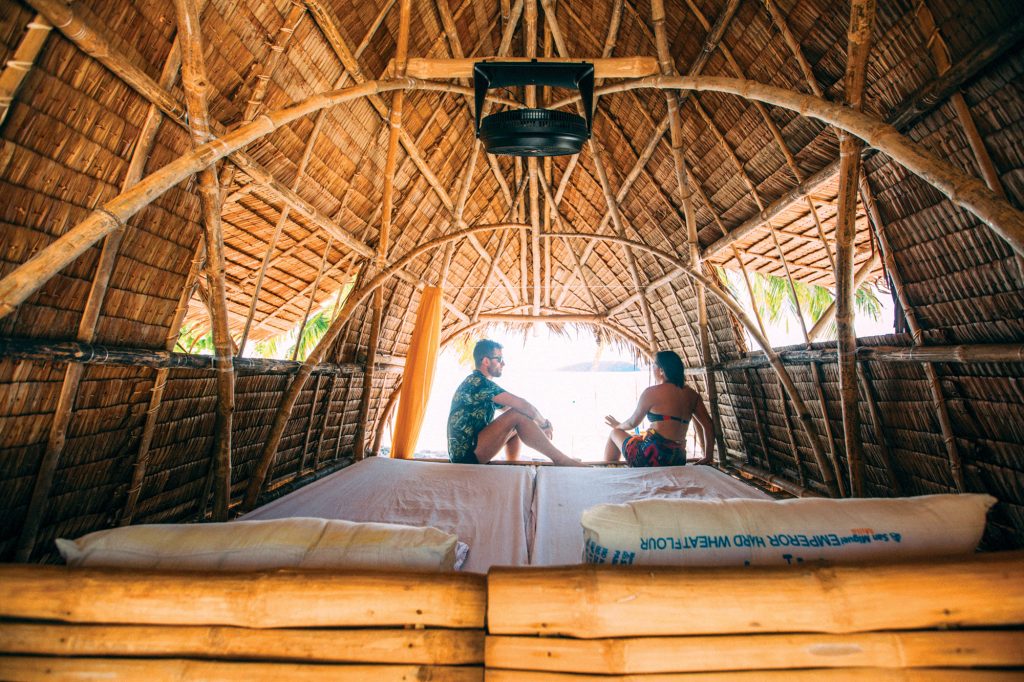 In the island, there is no room service, no menus, no WiFi. You will arrive as strangers, you will eat together, swim together, laugh together, drink together, and get to know each other offline. Become part of the magic of Tao, and see what happens!
For more information on how the trip to Camp Ngey Ngey works, log on to www.taophilippines.com
(This article has already been published in Zee Lifestyle's June 2017 Men's Issue, "Lost in Paradise" on pages 110-113.)
THROWBACK THURSDAY. Our Stylish Voyage on a Boat with Loida and Richard
FOR SAIL
With hosts Loida Montesclaros and Richard Forteau, we take entertaining to the high seas.
by Shari Quimbo photography Steffen Billhardt
The sky was decidedly gloomy on the Sunday afternoon Loida Montesclaros and Richard Forteau invited a small group of us for a sail, the clouds getting darker as I make my way to Porter's Marina, where the Blue Planet was docked.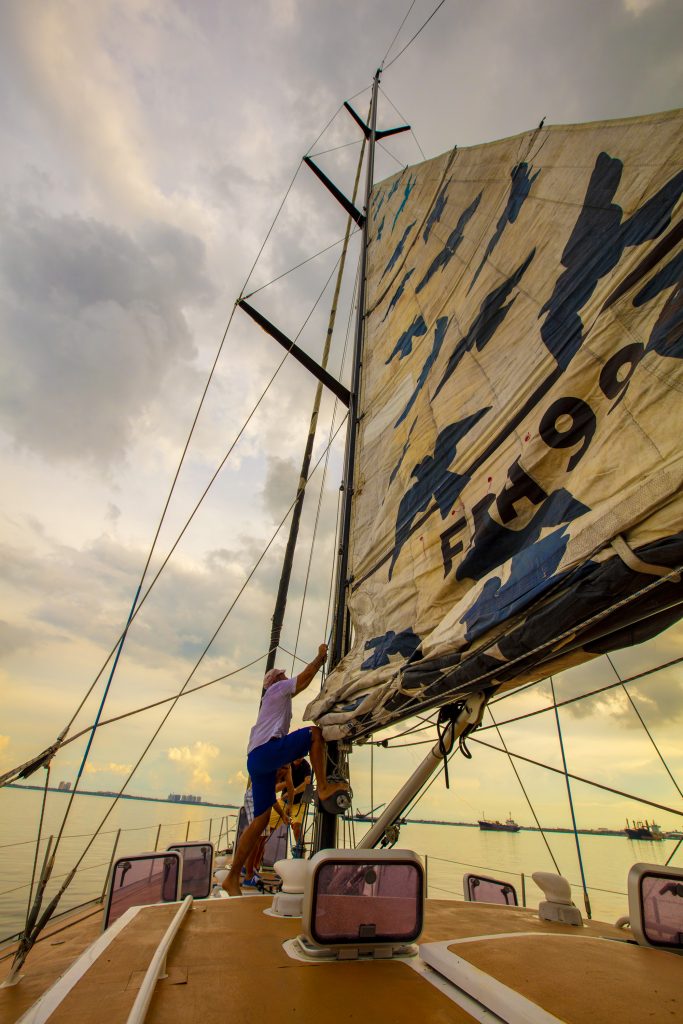 "Richard built the boat himself in Cebu," Loida explains, going on to share that he was the former honorary French consul in Cebu. "It was built here, and I designed the interiors."
All that work certainly paid off—Loida and Richard would often sail the boat out to different Philippine destinations such as El Nido, Siargao, Boracay and the Gigantes Islands in Iloilo. These could mean days-long journeys that sometimes meant dealing with some rough seas. Quick day trips, much like the one we were about to embark on, were also a regular past time.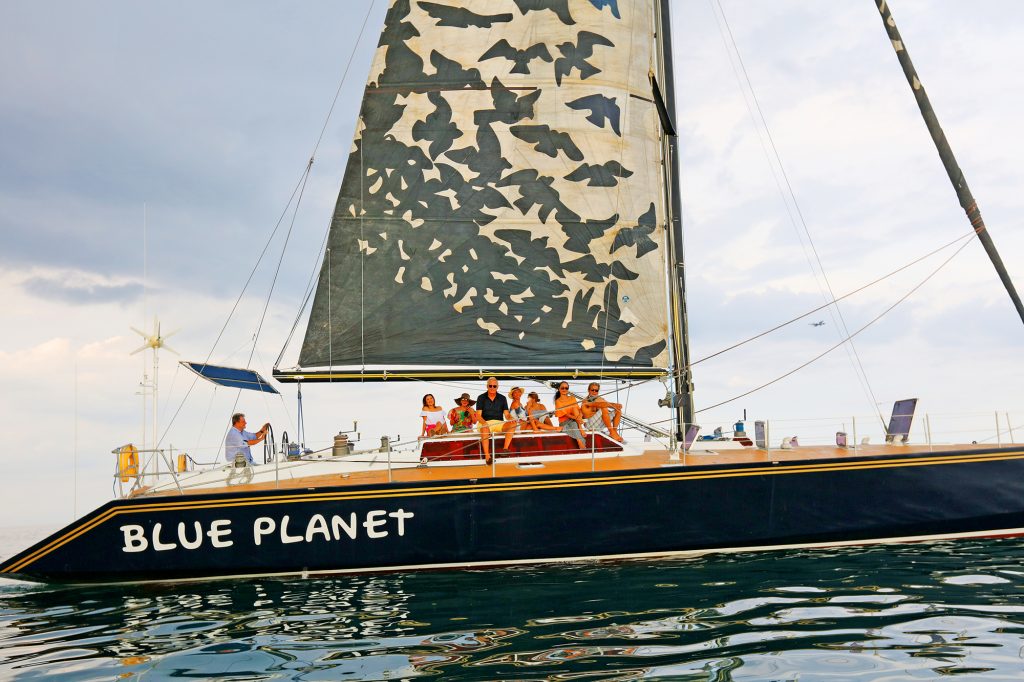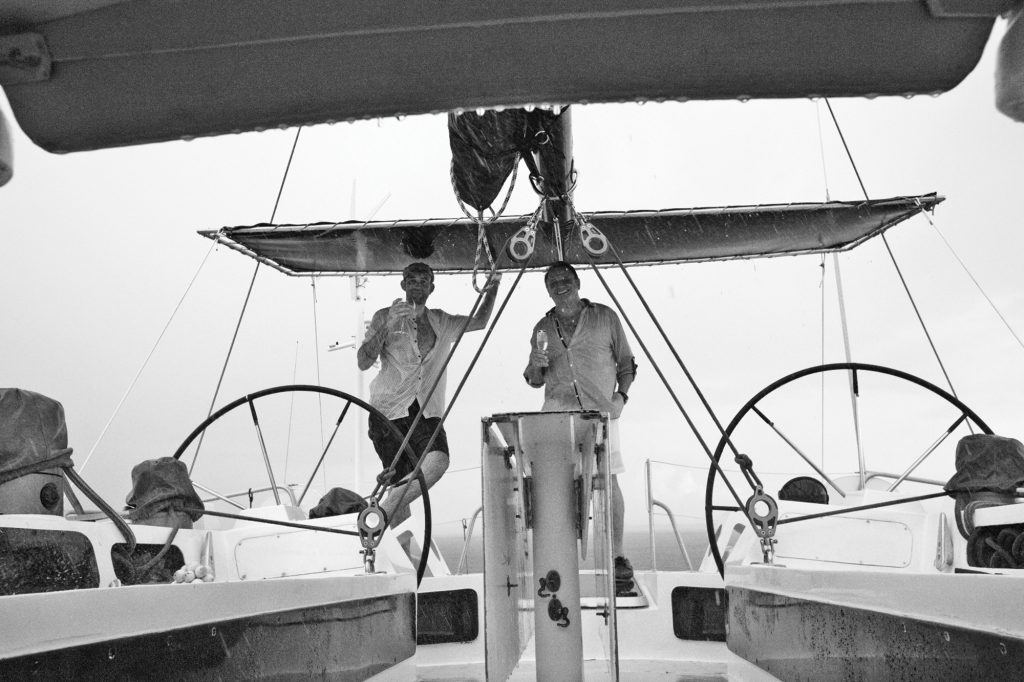 Loida gives me a quick tour of the boat then shows off her tropical spread. With its bright blue and white floral seating, the cabin's dining area is already a pretty festive site. "I wanted to keep it simple," she tells me, arranging her fresh fruits around on the banana leaf-covered wooden slabs she was using as serving trays. "And I wanted it to look more local, more tropical. We are on the water, after all."
The bamboo slats of the dining table were the perfect backdrop to Loida's spread, which featured tropical fruits alongside an entire roll of lechon belly, fresh lumpia, empanada and steamed shrimp.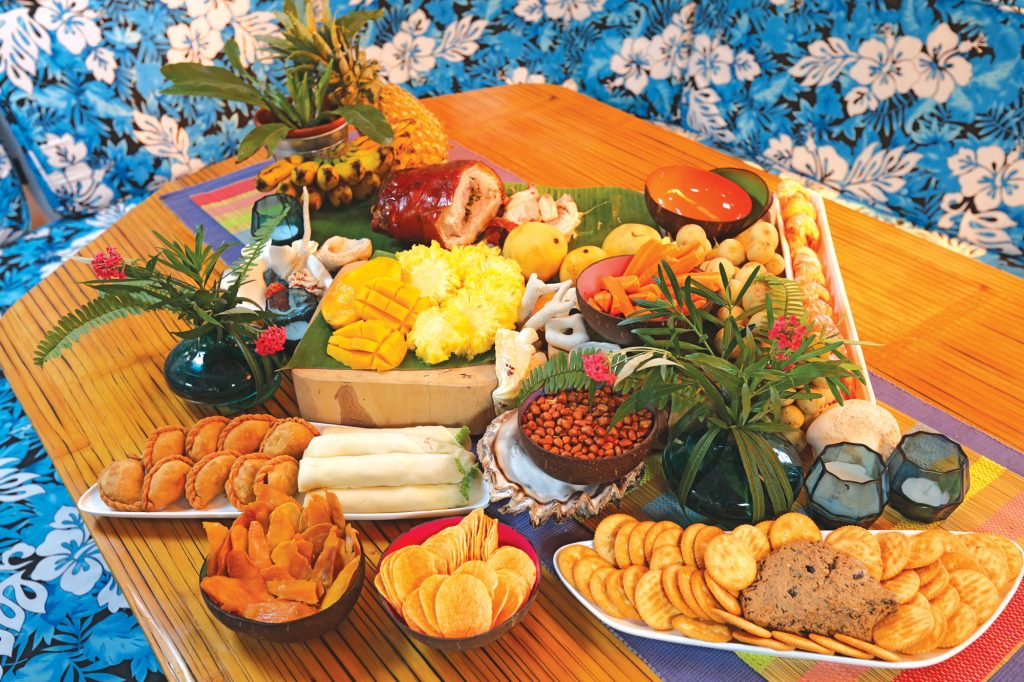 The highlight of the table, though, was the chicken liver pate, a dish that Richard makes himself. "Luckily, the French love to cook," Loida jokes conspiratorially.
Finally, it was time to take the vessel out onto the high seas, and the group makes its way above deck to enjoy the view. The cool sea breeze was a bit stronger than usual, something that had to do with the dark rain clouds looming above us—something that would have deterred any other group, but not this adventurous bunch. Armed with a glass of champagne in one hand and a biscuit smeared with pate on the other, many stand against the railing, admiring the sight of the sky turning orange above the Mactan Channel.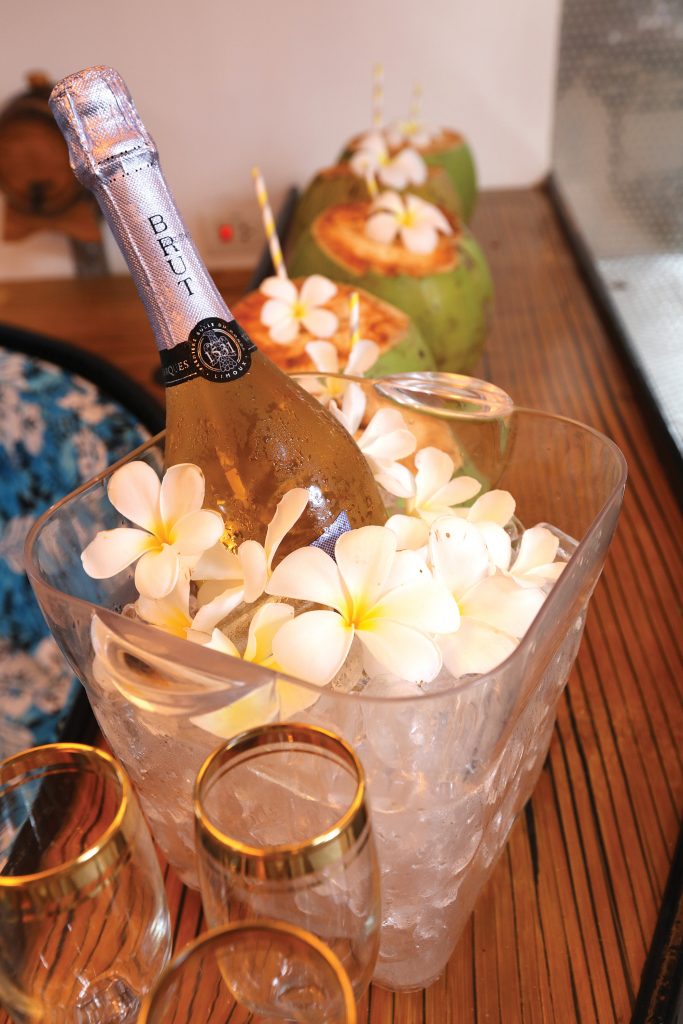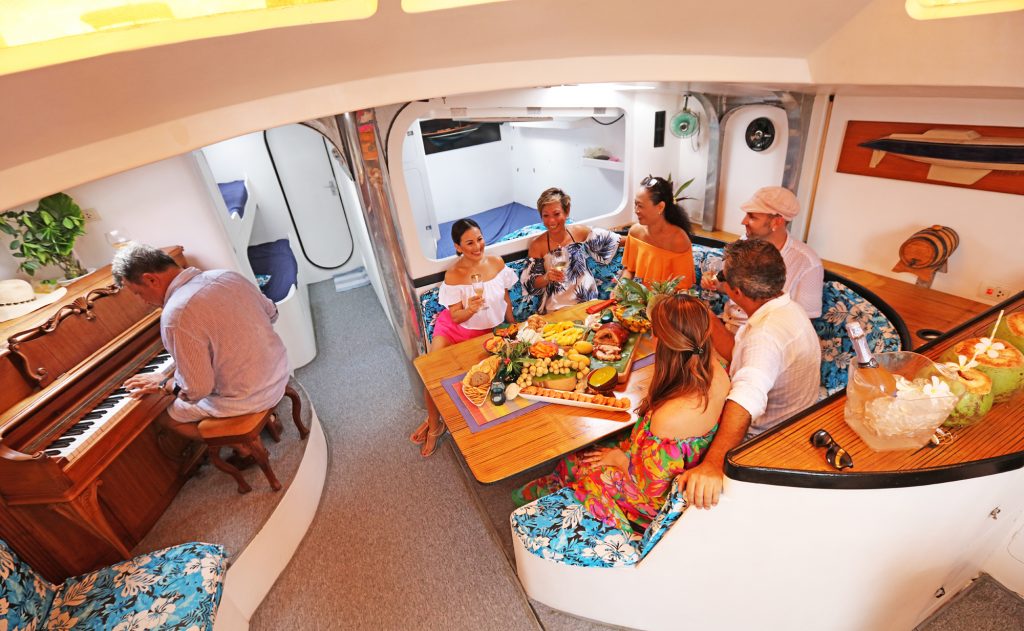 And then it starts to pour. No matter, though—as the rain pounds against the deck, the party finds its way down below. A bottle of wine is opened, and then another, while a second pot of pate is transferred on a plate. Our captain waits until the waves calm before he brings us back ashore.
(This story has already been published in the printed edition of Zee Lifestyle Magazine's November 2016 issue as one of the Entertaining Features on pages 82-85.)