The Suites at Gorordo: Setting our Sights on Singapore-Inspired Living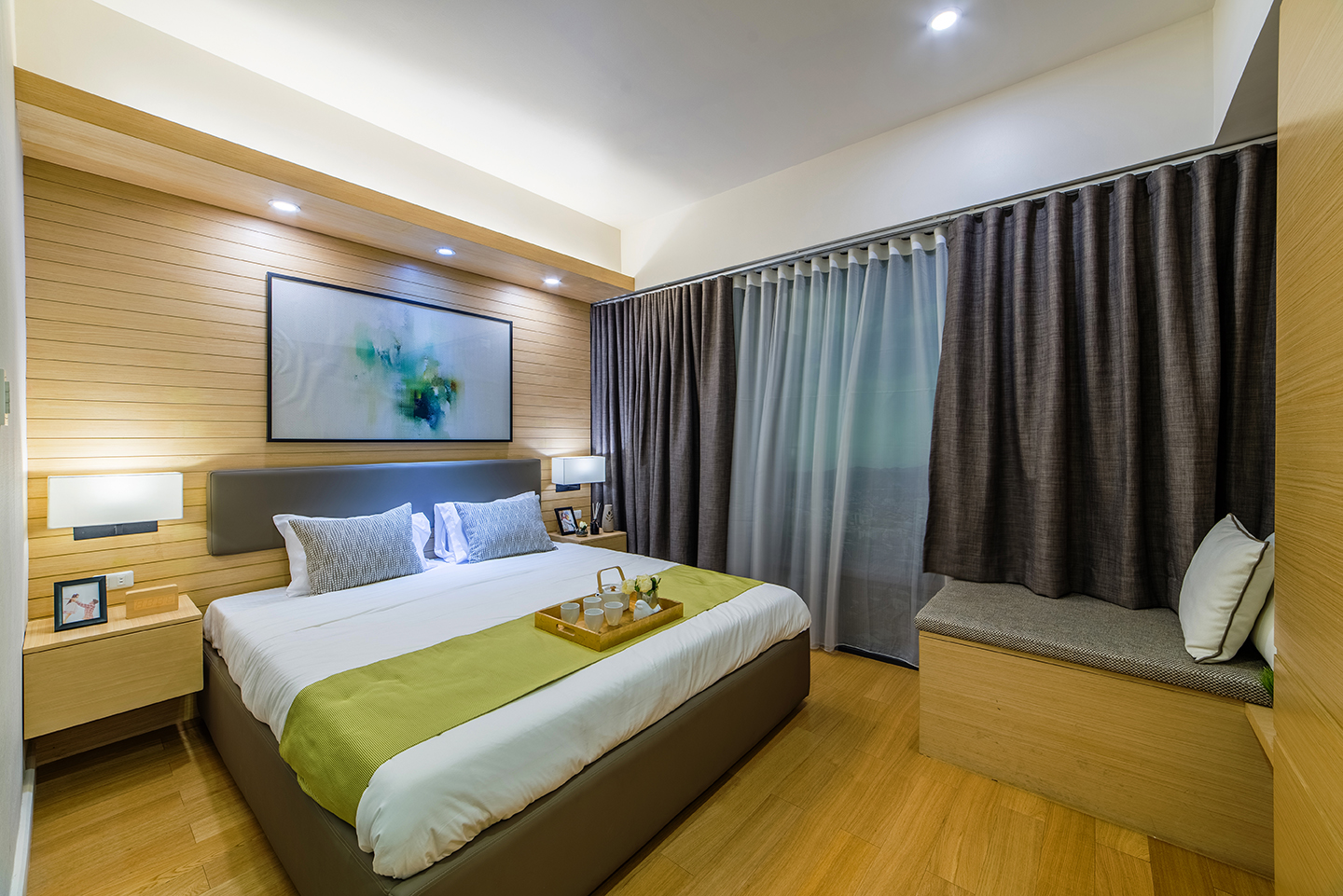 by Ryan Daniel R. Dablo
"Singapore-inspired living is all about living the good life," says Ann Leslie Ngo, CEO for World Central Properties Inc. (WCPI), in a roundtable talk last June 16, 2022 at City Sports Club Cebu to welcome the rise of The Suites at Gorordo, a majestic 29-story crystalline high-rise tower at the corner of two major thoroughfares, Gorordo Avenue and Archbishop Reyes Avenue in uptown Cebu.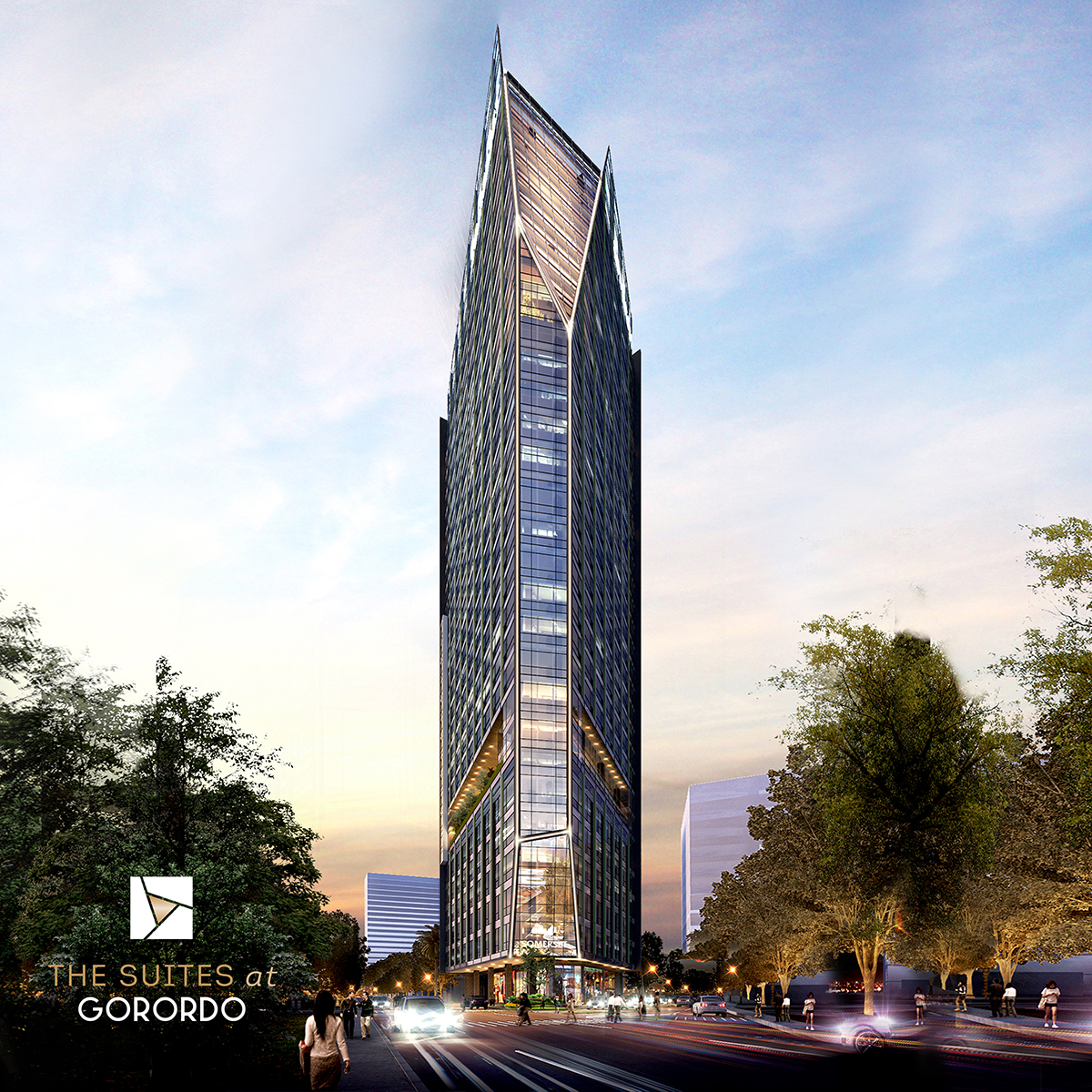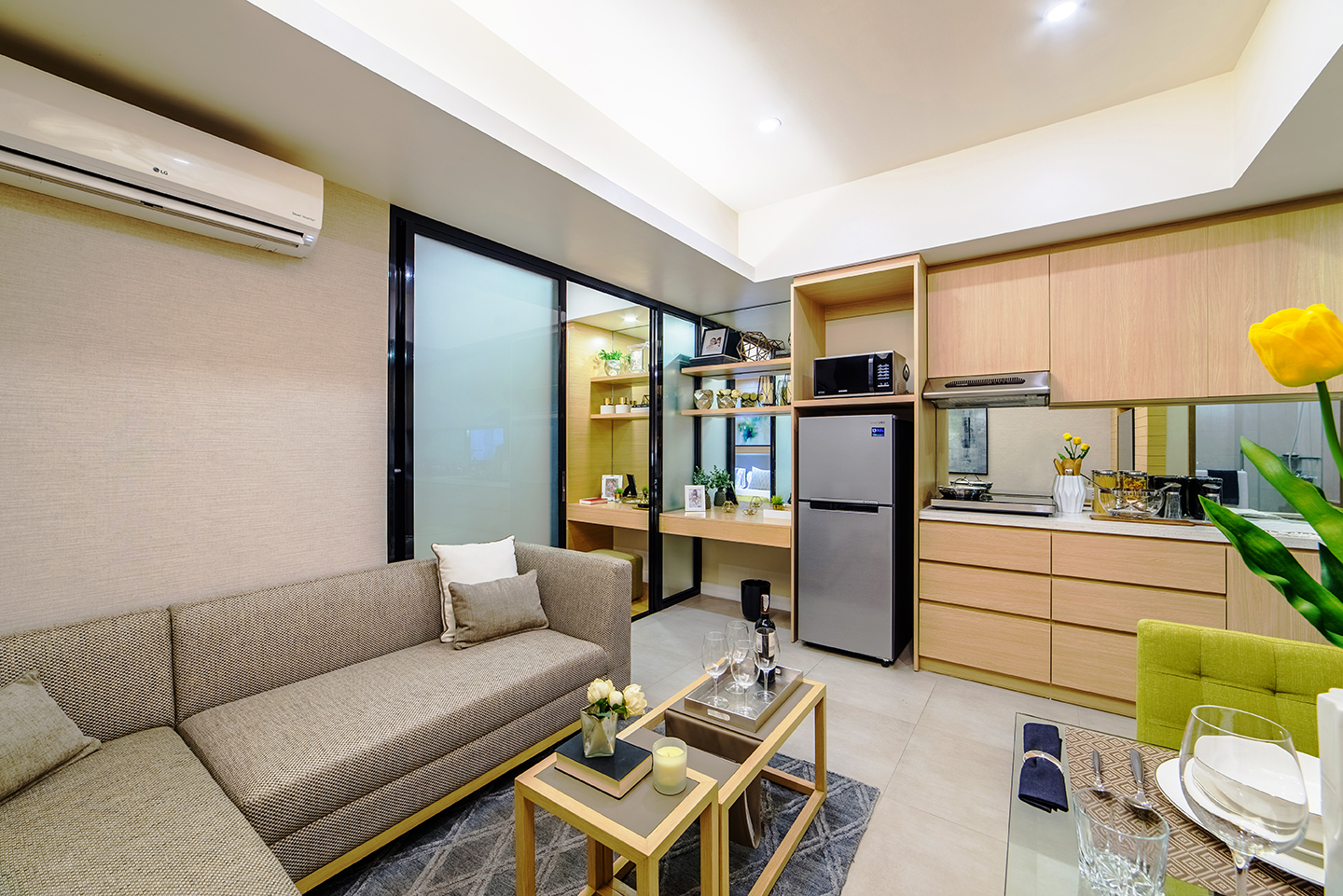 The Suites at Gorordo is developed by World Central Properties Inc., and is set to epitomize upscaled modern-day living at its finest. Reminiscent of New York's Flatiron building, The Suites at Gorordo boasts of an iconic sculpted design that will dominate the Queen City's skyline. It will feature both residential units and serviced suites, and with the service managed by The Ascott Limited, a leading hospitality brand in business circles, living at The Suites at Gorordo will be a luxury . The seeks to be an idyllic city home that emphasizes family-centric ideals, with services that provide modern essentials: the innovative list includes babysitting, housekeeping, laundry and dry-cleaning services, business center use, and conference room rental. This is on top of the amenities that patrons can also enjoy such as the residential lobby and lounge, fitness center, swimming pool, and a sky garden with a gazebo and grilling station. Minutes away from Cebu Business Park and replete with panoramic views of Cebu, The Suites at Gorordo caters to the good life whether it be on the fast lane or on an easy, laidback pace.
No wonder then, that the development has already caught the discerning eye of the Philippine Property Awards, bagging four awards in 2021 including Best High Rise Condominium Development and Best Mixed Use Architectural Design in the Philippines. With many developments in Metro Manila offering stiff competition, The Suites at Gorordo won the judges over with its management, sustainability initiatives, dedication to the service industry, and bevy of features. "Don't take our word for it," intones Cyndy Tan Jarabata, President of Tajara Hospitality Group and head judge during the 2021 Philippine Property Awards, "go see it for yourself, and see."  A  WCPI  representative further enthused that the company wanted to make high end living accessible to as many people as possible. This is why The Suites at Gorordo is cheaper by 20-30% compared to other high end condos in Cebu."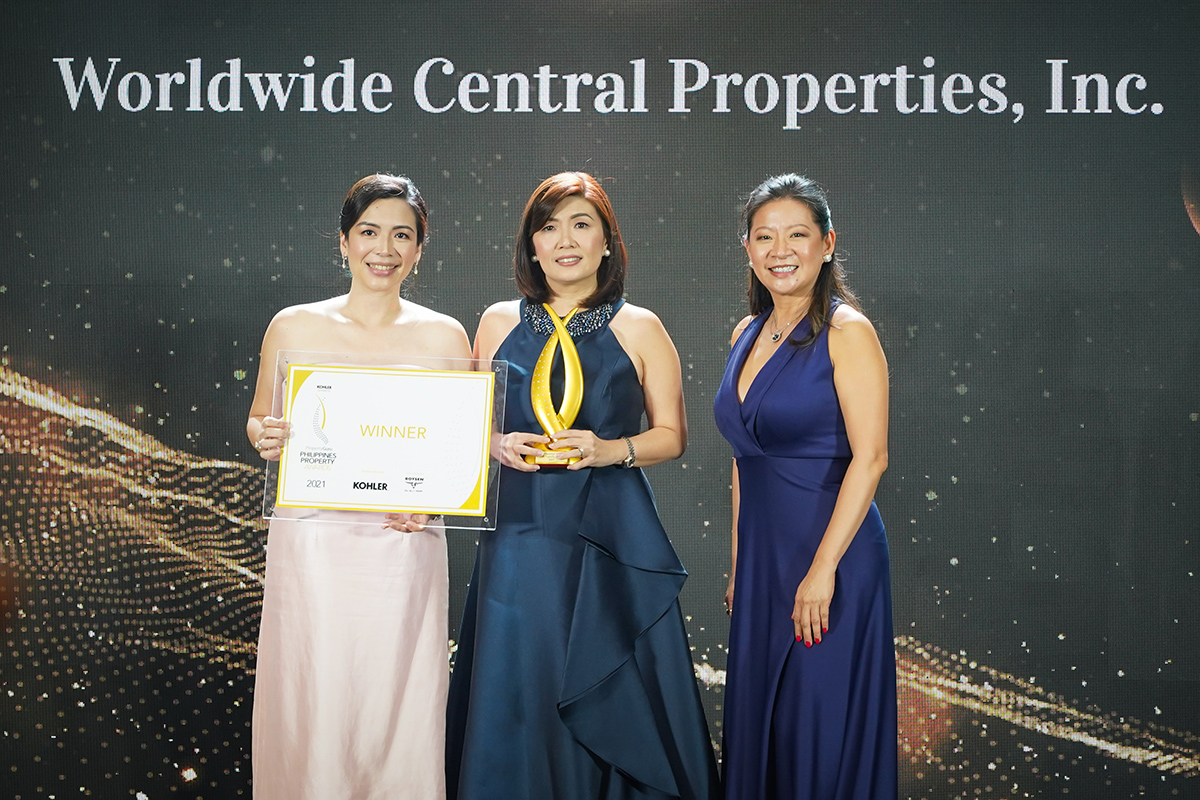 Speaking before an audience of developers, brokers, realtors, and the press, Cyndy Tan Jarabata is optimistic about Cebu's real estate, and The Suites at Gorordo is primed to be its crowning achievement. With the rest of the panel – Ann Leslie Ngo, WCPI CEO, Sharon G. Ong, WCPI COO, Philip Barnes, Country Manager for Ascott Philippines and Orathai Chirapornchai, Regional Solutions Manager of  Property Guru Philippines – voicing out their agreement, little was left to the imagination as to how truly pioneering this project is. With this pre-eminent Cebuano icon and landmark looking forward to its opening in the early third quarter of 2023, a new age of Singapore-inspired living may yet dawn on the Queen City.
A Quick Chat with Radisson Blu Cebu's Kitchen Team at Feria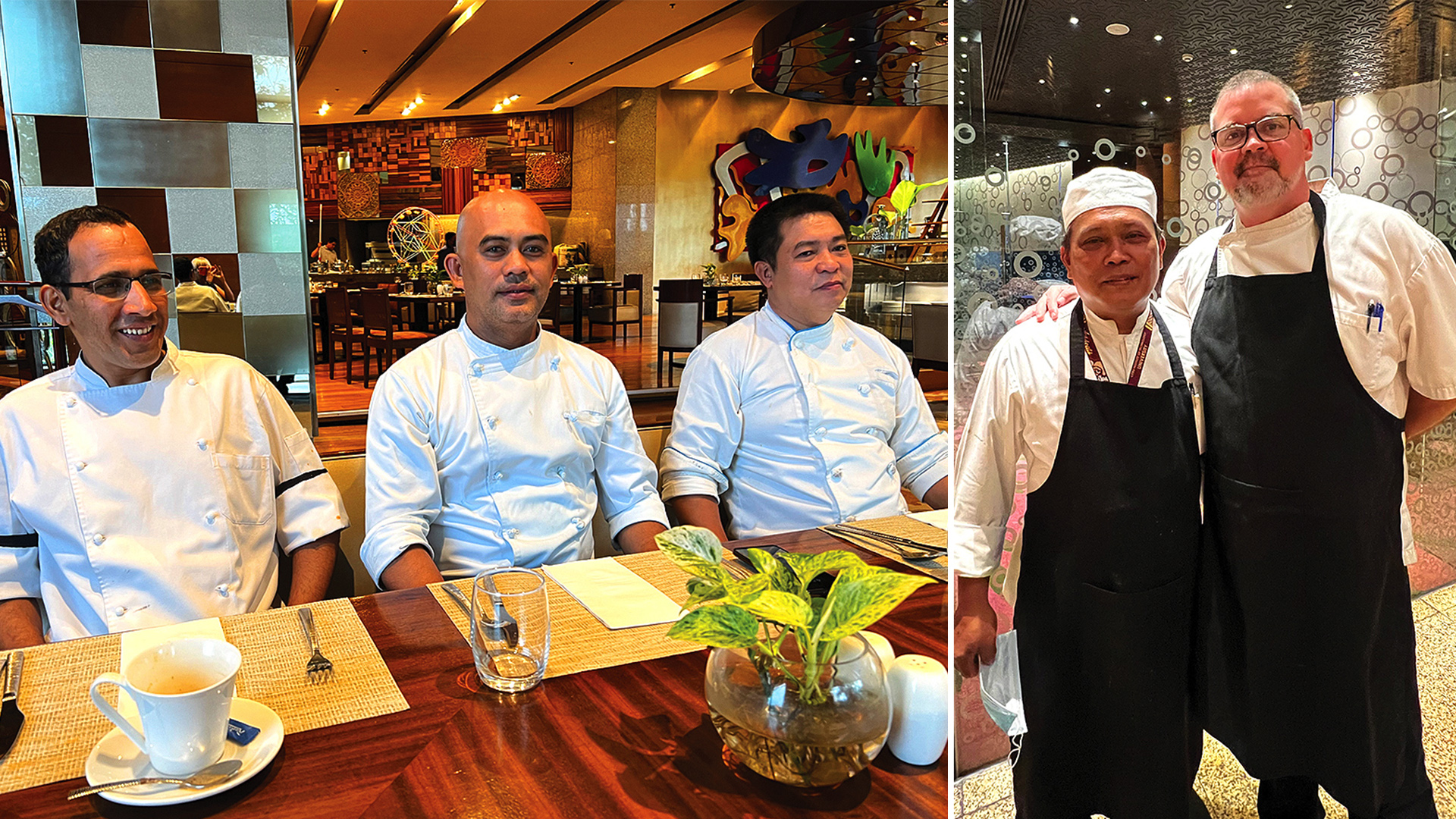 by MINERVA BC NEWMAN
Cebu is now abuzz with so many activities and events from last month's Cebu Business Month (CBM) and the Cebu Food and Wine Festival (CFWF) where the food and culinary industry and the hospitality sector are in focus as two of the key developments and growths in the tourism economy.
Radisson Blu Cebu, located at Serging Osmeña Blvd., corner Pope John Paul II Ave. in Cebu City is an imposing hotel building across SM City Mabolo where comfort, unparalleled service and close attention to detail are described as the Radisson Blu Cebu experience.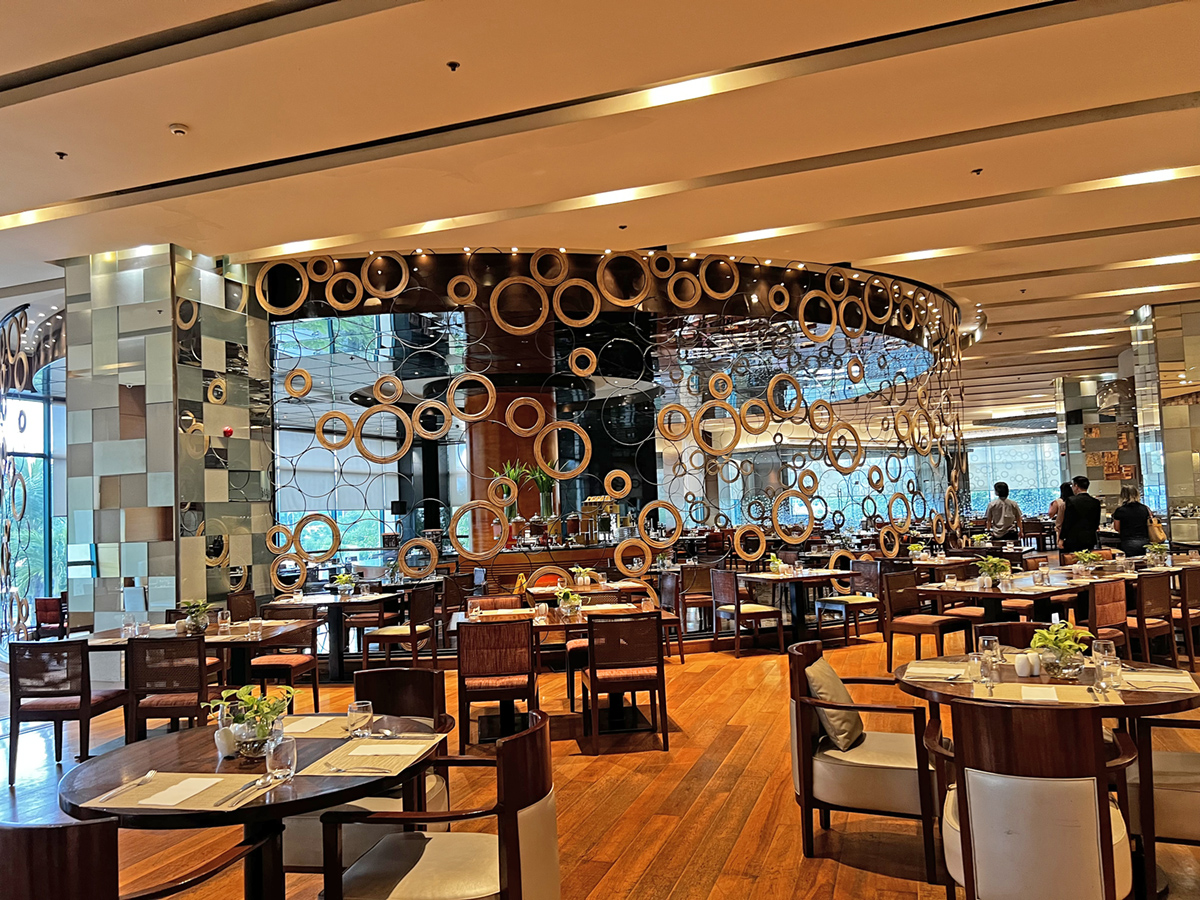 What catches this writer's attention is the hotel's Feria Restaurant, the Lobby Bar and the Pool Bar. Many of my friends here and abroad have shared with me their food and wine dining experience while at Radisson Blu Cebu. I decided to visit and try the buffet spread at Feria and ended up chatting with the chefs, the kitchen team behind Feria's sumptuous menus and dishes every day.
This writer had a chance to chat with Radisson Blu Cebu's kitchen team headed by Chef Nicholas van Riemsdijk, Radisson Blu Cebu's Executive Chef. While last month's CFWF festival highlighted the various culinary experiences of more than 20 national chefs, Chef Nick wanted to emphasize Radisson Blu Cebu's kitchen team that consists of 8-10 Indian, Japanese, Filipino and Mediterranean chefs that collaborated and assembled Feria Restaurant's spread and menus at the Lobby and Pool Bars.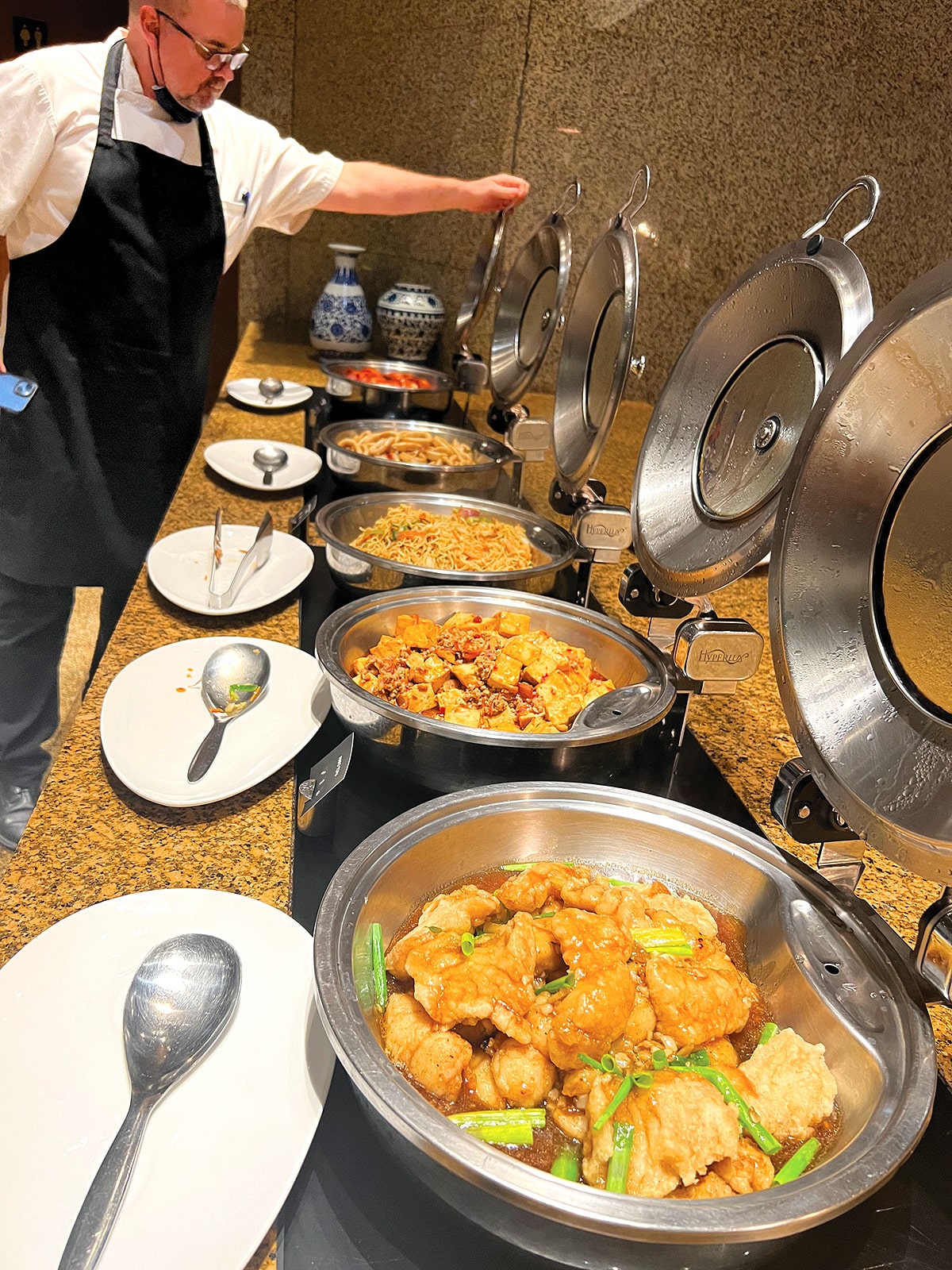 "Radisson Blu Cebu's Feria is a popular buffet place in Cebu City and I am very proud of my team whipping up authentic food with all our hearts. I want my Team to be in the spotlight for what they're doing in the kitchen. You see a beautiful buffet arrangement everyday at Feria and that is because of the hard work of my chefs," Chef Nick told this writer.
During the Cebu Food and Wine Festival, Feria concentrated on local Filipino buffet cuisine because last year, the restaurant had 280 covers in full buffet. "This year, we intended to put out brand new local Cebuano and Pinoy dishes in our buffet to support the CFWF and we wanted to surpass last year's covers," Chef Nick added.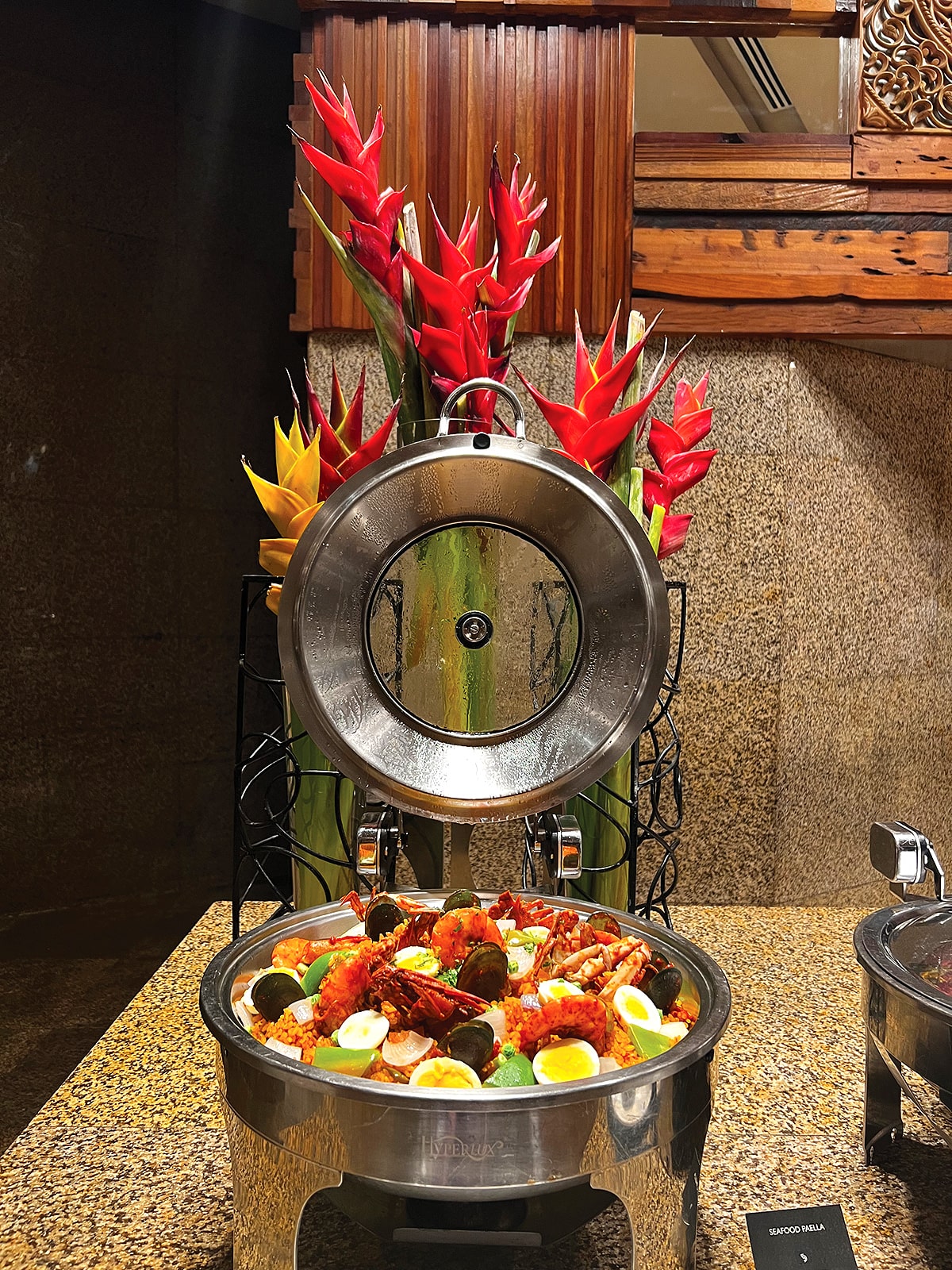 Everyday is a different buffet here at Feria, Chef Nick said that the team creates menus based on the best available products and as much as local products; sourced out from local suppliers and farms to support local as much as possible, as responsible business ethics.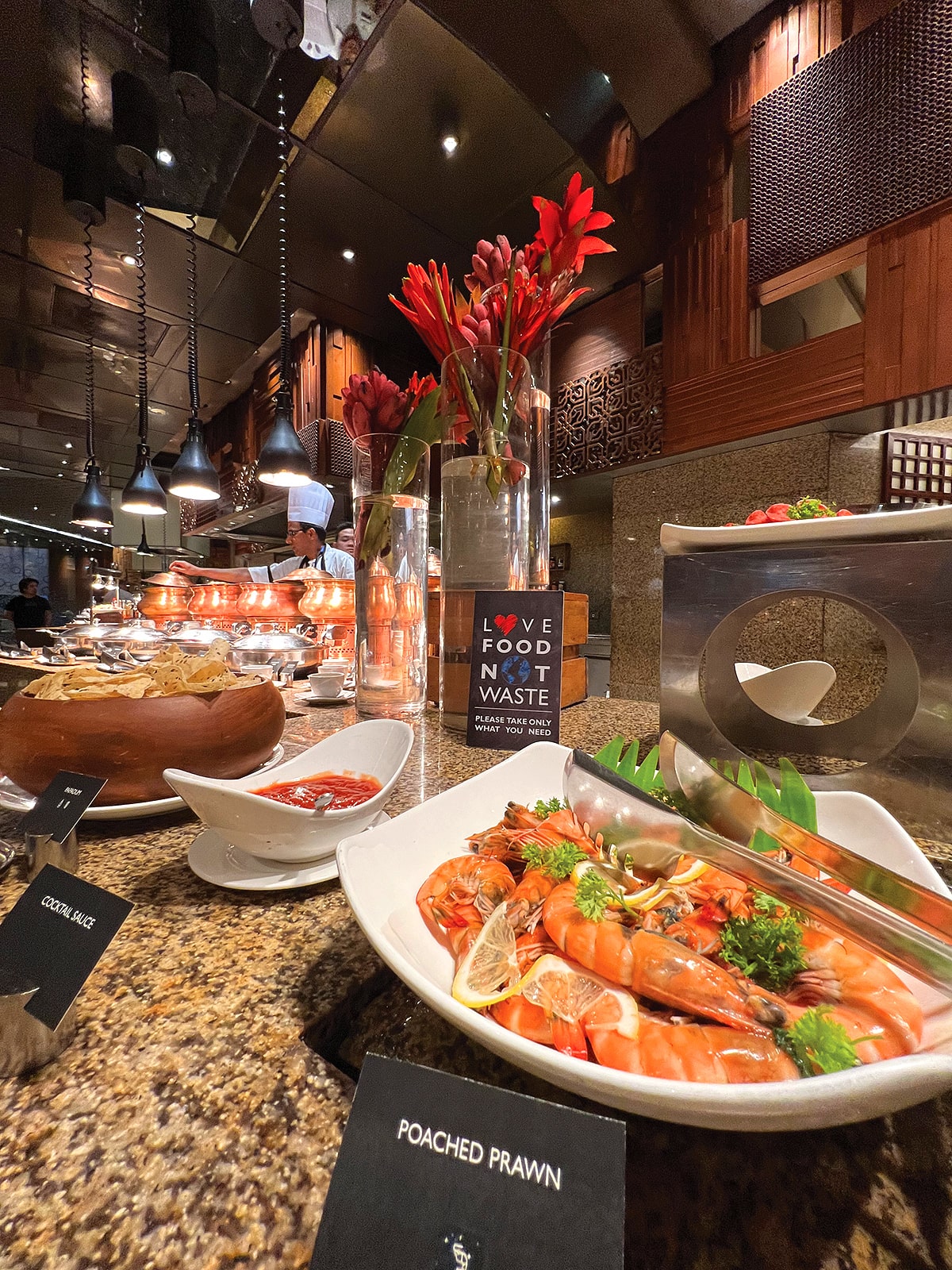 "We, my team puts out authentic food each time. The by-word at the kitchen and among the chefs is consistency in tastes of the various menus we put out, because consistency means quality and respect of food and cuisine in the world.  As chefs, we love food and that is true to our profession," Chef Nick smiled.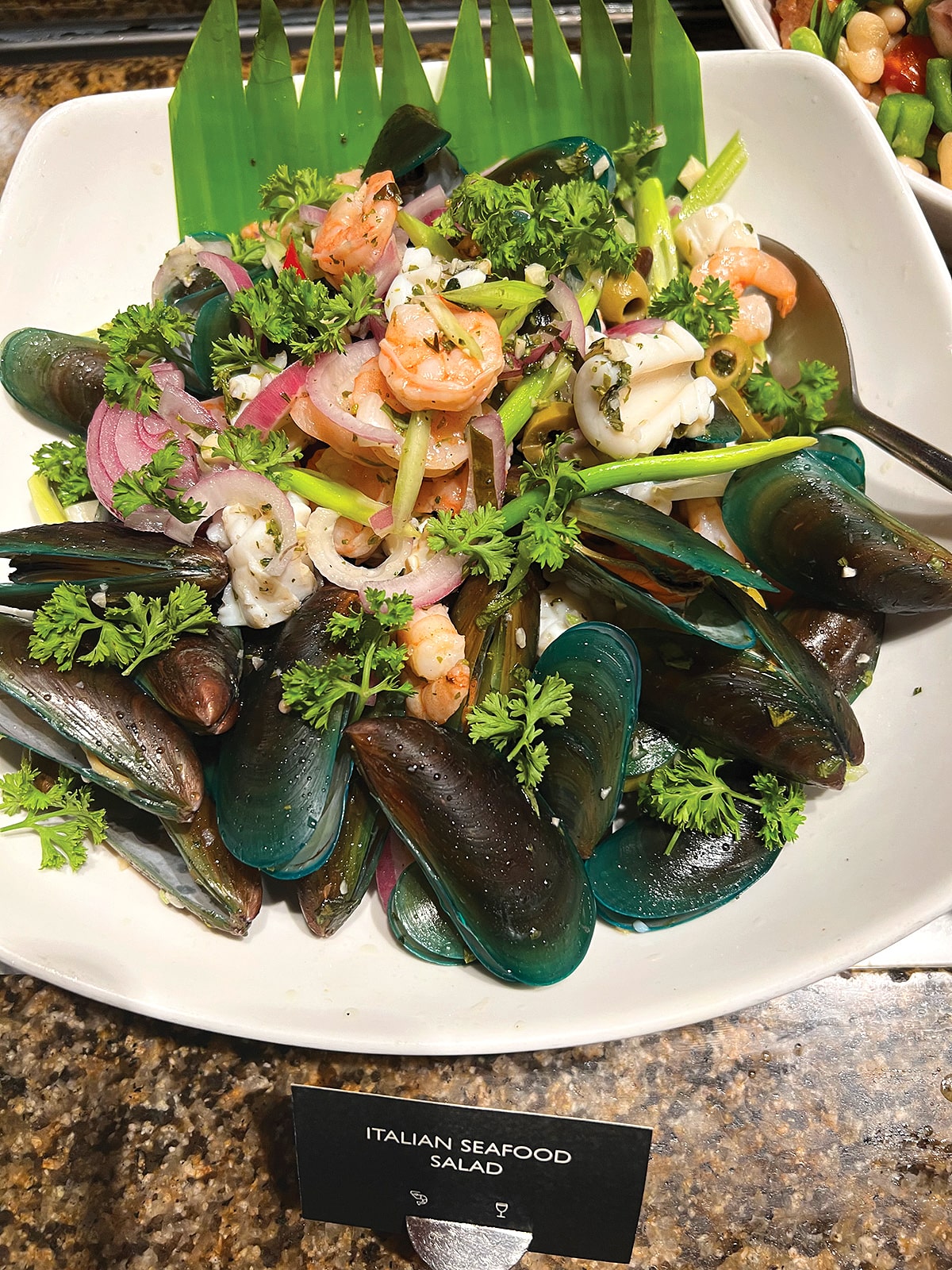 According to Chef Nick, the chefs sit as a team to come up with the daily themed menus; changing recipe's new things for Cebu, what's here, what's not and what's to improve.  Whatever he brings to his team, they learn and they are continuously working, discussing all the time and it's always a working process, Chef Nick said.
Radisson Blu Cebu's Feria buffet
Every day is a different buffet at Feria. Feria's daily themed highlights to accompany its signature international staples of Filipino, Chinese, Indian, Japanese, and Mediterranean fare:
Mondays are American Grill and BBQ buffet: A homage to the beloved Texas BBQ, plus American classics
Tuesdays are Asian menus focusing on well-loved recipes from the East and Southeast Asian neighbors including Malaysian, Indonesian, Singaporean, and Korean dishes highlighting refreshingly spicy flavors
Wednesdays are European dishes with more on pastas, creamy soups, heavy meat dishes
Thursdays are Latin American, highlighting recipes from Mexico to Brazil with spicy flavors
Fridays are Seafood galore, finding ways to incorporate the fruits of the sea in pizzas, pasta, fried and grilled dishes
Saturdays are for Global street food, elevated versions of easy to eat comfort foods, but not just Filipino street food but also from around the world like noodles from hawker stalls of Singapore and Malaysia; fresh and filling Vietnamese and Thai recipes as well
Sundays are Filipino food. There's nothing like the familiar taste of home
Feria lunch is Php1,488 and dinner is Php1,688 while wine buffet also available at Php1,288 sold separately–just unlimited wine, red or white, the selection available in the buffet area and the servers will assist and can pour when requested.
Let's meet Radisson Blu's Chefs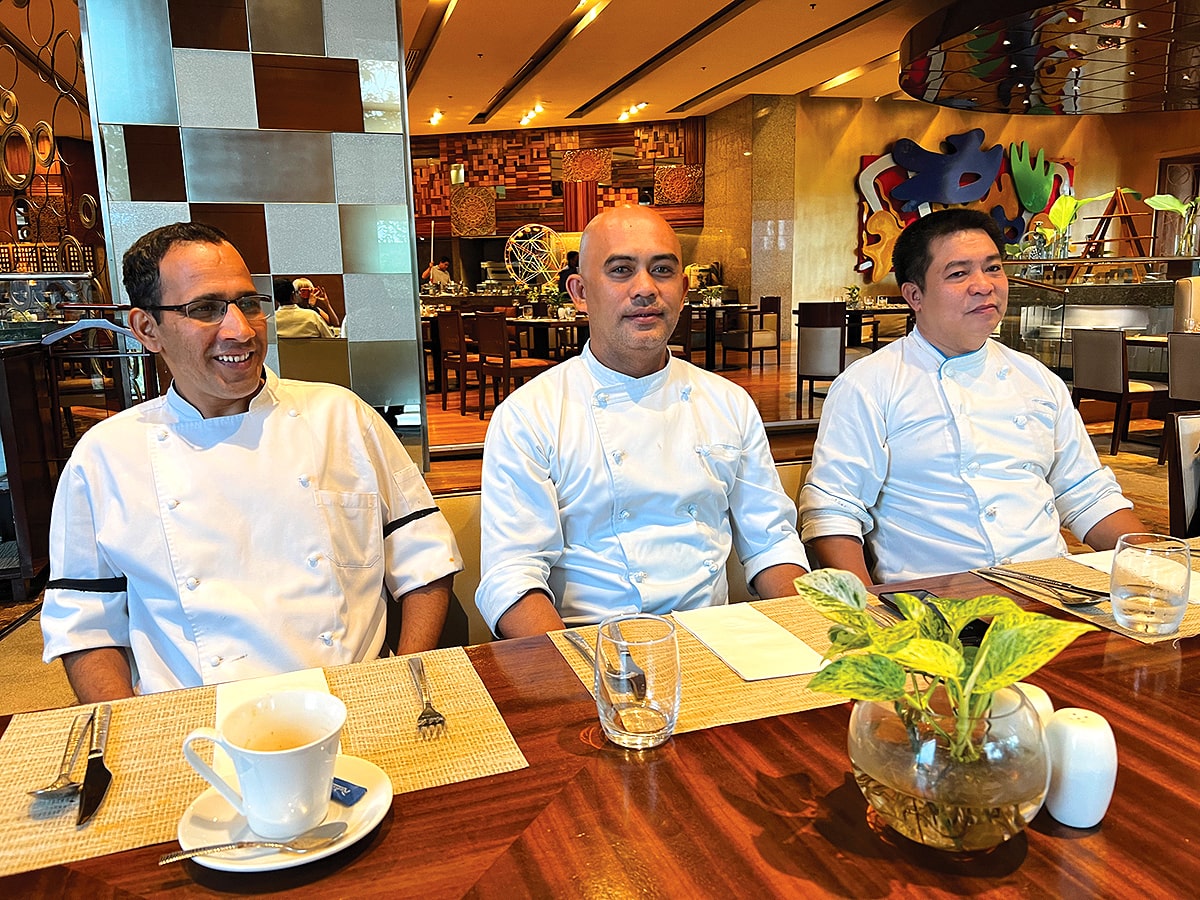 "My team is flexible to the clients, they speak to the guests and talk to them for some with special requests in their dishes, like guests who are vegans or pescatarians. My team of chefs mostly always accommodates special requests," Chef Nick said
Chef Nicholas van Riemsdijk started working as a chef since he was 16 years and he has lived and worked in many parts of the world, making his international knowledge on food and cuisine incredibly wide and expansive in nature. He brings these experiences in the Feria kitchen as the executive chef of Radisson Blu Cebu.
Chef Leo Montemayor is the Chef de Cuisine, from Canlaon City in Negros Oriental. Chef Leo has been with Radisson Blu Cebu for 10 years now and he is very proud and happy to work at the kitchen with Chef Nick and the other chefs. He said the team can do any kinds of dishes in collaboration with other dishes especially that Feria has a variety of menus.
Chef Arnel Quilestino is the Sous Chef, from Badian, Cebu. Chef Amel has more than 30 years of experience in the kitchen as part of the staff with all the other chefs at Radisson that can do all kinds of signature dishes.
Chef Jyoti Singh is the Indian Chef at Radisson who's instrumental in winning the SunStar's Best of Cebu 2022 Best Indian Food for Radisson Blu Cebu. Chef Jyoti is a quite guy with a cool demeanor. He is responsible for all the Indian menus and dishes at the Feria Restaurant in collaboration with the other chefs for unique tastes.
According to these chefs, they help each other and always work as team. Feria has a variety of menus every day and the team always adhere to the consistency of tastes of whatever they put on the buffet table, with the approval from the executive chef.
"There is a recipe card and description of every dish that we do because we work for excellence, quality and consistency of food tastes at Radisson Blu Cebu, and we are all very proud of our profession and our work.  We feed people from the best of our hearts and soul.  We respect food and mindful of food wastage," they said.
Find Your Summer Spirit in Shangri-La Mactan, Cebu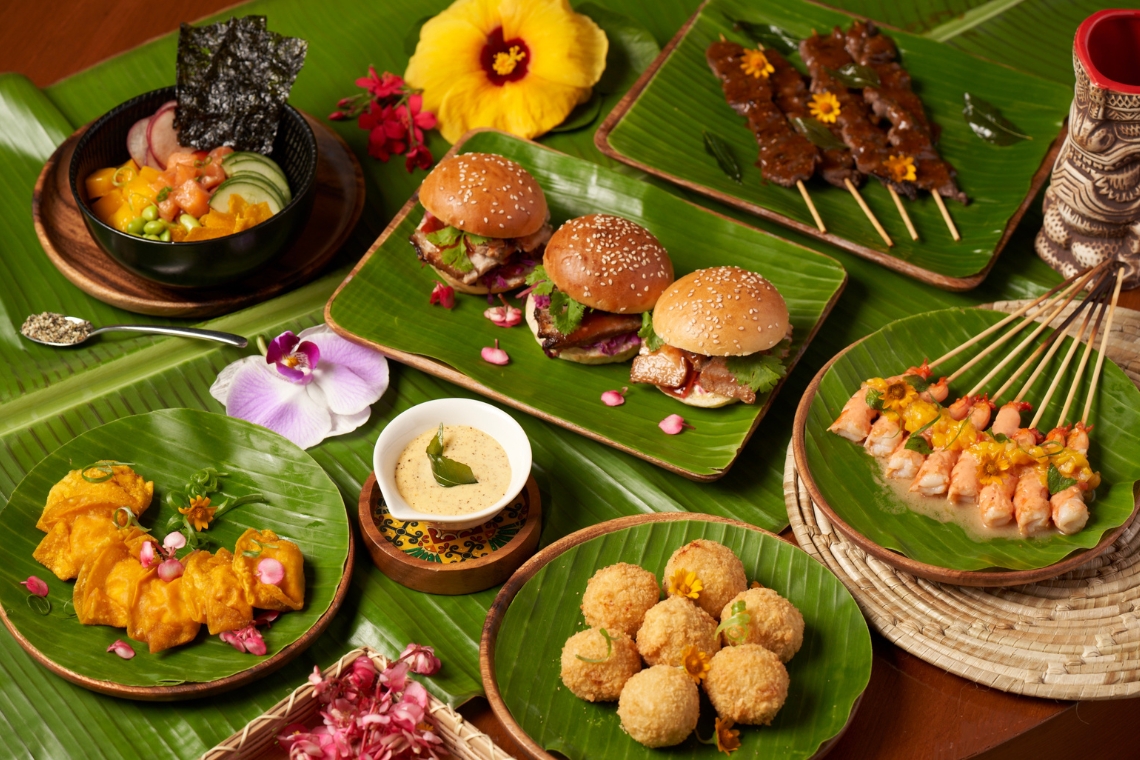 Breathe in the tropical atmosphere, as you find summer joys through sight, sound and taste at Shangri-La Mactan, Cebu. Poolside fun during the day, spent serenely and luxuriantly—a refreshment in hand. While the evenings are for outdoor family movie nights, with the ocean waves rippling in the background.
Summer is all of that, and more! Plan an extraordinary weekend with an array of exciting activities that await your arrival. Discover your #ShangriLaSummerSpirit from 15 July to 30 August.
Epicurean Delights by the Pool
Keep yourself fueled up as you splish and splash with the whole crew. Take a quick break from all that summer jazz with Mediterranean and Polynesian-inspired bites exquisitely crafted for your palate. From rice balls and pastas, ice creams to sliders—indulge in tastes and aromas that transport you to a world of endless, golden summers.
A Whimsical Touch
Make it a colourful summer for the kids! Let them explore their own version of paradise with whimsical floaties, sure to keep them happily afloat. Your little ones can now freely kick and play in the water with fun and fascinating, animal-shaped inflatables.
Pleasant Sundowner Tunes
Bid the sun adieu and embrace the sunset hues with live acoustics at the Main Pool from 4pm to 6:30pm.
A Toast to an Endless Summer!
Unwind and savour the tropical vibe as our expert mixologists craft refreshing Tiki cocktails and serve chilled bottles of exquisite champagne by the pool! With a backdrop of swaying palm trees and stunning ocean views, sip on delightful beverages and toast to unforgettable summer moments in paradise.
Family Outdoor Movie Night
Gather your nearest and dearest for an enchanting evening as we set up a large outdoor screen by the pool under the starry night sky. Cozy up as you enjoy a family-friendly movie that will delight both those who are young and young-at-heart at Treasure Island from 7pm to 9pm.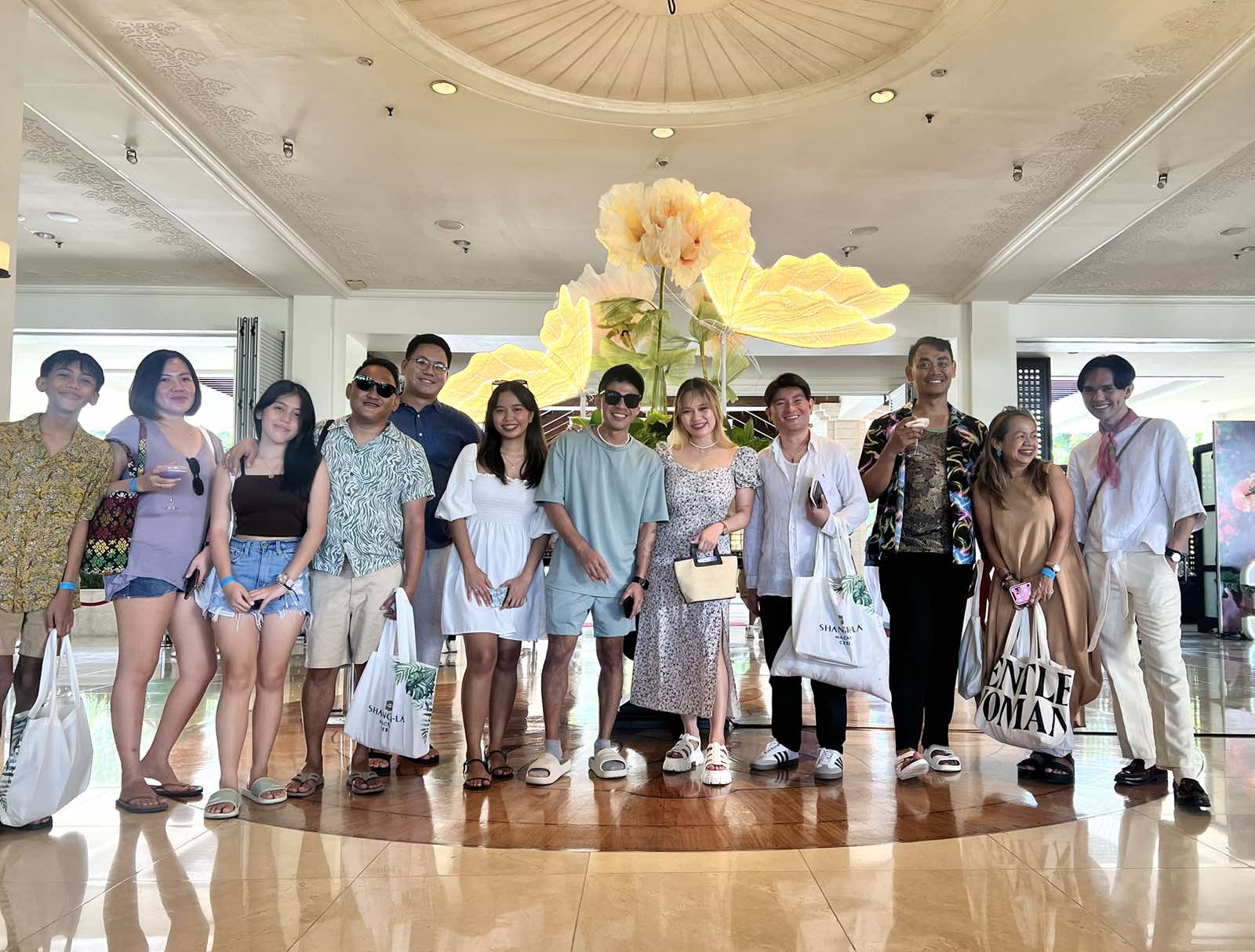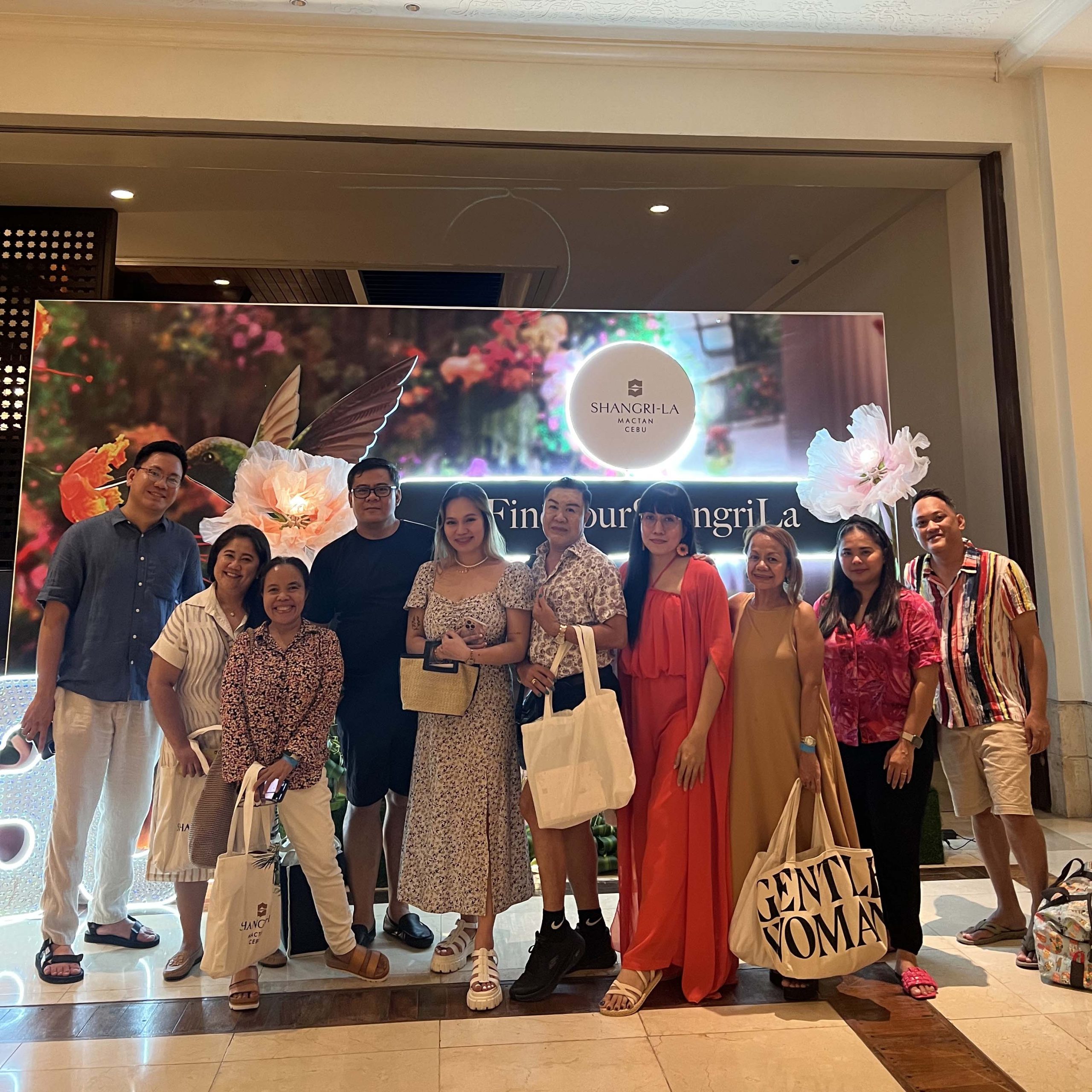 Surrounded by lush greens, let the experience bring you to a world of joy and laughter, creating cherished memories for you and the family. For more information on Shangri-La Mactan, Cebu, you may contact (032) 2310288. You may also follow them on Facebook and Instagram or visit https://www.shangri-la.com/cebu/mactanresort/ #FindYourSummerSpirit #FindYourShangriLa
Waterfront Cebu City Hotel & Casino Celebrates 25 Years of Commitment to Service
Waterfront Hotels & Casinos' flagship property in Cebu is proud to announce its 25th-year anniversary on July 25, 2023. Over the past quarter-century, the hotel has been home to local and international tourists traveling to Cebu City for business or leisure.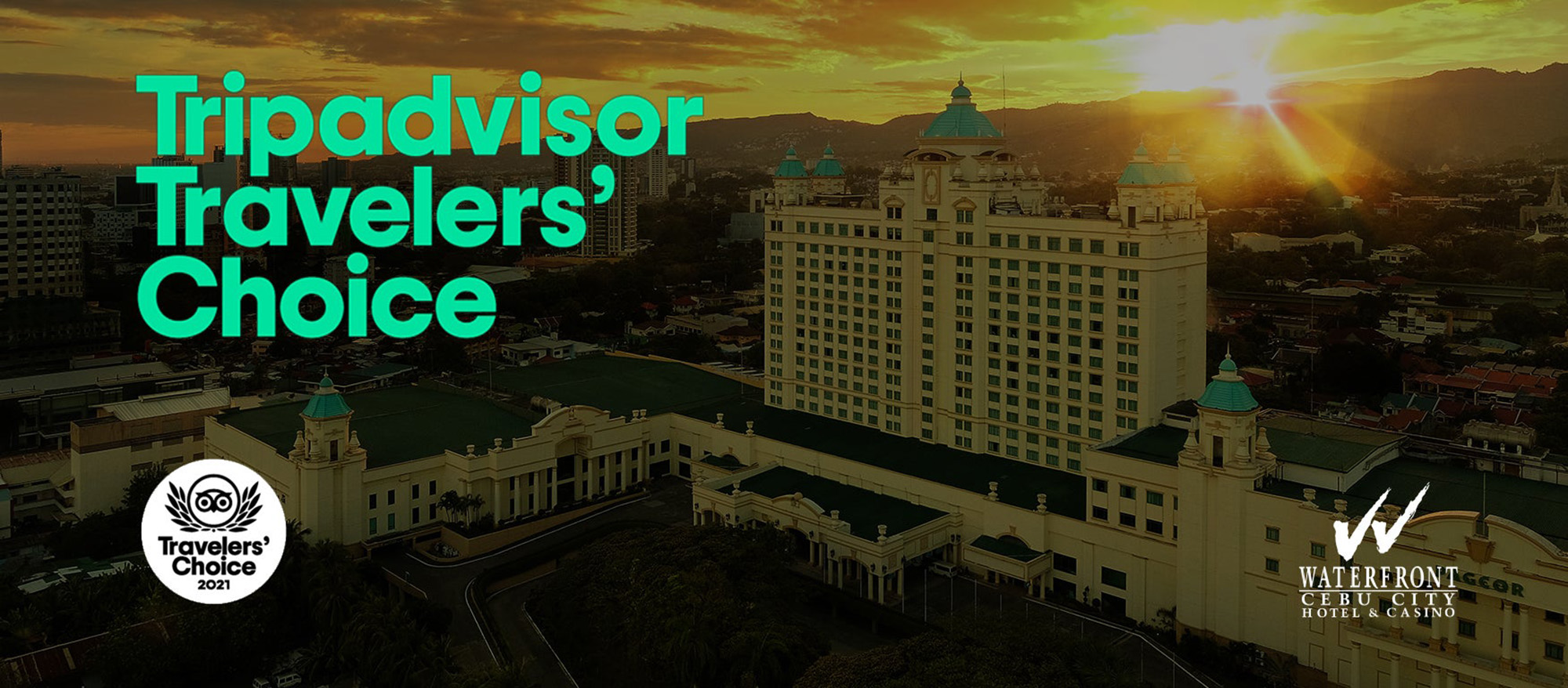 Since 1998, Waterfront Cebu City Hotel & Casino has been recognized for maintaining its commitment to providing both patrons and guests with remarkable and notable services to create memorable experiences. From the hotel's world-class amenities, luxurious accommodations, to exceptional dining experiences, and exciting offers, Waterfront Cebu City Hotel & Casino continues to be the venue of choice for special events, large conventions, concerts for local and international artists, trade exhibits, a relaxing staycation, and much more.
Exemplary for its ability to provide for large groups and conventions, Waterfront Cebu City Hotel & Casino has warmly welcomed nationwide governing positions and well acknowledged communities for events throughout the years such as the Governors' Workshop on Social Welfare and Development: Partnership for Devolution in 1999, the 25th Annual Convention of the Philippine Neurological Association in 2003, the United Architects of the Philippine's 16th National Conference in 2004, the Annual General Assembly of the League of Municipalities of the Philippines in 2007, the Sangguniang Kabataan National Congress in 2008, and Liga ng mga Barangay events are set to take place in the property this year .
Being one of the city's well visited venues for getaways, special occasions, grand events, and an appreciative dining experience, Waterfront Cebu City Hotel & Casino to name a few has been recognized for major and key awards on the following years:
–  2012: Gold Circle Award from Agoda
–  2013: Top Producing Hotel by Room Nights from Expedia
–  2014: Most Engaged Hotel Partner from Expedia
–  2015: Powering Global Travel Award from the Global Tourism Awards
–  2016: Tin Gow as the Grand Slam Winner for Best Chinese Restaurant from

SunStar's Best of Cebu

–  2017: Chinese Preferred Hotel from Ctrip
–  2018: Venue Standard Award from MICE
–  2019: Top Taxpayers Award from the Cebu City Government
–  2020: Grand Slam Winner for Best Events Venue from SunStar's Best of Cebu
–  2021: Traveler's Choice from Tripadvisor
From Cebu's humble beginnings, it's safe to say that Waterfront Cebu City Hotel & Casino was there in the midst of the city's development into one of the Philippines' most progressive areas. Since the beginning, the property and its peers have always prioritized the citizens' convenience by strategically placing themselves at the center of it all. Right across the hotel, what used to be Cebu's very first airport is now a well-known destination for business development and commercial establishments, commonly referred to as the I.T. Park. Although the area has drastically changed over the years, Waterfront Cebu City Hotel & Casino managed to adapt and develop just as the Queen City of the South developed.
Waterfront Cebu does not only provide a place to stay but is an avenue that evokes feelings and creates significant memories to be cherished for a lifetime. One memory that's worth remembering was when Regine & Martin Nieverra had their concert at the Pacific Grand Ballroom in 2003. Not to mention, 2005 SEA Games held their Dancesport event at Waterfront Cebu City Hotel & Casino followed by the prestigious Mr. and Miss Cebu in 2008.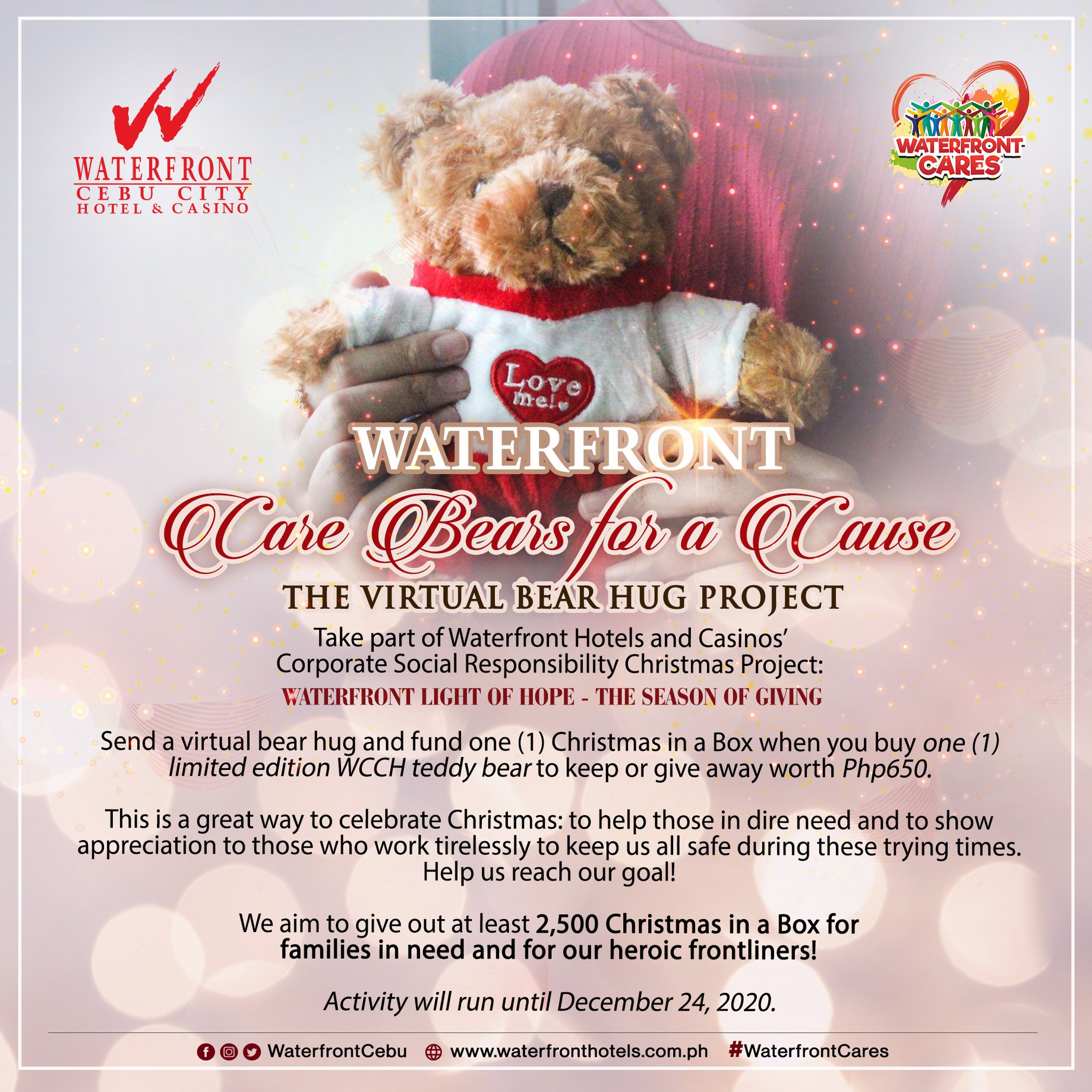 Waterfront Cebu City Hotel & Casino is not only an essential part of the hospitality industry. The property continues to play its role as a vital force when it comes to giving back and uplifting the community. The premier hotel has contributed significant developments to the city's growth, economy, and even tourism, but the property did not stop there. Corporate Social Responsibility (CSR) activities were also organized for Cebu's social welfare as well as for the preservation of the environment with the aid of local NGOs and barangays.
Through the years here are some sustainable and transformative activities that the peers at Waterfront Cebu City Hotel & Casino have participated in:
–  2013: Lapu-Lapu Tourism Council Coastal Clean-Up
–  2019: Refurbishment Initiatives at Barangay Kang-atis Elementary School
–  2020: Waterfront Cares for Brgy. Suba (Part II)
–  2020: Weekly Round-Up – Frontliners of Brgy. Lahug
–  2021: Waterfront Bakuna Center
–  2021: Waterfront Care Packages
–  2022: Packages of Love to Barangay Looc
–  2022: Christmas Party for the Children at Barangay Pardo
–  2023: Tree Planting at Barangay Pung-ol
–  2023: Tree Planting at the Nug-as Forest Reserve
As Waterfront continues to blossom in the hospitality industry, its service with a warm smile is a Filipino value that guests would always come back to. In the effort to embody and maintain excellent guest satisfaction, the property's department heads boast high training to its peers that remain visible in every guest interaction.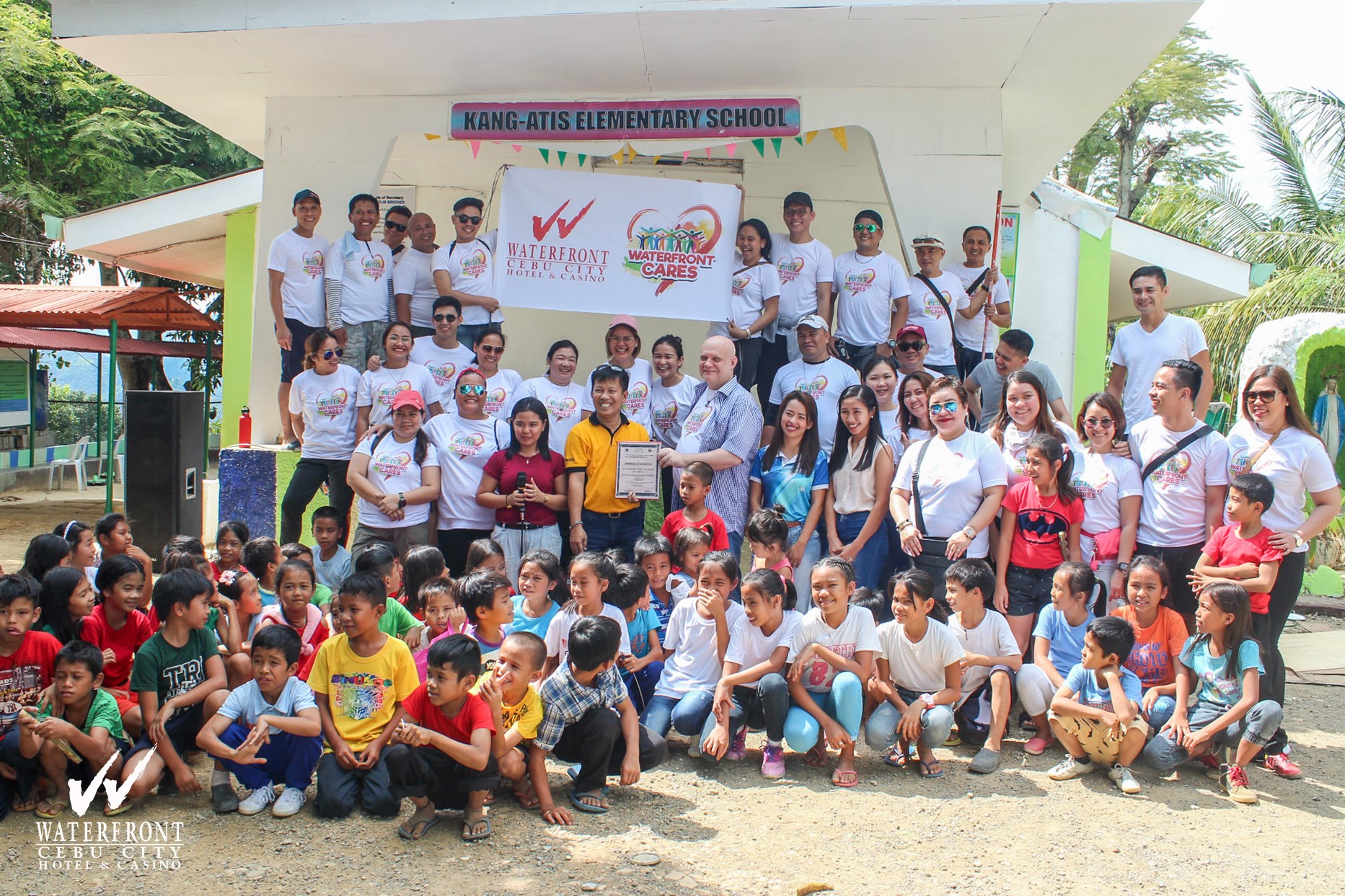 Keeping its grounds strong, Waterfront Cebu City Hotel & Casino would like to acknowledge the 25 years of support from the local government of the city as well as from the province in Cebu. Celebrating 25 years of Commitment to Service will only continue and progress for the years to come as the property and its management is looking forward to 25 years and beyond of excellent service wearing the 'Waterfront' smile.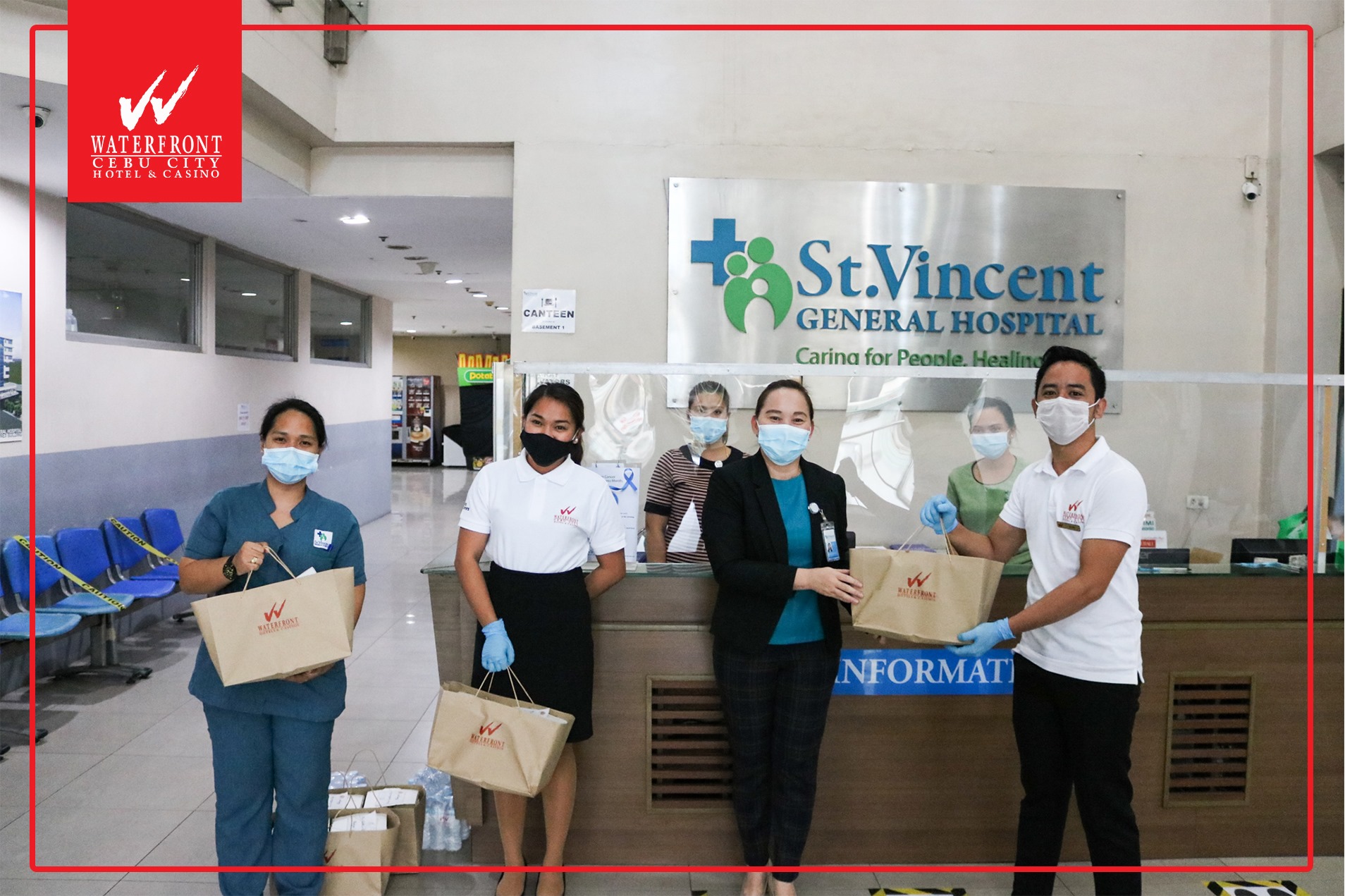 Waterfront Cebu City Hotel & Casino would also like to thank their sponsors for this year's 25th Anniversary celebration: Global Star Motors Corp., Cebu New Life Press, Premium Sole, Metro Retail Stores Group Inc., DC Fresh Flower Shop & Supply, Kettle & Shaker, and The Philippine Amusement and Gaming Corporation (PAGCOR).