The House That Food Built
Made for a family with the passion and panache for cooking, this seaside getaway houses the traditions of Balinese architecture as well as of its food-savvy residents.
Made for a family with the passion and panache for cooking, this seaside getaway houses the traditions of Balinese architecture as well as of its food-savvy residents.
It all started when the owners, a family that leads the local restaurant industry specializing in Filipino cuisine, purchased this property from a friend—an expansive lot extending from the main road towards a cliff that conceals a strip of white sand beach. The estate boasts of an extensive view of the Camotes Sea, Leyte, and the Camotes group of islands and is located in Tagnucan, Borbon, less than a couple of hours ride towards the North from Metro Cebu. Away from the rush of city life, the traffic noise, and the electricity of a metropolis in the midst of rapid economic growth, it was decided that it would be in this humble, fourth-class coastal municipality that the family shall install their comforting hideaway—a place to recharge their souls and to remember their reasons for what they do, how they do it, and why they should continue doing it.
The family's matriarch comes from a long line of fine cooks with a rooted home cooking tradition, so it is not surprising that her food would become an instant hit soon after opening their first restaurant. From one humble restaurant, they have spawned six branches around the southern regions of the country in a span of ten years. Since the family's applied craft has now become a landmark, it was time to take root again, manifesting their love of food and family tradition in the single, most representative sign of familial bond—a house.
The family asked Albert Garbanzos, a long-time collaborator in their restaurant business, to render the architecture, one of Balinese motif. Balinese architecture is known to bring together the natural elements within and outside the structure. Houses often open to the surrounding vista showcasing glistening coastlines, rolling hills, majestic mountains, or lush forests. The use of natural materials is highly emphasized allowing an obvious use of wood and stone. Roofs made of clay tile are also common in Balinese residential architecture as well as the incorporation of foliage such as bamboo and other indigenous tropical flora. The layout is usually of a square template, signaling the four directions of the Balinese compass. Earth tones dominate the color scheme as if to mimic the hues of the earth. It was the family's wish that the house reinterpret these Bali-inspired specifications in order to bring about their own ideas.
Construction took about six months and by 2009, the house was finished. Some areas became collaborations between Garbanzos and the owners. Certain details had to be adjusted to meet with the family's vision, like the grand adobe wall edging the interior living area as well as the massive wooden trusses for the ceiling. The building is executed in full modern Balinese theme—it is widely earth toned with an extensive use of hardwood and natural stone, the overhanging clay-tiled roofs are complete with spires, and finally there appear to be no walls especially towards the direction that beholds the fabulous view.
Outside, the entire cliff is terraced for a more efficient use of space as well as to make the house look even more elevated, even as it is already perched on the highest peak along the coast. The infinity pool rests on the middle level in between two separate gardens and outdoor entertaining spaces. These spaces, as well as the rest of the 4,000-square-foot property apart from the building, were taken care of by landscape architect Jaime Chua. Flora consists of a variety of palms, bamboo, and flowering shrubs. Hut lamps line walkways and light little tableaus of foliage, bouquets of different shades of green in various forms and configurations.
In its interiors, the house departs from its Balinese theme, if only in the most minimal sense. Designed by Nancy Roble, the arrangements are succinct yet still visually stimulating. The palette ranges from earth tones, mostly browns, punctuated by sudden bursts of bright, tropical colors. The main door opens to two sentinel-like Buddha figures and a large table lamp with a ripple detail on its body and flanked by vessels with frangipani blooms and massive fern leaves. A quaint courtyard centered by a cluster of healthy bamboo divides the main interior space from the entry doors. The largest interior space includes the living and entertaining area as well as the dining space. Here, the interior design takes center stage, a subdued mix of Southeast Asian antique décor, modern furniture, and local art by Dodong Bandibas. In harmony with the Balinese motif, the interior spaces have their share of foliage too, from orchids to birds of paradise and bird's nest ferns.
It is interesting to note though that despite the entire Balinese theme of harmony, the makers of the house still had their bits of disagreement as far as the relationship between architecture and interior design were concerned, surfacing as ideas were thrown around back and forth. In the end, the matters were resolved peacefully and professionally and ultimately, the family's vision was achieved.
Today, the owners come to their seaside hideaway as often as they possibly can. And when they come, they bring with them the reason for their success and their distinct bond —the love of home cooking. On these days of leisure and fellowship, the house receives not just the fresh salty breeze of the Camotes Sea but also the rich and unique aromas of the family's famed renditions of Filipino cuisine. Most of the family's celebrations are held here, in the privacy of the house that their passion had built. On not so ordinary weekends, they would gather and hold cook-off contests among themselves and even if only one family member wins, everyone is full and satisfied in the end.
by Russ Ligtas photography Jon Unson
St. Patrick's Day Celebration at Marco Polo Plaza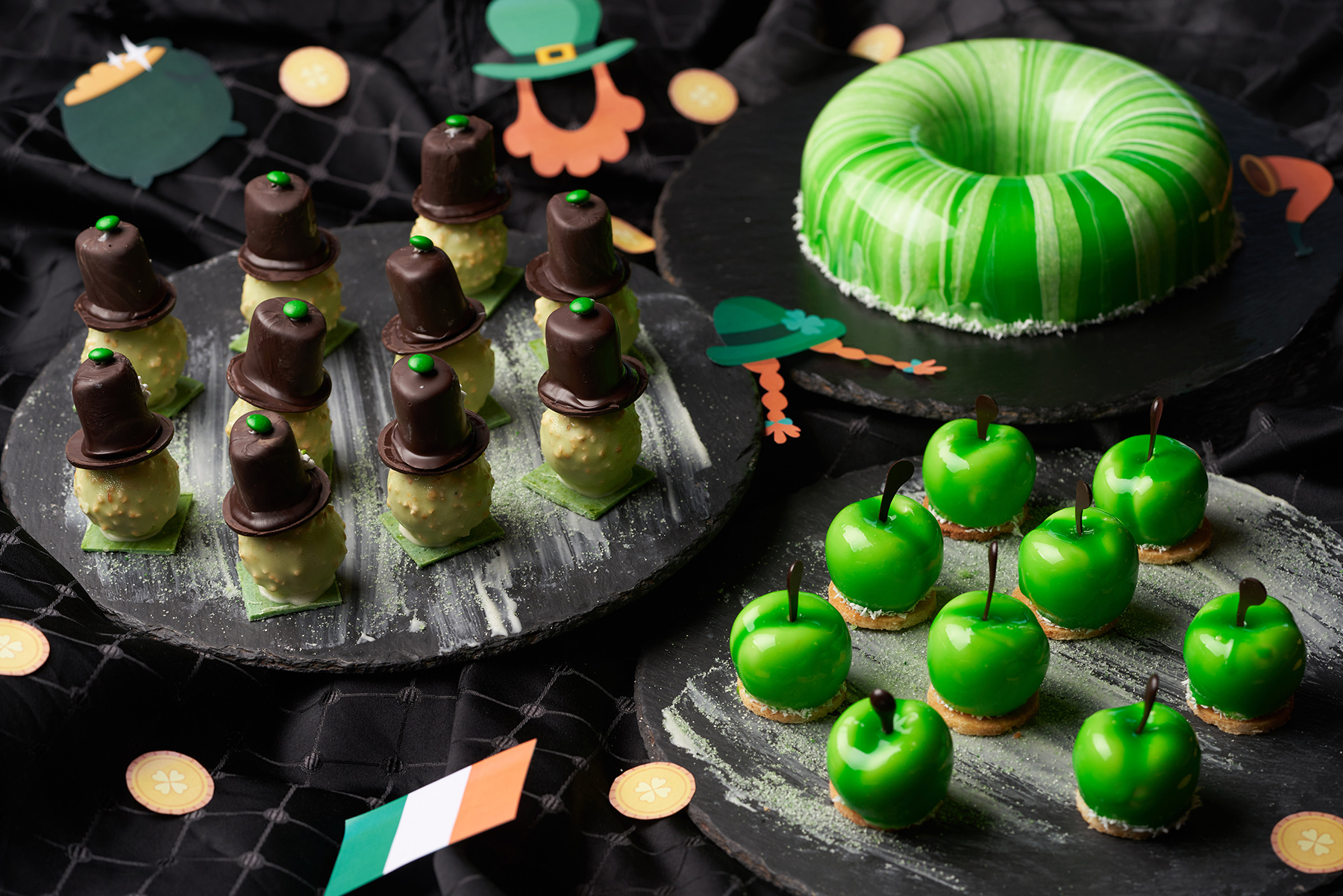 Marco Polo Plaza will be celebrating St. Patrick's Festival with the rest of the Irish community! It's not only a feast of greens and four-leaf clovers but of good food too! From March 17 to 19, dig in and enjoy traditional Irish dishes and delights such as Irish Stew, Potato Nachos, Cheesy Reuben Loaf, Guinness Beef Stew Pot Pie, Beer Mac N' Cheese and many more. These on top of the international lunch and dinner buffet at Cafe Marco. Complete the experience in true Irish fashion with an ice-cold mug of Irish Beer, also available at Cafe Marco.
Gastronomic adventures await at Café Marco! For inquiries and reservations, you can call (032) 253-1111. For real time updates, like the Facebook page at facebook.com/marcopolocebu or follow on Twitter at @5StarInCebu. Visit the website at www.marcopolohotels.com.
For inquiries and reservations, call 253-1111 or email hospitality.ceb@marcopolohotels.com.
La Liga Henerales: Shaping History Awareness Back Again in Cebu
La Liga Henerales is a community of young talents passionately promotes historical awareness through periodic costumes carefully researched for its authenticity and accuracy and promoted as well in events and schools.
Only few individuals before were into pursuit in this historical awareness project until the age of communication where internet is convenient in the palm of our hands through our gadgets. New information travel fast and data is retrievable, yet also possess a disadvantage with the plethora of different social media platforms carried by various makers as well. In a daily basis, historical backgrounds are unearthed making its trend until now as new discoveries are released, but the idea of these information being shown and shared is as close as not valuing or commemorating to its sources leaving this information just a trend.
There is a certain community of Cebuanos that are taking a quest to rewrite and restructure what was in the past, filling the gaps in facts with further research of variable sources that are made debatable but sticks to it true cause, to unveil the truths of our heritage and our origins, as Cebuanos and as Filipinos as well.


La Liga Henerales is a Cebu-based, non-profit organization composed of a group of talented, committed and respectable individuals from different walks of life, schools and profession whose primary aim is to promote both, Cebuano and filipino culture and heritage that was depicted before in pre-colonial and colonial eras via re-enactment with costumes vested in proper research and investigation to achieve authenticity. They also push their cause on schools and other social gatherings promoting and spreading awareness about our local, and national heroes that we look up to. With these said, they also portray a closer look of the lifestyle of the past to where they perform stories, perform forgotten dances and rituals and portray their individual roles, vital in the fight of our country's future during those challenging times, and in honor to spread awareness of the lost practices we had in those times.
The Founder
Louis Kenneth Villaflor, an entrepreneur and an avid history enthusiast and costumer, founded the group on the purpose of re-educating the youth about real local and national history, he saw the opportunity to combine his favourite hobbies which is costuming and story role-playing and the process to instill the historical awareness and value among the youth and in schools, along with a group of fellow enthusiasts who shares his passion about research and history, they took it among themselves to be purposeful in the advocacy in spreading historical awareness in schools or events by wearing periodically correct costumes and sharing the stories and its value to the youth.
Behind the Garments
Meet Rodney "Pee-Wee" Senining, who has been in the fashion industry since the late 90's, strives  in concepts of avant-garde, innovation and cutting edge-fashion forward design. And also a teacher of Architecture, Fine Arts and Design of University of San Carlos, he had grown into research of books like the holy grail in the Library Resource Center and is always fascinated of the periodical times and how to preserve it; Hence, his interest had grown for the affinity of Periodical Costumes and Sustainable Fashion.
 Being part of the group La Liga Henerales, he was tasked to instantly be their mentor for the young talents and as the organization is still new and developing with limited funds, resourcefulness and research were done to come up with a good output of photo shoot and was quite proud of it and still promise on the next editions of pieces to be more historically accurate. Even as teacher for Fashion Design in SAFAD, his expertise comes hand in hand with the members as he helps them do research as well. His passion and interest somehow led him with enough knowledge to key the insights of the significant periods and historical backgrounds of it.
Historical Awareness in Cebu
The strength and progress of a country is anchored on how well they know and honor its history. The means of historical awareness in Cebu is almost non-existent among the Cebuanos, although we push forward in tourism and promote beauty through sceneries and other aspects of culture yet never commemorate deeply on historical icons such as our other local heroes, and ancient cultures as well that is almost been forgotten in an urban Cebu. Nevertheless, as long as communities' like La Liga Henerales are now evolving in a learning state by real discovery by multiple resources, this will always reflect of how we appreciate love, patriotism and honor to our country and would look forward to progress.
Christmas in Colonial Cebu: A Themed Exhibit by Teresin Mendezona and Eva Gullas for Stylescapes 2019
Ever wonder how the yuletide season is celebrated in colonial times? This year at Stylescapes 2019, Teresin Mendezona and Eva Gullas collaborated to showcase the elegance of Christmas during the colonial period, specifically most of the Spanish regime.
This pop-up radiated the ambience of Christmas in the colonial times through the various details used within the setting. Specific pieces like the gansilyo table cloth, oil lamp, and the sketches were from Ms. Mendezona and Gullas themselves.
Aside from that, various table and living room pieces were sourced from Rustans and Metro Ayala, and was curated by Doro Barandino.