The Brown Academy of Music Cultivates Homegrown Talent
The vision to create a world-hub of music education that enhances the music and arts community of Cebu and elevates the local community on the national level has been the root of everything the Browns have gone through to make the Academy possible.
Artists of different sorts have continued to reign in Cebu's local scene for more than a decade. These homegrown talents from the same Bisaya roots continue to make names for themselves and their respective crafts, shining a spotlight on the fields of music, theater, and film, to name a few.
Filipina singer and actress Anna Fegi-Brown, recognized by her powerful voice, high vocal range, and trademark curly hair, established her own academy for the arts of performance—the Brown Academy for Music with her beau, Adam Brown, who is both a musician and a music educator from the United states.
Anna is well known for her appearances in international and national stages, a long way from her humble beginnings with auditioning for Ryan Cayabyab for a pop group. It has always been her dream to establish a music school to give everyone equal chances to learn about music.
"We planned BAM while performing abroad in 2014 and 2015 and came back to Cebu in August 2015 to start putting everything in place from scouting locations to early marketing and hiring faculty members," shares Anna.
The musician pair's dream academy opened in early 2016 where they started off with about 9 staffers and had 40-50 students enrolled. Its headquarters were at the Northgate Centre in Banilad. It was a truly a far cry from today's 260 talented students serenading the metro with oozing musical talent.
All the while performing abroad, Anna and Adam would plan out everything for the school from the curriculum down to the classroom setups. They took time to iron out everything and gather enough resources to establish the academy, plus having the opportunity to travel to nearly 60 different countries, which then became their inspiration when setting up the school.
"In two and a half years, our enrollment has gone up 650%, our faculty size has almost doubled, and the size of the school has tripled," shares Anna of her talent-developing Academy. Just last year, Anna shares that a lot of her students' parents kept requesting dance classes since they were already enrolling their children in voice lessons. Outsourcing local talent Monica Orellano of the Knapsack Dancers was a big step for them to take to develop their Academy.
Brown Academy of Music (BAM) has taught over 1,500 students since opening its doors in January 2016. Age truly doesn't matter when it comes to enhancing your talent as their students range from just over a year old to those all the way up to 70 years old. With over 10 major culminating shows, there have been over 850 talents performing on stage.
"One of our long-range goals is that the music scene in Cebu is recognized as an equal to Manila. It would be nice that one day, artists have the option to stay and perform in Cebu rather than having to leave in order to make a living," shares Anna.
When asked about their major strength, the dynamic duo highlights how they bring their own experience in performing into the school. Teaching music is not just a hobby for her and her husband, aside from it being their area of expertise, it continues to be their passion for over a decade now.
"When we are in front of the students and teaching them, we have been in their shoes as students and as young performers on stage," Anna muses.
Passing on the talent and skills, the Academy's Elite BAMStars, is a group who auditions every year to get in and a group that the duo personally and directly produces. The students have also had the chance to perform in shows with major stars both locally and internationally, with whom they have shared lasting experiences and insights with, having a glimpse of the showbiz industry.
Sharing the Academy's pride, Anna shares that it continues to exist with the aim of bringing true music education to Cebu. Providing the highest quality music education, based upon the fundamentals of music, wherein students would be able to find their own voice, nurturing their creativity and artistry is what makes the Brown Academy of Music live on.
The vision to create a world-hub of music education that enhances the music and arts community of Cebu and elevates the local community on the national level has been the root of everything the Browns have gone through to make the Academy possible. Creating melodies and speaking one's heart out through music was is what BAM is trying to establish in Cebu, and in its 2nd year of existence, it continues to live on the dream, one stage at a time.
The Uncommon Traditions that Mexicans and Filipinos share when celebrating the Day of the Dead.
Dia de los Muertos
By Allain Dumon Fonte
The 2nd of November is All Soul's Day, a holiday that is very important to many Filipinos to remember our loved ones who passed on. This is also widely celebrated in Mexico as "Dia De los Muertos" or in English, "The Day of the Dead". And Mexicans celebrate the 2nd of November grander than they celebrate Christmas. Well, you can witness it from the Disney movie, "Coco".
As All Soul's Day or Dia de los Muertos is about to end, here are some interesting traditions and superstitions that Filipinos and Mexicans share:
1. IT IS NOT ON THE 31st OF OCTOBER
Dia de los Muertos or All Soul's Day is not practiced on October 31st or on the Hallow's Eve as many other western cultures practice; but we celebrate it on the 2nd of November. We celebrate November 1st as All Saint's Day or the Day of the Holy, while in Mexico they call it Dia de los Innocentes or Dia de los Angelitos to commemorate the children who died too early in life.
2. THE RITUAL
Both in Mexico and in the Philippines, we visit the grave of our loved ones and we clean it well. This is a ritual to honour their resting places and to let them know that they are never forgotten.
3. FLOWERS INVITE SPIRITS
In Mexico, they believe that the scent of flowers attract spirits. So the flower offerings are invitation to their dead loved ones to visit the living families. While in the Philippines, we believe that flowers offered to the dead exalt the souls and somehow fill in the sadness that we feel when missing our dead loved ones.
Most of the time, Filipinos choose all-white flowers to offer because white is the absence of colour, which means the absence of Joy and happiness. White also symbolises purity of soul which we hope our dead loved ones will attain as they journey to heaven. While in Mexico, they have the yellow Mexican marigolds as the official flowers of the dead that will guide them in their journey to the afterlife.
4. THE LEGEND OF THE MONARCH BUTTERFLIES
Both cultures believe that monarch butterflies are dead loved ones who visit us and show their appreciation that we have not forgotten them. A presence of monarch butterflies also means that our dead loved ones are always there guiding us and looking after us.
5. A PICNIC IN THE GRAVEYARD
Spending a night at the graveyard and picnicking with the rest of the family may sound very creepy to many; but to both Filipino and Mexican cultures, picnicking and spending a night at the cemetery is a must to show our love to our dearly departed. It is the only time in the year that families gather and tell stories of the dead loved ones and how colourful or how great their lives were.
6. FOOD FOR THE DEAD
In Mexico, they have what they call "ofrendas" or an altar where the pictures of their dead loved ones are displayed and offered with flowers, candles, and their favourite food. Very similar to the Filipino culture of cooking the favourite food of our dead loved ones and everyone in the family enjoys the food for dinner.
My family tradition involves me driving all the way to Colon street and buy that famous Snow Sheen's "pancit canton". This is my granddad's favourite snack. Sadly, the old Visayan Restaurant is no longer there. My late uncle and my late grandpa love their sweet ad and sour fish. We also set up an "ofrenda" on their graveyard and eat their favourite food while picnicking in the cemetery. We do not spend a night in the cemetery; but while we are picnicking there, we usually play the songs of Pilita Corrales and Susan Fuentes that my late grandpa used to listen every afternoon while enjoying his coffee, pan de sal, and pancit canton.
What about your family traditions? Share your thoughts by commenting to this article.
MODEL: Michael Joseph Mortola Enriquez & Alexis Wingfield
PHOTOGRAPHER: Gianne Paolo Anciano
HMUA/DESIGNER: Hazel Ocaba
STYLING: GPA Lifestyle + Clothing
Catch Ted Lasso the Emmy Award Winning Comedy Series on Apple TV+
Rating: *****/ *****
The multi award–winning comedy series airing on Apple TV+ is one of my favorite shows.  Ted Lasso starring Jason Sudeikis is about a fun good-natured American football coached hired by a British soccer club (AFC Richmond in London) to become their new coach.  In spite of the fact that Ted has no experience or knowledge about British football/soccer, his positive demeanor and charm helps him overcome the animosity of the team's players, staff and fans.  Eventually Ted wins over the team and the locals as they fight for position in the English Premier League.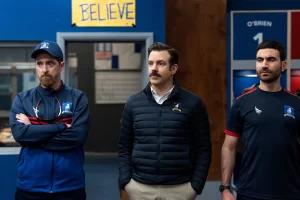 The show won the 2021 Primetime Emmy Award for Outstanding Comedy Series and 7 Emmy Awards in its 2 seasons and Season 3 is just around the corner.  You can catch Seasons 1 & 2 of Ted Lasso on Apple TV+
PANDEMIC DIARIES: Twelve Months Later
Photos taken by Pablo Quiza around Cebu City during the months of March, April and May 202
AS WE APPROACH ONE YEAR under pandemic times, we look back at March 2020 with fascination. And awe. We had 12 months of lockdown and survived the so called new normal. We lived with masks and alcohol even today. Carless roads and dark malls. Those were the early days of March, April and May.
It stretched to October and past Christmas. No Sinulog. Virtual parties on Zoom and virtual mass on You Tube and FB Live. We debated on the best meds to take if we get sick and whether to wear masks (please do!). We scampered for face shields and anti-viral sprays. Vitamins C and D and zinc. Later, we survived being swabbed and we learned the difference between a PCR and an anti-gene test. The latter cost less.
We dreaded the declarations of IATF mandated from Manila. And we got mad at the police chief who had a birthday party while his people were busy locking up everyone violating the lockdown. Most horrifying of all, we needed to produce IDs! Are you a resident of Barangay Lahug or Banilad? Are you employed and why are you still working? Everyone suffered thru endless checkpoints. Most sad of all are those using motorbikes, they seem to get the raw end of the deal since those with cars are not as scrutinized. We managed to trick the system by putting a big handwritten note in front of the car: COMPANY CAR, and zipped tru the police desks in the middle of the road. Don't even think of travelling, by plane, boat or bus. The collection of the required documents is enough for one to get exposed to Covid.
We learned to shop online, order groceries and necessities thru delivery. We slowly moved towards cashless payments. Gcash and banks like Union Bank and China Bank with friendly apps are heroes for making life easy for most of us to spend what little cash we have to spend on Lazada or pay the VECO bill. Oh and we binged on K dramas on Netflix and You Tube, kamsaminada.
As 2021 enters, there are some good news. For those obsessed with news, you already know that 7,000 vaccines arrived last March 2 in Cebu, with more expected in the next few weeks. The death rate is not as high among those who caught this pesky virus, which tells us that doctors in the hospitals have some proven expertise in dealing with Covid. More cures should be in the horizon.
Meanwhile, lets continue dreaming of the day when we can cross borders again, even if its just Bohol or Boracay, Bangkok or Hong Kong. Ready those luggages and bags bought during the 3/3 sale in Shopee in preparation for the day when we can take the ferry or the plane for new adventures.