Larger Than Life
When a high-profile couple needed their new home reimagined, interior designer-tandem, Almario sisters Ivy and Cynthia, provided the vision.
When a high-profile couple needed their new home reimagined, interior designer-tandem, Almario sisters Ivy and Cynthia, provided the vision.
by Ian E. Baol photography Genesis Rana
After some months of construction on their new home which they thought first to be just a small project, the homeowners were in limbo, not knowing how to push further and achieve their dream home that fit their lifestyle. Fashion designer Kate Torralba—the homeowners' niece—then intervened and sought professional help in the couple's stead and turned to her good friends the Almario sisters Ivy and Cynthia; a powerhouse design tandem whose roster of clients include designer Philipp Rodriguez, many of the Aboitizes, the Ayala Group, restaurants like Café 1771 in Ortigas, high-end residential areas North and South Forbes Parks in Makati and Tierra Pura in Quezon City, to name very few, not to mention other top hotels and resorts here and abroad.
But the couple had to be patient, as Ivy and Cynthia were jetting around the world on commissioned projects. Eight weeks later, leaving Cebu after seeing the house, Ivy Almario found herself immediately sketching her ideas, old school, drawing—in scale—the house's proposed new interiors, and all from sheer memory (that's right, without the help of any camera, computer, whatsoever).
Within a year the house still humbly sits on a quarried adobe hillside, but now God is in the details, and they are grand.
"The challenge was to visually expand the space," said Ivy, "and I believe we succeeded." I couldn't find the words to express how much I agreed. "When I came to visit on my day-trip there were walls covering too many parts of the house. You couldn't see this rock," said Ivy talking about the solid adobe wall resulting from the quarried hillside where the house was built. "We thought, oh my, in Australia for example, they look for this, they buy this, but here you're sitting on a gold mine. We have to make this the artwork," as she pointed out, the point being unobstructed living spaces brought about the absence of walls to hang art.
But Ivy and Cynthia say the couple is already "modern" at heart. "The floating stairs, for example, was already there, so we helped them in the most exciting execution and accessorizing," said Ivy, assured that she knew what the homeowners already knew wanted and that they just helped the couple get there.
Before Atelier Almario in the Philippines came to be, the sisters lived and worked in the US. Cynthia worked for a design firm in California that did the interiors of the Shangri-La resorts all over Asia (including Shangri-La Cebu) and several other hotels in the US. Ivy worked for four different firms in three years, as a rendering artist, then for over ten years she was on her own, earning a living as an independent rendering artist and eventually a junior designer, putting her clients' concepts onto paper for their presentations. "It was then that I became a really good designer," Ivy said, "by working for these companies, I was able to internalize how they solved design problems." Eventually the sisters moved back to Manila, and the interiors of many high-end residential and commercial projects were never the same again.
Ivy's Feng Shui is also considered by Manila experts to be perfect for projects. Her approach to space planning, and understanding and maximizing light sources, impactful door opening, and the general flow of energy is always strategic.
For this home, Cynthia and Ivy and said it could have been easy to take the surroundings' natural beauty for granted, but as the design concept was to bring the outdoors in and maximize the existing spaces, they took down walls, used a lot of glass, and strategically set big mirrors.
Cynthia said the couple wanted their home to have a "resort feel" as they travelled a lot and enjoyed five-star treatment. The woman of the house wondered why they couldn't just have it at home, "so as the designers, we made sure it would be very restful." The master's bedroom is elevated so all you see when you wake up are the tops of trees and the sky. For the headboard wall, a copyrighted design from Bonace, in Cebu, a mother of pearl wall. "Sometimes when I wake up, I forget I'm just at home," laughed the woman of the house. Beat that, five-star hotels. The pyramid canopy above the bed expanded the sleeping area and the use of continuous glass panel windows provides an unobstructed view of the fire-trees of the fronting hill. Without having to bring in a landscape artist, they were able to bring the outdoors in and the homeowners agree that this part of the house has really changed their lives. For privacy they installed remote-controlled venetian blinds from __. Stepping outside the bedroom leads you into the outdoors; a balcony cum breakfast nook for six with a beautiful Dedon dining set.
Aside from the Kenneth Cobonpue Bloom chairs down in the living room, the Almario sisters tapped into the unique Cebuano talent getting items from designers and manufacturers professing a love for Cebuano products. Coast Pacific, Dedon, and Kenneth Cobonpue make up most of the outdoor furniture. Other items and décor the couple brought in from the US, Singapore, Malaysia, Thailand and the UK—of course with Ivy and Cynthia's approval. "Take it easy, be patient, and wait for us," the woman of the house recalls the sisters telling her before she went on her furniture shopping spree, admitting to over-excitement and being too eager to start buying already after seeing the sisters' design prospect.
The man of the house, who documented the process very carefully, affirms that the sisters' work is truly inspired, and inspiring, showing pictures from Ivy's initial sketches to the construction phases. The exterior was envisioned by Architect Ed Gallego, and the interiors by Atelier Almarior's junior architect Jay Rivero who has been in praxis since 2004 and been working with the Almario sisters since 2006.
The daughter's room reads like a Marie Antoinette fantasy. She worked with the interior designers giving them pegs of her ideas, which fit like a glove with the sisters' general chic aesthetic idea for the home. The ornate night tables and plush bed and seating were all fabricated in Manila and finished in Cebu and the mother made the lampshades herself. "It was a labor of love," she called it.
In another interview, the sisters, who are known to be extremely close, so much to even finish each other's sentences, refer to their general design mantra as being chameleon-like, "We design using a whole gamut of genres and periods, from traditional, transitional, contemporary, Asian fusion, modern, you name it, we do it." They prioritize "great work ethic and passion for work," with strong relationships "with God, family, loved ones, friends, clients and peers, staff and suppliers," and even people they encounter every day.

St. Patrick's Day Celebration at Marco Polo Plaza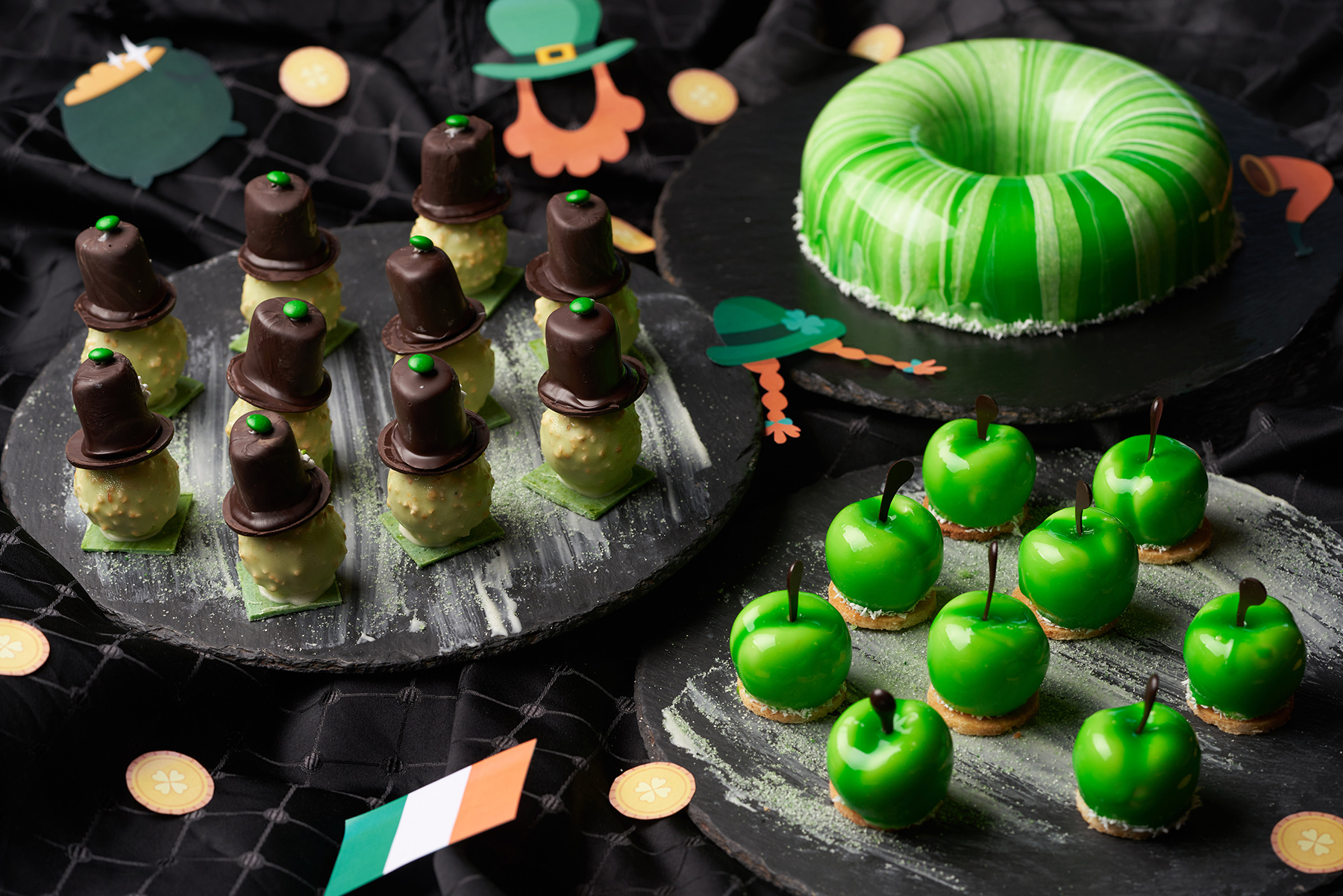 Marco Polo Plaza will be celebrating St. Patrick's Festival with the rest of the Irish community! It's not only a feast of greens and four-leaf clovers but of good food too! From March 17 to 19, dig in and enjoy traditional Irish dishes and delights such as Irish Stew, Potato Nachos, Cheesy Reuben Loaf, Guinness Beef Stew Pot Pie, Beer Mac N' Cheese and many more. These on top of the international lunch and dinner buffet at Cafe Marco. Complete the experience in true Irish fashion with an ice-cold mug of Irish Beer, also available at Cafe Marco.
Gastronomic adventures await at Café Marco! For inquiries and reservations, you can call (032) 253-1111. For real time updates, like the Facebook page at facebook.com/marcopolocebu or follow on Twitter at @5StarInCebu. Visit the website at www.marcopolohotels.com.
For inquiries and reservations, call 253-1111 or email hospitality.ceb@marcopolohotels.com.
La Liga Henerales: Shaping History Awareness Back Again in Cebu
La Liga Henerales is a community of young talents passionately promotes historical awareness through periodic costumes carefully researched for its authenticity and accuracy and promoted as well in events and schools.
Only few individuals before were into pursuit in this historical awareness project until the age of communication where internet is convenient in the palm of our hands through our gadgets. New information travel fast and data is retrievable, yet also possess a disadvantage with the plethora of different social media platforms carried by various makers as well. In a daily basis, historical backgrounds are unearthed making its trend until now as new discoveries are released, but the idea of these information being shown and shared is as close as not valuing or commemorating to its sources leaving this information just a trend.
There is a certain community of Cebuanos that are taking a quest to rewrite and restructure what was in the past, filling the gaps in facts with further research of variable sources that are made debatable but sticks to it true cause, to unveil the truths of our heritage and our origins, as Cebuanos and as Filipinos as well.


La Liga Henerales is a Cebu-based, non-profit organization composed of a group of talented, committed and respectable individuals from different walks of life, schools and profession whose primary aim is to promote both, Cebuano and filipino culture and heritage that was depicted before in pre-colonial and colonial eras via re-enactment with costumes vested in proper research and investigation to achieve authenticity. They also push their cause on schools and other social gatherings promoting and spreading awareness about our local, and national heroes that we look up to. With these said, they also portray a closer look of the lifestyle of the past to where they perform stories, perform forgotten dances and rituals and portray their individual roles, vital in the fight of our country's future during those challenging times, and in honor to spread awareness of the lost practices we had in those times.
The Founder
Louis Kenneth Villaflor, an entrepreneur and an avid history enthusiast and costumer, founded the group on the purpose of re-educating the youth about real local and national history, he saw the opportunity to combine his favourite hobbies which is costuming and story role-playing and the process to instill the historical awareness and value among the youth and in schools, along with a group of fellow enthusiasts who shares his passion about research and history, they took it among themselves to be purposeful in the advocacy in spreading historical awareness in schools or events by wearing periodically correct costumes and sharing the stories and its value to the youth.
Behind the Garments
Meet Rodney "Pee-Wee" Senining, who has been in the fashion industry since the late 90's, strives  in concepts of avant-garde, innovation and cutting edge-fashion forward design. And also a teacher of Architecture, Fine Arts and Design of University of San Carlos, he had grown into research of books like the holy grail in the Library Resource Center and is always fascinated of the periodical times and how to preserve it; Hence, his interest had grown for the affinity of Periodical Costumes and Sustainable Fashion.
 Being part of the group La Liga Henerales, he was tasked to instantly be their mentor for the young talents and as the organization is still new and developing with limited funds, resourcefulness and research were done to come up with a good output of photo shoot and was quite proud of it and still promise on the next editions of pieces to be more historically accurate. Even as teacher for Fashion Design in SAFAD, his expertise comes hand in hand with the members as he helps them do research as well. His passion and interest somehow led him with enough knowledge to key the insights of the significant periods and historical backgrounds of it.
Historical Awareness in Cebu
The strength and progress of a country is anchored on how well they know and honor its history. The means of historical awareness in Cebu is almost non-existent among the Cebuanos, although we push forward in tourism and promote beauty through sceneries and other aspects of culture yet never commemorate deeply on historical icons such as our other local heroes, and ancient cultures as well that is almost been forgotten in an urban Cebu. Nevertheless, as long as communities' like La Liga Henerales are now evolving in a learning state by real discovery by multiple resources, this will always reflect of how we appreciate love, patriotism and honor to our country and would look forward to progress.
Christmas in Colonial Cebu: A Themed Exhibit by Teresin Mendezona and Eva Gullas for Stylescapes 2019
Ever wonder how the yuletide season is celebrated in colonial times? This year at Stylescapes 2019, Teresin Mendezona and Eva Gullas collaborated to showcase the elegance of Christmas during the colonial period, specifically most of the Spanish regime.
This pop-up radiated the ambience of Christmas in the colonial times through the various details used within the setting. Specific pieces like the gansilyo table cloth, oil lamp, and the sketches were from Ms. Mendezona and Gullas themselves.
Aside from that, various table and living room pieces were sourced from Rustans and Metro Ayala, and was curated by Doro Barandino.