How to survive SM Seaside City like a boss
Even if you've been living under a rock these past few days, you're most likely aware that the SM Seaside City Cebu opened to much fanfare on November 27, 2015. It's impossible not to, when everyone and their grandmothers and dogs—and yes, I've actually seen a fair share of pets there already—are flocking to the city's newest lifestyle destination. As SM Prime Holdings' 56th mall in the country and third in Cebu after SM City Cebu and SM City Consolacion, the SM Seaside City is the third largest mall in the Philippines, making it A Very Big Deal indeed.
Everyone seems privy to most of the details about the mall already, so let's skip the fact sheet and go straight to the point: How to survive SM Seaside City like the boss that you are.
BRAVE THE COMMUTE…
On social media, for every post about SM Seaside City, there's three about the heavy traffic in the surrounding areas. You can enter the SM Seaside City from the SRP or the Mambaling extension road, which are definitely not the widest streets in the city. As a result, traffic is crazy, but there's nothing you can do—not even skipping SM Seaside City entirely—to solve it. Might as well make your travel experience as bearable as possible. I have Spotify playlists with songs I can sing along to in the car, while another friend suggested putting movies on your preferred gadget.
As far as I know, no jeepneys are allowed at the SRP, so commute is limited to cabs and habal-habal. Some people actually walk from Mambaling to SM Seaside City (now that's what I call dedication). But hey, did you know there's now a MyBus you can ride if you want to go?
Unfortunately, no matter how you plan on getting to the SM Seaside City—yes, even by foot if the crowded sidewalks are anything to go by— you are not exempted from the traffic. A moment of silence for traffic-free SRP. You will be missed.
… AND PARKING
The first time I went to SM Seaside City, I had a mini panic attack because when I asked the guard where I can park, he pointed me far, far away from the mall. This. Is. Okay. As it turns out, it's quite a long ride going to the entrance, especially if you're coming from the Mambaling end.
There are two options for parking: Upper and Lower. I've never been big on basement parking because of claustrophobia, so I definitely prefer the upper one. Based on experiences with both, the upper parking area also seems to have more convenient accesses to the mall. Either way, parking is a bit disorienting, so it helps to note the shops you encounter the moment you get into the mall so you know what to find when you're making your way out. Otherwise, this happens. As an additional precaution, you can also take a photo of the parking slot codes painted on the pillars… as long as you make sure your mobile phone's batteries last the whole time you're there.
ORIENT YOURSELF
Consider this: I stand just a little under five feet. SM Seaside City is around 4,300,000 square feet (roughly converted from 400,000 square meters). To say that the mall can get overwhelming is an understatement. Also, if that doesn't humble you, I don't know what else would.
There's a lot to cover on foot, but before you run inside your new playground (that is, if you can figure out where to enter), orient yourself with the basic fact that the SM Seaside City is divided into four parts: The Cube Wing, The Mountain Wing, The City Wing, and The Seaview Wing, all named after the sides they face (and yes, you can finally see how the Cube looks like from the inside after gawking at it from outdoors for the longest time). Since the mall has a circular shape, however, I personally don't see why they're called 'wings'. Why can't it be 'piece' or 'slice', because you know, pizza? Cake?
The circular orientation means that if you start from point A and walk to either your left or right side, you're going to pass by all the slices wings and still manage to end up again at point A. So when you see all those arrows pointing to the restroom/ATM/whatever, you are headed in the right direction. It just entails an endless walk ahead. Talk about going in circles.
Anyway, point made: Mall is B-I-G. Which leads us to…
WEAR SENSIBLE SHOES
I live and breathe in high heels, and actually spent my first day at the SM Seaside City in five-inch shoes. By the next day I went to the mall, practicality won over vanity and I like having feet and I'm not a total masochist, so I grudgingly conceded to wearing more comfortable flats, even if I had to look up at everyone else. There is just no other way to enjoy exploring all of SM Seaside City with painful feet.
I jokingly suggested to some people that they should wear running shoes and make a workout out of malling (isn't shopping a sport anyway?), but this is actually good advice. You're sure to work out a lot of calories, especially if you plan to tour everything in one go. Side note: I've been at SM Seaside City practically every day since the media and VIP launch, and yet it took me days to finish going around the spaces accessible to the public.
It's good to note that there are golf carts available to give free rides to senior citizens, pregnant women, or just the average weary shopper… that is, if you can manage to get on one.
DRESS ACCORDINGLY
As with any other new mall, the air conditioning units at the SM Seaside City are running at full blast. Backstage at the SM Woman fashion show, I was told that this is done to measure the full capacity of said air conditioning units. That's cool and all (pun intended), but unless you want to test the full capacity of your body warmth at the risk of catching hypothermia or if you want to prepare yourself should the winter season be legalized in the Philippines, wear a jacket. Especially if you're planning to hit the ice skating rink.
On the plus side, the insane crowds help with the chilly temperatures. Still, it helps to be prepared. Winter is coming.
EAT AND BE MERRY
Not all the shops are open yet, and the bulk of those seem to be the dining establishments. Seriously. SM Seaside City, we need to sit down and talk about priorities.
There's a lot of new concepts to look forward to (Tim Ho Wan!), but for now we'll have to make do with a handful of restaurants, mostly fast food joints such as Jollibee and McDonalds as well as the ones on the food courts of the cinema and the supermarket. Naturally, these are jam-packed, so unless you're a contender for The Hunger Games (literally, not the book/movie series) or willing to wait in line for who knows how long, make sure you don't go to the mall on an empty stomach.
BE NICE AND HAVE FUN
Over the past few days, I've noticed that some mallgoers seem to relish bumping into other people. This is not necessary. I can't emphasize enough how SM Seaside City is huge, and even with the crowd, there's still a lot of space for people to share. So, play nice.
Most of all, have fun! SM Seaside City is a huge (ha) development for Cebu. It's pretty. It's shiny. It's sparkly. It's new. It's big. It's a lot of things, yet most of all, it's an experience that should be celebrated by everyone.
SM SEASIDE CITY CEBU
South Road Properties cor. Mambaling Road
Cebu City, 6000
Facebook | Instagram
by Patty Taboada
Did I miss any tips? Or do you want to share your thoughts? Sound off in the comments section!
LONDON IN FULL BLOOM: An Exclusive Look at the recent Chelsea Flower Show
The Chelsea Flower Show in London, one of the most prestigious horticultural events in the world, returned in full glory in May 2023, captivating visitors with its stunning displays and landscape designs. Held annually on the grounds of the Royal Hospital Chelsea in London, this year's show proved to be a true feast for the senses, showcasing an array of breathtaking gardens, vibrant floral arrangements, and innovative landscaping. The 3-day event showcased 36 outdoor gardens, including four balcony gardens for small spaces. Inside the giant pavilion, blooms compete with each other, exotic flowers, roses, and many more.
The 2023 Chelsea Flower Show embraced a Nature's Harmony theme, with a strong focus on sustainability and mental health. The show's organizers emphasized the importance of sustainable gardening practices and biodiversity conservation, inspiring attendees to create beautiful outdoor spaces while preserving and protecting the environment.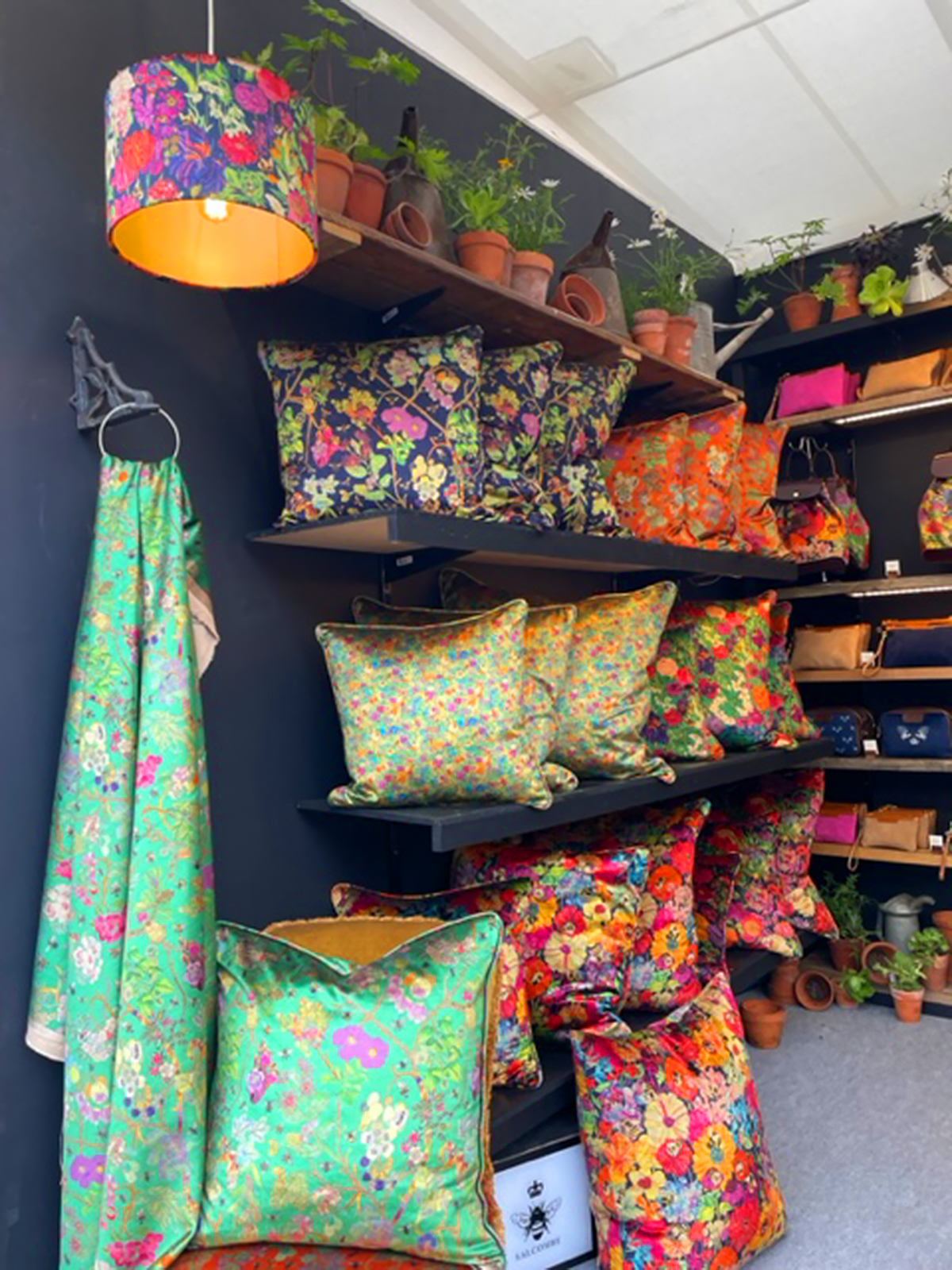 What's Cebu got to do with the Chelsea Flower Show in London? One person. James Doran Webb (https://www.jamesdoranwebb.co.uk), an Englishman working with driftwood, has been displaying his artworks for several years. James collects cast-off driftwood and shapes them into beautiful animal shapes that find places in some of the most iconic gardens. Leaping horses, owls, reindeer, and the occasional dragon, James Webb's creations are avidly collected by landscapers to add accent to gardens in all sizes, using cast-off wood, fitting perfectly with the sustainable element—something Mr. Webb has done quite well for the last decade.
***
The Philippine International Flower Festival will be held at the PICC in Manila from January 14 to 18, 2024. Watch out for more info from our website!