How to survive SM Seaside City like a boss
Even if you've been living under a rock these past few days, you're most likely aware that the SM Seaside City Cebu opened to much fanfare on November 27, 2015. It's impossible not to, when everyone and their grandmothers and dogs—and yes, I've actually seen a fair share of pets there already—are flocking to the city's newest lifestyle destination. As SM Prime Holdings' 56th mall in the country and third in Cebu after SM City Cebu and SM City Consolacion, the SM Seaside City is the third largest mall in the Philippines, making it A Very Big Deal indeed.
Everyone seems privy to most of the details about the mall already, so let's skip the fact sheet and go straight to the point: How to survive SM Seaside City like the boss that you are.
BRAVE THE COMMUTE…
On social media, for every post about SM Seaside City, there's three about the heavy traffic in the surrounding areas. You can enter the SM Seaside City from the SRP or the Mambaling extension road, which are definitely not the widest streets in the city. As a result, traffic is crazy, but there's nothing you can do—not even skipping SM Seaside City entirely—to solve it. Might as well make your travel experience as bearable as possible. I have Spotify playlists with songs I can sing along to in the car, while another friend suggested putting movies on your preferred gadget.
As far as I know, no jeepneys are allowed at the SRP, so commute is limited to cabs and habal-habal. Some people actually walk from Mambaling to SM Seaside City (now that's what I call dedication). But hey, did you know there's now a MyBus you can ride if you want to go?
Unfortunately, no matter how you plan on getting to the SM Seaside City—yes, even by foot if the crowded sidewalks are anything to go by— you are not exempted from the traffic. A moment of silence for traffic-free SRP. You will be missed.
… AND PARKING
The first time I went to SM Seaside City, I had a mini panic attack because when I asked the guard where I can park, he pointed me far, far away from the mall. This. Is. Okay. As it turns out, it's quite a long ride going to the entrance, especially if you're coming from the Mambaling end.
There are two options for parking: Upper and Lower. I've never been big on basement parking because of claustrophobia, so I definitely prefer the upper one. Based on experiences with both, the upper parking area also seems to have more convenient accesses to the mall. Either way, parking is a bit disorienting, so it helps to note the shops you encounter the moment you get into the mall so you know what to find when you're making your way out. Otherwise, this happens. As an additional precaution, you can also take a photo of the parking slot codes painted on the pillars… as long as you make sure your mobile phone's batteries last the whole time you're there.
ORIENT YOURSELF
Consider this: I stand just a little under five feet. SM Seaside City is around 4,300,000 square feet (roughly converted from 400,000 square meters). To say that the mall can get overwhelming is an understatement. Also, if that doesn't humble you, I don't know what else would.
There's a lot to cover on foot, but before you run inside your new playground (that is, if you can figure out where to enter), orient yourself with the basic fact that the SM Seaside City is divided into four parts: The Cube Wing, The Mountain Wing, The City Wing, and The Seaview Wing, all named after the sides they face (and yes, you can finally see how the Cube looks like from the inside after gawking at it from outdoors for the longest time). Since the mall has a circular shape, however, I personally don't see why they're called 'wings'. Why can't it be 'piece' or 'slice', because you know, pizza? Cake?
The circular orientation means that if you start from point A and walk to either your left or right side, you're going to pass by all the slices wings and still manage to end up again at point A. So when you see all those arrows pointing to the restroom/ATM/whatever, you are headed in the right direction. It just entails an endless walk ahead. Talk about going in circles.
Anyway, point made: Mall is B-I-G. Which leads us to…
WEAR SENSIBLE SHOES
I live and breathe in high heels, and actually spent my first day at the SM Seaside City in five-inch shoes. By the next day I went to the mall, practicality won over vanity and I like having feet and I'm not a total masochist, so I grudgingly conceded to wearing more comfortable flats, even if I had to look up at everyone else. There is just no other way to enjoy exploring all of SM Seaside City with painful feet.
I jokingly suggested to some people that they should wear running shoes and make a workout out of malling (isn't shopping a sport anyway?), but this is actually good advice. You're sure to work out a lot of calories, especially if you plan to tour everything in one go. Side note: I've been at SM Seaside City practically every day since the media and VIP launch, and yet it took me days to finish going around the spaces accessible to the public.
It's good to note that there are golf carts available to give free rides to senior citizens, pregnant women, or just the average weary shopper… that is, if you can manage to get on one.
DRESS ACCORDINGLY
As with any other new mall, the air conditioning units at the SM Seaside City are running at full blast. Backstage at the SM Woman fashion show, I was told that this is done to measure the full capacity of said air conditioning units. That's cool and all (pun intended), but unless you want to test the full capacity of your body warmth at the risk of catching hypothermia or if you want to prepare yourself should the winter season be legalized in the Philippines, wear a jacket. Especially if you're planning to hit the ice skating rink.
On the plus side, the insane crowds help with the chilly temperatures. Still, it helps to be prepared. Winter is coming.
EAT AND BE MERRY
Not all the shops are open yet, and the bulk of those seem to be the dining establishments. Seriously. SM Seaside City, we need to sit down and talk about priorities.
There's a lot of new concepts to look forward to (Tim Ho Wan!), but for now we'll have to make do with a handful of restaurants, mostly fast food joints such as Jollibee and McDonalds as well as the ones on the food courts of the cinema and the supermarket. Naturally, these are jam-packed, so unless you're a contender for The Hunger Games (literally, not the book/movie series) or willing to wait in line for who knows how long, make sure you don't go to the mall on an empty stomach.
BE NICE AND HAVE FUN
Over the past few days, I've noticed that some mallgoers seem to relish bumping into other people. This is not necessary. I can't emphasize enough how SM Seaside City is huge, and even with the crowd, there's still a lot of space for people to share. So, play nice.
Most of all, have fun! SM Seaside City is a huge (ha) development for Cebu. It's pretty. It's shiny. It's sparkly. It's new. It's big. It's a lot of things, yet most of all, it's an experience that should be celebrated by everyone.
SM SEASIDE CITY CEBU
South Road Properties cor. Mambaling Road
Cebu City, 6000
Facebook | Instagram
by Patty Taboada
Did I miss any tips? Or do you want to share your thoughts? Sound off in the comments section!
LADY CYCLISTS HIT THE ROADS AND SLOPES OF CEBU.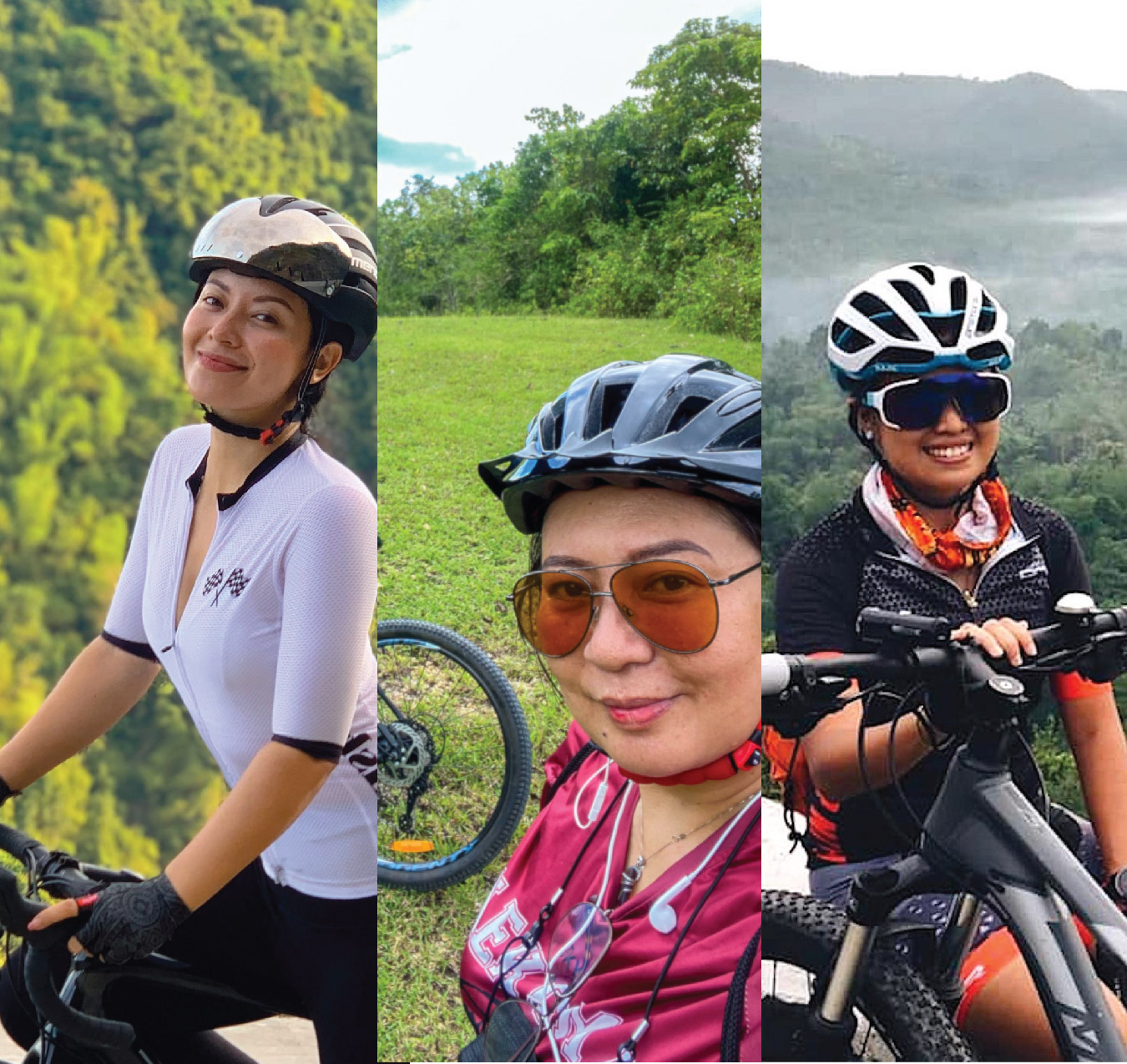 Cycling has been a growing sport and hobby for many years but it's popularity has erupted since the Covid pandemic.  People biking to work and for recreation is an everyday sight in Cebu.  More and more are joining the ride.  Many are quite serious about cycling.  I know three ladies who are among those who've gone long distances across Cebu.
How did you get into serious cycling?  What was your motivation?
Blinky de Leon.  Event Host, Product Endorser & Influencer
" I've been into cycling since I was a kid. A little backstory, I was around 10 years old when my dad surprised me with my first custom-made mountain bike. I still keep it until now, in fact I had it refurbished. It's the most sentimental thing I ever received since it was his way/gesture to catch up with me after not seeing each other for almost 6 yrs. My dad is based in Germany and he also loves cycling and makes his own bamboo bike."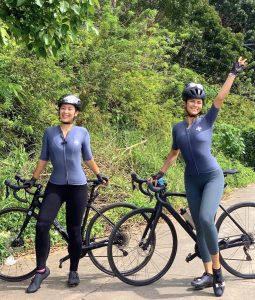 "Just a year ago though, my friend Gazini randomly, out of nowhere, picked me up from home to bike with her to the South of Cebu. I felt really excited and motivated to get back on track because it's very nostalgic and brings back so many great memories. And since then, the rest was history. We've been joining different groups, tried different routes and conquered different heights. I've met so many cyclists with very inspiring stories in the bike community who kept me feeling motivated too. I also look forward to the sights and the adventure that comes along with it."
Yumz Mariot. Branding & Marketing Consultant
"I used to bike along with rock and wall climbing. I am lousy with ballgames which is why. Our usual route were Talamban and Mactan but one time, managed to ship gears all the way to Dumaguete for a quick ride to Valencia, the next town located at a higher elevation. Those were days when I did it for fun and what bike I was using did not matter."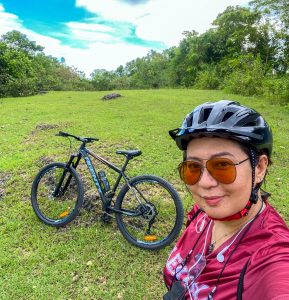 "Fast forward to 2021, a year after the pandemic lockdown began, I realized I have been lazy to do any fitness routine. Too caught up on juggling between house chores and Work from Home deliverables (I work as a Branding and Marketing Consultant), I started to feel my body needs to move as much as my brain does. A hysical fitness routine is as important as what I eat, or what I read or watch. So I decided to invest on a decent MTB, just very recently and got myself a much necessary restart. What motivates me even more is the area where I currently reside at. It is vast, fresh, green and safe for solo bikers like me."
Prime Sarino. Digital Media Creative
"I started biking as a young teenager and I got the idea to start it as an adult hobby 3 years ago. I was already into running and I thought it would be great to venture into another outdoor activity to keep me occupied after work hours and weekends. I was set to travel for a year so I had to put aside the idea first but came pandemic. We were all forced to stay put and everything was put on hold. Cycling became my diversion. My cyclists friends invited me to quick and short rides. I enjoyed my first 50km ride and the sceneries and routes most of all. It also helped channel a positive mindset during the hard hit season of the pandemic. Not to mention it's also another way to stay fit when we were forced into inactivity during the quarantine."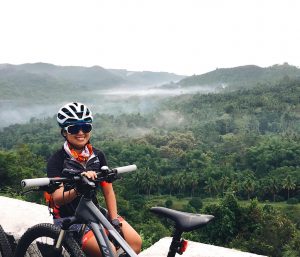 Next in Part 2, we ask the ladies about their cycling experiences and memorable moments…
by: Zen
Netflix Original Releases We're Excited for This August 2021. Part 3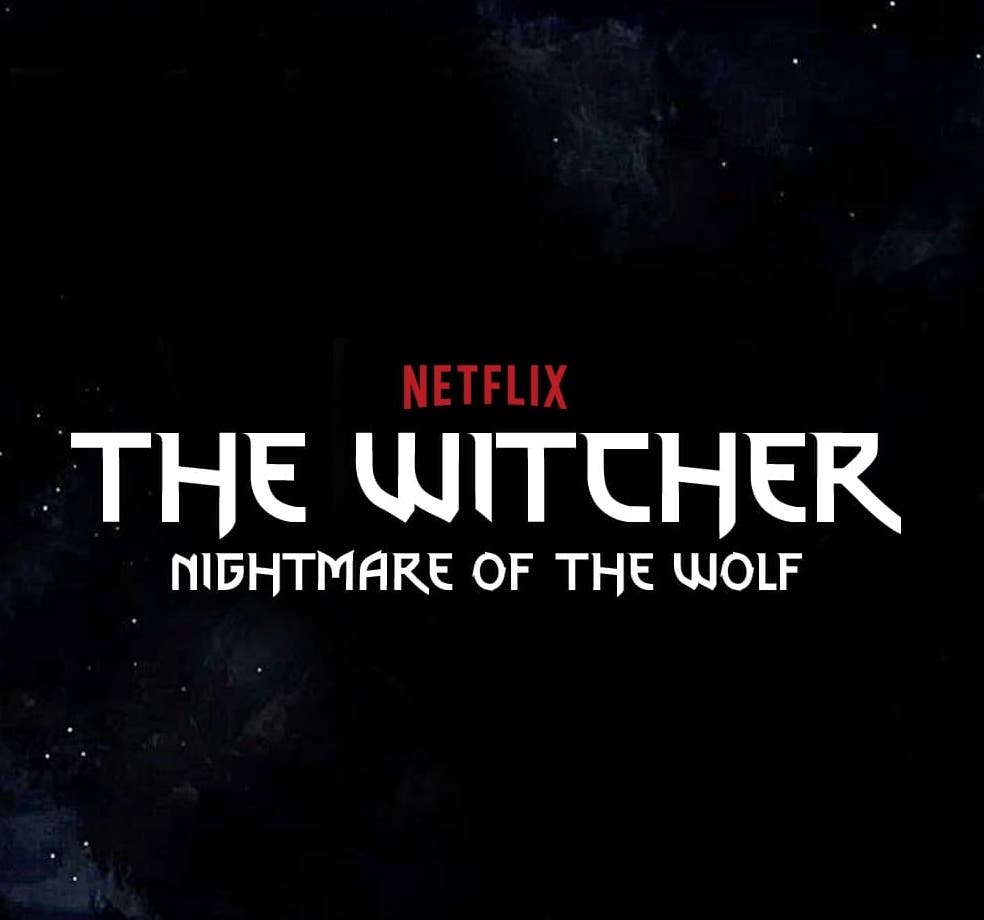 The Witcher: Nightmare of the Wolf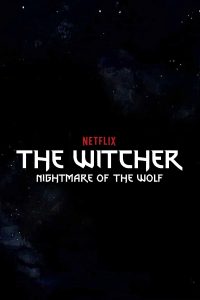 Coming to Netflix: August 23
Netflix's The Witcher series gets an anime prequel film focusing on the origin story of Geralt's mentor and fellow witcher Vesemir. While we're still waiting for the second season of the series, we're sure this film will be more than enough to tide us over.
He's All That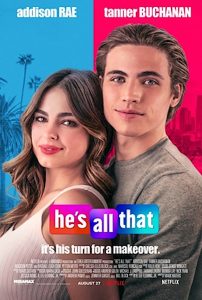 Coming to Netflix: August 27
From the director of Mean Girls comes another teen comedy starring TikTok star Addison Rae. He's All That is a remake of the 1999 film She's All That, proving Taylor Swift right in her theory of the 90's coming back stronger than ever.
Sparking Joy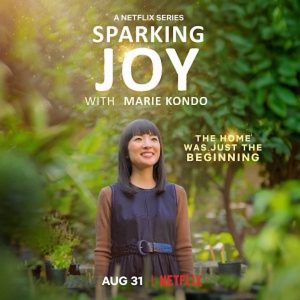 Coming to Netflix: August 31
We all remember when Marie Kondo helped us declutter our houses and better our lives with her hit show, Tidying Up With Marie Kondo. This August, she's back with another show called Sparking Joy which follows her helping people struggling to balance work and home life.
by: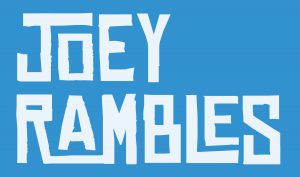 Netflix Original Releases We're Excited for This August 2021. Part 2
Here's the upcoming Netflix Originals we like for mid-August.  Great fun, exciting, and binge-worthy Netflix original releases.
Sweet Girl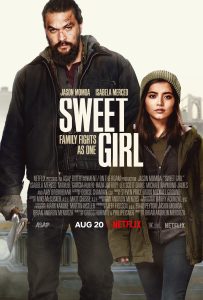 Coming to Netflix: August 20
This is another Netflix action thriller film we're excited for. This film stars Jason Momoa as a devastated husband determined to avenge his wife's death while protecting his daughter and is sure to put us on the edges of our seats the whole way through.
The Chair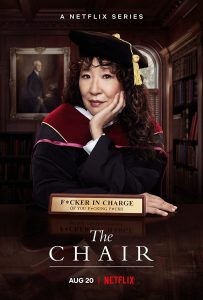 Coming to Netflix: August 20
Sandra Oh stars in this upcoming comedy-drama miniseries as the new chair of the English department at a major university, struggling to meet the demands and expectations of her new position. We're sure this is another great binge-watch from Netflix.
The Loud House Movie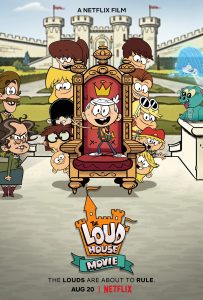 Coming to Netflix: August 20
The popular Nickelodeon animated series gets a film which features the characters of the series on a holiday trip to Scotland. This film is perfect if you're a fan of the series or you've got kids who are.
by: