Function and Form
Dynamic but peaceful…East and West…Traditional but modern…are the words artist Maria Lobo used to describe herself and the unique qualities she shares with Cathay Pacific. Their brush-wing tip has been lighting up the skies for 60 years now and with CX's recent multi-billion HK dollar upgrade, they soar the skies even higher.
Dynamic but peaceful…East and West…Traditional but modern…are the words artist Maria Lobo used to describe herself and the unique qualities she shares with Cathay Pacific. Their brush-wing tip has been lighting up the skies for 60 years now and with CX's recent multi-billion HK dollar upgrade, they soar the skies even higher.
Champagne with a hint of Drambruie and a zest of lemon was my choice of toasting to the short but sweet trip that lay ahead of me. En route to Hong Kong, sipping on my Sunrise Paradise we were eagerly anticipating news of CX's top secret unveiling of sorts. Our lovely host for the trip, Connie Cimafranca, CX Passenger Sales Supervisor, would only reveal that what was to be expected was nothing short of spectacular. After hearing this I, along with the other lovely ladies invited from Cebu, the madams of media, Nelia Neri, Mila Espina and Mayen Tan contentedly dozed off to sleep for our two-and-a-half hour flight.
Upon arrival, a little past midnight at the HKIA (Hong Kong International Airport), the 18-degree breeze was a welcome change from our sub-tropical weather. We then proceeded to our hotel,The Excelsior, adjacent to Causeway Bay and the World Trade Center. Our itinerary the next day was considerate enough to accommodate a little shopping but everyone was really excited about the Light Up Your Sky event along with more than 2000 invited guests and journalists from all over.
Hong Kong Convention and Exhibition Centre (HKCEC) in Wanchai was a perfect venue for the grand night. Incidentally, the ultra modern structure likens a bird. And with its massive glass curtain looking down on the waters of Victoria Harbor, the effect is a bird preparing for take-off. This would be telling of the events for that night. Cathay Pacific, Hong Kong's flag carrier takes off with greater features for their future flights strengthening the status of tourism and business in the Special Autonomous Region of China.
Led by chief executive officer Tony Tyler and chief operating officer John Slosar, CX introduces their latest upgrade with their services and features in aspects that include both function and form in a press conference with local and international media. First, is the installation of Cathay Pacific's new Business Class product, the result of an intensive and iterative design process involving input from the airline's Marco Polo Club members to refine comfort, versatility and function. Trust me when I say that the design revolves around all of the needs that any passenger would think imaginable, providing a space in which to sleep, dine, work, read, watch TV or simply relax. What's most valuable in this new feature, is the sense of personal and private space it provides to the passenger while remaining conveniently accessible to the onboard personnel. The second phase is the latest addition of The Cabin to the collection of Cathay Pacific Group lounges at Hong Kong International Airport, joining The Wing, The Pier, G16 and The Arrival. The Cabin is separated into five different zones: The Reception, The IT Zone, The Deli, The Health Bar, and The Relaxing Zone. Foremost among the range of seating is the innovative and unique Cathay Solus Chair. Sacrificing neither function nor form The Cabin has been designed around the passenger's activities before a flight.
Because beauty is in the eye of the beholder, the people at Cathay Pacific directed their energies to attain a more beautiful and bolder look inflight as well. Committed to create an atmosphere of sophistication and class, CX introduced what they call Art-on-Board in the business class cabins. This novel idea and personally, my favorite new feature, is the icing on the cake for most of their passengers frequently travel the world and are quintessentially admirers of art. Artist Maria Lobo was the perfect candidate to collaborate with Cathay Pacific since although she is trained in Western art methods and history, (she studied at the University of Santa Clara and the San Francisco Art Institute) her work is unmistakably influenced by her Asian roots having been born and raised in Asia. East meets west. It is in this same principle that the stylish, elegant and unique uniforms of the cabin crew and service-facing staff have been upgraded further to adapt to the changing times. Resulting to a look that's not only chic but current and contemporary as well. Eddie Lau, Hong Kong's leading fashion designer known for his mastered "Shanghai Chic" look, designed the uniforms to maintain its Asian Oriental finish because this is symbolic of a modern Asian airline respected worldwide for quality, style and gracious service.
Suffice to say that CX knows how to treat their passengers well, encompassing their needs and going that extra mile. Going beyond what is expected is how they do business and the same applies for how they do parties. After the informative press conference, we were then lead to the reception of the Light Up Your Sky event. The foyer of HKCEC was transformed to accommodate the esteemed guests of the night composed of international members of the Marco Polo Club and the press. With a view of the Hong Kong harbor, the set-up was breathtaking and magical. A one-man laser light show kicked of the ceremonies and guests were entertained to a visual escape. To the signature tune of "Feel" by Robbie Williams, models then sashayed down the stage donning the new uniforms in pride. The catchy tune is another integrated effort of the airline to push its identity as a highly recognizable global name. Saving the best for last, with everyone on the edge of their seats with curiosity, guests were then wowed with the unveiling of the new features. When the curtain came up, everyone was amazed and surprised to see three mock-up models of the The Cabin, the new business class and The Art On Board features stationed in three major areas of the massive ballroom.To the lyrics " Before I've arrived, I can see myself coming. I just wanna feel"… the verdict is in, with Cathay Pacific you arrive and come in style, triumphant in both function and form.
For Our Next Travel Destination, We Dream About Koh Samui in Thailand
Silent Sanctuaries
Mayenne Carmona discovers the Four Seasons Resort in Koh Samui is a quiet oasis to recharge and rejuvenate…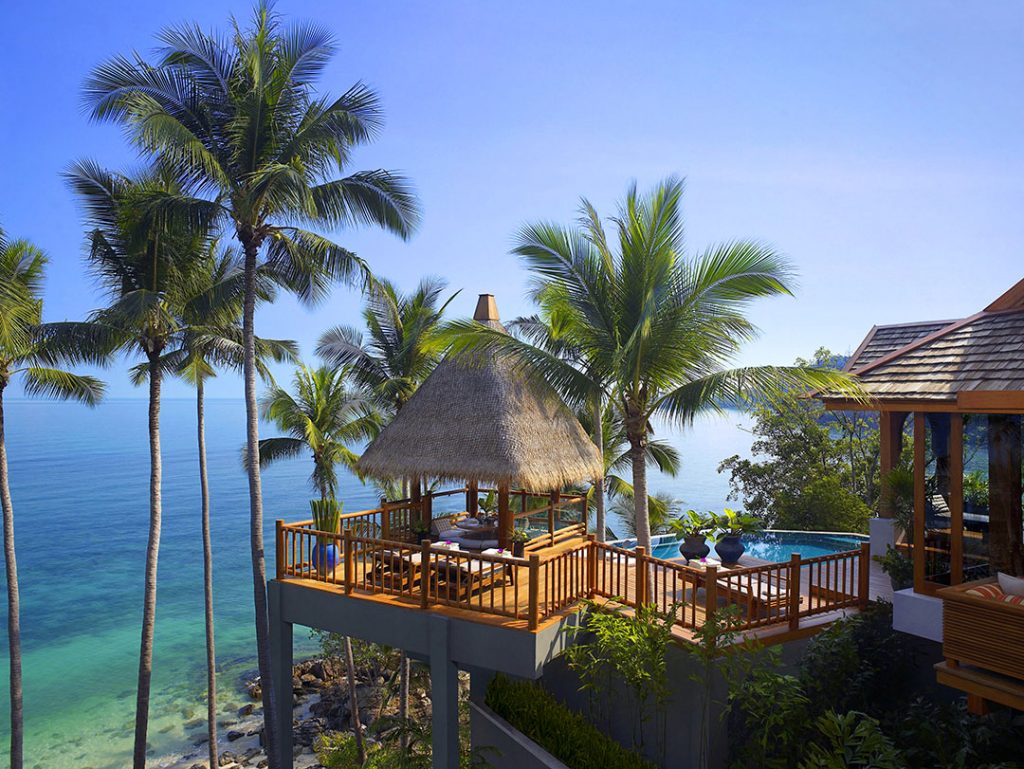 What does one expect from a Four Seasons Resort? Everything! Firstly, it will definitely be ranked no less than a five-star hotel or resort. Most importantly, it would not fall short of all your expectations: excellent cuisine, topnotch comfort at your fingertips in a well-appointed villa, courteous staff who offer impeccable service, and every other detail you could possibly need—down to the last cotton bud. After all, a Four Seasons Resort is always designed by a top-rated architectural team and interior designers.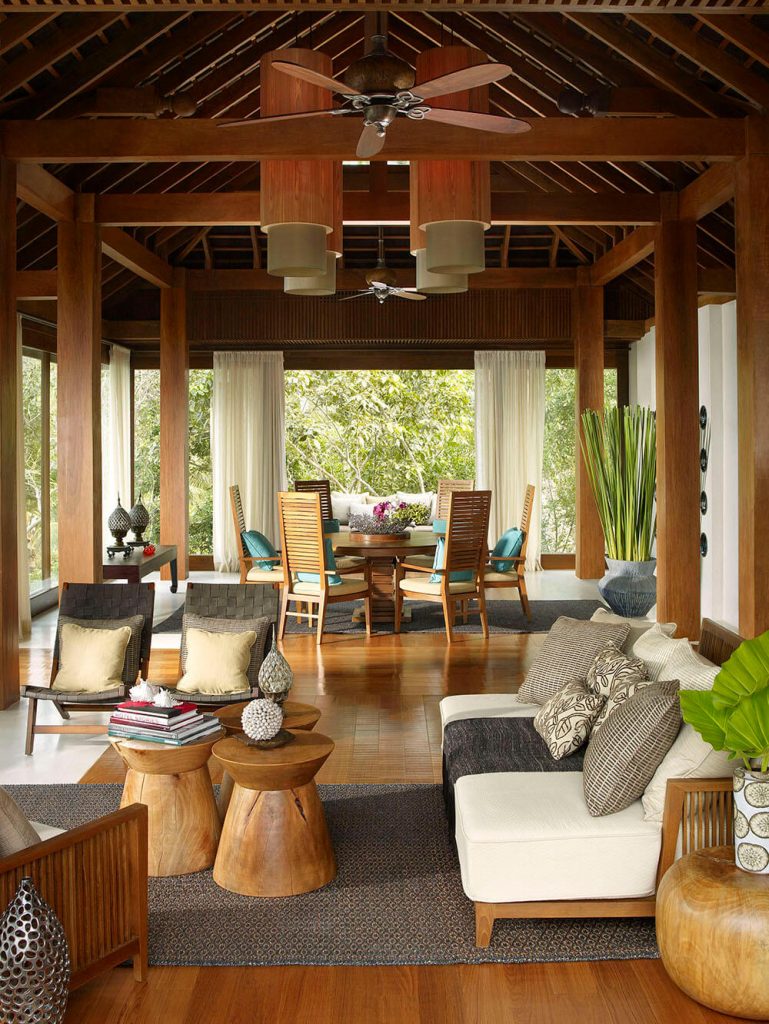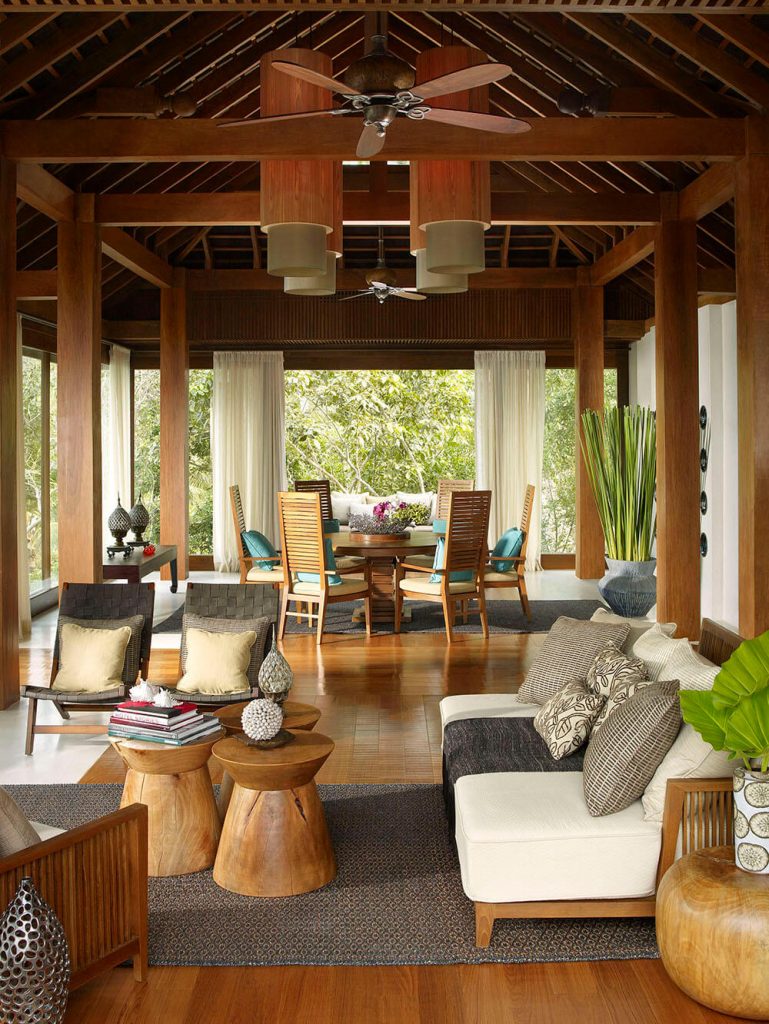 The moment I stepped into the Four Seasons Resort at Koh Samui, I felt all my cares washed away by the soft waves of the bluest sea. The fresh air cleared my sinuses in no time, and the gentle breeze was a much needed caress to a tired mind and body. It was truly paradise regained for me and my friends. We were a motley group of career-oriented people who needed a much-awaited break from work, and this was the perfect choice for us.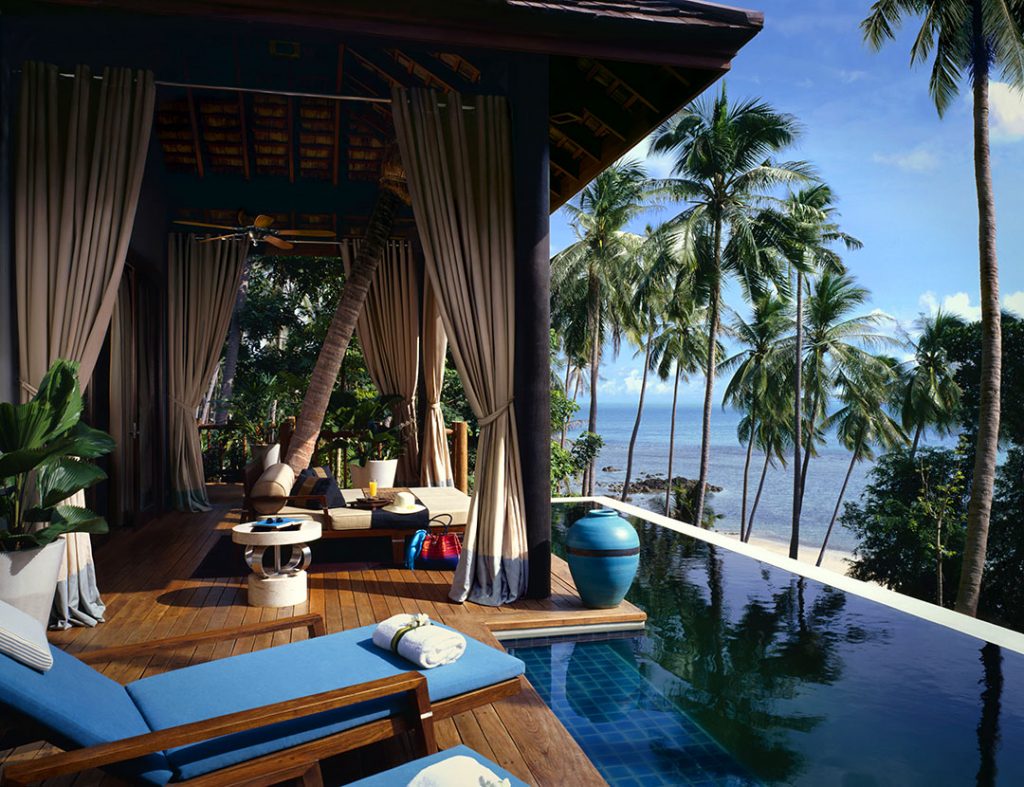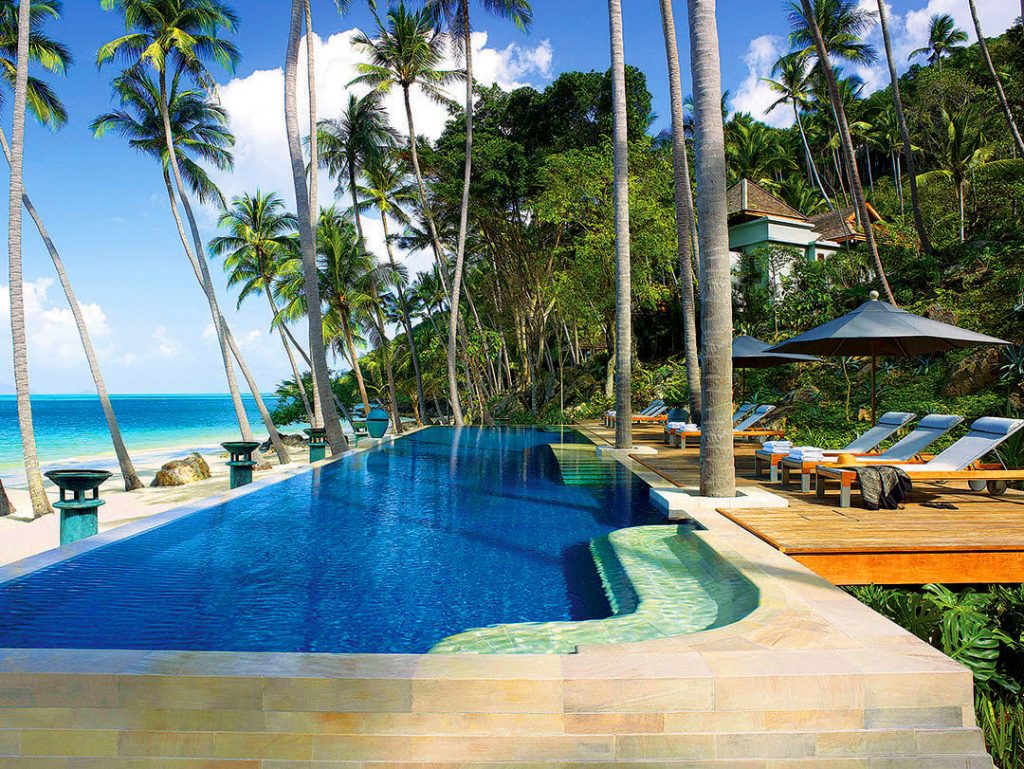 Each Villa has a butler to cater to the guests' every whim. The afternoon we arrived, we requested a sunset dinner by the beach, and much like a genie, our butler whipped up a romantically set candlelit dinner for six. A five-course delicious Thai dinner was prepared by their well-trained chef.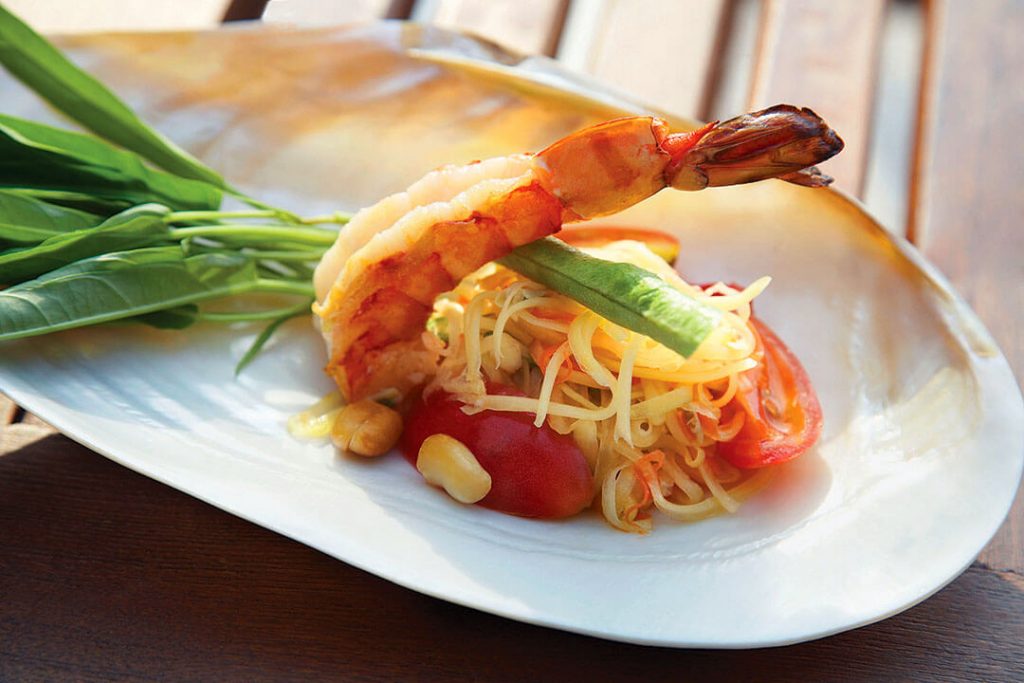 Our days were spent languishing by the beach, having daily massages, attending yoga classes, doing water sports and enjoying every bite of Thai cuisine. Golf carts transported us wherever we wanted to go within the resort. This vacation brought all my senses to another realm, and restored a weary soul to perfection.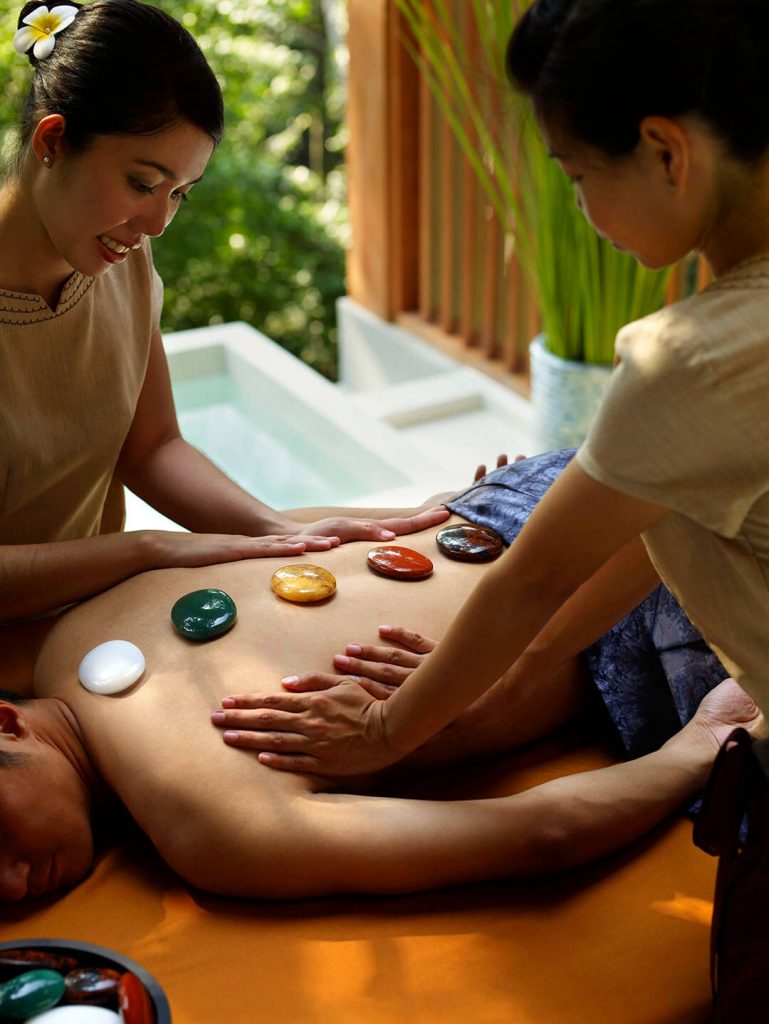 Four Seasons Koh Samui, I look forward to seeing you again!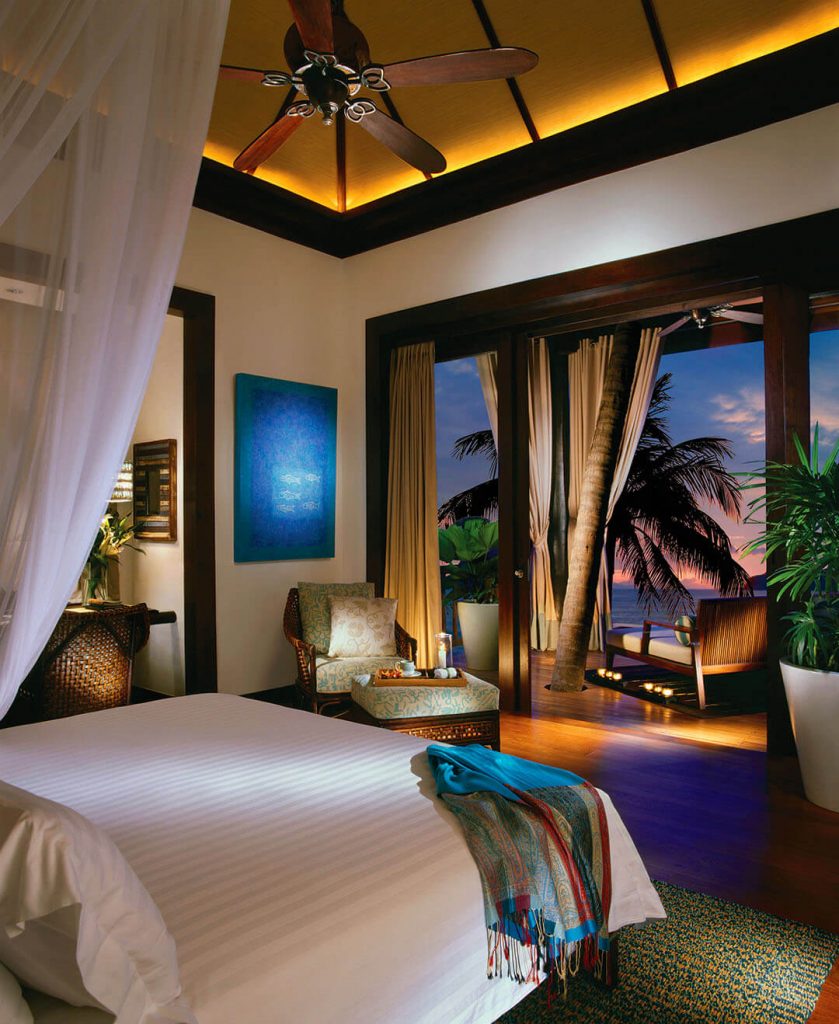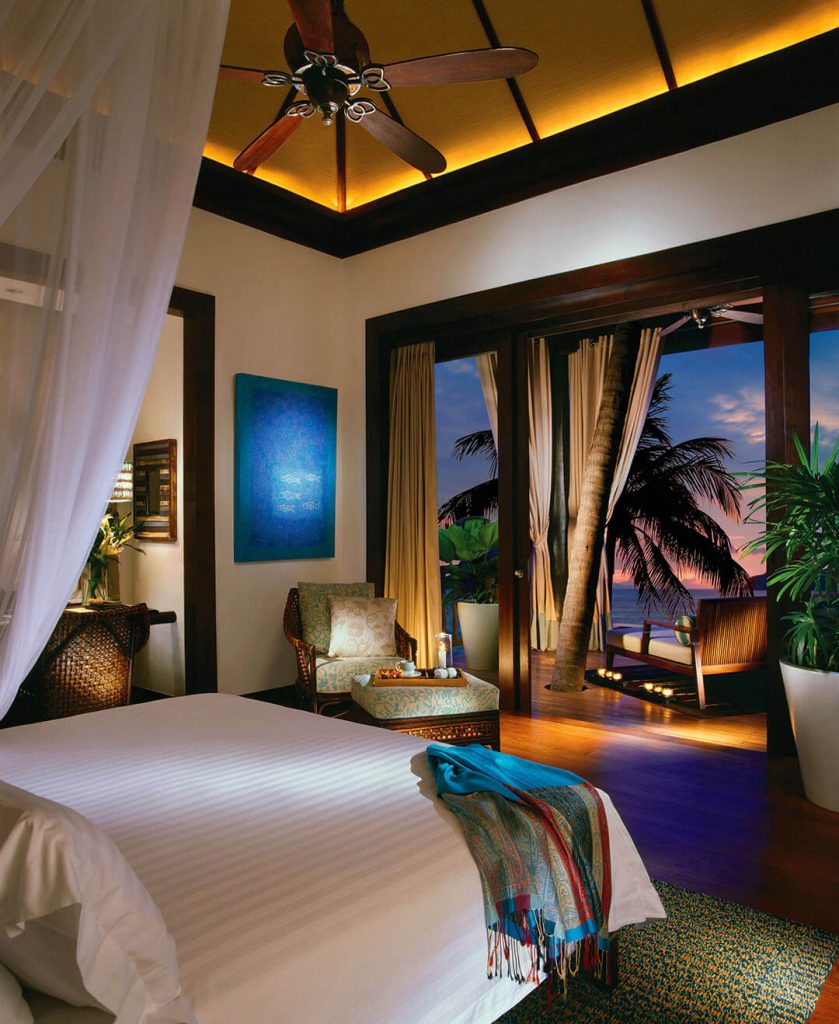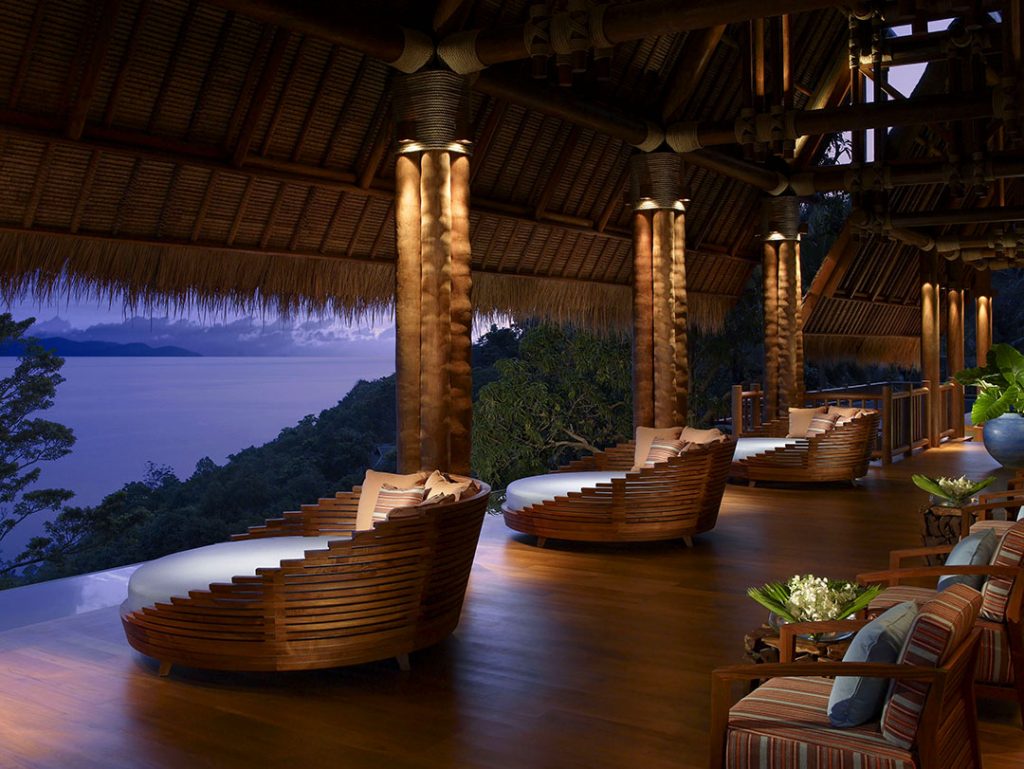 Koh Samui is the third largest island of Thailand in the scenic Gulf of Siam. It is a 45 minute flight from Bangkok. Sandy beaches, coral reefs, coconut trees and abundant tourist resources make it a popular holiday destination.
For more information on Four Seasons Resort, visit their website at https://www.fourseasons.com/kohsamui/
(This article has already been published in Zee Lifestyle's March 2016 Travel Issue, "Silent Sanctuaries" written by our columnist Mayenne Carmona for La Vie En Rose on pages 32-33.)
Get Lost in this Not-so-distant Island Safari Paradise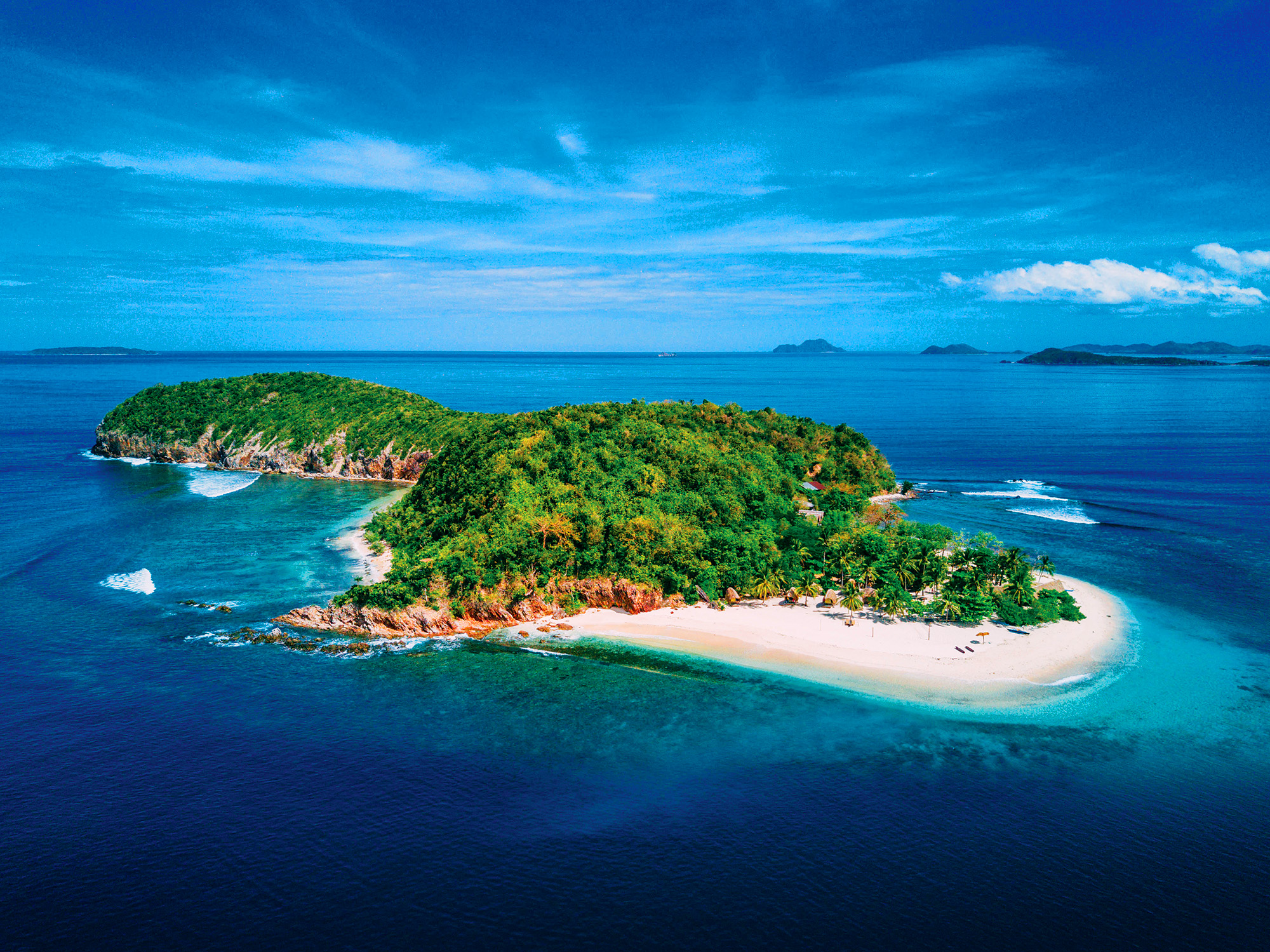 LOST IN PARADISE
Tao Philippines Crusoe-style deserted island camp paradise is perfect for those who understand the luxury of simplicity and disconnection.
by Melo E. Esguerra photography by Scott Sporleder
Just when you think Palawan is fast becoming a second Boracay, where congestion of concrete buildings and human bodies have begun to define the island experience more than the pristine beaches of white powdery sand, the Lostboys of Tao Philippines came up with a new island project that guarantees an escape to paradise. They call the island Camp Ngey Ngey.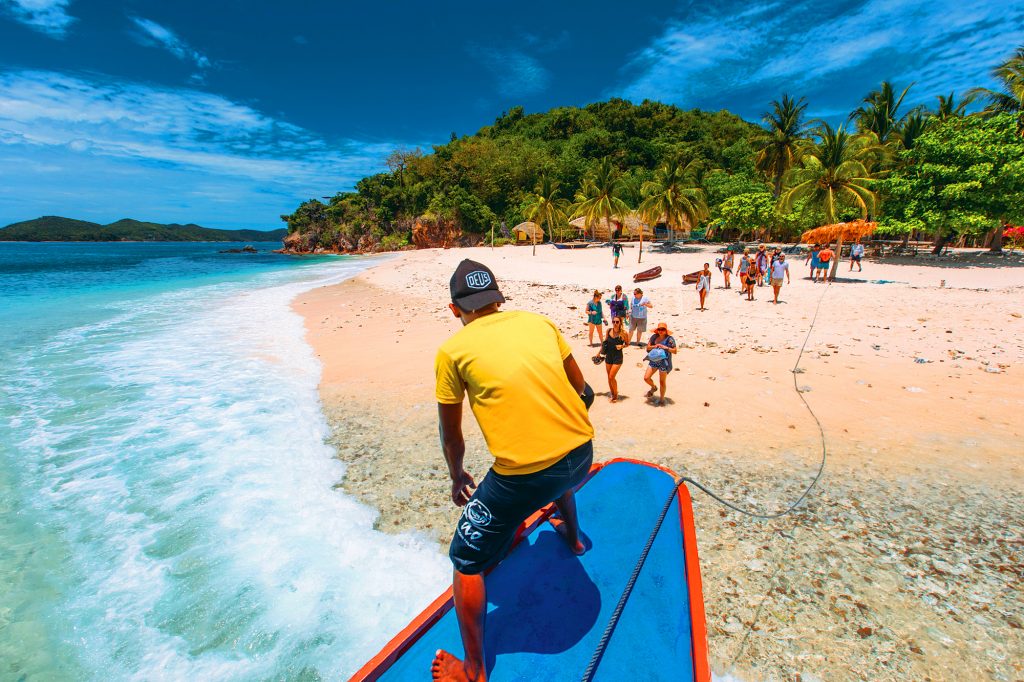 The Lostboys have taken over the abandoned resort of Manguengey in Busuanga, a remote island in Palawan. They have kept the ruins from the typhoon and built their signature bamboo Tuka huts around the main beach of the island, which serves as the camp area. Just a short walk away you'll find jungle trails that lead to three other wild beaches, preserved reefs and windswept cliffs encompassed by crystal blue waters. And on certain days, when the winds are strong, one side of the island becomes a good site for surfing.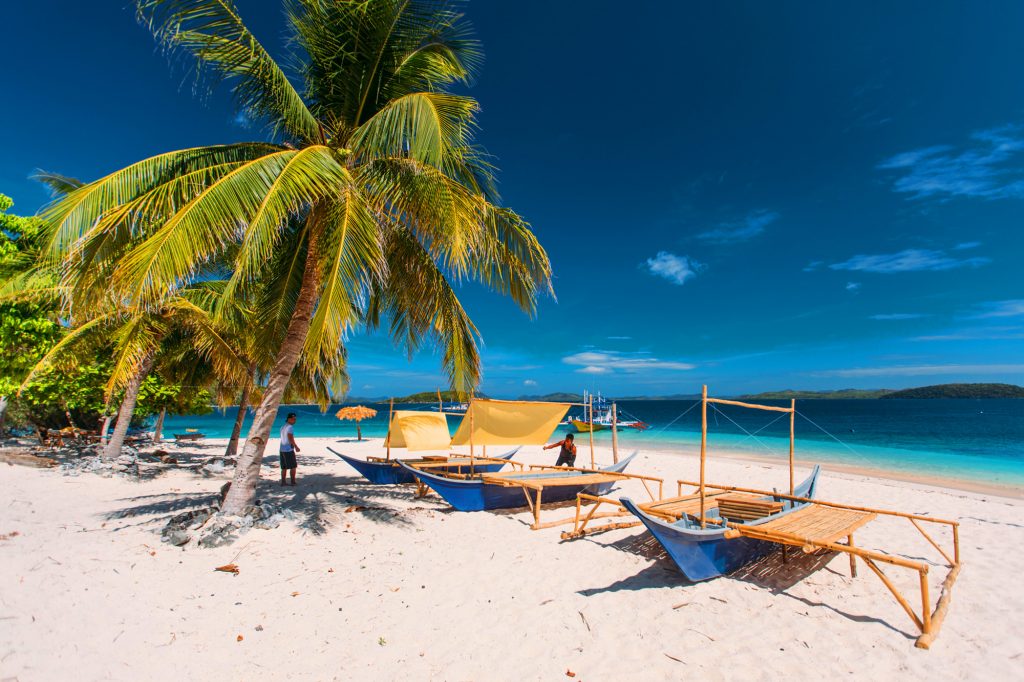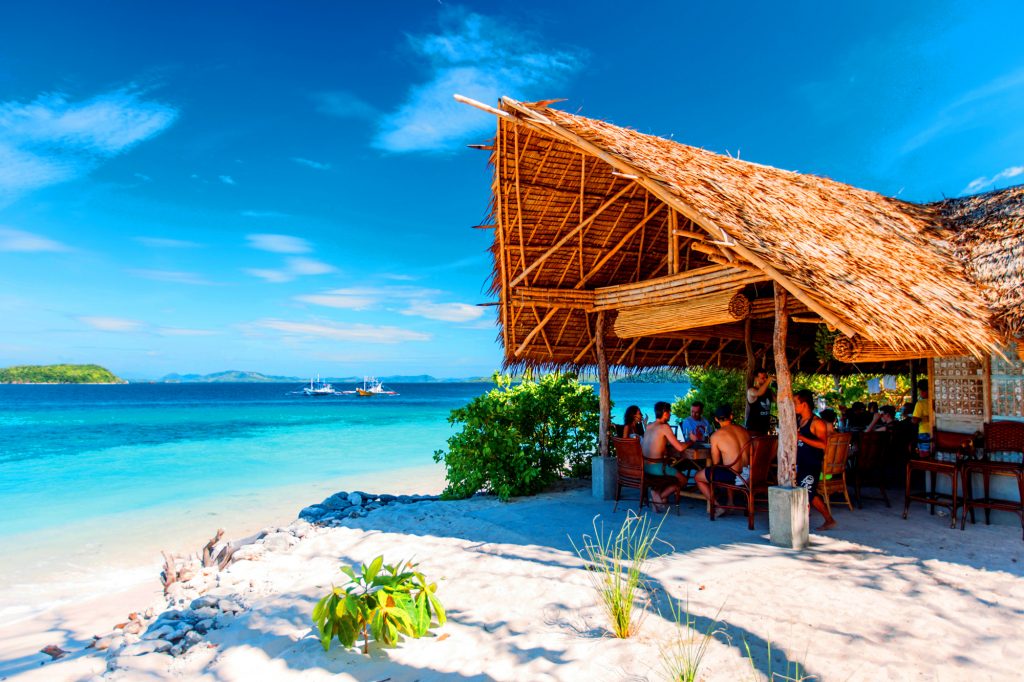 Eddie Brock, one of the founders of Tao Philippines, explains how this concept of an island safari came about. "When we took over Manguengey Resort, we were stuck with the idea of how to run it. We do not know how to cater to resort guests, the individual choices and needs, and menus," he admits. "Tao's expertise is to show travelers something new, something more raw and adventurous. We decided that we will not worry about things we don't understand, and stick to what we do best. One of the best aspects of a Tao trip is creating an atmosphere of connecting with other travelers, disconnected from digital clot—without the worry of planning, wallets and keeping a status. Five days out in the remoteness with the islanders in control leads to a positive attitude: guards down, inhibition is off and open to meet new friends."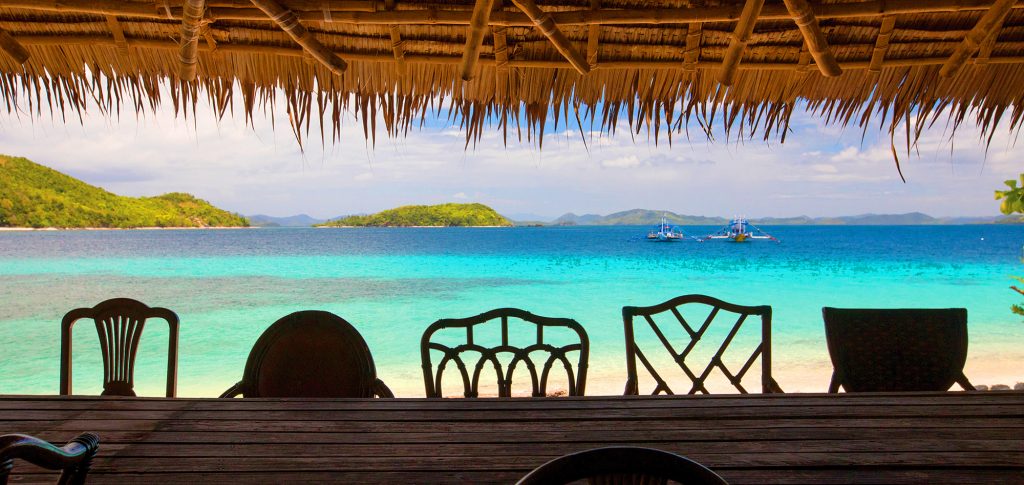 The camp is accessible through the three day/two night boat safari from Coron, with beach and reef stops en route the camp and back. Guests will be joining other travelers, staying in individual Tuka huts dotted along the beach. There are lounges, a dining and kitchen area, and open hang-out places. Currently, the big mansion from the old resort is being restored into a villa that can accommodate a family or group of friends.
The island can be reserved for big events like weddings, parties and other meaningful gatherings.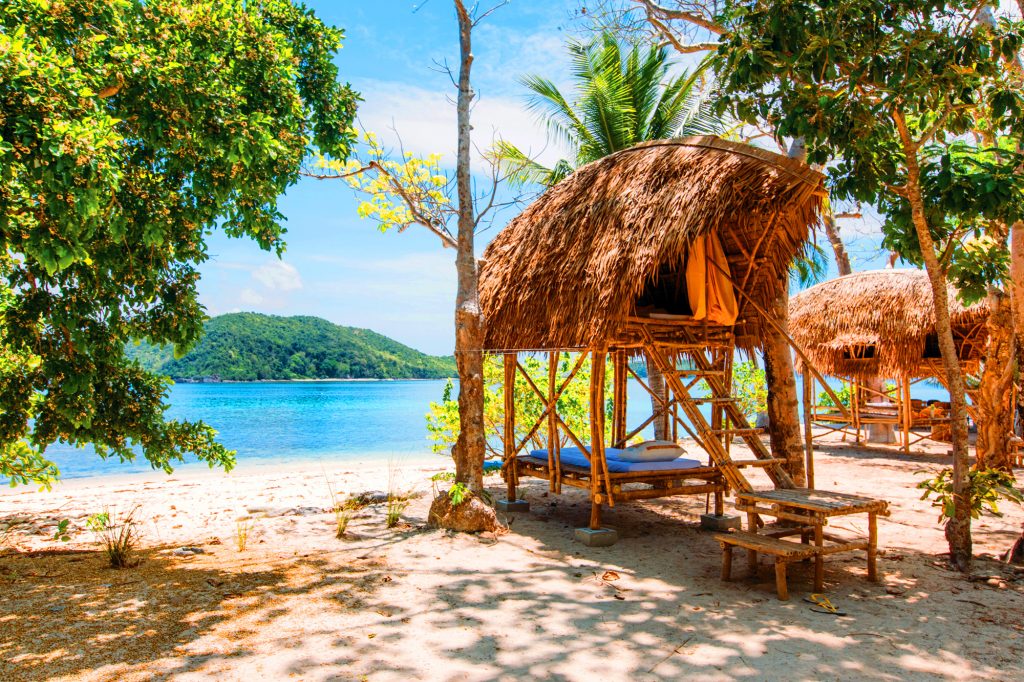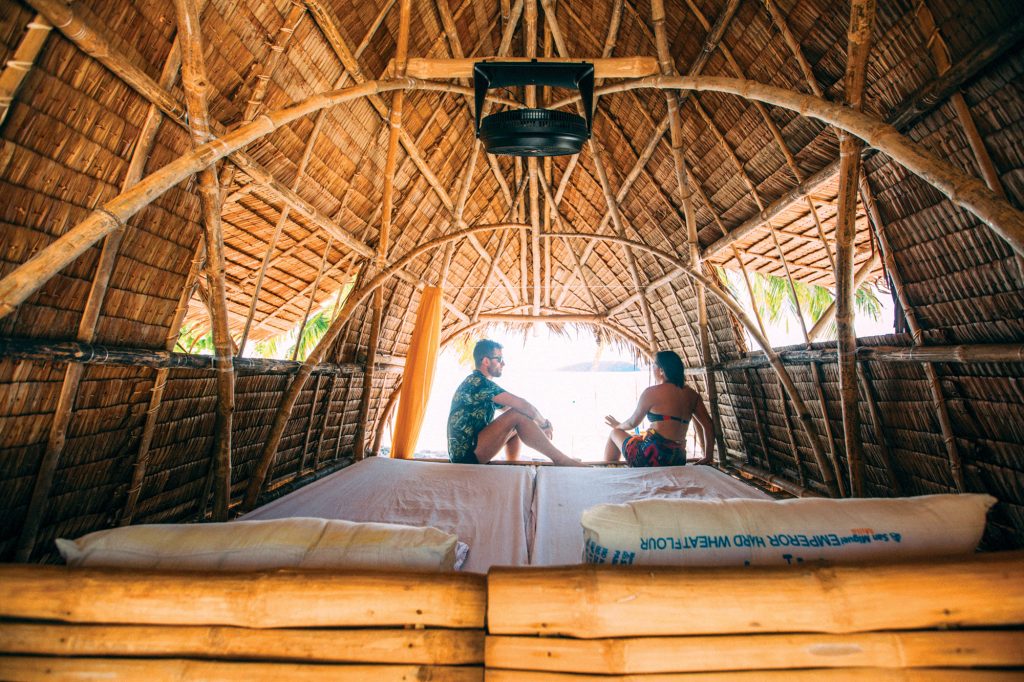 In the island, there is no room service, no menus, no WiFi. You will arrive as strangers, you will eat together, swim together, laugh together, drink together, and get to know each other offline. Become part of the magic of Tao, and see what happens!
For more information on how the trip to Camp Ngey Ngey works, log on to www.taophilippines.com
(This article has already been published in Zee Lifestyle's June 2017 Men's Issue, "Lost in Paradise" on pages 110-113.)
THROWBACK THURSDAY. Our Stylish Voyage on a Boat with Loida and Richard
FOR SAIL
With hosts Loida Montesclaros and Richard Forteau, we take entertaining to the high seas.
by Shari Quimbo photography Steffen Billhardt
The sky was decidedly gloomy on the Sunday afternoon Loida Montesclaros and Richard Forteau invited a small group of us for a sail, the clouds getting darker as I make my way to Porter's Marina, where the Blue Planet was docked.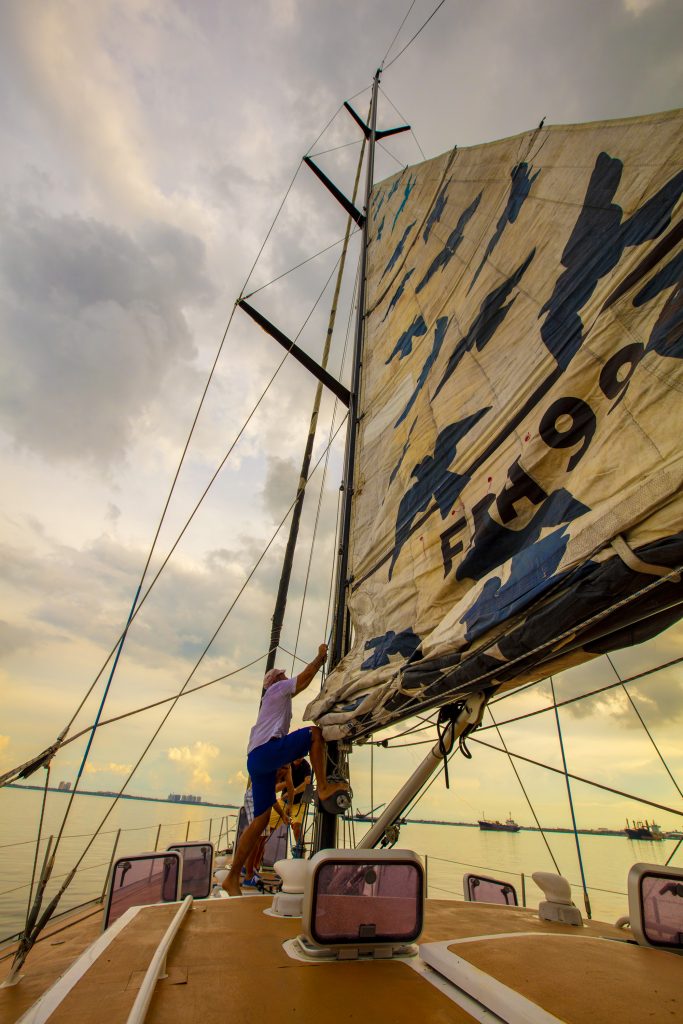 "Richard built the boat himself in Cebu," Loida explains, going on to share that he was the former honorary French consul in Cebu. "It was built here, and I designed the interiors."
All that work certainly paid off—Loida and Richard would often sail the boat out to different Philippine destinations such as El Nido, Siargao, Boracay and the Gigantes Islands in Iloilo. These could mean days-long journeys that sometimes meant dealing with some rough seas. Quick day trips, much like the one we were about to embark on, were also a regular past time.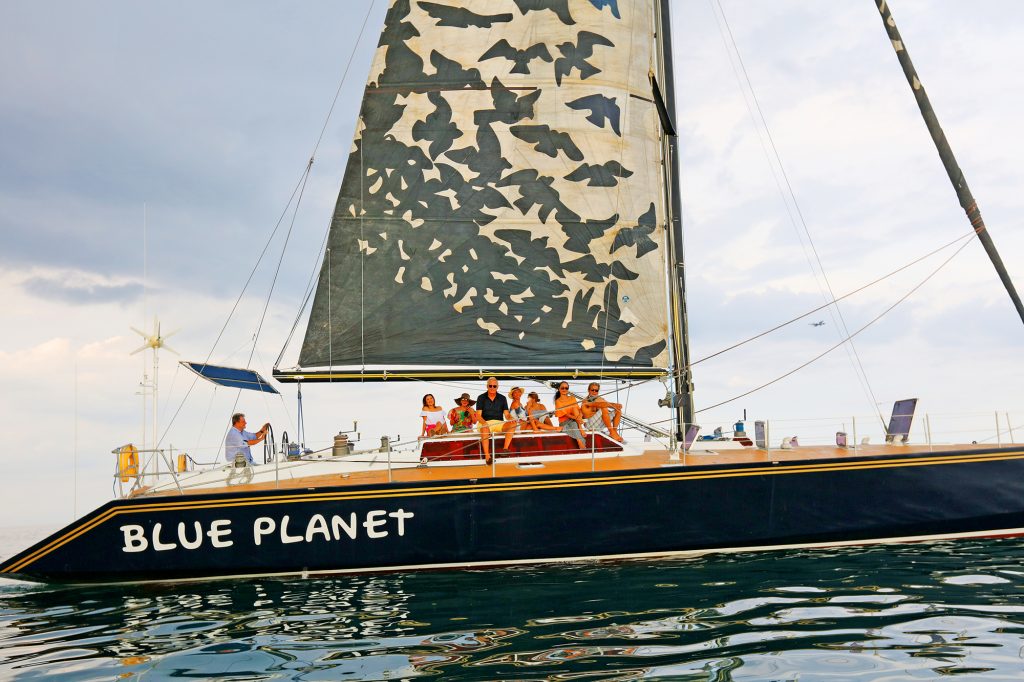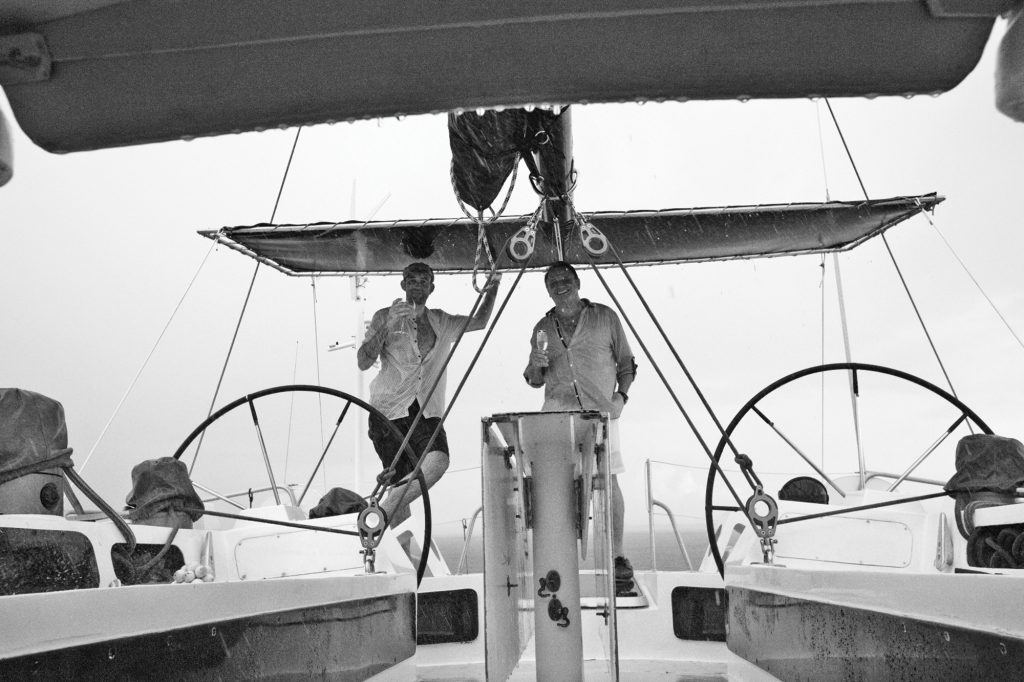 Loida gives me a quick tour of the boat then shows off her tropical spread. With its bright blue and white floral seating, the cabin's dining area is already a pretty festive site. "I wanted to keep it simple," she tells me, arranging her fresh fruits around on the banana leaf-covered wooden slabs she was using as serving trays. "And I wanted it to look more local, more tropical. We are on the water, after all."
The bamboo slats of the dining table were the perfect backdrop to Loida's spread, which featured tropical fruits alongside an entire roll of lechon belly, fresh lumpia, empanada and steamed shrimp.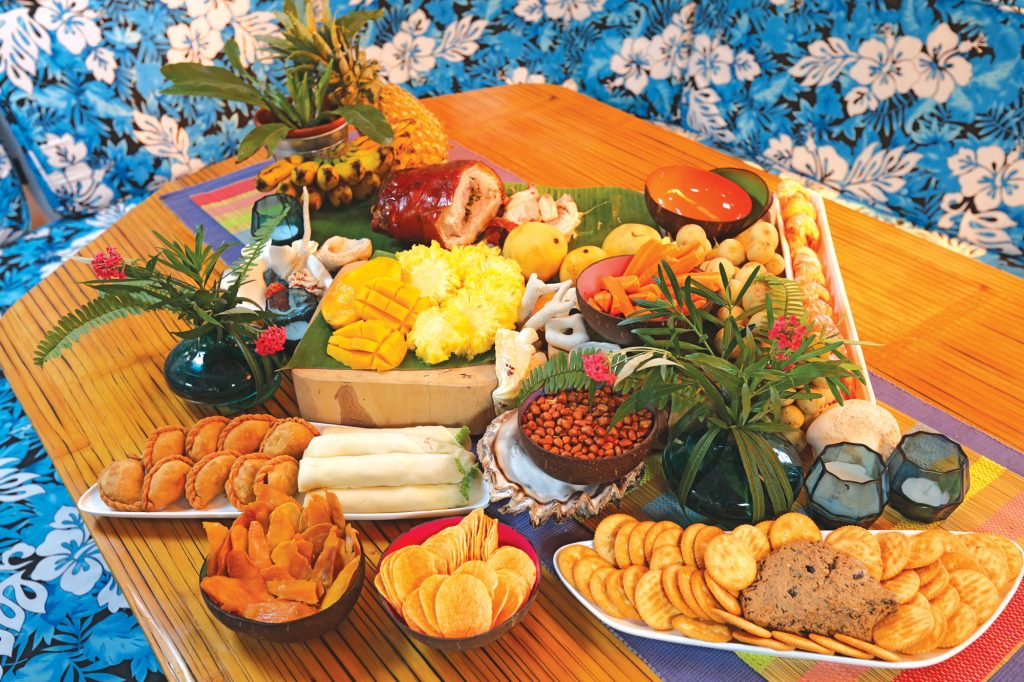 The highlight of the table, though, was the chicken liver pate, a dish that Richard makes himself. "Luckily, the French love to cook," Loida jokes conspiratorially.
Finally, it was time to take the vessel out onto the high seas, and the group makes its way above deck to enjoy the view. The cool sea breeze was a bit stronger than usual, something that had to do with the dark rain clouds looming above us—something that would have deterred any other group, but not this adventurous bunch. Armed with a glass of champagne in one hand and a biscuit smeared with pate on the other, many stand against the railing, admiring the sight of the sky turning orange above the Mactan Channel.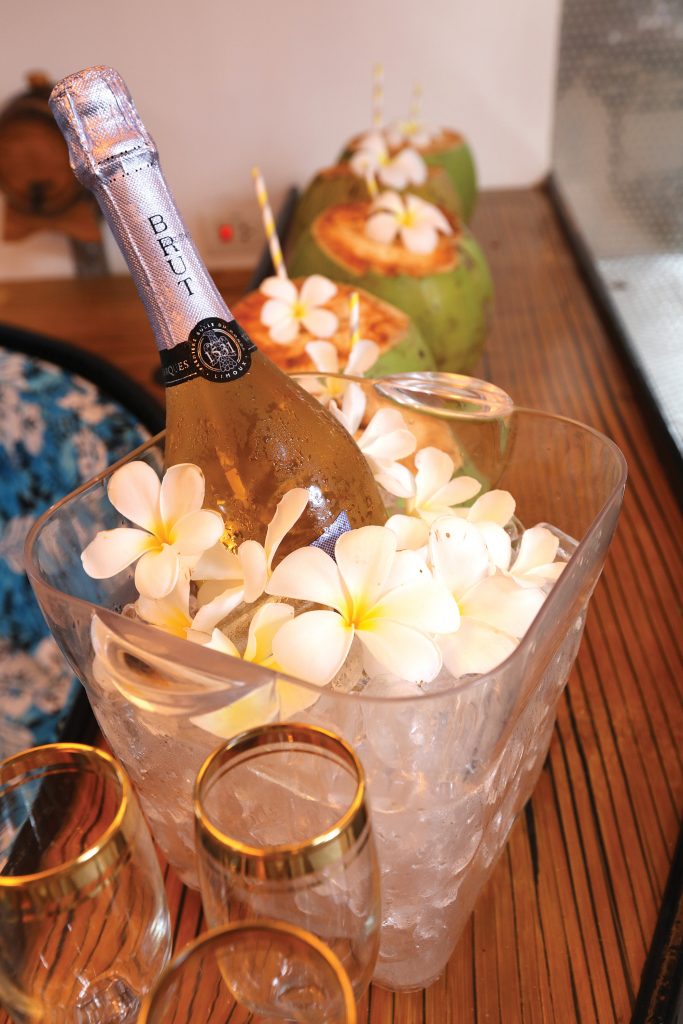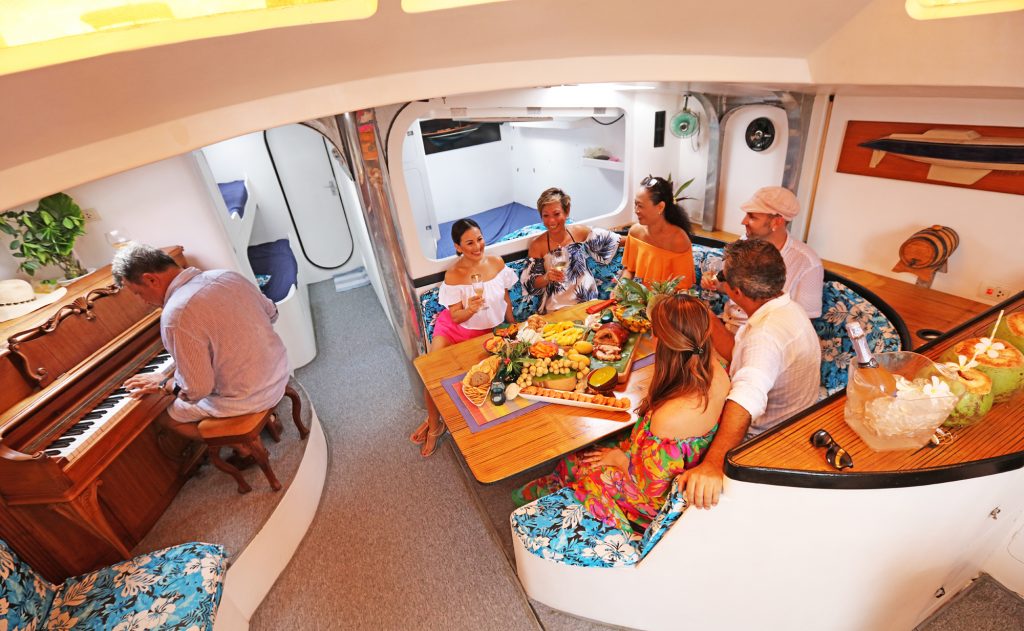 And then it starts to pour. No matter, though—as the rain pounds against the deck, the party finds its way down below. A bottle of wine is opened, and then another, while a second pot of pate is transferred on a plate. Our captain waits until the waves calm before he brings us back ashore.
(This story has already been published in the printed edition of Zee Lifestyle Magazine's November 2016 issue as one of the Entertaining Features on pages 82-85.)