Five reasons you should see the Dutch-Filipino Film Festival
Films have a distinct power to distill the complexities of the common human experience and translate it into moving and compelling art. The stories told in movies– whether it is about a country's culture, a person's experience, or prevalent social issues– allows the audience to see and understand realities that are unfamiliar or unbeknownst to them.
Recognizing this, the Embassy of the Kingdom of the Netherlands, in cooperation with Dakila – Philippine Collective for Modern Heroism, holds the Active Vista Presents: A Dutch – Filipino Film Festival as part of the celebration of the 65 years of diplomatic relations and 150 years of consular ties between the Netherlands and the Philippines. Themed "Inspire Innovation: Leading Sustainable Innovations toward a Progressive World", the three-month film fest reflects the two nations' commitment to promote human rights and aims to inspire sustainable innovations to address the global challenges ahead.
Here are five reasons why you should check this film fest out:
1. It will open your eyes to a world sometimes unseen, oftentimes ignored
Films can move people to tears or more importantly, to action. The Dutch-Filipino Film Festival features full-length films that showcase the different injustices that are prevalent in our world today. Serious issues like rape, racism, murder, immigration, gender inequality, and women rights violations, are tackled to open the audience's eyes to the many atrocities committed in today's modern world.
These issues are best represented by Dutch feature films Those Who Feel the Fire Burning by Morgan Knibbe, 12 Months in a Day by Margot Schaap, Forget Me Not by Jan Jaap Kulper, A Haunting History by Ilse van Velzen and Fernke van Velzen, A Family Affair by Tom Fassaert, Kicks by Albert Ter Heerdt, Boys by Mischa Kamp, Accused by Paula van der Oest, and Borgman by Alex van Warmerdam.
The curated list of featured Filipino include Kano: An American and His Harem by Monster Jimenez, Edna by Ronnie Lazaro, Ang Huling Cha-Cha ni Anita by Sigrid Andrea Bernardo, Purok 7 by Carlo Obispo, Imbisibol by Lawrence Fajardo, Himpapawid by Raymond Red, Crescent Rising by Sheron Dayoc, Mondo Manila by Khavn Dela Cruz, Swap by Remton Siega Zuasola, Shift by Siege Ledesma, Bunso by Ditsi Carolino, Iisa by Chuck Gutierrez, Balikbayan #1: Memories of Overdevelopment Redux III by Kidlat Tahimik, Miss Bulalacao by Ara Chawdhury, Honor Thy Father by Erik Matti, Barber's Tales by Jun Lana, Taklob by Brillante Mendoza, Engkwentro by Pepe Diokno, and Norte by Lav Diaz.
2. Don't have the luxury of time? Indulge in immersive short films
If you're pressed for time and can only watch short films, the Dutch-Filipino film fest also features a collection of short documentaries to warm your heart, get you thinking, or thrill you to the bone.
Dutch short films include 10 x 1: A Collection of One Minute Films by Gertjan Zuilhof, Land of Desire – Happy is the New Black by Donna Verheijden, I Am a Girl! by Susan Koenen, Arigato by Anielle Webster, Sniper of Kobani by Reber Dosky, The Double by Roy Villevoye and Jan Dietvorst, Under the Apple Tree by Erik van Schaaik, and Sprinkles 4-Ever! by Willem Baptist.
Katapusan Labok by Aiess Alonso, Wag kang Titingin by Pam Miras, Mga Alingawngaw sa Panahon ng Pagpapasya by Hector Barretto Calma, Missing by Zig Dulay, Sa Wakas by Ma. Veronica Santiago, Bakaw by Ron Segismundo, Ang Telenovela ni Juan at Luzviminda by Emerson Reyes, Hindi Ako Makatulog Nang Wala Ka sa Tabi Ko by Jade Castro, Da More Da Meniyer by Erik Matti, and Faculty by Jerrold Tarog are among the Filipino short films featured in the film fest.
3. Witness two different cultures merge through the language of film
Despite the geographical distance and their cultural differences, the Netherlands' relationship with the Philippines is defined by mutual understanding and cooperation. Nothing is more fascinating than to see these two countries work together toward a common goal using creative means like movies.
The Dutch-Filipino film fest will showcase the best of Dutch and Filipino films which tell stories in extraordinary ways. If you're a movie-goer who likes watching documentaries that make you think of today's society or a film student who likes to learn about different cultures, this film fest is definitely for you.
4. Be fascinated by the magic of award-winning films
If you want to watch Dutch and Filipino films that have been recognized by the world's most prestigious award-giving bodies, then this film festival is the perfect venue for you.
Those Who Feel the Fire Burning
Golden Calf for Best Documentary Long Documentary & Best Sound Design,
Nederlands Film Festival
Borgman
Golden Calf for Best Feature Film, Best Actress, & Best Script,
Nederlands Film Festival
Balikbayan #1: Memories of Overdevelopment Redux III
Caligari Film Award,
Berlin International Film Festival
Norte, Hangganan ng Kasaysayan
Filipino entry for Best Foreign Language Film, 87th Academy Awards
Nominated for Prix Un Certain Regard, Cannes Film Festival
Best Picture and Best Actress, Gawad Urian Awards
Nuremberg International Human Rights Film Award
Taklub
Ecumenical Jury Prize- Special Mention, Cannes Film Festival
Best Picture, Gawad Urian Awards

5. No need to spend a single peso to satisfy your craving for films… and learning!
You don't have to spend a lot to learn new things, culture, or even language and immerse yourself in a world of ideologies and insights. Watching films featured in the Dutch-Filipino film fest will let you do all those things for no cost at all.
All you have to do is to sit back, relax, and enjoy the variety of films the film festival is offering. You can also invite a friend or two!
The Active Vista International Human Rights Film Festival is co-presented by the Embassy of the Kingdom of the Netherlands in partnership with the Commission on Human Rights of the Philippines, Film Development Council of the Philippines, National Commission for Culture and the Arts, University of the Philippines Film Institute, Movies that Matter, Philippine Alliance of Human Rights Advocates, Ateneo Human Rights Center, Alternative Law Groups, Metro Manila Pride, Filipino Freethinkers, ABS-CBN News Channel, BusinessWorld, WhenInManila.com, and CinemaBravo.
Films will also be screened in Davao (July 30-August 5), Iloilo (August 9-13), Cebu (August 20-26), Baguio (September 6-10), and Manila (September 27-October 1). Closing screenings will be held on October 8-9 at Shang Cineplex, Shangri-La Mall, Mandaluyong.
For more information on the Dutch-Filipino Film Festival, visit the website and Facebook or follow on Twitter.
Careless' WAVY BABY Takes Over Sinulog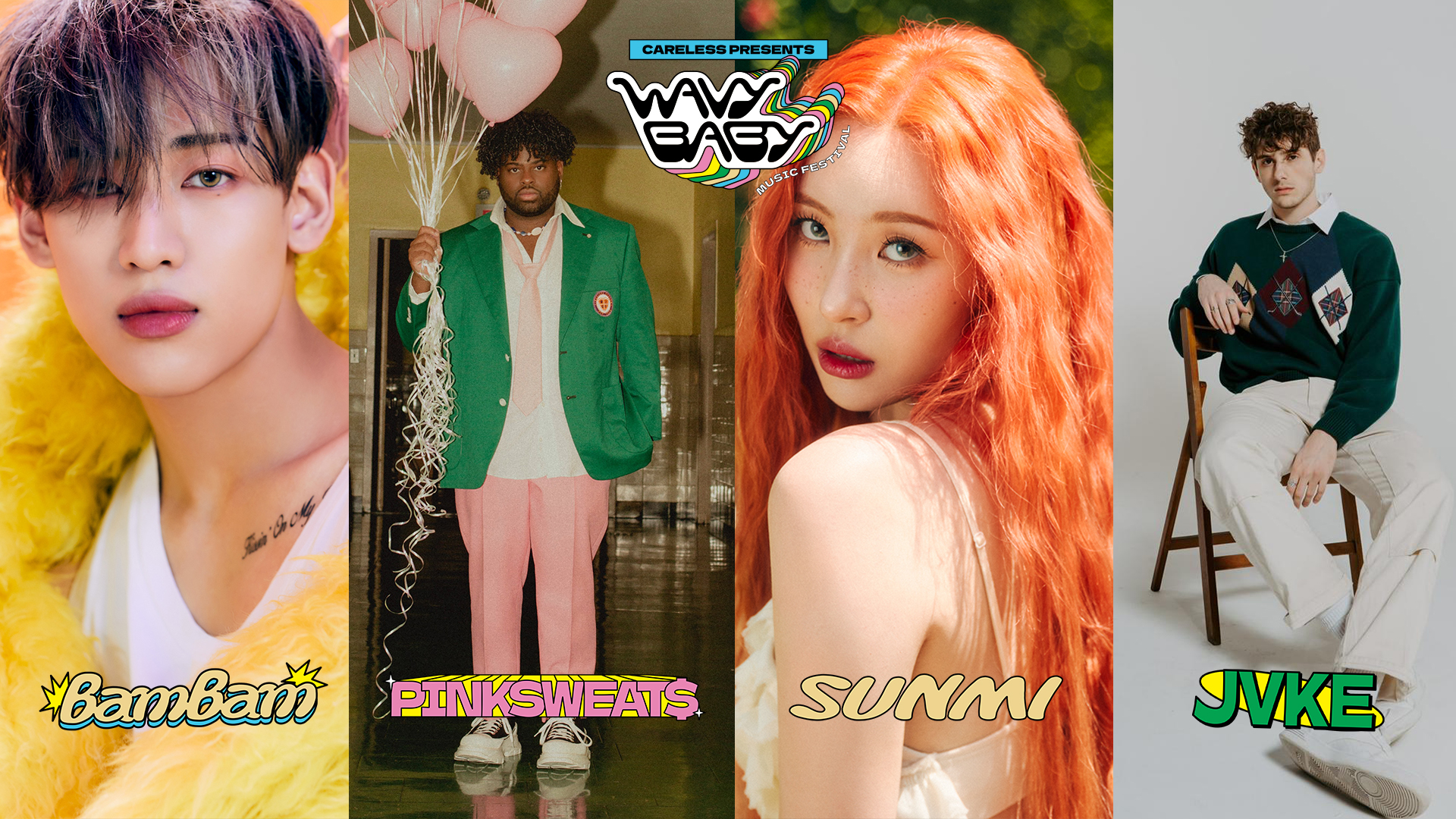 Careless' first ever music festival, Wavy Baby, is bound to make the return of Sinulog one for the books.
Wavy Baby is a two-day music festival happening on January 13-14, 2023 at the North Reclamation Area in Mandaue City, Cebu with a lineup of over 20 artists recognized both locally and internationally.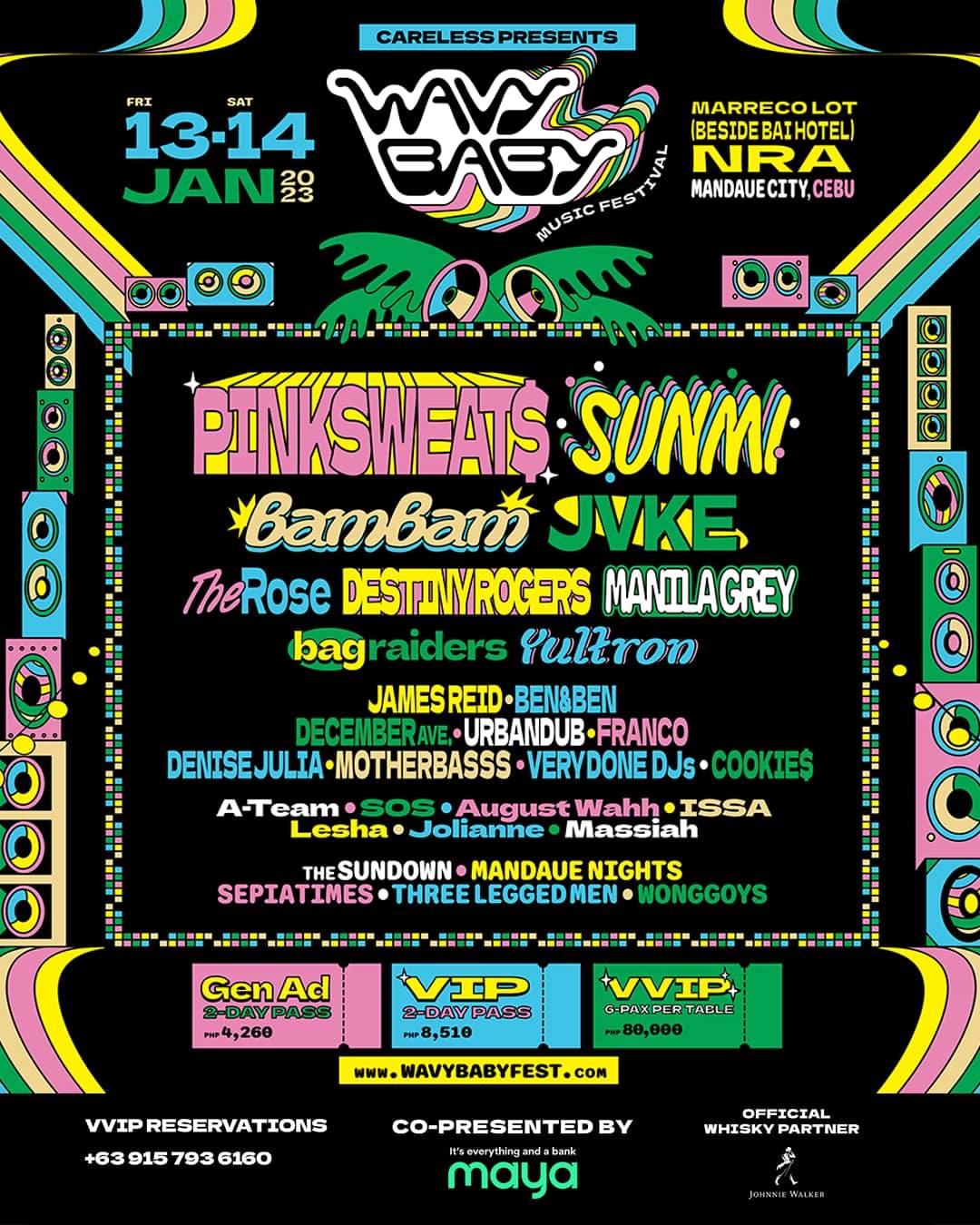 Wavy Baby will feature international performers Pink Sweat$, Bambam, Sunmi, The Rose, Bag Raiders, Manila Grey, and Yultron. All artists signed under Careless namely, James Reid, Massiah, Jolianne, Lesha, August Wahh, Issa, SOS, Destiny Rogers, and A-Team will also be performing. Other Filipino acts include Ben & Ben, December Avenue, Urbandub, Franco, Denise Julia, and more. The festival will also feature local Cebuano acts such as Cookie$, The Sundown, Mandaue Nights, Three Legged Men, and Wonggoys.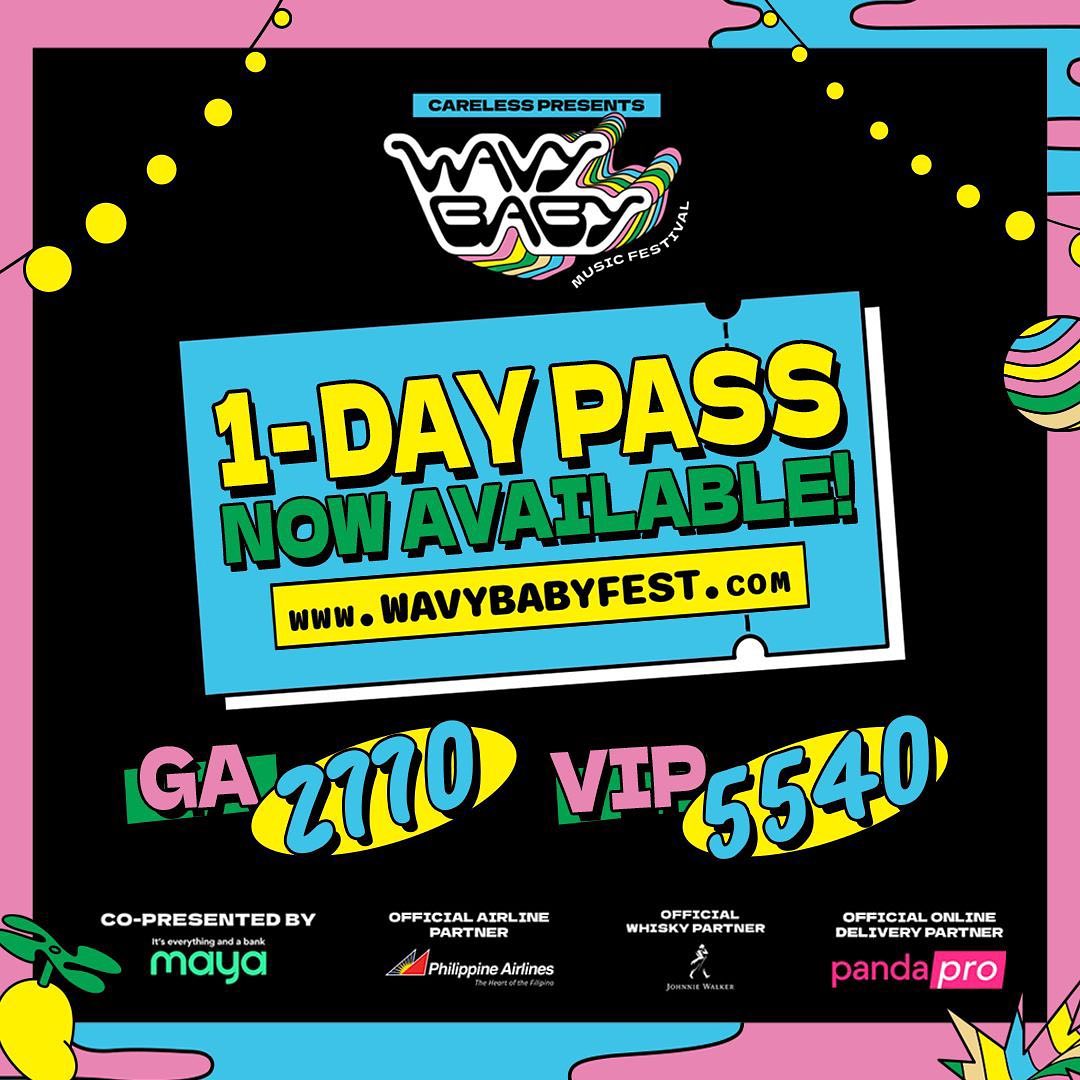 Careless' CEO, Jeffrey Oh, says "We're really excited to do Wavy Baby in Sinulog because it's the biggest and most historic festival in the Philippines. We want to build a festival that brings the best of the Philippines and the world together to meet and celebrate life and culture, which is what Sinulog is all about. We call it Wavy Baby because we want a wavy lifestyle and a wavy mindset. It also pays homage to Sinulog because the Sinulog symbols are water and the baby Jesus so it's also a nod to that as well. We're excited to be part of the Cebu family and build something special that hopefully we can repeat year after year."
The festival itself will be held at the North Reclamation Area in Mandaue City, Cebu. There will be an Artist Lounge, VVIP Lounge, a VIP Area in front of the stage, Cocktail Pods, Sponsor's Hives, and Market Pod.
The Cocktail Pod serves as an area for anyone to purchase drinks at the venue while the Market Pod is designated for food and other merchandise that will be sold. The Sponsor's Hive will be where Wavy Baby's brand partners will have different booths that festival goers can visit.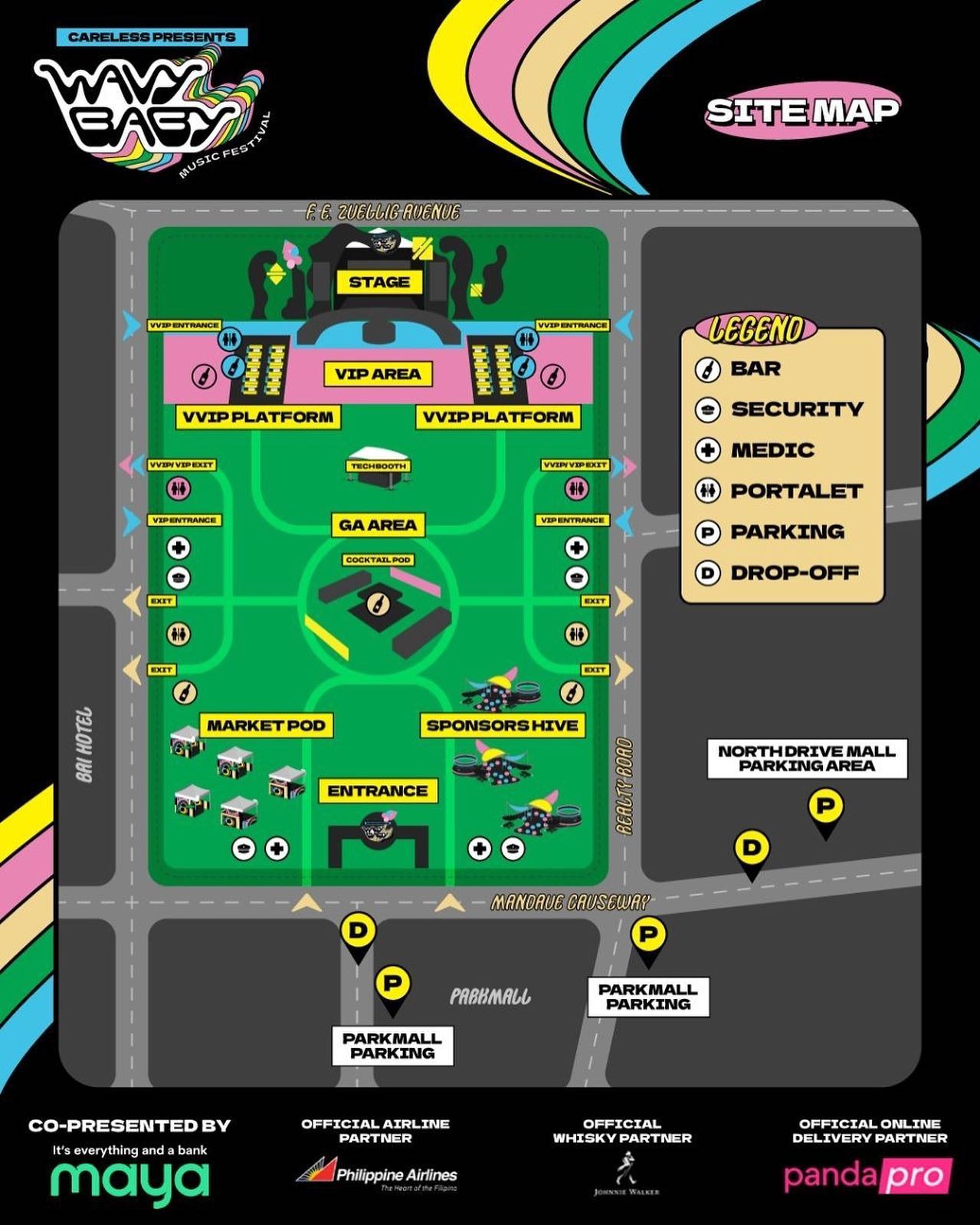 Regular Tickets are priced at Php 8,510 for VIP and Php 4,260 for General Admission. One-day Passes are also now available at Php 5,540 for VIP and Php 2770 for General Admission.
Keep up to date on all things Careless.
Follow Careless and Wavy Baby on their respective Social Media Accounts.
Careless Instagram – @carelessph
Careless Twitter – @careless_ph
Careless Facebook – @CarelessMusicOfficial
Wavy Baby Instagram – @wavybabyfest
Wavy Baby Website – www.wavybabyfest.com 
CEBU KALEIDO: A Night of Fashion and Celebration at Crimson Mactan Resort and Spa
Miranda Konstatinidou's beautiful beach wear and jewellery worn by her guests at an intimate beach party at Crimson Resort in Mactan. Konplott is Miranda's luxury fashion accessory brand sold in Europe, worn by fashion icons and celebrities (no, it's not sold locally) while her exclusive beach wear in silk are fabric designed by her, are also sold in high end resorts around the world. Meanwhile, Crimson Resort in Mactan will officially close temporarily for a makeover as most of their beachfront villas were damaged heavily by last December.s super typhoon Odette. Here's to a great reopening of Crimson in a few months. (photography by Steffen Billhardt)
Largest Skechers Store in the Philippines 
Opens at Ayala Center Cebu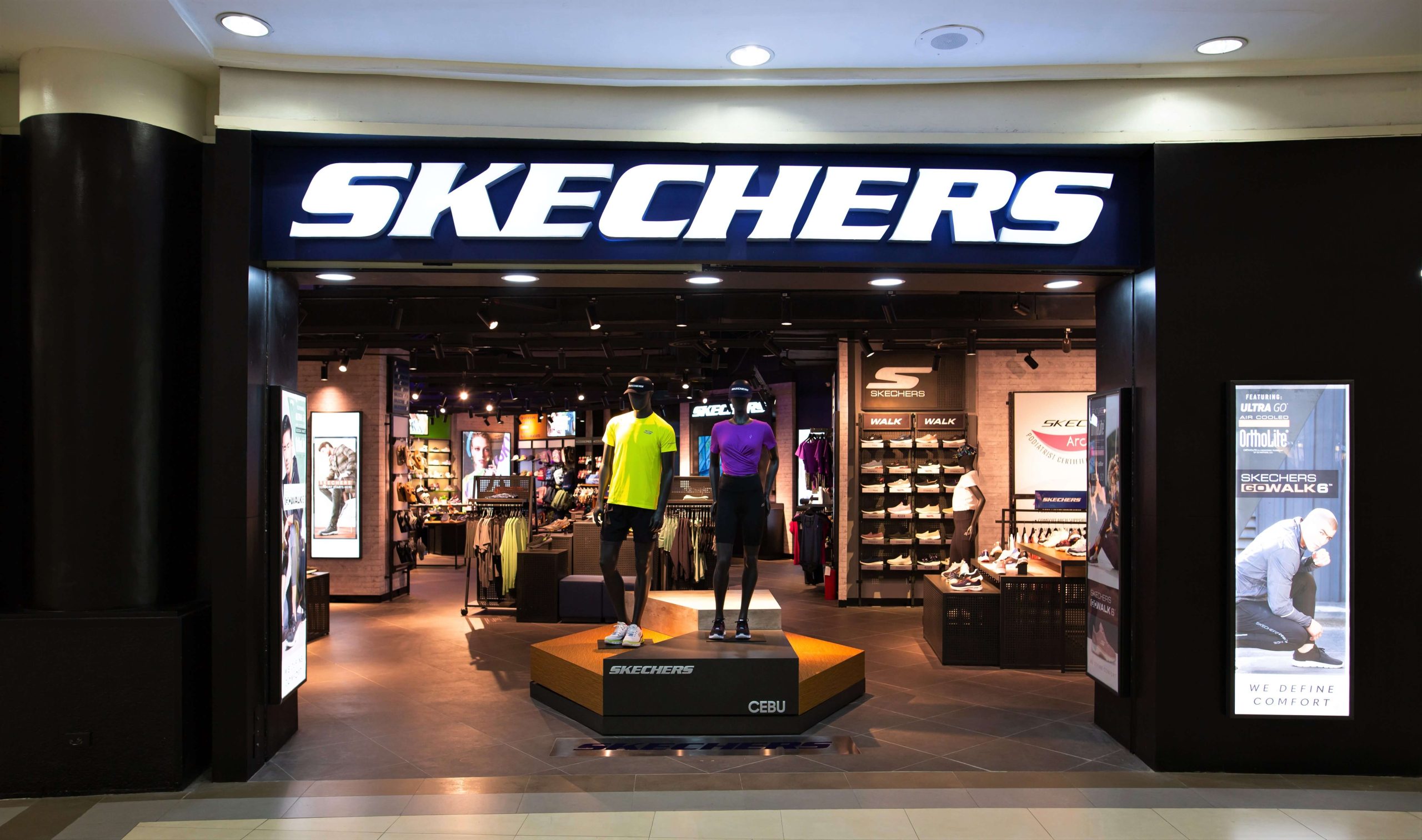 Skechers, The Comfort Technology Company™, is continuing its expansion in the Philippines with the opening of its largest store in the country at Ayala Center Cebu.
Following the recent opening of five (5) locations in Metro Manila and one (1) in North Luzon, the new Skechers store in the queen city of the south, Cebu City, is in the heart of the region's premier shopping, dining and entertainment destination, and sets the global lifestyle brand up to deliver stylish and innovative footwear and apparel to more Filipinos in the Visayas.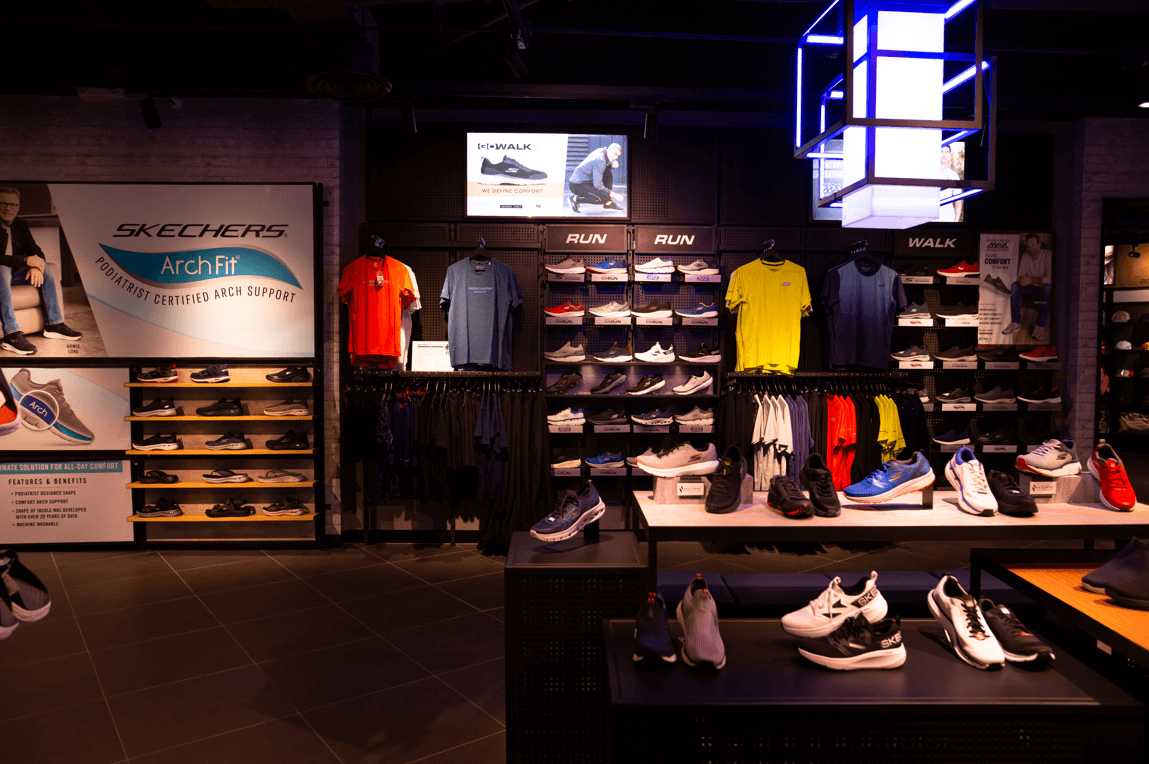 "We are delighted to continue our expansion in the country with the opening of our largest store in the Philippines here at Ayala Center Cebu in Cebu City," shared Skechers Philippines country manager Sue Pasustento. "With its prime location and an extensive offering of Skechers footwear, apparel and accessories, this store will be a showpiece for the brand and allow more Cebuanos to directly experience the comfort, style and innovation that defines Skechers around the world."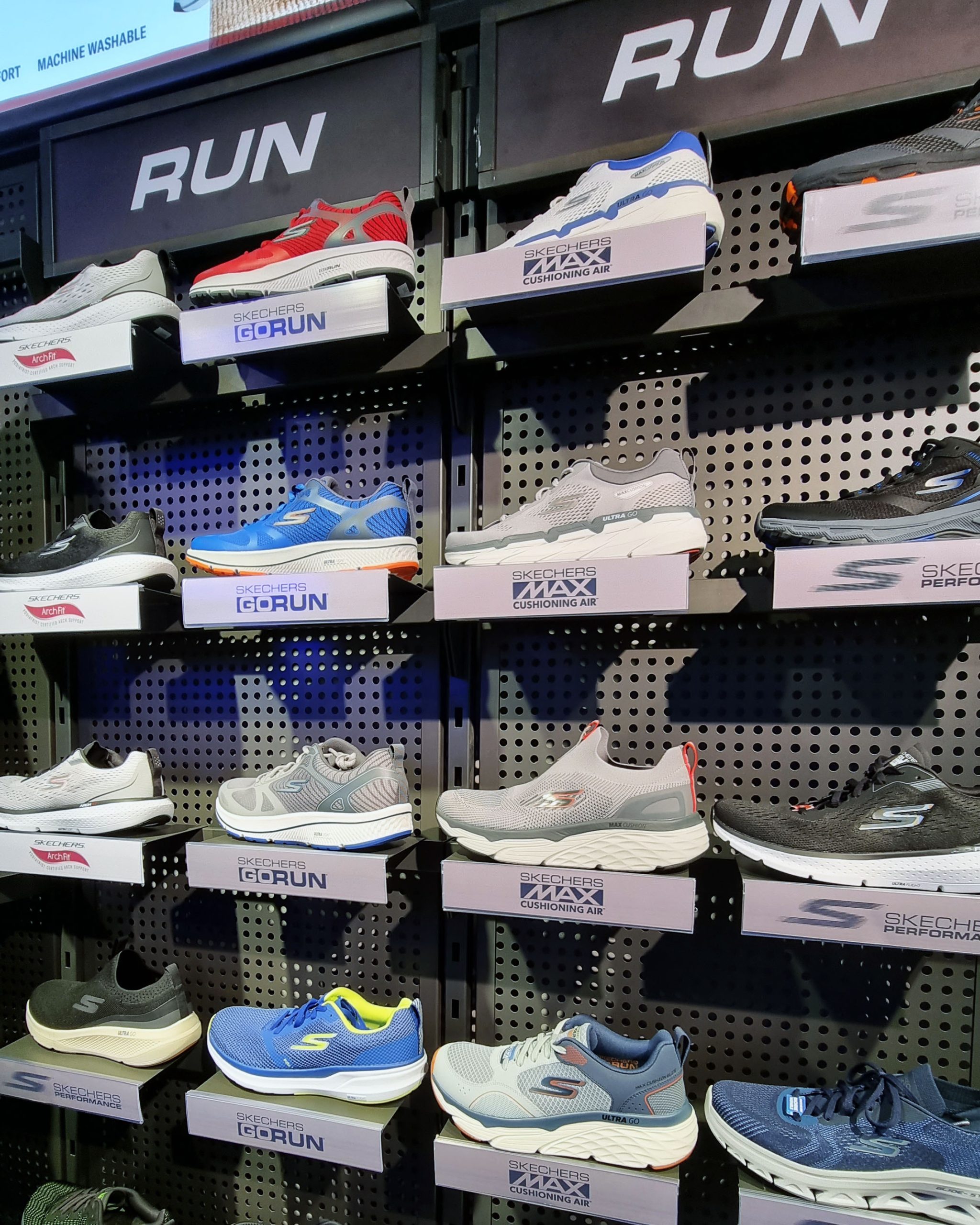 Located on the 1st Floor of Ayala Center Cebu in Cebu City, the latest Skechers store in the Philippines features a mid-century modern style inspired design, opening the interior space to bring in the outdoors. The 3,400-square-foot store will offer a wide range of Skechers footwear, apparel and accessories including fashion product, lifestyle looks and Skechers Performance shoes for sport enthusiasts, including Skechers GO WALK, one of the brand's best-selling categories.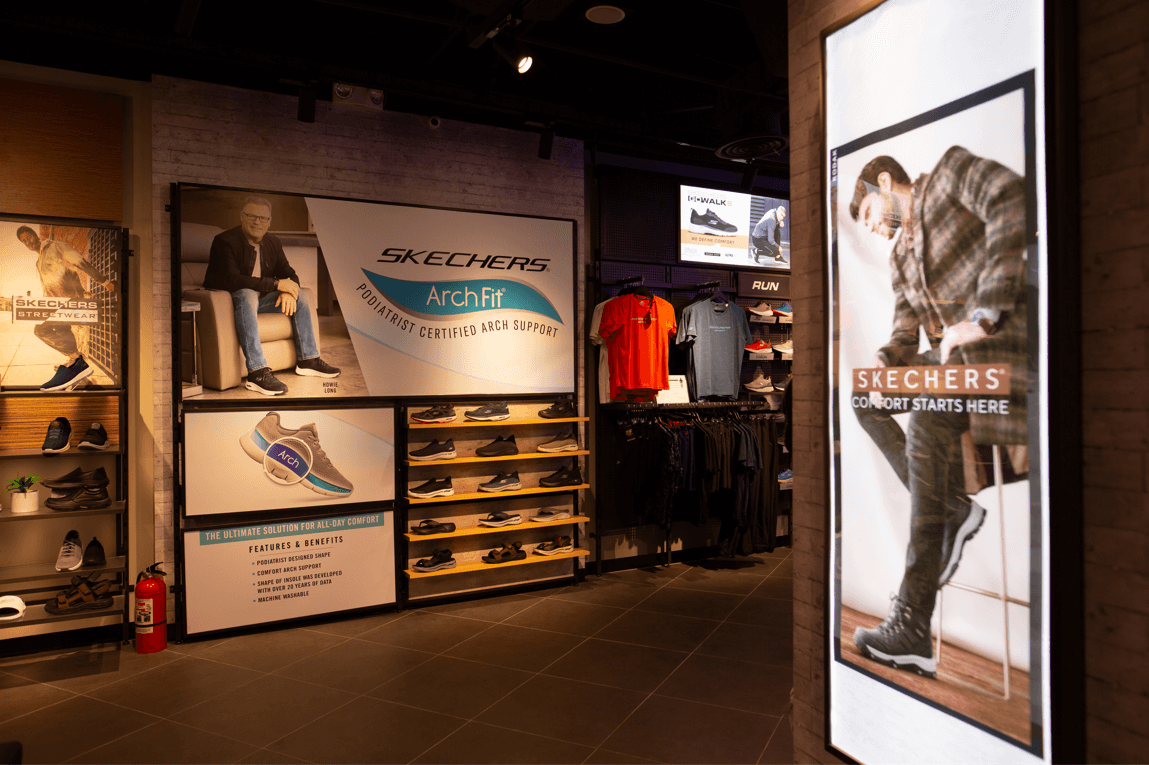 Skechers' offering is enhanced with the company's signature comfort innovations—including its patented Skechers Arch Fit Technology™, Skechers Max Cushioning Technology™, Skechers Hyper Burst Technology™, Skechers Air-Cooled Memory Foam®, Skechers Relaxed Fit Technology™ and Skechers Stretch Fit Technology™.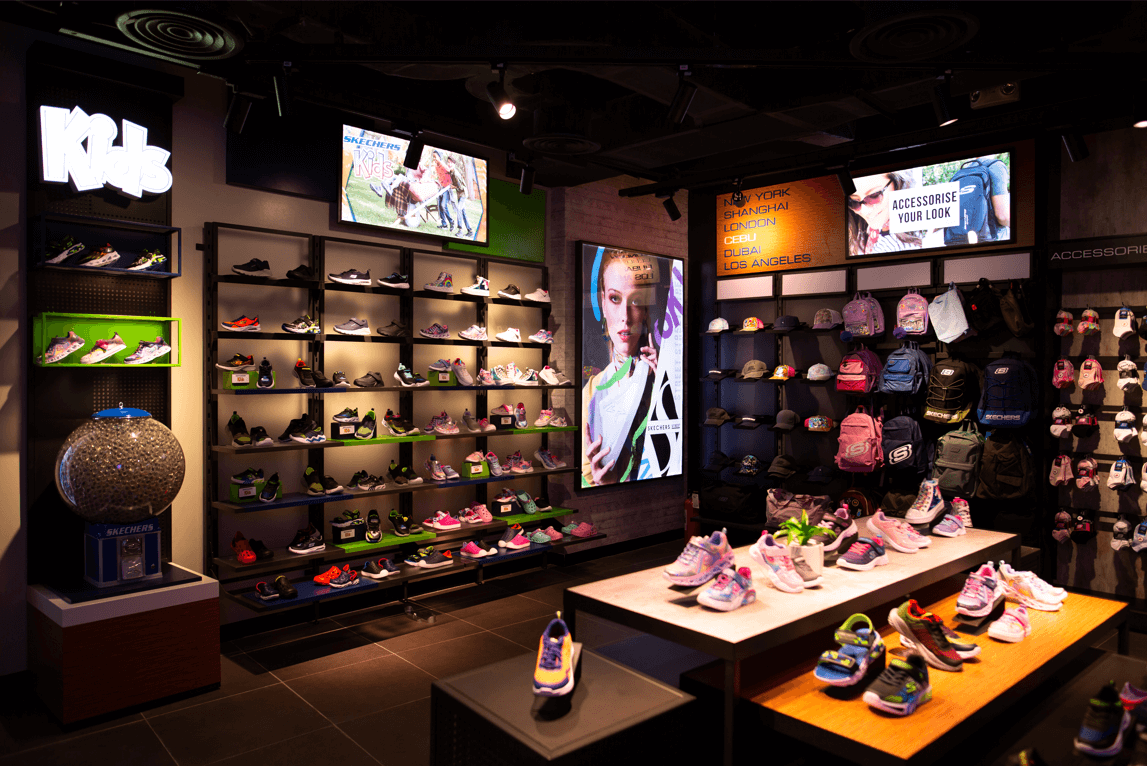 Skechers' wide selection of versatile and functional apparel, which include hoodies, jackets, sportswear and shirts, as well as socks, backpacks and hats, allows consumers to dress head-to-toe in active lifestyle looks. 
Established in 1992, Skechers' reputation for style, innovation, quality, and comfort have helped the brand expand worldwide. In 2021, the company transitioned its operations in the Philippines, becoming a directly owned operations and expanding its capital investment in the country. Skechers now has five stores in Metro Manila and seven total retail destinations across the Philippines.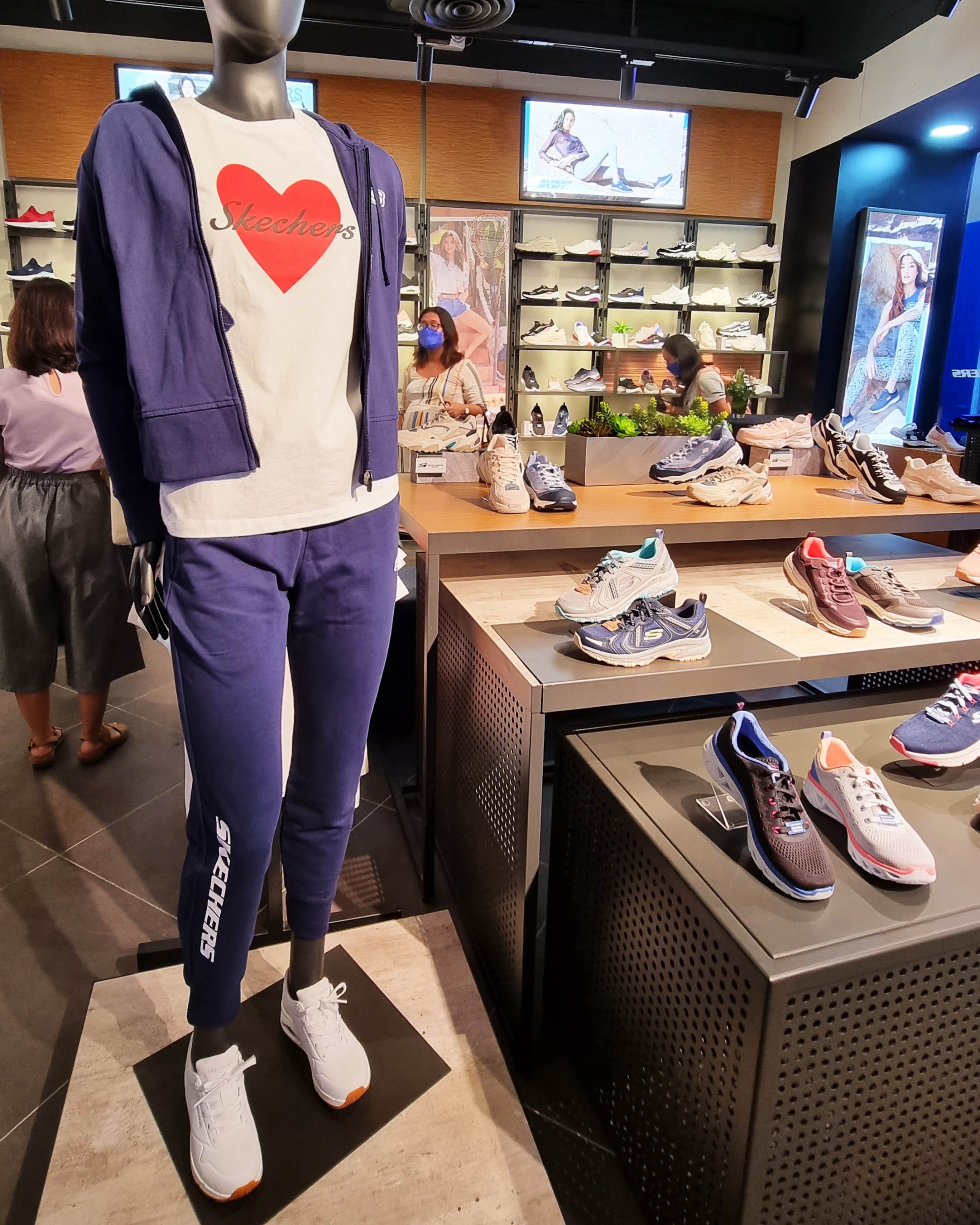 About Skechers USA Philippines, Inc. and Skechers USA, Inc.
Skechers USA Philippines, Inc. is operated by Skechers USA, Inc. (NYSE:SKX), The Comfort Technology Company based in Southern California. Skechers designs, develops and markets a diverse range of lifestyle and performance footwear, apparel and accessories for men, women and children. The Company's collections are available in over 180 countries and territories through department and specialty stores, and direct to consumers through digital stores and 4,308 Company- and third-party-owned physical retail stores. The Company manages its international business through a network of wholly-owned subsidiaries, joint venture partners, and distributors. For more information, please visit about.skechers.com and follow them on Facebook and Instagram.