Confluence of Characters
Bernadette Aboitiz, Rochelle del Rosario and June Alegrado are accomplished ladies whose worlds revolve around family, work and civic responsibilities to a younger generation to which Andrea, Kristy and Krystle belong. Their commonality? Comfortable elegance that transcends the age gap…
Bernadette Aboitiz, Rochelle del Rosario and June Alegrado are accomplished ladies whose worlds revolve around family, work and civic responsibilities to a younger generation to which Andrea, Kristy and Krystle belong. Their commonality? Comfortable elegance that transcends the age gap…
Dinner is to be hosted by Kathy Tesoro, the exclusive distributor of Brazilian brand, Grendha. It is the eve before the cover shoot and in an effort to, as she puts it, "break the ice," we await the six ladies handpicked to be the faces, or rather feet, of the footwear line known for its chic designs sculpted ingeniously from PVC (Polyvinyl Chloride) – that soft rubber that's surpassed trends for many years for its comfort and water-repelling magic.
The first to arrive at Maya Mexican restaurant happens to be the youngest of the pack, fifteen-year- old Andrea Aldeguer, the eldest daughter of entrepreneur Jay Aldeguer, and the former Camille Villarreal. She brings two endearing accessories – a close friend and the timidity that comes with youth. Of course, later that evening, she would also be the earliest to leave, as our cheery teen, who is a junior at Sacred Heart School – Hijas de Jesus, has a nine pm curfew. "I own five Grendhas," she admits, sporting a pair of cute flats that evening. She wears the boho chic style of High School Musical star, Vanessa Hudgens. For someone who hasn't reached sweet sixteen yet, she has no qualms about wanting to someday be part of the fashion world. After all, she was only seven when she designed her first dress for their specialty retail boutique, Loalde. "I used to spend every weekend at the office." She would also travel with her grandmother to Hongkong to select merchandise that would best suit the brand's image. The self-confessed shopaholic and blogger has her sights on being a stylist ala Rachel Zoe.
Next to arrive was Zee Lifestyle's very own budding stylist, a girl you probably will never catch without a little eyeshadow to offset her almond-shaped eyes or sans her hair in perfect, soft curls. A fresh graduate from the Ateneo de Manila University, Krystle Uy is already making a name for herself in the industry through her styling and directing stints for dailies and glossies, recently adding Zee Lifestyle to her growing resume. "Don't ever think you can't do it, because anything you put your mind to, you can achieve" is the mantra she lives by. Having spent a semester in Paris to take a fashion course at Mod'art International, Krystle has had a taste of living in a foreign country where she ultimately developed her street smarts as well as fashion savvy. She belongs after all to a family that owns the retail chain of Rosita's, and surrounded with two equally fashionable sisters, Jacklyn (who also photographs for Zee Lifestyle) and Diane. Au courant with the latest fads, she is currently co-manning the new campaign for her sister's rapidly expanding clothes shop, What A Girl Wants (WAGW). And when she's not running in heels to see to WAGW's fashion shows and the like, Krystle laces up her ballet shoes and pirouettes. "I've been a performing artist for eight years now. Dance, like fashion, helps me express myself in a liberating way."
The mood in the restaurant begins to liven up as one by one the guests arrive. The svelte Bernie Aboitiz comes with Zee Lifestyle's Eva Gullas, her next-door neighbor. She is shortly followed by Rochelle del Rosario, who planed in earlier from her Davao home. By now, everyone is aware that Grendha's two other chosen endorsers can't make it – Kristy Tesoro who was taking the last flight from Davao to Cebu that night, and June Alegrado who was feeling under the weather. Still the table is abuzz on June's bagging the most coveted prize of a brand new car raffled at Radisson Blu's grand opening two nights ago, and where the photo shoot was to set for the following day.
To eat or not to eat before the big day? This was a question that got mixed responses from the women. Who could ignore the occasional ooh's and aah's over the melt-in-your-mouth signature vientre de tuerco dish. By the end of the night, whether it was a margarita or a glass of Chardonnay in one's hand, a single dynamic rang true: there was no way the merriment wouldn't spill over to the next day.
The morning of the cover shoot. While the vanity cases are disassembled on the tables to create makeshift make-up counters, a dose of "yuppie-ness" greets us in the form of Kristy Tesoro, Kathy's younger sister. She seems well-rested from her late-night arrival and is ready to get down to business in a sensible pair of black wide leg trousers with a sleeveless fuschia blouse. She is classic with a twist personified. "I think it's all about detail. You will most likely find me in an outfit in basic colors. However, there will surely be a piece of accessory like a necklace, cocktail ring or bib that will complete the outfit." Also a graduate from Ateneo de Manila, Kristy is currently a marketing manager for a multinational firm. "I have been independent for so long. Living alone has really helped me be more confident to take on the things that life throws my way." After a long day of hard work, she likes to have a short run and meet with friends after. "Aside from my day job, I'm also into business so that takes up most of my time." She helps sister Kathy manage their Grendha outlets and given her love of shoes, she helps choose the styles that will be available for the next collection.
As the morning progresses, the women enter the room as if by an unspoken roll call. Each waits patiently for her turn on the make-up stool. Some choose to browse the net on their laptops, others prefer to chat with their friends over a cup of coffee or tea while occasionally admiring FTV's coverage of São Paulo fashion week flashing on the room's flat screen telly.
When June Alegrado breezes in, there is an immediate exchange of hellos. June is one whom you instinctively sense is very comfortable in her own skin – and perfectly bronzed at that. Her sheer animal print caftan and long ebony mane emphasize this vixen's raw sensuality. "I like clothes that have clean uncluttered lines. I like elongated silhouettes that follow the form, and accessories that are unobtrusive," June declares. The Alegrados hail from Butuan City, where the family ran a lumber business before relocating to Cebu City. Her dad has since expanded the business to include beach properties, notably the luxe resort of Maribago Bluewater in Mactan, the Almont chain of hotels and resorts in Mindanao, Sumilon Bluewater Beach Resort – an island paradise at the southern tip of Cebu and an upcoming resort project in Bohol. The resorts are ably managed by June's sister, Julie Alegrado Vergara, but June was given the responsibility of running the spas (for this, she goes to Thailand for continuous training), as well as the gift shops.
She stops to say hi to Andrea, who is batchmates with her daughter. "My children keep me busy. Whenever possible, spending quality time with them is a priority. Being a single mother is very challenging and demanding," she confesses. To prove that point, June was juggling a tight schedule that day, trying to catch an afternoon flight to Manila to be with the two younger kids, Izarra, fourteen and Iñigo, thirteen, who were competing in a soccer tournament. In between sips of tea, she also had to sign a footlong pile of checks for the company's payroll. Just a few months ago, June was spotted at a local builder warehouse choosing tiles—she had to refurbish two bathrooms for her second son, Basi, who goes to school in the US and was bringing in four friends for a vacation. June planned out an itinerary to keep the kids get a wonderful holiday—checking on the bathroom, the breakfast menu and everything in between. "My oldest son, Domiku, is my rock, he's been there for me and his younger siblings," June proudly credits her 22-year-old son who is currently a student at Enderun College in Manila.
On the side, she's been quietly working quietly with the resort's employees for their adopted advocacy. "Through our family's foundation, we've been sponsoring deserving students for more than ten years. We started with children of our employees. By 2011, we will complete our training center for basic hospitality skills and expand our educational advocacy." A mother who has had her share of life's ups and downs, June radiates optimism when she reveals that her strength, just like any other woman's, is a product of a lifetime's worth of hits and misses. "The more misses you recover from, the better person you become."
As the six women find their best angles and balance out the cricks in their necks from holding their poses, they are proof that practice really does make for perfection. After an hour or so, they ease into their element, finding the technique of feigned dialogue a welcome icebreaker for those candid shots. Eventually, this evolves into a genuine exchange of ideas between the women.
Rochelle Rabat del Rosario, for one, has an effervescent personality that makes you want to talk to her for hours. Although her wardrobe consists mostly of her favorite shade – white—her playful side pops out in the pleats and fringes of her feminine garments. Her clothing choices have an easygoing resort vibe but are also appropriately fit for the occasion. "I wear whatever I'm in the mood for, as long as when I look at myself in the mirror, I like what I see and I'm comfortable in it. When my thirteen-year-old daughter, Ariana, approves of my outfit, then it has passed the test." This mother of two (her son Robertino is attending Ateneo de Manila at the moment), Rochelle was raised in Mati, Davao Oriental and belongs to a political family, from both hers and her husband's side. Her father-in-law, Rodolfo del Rosario, is the governor of Davao del Norte while her husband, Rodney, who is the oldest son, runs Century Rural Bank. But instead of following tradition, Rochelle would rather make the world a better place through her cooking. A self-confessed foodie, she takes pleasure in preparing Filipino and Mediterranean dishes for friends at their cozy home setting. Food also takes her outside her home. "We have around sixty children in our feeding program, which was started by a good friend. Every month, they are weighed to gauge its effectiveness. One challenge is finding a kitchen-type place that meets our hygienic standards, and for this we usually used each other's kitchens, which can be both fun and frustrating," she admits. Her volunteer work is now part of her weekly routine, which includes managing her Coffee Dream franchise and stretching out her lithe limbs in Pilates class. How does this busy mother of two unwind? "I usually have a glass of wine with my husband. It doesn't matter where."
"Those are really nice," Bernie gushes as she admires the metal detail on Rochelle's Grendha flip-flops. She is quite a vision herself in a minimalistic ivory body-hugging gown. Her practical sensibility is echoed in the way she dresses – sophistication wrapped up in comfort, accented with a watch to, yes, tell the time. This active individual likes to take on tasks from start to finish without wasting a single minute, especially when it's something she's passionate about. Nowadays, Bernadette Montinola Aboitiz is on a mission to decongest our public schools and give out-of-school youth a good education similar to what her children are privileged to have. Her membership in The Lord Who Cares Foundation is a lot more than a mere pastime; it's a calling to, as she puts it, "seize those divine moments."
Bernie's relationship with the foundation stems from somewhere deep. "When I was recovering from cancer, I volunteered to help out in the first year of running a school for mostly dumpsite children. I began to pursue a second degree in education to become a teacher in this school." It was an arduous feat for Bernie to go back to reviewing for the licensing exam at her age, but it has paid off immensely. "Now, I teach a job reinforcement course prepared by an international justice mission to help disenfranchised youths either pursue college or prepare themselves for the workforce. We point them in the right direction." In fact, one of the companies that support this program is Visayan Electric Company, where husband Jimmy Aboitiz is the SVP and COO. "Their world is small. This program exposes them to income opportunities they can aspire for. We need to reach out and help our youth!"
That is not to say that Bernie, who comes from Manila—she and Jimmy met in Los Angeles during their school days—doesn't enjoy life. The couple often sneak out to little trips together especially now that their three children – Liane, Rafa and Gabby – have left them with an empty nest to go to school in the US.
Such vivacity exuded by these six females from diverse backgrounds. Yet somehow, they are now intertwined by the common thread of literally the sandals on their feet that day.
by PIA ECHEVARRIA
sittings editor KATSY BORROMEO
photography CANDICE RUIZ
fashion stylist MIKEY SANCHEZ
make-up artist EMI AYAG and JESSIE GLOVA
hair stylist JAIME MONDIGO
hair and make-up stylist RHEY ABELLA
locale RADISSON BLU
LADY CYCLISTS HIT THE ROADS AND SLOPES OF CEBU.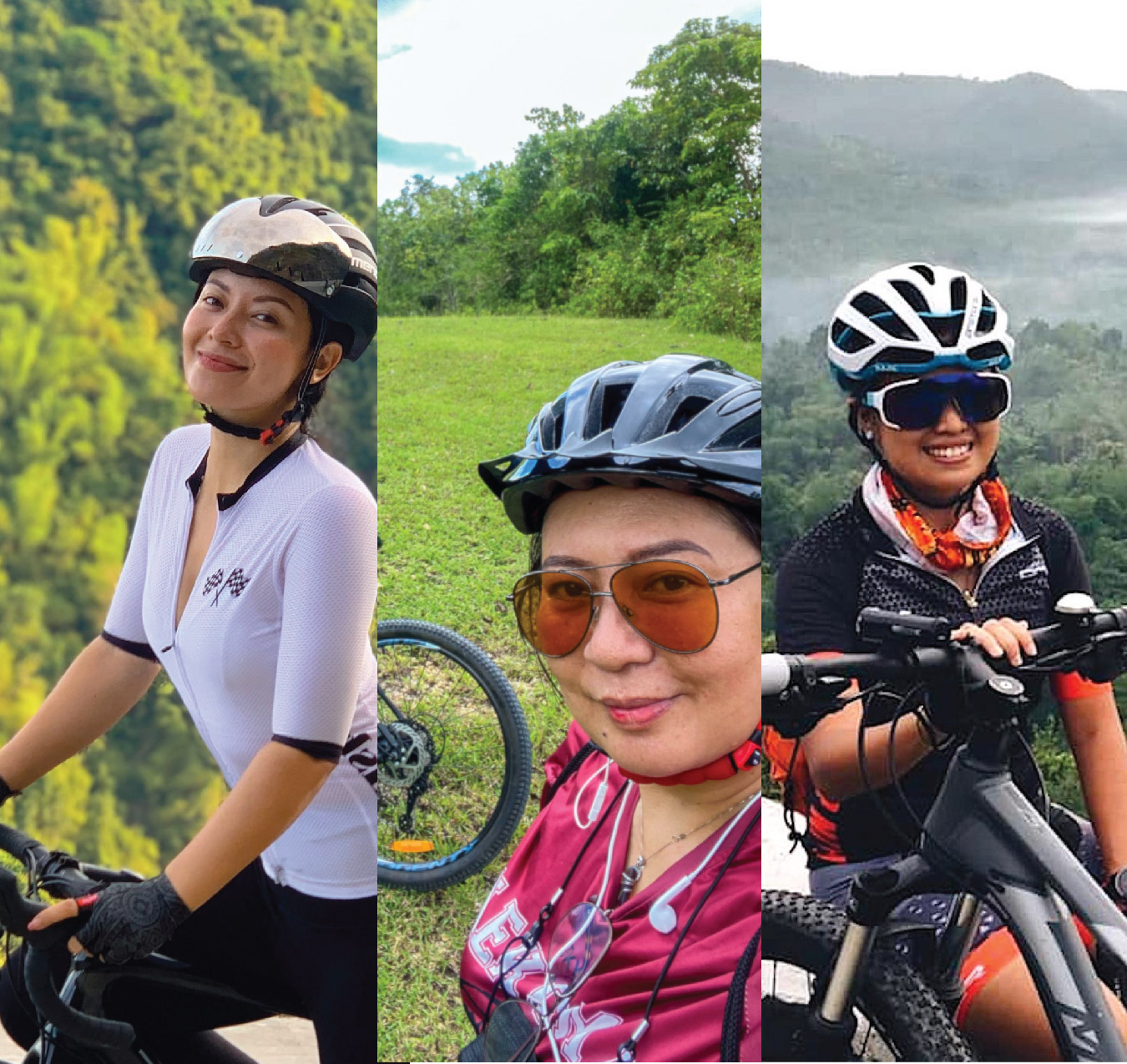 Cycling has been a growing sport and hobby for many years but it's popularity has erupted since the Covid pandemic.  People biking to work and for recreation is an everyday sight in Cebu.  More and more are joining the ride.  Many are quite serious about cycling.  I know three ladies who are among those who've gone long distances across Cebu.
How did you get into serious cycling?  What was your motivation?
Blinky de Leon.  Event Host, Product Endorser & Influencer
" I've been into cycling since I was a kid. A little backstory, I was around 10 years old when my dad surprised me with my first custom-made mountain bike. I still keep it until now, in fact I had it refurbished. It's the most sentimental thing I ever received since it was his way/gesture to catch up with me after not seeing each other for almost 6 yrs. My dad is based in Germany and he also loves cycling and makes his own bamboo bike."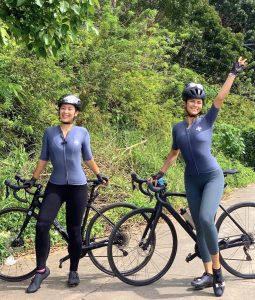 "Just a year ago though, my friend Gazini randomly, out of nowhere, picked me up from home to bike with her to the South of Cebu. I felt really excited and motivated to get back on track because it's very nostalgic and brings back so many great memories. And since then, the rest was history. We've been joining different groups, tried different routes and conquered different heights. I've met so many cyclists with very inspiring stories in the bike community who kept me feeling motivated too. I also look forward to the sights and the adventure that comes along with it."
Yumz Mariot. Branding & Marketing Consultant
"I used to bike along with rock and wall climbing. I am lousy with ballgames which is why. Our usual route were Talamban and Mactan but one time, managed to ship gears all the way to Dumaguete for a quick ride to Valencia, the next town located at a higher elevation. Those were days when I did it for fun and what bike I was using did not matter."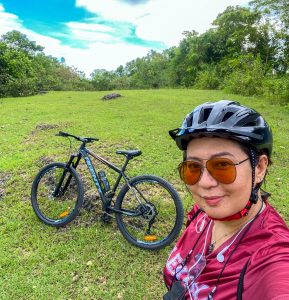 "Fast forward to 2021, a year after the pandemic lockdown began, I realized I have been lazy to do any fitness routine. Too caught up on juggling between house chores and Work from Home deliverables (I work as a Branding and Marketing Consultant), I started to feel my body needs to move as much as my brain does. A hysical fitness routine is as important as what I eat, or what I read or watch. So I decided to invest on a decent MTB, just very recently and got myself a much necessary restart. What motivates me even more is the area where I currently reside at. It is vast, fresh, green and safe for solo bikers like me."
Prime Sarino. Digital Media Creative
"I started biking as a young teenager and I got the idea to start it as an adult hobby 3 years ago. I was already into running and I thought it would be great to venture into another outdoor activity to keep me occupied after work hours and weekends. I was set to travel for a year so I had to put aside the idea first but came pandemic. We were all forced to stay put and everything was put on hold. Cycling became my diversion. My cyclists friends invited me to quick and short rides. I enjoyed my first 50km ride and the sceneries and routes most of all. It also helped channel a positive mindset during the hard hit season of the pandemic. Not to mention it's also another way to stay fit when we were forced into inactivity during the quarantine."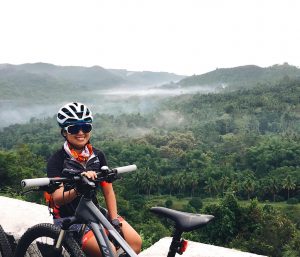 Next in Part 2, we ask the ladies about their cycling experiences and memorable moments…
by: Zen
#CebuPride:  Cebuanos in Multi-awarded Pride-Themed Films
Multi-awarded International Gay Movies with Cebuano Lead Casts
By:  Allain Dumon Fonte
Pride-themed movies are starting to invade the film industry as people become more accepting and are more intrigued on the stories about LGBTIQ.  Many have shared the intensity of emotions and laughed with the craziest jokes on gay-themed movies.  In the Philippines, these kinds of movies were questioned as to their morality and their message to the society.  The strong influence of the country's religious standards had branded gay-themed movies as sex-oriented and nothing more.  Yet, with Thailand's more tolerant culture, Thai BL (Boy's Love) movies and television series have created a new perception to the viewers; and that is gay-themed movies are remarkably alike to all other movies – there is romance, comedy, drama, and the continuing struggle of living like normal people.  Hence, Thai BL TV series have a massive following all over Asia.  At the end of 2019, they became available in Netflix and are being watched by millions of viewers all over the world.
The Philippine film industry is not that far from Thailand's.  Some of the LGBTIQ-themed movies and television series are slowly getting a following in Asia and are now accessible to viewers worldwide.  A few of these pride-themed movies that casted or directed by a Filipino have already been receiving nominations and awards from Golden Globe, The Berlin Film Festival, the Venezia Film Awards, and even the Emmy's…and the Filipinos in these films hail their roots from Cebu!
1. Lingua Franca
Lingua Franca is a film directed by a Cebuana, Isabel Sandoval.  Sandoval also plays the main character of the movie, and she even wrote the screenplay.  Lingua Franca tells the story of Olivia, an undocumented transgender woman in New York who works as a caregiver to a senile old-lady of Russian-decent.  When Olivia is challenged to attain legal status in the US, she is left with a "marriage-based green card".  While in search for her groom-to-be, she becomes romantically involved with Alex, Olga's grandson.
The film is now available on Netflix and has received positive reviews from the media.  Stephen Dalton of the Hollywood Reporter wrote Lingua Franca is a "heartfelt personal statement rooted in timely, gripping issues that obviously resonate deeply with its author, notably trans rights and Trump-era immigration anxieties".
Isabel Sandoval graduated summa cum laude with the degree in psychology from the University of San Carlos in Cebu, Philippines.  In New York, she pursued graduate studies in Film at NYU.  She is now currently residing in NYC, and already has award-winning films under her belt like Apparition, Lingua Franca, Senorita, Ritwal, The Unstoppable, and Judgement.
2. The Assassination of Gianni Versace: American Crime Story
This television series was aired in Netflix and has gained so much popularity because it showed the murder of world-renowned fashion designer, Gianni Versace, by a serial killer, Andrew Cunanan.  Based on Maureen Orth's book Vulgar Favors: Andrew Cunanan, Gianni Versace, and the Largest Failed Manhunt in U.S. History, this television series has 9 episodes of suspenseful scenes, and is star-studded with casts like Ricky Martin and Penelope Cruz.  However, the main actor who played Andrew Cunanan is Darren Criss who gained his popularity after being a regular on the top rating TV show, Glee.  Darren Criss hails his roots from Cebu, Philippines.
The Assassination of Gianni Versace: American Crime Story received positive reviews from critics. At the 70th Primetime Emmy Awards, it received 9 nominations, and won 3 awards, including Outstanding Limited Series and Outstanding Lead Actor in a Limited Series or Movie for Darren Criss.
Criss was born and raised in San Francisco, California, USA.  Criss was raised as a Roman Catholic and attended roman catholic schools.  He later moved to Michigan where he studied Bachelor of Fine Arts major in Theatre Performance and minor in music at the University of Michigan.  Criss's father, Charles William Criss, is a banker and served as CEO of the East West bank in Honolulu, Hawaii.  Criss's mom, Cerina, is a native of Talisay, Cebu, Philippines.  When he was younger, he visited Cebu a couple of times with his mother.  Darren Criss is very proud of his Cebuano roots and wants to portray Filipino characters in films and in theatres to promote visibility of the Filipinos in the American films.
3. The Amazing Truth About Queen Raquela
     The Amazing Truth About Queen Raquela premiered at the 2008 Berlin International Film Festival where it grabbed the Teddy Award for Best Feature Film.  It was also awarded the Grand Jury Prize in the 10th 2008 Cinemanila International Film Festival at Malacañang Palace's Kalayaan Hall.  It starred Raquela Rios also known as Minerva to her Cebuano friends.  Raquela  is a local of Mandaue City, Cebu, Philippines.  The film is directed by Icelandic film director, scriptwriter, and producer, Olaf de Fleur Johannesson.
Raquella Rios is a native of Mandaue City, Cebu, Philippines, and she went to the University of San Carlos in Cebu, studying sociology and anthropology.  Before finishing her studies, Raquella left the Cebu and went to Iceland after being casted by Icelandic film director, scriptwriter, and producer, Olaf de Fleur Johannesson for the movie The Amazing Truth About Queen Raquela.  She is now based in Bangkok, Thailand as a fashion stylist and wardrobe assistant to some local Thai movies.  Raquella is also an activist for sex workers rights and trans rights in Southeast Asia; pushing for the recognition on the choice of their gender and the right to change their birth names.
There are still plenty of pride-themed films in the Philippines that gained recognition all over the world; yet these movies mentioned are special because of the talented Cebuanos that have  brought Cebu to world.  They truly are #CebuPride.
37 Years of High Fashion; Arcy Gayatin leaves a Legacy of Edginess and Elegance
Arcy Gayatin: A Legacy of Luxury in Fabrication
By:  Allain Dumon Fonte 
The brand Arcy Gayatin gave the Queen City of the South a distinct reputation in the fashion industry.  The fashion line of Arcy Gayatin sets the bar higher each year for clothing luxury and fabrication techniques.
Araceli "Arcy" Ancajas Gayatin is the daughter Galileo Ancajas and Remedios Zanoria Ancajas who founded Cebu's home brand, Gal's Bakery.  Arcy went to the University of San Carlos and studied Political Science.  And just like Dr. Muccia Prada, who completed her Ph.D. in Political Science and established the luxury line of Prada, Arcy also got in touch with her artistic side and started her own fashion line.  However, it was not Prada that influenced Arcy.  Arcy was introduced to fashion and tailoring at a very young age by her mother, Madame Remedios Anacajas whom they dearly call Mama Eme.  Mama Eme was running a tailoring business back then.  It was called Arabel; named after Arcy and her sister Belma.  Ara from Araceli and Bel from Belma.  In those years, Arcy was fascinated by fabrics and was intrigued by how to manipulate the fabrics to come up with fashion-forward designs without compromising comfort and taste.
After 37 years of creating haute couture pieces for the most fashionable personalities in the Philippines, Arcy Gayatin is now laying down her sketchpads and pens to rest.  As she enjoys her retirement, may be on a cruise to the Bahamas or a holiday to the Swiss Alps, Arcy Gayatin has left the fashion industry a legacy of elegant and edgy clothing ensembles that understand and define the shape of women; without compromising comfort and good taste.
To salute the lady who brought Cebu fashion to the world, a retrospective exhibition of Arcy's incomparable masterpieces can be seen today at Ayala Center Cebu's The Gallery; curated by fashion editor and writer, Clint Holton Potestas, and interior and fashion designer, Jul Oliva.
BALANCE.  Arcy Gayatin is known for her perfect symmetrical lines when fabricating.  She knows how to balance edginess and class; understanding well the strength and the finesse of a woman.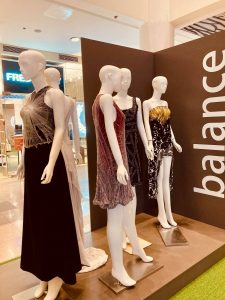 RHYTHM.  Arcy's expertise in draping and fabric manipulation can be seen in how she achieves rhythm between architectural lines and soft fabrics like silk and cashmere.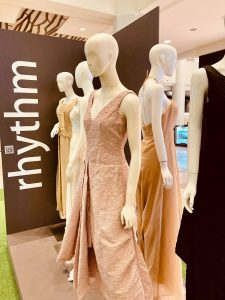 TEXTURE.  With her thorough knowledge on fabrics, Arcy Gayatin has achieved the perfection of fabrication by working on different types of fabrics and creating a single piece of art out of them.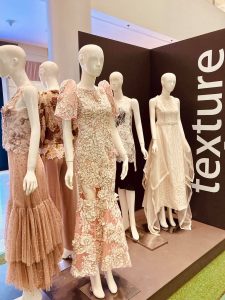 HARMONY.  The simplicity of the silhouette plus the intricacy of the details create a wonderful harmony, making Arcy Gayatin's design a one-of-a-kind masterpiece.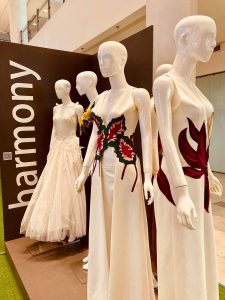 The photos below show an up-close look at the intricacy and the exquisite craftsmanship of Arcy Gayatin's fabrication techniques: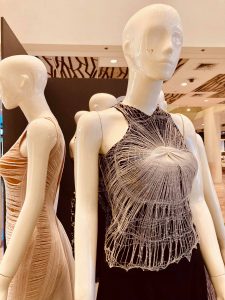 THE SPIDER WEB:  one of Arcy's genius fabrication techniques.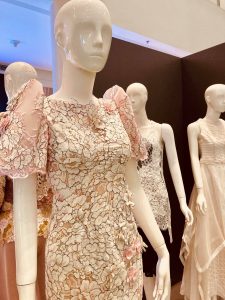 MATCH and PATCH:  Arcy's unique fabrication craft by patching layers of different types of lace and lace patterns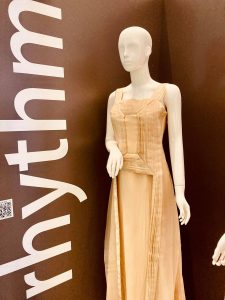 PLEATS: The perfection of symmetry in pleats on silk.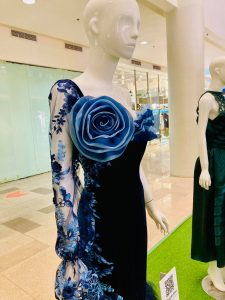 LA ROSE BLEUE:  U.P. student, Danielle Alessandra Deutsch, inspired by the artistry of Arcy Gayatin, designed this midnight blue dress.   The cabbage rose made from layers of silk organdy gave this evening ensemble a romantic appeal.