Cabin Fever
Destiny, or so it seemed, is how this massive wooden house on a hill came together. Almost by pure chance—according to the homeowners—the buying, the water sourcing, even getting their architect, all felt like a series of fortunate events. Though their original house in the city had so many advantages, there is nothing like realizing a dream home, and to this day, the homeowners and their children have no regret of moving up to the heights of Busay hills.
Destiny, or so it seemed, is how this massive wooden house on a hill came together. Almost by pure chance—according to the homeowners—the buying, the water sourcing, even getting their architect, all felt like a series of fortunate events. Though their original house in the city had so many advantages, there is nothing like realizing a dream home, and to this day, the homeowners and their children have no regret of moving up to the heights of Busay hills.
A good forty-five meters of ragged terrain were sliced off the hilltop to provide a flat area where this 1,000 square meter, six bedroom, six bathroom house now stands on its promontory, 300 meters above sea level. The homeowners' love for natural materials triggered the use of wood all throughout construction. Narra, magkuno, tugas, and pine were brought in from Dipolog, Surigao, Cagayan de Oro, and even as far as Papua New Guinea.
On a fateful social event, Architect Tessie Javier also offered her services, feeling challenged by the unique idea of having this log cabin aesthetic in Cebu, and wanted to help them maximize the potential of their design. By fusing nature with technology in a simple tasteful style, the architect extended the rooms from their original sizes; framed the breath-taking surrounding scenery with nearly foot-to-ceiling corner windows; and took full advantage of the already existing spaces by installing gigantic all-natural two-storey magkuno wood pillars all around the house. This is also the architect's favourite feature, "the first and probably the last I would do in Cebu. It is very unique in Cebu home design," she says. "Every time I visit I am still awed by these columns." The architect and homeowners also rave about the towering solid narra main door, made from one huge piece of plank wood almost five centimeters thick, opening into a huge open encompassing the living room and the dining area flooded with natural light from the expansive glass windows specially cut by Kenneth and Mock's plant in Manila.
The whole family was heavily involved from the concept to the completion of this dream home. The four children designed their rooms together with the architect. The result are expansive walk-in closets with gigantic mirrors, narra "floating" beds, space saving German-technology sliding screen doors also by Kenneth and Mock, accented by furniture pieces from Kenneth Cobonpue and Vito Selma. In a separate section, the two boys share a huge room with a bath room that open with glass doors on three sides, and a rain shower that falls on river stones.
To make part of the exterior walls they simply veneered the on-site rock that was excavated, and integrated several pre-war wood planks for the dining area ceiling. Designed and made by the man of the house himself were several outdoor seating sets, and his favorite is a huge magkuno tree root that he turned into an outdoor table. The house is very far from the city, but it is closest to nature with its countless organic and natural facets. This is also generally one home without much fuss. The utilities closets were integrated into the walls through secret push-open closets. Most of the furniture is also new, including architect's picks of a shell Carlos Lanuza bedroom lamp, Vito Selma dining chairs set against a family-designed lazy-susan from a sawn-off magkuno tree trunk, and the woman of the house's favorite item, a Maitland-Smith sitting frog tissue dispenser.
Architect Tessie Javier is happy with the outcome of this home, and she hopes that this will become a benchmark for unique residential design in Cebu. Surely wood is difficult to manipulate, the hilly terrain a real challenge to develop, and even sourcing the water at such a raised area presented many hurdles, but these were collective struggles that produced a sweeter, dearer yield. "I feel good that the home owners are happy with my participation," added Architect Javier. "The house gives me the same pride it gives the owners." And the family also admitted that the completion of this home has made them feel closer as they all want to spend more time at home. Their lifestyle is more relaxed as the elevated property also promises security and privacy. "Thinking about it makes me feel really blessed," exclaimed the gracious woman of the house—it's like just as they say, the higher the "hill" the closer to God.
by IAN E. BAOL photographer GENESIS RANA

Trendy Renovation Ideas for your Home or Condo.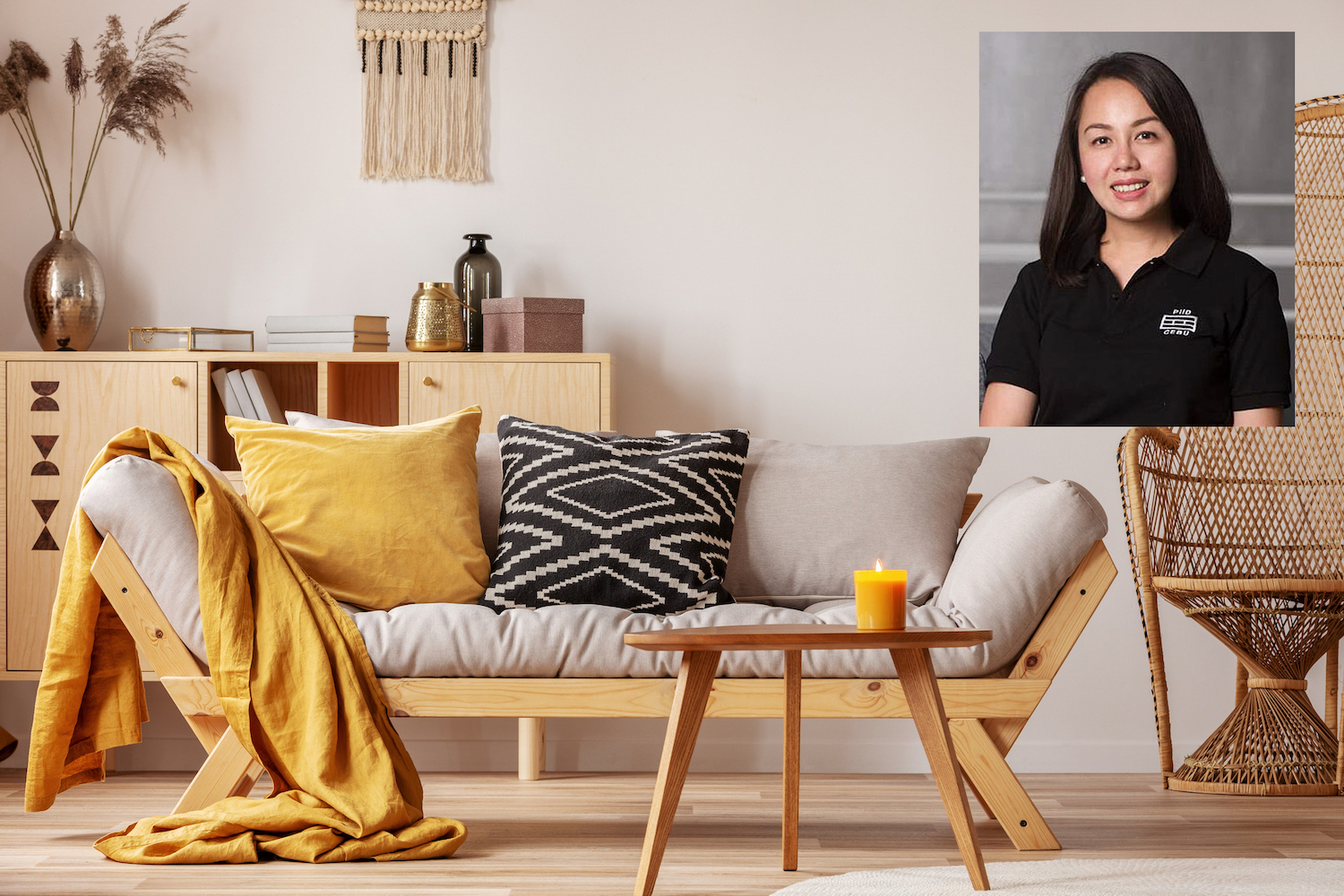 by Christa M. Cañizares IDr.
Part 1: Plan the Space to Suit your Needs.
A.)  Decide on a theme that reflects your personality. You can start by browsing through the internet and make a mood board on the colors, patterns, furniture and accessories that you love.
B.)  Work on your budget. This is essential to any renovation project. You can start with window shopping and scout for the key pieces and compare prices. You can also browse home products and purchase them online.
C.)  Invest in good and durable pieces.  Start with the big items that you often use. Your mattress tops the list as this is where you rest and recharge. Big items such as sofas and dining sets should be durable enough to withstand the everyday wear and tear. Choose a design that can easily go well with your space when you redecorate.
THROWBACK THURSDAY. Discover Why This Airy, Modern Structure in Busay is Called the Sky House
Defying Gravity
YKC Premier's first venture in Busay floats over a cliff and introduces a new brand of living in Cebu.
by Shari Quimbo photography Ezekiel Sullano
YKC Premier's first venture couldn't be more aptly named—Sky House was spot on—the airy, modern structure that juts out of a ridge in the Busay Highlands couldn't be called anything else. The drive up the hill levels to a short plateau right before the entrance of the village, allowing ample time for everyone to look up and admire a house that seems to be in defiance of gravity.
"When I saw the property, it was everything you could ask for, and it's in limited quantities so we wanted to maximize all its assets," says Victor Consunji, one-third of the group behind the project. "The problem was the land is narrow. Since we have the experience and capability, we thought, why waste all the good things about this property by just building on the ridge? Why not build over the ridge?"
Slater Young and Stephen Ku complete YKC Premier, a group of men who have come together to redefine the art of living with a view in Cebu. "Slater and I have been friends for a while, and I bumped into him at a wedding here in Cebu," Stephen recalls. "And then we were talking about businesses that we could do together, and he mentioned that he had a nice piece of land that he wanted to fix up. He showed me the place, and I thought it was beautiful. On the way back to Manila, I thought about Vic because I'm also working with him on his project in Manila called Mahogany Tree."
Once the three sat down to discuss the venture, Victor was immediately interested and, in fact, already had a vision for the house's design in his mind. The partnership played up each one's individual strengths and backgrounds—Victor comes from the family behind DMCI Holdings Incorporated, which have constructed Philippine landmarks such as the Manila Hotel and Shangri-La's Mactan Island Resort; Slater has a background in engineering and his family is also in construction; while Stephen is at the helm of Eventscape Manila and is behind some of the hottest restaurants and nightspots in the Philippines. "Victor would be the CEO, the visionary. His expertise is what we brought in here," explains Slater. "And since I'm also in construction, I was sort of his eyes here in Cebu. I'd be the CTO, Chief Technical Officer, and Stephen would be the CMO, marketing."
Although YKC Premier already has three strong personalities behind it, the guys decided to bring in another design visionary to help them complete the look of the Sky House. "The Sky House is unlike any other home in Cebu, and it was a designer's dream to be part of it," says Vito Selma, who brought in his iconic pieces, along with some custom-made furniture to complete the look of the Sky House. "Given its location and the abundance of windows, I wanted the home to feel just as light and airy—to simulate the feeling of flight. And to stay true to my brand, we just wanted to bring nature into the home, which can be seen in the materials, textures and colors in the space."
The look is relaxed but sophisticated, with many art pieces that Vito had commissioned especially for this project. "The installation in the entry is by me," he says of the large textured slab with pieces of wood in different finishes scattered on it. "I made it in a way that when someone walks in the house, they see a reflection of that piece and its materials in other areas of the home." Other notable pieces are in the living room: a large rattan sculpture of interlocking loops by Vito's sister Selina Romualdez, and a long painting with strokes in various shades of gray by Tzaddi Esguerra. "I love working with her for all our projects," Vito admits. "We tell her what colours to work with, and she makes the magic happen."
With the house finished in just over a year, the guys are looking forward to constructing seven more houses to complete the project, offering a lifestyle that is incredibly appealing. "Young, hip urbanites. Young families. If they're young, they at least feel young," says Stephen of who they see living in the space. "People who want to balance work and play, because this place is like a residence and a resort at the same time."
"Nowadays, with the way things are going in the Philippines, there is a focus on taking vacations, but not everybody has that chance. Not everybody can just take off whenever they want," Victor adds. "I really don't believe that a home is just your home, your vacation spot is just your vacation spot and your work place is just for work. I think you can have the best of all three, and this design incorporates that."
"It'll feel like you're going home to a vacation every day," Slater adds.
Although these gents are focused on the Sky Houses for now, they look forward to bringing more of this brand of living to other locations. "We're just looking for the right project, but I think the boys are in agreement that we really want to explore Cebu, particularly because this is the emerging market we want to be in. We just need to look for the right spot, and the right design," Stephen says.
More than just creating modern and luxurious properties, YKC Premier hopes to change the perception of what living in Cebu can be. "That's what we want to bring to Cebu," Stephen shares. "I haven't seen a development like this in Cebu, and a lot of the times I'd ask Slater, and he goes, oh no, the Cebuanos wouldn't want to spend for something like this. I kept telling him that if we build it, they will come. Cebuanos are ready for something edgy and daring, and I think this project will be a testament to that." With the first house already sold, that's certainly been proven true. After all, with just one visit to the Sky House, it's hard to imagine a better place to live.
(This article has already been published in Zee Lifestyle's February 2016 Real Estate Issue, "Defying Gravity" on pages 68-73.)
LOCKDOWN FUN: Whose Crib is This?
Here's one way residents of Cebu's exclusive villages created their own fun during zoom parties — guessing each other's home! Of course, you need a smart mastermind to curate the photos to make sure the homes of each of the amigas are not easy to guess.
So, here's a short tour of homes that was paraded during this very fun game. Homes are located in Maria Luisa, Northtown Homes, Beverly Hills and a beach house too.  Oh, and one came all the way from Scotland.
We hope your zoom parties are just as fun!