Bringing Detalia Aurora's Iconic Furniture into the Future
With more substantial roles in the family business, Paula and Vikki Rodriguez are bringing Detalia Aurora into the future by nurturing their design processes, fostering their close-knit community, and bringing passion into everything they do.
by Shari Quimbo
photography by Ezekiel Sullano
This story is taken from our archives. Originally published in Zee Digital Vol. 2 2018.
Detalia Aurora is certainly no stranger to our pages, or to the homes of Cebu's most discerning residents. For years, the company has been in the furniture export industry, producing pieces that have become iconic in their own right—the Shellf bookcase shaped like a nautilus; the Tera wall art, which is a map made of corks; and the eye-catching Gaia chair.
The brand's staying power is truly a testament to the talent and skill of the team behind its creations, but perhaps some credit also goes to sisters Paula and Vikki Rodriguez, who, since becoming more involved in the family business, have worked on streamlining processes and nurturing their edge in product design.
"We needed our company to not just evolve, but to adapt to the changing market," Vikki explains. "It wasn't enough for us to create new products anymore. We needed to think about more than just aesthetics. We needed to change as a whole, which involved ingenuity from design, construction, cost and market strategy. It's a slow but steady process."
The process began, according to Paula, with finding a way to adapt to the industry's changing demands and expectations. "We decided to work within the company," she says, explaining that they started working
closely with buyers to collaborate on specific collections. ìWe made sure that they will always come to us to develop new ideas and create products together."
Then they started looking inward, with the goal of creating a close-knit working family within Detalia Aurora. "From the beginning, Vikki and I wanted a co-working atmosphere in all aspects of the company. Detalia's biggest asset is not just design anymore—there is no more disconnect," Paula continues. "Our company's asset is its people, and the products we create. Creating that level of teamwork, they reiterate, is what gives them more time to work on developments with buyers.
"Material and design innovation will always set us apart from the rest of the international design market."
-Vikki Rodriguez
Among the challenges they both had to face was surviving the global recession a few years back, which was said to have had a considerable effect on the local furniture industry. To Paula, though, it was more of a challenge than a setback.
"Here's my two cents—I believe that those who are still here in the furniture industry are those who have found smart ways to keep the business going—may it be in product or in company structure," she shares. "Those companies we keep in contact with are those who have found their niche in their respective markets."
The furniture industry in 2018 is a whole new landscape, and it's something both women are excited about moving forward. "I think the Cebuano design industry has changed in a way that there are no more boundaries," Vikki says. "Creatives, entrepreneurs and other individuals from different industries are open and excited to collaborate with each other—it doesn't matter what field you're in."
Despite the changes, both also believe that what makes Cebuano furniture different from the rest of the products on the global market remains the same. "Material and design innovation will always set us apart from the rest of the international design market," Vikki shares. "More importantly, I think the pride we have for our work also speaks for itself."
This is also why they hope that more young design students become interested in the local production process. "I really do feel that there is a comeback and a growing interest in design for the furniture industry," Paula shares, adding that they've seen a sizable increase in local internship applications as opposed to the international ones they had gotten a few years ago. "I believe the design students in Cebu are becoming more aware of the capabilities of Cebu furniture manufacturers. With easy access to information online, like websites or social media, I feel that they are able to see Cebu's skills in handcrafted design, and appreciate the products coming out of the industry."
"I hope this continues so more young designers are better able to work with indigenous material and promote local craftsmanship to help keep the design industry and Cebu's handicraft industry going," she continues.
It's clear that both Paula and Vikki have settled into their roles at Detalia Aurora. And although they have both been involved in business operations, their passion lies in creating.
Having once been design students themselves, Paula and Vikki have settled into—and are relatively thriving at—their roles at Detalia Aurora. At the core of their efforts, though, remains the passion for the business their family has created, and for the art of production.
"I've always been interested in the industry, although when I was younger, it was not particularly about design," Paula shares. ìI was intrigued by the development, innovation, craftsmanship and materials that Cebuano furniture manufacturers were developing on a global scale. I knew I wanted to take part in it."
"I wanted to be part of the process," Vikki agrees. "I saw it as a challenge to create, and creating something
goes beyond design. It's imagining the possibilities but understanding the physical limits." She adds, "I saw how proud my parents were of this business and I saw how hard they worked for it. I saw how everyone in the company worked hard for it, and I still see that today. I am grateful to be in that community, and to contribute as best as I can."
Cebuano Pride: The National Museum of Cebu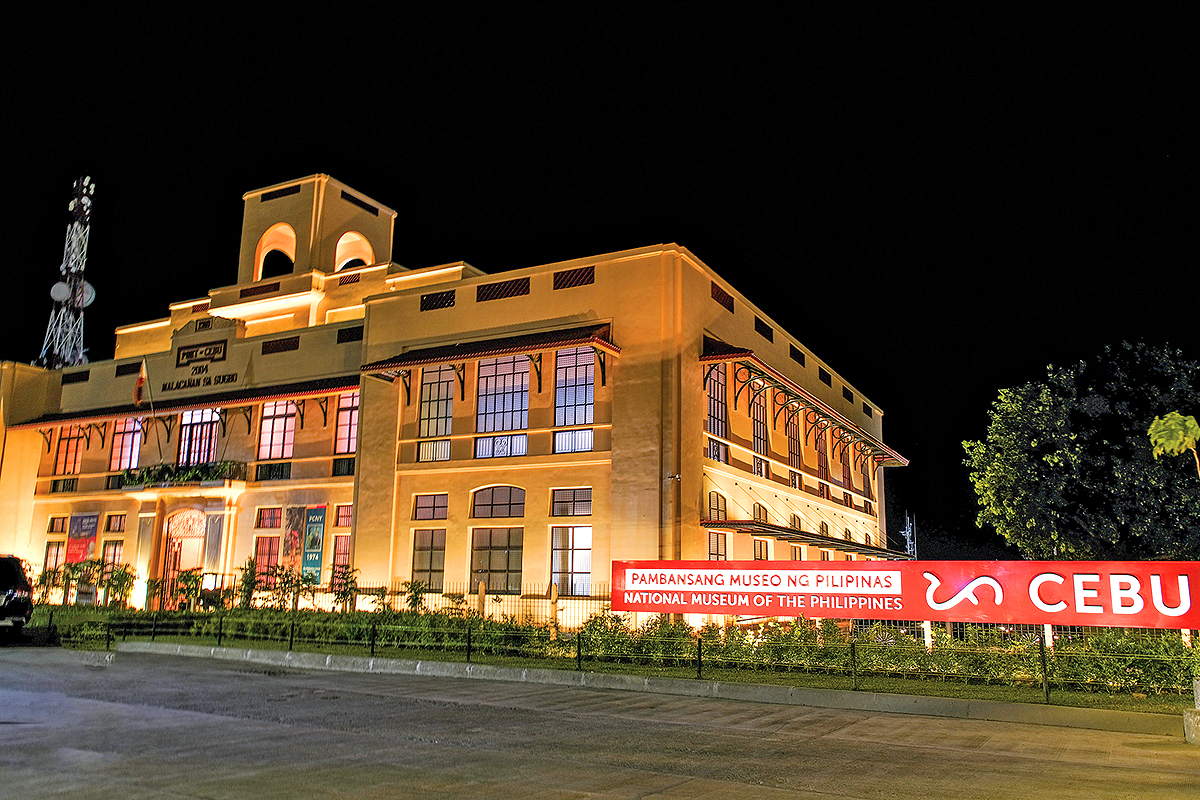 Pride of Cebu
By Eva Gullas 
photos courtesy of DOT
"With the National Museum of Cebu, the cradle of Christianity in the country, we open the doors to a temple in history and culture, inviting tourists and locals to witness our archaeological and natural treasures. The NMP-Cebu is not just a museum but a bridge to our past and a window into our future," declares Christina Frasco, our Secretary of Tourism, at the ceremonial opening last July 28.
Located at the heart of the city's historic port area, the former colonial Customs House, built in 1910, was transformed into an elegant edifice worthy of the city's place in history. It was in Cebu where the Spanish conquistadors first landed in 1521 and where Magellan met his end at the hands of the local chieftain Lapu-Lapu. Starting August 1, the National Museum of Cebu will open its doors daily from 9 am to 5 pm except Monday.
Worth checking is the first floor, where a few art pieces from national artists like Cebu's own Martino Abellana, Fernando Amorsolo, and Jose Joya take pride of place. On the right wing are finds from archeological digs found all over the islands. Called Ang Karaang Sugbo or Old Cebu, they include a gold death mask and ancient vases from China. There's also Kinaiyahan: Cebu's Natural Wonders, which features an impressive wall containing the different layers underneath our soil. There is also a display case that interactively showcases the various elements around the area, like gold, copper, and gypsum. Another wing is Paglawig: Cultural Movember Across the Seas, showcasing the islands' maritime history and sea bounty, including rare shells.
It is on the second floor, though, where the museum shines. Up the grand staircase, guests are greeted by Elmer Borlongan's massive Battle of Mactan, facing a facsimile of the Sta Maria galleon, Magellan's flagship. Then on to a limited-time exhibit on loan from the Philippine Center New York Core Collection of 1974, a treasure trove of almost 90 paintings collected by former First Lady Imelda Marcos, including Ang Kioks, Sanso, Manuel Rodrigues, and many more representing both avant-garde and classic Filipino masters. The New York collection is only available until March 2024 and is not to be missed.
The National Museum Cebu has been years in the making, and this cultural milestone has finally been made possible under the new administration of President Ferdinand Marcos Jr., who famously said during the inauguration, "I am a museum fan, and I can stay in art museums for hours and hours." He added, " museums are considered valuable natural assets to a nation as they build a sense of community, document history, inspire creativity, promote tourism, and unite people through a shared heritage." Kudos to the National Museum Board of Trustees, chaired by Andoni Aboitiz and Museum Director Jeremy Barnes, for this cultural gift to Cebu!
The Uncommon Traditions that Mexicans and Filipinos share when celebrating the Day of the Dead.
Dia de los Muertos
By Allain Dumon Fonte
The 2nd of November is All Soul's Day, a holiday that is very important to many Filipinos to remember our loved ones who passed on. This is also widely celebrated in Mexico as "Dia De los Muertos" or in English, "The Day of the Dead". And Mexicans celebrate the 2nd of November grander than they celebrate Christmas. Well, you can witness it from the Disney movie, "Coco".
As All Soul's Day or Dia de los Muertos is about to end, here are some interesting traditions and superstitions that Filipinos and Mexicans share:
1. IT IS NOT ON THE 31st OF OCTOBER
Dia de los Muertos or All Soul's Day is not practiced on October 31st or on the Hallow's Eve as many other western cultures practice; but we celebrate it on the 2nd of November. We celebrate November 1st as All Saint's Day or the Day of the Holy, while in Mexico they call it Dia de los Innocentes or Dia de los Angelitos to commemorate the children who died too early in life.
2. THE RITUAL
Both in Mexico and in the Philippines, we visit the grave of our loved ones and we clean it well. This is a ritual to honour their resting places and to let them know that they are never forgotten.
3. FLOWERS INVITE SPIRITS
In Mexico, they believe that the scent of flowers attract spirits. So the flower offerings are invitation to their dead loved ones to visit the living families. While in the Philippines, we believe that flowers offered to the dead exalt the souls and somehow fill in the sadness that we feel when missing our dead loved ones.
Most of the time, Filipinos choose all-white flowers to offer because white is the absence of colour, which means the absence of Joy and happiness. White also symbolises purity of soul which we hope our dead loved ones will attain as they journey to heaven. While in Mexico, they have the yellow Mexican marigolds as the official flowers of the dead that will guide them in their journey to the afterlife.
4. THE LEGEND OF THE MONARCH BUTTERFLIES
Both cultures believe that monarch butterflies are dead loved ones who visit us and show their appreciation that we have not forgotten them. A presence of monarch butterflies also means that our dead loved ones are always there guiding us and looking after us.
5. A PICNIC IN THE GRAVEYARD
Spending a night at the graveyard and picnicking with the rest of the family may sound very creepy to many; but to both Filipino and Mexican cultures, picnicking and spending a night at the cemetery is a must to show our love to our dearly departed. It is the only time in the year that families gather and tell stories of the dead loved ones and how colourful or how great their lives were.
6. FOOD FOR THE DEAD
In Mexico, they have what they call "ofrendas" or an altar where the pictures of their dead loved ones are displayed and offered with flowers, candles, and their favourite food. Very similar to the Filipino culture of cooking the favourite food of our dead loved ones and everyone in the family enjoys the food for dinner.
My family tradition involves me driving all the way to Colon street and buy that famous Snow Sheen's "pancit canton". This is my granddad's favourite snack. Sadly, the old Visayan Restaurant is no longer there. My late uncle and my late grandpa love their sweet ad and sour fish. We also set up an "ofrenda" on their graveyard and eat their favourite food while picnicking in the cemetery. We do not spend a night in the cemetery; but while we are picnicking there, we usually play the songs of Pilita Corrales and Susan Fuentes that my late grandpa used to listen every afternoon while enjoying his coffee, pan de sal, and pancit canton.
What about your family traditions? Share your thoughts by commenting to this article.
MODEL: Michael Joseph Mortola Enriquez & Alexis Wingfield
PHOTOGRAPHER: Gianne Paolo Anciano
HMUA/DESIGNER: Hazel Ocaba
STYLING: GPA Lifestyle + Clothing
Catch Ted Lasso the Emmy Award Winning Comedy Series on Apple TV+
Rating: *****/ *****
The multi award–winning comedy series airing on Apple TV+ is one of my favorite shows.  Ted Lasso starring Jason Sudeikis is about a fun good-natured American football coached hired by a British soccer club (AFC Richmond in London) to become their new coach.  In spite of the fact that Ted has no experience or knowledge about British football/soccer, his positive demeanor and charm helps him overcome the animosity of the team's players, staff and fans.  Eventually Ted wins over the team and the locals as they fight for position in the English Premier League.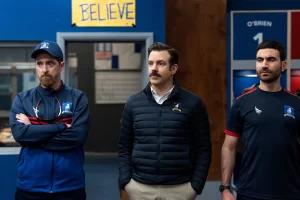 The show won the 2021 Primetime Emmy Award for Outstanding Comedy Series and 7 Emmy Awards in its 2 seasons and Season 3 is just around the corner.  You can catch Seasons 1 & 2 of Ted Lasso on Apple TV+