9 Things You Must Try in Japan
Maan Ting and her new husband Charles fly off to the land of the rising sun for a mini-honeymoon, getting the chance to immerse in rich culture and history, indulge in delicious dishes and experience some kawaii.
Just a week after our wedding, we didn't have time to make a detailed itinerary, but our wedding high made us game for adventure. We took the wrong trains a couple of times and got lost a lot more times; but once we discovered Hyperdia.com and had loaded ICOCA cards, going around Osaka and Tokyo on our own was so much fun. For someone who is Type A and bordering OC, it takes trips like this to remind me that some of the most pleasant surprises come when holidays aren't planned.
Hogwarts
First up on our itinerary was the Wizarding World of Harry Potter at the Universal Studios in Osaka. My hubby and I are big fans of the series, so starting our honeymoon at the village of Hogsmeade with two mugs full of hot butterbeer was just magical.
Kiyomizu-dera
Our other favorite in Kyoto, this Buddhist temple is simply breathtaking in the fall with beautiful shades of yellow, orange and red reflecting the sunlight. It's the perfect backdrop to a romantic daytime stroll.
If you have more time, the lovely Japanese lady who owns the Ryokan we stayed at recommended the Kinkaku-ji, Riyoan-ji, Ninna-ji and Nijo Castle. Get the unlimited bus pass so you can visit them all.
Fushimi Inari-taisha
This was one of our two favorite temples in Kyoto. There are so many in the area, so if you're only there for a couple of days (like us), make sure not to miss this Shinto shrine. The winding tunnel-like Torii path leading up to the mountain is just beautiful—and very Instagram-worthy! Going up and down the mountain was great exercise too.
Tokyo Disneyland
What better place is there to spend your birthday than at the happiest place on earth? Charles secretly bought me a birthday pass, and everywhere we went, people were greeting me a "happy birthday!"—including Snow White's Prince Charming! We went on all the rides, even the kiddie ones. It was such a fun day with my very own Prince Charming. Hands down, it was my best birthday ever!
Tsukiji Fish Market
The second happiest place on earth! Sashimi that melts in your mouth, and salmon roe that pops deliciously with every bite. It was the most memorable meal of our entire trip—of our entire lives, even.
Maid Café
Probably the most interesting part of our trip! We ended up in a Maid Café in Akihibara since it was the nearest place that advertised free wi-fi. When we entered the store, we were not prepared for the kawaii of it all! Some things you have to do at least once—and only once!
Shibuya Crossing
We got to say hello to Hachiko when we exited the train station, and got lost in translation and the shopping. Oh, the shopping! Start at Shibuya 109, and you'll find clothes and shoes too pretty to be reasonably priced. It was my reward after spending the afternoon following my husband around the electronic city of Akihabara.
Coco Ichibanya
They're everywhere, and thank goodness they are! Order the fried oyster curry and pick your level of spiciness—and the amount of rice. I love spicy food and have a high level of tolerance, but 6/10 is already piping hot for me.
Torikizoku
Awesome yakitori, and drinks are at a really affordable price. Friends in Osaka brought us here, and then we met up with another set of friends who were living in Tokyo—they also brought us to a branch in Shinjuku!
Besides the sashimi at the Tsukiji Fish Market, the Matcha Ice Cream near the temples is definitely a must-try! There is no shortage of what-to-eat suggestions because everything is delicious, even the onigiri at 7-Eleven and vendo-meals at train stations are good.
---
Originally published in Zee Lifestyle, March 2015
THROWBACK THURSDAY. Our Stylish Voyage on a Boat with Loida and Richard
FOR SAIL
With hosts Loida Montesclaros and Richard Forteau, we take entertaining to the high seas.
by Shari Quimbo photography Steffen Billhardt
The sky was decidedly gloomy on the Sunday afternoon Loida Montesclaros and Richard Forteau invited a small group of us for a sail, the clouds getting darker as I make my way to Porter's Marina, where the Blue Planet was docked.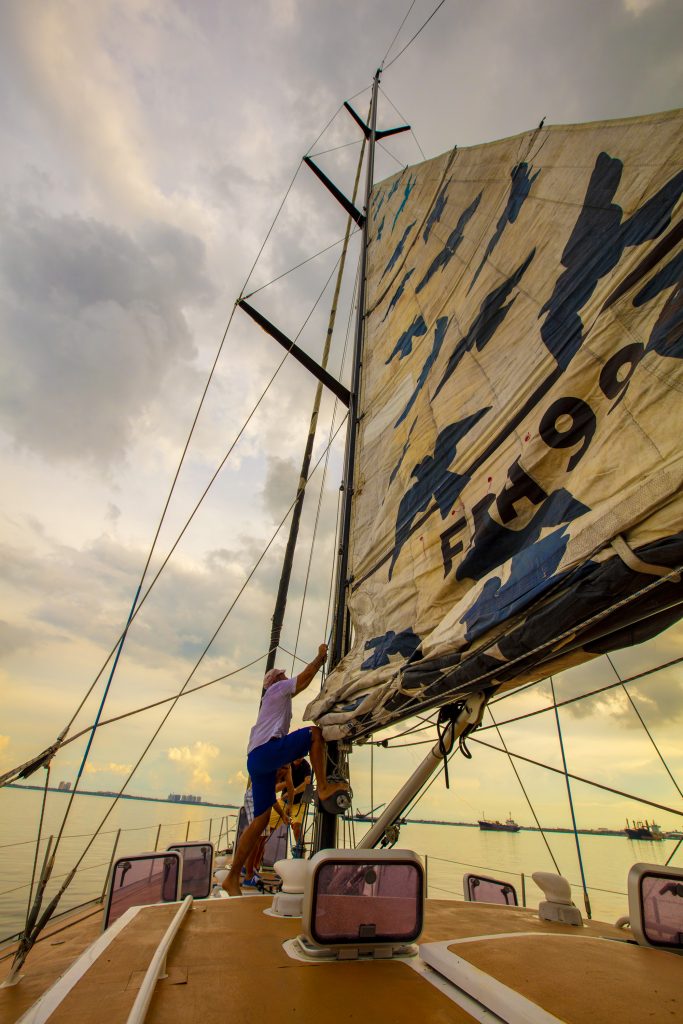 "Richard built the boat himself in Cebu," Loida explains, going on to share that he was the former honorary French consul in Cebu. "It was built here, and I designed the interiors."
All that work certainly paid off—Loida and Richard would often sail the boat out to different Philippine destinations such as El Nido, Siargao, Boracay and the Gigantes Islands in Iloilo. These could mean days-long journeys that sometimes meant dealing with some rough seas. Quick day trips, much like the one we were about to embark on, were also a regular past time.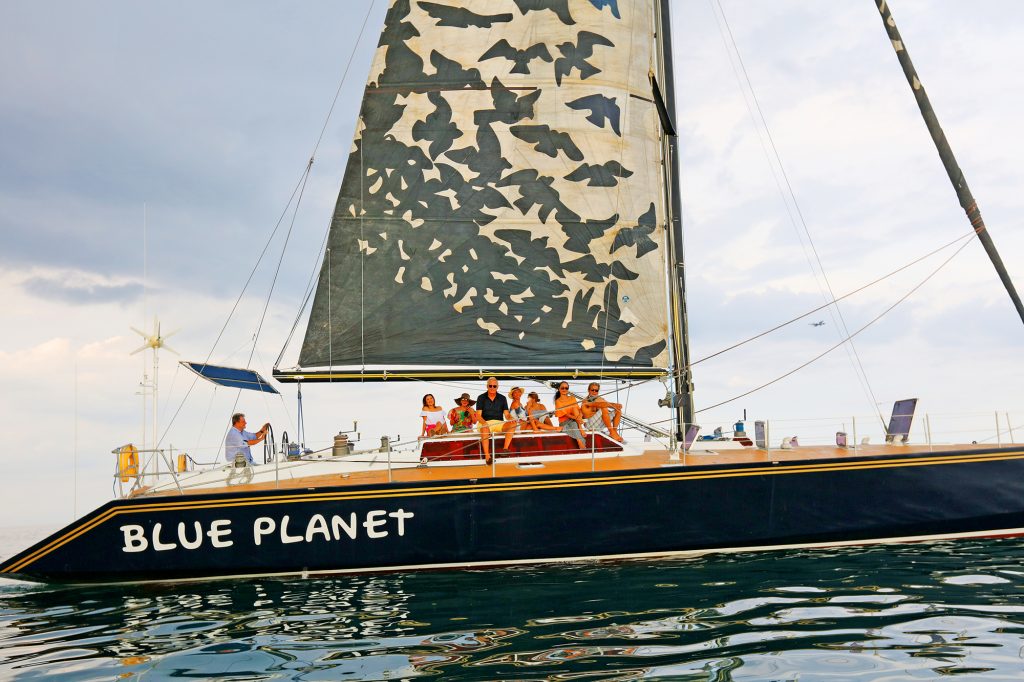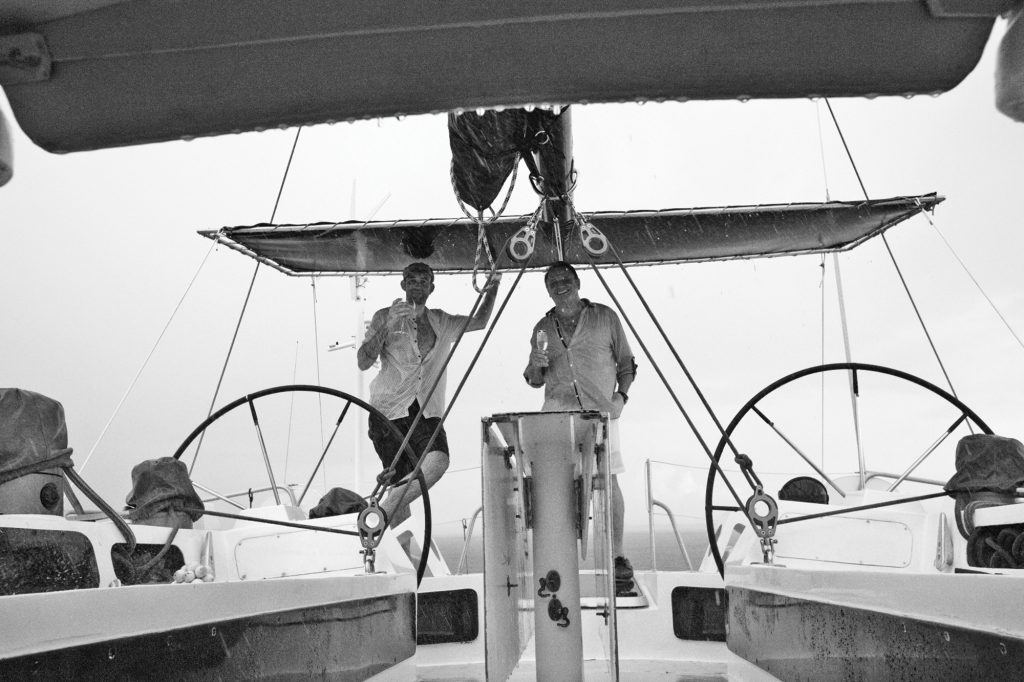 Loida gives me a quick tour of the boat then shows off her tropical spread. With its bright blue and white floral seating, the cabin's dining area is already a pretty festive site. "I wanted to keep it simple," she tells me, arranging her fresh fruits around on the banana leaf-covered wooden slabs she was using as serving trays. "And I wanted it to look more local, more tropical. We are on the water, after all."
The bamboo slats of the dining table were the perfect backdrop to Loida's spread, which featured tropical fruits alongside an entire roll of lechon belly, fresh lumpia, empanada and steamed shrimp.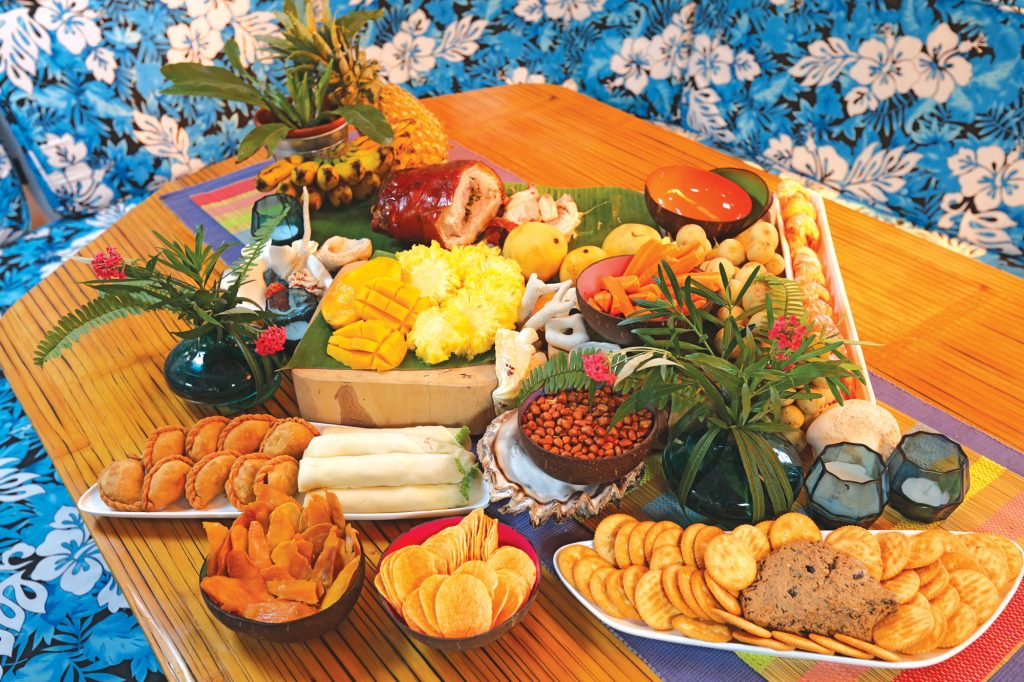 The highlight of the table, though, was the chicken liver pate, a dish that Richard makes himself. "Luckily, the French love to cook," Loida jokes conspiratorially.
Finally, it was time to take the vessel out onto the high seas, and the group makes its way above deck to enjoy the view. The cool sea breeze was a bit stronger than usual, something that had to do with the dark rain clouds looming above us—something that would have deterred any other group, but not this adventurous bunch. Armed with a glass of champagne in one hand and a biscuit smeared with pate on the other, many stand against the railing, admiring the sight of the sky turning orange above the Mactan Channel.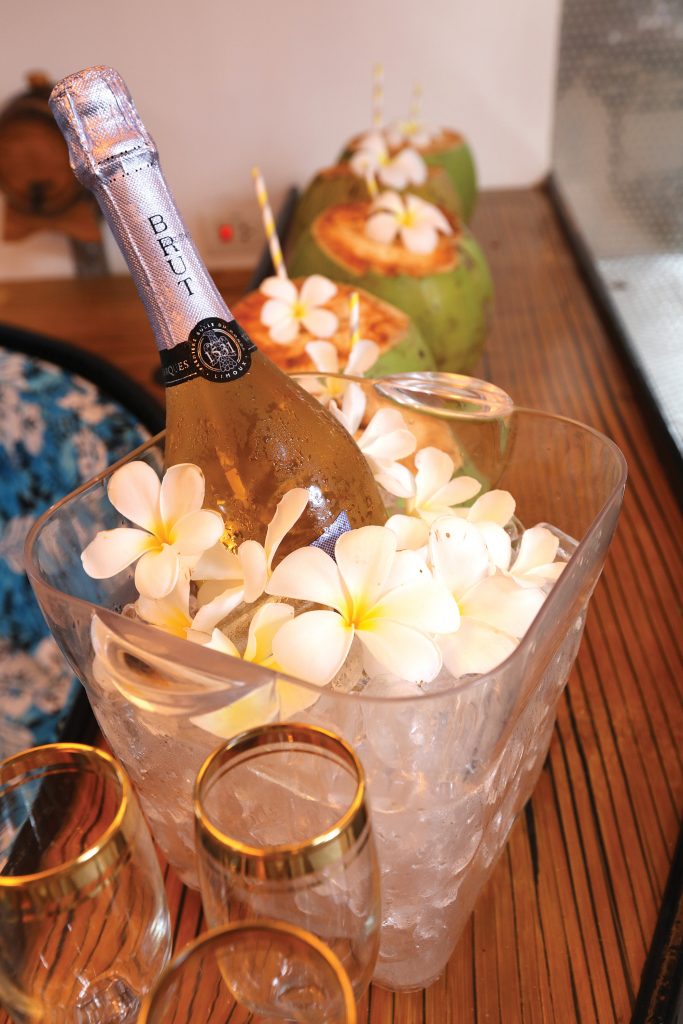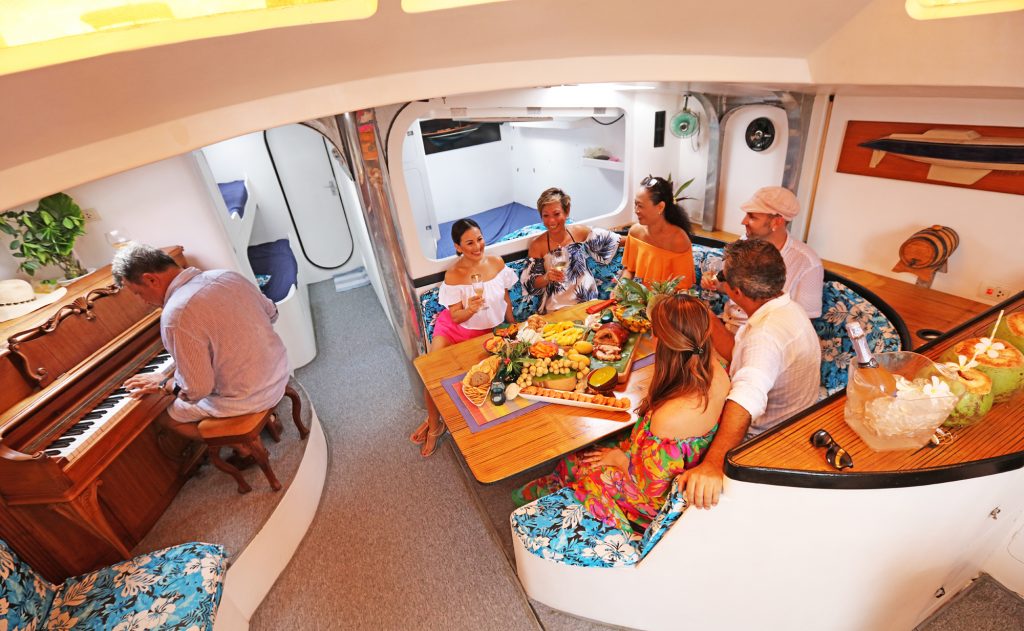 And then it starts to pour. No matter, though—as the rain pounds against the deck, the party finds its way down below. A bottle of wine is opened, and then another, while a second pot of pate is transferred on a plate. Our captain waits until the waves calm before he brings us back ashore.
(This story has already been published in the printed edition of Zee Lifestyle Magazine's November 2016 issue as one of the Entertaining Features on pages 82-85.)
Experience authentic Korean Barbeque at Da-In Restaurant
Filipinos are crazy for Korean barbecue. As such, there are a lot of places that are offering Korean barbecue. But Da-In restaurant isn't just one of those restaurants.
Located in Salinas Drive in Lahug, Cebu, Da-in restaurant is a joint project between the Creative Cuisine Group and Da-Won restaurant. With state-of-the-art grilling stations in each table and various Korean cuisines ready to be served, Da-In would surely sate your Korean barbecue cravings without any hassle.
Visit Da-In restaurant today!
Head Up North, Where A Relaxing Escapade is in Store at Maayo San Remigio
On your next trip out of the city, head up North to Maayo San Remigio, where a relaxing escapade awaits.
Oftentimes, when it comes to deciding the next travel destination, the Northern part
of Cebu is overlooked in favour of its Southern end. The South boasts of sunny beaches,
cascading waterfalls and the popular whale sharks who have made its waters their home.
While these are beautiful aspects that the South has to offer, the North is just as—if not
more—abundant in offerings. The North's natural scenery is relatively untouched, and on top
of that, it's less likely to be flocked by tourists.
This means more opportunities for a retreat away from the hustle and bustle of the
city. The roads heading North are long and winding, yet the beauty that lies at the end of the
journey proves that the trip is worth it. Knowing that, where does one go in the North?
Hidden away in the northern part of Cebu, Maayo San Remigio is a haven for those
who seek peace and serenity, making it an alluring abode for a sojourn on the island.
Approximately a 3-hour drive from the city, the resort grants access to a tropical
retreat with a captivating beachfront setting—a charming destination away from the daily
hustle. Whether on its fine white sands and blue waters or inside the cozy rooms, Maayo
San Remigio is a delight to local and foreign tourists alike.
A newly-opened resort under Maayo Hotels flagship, Maayo San Remigio is a
destination that guarantees a refreshing, laidback experience, sure to wash away the worries
you brought with you from the city.
It's equipped with a mix of luxurious relaxation and wellness, fun and entertainment,
and enticing wining and dining options. This Caribbean-inspired resort is a serene hideaway
on a lush slice of tropical paradise with emphasis on ultimate comfort and exclusivity.
The resort's location makes it doubly precious; scattered throughout the resort
grounds are viewing areas that grant you access to the sunset. Watch the sun sink down the
horizon by the infinity pool, on the beach's shoreline, or atop the cliffside with the waves
crashing below. When night falls, the stars come out to dance across the clear skies, making
for an unparalleled stargazing experience.
Maayo San Remigio blends authentic Cebuano hospitality with its tranquil
atmosphere and exceptional design. Its well-appointed rooms and villas ensure a relaxing staycation, while its thoughtful amenities and facilities evoke a feeling of belonging in
paradise. The resorts brings the culinary excellence that is found in the Maayo Hotels brand,
creating palate-pleasing Filipino dishes with a modern twist. Complemented by the resort's
wide menu of drinks—from juices to cocktails to shakes—one will truly enjoy a stay here.
So on your next trip out of the city, head up North to Maayo San Remigio, where a
relaxing escapade awaits.