The Outfits You Need for Every Travel Destination
Zee Lifestyle reveals the travel essentials you need for your next getaway, whatever the destination, and all you'll need in your beauty arsenal for long sojourns.
Styling when traveling can go in either two ways – a beaming success or a total disaster. Lucky for you, we compiled the ultimate travel outfits for every destination. From the tropics to the artics, we got you.
Chic in the City
Sophisticated separates and on-trend accessories keep the cosmopolitan vibe for an urban getaway
1. Joseph Wool and Cashmere Coat
Green may be the color of the year, but that's not to say we're over the camel trend. This structured Wool and Cashmere Coat by Joseph is to die for.
2. Apartment 8 Clothing Beau dress
Apartment 8 takes the body con dress to the next level. The Beau dress, a one-shoulder mid-length body con dress, takes a subtle but playful leap from simple to classy. Ayala Center Cebu, SM Seaside
3. Jimmy Choo Romy 100 Patent Leather Shoes
It's hard to resist the classics, especially when it's Jimmy Choos. The Romy 100 Patent Leather shoes are perfect for day in and day out, from the workplace bustles to the intimate dinner dates.
4. Lily and Jones
Timeless and edgy, the Kylie Flat Top Sunglasses stuns with its rose-gold mirrored lenses and rose alloy frame. zalora.ph
5. Nike Air Force One Flowerbomb
Whether it's a stroll in the park or a night out in the city, these custom Nike Air Force One blooms with an extraordinary pattern. The feminine touch of flower patches and the masculine physique ties the look altogether for that flush of innocence and grunge.
Ayala Center Cebu
Beach, Please
Match the cheerfulness of the sunny weather at the beach with playful patterns and natural textures.
1. Tory Burch Gemini Link Striped Oblong Scarf
Wrapped around the waist or draped over the shoulders, the Gemini Link Scarf by Tory Burch is an essential for every beach outing.
2. Florabella Nisida Beach Bag
Lounge under the sun with the chicest beach bag yet. Florabella's Nisida Beach bag delivers everything you need for a beach bag and more! shoplcp.com
3. Billabong Maillot
Take a step back from bikinis and step into this Billabong Bouquet One Piece. And you'll never worry about that burger before the beach.
ROX at Ayala Center Cebu
4. Kate Spade New York Sunset Sandal
Colorful tassels, bright pompoms and neutral braided straps. This sandal is everything! Rustan's Department Store at Ayala Center Cebu
5. Vanessa Mooney
We love our tassels, and can honestly wear them from head to toe. These Astrid Knotted Tassel Earrings are the perfect rustic-glam touch to complete the beach look. www.shopbop.com
Blues Cruise
Tailored pieces are great to pack for a long journey at sea—comfy enough for days on shore, but easily dressed up for dinners onboard.
1. Tory Burch Parrot Espadrilles
We can walk miles with Tory Burch's latest shoe collection. They go onboard with graphics and patterns with the adorable Parrot Espadrilles, and we are definitely not complaining! www.toryburch.com.ph
2. Valentino Printed Silk-twill scarf
Don a Valentino Printed Silk-twill Scarf for a 50s chic look while you're lounging by the pool deck.
3. Customized dresses by Ate
While nothing certainly beats having clothes tailored for you, fast fashion remains more popular because of its convenience. Tatah Costales dela Calzada takes the best of both worlds through Alter to Enhance, a boutique where customers can look through basic cuts of dresses, tops and bottoms, and they alter it to your specifications, whether it's to add or remove length and sleeves or even have it in a different color or fabric—all while you wait!
16 Pres. Quirino St., Villa Aurora, Mabolo ATE by Tatah
4. Topshop Moto Super Rip Hayden Jeans
Believe us when we say we're trading our super skinnies for the ultimate jeans for off-duty days.
Ayala Center Cebu
5. Diane Von Furstenberg Satin Clutch
Striking, electric blue is Diane von Furstenburg's take on clutches, and we love it. The shocking color and its subtle use of satin can bring any outfit to the nines. www.dvf.com
Winter, For Sure
Bundle up for a journey to cold climates, but do it in style with classic coat shapes and statement accessories.
1. Max&Co. Leather Jacket
Max&Co. gives the classic biker jacket a new twist. Slim-fit, waist length and cropped sleeves, the Danese Laminated leather biker jacket comes in Silver which ultimately brings off the grungy feel.
2. ZARA Coat
As the colder season beckons, we take out our coats and run out the door. At Zee, we do so in style. ZARA's long blazer promises an effortless look without having to trade in comfort over style. ZARA, Ayala Center Cebu
3. Adidas Raf Simons Stan Smith Sneakers
Adidas is giving us a run for our money with its latest collaboration with Belgian fashion designer and former Christian Dior Creative Director, Raf Simons. In pale pink silhouette, we are dying to get our hands in these babies.
Ayala Center Cebu, SM City Cebu
4. Karl Lagerfeld fingerless leather gloves
A cool addition to your accessories edit, these black fingerless leather gloves from Karl Lagerfeld will add quirky edge to understated looks.
5. Sunnies Specs
Being four-eyed just got a little bit cooler. With the new Sunnies Specs collection comes a bundle of fashionable and hip styles to suit every face, every day. We have our eyes on the Reagan in Rose Gold.
Ayala Center Cebu, SM City Cebu
Wild, Wild West
Go into the heartlands with some inspiration from Americana. Leather, suede and graphic prints come together to make a statement.
1. Aldo Boots
When all else fails, knee-high boots will always save the day. Dressed in authentic leather and quality soles, we're taking these Aldo boots on our next hunting trip. SM City Cebu
2. Anna Sui
Aztec prints make an impressive comeback at Anna Sui. The brick printed chiffon dress is a steal for every bohemian chick, the silk is just bonus. www.shop.annasui.com
3. Gucci Feline Fedora Hat
With a silk lining and feline head trims, the Felina Fedora is sleek but has a punchy personality.
Greenbelt 4 Makati Avenue
4. Levi's 710 Super Skinny
But of course, the skinny jeans are a staple in every girl's closet. Good news, Levi's makes the perfect fit for all your denim needs.
Ayala Center Cebu
5. The Lost Nomad Puka Bag
The Puka Bag by The Lost Nomad is a drawstring backpack and perfect to carry your travel essentials for your next getaway.
Safari Adventure
Get a closer look at wildlife with utilitarian pieces that still look stylish.
1. Peace + LovE
Wrap around dresses have easily become an essential for those warm, breezy days. www.missguided.com
2. Dr. Martens 1460 Mono
Lined with rich, warm and artificial fur, these shoes instantly become the must-have for every adventurer.
SM City Cebu
3. Saint Laurent Anja Bucket Bag
We love great patterns, and this is certainly one of them. Armed with Passamenterie details, the small Anja Bucket bag is the perfect finishing touch of that Moroccan aesthetic.
4. Roxy Textured Heather Fedora
Whether an explorer by heart or by birth, the Roxy Fedora completes the look in a snap of a finger.
GRND, Ayala Center Cebu
5. Ray-Ban Classic Aviator
We take cues from Tom Cruise and Brad Pitt to create the definitive daredevil look. Ayala Center Cebu
Awesome Online-Exclusive Deals and Free Shipping Await Shoppers at the Newly-Launched Old Navy PH Digital Store
By Danica Ronquillo
Nothing screams "Americana" like Old Navy!
From trendy denims and soft cotton Ts to statement graphics and fleecy pajamas, Old Navy has been the first name in fun, classic fashion staples for the whole family since 1994. Known for high-quality pieces that fit every size, shape, and budget, this heritage brand has found a way to reach even more hangers in the digital age: OldNavy.com.ph.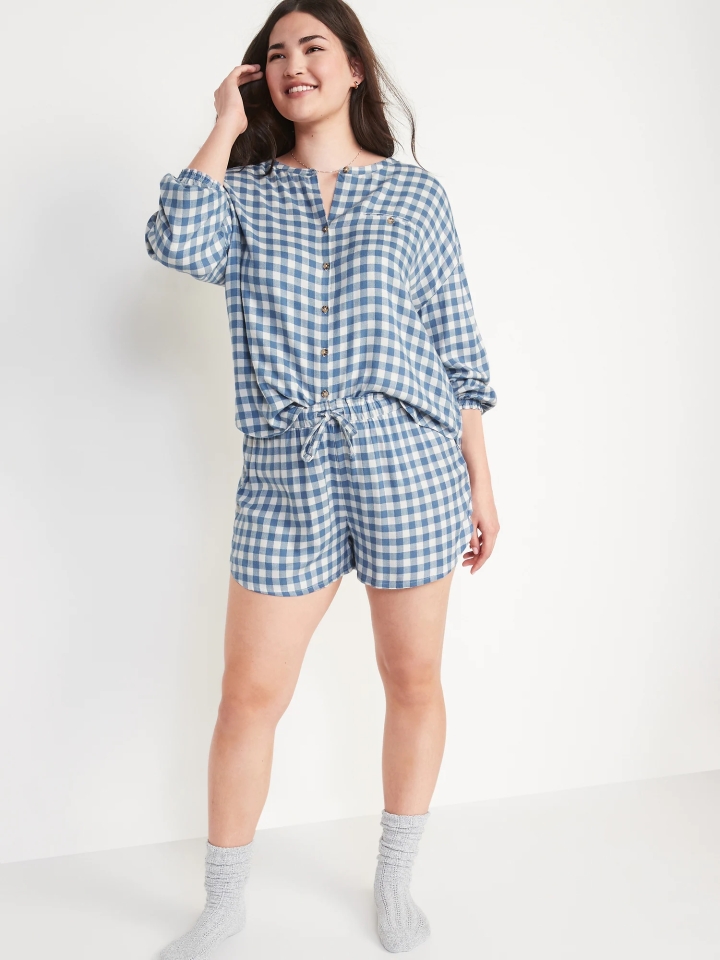 While no stranger to the digital sphere, OldNavy.com.ph is the brands's first standalone e-commerce, making Old Navy's vast array of on trend apparel and accessories available to customers 24/7. The launch of OldNavy.com.ph will not only feature styles that can be found in their brick- and-mortar locations, but also seasonal essentials and online exclusives, like Old Navy's activewear line.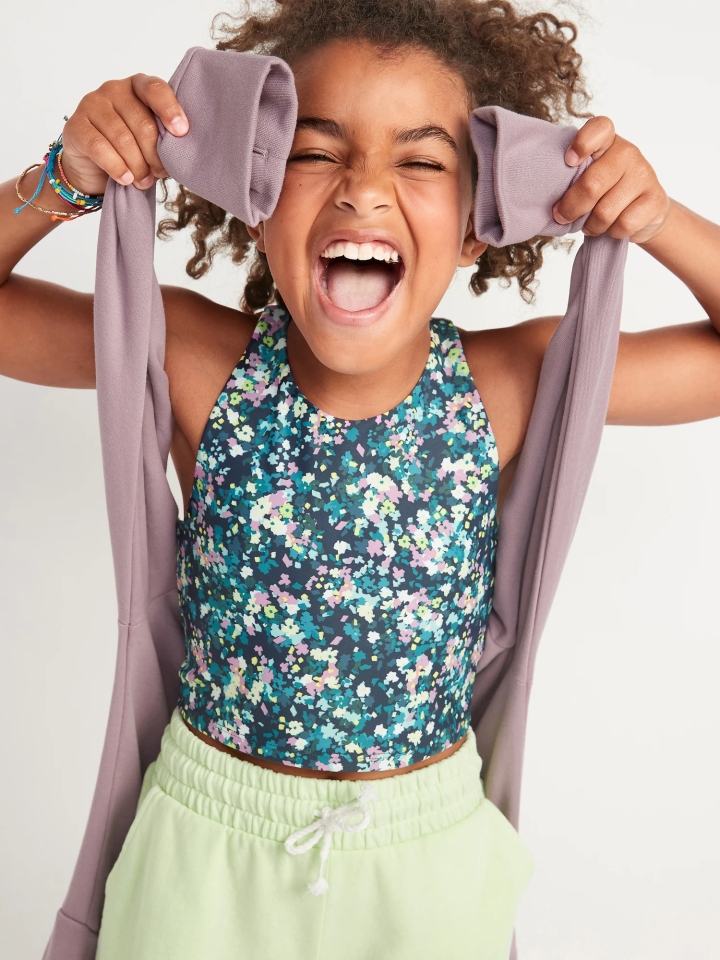 OldNavy.com.ph customers can enjoy free shipping with a minimum order spend of Php 4000, as well as various deals and e-payment options to ensure everyone can be a part of the Old Navy experience.
Shoppers will still be able to find new arrivals in all Old Navy Philippines stores, including Bonifacio High Street, SM Megamall, and Shangri-La Plaza, as well as in Old Navy's Viber community.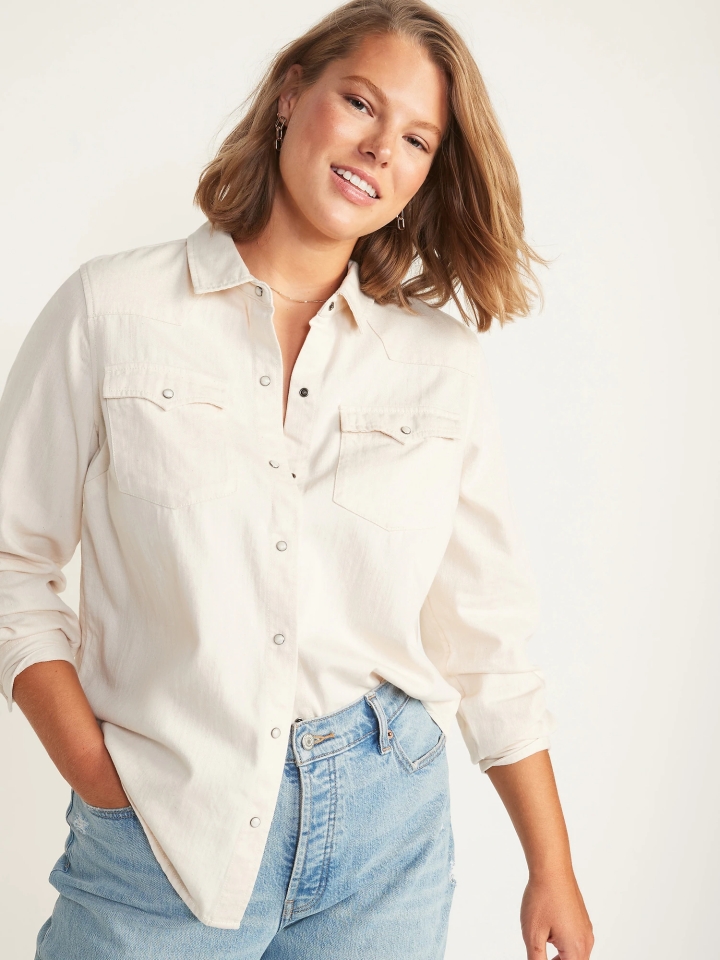 With this launch, Old Navy Philippines continues to be the pioneer of making comfort, quality, and style accessible to all. There's something for everyone at Old Navy!
37 Years of High Fashion; Arcy Gayatin leaves a Legacy of Edginess and Elegance
Arcy Gayatin: A Legacy of Luxury in Fabrication
By:  Allain Dumon Fonte 
The brand Arcy Gayatin gave the Queen City of the South a distinct reputation in the fashion industry.  The fashion line of Arcy Gayatin sets the bar higher each year for clothing luxury and fabrication techniques.
Araceli "Arcy" Ancajas Gayatin is the daughter Galileo Ancajas and Remedios Zanoria Ancajas who founded Cebu's home brand, Gal's Bakery.  Arcy went to the University of San Carlos and studied Political Science.  And just like Dr. Muccia Prada, who completed her Ph.D. in Political Science and established the luxury line of Prada, Arcy also got in touch with her artistic side and started her own fashion line.  However, it was not Prada that influenced Arcy.  Arcy was introduced to fashion and tailoring at a very young age by her mother, Madame Remedios Anacajas whom they dearly call Mama Eme.  Mama Eme was running a tailoring business back then.  It was called Arabel; named after Arcy and her sister Belma.  Ara from Araceli and Bel from Belma.  In those years, Arcy was fascinated by fabrics and was intrigued by how to manipulate the fabrics to come up with fashion-forward designs without compromising comfort and taste.
After 37 years of creating haute couture pieces for the most fashionable personalities in the Philippines, Arcy Gayatin is now laying down her sketchpads and pens to rest.  As she enjoys her retirement, may be on a cruise to the Bahamas or a holiday to the Swiss Alps, Arcy Gayatin has left the fashion industry a legacy of elegant and edgy clothing ensembles that understand and define the shape of women; without compromising comfort and good taste.
To salute the lady who brought Cebu fashion to the world, a retrospective exhibition of Arcy's incomparable masterpieces can be seen today at Ayala Center Cebu's The Gallery; curated by fashion editor and writer, Clint Holton Potestas, and interior and fashion designer, Jul Oliva.
BALANCE.  Arcy Gayatin is known for her perfect symmetrical lines when fabricating.  She knows how to balance edginess and class; understanding well the strength and the finesse of a woman.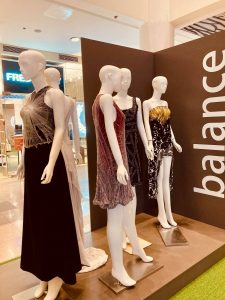 RHYTHM.  Arcy's expertise in draping and fabric manipulation can be seen in how she achieves rhythm between architectural lines and soft fabrics like silk and cashmere.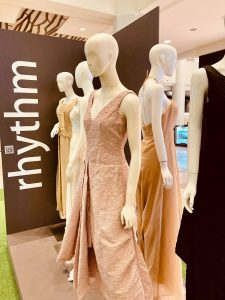 TEXTURE.  With her thorough knowledge on fabrics, Arcy Gayatin has achieved the perfection of fabrication by working on different types of fabrics and creating a single piece of art out of them.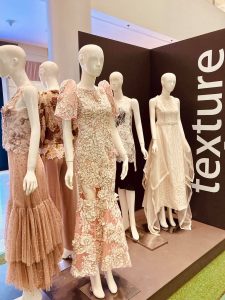 HARMONY.  The simplicity of the silhouette plus the intricacy of the details create a wonderful harmony, making Arcy Gayatin's design a one-of-a-kind masterpiece.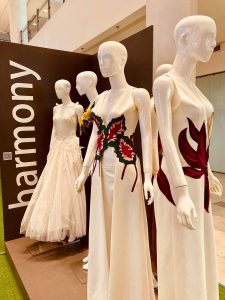 The photos below show an up-close look at the intricacy and the exquisite craftsmanship of Arcy Gayatin's fabrication techniques: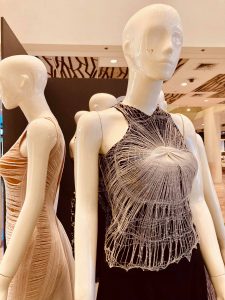 THE SPIDER WEB:  one of Arcy's genius fabrication techniques.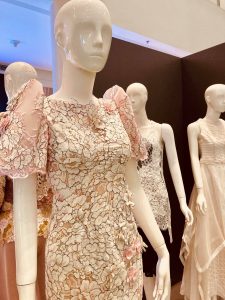 MATCH and PATCH:  Arcy's unique fabrication craft by patching layers of different types of lace and lace patterns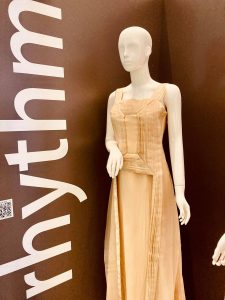 PLEATS: The perfection of symmetry in pleats on silk.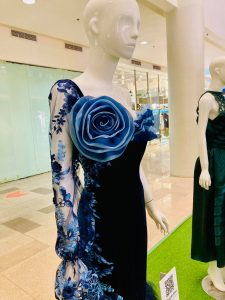 LA ROSE BLEUE:  U.P. student, Danielle Alessandra Deutsch, inspired by the artistry of Arcy Gayatin, designed this midnight blue dress.   The cabbage rose made from layers of silk organdy gave this evening ensemble a romantic appeal.
Cebuano Haute Couture Shines at 2021 Cebu Wedding Expo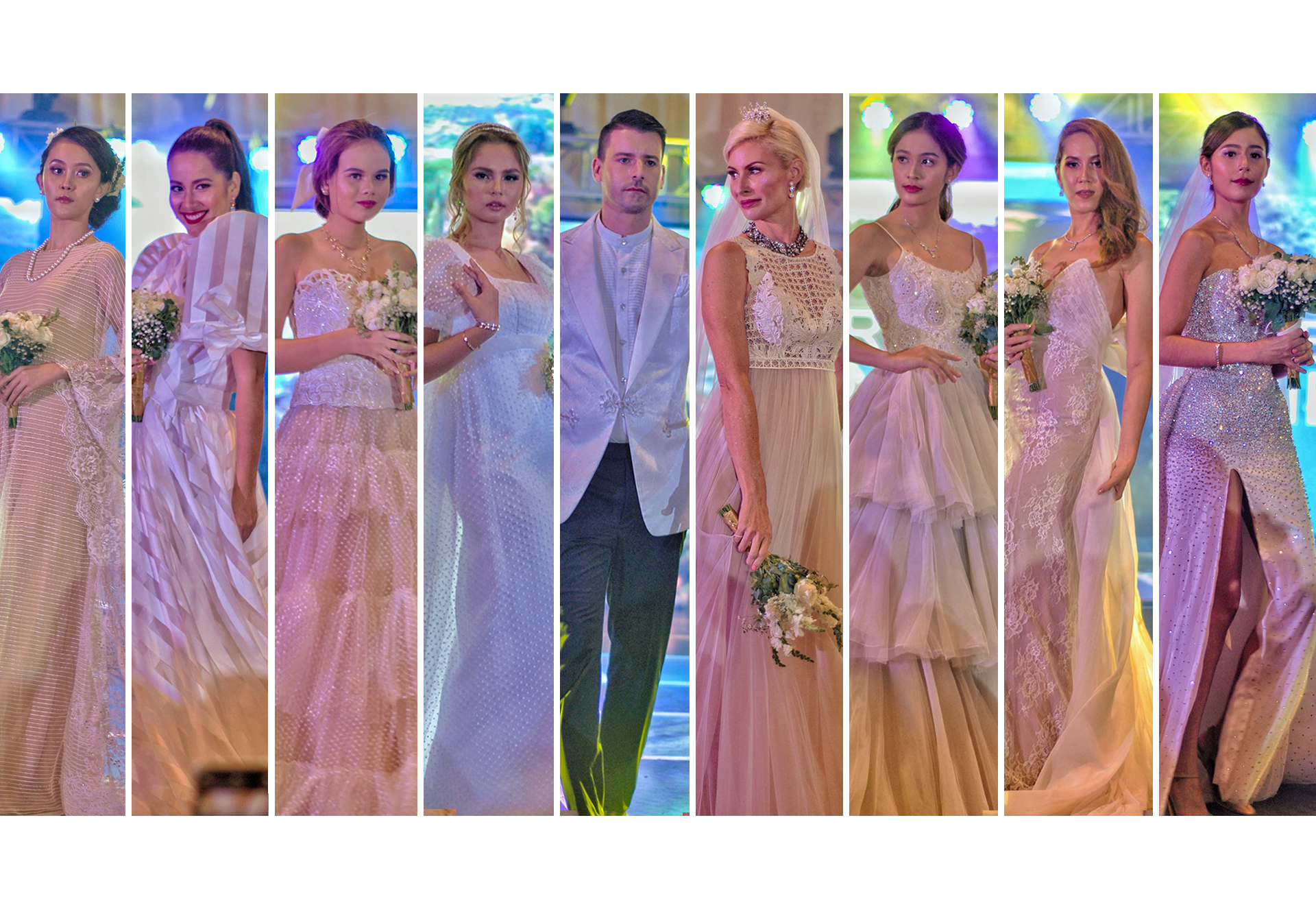 Forever at Soltana
by Allain Dumon Fonte
Soltana Nature Residences host the grandest wedding destination expo for 2021. In their grandiose Events at Soltana venue, wedding suppliers, event coordinators, events stylists, fashion designers, and exhibitors gathered to showcase their best to excited couples and clients.  The grand expo was opened by the Chairperson of Lapu Lapu City's Tourism Commission and first lady of this historic resort city, Madam Cynthia Cindy King Chan; she was with city counselor, Hon.  Queenie Malingin Amman; Taft Properties COO and Vice President, Myra Lynn Gilig; Taft Properties CFO, Feliz Tiukenhoy; and Mr. Justin Gaisano of Taft Properties. 
To set the event's mood, AD models Kevin Lahousse and Gingie Alducente acted as newlyweds joining the expo and leading the guests to the exhibitors' booths.  Yet, the highlight of the event was the glamorous fashion show set in the world's most visited wedding destinations, as the mannequins of AD models paraded the haute couture creations of Cebu's A-list fashion designers.
The show was opened by Miss Earth 2008, Karla Henry-Amman, wearing a bridal gown designed by Hanz Coquilla.  Her wedding mood was the historic streets and sceneries of Vigan, Philippines.  Coquilla created a Filipiniana-inspired bridal dress with perfectly constructed butterfly sleeves, exquisitely clean lines, and masterfully crafted bias skirt of balanced cones and flows.  Valerie Alvez showcased a bridal dress made of vintage Chantilly lace.  Alvez proved her skills in manipulating laces to be impeccable; the bow detail at the back added glamour to the dress, exuding luxury to the bride wearing Alvez's masterpiece.  Wendell Quisido set her wedding theme to the dreamy beaches of Ipanema; and as her model glided on the runway, everyone in the audience dropped their jaws to the intricately detailed bridal dress that Quisido made. Quisido designed a bustier dress with well-balanced panels that wonderfully fitted the model's figure; but what made Quisido's dress jaw-dropping are the countless Swarovski crystals that covered the dress.  Dexter Alazas joined the fashion show with a 1920's inspired wedding dress of vintage tulle and embroidered in the decade's popular baroque patterns.  Alazas has shown the wonders of working with delicate fabrics and the opulence of vintage embroidery patterns.
The fashions show also brought us to the rich sceneries of Mallorca, Spain with Ren Manabat's three-tiered wedding dress.  The labor-intensive layers upon layers of soft English tulle made Manabat's artwork stand out, among others.  Another head turner is a dress that was carefully planned and architecturally constructed, the bridal gown designed by Protacio.  Protacio has obviously studied well which fabrics to use and how each fabric is sewn to the other to create an illusion of nudeness under layers of vintage Italian mesh. The dress was architecturally constructed like the Burj Khalifa where every piece sits perfectly with each other in harmony and balance.  Fashion connoisseur Marichu Tan-Geson created an extremely detailed bodice lined with Swarovski crystals, and a skirt made from layers of dotted soft English tulle.  Tan-Geson's manipulation techniques on the soft tulle and how she delicately draped every layer of the tulle upon the other is interesting and intriguing.  With a work of art as beautiful as that, I could say that Tan-Geson is the Madame Gres of Cebu fashion.  The show ended with a groom and a bride wearing a 19th century English-inspired wedding ensemble by master couturier, Philip Rodriguez.  Rodriguez has proven once again his artistry and expertise in fashion by creating an empire-waist gown with ruffled sleeves made from dotted Italian mesh of 100% silk and vintage silk taffeta.  Rodriguez presented a truly elegant wedding dress; lesser on the intricacy but more on the richness of the materials being used.  The rarity of Rodriguez's fabrics already makes his dress worthy to a MET gala exhibition. 
The models wore the timeless and recherche jewelry collections from Royal Gem to match the bridal dresses of the featured designers.  Every jewelry piece is made to complement a woman who loves fashion and whose self-awareness dictates her own style.  From green sapphires to yellow diamonds, every jewelry piece is stunning.  No wonder why socialite and fashion icon, Heart Evangelista, loves and promotes Royal Gem. All models are wearing Shandar bridal footwear.
The Grand Wedding Destination Expo at the Events at Soltana will run until the 24th of May 2021 with exciting activities:  a maquillage session with Jessie Glova, a bridal make-up competition and show, a financial literacy session for new couples, a talk on real estate investments, a session  with Rod Bautista and Eddie Jamin from the Centerpiece Weddings and Events about wedding destinations in Cebu and the new norms in wedding celebrations, and a whole lot more of raffle prizes from Plantation Bar Resort and Spa, Solea Mactan Resort, Savoy Hotel Mactan, and others.