The Third Dimension
A multi-dimensional look into the top fashion brands through the eyes of unique subjects.
A multi-dimensional look into the top fashion brands through the eyes of unique subjects.
on Irx: Leather cropped biker jacket with sheer sleeves, body-con glitter dress, fauz-leather leggings, piled on: cascading, layered necklaces and jewel-chan bracelet; on Bee: Leather jacket with hoodie, lace top on sheer shirt, hot pants, piled on: layered necklaces, garterized jewel-bracelets. All from FOREVER 21
Gold strappy sandals by SHANDAR; Cardigan, chiffon max-dress, floppy hat, piled on: layered necklaces and brass cuffs from FOREVER 21
Lace dress, leather garterized belt, floral blazer, piled on: layered necklaces and brass cuffs. All from FOREVER 21
on Bee: Slide shirt, garterized polka skirt layered with secretary skirt, with black band and peep-toe pumps, circle cuffs; on Irx: Cotton twilll trench coat, striped nautical shirt, cotton cropped jeans, duo-strap heels. All from MANGO
Stripe tiered top, stretch cotton pants, multiple scarves, thin belt, brass cuff. All from MANGO
Deconstructed vest, layered chiffon, hanky-top dress and bead-necklaces all from OXYGEN. Red satin pumps with bow by SHANDAR.
Cropped oversized shirt, short mullet over maxi chiffon skirt and circles interlinked necklace. All from OXYGEN.
BEE URGELLO
Proclaimed Queen of Cebu Universe 2011, Bee Urgello fights for acceptance with exceptional grace and beauty.
When Bee was given recognition as Best Dressed Glamour Girl in 2010 while attending the second Queen of Cebu pageant for alternatives, it occurred to her that she might actually have a chance at the crown herself. At this point, where her family had finally accepted her gender identity, she thought it was time to take the next great step.
Fashion designers Cary Santiago and Wendel Quisido spearheaded Queen of Cebu in 2009 to get the community to embrace the gay movement and their invaluable contributions to society. From the get-go, Bee had wanted to join the pageant, and also since a lot of people were encouraging her to join. However, she was concerned that her family would not approve. The Urgello family has always taken a conscious effort in maintaining a low profile even as they expanded their business ventures to Davao and General Santos.
"Before, I was really scared to screen for Queen because of my family," Bee says. "But when my parents found out that I was awarded as one its best dressed guests, they asked me why I didn't just join the pageant. I was pleasantly surprised that they were okay with it. Besides, it is also for a greater cause with the support it shows to the Clothes for Life Foundation."
Preparing for the pageant, Bee was mentored by Cebuana beauty queens Anna Igpit and Karla Henry. Bee then bagged the crown for Queen Universe 2011, in November, besting all other 19 candidates. She admitted the victory surprised her because of all the other many special awards, she was only awarded one, Miss Olive-C Skin. First time's a charm and Bee certainly came out lucky.
BEHIND THE CROWN
A 25-year-old graduate from the University of Cebu, Bee always felt she had a unique calling in life. Though registered as a professional nurse, she has no immediate plans to further her nursing career. Her penchant for fashion has her preparing for a course in the Fashion Institute of the Philippines (FIP) in Cebu this year. "Since childhood, I always loved sketching and dreamed about making my own dresses," she recalls.
Growing up, all her inclinations were towards the more feminine. As the only son, it was hard for her parents and sister to come to terms with Bee's sexuality. There was quite a great disparity between who she felt 'she' was and who her family thought 'he' should be.
"I had even come to a point when I ran away from home because of the life they wanted me to lead. So, I left and forced myself to live independently. I found a job at a call-center to gain financial independence. I paid my dues and squeezed into the jeepney on my way to work. Sometimes, I was left with only two pesos in my pocket which was enough for a piece of bread to last me the whole day." She endured it because the thought of having to go home, chop off her hair, and dress as a boy was a more painful alternative.
All the discrimination she faced in the past served as her motivation. "It just makes you want to strive more and work harder to be a stronger person. You have to prove that even though some people look at you with contempt, you can still make the people who care about you proud, and influence and inspire those who face similar situations, with the dreams you accomplish and the goals you slowly achieve," she said.
FIGHT FOR LIBERATION
Being a member of COLORS (Coalition for the Liberation of the Reassigned Sex), a Cebu-based LGBT organization pioneered by Magdalena Robinson (Queen of Cebu 2011's Ms. Brazil), Bee is fighting for equality and non-discrimination. Whenever there are seminars or hearings concerning trans-women in Cebu, Bee is present, showing her unwavering support. She is currently active with the Anti-Discrimination Ordinance of Cebu, being lobbied in the Cebu City Council. Her fellow advocates like journalist Jude Bacalso, among others want to emphasize that they are not asking for 'special rights' but, basically, the recognition of the rights given to any citizen of the state.
With her sharp wit, flair for fashion, and undeniable beauty, Queen Bee is sure to exceed even her own expectations. But for now, the fight for eventual liberation and acceptance that she shares with so many like her remains paramount.
"I really hope that ten years from now, we can walk the streets without people calling us names, and that we get hired through merit and qualification and not get discriminated against when applying for a job. We pray, not for special treatment, but for an even playing field—that my chances at success are just as much as the next person's."
Irx Canseco
A budding artist and freelance fashion model, she resembles Australian model Andrej Pejic and Isis King of America's Next Top Model. Irx Canseco's androgynous beauty is the spice to Bee Urgello's sugar in Zee Lifestyle's first ever fashion editorial in 3D.
Currently working in one of the biggest publishing BPO companies here in Cebu, Irx discovered her potential in fashion modeling by coincidence. She said she was walking around in the mall when a budding Cebuano designer, preparing for a fashion show, spotted her. Her androgyny caught the designer's interest and he scouted her to model for him.
Irx originally wanted to take up Fine Arts but practicality pushed her to take up Nursing at the Cebu Doctor's University. She graduated in 2007 and is now a registered nurse. With her carefree nature, she admits that she is still playing it by ear on whether to pursue medicine or not. Before she ventured into BPOs and landed her marketing job, she helped in her dad's small construction company.
At the moment, she is pouring herself into her career that reaps enough financial gain, and she is proud of her financial independence. She works hard but still finds scant amount of extra time doing shoots for friends who are in the design community. These spurts of creative release balance out the highly corporate work environment she is faced with everyday. "I like painting and sketching. I love doing acrylic on canvas. Whenever I feel down, painting eases my worries and cheers me up" she says of her first love, art. Sadly though, she mentioned a vast amount of paintings were consumed in a fire a few years ago. She misses her art and hopes to find ample time to relive the hobby.
But Irx has learned to overcome life's shortcomings, with a determined love of life. Her positive demeanor helps her push further when others would feel discouraged. She laughs retelling an anecdote about an accident, falling into a deep ditch of a road repair site that left her injured. Though most scars from this mishap remain prominent, it hasn't caused her to shy away from modelling.
As with most individuals who are different, discrimination and bullying is common and, unfortunately, expected. But she shrugs this off as something that she has to deal with on a daily basis, "I know myself better and I know what I am capable of. Why would I let myself be affected by ill-meaning or toxic people who don't even know me?" Luckily for her, she never had to experience such hostility at home. "When I'm with my family I hardly feel that I'm 'different.' My dad's primary goal is to understand us, his children, and not burden us with society's expectations of how we should act, that we should be able to support ourselves even when we grow older and that we're taking the right decisions in life. I may be different but I feel that my achievements still make him proud. My mom is also very protective of us to this day," she says of her parents.
Family life shields her from the harsh realities of the world and so she prefers to stay at home at times. Not a fan of the party scene either, Irx spends her free time at friends' houses or takes sporadic trips to nearby beaches especially in Boracay, whenever she can. Growing up in a home that's only meters away from the local beach, she loves island living and likes to unwind, beachside, and meet people from all walks of life.
"I have my beads haphazzardly tied on my wrist with a string. They're made out of corals from the sea. I was given these beads on my 15th birthday. Some of them have cracks now but I love how they remind me of the beach."
writer EDWIN JAVIER JR.
creative director DAVID JONES CUA
photographer HANNAH BACALLA
models BEE URGELLO and IRX CANSECO
fashion stylist GILLIAN UANG
fashion assistant RONI YU
make-up artist ROMERO VERGARA, JOMER ARANCES and JOE BRANZUELA
locale CLUB AMNEZA
Awesome Online-Exclusive Deals and Free Shipping Await Shoppers at the Newly-Launched Old Navy PH Digital Store
By Danica Ronquillo
Nothing screams "Americana" like Old Navy!
From trendy denims and soft cotton Ts to statement graphics and fleecy pajamas, Old Navy has been the first name in fun, classic fashion staples for the whole family since 1994. Known for high-quality pieces that fit every size, shape, and budget, this heritage brand has found a way to reach even more hangers in the digital age: OldNavy.com.ph.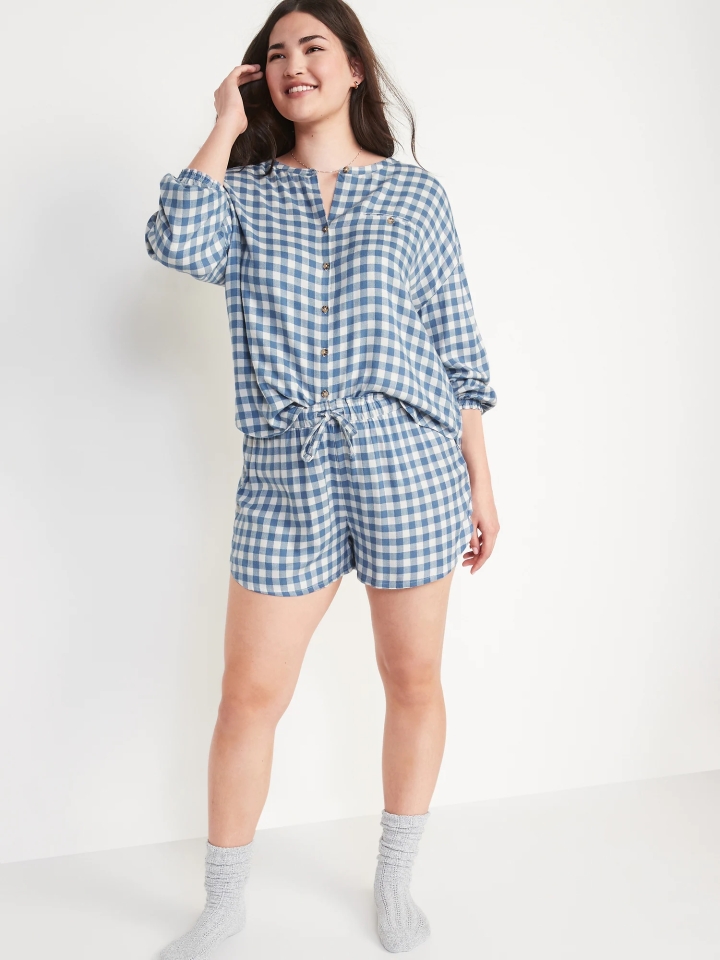 While no stranger to the digital sphere, OldNavy.com.ph is the brands's first standalone e-commerce, making Old Navy's vast array of on trend apparel and accessories available to customers 24/7. The launch of OldNavy.com.ph will not only feature styles that can be found in their brick- and-mortar locations, but also seasonal essentials and online exclusives, like Old Navy's activewear line.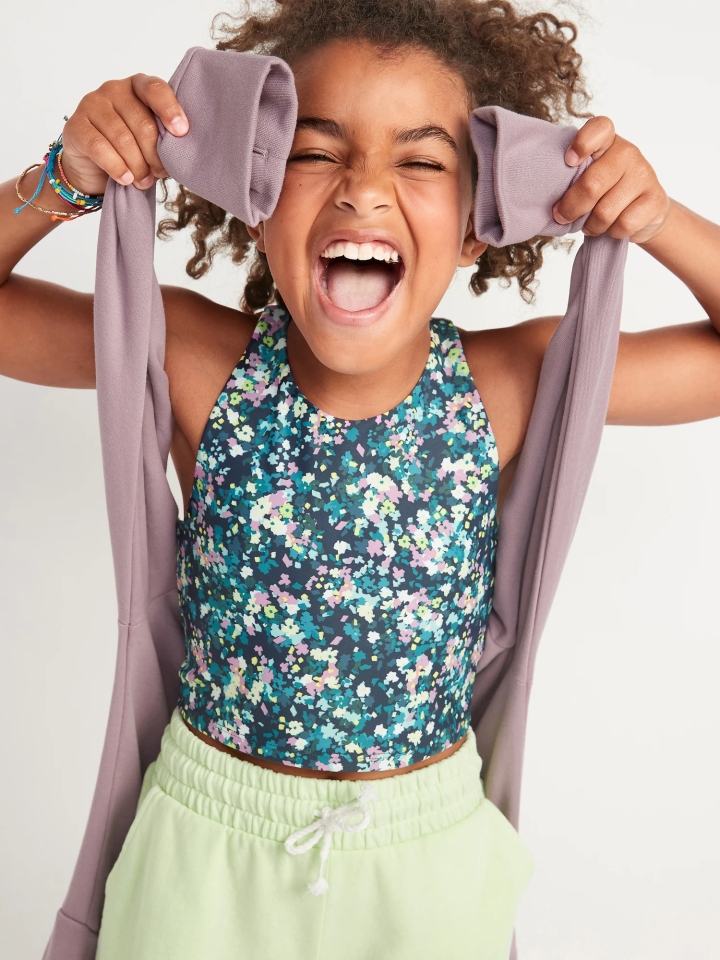 OldNavy.com.ph customers can enjoy free shipping with a minimum order spend of Php 4000, as well as various deals and e-payment options to ensure everyone can be a part of the Old Navy experience.
Shoppers will still be able to find new arrivals in all Old Navy Philippines stores, including Bonifacio High Street, SM Megamall, and Shangri-La Plaza, as well as in Old Navy's Viber community.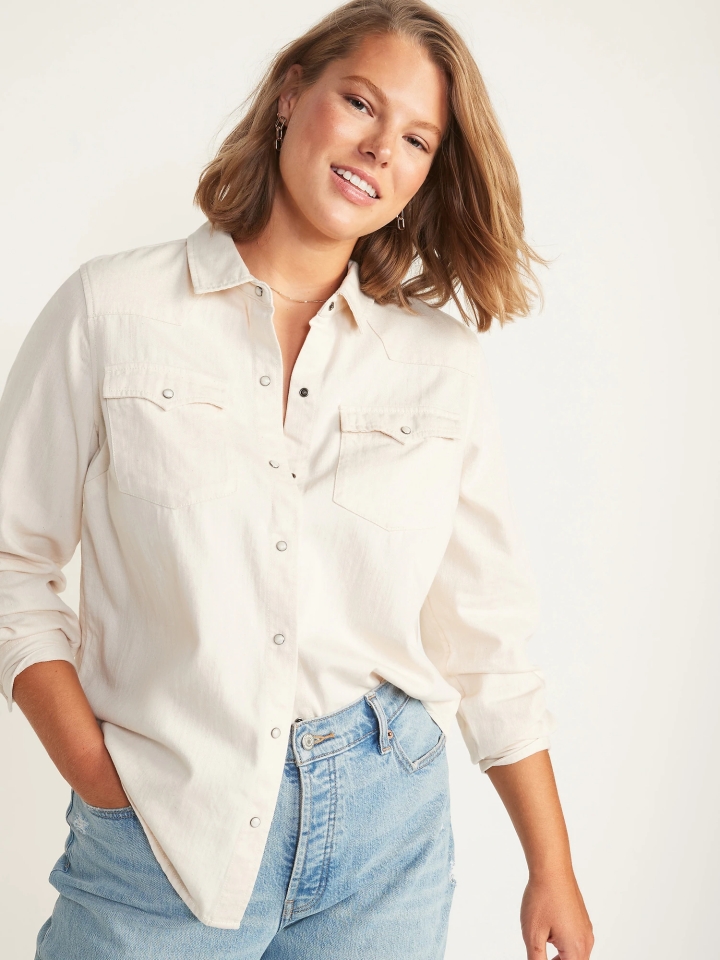 With this launch, Old Navy Philippines continues to be the pioneer of making comfort, quality, and style accessible to all. There's something for everyone at Old Navy!
37 Years of High Fashion; Arcy Gayatin leaves a Legacy of Edginess and Elegance
Arcy Gayatin: A Legacy of Luxury in Fabrication
By:  Allain Dumon Fonte 
The brand Arcy Gayatin gave the Queen City of the South a distinct reputation in the fashion industry.  The fashion line of Arcy Gayatin sets the bar higher each year for clothing luxury and fabrication techniques.
Araceli "Arcy" Ancajas Gayatin is the daughter Galileo Ancajas and Remedios Zanoria Ancajas who founded Cebu's home brand, Gal's Bakery.  Arcy went to the University of San Carlos and studied Political Science.  And just like Dr. Muccia Prada, who completed her Ph.D. in Political Science and established the luxury line of Prada, Arcy also got in touch with her artistic side and started her own fashion line.  However, it was not Prada that influenced Arcy.  Arcy was introduced to fashion and tailoring at a very young age by her mother, Madame Remedios Anacajas whom they dearly call Mama Eme.  Mama Eme was running a tailoring business back then.  It was called Arabel; named after Arcy and her sister Belma.  Ara from Araceli and Bel from Belma.  In those years, Arcy was fascinated by fabrics and was intrigued by how to manipulate the fabrics to come up with fashion-forward designs without compromising comfort and taste.
After 37 years of creating haute couture pieces for the most fashionable personalities in the Philippines, Arcy Gayatin is now laying down her sketchpads and pens to rest.  As she enjoys her retirement, may be on a cruise to the Bahamas or a holiday to the Swiss Alps, Arcy Gayatin has left the fashion industry a legacy of elegant and edgy clothing ensembles that understand and define the shape of women; without compromising comfort and good taste.
To salute the lady who brought Cebu fashion to the world, a retrospective exhibition of Arcy's incomparable masterpieces can be seen today at Ayala Center Cebu's The Gallery; curated by fashion editor and writer, Clint Holton Potestas, and interior and fashion designer, Jul Oliva.
BALANCE.  Arcy Gayatin is known for her perfect symmetrical lines when fabricating.  She knows how to balance edginess and class; understanding well the strength and the finesse of a woman.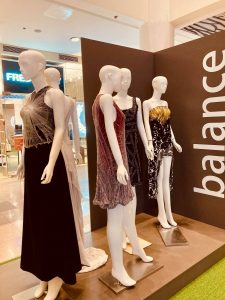 RHYTHM.  Arcy's expertise in draping and fabric manipulation can be seen in how she achieves rhythm between architectural lines and soft fabrics like silk and cashmere.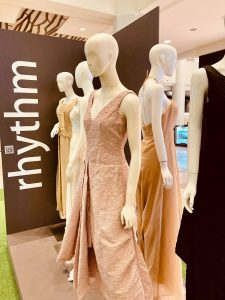 TEXTURE.  With her thorough knowledge on fabrics, Arcy Gayatin has achieved the perfection of fabrication by working on different types of fabrics and creating a single piece of art out of them.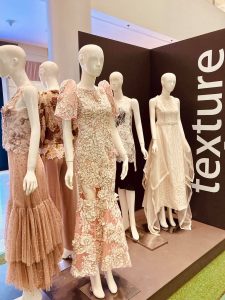 HARMONY.  The simplicity of the silhouette plus the intricacy of the details create a wonderful harmony, making Arcy Gayatin's design a one-of-a-kind masterpiece.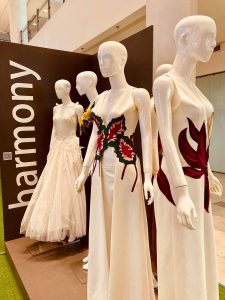 The photos below show an up-close look at the intricacy and the exquisite craftsmanship of Arcy Gayatin's fabrication techniques: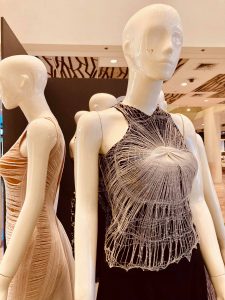 THE SPIDER WEB:  one of Arcy's genius fabrication techniques.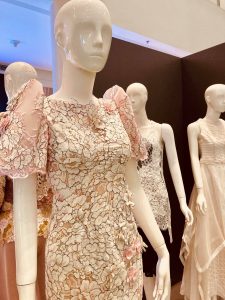 MATCH and PATCH:  Arcy's unique fabrication craft by patching layers of different types of lace and lace patterns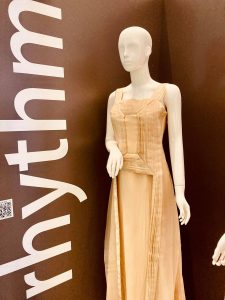 PLEATS: The perfection of symmetry in pleats on silk.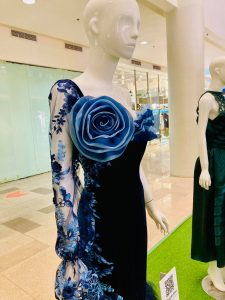 LA ROSE BLEUE:  U.P. student, Danielle Alessandra Deutsch, inspired by the artistry of Arcy Gayatin, designed this midnight blue dress.   The cabbage rose made from layers of silk organdy gave this evening ensemble a romantic appeal.
Cebuano Haute Couture Shines at 2021 Cebu Wedding Expo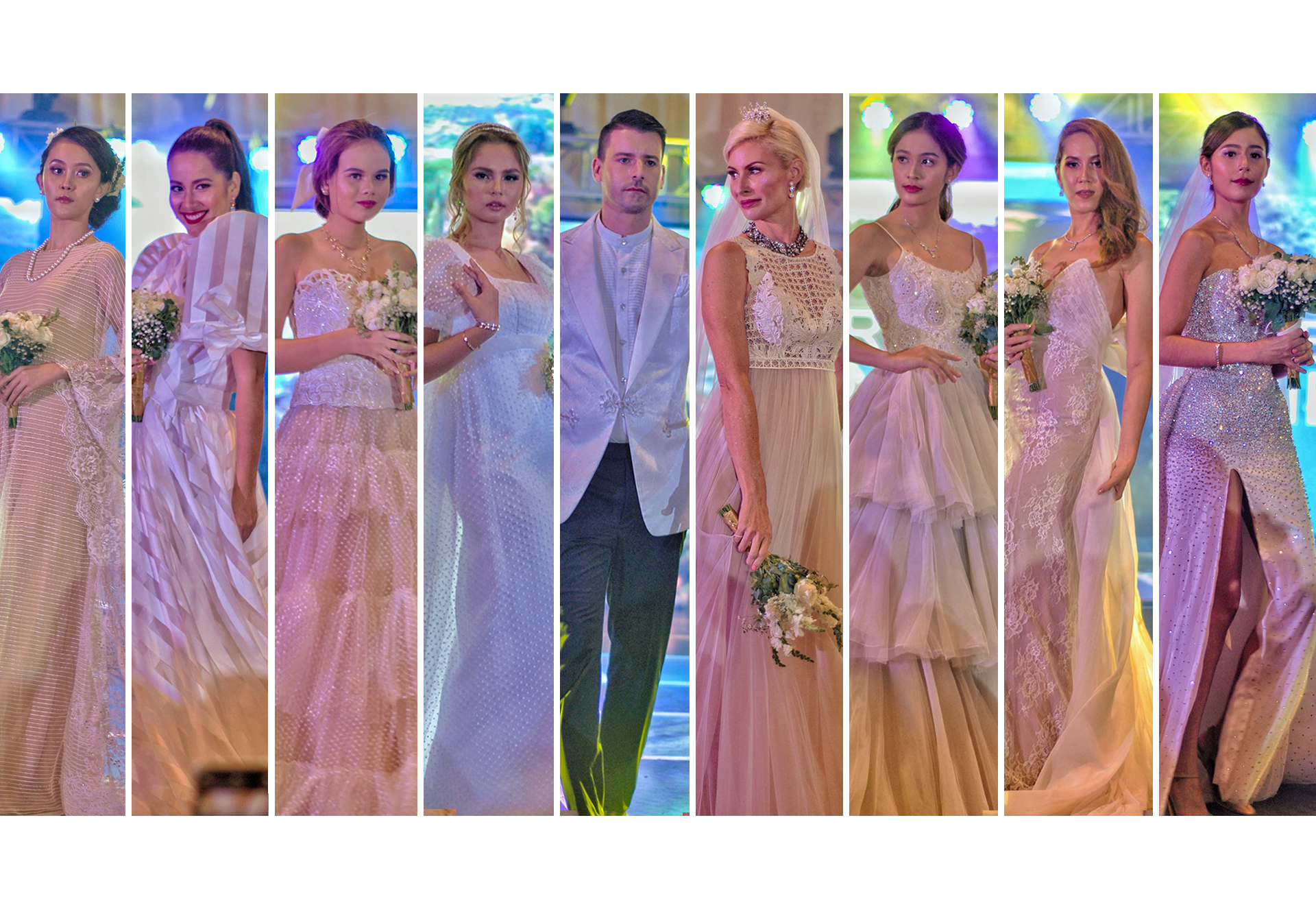 Forever at Soltana
by Allain Dumon Fonte
Soltana Nature Residences host the grandest wedding destination expo for 2021. In their grandiose Events at Soltana venue, wedding suppliers, event coordinators, events stylists, fashion designers, and exhibitors gathered to showcase their best to excited couples and clients.  The grand expo was opened by the Chairperson of Lapu Lapu City's Tourism Commission and first lady of this historic resort city, Madam Cynthia Cindy King Chan; she was with city counselor, Hon.  Queenie Malingin Amman; Taft Properties COO and Vice President, Myra Lynn Gilig; Taft Properties CFO, Feliz Tiukenhoy; and Mr. Justin Gaisano of Taft Properties. 
To set the event's mood, AD models Kevin Lahousse and Gingie Alducente acted as newlyweds joining the expo and leading the guests to the exhibitors' booths.  Yet, the highlight of the event was the glamorous fashion show set in the world's most visited wedding destinations, as the mannequins of AD models paraded the haute couture creations of Cebu's A-list fashion designers.
The show was opened by Miss Earth 2008, Karla Henry-Amman, wearing a bridal gown designed by Hanz Coquilla.  Her wedding mood was the historic streets and sceneries of Vigan, Philippines.  Coquilla created a Filipiniana-inspired bridal dress with perfectly constructed butterfly sleeves, exquisitely clean lines, and masterfully crafted bias skirt of balanced cones and flows.  Valerie Alvez showcased a bridal dress made of vintage Chantilly lace.  Alvez proved her skills in manipulating laces to be impeccable; the bow detail at the back added glamour to the dress, exuding luxury to the bride wearing Alvez's masterpiece.  Wendell Quisido set her wedding theme to the dreamy beaches of Ipanema; and as her model glided on the runway, everyone in the audience dropped their jaws to the intricately detailed bridal dress that Quisido made. Quisido designed a bustier dress with well-balanced panels that wonderfully fitted the model's figure; but what made Quisido's dress jaw-dropping are the countless Swarovski crystals that covered the dress.  Dexter Alazas joined the fashion show with a 1920's inspired wedding dress of vintage tulle and embroidered in the decade's popular baroque patterns.  Alazas has shown the wonders of working with delicate fabrics and the opulence of vintage embroidery patterns.
The fashions show also brought us to the rich sceneries of Mallorca, Spain with Ren Manabat's three-tiered wedding dress.  The labor-intensive layers upon layers of soft English tulle made Manabat's artwork stand out, among others.  Another head turner is a dress that was carefully planned and architecturally constructed, the bridal gown designed by Protacio.  Protacio has obviously studied well which fabrics to use and how each fabric is sewn to the other to create an illusion of nudeness under layers of vintage Italian mesh. The dress was architecturally constructed like the Burj Khalifa where every piece sits perfectly with each other in harmony and balance.  Fashion connoisseur Marichu Tan-Geson created an extremely detailed bodice lined with Swarovski crystals, and a skirt made from layers of dotted soft English tulle.  Tan-Geson's manipulation techniques on the soft tulle and how she delicately draped every layer of the tulle upon the other is interesting and intriguing.  With a work of art as beautiful as that, I could say that Tan-Geson is the Madame Gres of Cebu fashion.  The show ended with a groom and a bride wearing a 19th century English-inspired wedding ensemble by master couturier, Philip Rodriguez.  Rodriguez has proven once again his artistry and expertise in fashion by creating an empire-waist gown with ruffled sleeves made from dotted Italian mesh of 100% silk and vintage silk taffeta.  Rodriguez presented a truly elegant wedding dress; lesser on the intricacy but more on the richness of the materials being used.  The rarity of Rodriguez's fabrics already makes his dress worthy to a MET gala exhibition. 
The models wore the timeless and recherche jewelry collections from Royal Gem to match the bridal dresses of the featured designers.  Every jewelry piece is made to complement a woman who loves fashion and whose self-awareness dictates her own style.  From green sapphires to yellow diamonds, every jewelry piece is stunning.  No wonder why socialite and fashion icon, Heart Evangelista, loves and promotes Royal Gem. All models are wearing Shandar bridal footwear.
The Grand Wedding Destination Expo at the Events at Soltana will run until the 24th of May 2021 with exciting activities:  a maquillage session with Jessie Glova, a bridal make-up competition and show, a financial literacy session for new couples, a talk on real estate investments, a session  with Rod Bautista and Eddie Jamin from the Centerpiece Weddings and Events about wedding destinations in Cebu and the new norms in wedding celebrations, and a whole lot more of raffle prizes from Plantation Bar Resort and Spa, Solea Mactan Resort, Savoy Hotel Mactan, and others.