"Be careful. Once you've been to Siargao, you're going to keep going back." That was the warning from most friends when they learned about the imminent Zee Lifestyle trip. There are a variety of reasons behind the declaration: the relatively untouched beaches on the island and the others dotting the waters around it, the choice waves that are friendly to both beginners and advanced surfers, the rustic charm of the small island community. Whatever the reasons are, it always comes to the same conclusion—Siargao is captivating, and you'll be hard-pressed to keep from falling in love with the place.
That collective opinion was enough to get us excited to find out for ourselves. Our verdict? One of us said it best while lounging on a daybed by the pool on our last morning on the island: "So when are we coming back?"
WHAT TO DO
by Shari Quimbo
Surfing
No visit to Siargao Island is complete without hitting the waves. Turtle Surf Camp offers surfing packages for beginners to intermediate surfers. The 1:1 student to instructor ratio makes for optimized training, and guarantees safety especially for beginners. The camp also offers guided surf trips—advanced surfers can take a motorbike to more isolated locations or take the boat out to waves in between the islands.
With its three standard rooms with double occupancy and one family room that can take in four people, Turtle Surf Camp's accommodations are simple yet comfortable. Cozy and intimate, the surf house invites you to treat it much like your own—spend time in the communal open-air kitchen or take a dip in the pool while mingling with fellow guests. The jumbo hammock is a great spot to relax in the afternoon, and you can even organize barbecue nights on the lawn.
Purok 
V, 
General 
Luna, Surigao del Norte
+63 
939 
569 
2498 | website
Island Hopping
"It looks like the saturation is turned up high here," one of us says in awe of the sight of Naked Island, the first of the three islands we were visiting that day. The view was definitely the kind that seemed too perfect to be an actual place—the sky had barely a cloud in it, its blue dipping down to the darker gradients of the ocean, while the white island stood out in the horizon. Despite the already beautiful weather and water we witnessed while boarding the banca at Jade Star Lodge, we didn't quite expect the island to be this picturesque.
Naked Island is the furthest of the three frequented destinations that dot the water across General Luna, and is so named for its complete lack of vegetation, save for some dried seaweed that washed up on the sand. Apparently, we had come at the right time—the early morning sun wasn't too harsh, which was a good thing since there was absolutely no place to find shade.
After the obligatory photo ops, we head back onto the boat to Daku Island, the largest of the three. With many fishermen living on the island, it's the perfect spot for lunch—as we dock and head to one of the cottages, someone comes up to us and offers fresh seafood. There are few things more satisfying than enjoying an ocean breeze and lunching al fresco on something that had just been swimming out in the water that morning. We spend a few more moments seeking refuge from the heat, and then explore the island's long shoreline.
Back on the boat after lunch, we head off to Guyam. Just as the boat approaches it, our iphones go on overdrive as we capture its breathtaking sight—if you tried to imagine the perfect tropical island, your fantasies would most likely look like Guyam. The tiny atoll had a group of vividly green trees in the middle, while a ring of white sand runs along one side and an outcropping of rock formations on the other. Come low tide, the rocks turn into little tidal pools that are incredibly photogenic.
With cheeks sunburnt and skin two shades darker than it had been the night before, we head back to General Luna, where the long stretch of white beach during low tide greeted us. As our boat hits the sandy bottom and we jump off into the shallow water, someone says, "we just left, and I miss the islands already." I didn't have to look at anyone to know everyone totally agreed.
Jade Star Lodge
c/o Anita Quintas | +63 919 234 4367
WHERE TO EAT
by Bea Prospero
Aventino's
 Pizza, 
Pasta 
and
 Vino
If your pizza cravings get out of hand during your island escape, the pizza gods have given Siargao Aventino's Pizza, Pasta and Vino. The restaurant offers great thin-crust pizza that goes well with their selection of beer and reasonably priced wines. The well-lit nooks and vibrant interiors welcome guests in their three branches on the island—there's one at Cloud 9, another in General Luna and the latest outlet in Dapa. Try the best-selling Tricia—three layers of pizza with vegetables, meat and cheese—or order the lasagna that's rich in flavor and made with freshly rolled thin dough, perfect for a pasta fan.
General Luna, Surigao del Norte | +63 918 338 8961
Patrick's
 on 
the 
Beach
Siargao's first beach resort has the perfect beach location and an inviting rustic vibe, but it goes even further with an extensive selection of local and international dishes. Situated in General Luna, the resort's owners Andreas and Elizabeth Mikoleiczik are dedicated to keeping the casual island feel of the resort while making sure they give their guests a memorable experience. With recipes created and perfected by Andreas himself, the restaurant features a menu that explores various international flavors—from India to England, Germany to the Philippines. The Carribean Mango Curry, in chicken or fish, is a must-try, as well as a serving of their sizable burritos. Whatever your choice, try it with a bottle of their own Yo Ho Ho Mango Rum, which they make themselves—the rum will soon be available in a number of flavors, including durian. Enjoy the meal at their large communal dining tables, or head outside to the beachside huts for a relaxing view. And with the Tree House Bar currently in the works, we're already looking forward to visiting Patrick's the next time we're on the island.
General Luna, Surigao del Norte | +63 918 481 6483
La 
Luna 
Café 
and 
Restaurant
Just minutes away from Cloud 9 is La Luna Resort's Café and Restaurant, a cozy al fresco-dining establishment with various cuisine selections on its menu. Owned and managed by Filipino-German couple Lino and Susi Agudo, La Luna is all about a laid-back ambiance— guests, in fact, are required to take off their shoes and slippers while inside the restaurant; a pair of hammocks hangs on one end to relax in while waiting for your food. The restaurant ranks third of 21 restaurants on TripAdvisor, and rightfully so, with their delicious offering of local and authentic international dishes. Try the delectably spicy curry, a generous serving of pork schnitzel or their spicy pork chop.
General Luna, Surigao del Norte | +63 910 752 1262
The Pleasure Point Cafe
Good coffee is a hard find in Siargao Island. Thankfully, The Pleasure Point Cafe offers one of the best tasting coffees, with beans made and roasted in the Philippines, which are then freshly milled before each serving. Besides great coffee, Pleasure Point also serves healthy food, drinks, and desserts. The caramel cheesecake is a must try. Enjoy a cup of coffee and a taste of heavenly cheesecake in a laid back cafe only here at Pleasure Point. (by Mayan Benedicto)
Purok V, General Luna, Surigao del Norte
+63 917 760 3837 | Facebook
WHERE TO STAY
by Patty Taboada
Kalinaw Resort
A passionate duo of French designers pays a fitting tribute to the beauty of Siargao through Kalinaw Resort, which sets the bar high for luxury accommodations in this island paradise.
Stretched out on more than a hectare of land, Kalinaw Resort has five villas, a restaurant and a swimming pool. It's also the only resort in the island that has a beachfront, with the iconic Siargao waves visible from a distance. It's a charming yet intimate getaway for people who, according to owners Fred De Backer and Pierre Zappavigna, enjoy beauty and good food with a little touch of adventure. "When we arrived in Siargao ten years ago, the existing resorts catered mostly to backpackers," explains Fred. "The concept of Kalinaw Resort is to offer the experience of privacy and comfort in a nice and polished environment."
The villas, lined up in a row and all nestled within greenery, looked like luxurious beach cottages. Each one had a trail of sand leading to a wooden boardwalk, which takes you to the roomy al fresco area decorated with a couch, a chaise and a coffee table. Glass doors open up to a spacious bedroom, with an invitingly large bed flanked by two equally enticing couches on each side of the room. It looked every inch the honeymoon paradise.
While four of the villas look more or less the same with the exception of a few little decorative details, the fifth villa stands out from the rest. A recent addition to Kalinaw Resort, the last villa is twice the size of the deluxe villa, and boasts of an indoor living room, a mezzanine area with a massage bed in the bathroom, and a lap pool in its al fresco area.
A private pool may have its appeal, but the resort's main pool is tempting in itself. The infinity lagoon gives off a stunning effect, reflecting the nearby palm trees and seamlessly merging with the Pacific Ocean over the horizon. It's also the perfect venue for cocktails after a long day of soaking up the Siargao sun.
The other dining establishment in the resort is the main restaurant, known for it's authentic thin crust pizzas, cooked in an Italian-made wood-fire oven. It also serves its homemade French baguette for breakfast—a perfect mix with fresh fruits, crepes, and eggs served in various styles.
Since it opened in 2007, Fred believes that after all this time, Kalinaw Resort has become an example of a well-made resort in terms of design, quality food, and service. "We have increased the standard of Siargao providing luxury accommodations," he says. The resort has seen continuous improvements over the years, with the latest addition being six Dedon Dala couches along the beachfront, perfect for curling up on a lazy afternoon with a book.
With the numerous things you can do on Siargao Island, you'd be hard-pressed to find a place that will never make you want to go out and explore. As it is, Kalinaw Resort tempted us to do just that.
General Luna, Surigao del Norte | website
HOW TO GET THERE
Cebu Pacific Air flies to Siargao Island once a day. Visit www.cebupacificair.com for flight schedules.
photography John Ong
Read more about Siargao on Zee Lifestyle's March 2015 Travel issue.
This is How the M.I.C.E. Alliance Initiative will Lift Boracay to New Heights
Leveling up Boracay in more ways than one
by Ryan Daniel R. Dablo
Saying the name "Boracay" instantly casts a spell, taking the listener to a daydream of immaculate, pale beaches, swaying palm trees, the music of breaking waves, and the vacation of a lifetime. The tropical island Eden is storied and renowned – a difficult enchantment to lift from any wayward tourist's mind. But what if we were to tell you that Boracay is so much more? Can you build upon perfection? Yes, and this, ladies and gentlemen, is how. 
After the difficulties of the past few years, the stage is finally set for a massive Boracay reboot. The creative gears turn once more, and this time they will catapult our favorite beach capital to new heights. The cornerstone of this renaissance is the M.I.C.E. Alliance initiative, short for meetings, incentives, conferences and conventions, and events and exhibitions. The establishment of the Boracay M.I.C.E. Alliance will allow focused efforts in creating sustainable and eco-sensitive tourism development projects while synergizing with stakeholders to create long-term solutions and opportunities for all partners. The alliance is set to drive awareness, readiness, and expansion of product offerings that will be crucial in making the island competitive with other M.I.C.E. destinations. Working closely with the Department of Tourism Region VI and the Tourism Promotions Board, the alliance is primed to provide support to the areas that are involved in this major undertaking.
No one is more emphatic than M.I.C.E. Alliance chairperson Cleofe Albiso in describing how the different sectors of Boracay are pivoting from tourism to tourism plus. In brief, Boracay is challenging its own boundaries to become not just the pre-eminent tourist destination but also a corporate and business mecca. Turns out, if a venue is grand enough to host a wedding, wouldn't it be just as grand to host a white-collar conference? Sky's the limit for possibilities like this. At this moment, the island is abuzz with networking and making connections, training and empowering the hospitality services, polishing the infrastructure, revving up the transportation facilities, and all-around gearing up to go toe-to-toe with other M.I.C.E. hubs and be worthy of the tagline, "the best place for M.I.C.E. in a tropical paradise." All hands are on deck and – after the extended global hiatus thanks to the pandemic – everyone is ready, nay, eager to meet and greet the guests. And, of course, we would be remiss not to point out that Boracay is more than halfway through completing such a tall order. The island is as well-oiled a machine as it could be, boasting 294 DOT-accredited hotels and resort, a staggering 4,500 seating capacity for meetings and conventions, and 12,400 room keys available in the island. Talk about volume! Plus, Boracay is already postcard-perfect, the very stuff that vacation dreams are made of. Why not turn the dial up to eleven and let it become a compass point for more than a summer getaway? This is the logical next step in realizing its vision of being not just a place to be, but the place to be.
So, yes, by all means think of the idyllic strolls on the beach, the luxurious caress of the ocean as you free-dive, the sheer delight of sand and surf while island-hopping, the adrenaline rush of aquasports, parasailing, cycling, or driving an ATV up Boracay's foothills, the psychedelic glow of fire-dancing and party lights at night, the breathtaking sunsets, the larger-than-life adventures, or the hundred other ways it can lavish or reinvigorate your soul. Think of all of that, and then some. Because Boracay has its eyes on something greater: it is poised to become the premier starting point and last stop for tourism, entertainment, corporate gatherings, exhibits, and any other event the imagination can dream of. 
Think of your company meeting. Now, think of your company meeting and the fun that'll ensue right after. Picture that in the most scenic of vacation spots. Tempted already? Who wouldn't be? You're already in paradise. With business here and leisure literally just a stone's throw away – heaven on earth, wouldn't you say? 
For Our Next Travel Destination, We Dream About Koh Samui in Thailand
Silent Sanctuaries
Mayenne Carmona discovers the Four Seasons Resort in Koh Samui is a quiet oasis to recharge and rejuvenate…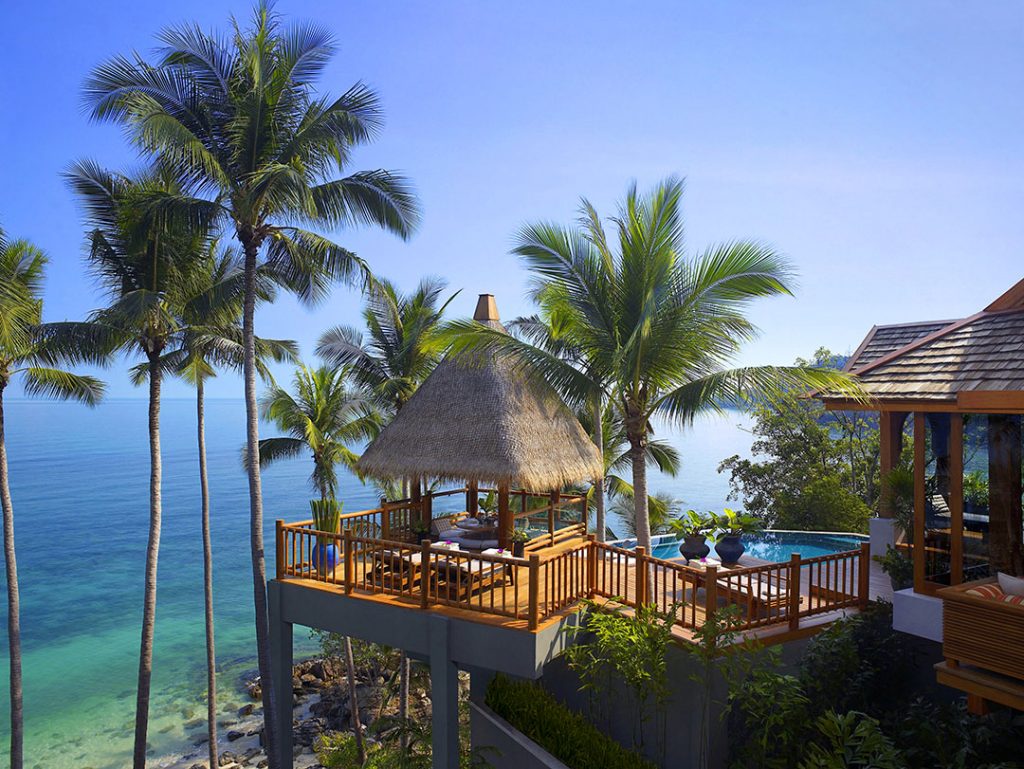 What does one expect from a Four Seasons Resort? Everything! Firstly, it will definitely be ranked no less than a five-star hotel or resort. Most importantly, it would not fall short of all your expectations: excellent cuisine, topnotch comfort at your fingertips in a well-appointed villa, courteous staff who offer impeccable service, and every other detail you could possibly need—down to the last cotton bud. After all, a Four Seasons Resort is always designed by a top-rated architectural team and interior designers.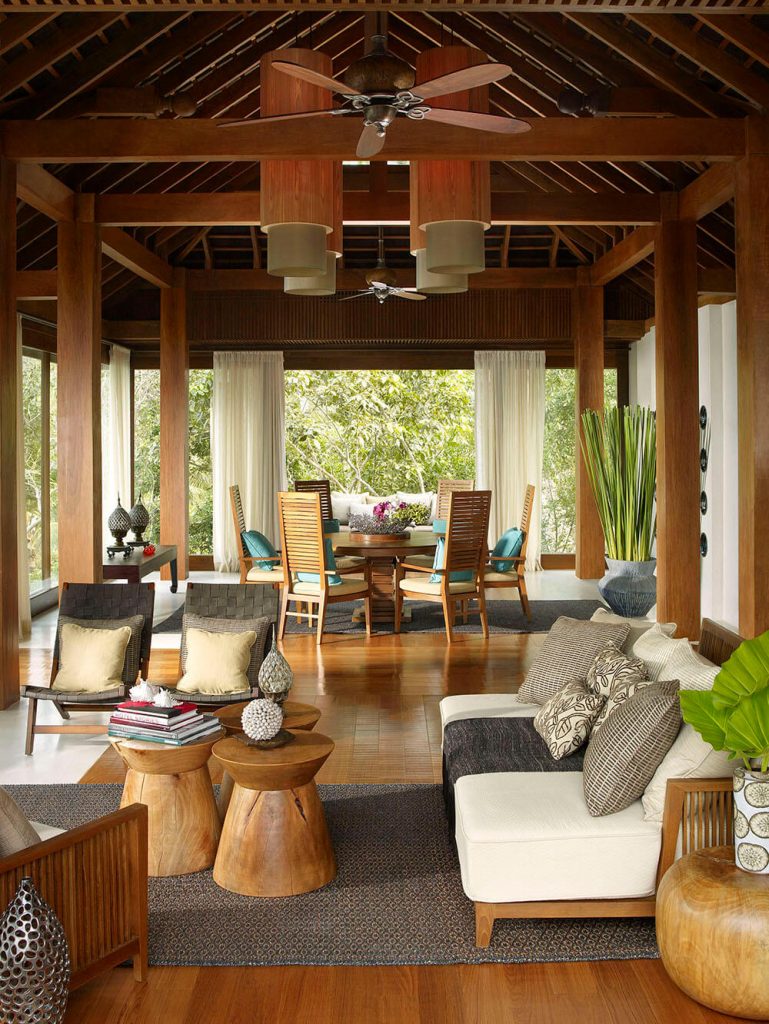 The moment I stepped into the Four Seasons Resort at Koh Samui, I felt all my cares washed away by the soft waves of the bluest sea. The fresh air cleared my sinuses in no time, and the gentle breeze was a much needed caress to a tired mind and body. It was truly paradise regained for me and my friends. We were a motley group of career-oriented people who needed a much-awaited break from work, and this was the perfect choice for us.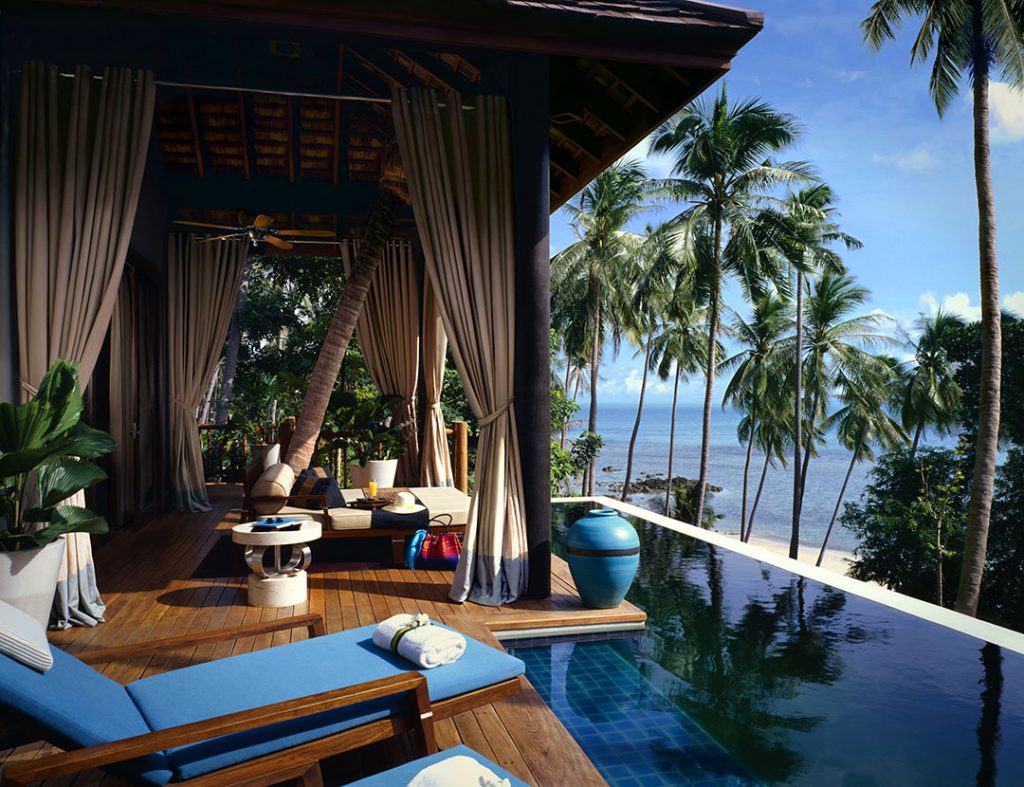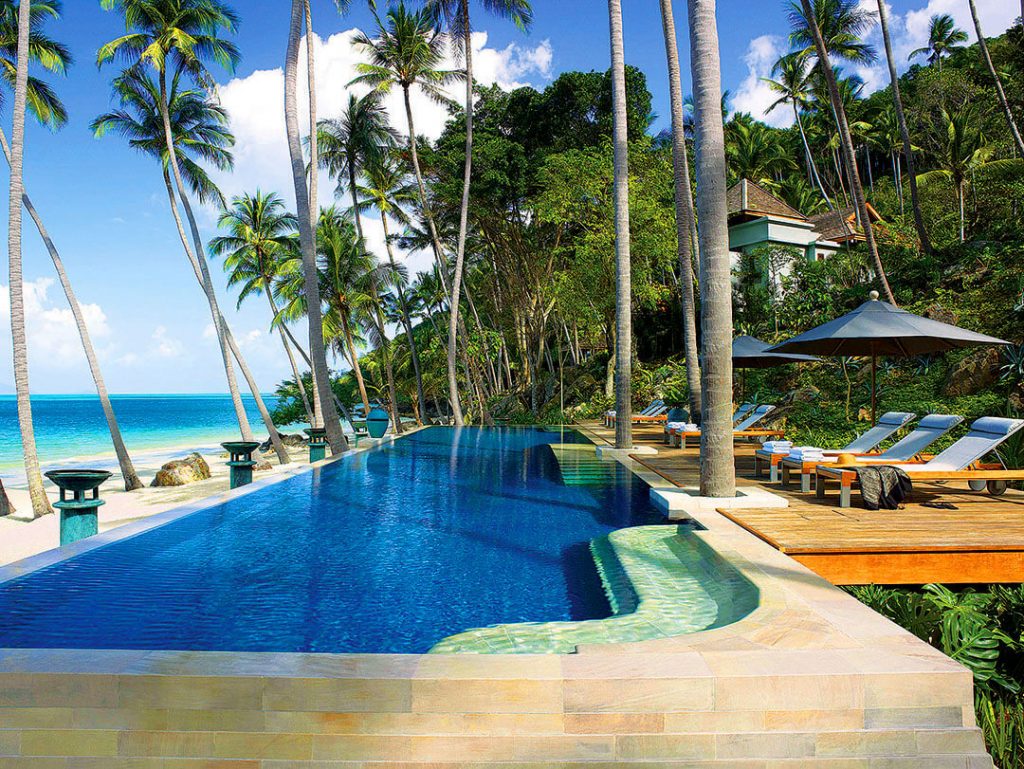 Each Villa has a butler to cater to the guests' every whim. The afternoon we arrived, we requested a sunset dinner by the beach, and much like a genie, our butler whipped up a romantically set candlelit dinner for six. A five-course delicious Thai dinner was prepared by their well-trained chef.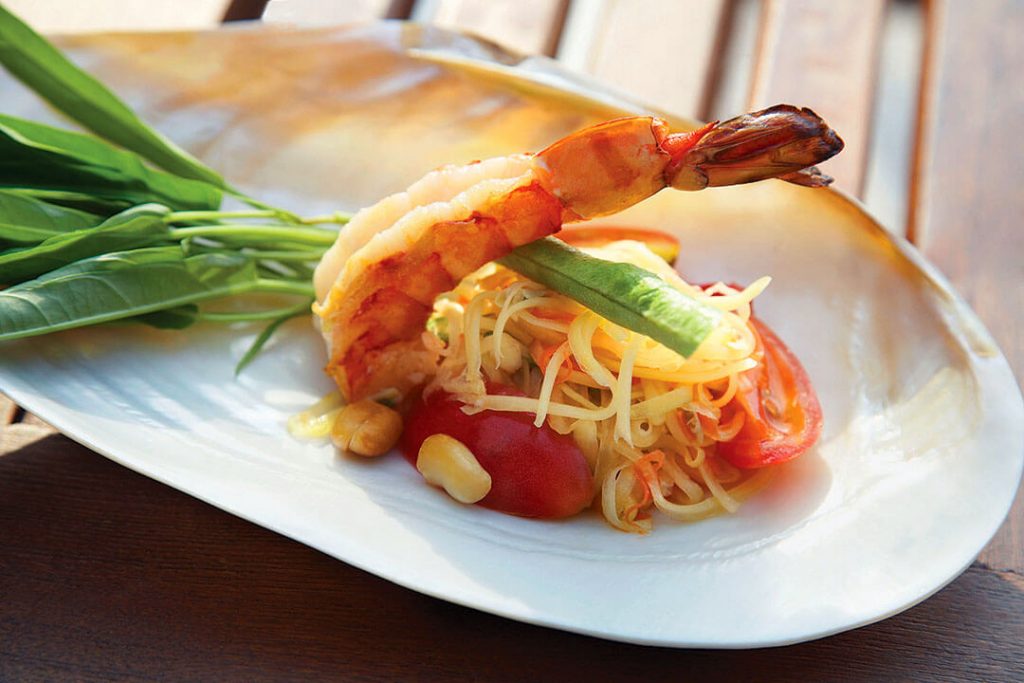 Our days were spent languishing by the beach, having daily massages, attending yoga classes, doing water sports and enjoying every bite of Thai cuisine. Golf carts transported us wherever we wanted to go within the resort. This vacation brought all my senses to another realm, and restored a weary soul to perfection. 
Four Seasons Koh Samui, I look forward to seeing you again!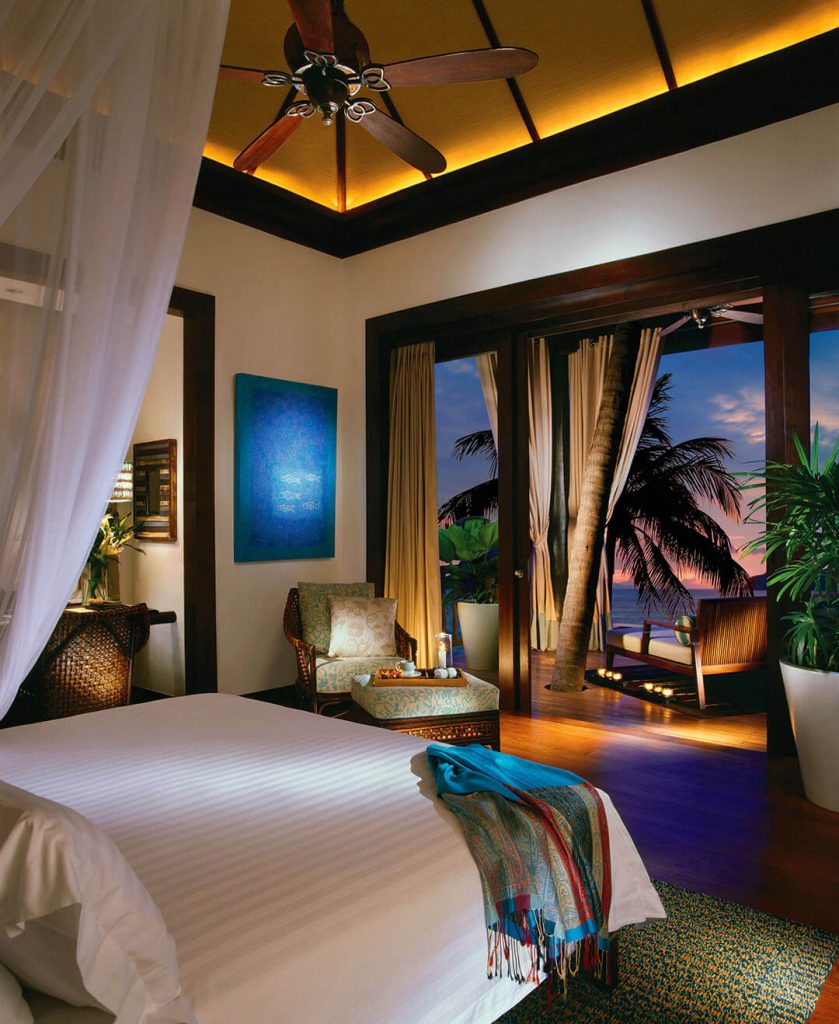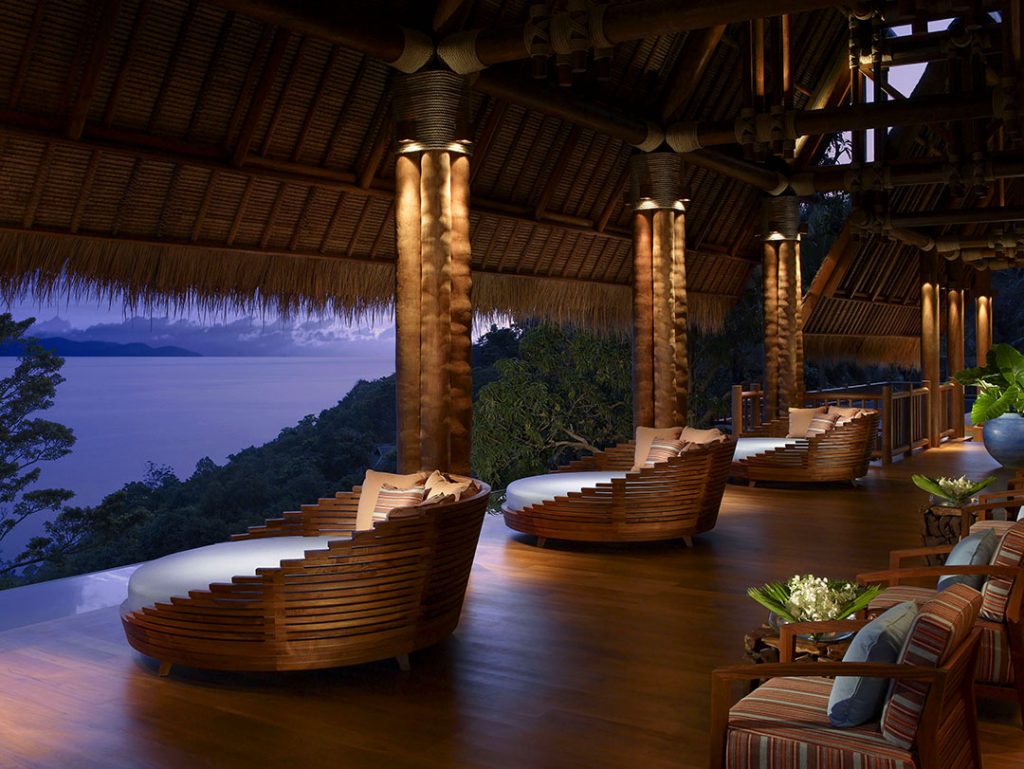 Koh Samui is the third largest island of Thailand in the scenic Gulf of Siam. It is a 45 minute flight from Bangkok. Sandy beaches, coral reefs, coconut trees and abundant tourist resources make it a popular holiday destination.
For more information on Four Seasons Resort, visit their website at https://www.fourseasons.com/kohsamui/
(This article has already been published in Zee Lifestyle's March 2016 Travel Issue, "Silent Sanctuaries" written by our columnist Mayenne Carmona for La Vie En Rose on pages 32-33.)
Get Lost in this Not-so-distant Island Safari Paradise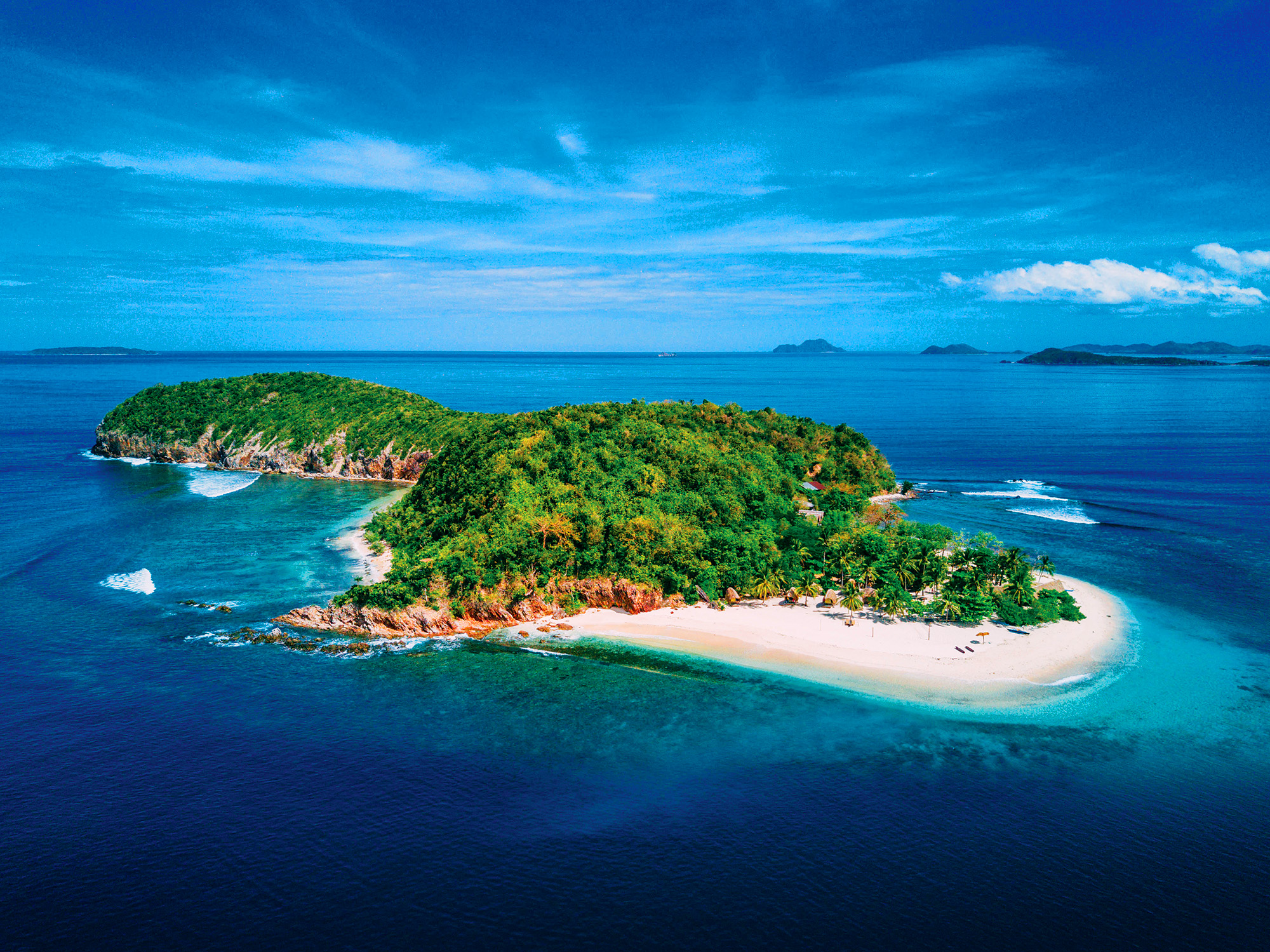 LOST IN PARADISE
Tao Philippines Crusoe-style deserted island camp paradise is perfect for those who understand the luxury of simplicity and disconnection.
by Melo E. Esguerra photography by Scott Sporleder
Just when you think Palawan is fast becoming a second Boracay, where congestion of concrete buildings and human bodies have begun to define the island experience more than the pristine beaches of white powdery sand, the Lostboys of Tao Philippines came up with a new island project that guarantees an escape to paradise. They call the island Camp Ngey Ngey.
The Lostboys have taken over the abandoned resort of Manguengey in Busuanga, a remote island in Palawan. They have kept the ruins from the typhoon and built their signature bamboo Tuka huts around the main beach of the island, which serves as the camp area. Just a short walk away you'll find jungle trails that lead to three other wild beaches, preserved reefs and windswept cliffs encompassed by crystal blue waters. And on certain days, when the winds are strong, one side of the island becomes a good site for surfing.

Eddie Brock, one of the founders of Tao Philippines, explains how this concept of an island safari came about. "When we took over Manguengey Resort, we were stuck with the idea of how to run it. We do not know how to cater to resort guests, the individual choices and needs, and menus," he admits. "Tao's expertise is to show travelers something new, something more raw and adventurous. We decided that we will not worry about things we don't understand, and stick to what we do best. One of the best aspects of a Tao trip is creating an atmosphere of connecting with other travelers, disconnected from digital clot—without the worry of planning, wallets and keeping a status. Five days out in the remoteness with the islanders in control leads to a positive attitude: guards down, inhibition is off and open to meet new friends."
The camp is accessible through the three day/two night boat safari from Coron, with beach and reef stops en route the camp and back. Guests will be joining other travelers, staying in individual Tuka huts dotted along the beach. There are lounges, a dining and kitchen area, and open hang-out places. Currently, the big mansion from the old resort is being restored into a villa that can accommodate a family or group of friends.
The island can be reserved for big events like weddings, parties and other meaningful gatherings.
In the island, there is no room service, no menus, no WiFi. You will arrive as strangers, you will eat together, swim together, laugh together, drink together, and get to know each other offline. Become part of the magic of Tao, and see what happens!
For more information on how the trip to Camp Ngey Ngey works, log on to www.taophilippines.com
(This article has already been published in Zee Lifestyle's June 2017 Men's Issue, "Lost in Paradise" on pages 110-113.)