Silence the Voices Within
Ever caught yourself scrolling through your Instagram timeline, seeing pictures of other people looking so good, living their lives in constant travels and shopping, and then thinking God, I'm so lame or I'll never be like her? Or maybe going to the mall and seeing other people with their glamorous clothes, bags and clear bright skin and then thinking, I'm not pretty enough like her?
"Well, there goes your self-esteem. Down the drain it goes," the voices say.
It's these voices in our head that make a sunny day seem gloomy. The worst part about it is that these voices are our own; we've become our own critic.
Low self-esteem is when one lacks self-confidence and feels bad about her/himself. Those with low self-esteem tend to hate and constantly blame themselves. They don't feel that they're not good enough for anything and are unable to make decisions.
Although low self-esteem is not a mental health problem, the two are closely related. Some experiences of low self-esteem can become symptoms of mental health problems. If these negative experiences continue to happen for a long time, they may lead to mental health problems like anxiety or depression.
And since we wouldn't want you to go down that direction, we've come down with a list of simple yet effective ways to slowly but surely silence that judgmental voice in your head:
No negative self-talk
First things first; you're all you have so don't put yourself down. Don't feed your brain with negative thoughts, because then your body will radiate negativity in different forms, like through your behavior, your personality and your overall outlook in life. Instead, challenge that critical voice in your head against these negative self-beliefs by saying "Hey, stop it!"
Stop comparing
Your self-esteem gets flushed once you start comparing yourself to others; you start to talk negatively to yourself, which violates step one. Remember that you have your own strengths and assets and focus on them even more.
Exercise and eat right
Take care of yourself physically, too! According to Psychology Today, exercising empowers both your physical and mental health and organizes your day around self-care. To add to that, exercising helps improve your sleep patterns making you feel good even more. Pair that with a good and healthy diet, you and your body will feel its best.
Take a 2-minute self-appreciation break
Everyday, take time to look at yourself in the mirror and tell yourself three things that you appreciate about yourself. According to the Positivity Blog, doing this does not only boost your esteem, but also turns a negative mood around. For a more powerful boost, write three things you appreciate about yourself in the evening; it may be in your journal or your phone, then you can read them later on the following days to make you feel good about yourself even more.
Be your own best friend
Imagine yourself to be your best friend and say things to yourself the way she/he would tell you. What would your best friend tell you when you're feeling down? She'll definitely say, "It's okay" or "you can do it," right? So tell that to yourself instead of dwelling on your mistakes. Cheer yourself on. "Go self!"
Be kinder to other people
Be kind and the world will be. Kindness not only brings joy to others, but to you as well. Knowing you've made others happy creates a sense of fulfillment. Be of service to others; it makes you appreciate yourself even more when you help others with their problems or even do them some favors.
Forgive
Grudges may sometimes be the reason why you're down. According to Psychology Today, by holding onto bitter feelings and resentment, we keep ourselves in a cycle of negativity. Think about those people who have caused that grudge and try to forgive him/her for what she did. It'll lift a load on yourself once you've done so.
Spend time with those you love
Surround yourself with a healthy atmosphere and spend time with people who support you, rather than those who let you down. Talk to them about your problems, they'll say the things you just needed to hear to feel better.
Drench Your Skin in Bespoke French Facials at Beaute Affair Luxe
Bespoke French Facials at Beaute Affair Luxe
By Kara Mae Noveda
When it comes to skincare treatments, one size does not necessarily fit all, shared Dr. Gwen Bagay-Matias, the resident dermatologist of Beaute Affair Luxe. This is why Dr. Matias, a dermatologist of 15 years, would begin a client visit with one-on-one face time. A consultation gives the dermatologist or specially-trained aesthetician the opportunity to listen to the concerns and take a closer look at a person wanting to indulge in some skin pampering.
Such a targeted approach in aesthetics is attuned with the skincare philosophy of the 40-year-old French brand, Biologique Recherche. This brand has developed an exclusive, customized methodology of cosmetic treatments and products which aim to address each kind of skin's unique needs. And Beaute Affair Luxe deservedly boasts of being the first and only accredited center of Biologique Recherche treatments and products in Cebu.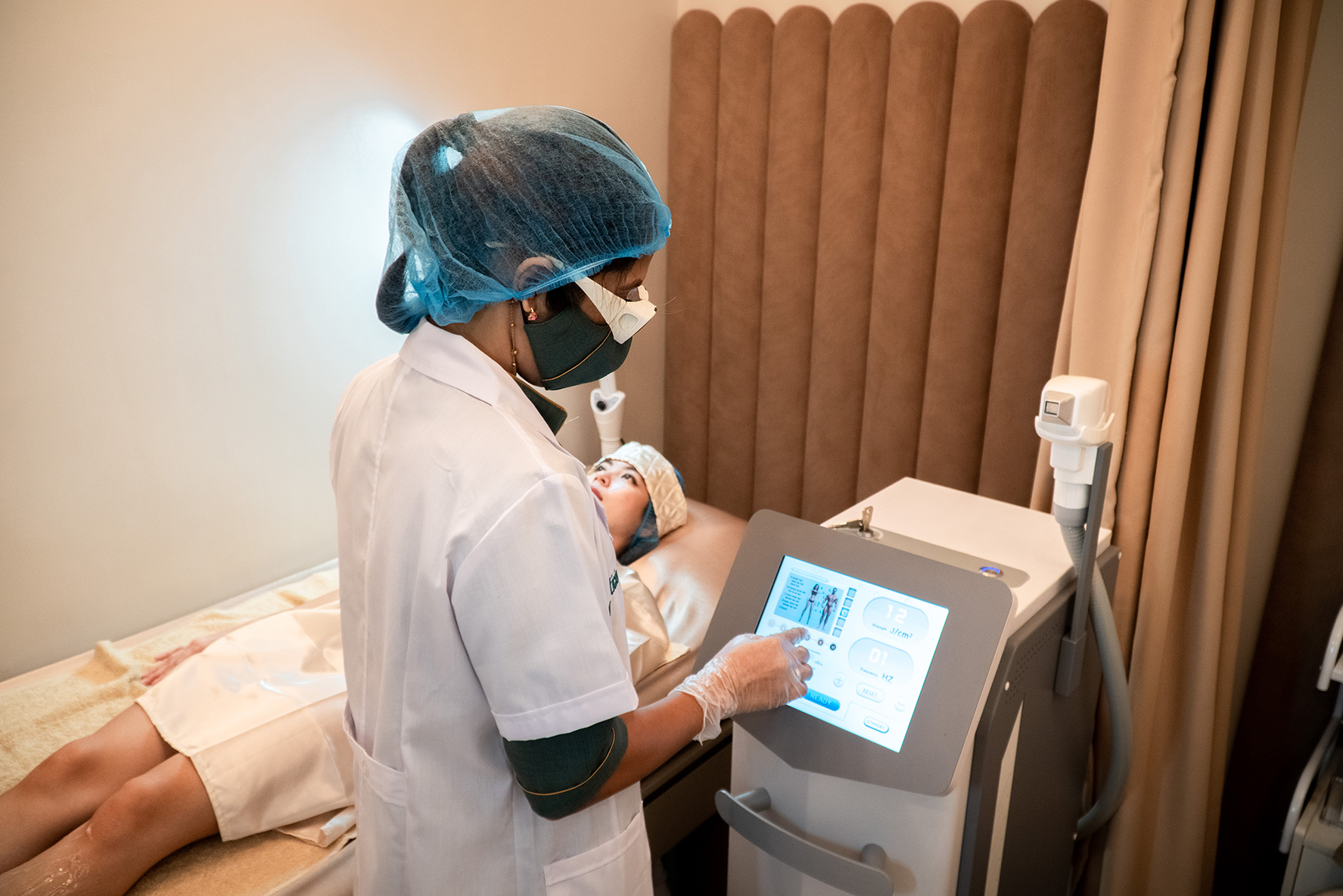 Very much like the French fashion's affinity for the classics—a facial with Biologique Recherche products is unlike every other trendy treatment that will shortly fade into passé. The brand's methods and products are meant to be tailored after your skin's age, texture, and of course, your own expectations over time. In other words, this skincare line is not just a one-time affair, but meant to marry into your lifestyle. After all, any expert will tell you—good skin is not just something one is born with, but it is something that can be built from curated habits and products. Your monthly facial (twice a month, if you are acne-prone, recommends Beaute Affair Luxe's Dr. Matias) helps keep your delicate facial skin fresh and healthy.
What can one expect from a Biologique Recherche session? The brand observes three main skincare protocols: 1) Assessment stage (the aesthetician carries a thorough dermo-cosmetic diagnostic to narrow down to your treatment option); 2) Initialization stage (the aesthetician preps the epidermis—skin is rigorously cleansed, before lotion and face mask are applied) and; 3) Actual Treatment stage (the aesthetician incorporates products with the highest concentration of active ingredients, this helps the top layer of the skin be primed for self-regeneration). To conclude, a relaxing one-hour session well-spent on yourself.
During the session, Beaute Affair Luxe's aesthetician expertly proceeded with gentle hands—massaging luxe organic products generously on the face and neck. It is good to be reminded that organic products are free from synthetic fragrance and give off a naturally herby aroma (be assured though that organic products are kinder to the skin). If there is one thing that's apparent throughout the session: the Biologique Recherche facial is refreshingly void of any prickly or stinging sensation! No pain, only gain, with this non-invasive procedure. All in all, a truly satisfying experience we owe our skin and ourselves. After all, our face is the mirror of our well-being and the image we project into the world—let us give it the discerning care it deserves.
Book a session in Beaute Affair Luxe to see the difference thoughtful skincare brings. The clinic is located on the second level of The Space, A.S. Fortuna St., Mandaue City, Cebu and operates from 10 a.m. to 8 p.m., from Tuesday to Sunday.
What Makes Your Coffee Truly 'Guilt-Free'? Let's Delve Into the Details.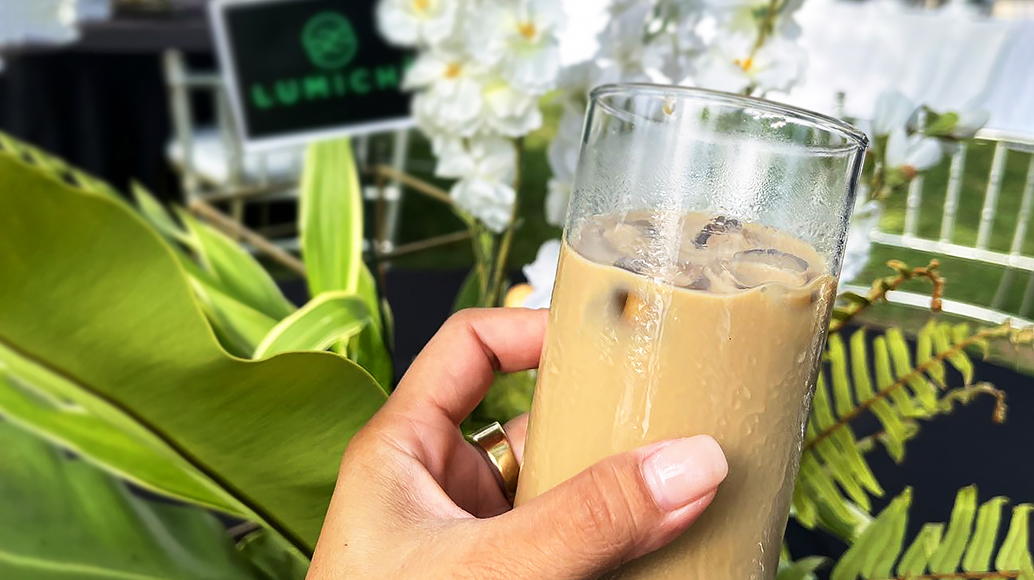 Coffee, for most people, is an essential drink to kickstart or fuel up their day. There are probably more coffee lovers around the world compared to those who can't tolerate this popular beverage. According to webmd.com, coffee is a drink made from coffee beans, which are the roasted fruit of the Coffea Arabica bush. People most commonly drink coffee to relieve mental and physical fatigue and to increase mental alertness.
Although coffee has gotten some bad raps due to the side effects of its main active ingredient 'caffeine', which is a stimulant, it is believed the good side of it weighs more than the bad. Of course, everything boils down into not having too much of this beloved drink. 'Drink moderately', as the popular tagline goes.
According to Aaron Carroll, a professor at the Indiana University School of Medicine and health research blogger at The Incidental Economist, is taking a stand in a recent New York Times article: "It's way past time that we stopped viewing coffee as something we all need to cut back on," he writes. "It's a completely reasonable addition to a healthy diet, with more potential benefits seen in research than almost any other beverage we're consuming. It's time we started treating it as such."
Well, not all coffee are created equal. Some are carefully formulated so that you will be able to enjoy without the worry. So, what makes your coffee truly 'guilt-free'? Aside from great taste, we are eyeing two important factors:
It must be sugar-free. We're all quite familiar on how too much sugar intake wreaks havoc not only to our inner health but also to our outside appearance. It can lead to some serious health problems like obesity and diabetes, not to mention how it destroys the natural collagen in our skin that is responsible in making us look young and wrinkle-free. Certain drinks opt for natural sweeteners like stevia, which is a healthier option.
It must have benefits for both beauty and wellness. A lot of brands around the world has concocted unique formulations to amp up the benefits of coffee in terms of beauty and health. Natural and organic ingredients were used to provide benefits to the skin hair and nails and to the overall physical fitness of the human body. Most of these added natural ingredients contains vitamins, minerals and antioxidants to fight oxidative stress and provide boosted energy levels. Some of these claim to have therapeutic benefits and may help alleviate some health conditions.
EDITOR'S PICK. Good news for all local coffee drinkers! You can now indulge in your favorite morning brew without the guilty feeling! A local brand from Cebu, Philippines, Lumiché, has recently launched their inaugural product–'guilt-free coffee', a carefully considered and researched beverage that promises all-day energy, with added benefits that will help you glow and flourish.
These benefits are as follows:
Sugar-free
Helps maintain energy levels
Strengthens hair and nails
Acts as an appetite suppressant
Has anti-inflammatory properties
Helps improve skin texture
Aids in fat-burning and weight loss
Aids in better bowel movement
Lumiché guilt-free coffee is able to provide the above-mentioned benefits due to the natural ingredients it contains:
Collagen
Spirulina
Ginseng
L-Carnitine
Mangosteen
Garcinia Cambogia
Moringa
Stevia
Non-dairy creamer
Lumiché guilt-free coffee is indeed a must-try!
Lumiché  is available for online buyers on their official website www.lumiche.ph, as well as on Lazada and Shopee. Starting April 6, 2022, lovers of coffee may also purchase in either take-home packs or ready-to-drink hot or cold cups in SugboMercado IT Park.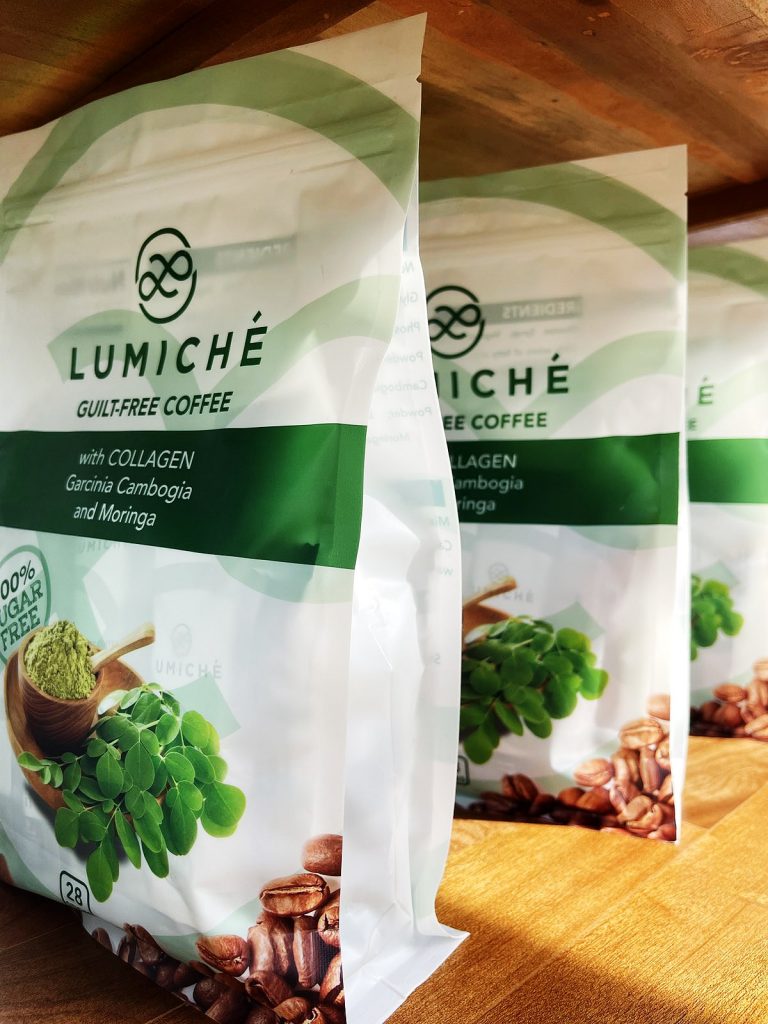 For more information and updates, like and follow their Facebook Page.
Lumiché is also looking to partner with resellers within Cebu Province, and distributors in major cities in the Philippines. For inquiries, call (+63.917.707.5279 or email them at hello@lumiche.ph.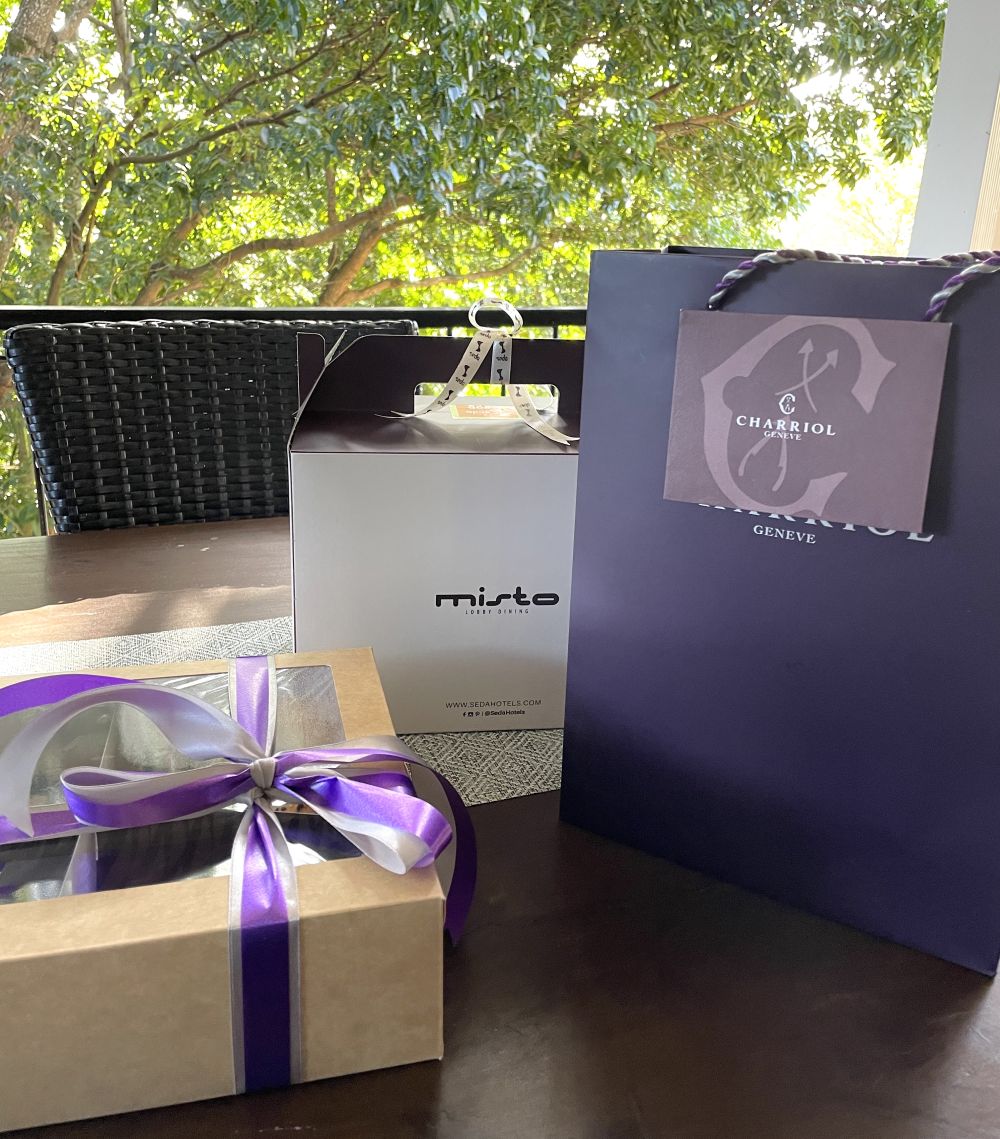 When a basket filled with tea goodies of macaroons, delicate cakes and sandwiches was delivered, it came in the signature purple color of this iconic brand. "Very Charriol", as Coralie , the CEO of the Swiss brand, might have put it. She didn't actually use that term to describe the savories. Rather, she was describing the cable bracelet that makes their products distinct. Avid Rustans Cebu shoppers will find the Charriol boutique just off the main entrance of the department store, near the familiar scented hall at the first level. On display are an array of earrings, bracelets and watches enticing to those looking for retail therapy with pieces that are timeless and yet not overtly breaking the credit card limit.
The tea Zoom party, as arranged by our host Ginggay Joven, and Luzanne Manlapit who is the brand manager of Charriol in the Philippines, was as good as any press-do from pre pandemic normal times. And an intimate peak at lifestyle editors' lives as most of us were zooming from our living rooms, including Coralie who was answering our questions from her home in Geneva. Like most of us, she readily says, "I have a travel bug, and on weekends, I dream of where I can go!".
Philip Charriol, Coralie's father who started the brand in 1983, was a frequent visitor to the Philippines, making Manila (and Cebu) a side trip to his rounds of Singapore and Hong Kong. He made many friends in Asia and it was a sad day when everyone heard of his passing more than a year ago in a car accident at the Le Castellet racing track in southeast France.
These days, the company is in good hands with Coralie. She is set to debut a series of new collections building upon her father's vision, including a reimagined Celtic collection, a line of watches first introduced in the 80s. The latest Celtic Legacy watch has a more striking face with two dials and bigger bezels available in gold or rose gold. The cable bracelet is made up of 6 strands of steel and titanium alloy that are flexible and durable. It comes in an elegant 30mm case, making it an equally perfect accessory for both a lunchtime affair as well as to a glitzy night on the town.
Also new are their ocean-themed pieces. The Forever Starfish watch comes in two iteration of stainless steel or rose gold case with a white mother-of-pearl dial. The second one is the Marina bracelet collection — the Charriol signature cable tied around a porthole and clasped together by a Charriol dial, it's a fresh and young take for an everyday jewelry.
As a contemporary business leader, Coralie shared cautionary tales of polar bears and melting icebergs. Through their Charriol Living initiative, Philippe Charriol is a partner of the global organization Lonely Whale. It is a community of international businesses cognizant of the harming effects of disposable stuff in today's world. Particularly single-use plastics, which are harmful to marine life when they end up in our seas. She co-produced a compelling documentary titled The Story of Plastic (www.storyofplastic.org) "a searing expose revealing the ugly truth behind plastic pollution and the false solution of plastic recycling".
The company is committed to being socially conscious. Pretty soon, all Charriol packaging will be made of paper and sustainable materials. "We are interconnected tru our oceans", she explains. In addition, part of the proceeds of selected ocean-themed Charriol pieces like the Forever Turtle watch, the Forever Waves and Ocean bracelets, will go to the Lonely Whale organization.
Philippe Charriol comes up with new design for watches once a year or once every two years to keep it fresh. Their jewelry line is much more frequent with bracelets and earrings. When asked if the company will be coming out with smart watches, Coralie was quick to reply that although other prestige watch companies have tried it, Charriol will not be producing one. "But I am coming out with something by October which is a kind of an accessory to a techie watch. To connect Charriol to technology."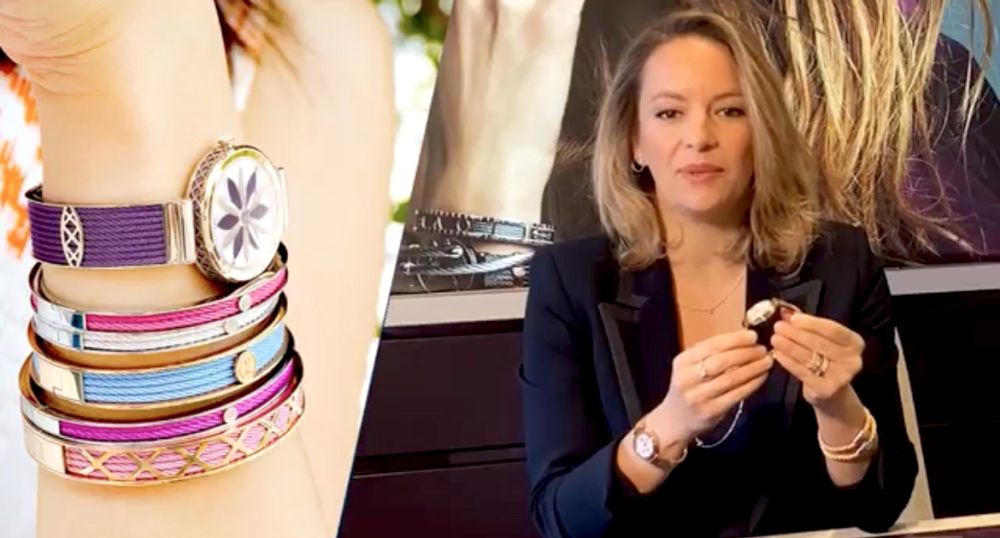 Coralie Charriol, the CEO of Charriol showing the Forever Starfish collection using mother of pearl face and their entry level cable bracelets in bright colors.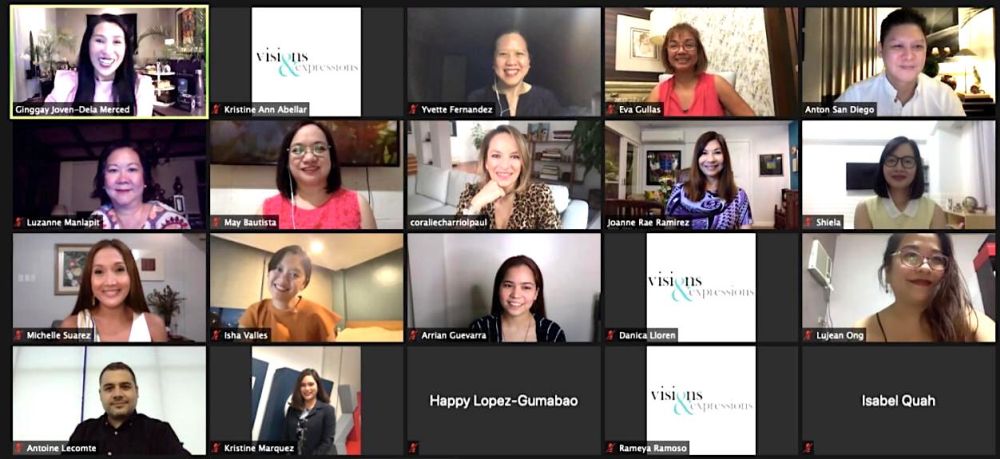 Screenshot of the Zoom tea party attended by top Manila lifestyle editors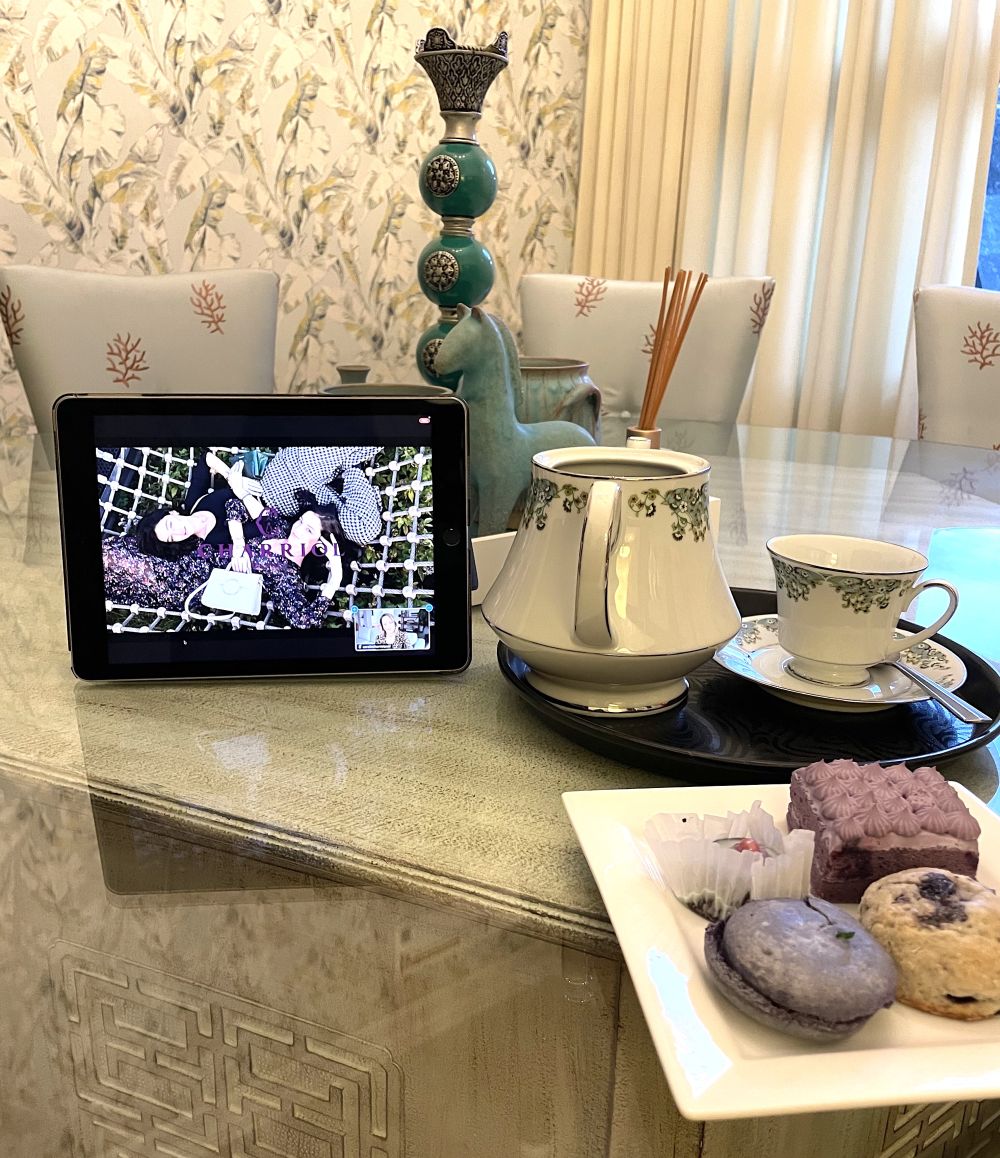 The tea goodies for the tea party delivered by the Charriol team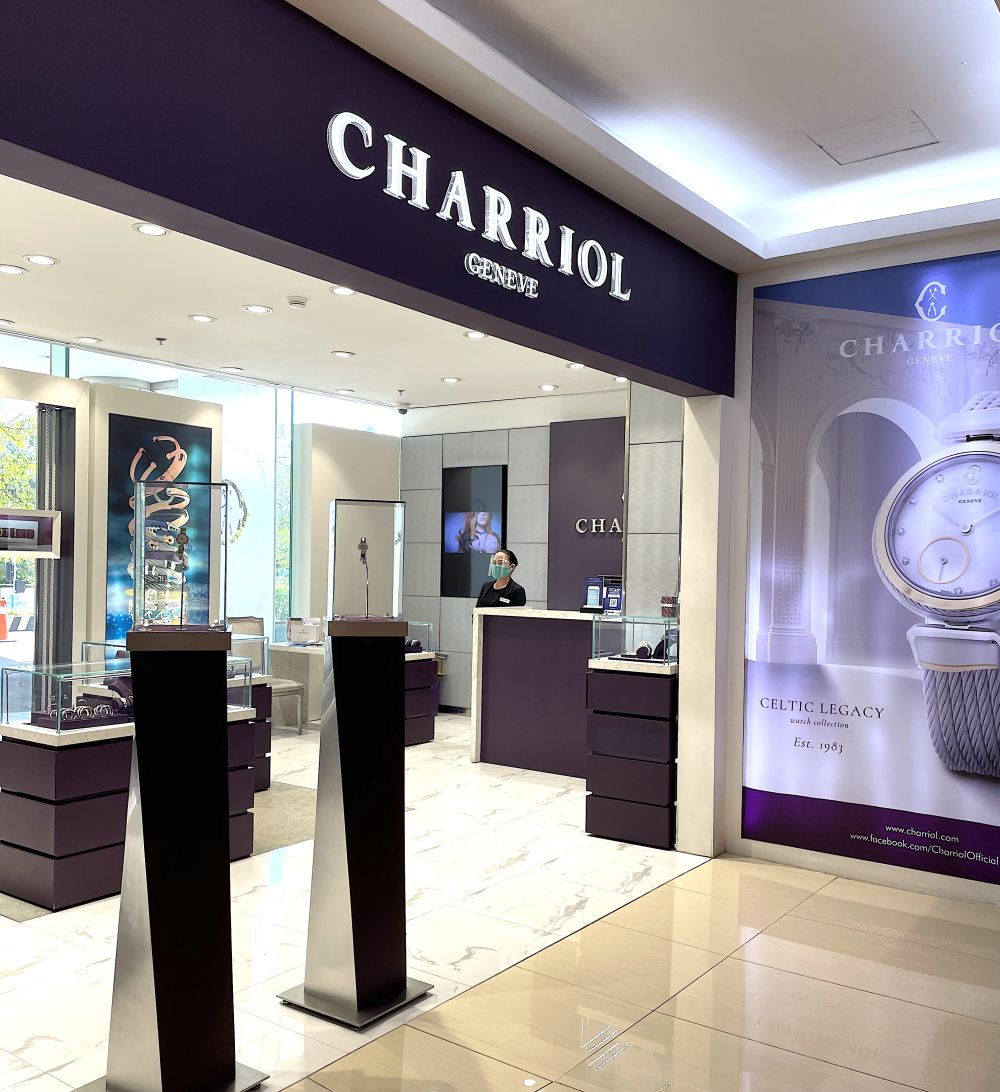 The Charriol boutique inside Rustans at Ayala Center Cebu