Rendezvous with Kim and Matteo
He likes to drive fast. She is the girl-next-door. With a TV series in the making, the interstellar pop-culture pairing of Matteo Guidicelli and Kim Chiu makes for a perfect on-and-off camera rendezvous.
The Hyatt's Presidential Suite was draped in the almost blinding radiance of the five o'clock sun. The vast backdrop of a glistening Manila bay appeared through the panoramic glass wall, and a young man who we recognized as Matteo stood up.
The twenty-one-year old flashed his megawatt smile and extended his arm politely for a handshake. Yes, Matteo has all the makings of a matinee idol—the face, charm and undeniable mass appeal. It is no wonder that he has become a promising star of his generation—having appeared in some of ABS-CBN's most successful projects to date makes it harder to believe that his brush with show business only happened four years ago.
Speaking with an inviting yet ready confidence, Matteo explained how it all began, "I didn't expect myself to get into showbiz because I was racing karts." Although he would be too humble to admit, the name Matteo Guidicelli really first resounded as the young boy wonder that broke into the kart-racing arena. In his early years of racing he won two divisions making him "Karter of the Year" in the Philippine Karting Championships in 2005. "I used to fly to Manila from Cebu every weekend for races because all of them were here in Manila or abroad. Eventually, my parents decided to move here, then we started to look for sponsors for racing. That's when Penshoppe came in. It all started from there. I never thought I was going to be in billboards ever."
"I did my first photo shoot and I was so nervous that I couldn't move." He recalled that pro photographer Xander Angeles had such a hard time with him since he didn't know what to do and how to pose. "When I work with Xander now, we laugh about it all the time," he candidly shared.
With billboards lined along highways, Matteo's career kicked off and caught the attention of manager Jojie Dingcong, who decided to take him on board. At 16, Matteo tried his hand at acting. "At first, my parents didn't want me to do it and I didn't even know how to speak Tagalog. But I told them gamely, let's try it." Although show business had obviously grown on him, he had to take a short break from it to pursue his studies. He was attending college at Columbia University in Chicago: "My course was supposed to be for four years; I left after two. I realized that I wanted to be in showbiz so I came back home."
At this point in the interview, Matteo had to step out to try on a pair of jeans. He came back to the room and said, "It's too tight," while he checked himself out in the mirror. Then he looked at us and said with a naughty grin, "But I'm going to wear it anyway."
Energetic and good-natured, he continued where he left off, saying that he got back from the US the same day he had learned of a new project through his Star Magic co-managers, Johnny Manahan and Mariole Alberto, no less. This certain soap happened to be called Agua Bendita, which aired in February 2010 starring Andi Eigenmann.
"Agua Bendita was such a blessing as it put our names out there. Andi and I were both new, the show was number one and it got extended so many times. And because the show was such a hit, more projects came." Following the success of the show, Matteo recorded a single that was digitally released through starrecords.com and shot a movie called Catch Me I'm In Love with Sarah Geronimo, among others. "I consider myself fortunate to have worked with all these successful leading ladies—Maja Salvador, Andi, Sarah and Kim," he added.
With the quick spurt of his acting career, Matteo's parents, Gianluca and Glenna, see to it that they are around to guide and support Matteo as he braves the choppy waters of the industry. When it comes to their son's love life, though, everyone wants to hear what Mom has to say but her reply was a simple, "Whatever makes you happy…" Then she paused before adding, "but Mama knows best!" she chuckles.
By this time, Matteo's soon-to-be leading lady had already settled in by the adjacent room. Amidst the live chatter and the music permeating the atmosphere, she sat serenely yet distinctly on the make-up chair, a contrast to Matteo's more upbeat vibe.
Kim Chiu is a name that warrants no introductions, her endorsements alone make her one of the most visible stars out there. She fascinates many with her shy demeanor and equal parts sexy and mystery. We watched how the make-up transformed Kim's naturally doll-like face into a screen siren.
It was only five years ago that Kim won over TV viewers' hearts to clinch the top spot of the 2006 Pinoy Big Brother: Teen Edition with would be, off-and-on screen romance Gerald Anderson in third place. Today, she is one of the brightest stars in the movie and TV arena, having won the German Moreno Youth Achievement Award at the 57th FAMAS Awards and garnering nominations in various academy awards for her breakout performances in the movie, I Love You Goodbye, and the drama series, Kung Tayo'y Magkakalayo.
Because of her very solid fan base, Kim endorses several brands–from fashion to food, telecom to real estate. In a rare opportunity for a Chowking commercial, Kim was thrilled to be able to share the spotlight with her two sisters, Kam and Twinkle. She credits them as her role models and has picked up Twinkle's joie de vivre and Kam's determination along the way. Kim is very close to her family, but especially to her sisters (she also has two brothers), with whom she often goes on shopping sprees whenever they visit from Cebu.
As the proud "ate" and eldest of the brood, Kam shared with us, "In Cebu, Kim's simple joys were going to mass in Santo Rosario and being "cashier" to her aunts store. She was very shy growing up, we really didn't expect her to become such a talented actress." Kim herself said with an almost nostalgic air when asked how she feels about what she has attained: "Until now, it's something I still find hard to believe. One day, I was just joining a reality TV show and the next thing I know, I am able to do all these other things. Thankfully, my projects have been successful. And I'm still here, and it feels good to be in a place I never would have dreamed to be in."
But if fame has a price, Kim has paid her full share. Last year proved to be chaotic and painful for her, as the simple Cebuana was caught in a supposed "love triangle" that left the unstoppable Kimerald phenomenon to a screeching halt and Kim crying on national television. Although it was painful for her to watch from the sidelines, protective sister Kam had this to say about her little sister and her love life, " She is wiser now. She has learned from everything she has been through."
COALESCENCE
But Kim seems to be above the speculations and is obviously excited about her upcoming project. The much anticipated Binondo Girl, is a teleserye where Kim likens her character to Disney's Mulan: "Funny, and family-loving". She stars with fellow Cebuano Matteo Guidicelli as one of her three leading men (the other being Xian Lim and Jolo Revilla).
It is not the first time, either, that Matteo and Kim will be working together. Matteo's first acting project, a sitcom called Go Kada Go in 2007, also featured Kim Chiu who was fresh off her Pinoy Big Brother victory. It only took a few more years before they were reunited by a fortuitous turn of events, both of them now fully invested in their acting profession.
Unknown to most hotel guests, two of the most recognizable faces on TV passed through the premises unnoticed, from the Presidential Suite on the twelfth floor towards the plush quarters of the Music Bar downstairs where we would have our shoot. Surrounded by the curious silence of onlookers who were part of Kim's and Matteo's entourage, the photo shoot commenced.
Kim's slender frame transitioned fluidly as she commanded emotions and movement—be it a charming smile, a sharp gaze, or playful girlishness. She made it all look so easy as members of the crew watched intently.
When asked about co-star Matteo, Kim said, "These last few days of the
workshops were fun. Because he's also from Cebu, we naturally talk in
Cebuano, we joke in Cebuano. Some things are just funnier in your native tongue." And Matteo's take on Kim? "When I first met her, I saw this skinny, talkative and funny Chinese girl but look at her now. She's very beautiful and has grown up a lot."
Of their hometown, the young pop princess misses many things. "Of course there are my friends and former classmates. And then there's the food—Larsian's barbeque, Cebu lechon, mangoes, rosquillos, and of course her grandma's Lumpia Chai home-cooked, the chinese way. Kim is very close to her grandma and until now, Kim stays with her in their home when she visits.
Both agree that leading their independent lifestyle in Manila differs greatly from the laidback pace of Cebu. As for Matteo, he said, "Whenever I'm in Cebu I make it a point to see my friends and of course, family."
He continued to compare his new base and his hometown: "When I'm in Manila, I'm working, and running everywhere, then there's the traffic. But when I'm in Cebu I can relax. Sometimes I don't even have to know what time it is and just go to the beach. Cebu is really like that for me."
Nestled on a love seat, Kim showed the first sign of exhaustion, and the more playful yet wholesome Matteo got her guard down when he grazed her face with his hand and made her laugh at a joke that only they could hear. Click, went lensman Paolo Pineda's camera. We knew we had it. With this sort of unrehearsed chemistry, it is only a matter of time before Binondo Girl spells another prime time TV hit with both stars shining even brighter.
sittings editor KATSY BORROMEO art styling MIKEY SANCHEZ fashion assistants KARLA YNZON, ALYANNA GERONA, ANDRE MARCHADESCH hair and make-up HAIDEE FERNANDEZ photography PAOLO PINEDA locale THE MUSIC BAR OF THE HYATT HOTEL AND CASINO
Congratulations to Our New DOT Secretary! The Story of Cebu's Power Couple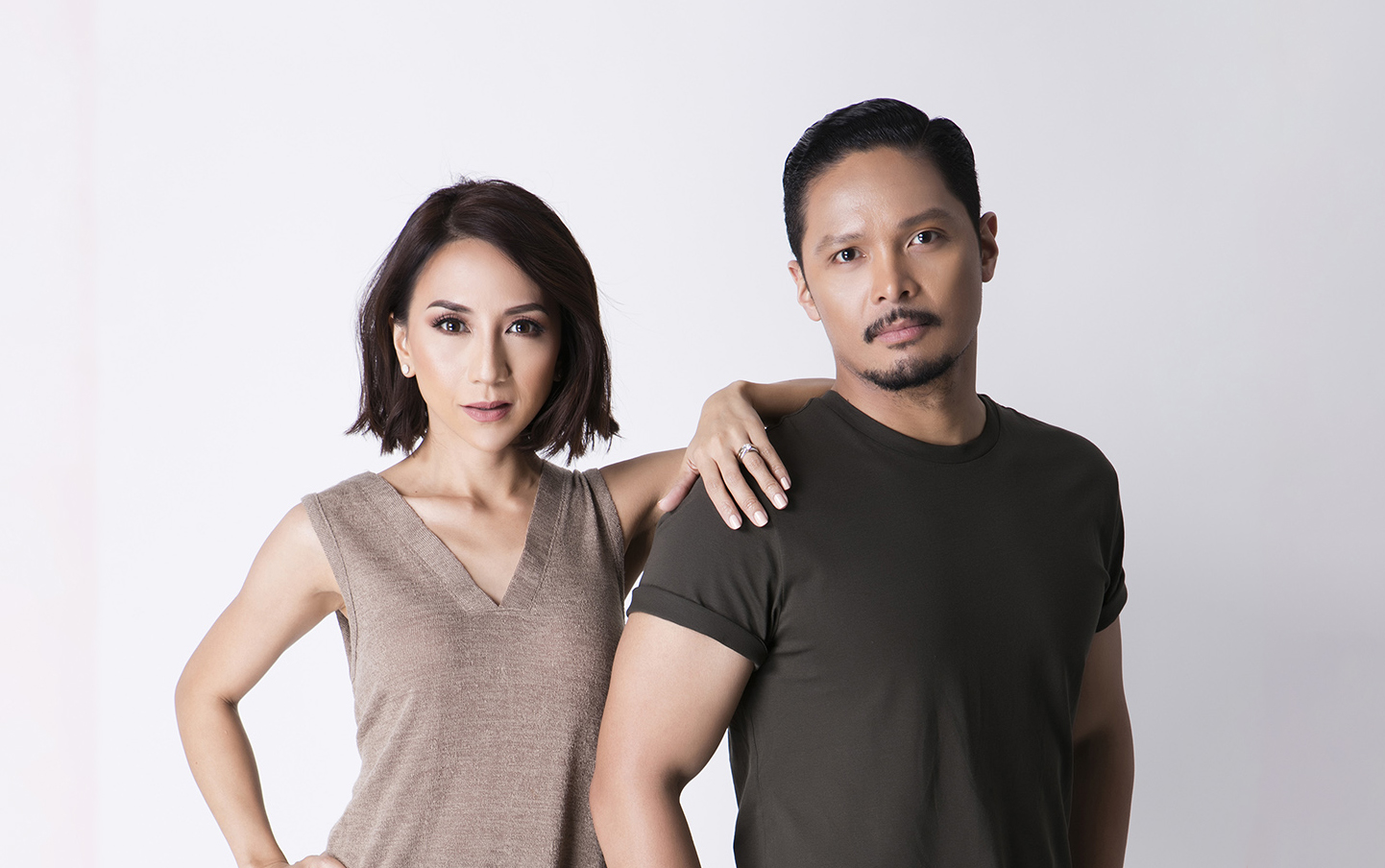 Congratulations to Our New DOT Secretary!
The Story of Cebu's New Power Couple
Whether it's spearheading progressive efforts in Liloan or spending weekends with their kids, Christina and Duke Frasco do things as a team. On their ninth year as a wedded couple, they share a side of themselves we haven't seen before.
Republished  from Zee's Digital Issue dated January 2018
by Gia Mayola photography Dan Douglas Ong sittings editor Shari Quimbo hair and makeup Arnauld stylist Vanessa East
Despite it being a day for family, Christina and Duke Frasco gamely accepted our Sunday-scheduled photo shoot. Not that they had any choice, considering that most days found their schedules fully packed.
The dynamic couple is hard to pin down for a reason. Christina is the mayor of Liloan, a first-class municipality in Cebu. On the other hand, Duke was appointed Cebu Port Authority Commissioner by President Rodrigo Duterte just last year, willingly giving up his position as Liloan's vice-mayor alongside his wife. While they have a lot on their plate because of work, having three young children is an added responsibility.
PUBLIC SERVANTS
Driven by her administration's goals for sustainable and inclusive development, Christina has introduced various innovations to public leadership, focusing on stakeholder participation in community governance and equitable access to government service.
She established the Liloan Community Action for Reforestation and Environmental Sustainability (LILOAN CARES), which brings community stakeholders together to periodically engage in environment programs. She also put up a Green Points System, which grants incentives to businesses that implement environment-friendly measures. Additionally, she has introduced an engaging approach to recycling in schools, and prohibits the use of plastics on certain days of the week. She has also founded Operation Second Chance providing rehabilitation and livelihood to drug surrenderees, and the Liloan Leading Empowered Action Against Drugs Summit (LILOAN LEADS), among many others.
On his end, Duke is a dynamic and engaging leader who thrives under pressure and focuses on realizing long-term goals and sustainable development. His governance has garnered him multiple awards—The Outstanding Young Men (TOYM) of the Philippines Award 2014 for Public Administration, from the Junior Chamber International (JCI), Inc. and the Gerry Roxas Foundation.
With his first two terms as mayor, Liloan elevated from a third-class municipality to a first-class one. He boldly spearheaded a comprehensive overhaul of the municipal tax code, and the modernization of local business processes.
THE LOVE OF LILOAN
Goal-driven and full of ideals, the couple has helped develop Liloan into what it is today. The municipality is one of the most progressive in Cebu, even establishing the Liloan Lesbian Gay Bisexual Transgender (LGBT) Federation during Christina's term, the first in the country spearheaded by a local government unit. Liloan prides itself in having the first LGU-established gender-neutral public restroom in the country.
"Our dream is to become a city," Christina divulges. She envisions Liloan as an ideal place to live, study, work and invest. "In preparation for that, we are focusing on improving public infrastructure, opening up and improving road networks, and ensuring strict compliance with our Zoning Ordinance and Comprehensive Land Use Plans to ensure that development is regulated, deliberate and sustainable."
This year, Liloan is launching tour packages that will feature its cottage industries and various tourist sites. Health services are being professionalized, scholarship programs expanded, and more investments channeled into its law enforcement and disaster response programs.
"We are also enhancing our community governance programs focused on protecting the environment, providing economic opportunities through livelihood, and reaching out to all sectors and stakeholders by incentivizing participation and compliance with our laws and regulations," Christina adds.
Duke shares that every now and then, he offers input to his wife. "I advice Christina on various matters, especially regarding the projects started during my term, such as our scholarship program and purok system," he says. "Being the party chairman of our local political party, I am also in continued contact with our local leaders."
THE PORT AUTHORITY
Beyond Liloan, Duke is enjoying his new position. "Since the thrust of the Cebu Port Authority spans the entire Province of Cebu, I am grateful to have the opportunity to contribute to improving the transport of people and goods throughout Cebu, through the continued improvement of existing ports and establishment of new ports."
New ports, such as the plans of moving the Cebu International Port north, off the coasts of Consolacion and Liloan to decongest the city. 
"A port is always a welcome development considering it will further boost the economy of Liloan and Consolacion, and the entire Northern Cebu," Duke says. "It provides livelihood opportunities for our people, which are relevant factors for cityhood. Moreover, the more ports, international or domestic, that we develop here, the better it will be for the people of Cebu."
The addition of more ports will complement the project he has been working on the past year, the ferry boat system. He laments the terrible traffic that Cebuanos experience each day, comparing the travel time it takes from Liloan to Cebu City ten years ago and now. The ferry boat system includes developing ports in strategic locations in the Province of Cebu, connecting ferries or boats that can accommodate 80 to 200 people per boat. That includes room for motorcycles and possibly vehicles.
Duke expects this to be a game changer for the Cebuano. "Hopefully, it will relieve us of the stress and frustration we experience each day going through Cebu traffic," he says. "I can just imagine our fellow Cebuanos feeling relaxed on a boat, feeling the sun and sea breeze on their faces, as opposed to the honking of horns and uneasiness of sitting in a PUJ or in your vehicles, not knowing whether they will arrive on time at their destination."
Aside from his work with the Cebu Port Authority, Duke is also involved with his family's business Titay's as the Chief Financial Officer, and as a member of the Board of Directors. 
A GREAT PAIR
It's evident that the two make a great pair. They met back in June 2007 at Gwendolyn Garcia's—Christina's mother—inauguration as the re-elected Governor of Cebu. Duke was among the officials invited to attend, having just been elected into his first term as the Mayor of Liloan. Christina had just recently passed the bar exams and became a lawyer.
"I suppose you could say that we met at a time when both of us were at a turning point in our lives," Christina recalls. "It is a blessing that our paths crossed at a time that it did. I was taken by Duke's charisma. To me, he exuded kindness and humility. Of course, bonus sad gyud na guapo kaayo siya (it's a bonus that he's so handsome)!"
"I thought she was beautiful, elegant and well-spoken," Duke adds. "When we were introduced, I was speechless!"
They're naturals in front of the camera, effortlessly settling into the poses the photographer asks them to do. At one point, they're locked in an intimate embrace and looking into each others' eyes. Duke sweeps in for a kiss that makes everyone in the studio coo.
"I couldn't help it," Duke defends himself with a laugh, holding Christina closer as she giggles.
"He can't resist me," she tells us with raised eyebrows.
FAMILY TIES
The couple comes from political families, and it's interesting to note that neither of the two had initial plans of running 
for office. Duke was in the audit and finance industry in the US, working for global consulting firm Protiviti right after finishing his double degree in Business Administration (Finance and Business Law) and Accounting at the Loyola Marymount University in Los Angeles.
"I had no plans at all," Duke admits. "My father, who had been Mayor then Vice-Mayor, died unexpectedly. The barangay captains of Liloan contacted me because the wanted to have me run for the position. It took me a couple of years before I finally decided to come home and run for Mayor in 2006."
On Christina's end, she had spent nearly ten years focused on building her career as a lawyer. After graduating from Ateneo Law, she practiced litigation, international arbitration and corporate law with one of the top-tier law firms in the Philippines, Romulo Mabanta Buenaventura Sayoc & Delos Angeles, being the head of its Cebu office.
"I knew that I wanted to make something of myself out of my own achievements, outside of and away from politics," Christina shares. "I must say though that being exposed to public service at a young age led me to an inclination to help others. I always felt a sense of duty to my country, because that's what I saw in my family as I was growing up."
Despite initially having no plans to follow in their family's political path, they both express a deep appreciation and admiration for their respective families' contributions to Cebu. "He was Mayor of Liloan for close to a decade, but served Liloan all his life," Duke says about his father, the late Panphil B. Frasco or Dodong Daku. "He was a man of the people, and Liloanons still speak of his kindness and humility to this day. I also greatly admire my uncle Gerardo 'Dodong Gamay' Frasco, for his pragmatism and wisdom, which has guided our family to carrying on the Titay's legacy spanning 111 years."
"For me, they have set the bar to which I would like to contribute to Cebu as a Cebuano," Christina says of her own family. "For his statesmanship and brilliant legal mind, my grandfather, former Governor and Deputy Speaker Pablo P. Garcia. For her passion towards community development and social justice, my grandmother, the late Judge and Cebu CFI Community Cooperative founder Esperanza F. Garcia. For her great love for Cebu and legendary work ethic, my mom, former Governor Gwen F. Garcia."
NEW LEADERSHIP
As two young personalities in government, they hope to be able to empower people through education. For ten years now since Duke's first term and continuing though Christina's current term, they have a scholarship program that has benefitted over 6,000 students.
They believe that an educated population is an empowered population, capable of becoming financially independent and discerning in their choices. "For us, this is key to breaking out of the bonds of poverty and patronage," Christina affirms.
The Frascos hope to introduce innovations to governance, like reducing redundancies and bureaucracy through the use of technology, and being more connected and transparent through the use of social media. They also support the call for Federalism, believing that it will give local governments more leeway and funding in improving local infrastructure and creating more locally-relevant projects for the people.
Considering that standpoint, it's no surprise how vocal the couple has been in their support for the controversial President Rodrigo Duterte. "President Duterte has political will, and he is a law and order President," they say. "We believe that his extensive executive experience sets him apart as a leader because he knows the value of enforcing the law in order to have a stable society. At the same time, he recognizes the necessity of governing in a manner that is compassionate and responsive to the needs of the people."
In the face of many conflicting views toward the President's brand of leadership, both Duke and Christina acknowledge that opposition is necessary for a working democracy, but hope that Filipinos can come together and support his national agenda of building a stable and peaceful society. "We owe it to our country to set aside what divides us, and to unite behind our common goal of attaining a better life for our countrymen and for our children."
Aside from their daily responsibilities, the couple also fosters their own advocacies. With education being high on Duke's list of priorities, Christina also extends efforts for the empowerment of women and children. "The promotion of inclusive development as well—giving equitable opportunities to vulnerable sectors such as the LGBT and the youth," she adds.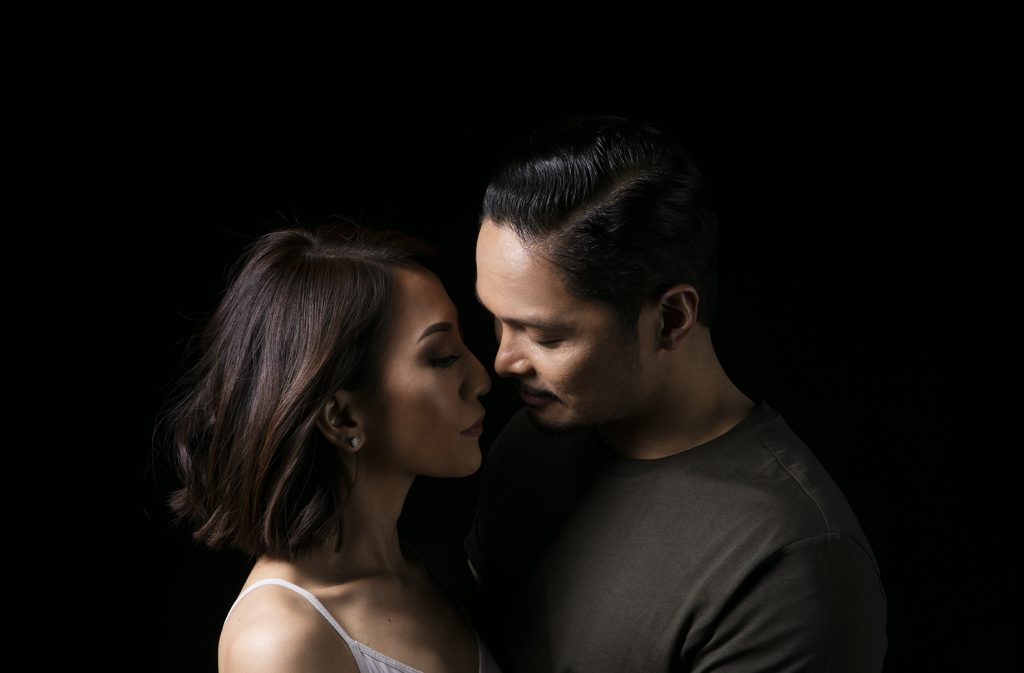 EVERYDAY LIFE
Being in the government means a lot of responsibility for the couple, and a typical day for them is being up 6:00 in the morning to have breakfast with their children before school, then going to their respective offices for work.
For Duke, work is either at the Cebu Port Authority to attend board meetings, or at their Frasco Group Office to attend to business matters. He also attends to pressing concerns in Liloan if need be, which shows how he is still dedicated to it even if he is no longer its Vice-Mayor.
Christina is either at the Municipal Hall to sign papers, attend meetings and meet constituents at the office, or scheduling visits to Liloan's barangays and puroks.
To keep from getting too stressed or burnt out, Duke says, "I go to the gym and I run. I also like to Netflix and chill."
Christina, on the other hand, makes time to paint and experiment with new dishes for Duke and their kids. She mentions that, if their schedules permit, they try to devote their weekends to their kids—watching movies, eating out, and traveling. "When Duke and I get home, we also make a conscious decision not to talk about work," she finishes.
A COUPLE AT WORK
While some people might find the idea of a married couple working together as a possible hindrance to getting things done, the Frascos think otherwise. To them, it is an advantage because their vision and values are aligned. "We are able to enjoy our victories together, and we're able to lift each other up in tough times, knowing that we will have each other's back," they share.
Duke and Christina are celebrating their ninth wedding anniversary this year, and it's no question that the romance is still very much alive between them. They share that their marriage is anchored on their love for each other, their love for their family, and their shared goals for the future.
At the same time, they emphasize that retaining a sense of individuality is also important, along with having a healthy respect for each other's differences. Compromise is key, and they constantly make sure to keep their values and goals in check, adjusting each other's expectations as necessary and working out their differences.
Considering all that Duke and Christina have accomplished at a young age, we had to ask if they had plans of running for higher office. "We have great plans for the future, not just for ourselves, but also for our family and for Liloan," they said. "As Cebuanos, we would like to continue to contribute to the development of Cebu. However, we also realize that ultimately, it is for the people to decide whether they would want us to continue to serve. As for the rest, it is in God's hands. So we are focused on doing as much as we can in the here and now, with the opportunities that we have been given, for which we feel very blessed."
Citizens of the World: CAMPAIGN 2KRAINE
Citizens of the World: CAMPAIGN 2KRAINE
By Eva Gullas
"We are all citizens of the world. What's good for you, must be good for all. If you are lost, share a plate with a stranger… you will find who you are."

-Jose Andres, renowned Spanish Chef and founder of World Central Kitchen
Where there are humanitarian disasters, you will find the volunteers of World Central Kitchen.  In their midst will be local chefs, most of them inspired by its iconic founder, celebrity chef José Andrés. Founded in the aftermath of the Haiti earthquake in  2010, World Central Kitchen established its "chef network," of global professional chefs. The vision was for a kind of "chefs without borders" program where volunteers would enact positive change by cooking using local knowledge and resources. Last year, they even came to the island of Siargao in response to an Instagram plea for help after typhoon Odette almost levelled this idyllic paradise. WCK sponsored 2 community kitchens for 2 months serving 250 to 500 meals per day in Siargao.
Chef José Andrés was born in Spain where he honed his culinary skills at the eponymous El Bulli under Ferran Adria. By the time he moved to the US in 1991, he was well on his way to being part of the celebrity chefs, with his Bazaar restaurant at the then SLS Hotel in Beverly Hills a favorite hang-out for Hollywood stars. Michelin stars and James Beard awards followed closely. These days though, Jose Andres spends his time in kitchens all over the world while his top rated chain of restaurants in the US continue to thrive. There's a Bazaar restaurant at Las Vegas and Miami, and if you happen to be in the area, check out their amazing servings – it's worth the splurge especially since it is owned by this great humanitarian!
With the Ukraine invasion delivered to us in sharp details tru social media and TV, it's hard to ignore. And so, it was a natural conversation to be able to do something about it even in a small way. On a full-moon evening a few days ago, joining us at a beachside home for dinner was Matthew Wood, the German singer guest of Miranda Konstantiniduo who is here for a few days to shoot his latest music video. Sated with a good meal by the sea, we idly discussed a fund raising event with Matthew. We have been so engrossed with local politics and a looming election in just 2 months, that it was refreshing to talk about something bigger than our small world. Butch Carungay, seated in front of me, took the idea to heart and by the following day, he had the graphics for the event, and a ready rolodex of possible donors for the silent auction. Getting on board the following night was Carlo Cordaro, who happily lent us the second level of Asmara Resort. To complement Matthew, Cebuana singer Doods Osmena also will belt out a few songs. An impressive list of items for the silent auction is being compiled by Butch, composed of overnight stays at top resorts, artworks and furniture pieces from named artists.  We will post a list on the day of event. 
It is sponsored by Zee Publications Inc., in our first foray after having been dormant during the pandemic and typhoon Odette. Zee will soon be launching a new artsy printed magazine called Eatz Cebu!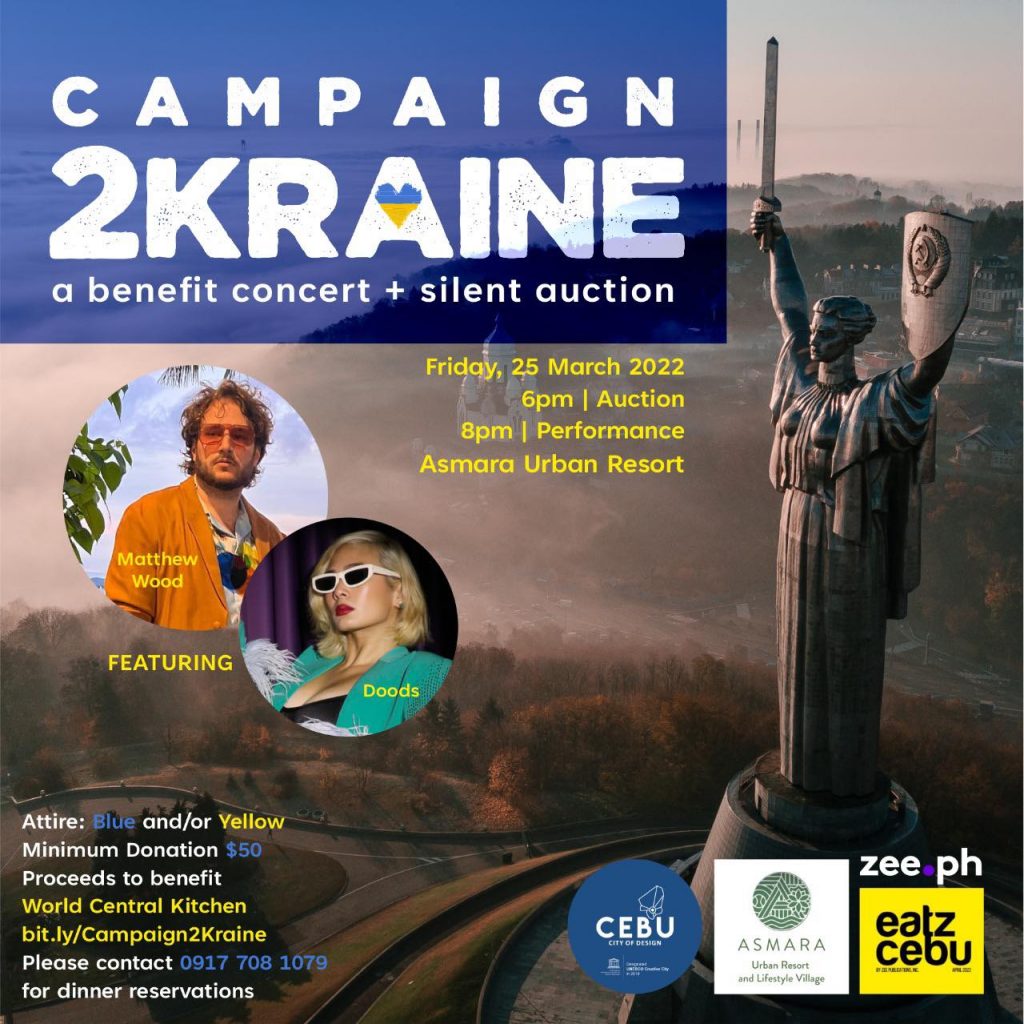 This Friday, March 25, at 6pm, we open the doors of Asmara Urban Resort (see map) for this fundraising where we hope you can join us by donating a minimum of $50 to the World Central Kitchen directly at https://wck.org/donate. It will be an evening of fun and fundraising, and entry is tru an email or digital receipt of your donation.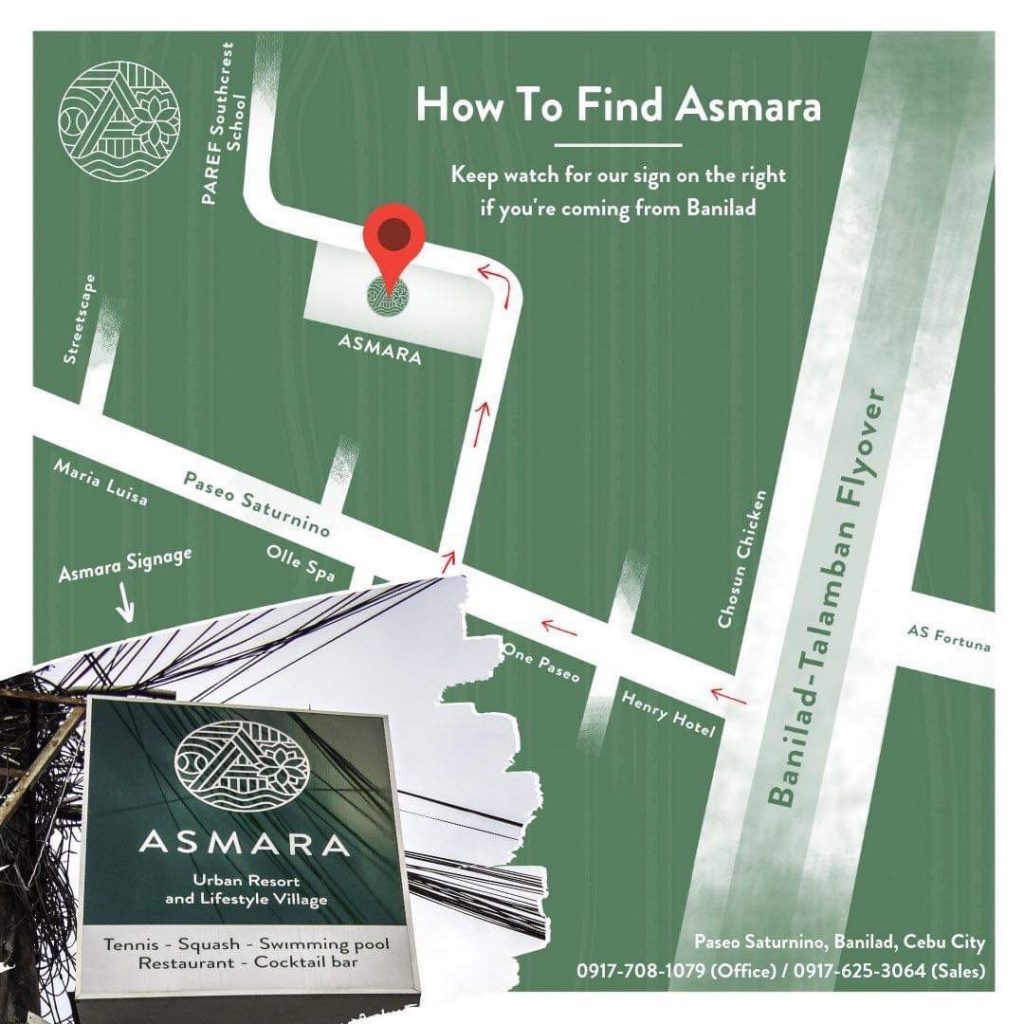 ***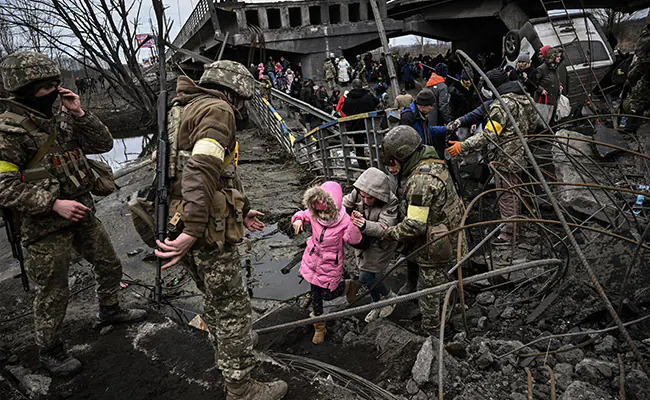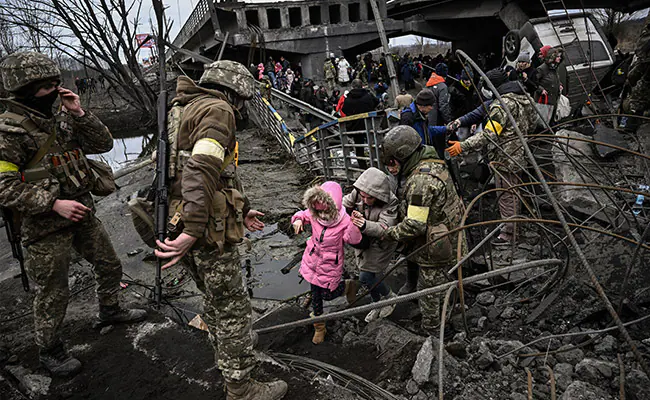 On February 24, 2022, Russia invaded Ukraine. By February 25, 2022, Chef José Andrés' World Central Kitchen (WCK) was on the ground serving free wholesome meals to those fleeing the violence. Chef Andrés and his volunteers have already served more than one million meals to Ukrainian refugees, from basements, train stations, and shelters. Still, cooking and distributing food in a war zone comes with unique challenges. "We began operations…over two weeks ago inside Lviv," says Andrés. "The last two days we saw some missiles falling down. So, the western side of Ukraine, that actually was a safe haven for many Ukrainians leaving war, is already kind of feeling like the war is getting closer." For Andrés, it's a humanitarian necessity and a call he answers. "The least we can do at World Central Kitchen is be next to them – making sure they will be fed every day."
SOURCE: MSNBC
What Makes an Empowered Woman? Let's take it from Megaworld Hotels and Resorts' Managing Director, Cleofe Albiso
What is an empowered woman made of? Managing Director Cleofe Albiso of Megaworld Hotels and Resorts, the Philippines' largest homegrown hospitality chain with 4,000 room keys and 11 hotels, composes her thoughts and shares that its grit, resilience, and love. 
Settling in on her new leadership role at the start of the new year, Albiso looks back even way before joining the organization during the last quarter of 2019 as its Group General Manager. It comes as a surprise when she shares that her years takes her back from being a pre-school teacher in Cebu using her degree in Bachelor of Science in Education major in mathematics finishing Magna Cum Laude. After a while, and with doors opening for her to join the corporate world, she finds herself earning her years in sales and marketing where she has gathered decades worth of exemplary experience being part of the country's biggest telecommunications group and international hospitality brands. 
With the highs and blows of life and as well as business, she shares that "An empowered woman needs to have grit". The will to persevere and continue with passion has become her brand of leadership in serving not just clients and guests, but as well as taking care of the people she works with. Through her dedication, Albiso has since continued to climb the corporate ladder and was also recognized as the first Filipino General Manager of a Marriott International branded property in the country, the Courtyard by Marriott Iloilo that is also one of Megaworld Corporation's many other operated international hotels in the Philippines. 
Fast forward to today, she looks at the future with gratefulness as she embraces the opportunity to empower the lives of 2,000 employees present across 11 hotels and not to mention 3 more properties opening this year as well as in 2023. She shares that "My responsibility can only be best tackled by filling my heart with gratitude and keeping my purpose in close check when times get challenging." 
More than ever, she has come to understand that "Resilience is her way of life." She explains that challenges come and go along with every solution that solves each one of them. Safe to say, what she considers as the biggest one yet would have to be this pandemic.  Albiso hopes that after a two year pause and struggle of the industry "My constant prayer is for our fellow Filipinos to help us recover by patronizing homegrown brands for them to explore the Philippines and travel again." She said that in doing so "this will mean more jobs for the hospitality and tourism practitioners and boost confidence in the total industry to go back on full swing once again." 
Admittedly, despite being one of the industries at the frontline of the pandemic, she can still say that "The culture of appreciation in our very own organization has been better strengthened during these times".  The company lives by the Circle of Happiness. She explains that "Our organization operates with a culture that reminds us to love ourselves, our families, our work, our community with the love of God at the center of everything we do." This pandemic has better reminded them to strive to take care of the wholistic well-being of each employee from physical to emotional and even mental health.
On top of that, Albiso gathers that what allows them to thrive is their team's collective ability to take care of their key stakeholders, execute efforts geared towards sustaining the business, and making people stay and work passionately.  She further adds "We are a work in progress and there are many more business and service facets that we are focusing on improving" and humbly claims that "The best years for Megaworld Hotels and Resorts are yet to come."
When asked about what her best advice to fellow women would be as they reach for their dreams, she said "I only found genuine fulfillment when I started having a relationship with God.  It is only by accepting that we cannot do things by ourselves that we become dependent on our creator." According to her it is important "That we do not give credit to our talent, creativity and hard work (alone) but give glory to the one above us who have blessed us with all that."  
At present, their properties are continuously looking to hire qualified applicants for vacant positions in front office, security, information technology, food and beverage, sales & marketing, human resources and engineering for Belmont Hotel Manila and Savoy Hotel Manila within Newport City in Pasay across NAIA terminal 3, Kingsford Hotel Manila located in the Entertainment City of Paranaque, Hotel Lucky Chinatown in Binondo, Twin Lakes Hotel near Tagaytay, Eastwood Richmonde Hotel in Quezon City, Richmonde Hotel Ortigas in Pasig, Richmonde Hotel Iloilo in Iloilo Business Park of Iloilo City, Belmont Hotel Boracay or Savoy Hotel Boracay located at the Newcoast Boracay and Savoy Hotel Mactan Newtown in Cebu.
For more information about how you can be part of Megaworld Hotels and Resorts, kindly email careers@megaworldhotels.com. You may also inquire about your future stays through salesinquiry@megaworldhotels.com or connect with them through any of Megaworld Hotels and Resorts' and its properties' social media pages.