Reasons Why We're Excited About Ayala Cebu's Reopening
We've been missing Ayala Cebu lately and when we found out that they'll finally reopen tomorrow, our excitement is just too much to contain. In fact, we can't wait to go back and go the places where we usually hang out, eat or shop. The Zee Lifestyle Team put up a list of places we might go to tomorrow:
BANAPPLE
"I certainly miss the delicious Banoffee Pie of Banapple and I can't wait to have a bite!" – Carlo, Assistant Editor
JAFAR'S SHAWARMA
"My boyfriend and I would sometimes have moments where we feel so stressed about work and everything in between. Every time that happens, we usually treat ourselves with Jafar's Shawarma and we certainly can't wait to eat there 'cause this past few days have been so hectic!" – Kyla, Editorial Assistant
THE TERRACES
"What I'm probably excited about is The Terraces' Garden. I go there to have a picnic and sometimes just to have time with myself. In fact, I'll chill there tomorrow after work." – TJ, Graphic Artist
STARBUCKS NEW WING
"When the fire broke out, it was a Friday night and it was supposed to be one of our Ayala Fridays where me and my friends get our usual caffeine boost at the Starbucks New Wing of Ayala. I just can't wait to go back there with my friends and do our usual routine of coffee breaks and chill." – Ansylle, Intern
RUSTAN'S SUPERMARKET
"I like cooking and when I look for ingredients to recipes I love, I always turn to Rustan's supermarket. They have what I need and more and I don't regret buying there at all." – Gia, Editorial Assistant
Honestly, we're just thankful Ayala Cebu is back because we empathize on the workers who have temporarily lost their jobs since the incident happened– and this reopening is good news for them too. So we think that's something people should be grateful for.


Hilarious Series ramps up with Season 2
These two comedy series are now airing their season 2 programs.  Highly acclaimed and are must-watch rib ticklers in our opinion.
Resident Alien 2: starring Allan Tudyk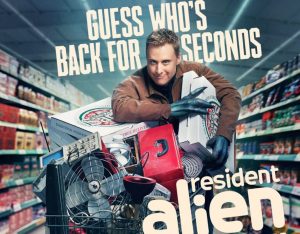 Space Force 2: starring Steve Carell