Mix and Match Your Orders as GrabKitchen Officially Launches in Cebu!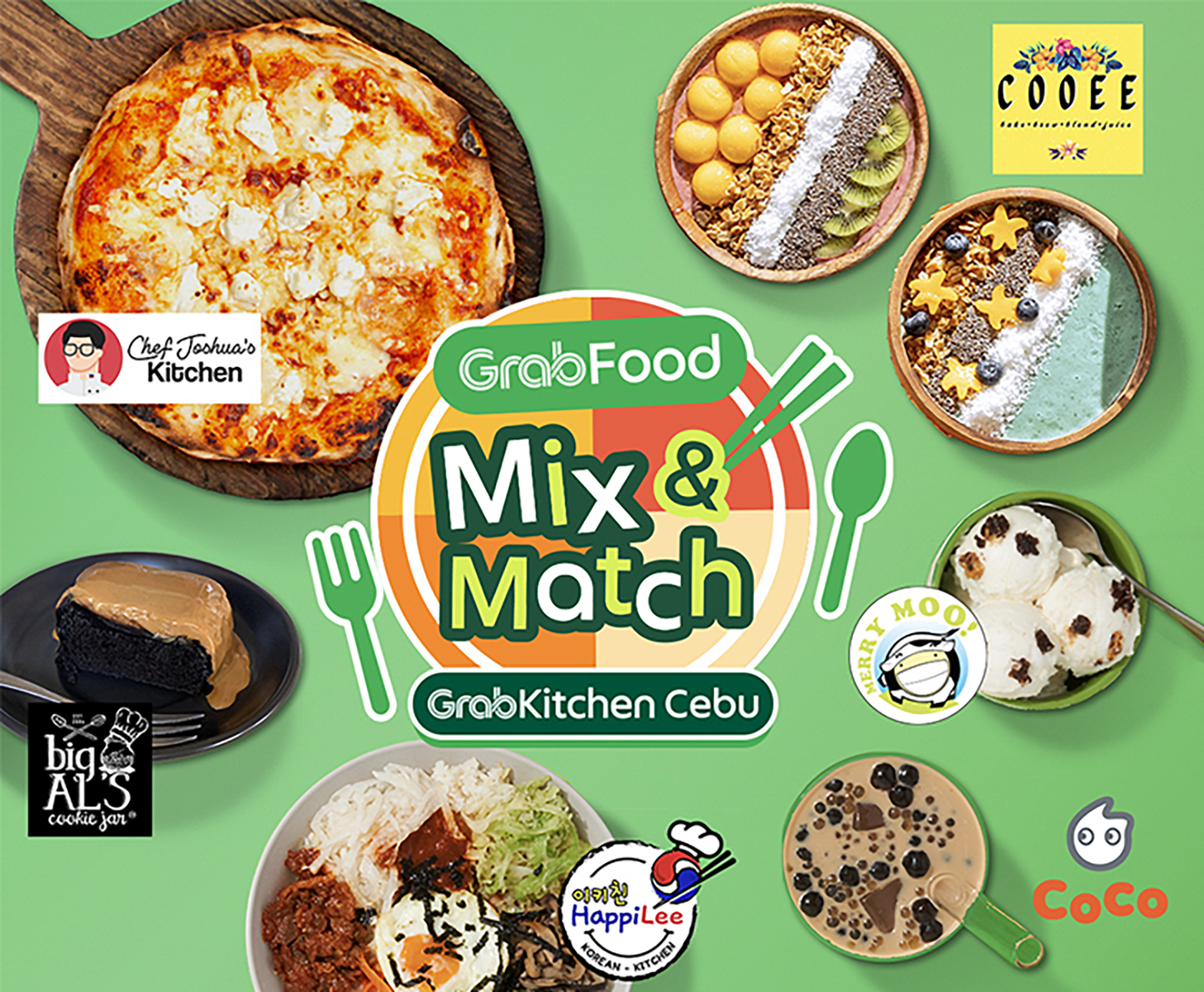 Grab Philippines officially launches GrabKitchen in Cebu – the first cloud kitchen of the leading super app outside of Luzon. GrabKitchen Cebu will serve as a central commissary of an inaugural slate of six restaurants: Happilee Korean Kitchen, CoCo, Big Al's Cookie Jar, and Merry Moo; and homegrown Cebuano restaurants Chef Joshua's Kitchen and Cooee Cafe. In celebration of the launch, consumers can use promo code HELLOGKCEBU for every order from GrabKitchen Cebu merchants until March 31 to avail of a discount!
As a central commissary of multiple restaurants, GrabKitchen Cebu allows consumers to better mix and match various food items from its merchants. Through this, Cebuanos can enjoy a wider food selection with just one delivery fee. Cebuanos can now also take delight in the offerings of food brands that are entering the Cebu market through GrabKitchen – such as Happilee Korean Kitchen, Big Al's Cookie Jar, and Merry Moo. With the launch of GrabKitchen Cebu, these restaurants will be more accessible across the province, even extending over to Mandaue City.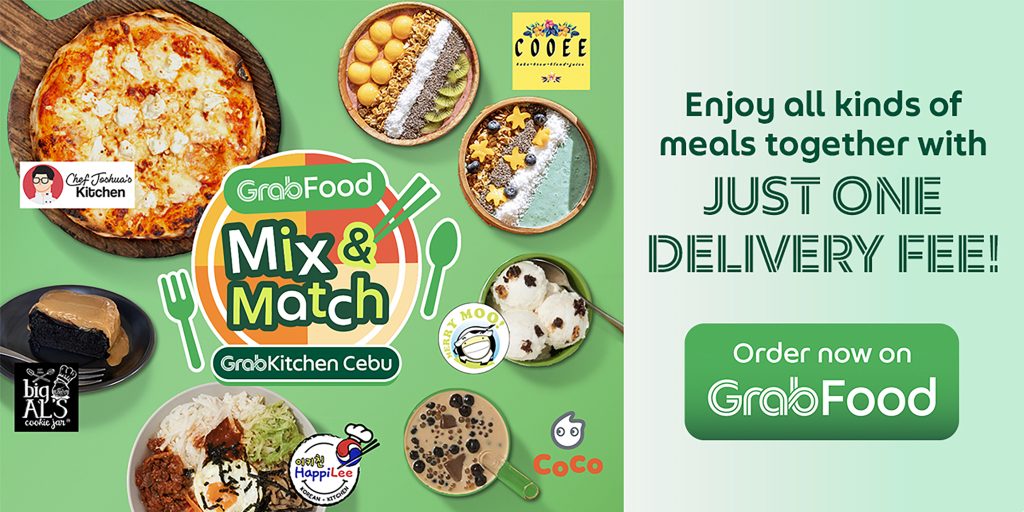 "We are truly excited to empower and enable more MSMEs to scale their businesses as we launch our first GrabKitchen in the Queen City of the South. GrabKitchen is designed to be a vehicle for smaller local businesses to scale and expand their presence across regions without having to break the bank for facilities and equipment. With our cloud kitchen, we are optimistic that Cebu culinary offerings will be enjoyed by more Filipinos both in the province and in other areas across the Philippines", Grab Philippines Director for Deliveries Greg Camacho shares.
GrabKitchen offers much-needed kitchen facilities to food and beverage MSMEs, helping them scale their business and expand their presence via GrabFood. This also gives MSMEs the opportunity to expand their channels for deliveries, thus making them more resilient amid the ever-changing dining behavior of consumers.
GrabKitchen Cebu is set to grow its roster of restaurants and food brands in the next few months to include more homegrown brands and introduce more food concepts from other regions.
GrabKitchen Cebu's Happilee, CoCo, Big Al's Cookie Jar, Merry Moo, Chef Joshua's Kitchen and Cooee Cafe are now open for both delivery and Self Pick-Up via GrabFood! Experience the convenience of the mix-and-match feature when you download the Grab app on Google Play Store or the Apple App Store. Be sure to follow Grab on Facebook and Instagram to keep posted on updates.
Grab is Southeast Asia's leading superapp based on GMV in 2021 in each of food deliveries, mobility and the e-wallets segment of financial services, according to Euromonitor. Grab operates across the deliveries, mobility and digital financial services sectors in 480 cities in eight countries in the Southeast Asia region – Cambodia, Indonesia, Malaysia, Myanmar, the Philippines, Singapore, Thailand and Vietnam.
A Quick Chat with Radisson Blu Cebu's Kitchen Team at Feria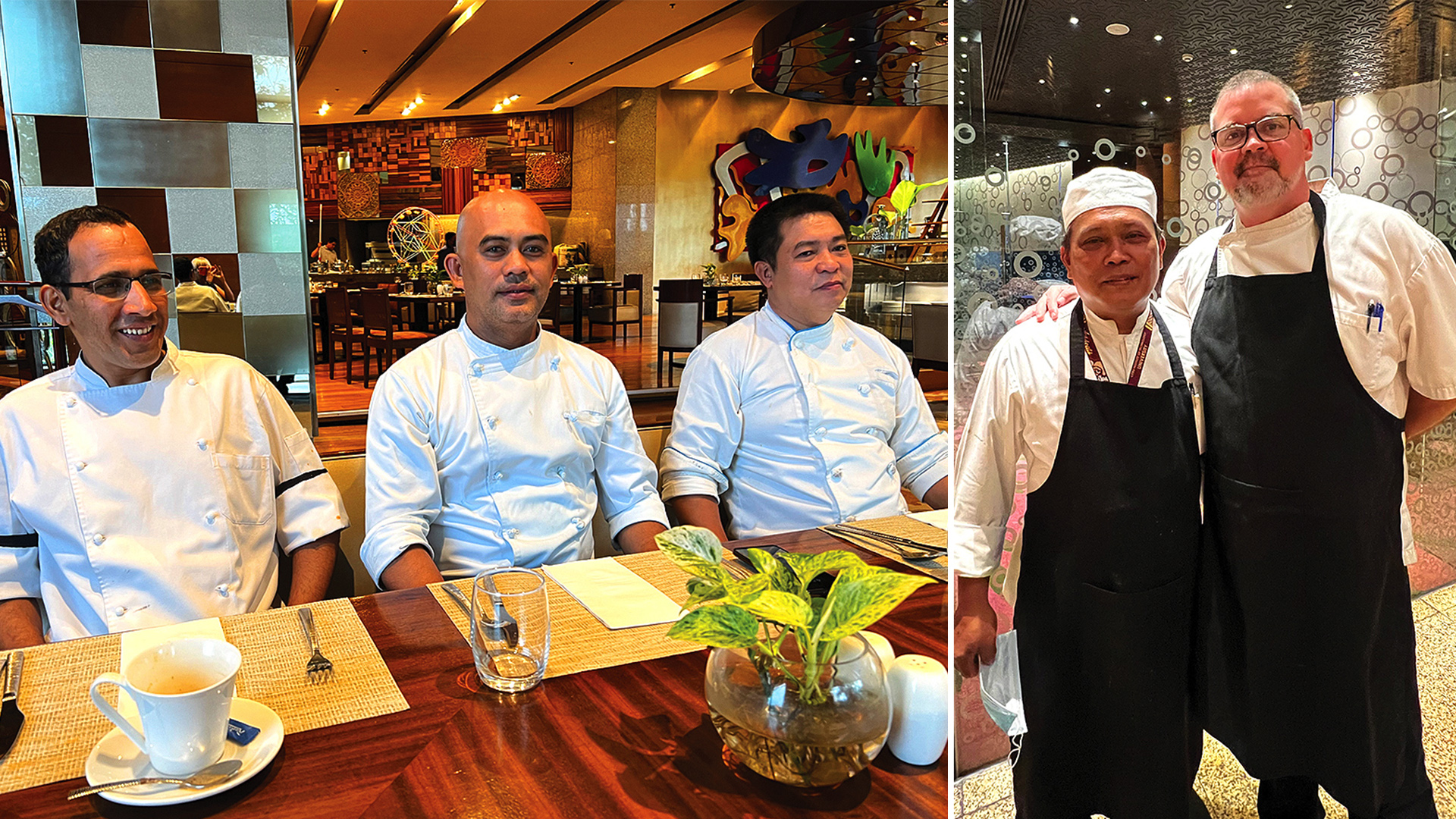 by MINERVA BC NEWMAN
Cebu is now abuzz with so many activities and events from last month's Cebu Business Month (CBM) and the Cebu Food and Wine Festival (CFWF) where the food and culinary industry and the hospitality sector are in focus as two of the key developments and growths in the tourism economy.
Radisson Blu Cebu, located at Serging Osmeña Blvd., corner Pope John Paul II Ave. in Cebu City is an imposing hotel building across SM City Mabolo where comfort, unparalleled service and close attention to detail are described as the Radisson Blu Cebu experience.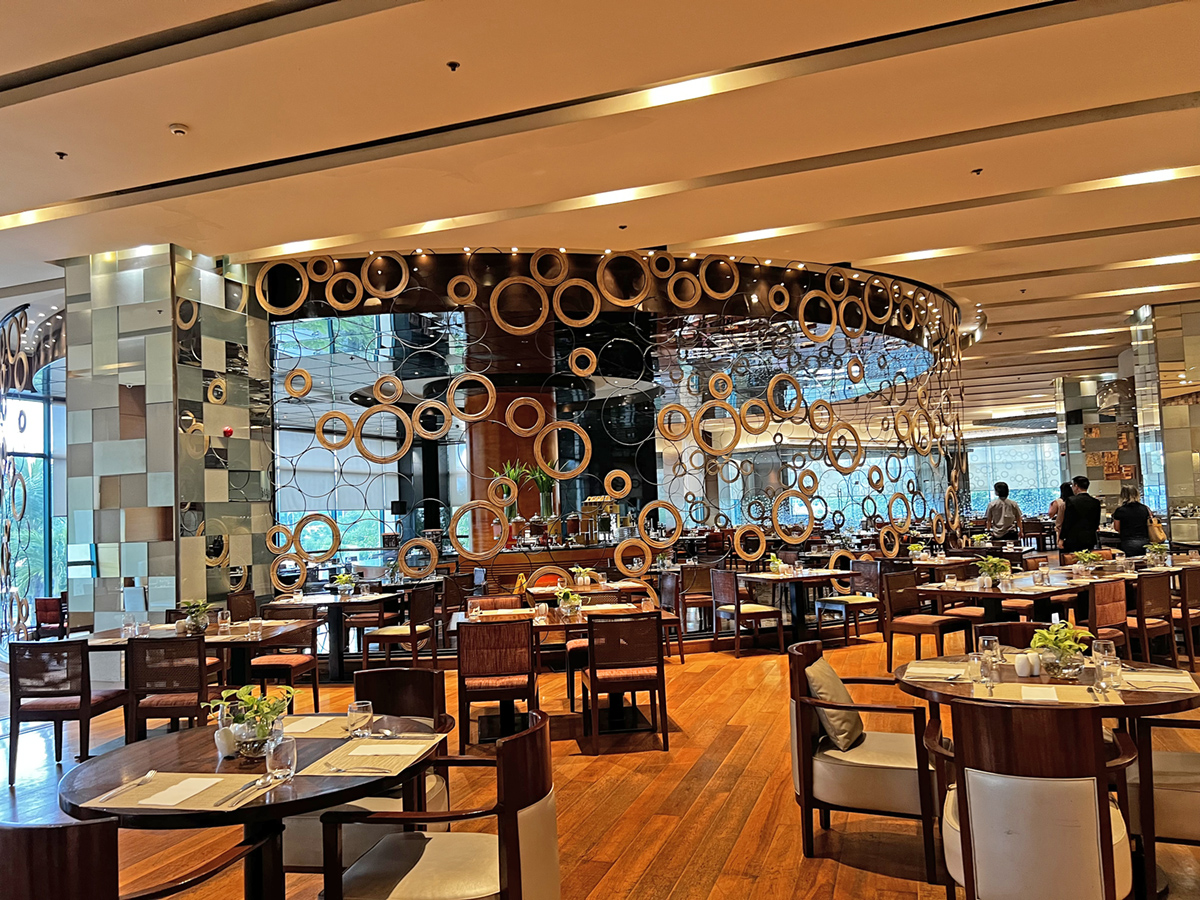 What catches this writer's attention is the hotel's Feria Restaurant, the Lobby Bar and the Pool Bar. Many of my friends here and abroad have shared with me their food and wine dining experience while at Radisson Blu Cebu. I decided to visit and try the buffet spread at Feria and ended up chatting with the chefs, the kitchen team behind Feria's sumptuous menus and dishes every day.
This writer had a chance to chat with Radisson Blu Cebu's kitchen team headed by Chef Nicholas van Riemsdijk, Radisson Blu Cebu's Executive Chef. While last month's CFWF festival highlighted the various culinary experiences of more than 20 national chefs, Chef Nick wanted to emphasize Radisson Blu Cebu's kitchen team that consists of 8-10 Indian, Japanese, Filipino and Mediterranean chefs that collaborated and assembled Feria Restaurant's spread and menus at the Lobby and Pool Bars.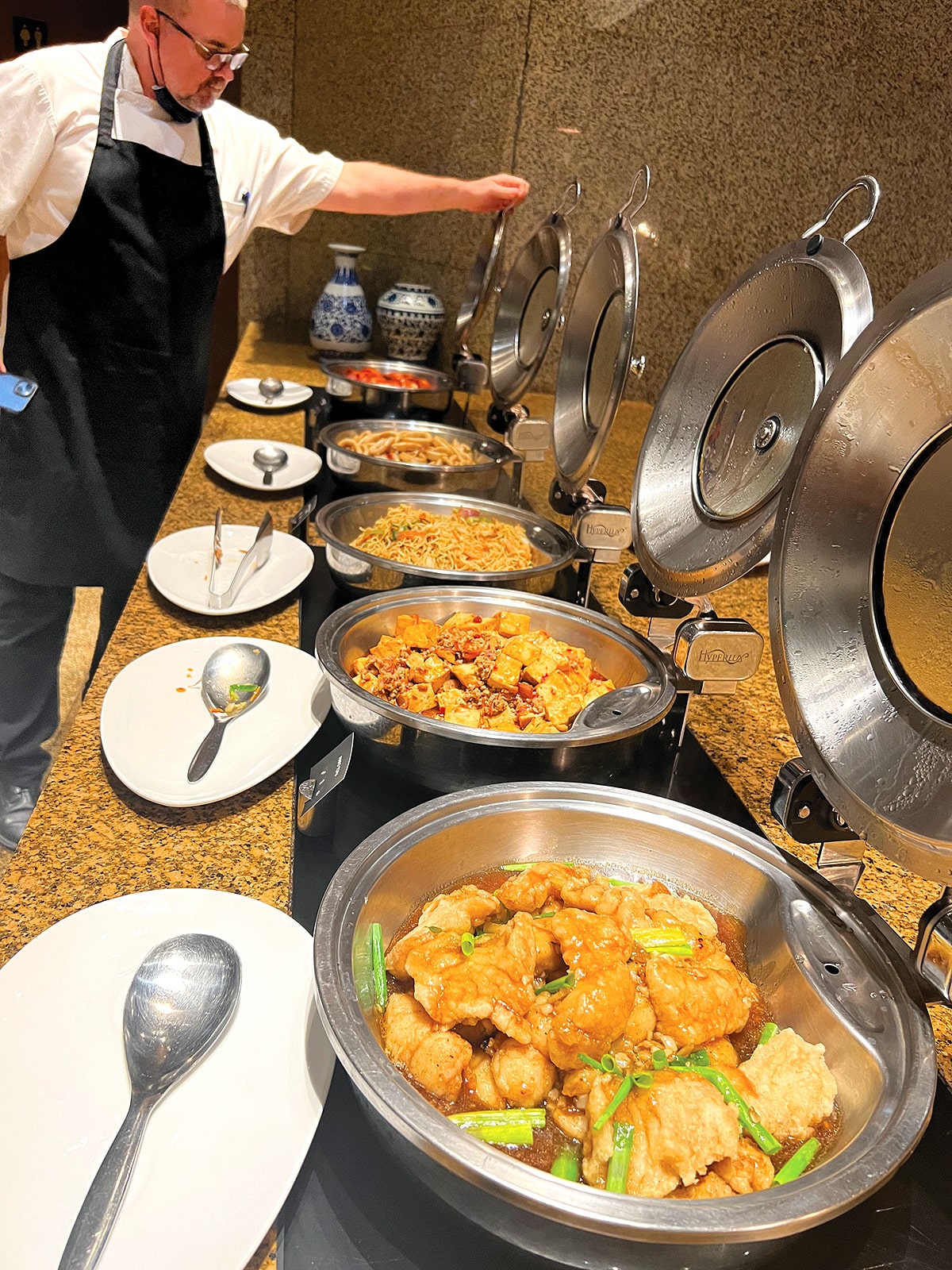 "Radisson Blu Cebu's Feria is a popular buffet place in Cebu City and I am very proud of my team whipping up authentic food with all our hearts. I want my Team to be in the spotlight for what they're doing in the kitchen. You see a beautiful buffet arrangement everyday at Feria and that is because of the hard work of my chefs," Chef Nick told this writer.
During the Cebu Food and Wine Festival, Feria concentrated on local Filipino buffet cuisine because last year, the restaurant had 280 covers in full buffet. "This year, we intended to put out brand new local Cebuano and Pinoy dishes in our buffet to support the CFWF and we wanted to surpass last year's covers," Chef Nick added.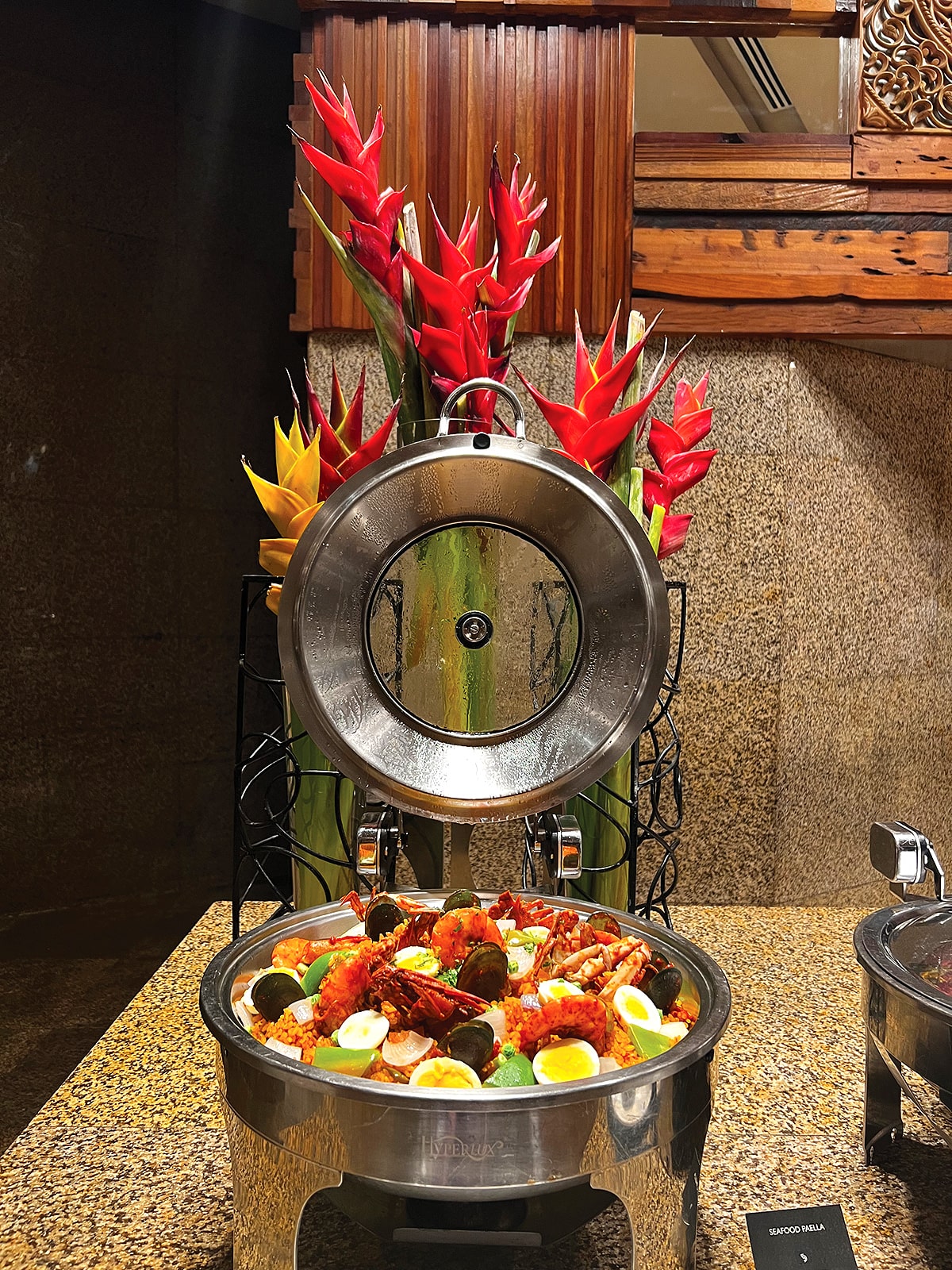 Everyday is a different buffet here at Feria, Chef Nick said that the team creates menus based on the best available products and as much as local products; sourced out from local suppliers and farms to support local as much as possible, as responsible business ethics.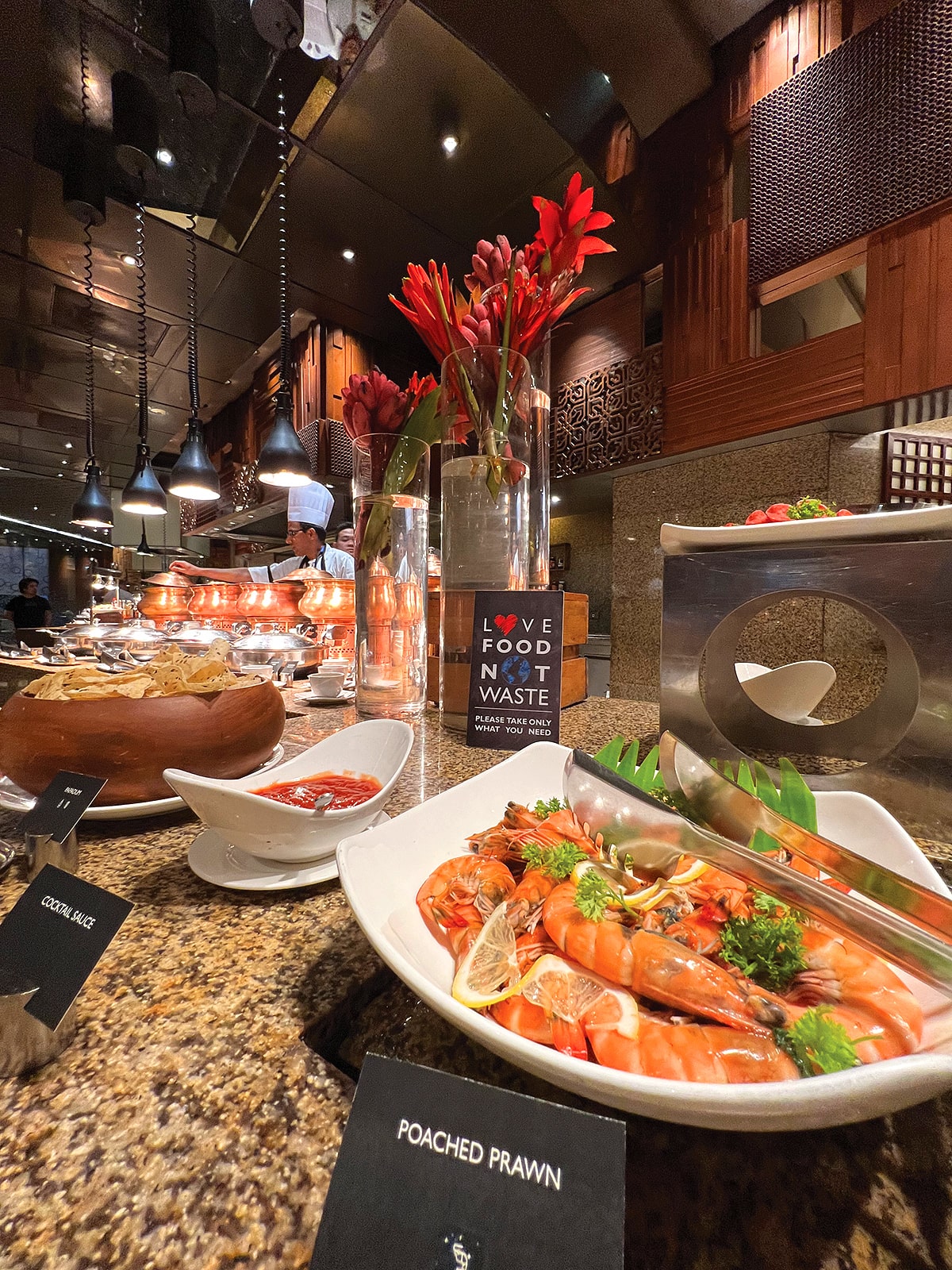 "We, my team puts out authentic food each time. The by-word at the kitchen and among the chefs is consistency in tastes of the various menus we put out, because consistency means quality and respect of food and cuisine in the world.  As chefs, we love food and that is true to our profession," Chef Nick smiled.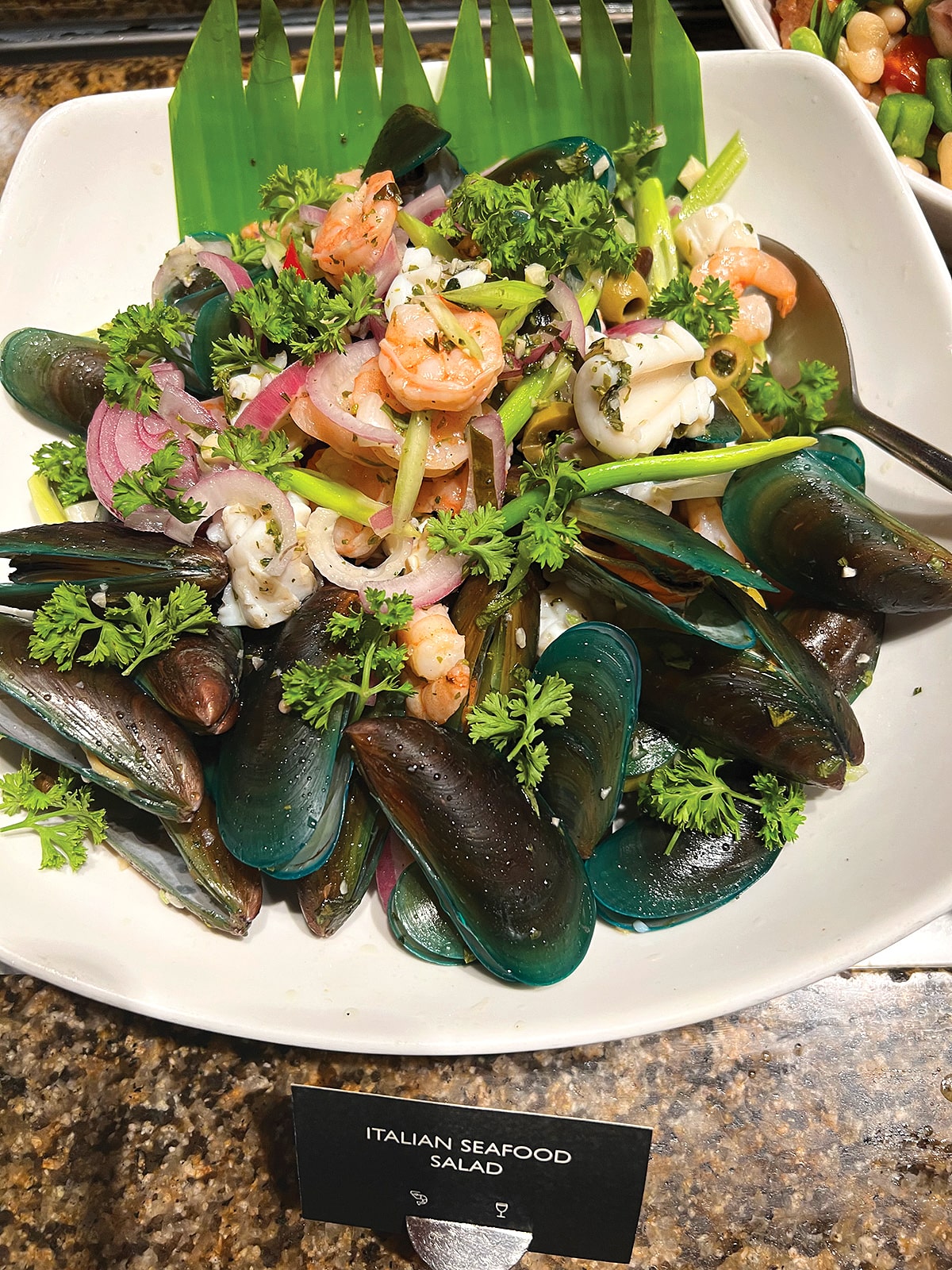 According to Chef Nick, the chefs sit as a team to come up with the daily themed menus; changing recipe's new things for Cebu, what's here, what's not and what's to improve.  Whatever he brings to his team, they learn and they are continuously working, discussing all the time and it's always a working process, Chef Nick said.
Radisson Blu Cebu's Feria buffet
Every day is a different buffet at Feria. Feria's daily themed highlights to accompany its signature international staples of Filipino, Chinese, Indian, Japanese, and Mediterranean fare:
Mondays are American Grill and BBQ buffet: A homage to the beloved Texas BBQ, plus American classics
Tuesdays are Asian menus focusing on well-loved recipes from the East and Southeast Asian neighbors including Malaysian, Indonesian, Singaporean, and Korean dishes highlighting refreshingly spicy flavors
Wednesdays are European dishes with more on pastas, creamy soups, heavy meat dishes
Thursdays are Latin American, highlighting recipes from Mexico to Brazil with spicy flavors
Fridays are Seafood galore, finding ways to incorporate the fruits of the sea in pizzas, pasta, fried and grilled dishes
Saturdays are for Global street food, elevated versions of easy to eat comfort foods, but not just Filipino street food but also from around the world like noodles from hawker stalls of Singapore and Malaysia; fresh and filling Vietnamese and Thai recipes as well
Sundays are Filipino food. There's nothing like the familiar taste of home
Feria lunch is Php1,488 and dinner is Php1,688 while wine buffet also available at Php1,288 sold separately–just unlimited wine, red or white, the selection available in the buffet area and the servers will assist and can pour when requested.
Let's meet Radisson Blu's Chefs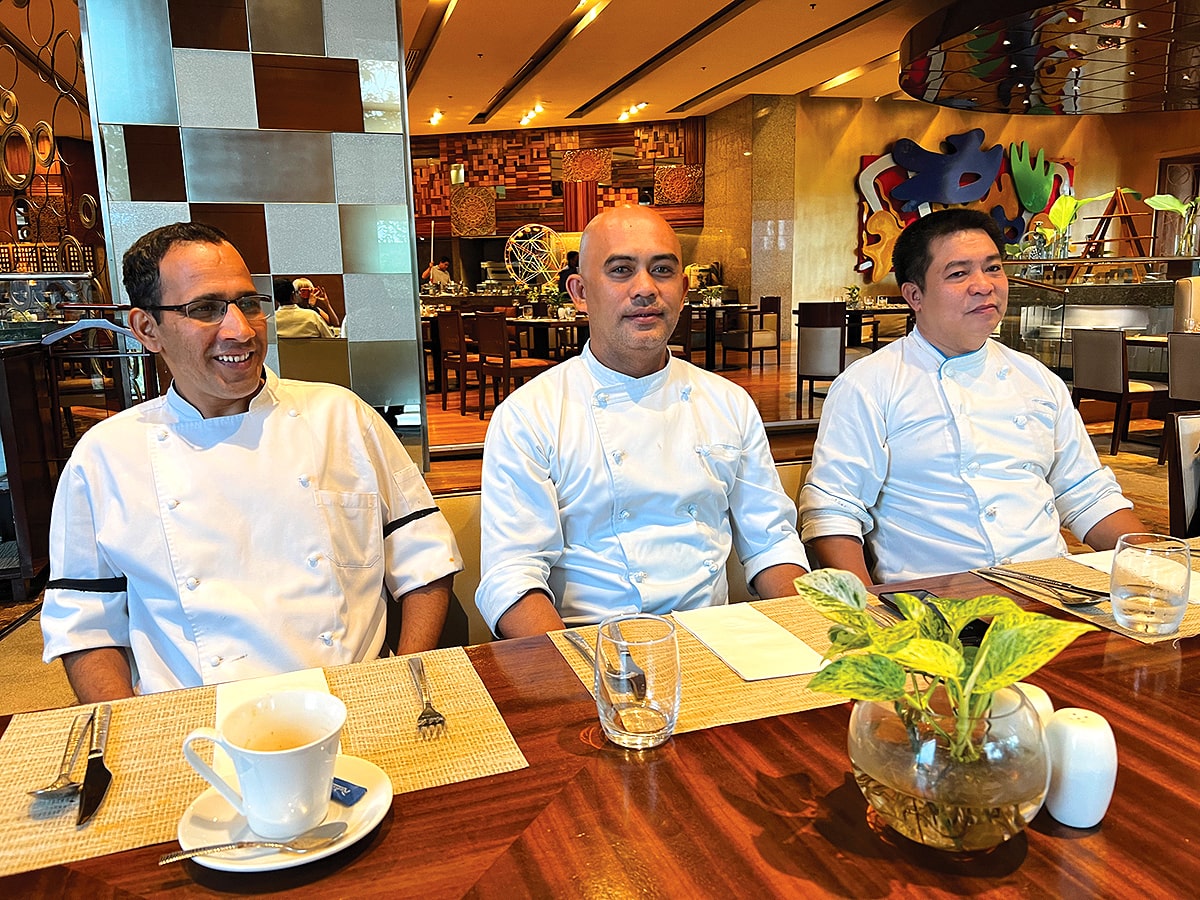 "My team is flexible to the clients, they speak to the guests and talk to them for some with special requests in their dishes, like guests who are vegans or pescatarians. My team of chefs mostly always accommodates special requests," Chef Nick said
Chef Nicholas van Riemsdijk started working as a chef since he was 16 years and he has lived and worked in many parts of the world, making his international knowledge on food and cuisine incredibly wide and expansive in nature. He brings these experiences in the Feria kitchen as the executive chef of Radisson Blu Cebu.
Chef Leo Montemayor is the Chef de Cuisine, from Canlaon City in Negros Oriental. Chef Leo has been with Radisson Blu Cebu for 10 years now and he is very proud and happy to work at the kitchen with Chef Nick and the other chefs. He said the team can do any kinds of dishes in collaboration with other dishes especially that Feria has a variety of menus.
Chef Arnel Quilestino is the Sous Chef, from Badian, Cebu. Chef Amel has more than 30 years of experience in the kitchen as part of the staff with all the other chefs at Radisson that can do all kinds of signature dishes.
Chef Jyoti Singh is the Indian Chef at Radisson who's instrumental in winning the SunStar's Best of Cebu 2022 Best Indian Food for Radisson Blu Cebu. Chef Jyoti is a quite guy with a cool demeanor. He is responsible for all the Indian menus and dishes at the Feria Restaurant in collaboration with the other chefs for unique tastes.
According to these chefs, they help each other and always work as team. Feria has a variety of menus every day and the team always adhere to the consistency of tastes of whatever they put on the buffet table, with the approval from the executive chef.
"There is a recipe card and description of every dish that we do because we work for excellence, quality and consistency of food tastes at Radisson Blu Cebu, and we are all very proud of our profession and our work.  We feed people from the best of our hearts and soul.  We respect food and mindful of food wastage," they said.
'Find Your Shangri-La' Whimsical Menu at the Shangri-La, Mactan Cebu
A dreamy, indulgent gastronomic heaven awaits in Mactan, Cebu. For the discerning gourmand, our Master Chefs have curated a series of new Whimsical Menus, featuring exquisite culinary creations that shines the spotlight on the freshest locally sourced and sustainable staple ingredients.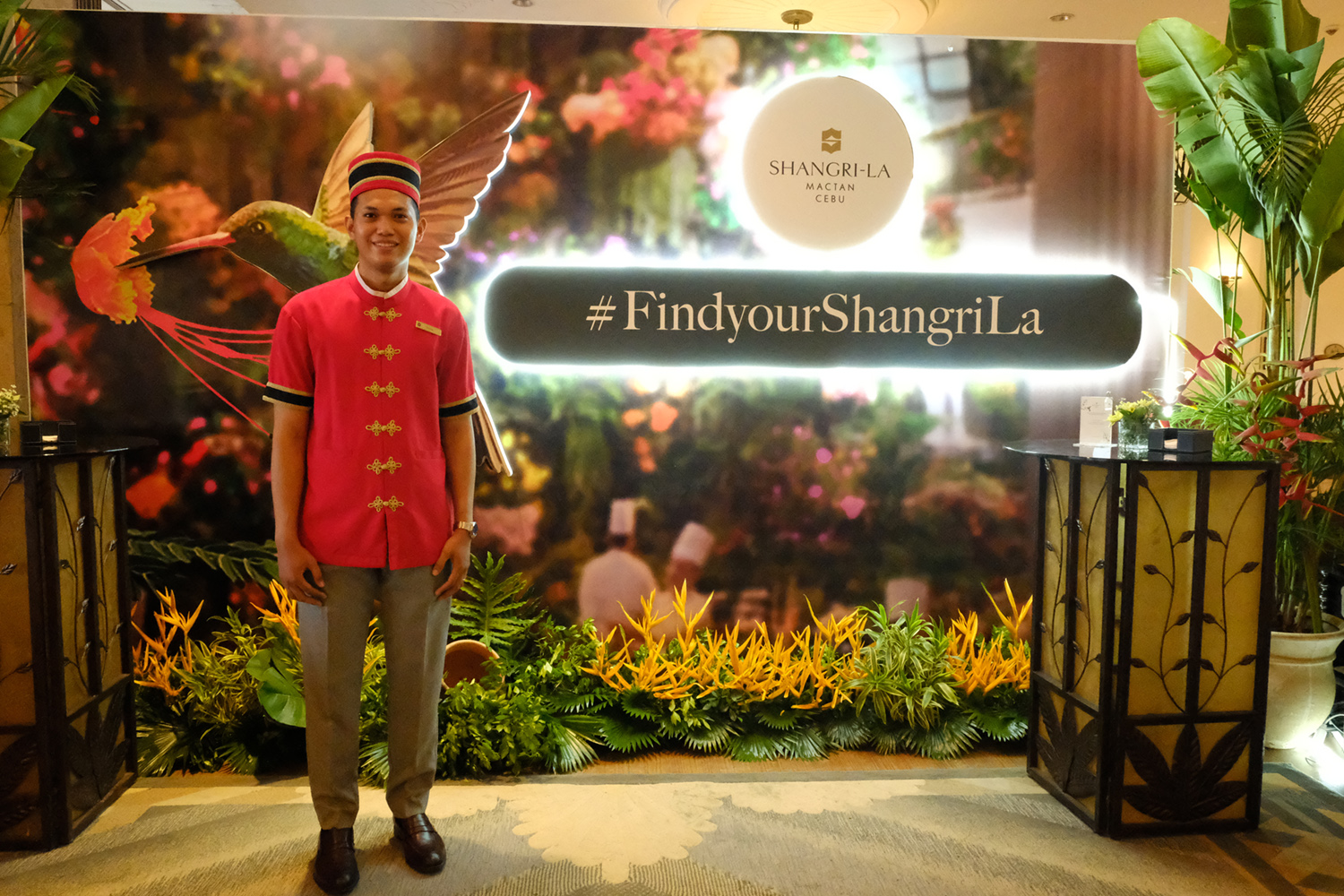 Guests are invited to feast their senses on a delightful medley of enticing, exotic flavours, with delectable delights such as Bohol-farmed Prawns & Cebuano Mangoes with Kataifi Noodles, Double-boiled Abalone, Dried Scallop in Coconut Shell, Red Lapu-Lapu Grouper Fillet with daubs of Gold Broth and Smoky A5 Wagyu Cube Roll in Merlot Black Pepper Sauce.
Exclusively available only at Tea of Spring, Shangri-La Mactan, Cebu's contemporary Chinese restaurant until 13 August 2023.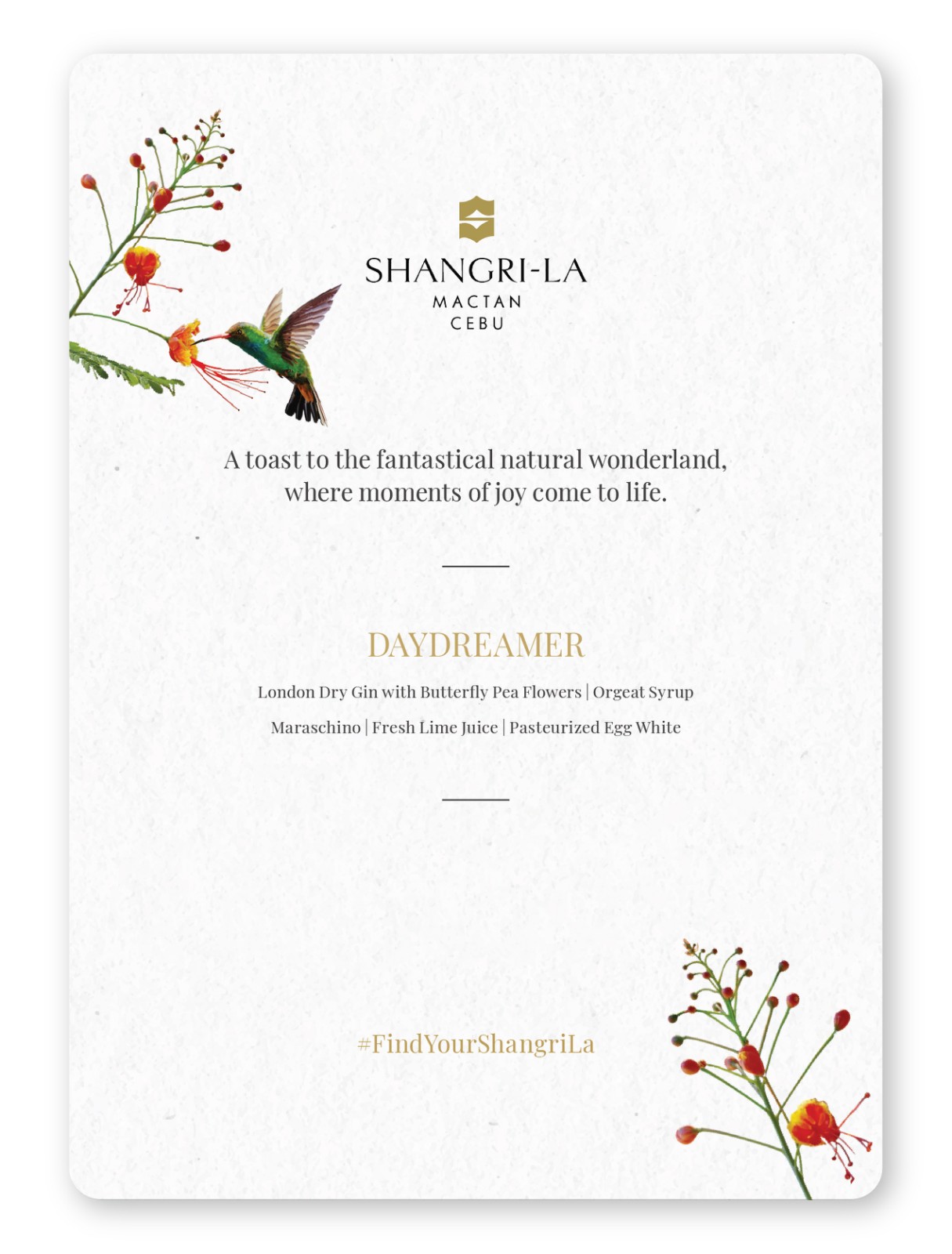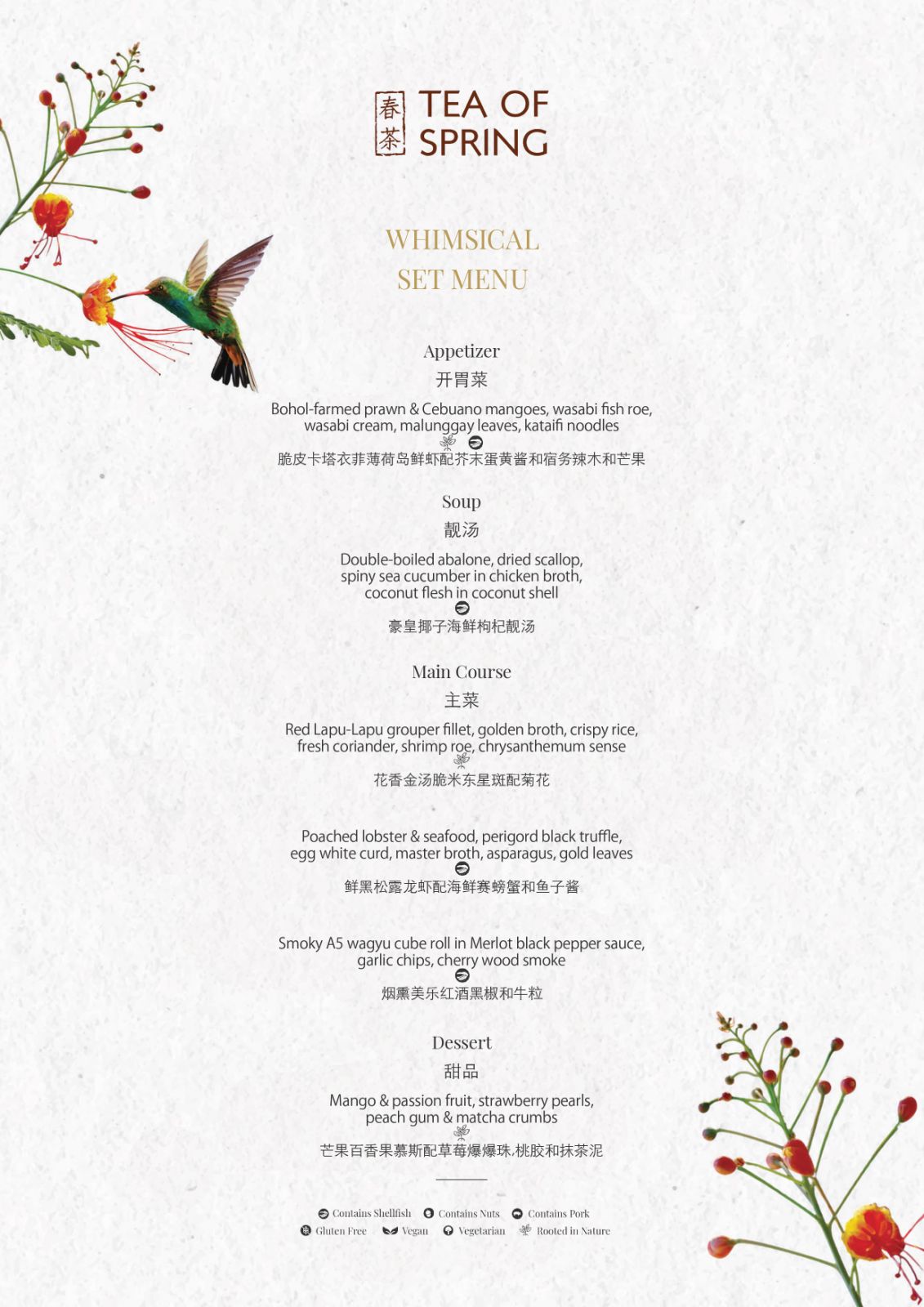 For bookings and reservations, contact (032)2310288 or email fbreservations@shangri-la.com.
All the Best Romantic Deals and Offers in Town this Hearts Season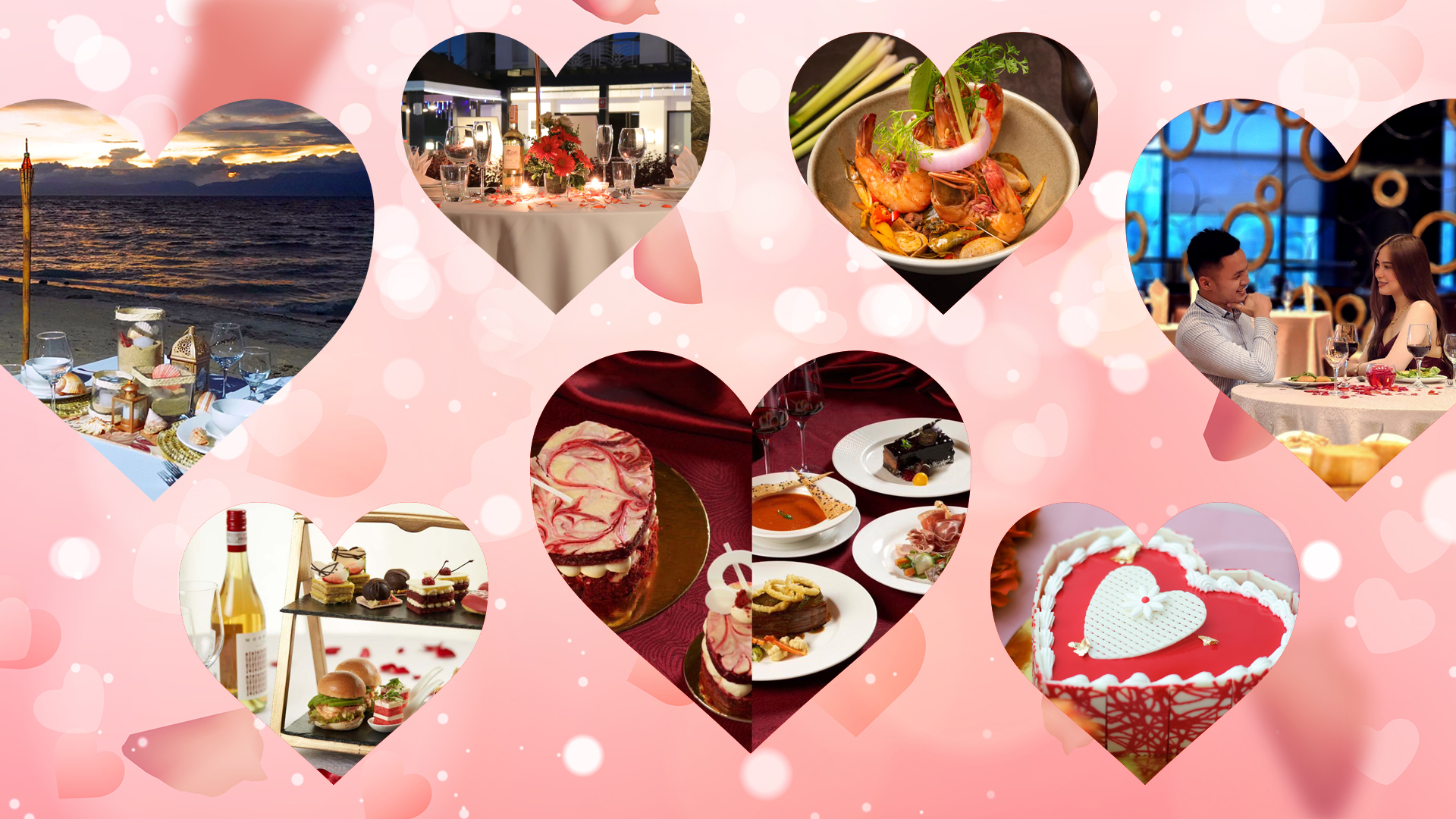 We compiled the best romantic deals and promos for those who want to make this year's Valentine's Day extra special.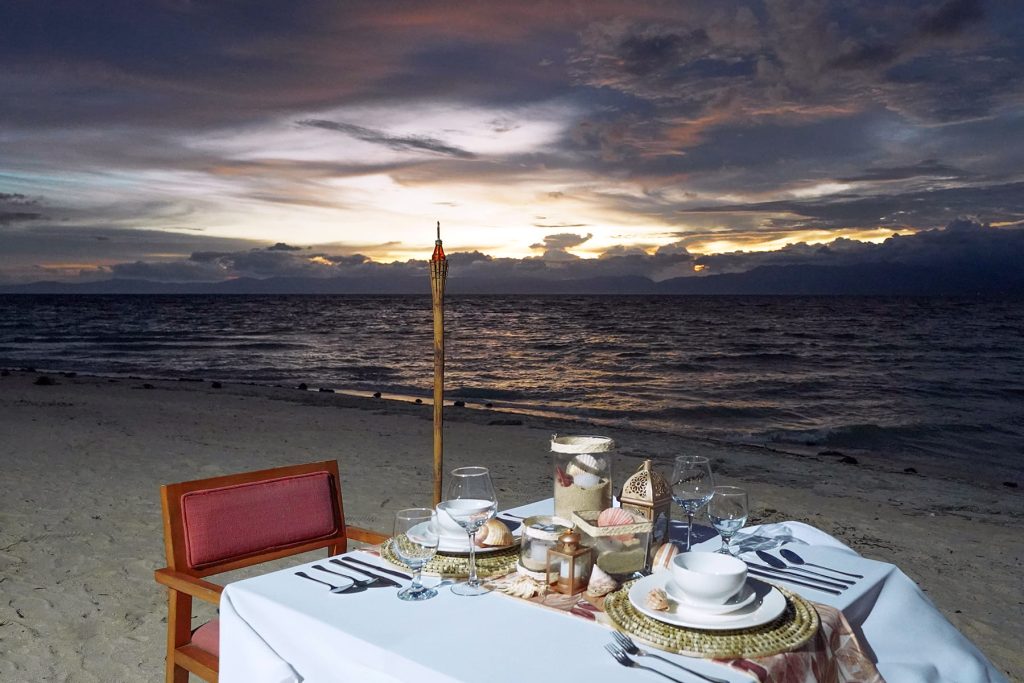 1. Make it a Valentines to stir your heart and soul at Club Serena Resort. This Valentines, paint a beautiful love story in Club Serena Resort in Moalboal, Cebu. Delight in discounted room rates when you pair your stay with a five course romantic dinner by the splendid Tañon Strait. Your stay includes turndown service with a romantic set-up, while dinner includes Angus steak, a glass of wine, and a long stemmed rose for the lady.
ROOM SALE. Book 2 room nights for the price of 1, or 3 room nights for just a little over. This offer, and more, are available today until Sunday at the Cebu Travel Catalogue International 2023.
Get luxurious savings on your bespoke resort getaway!
See Club Serena Resort at booth 48 of the Cebu Travel Catalogue International 2023 in the Activity Area of Ayala Center Cebu on February 10-12.
To find out more, send a private message on their Facebook page or call 0917-872-6367.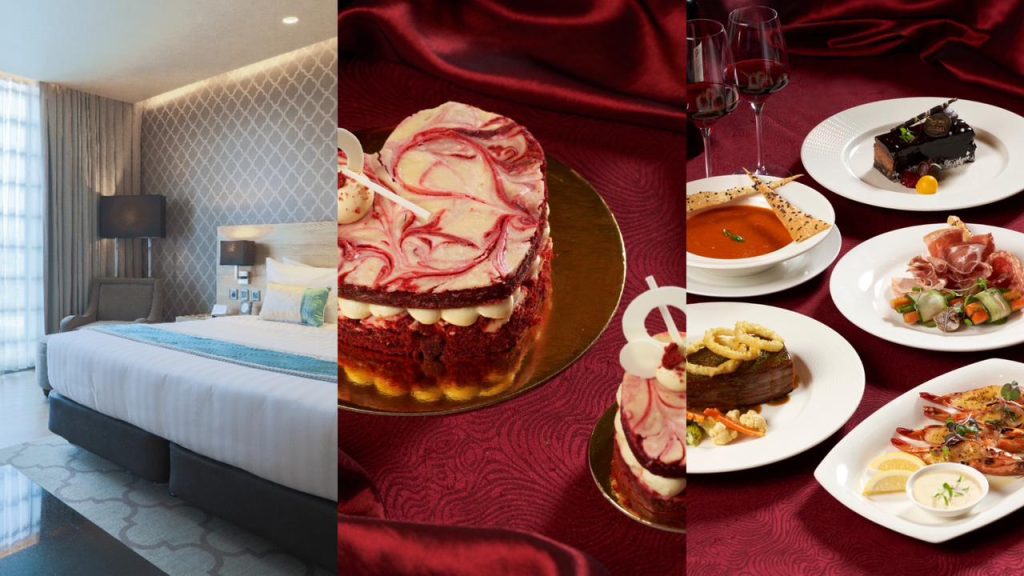 2. Hearts Season at bai Hotel Cebu
Celebrate Love in style with our Valentine's Day feasts and staycation promos at bai Hotel Cebu. Indulge in a romantic evening with your loved one with our delicious and carefully curated romantic-themed set menus, available exclusively on 14 th of February. Our chefs have crafted a selection of the finest dishes to make your intimate moments unforgettable. Get ready to fall in love all over again this Valentine's Day with our romantic room special. Treat your significant other to a night of luxury and relaxation in one of our spacious and well-appointed rooms. Happy Valentine's Day from bai Hotel Cebu!

Room-antic Special Home is wherever I'm with you. Express this season of love the definition of home with your favorite person. Create staycation memories of romance and lush in our well-appointed rooms this 01 to 28 February 2023. Promo period starts 25 January 2023 to 28 February 2023.

The Deluxe Room is priced at Php 4,888 nett per night, Premier Room is priced at Php 5,888 nett per night, and the One-Bedroom Suite is priced at Php 6,888 nett with the following inclusions: breakfast for two (2), Php 500 worth of F & B credit – can be used in any outlet(stay-in), unlimited WiFi access, complimentary use of the outdoor infinity lap pool and free use of the fitness gym. Terms and conditions apply.

Seasons of Love: Valentine's Day Set Menu and Feast offers on 14 February 2023
Get struck by Cupid's Concoction. Elevate your romantic gestures with five course set menu of fine dining, stylish, and upscale steakhouse that serves the finest custom-aged USDA prime beef and other meats alongside an exquisite selection of wine. Marble + Grain will be serving its Valentines set menu on 14 February 2023 at Php 2,500 nett per person. This will include one (1) glass of house red wine or white wine.
Lounge in Romance and Zest this Season of Love at our Lobby Lounge where perfectly curated five-course set menu brings you gastronomic wonders from elegant meat arrangements to zesty seafood classic. Paired with two (2) glasses of red or white wine at Php 4,200 nett sharing for two(2). The Lobby Lounge will be serving the set menu on 14 February 2023.
Finally, you put my Love on Top! Take the fleeting moments 23-storeys high with our Valentine's Day Set menu at Twilight Roofdeck Lounge + Bar. A four-course set menu and Alfresco lounge and bar for your dreamy skyline date with a 360-view of the city, all retailing for Php 2,100 nett per person. Twilight Roofdeck Lounge + Bar will be serving the set menu on 14 February 2023.
LOVE FEASTS. Make your Valentine's Day feast a memorable one with our signature gourmet dishes from Marble + Grain Steakhouse in bento-style closer and more accessible to you. Share precious memories with loved ones and friends with these hot meals that can be enjoyed anytime, anywhere! A 24-hour prior reservation is required.
Fall in love with flavors from around the world at Café bai this Valentine's Day. Indulge to our heart's day themed buffet of gastronomic wonders whether for lunch or for dinner. Lunch hours is 12 NN to 2:30 PM at Php 1,288 nett per person and Dinner is on 6 PM to 10 PM at Php 1,499 nett per person.
DRINK OF THE MONTH: SEASALT CREAM LATTE/BERRY COOKIES MILK TEA
This season of love, experience coffee mixed with decadent cream cheese and sea salt. Intrigue your palette with sweet specialty of berry and cookies blended to satisfy every Milk Tea lover. Taste the complex flavor of sweet with a hint to salt of Seasalt Cream Latte at Php 250 nett, and berry sweet delight of Berry Cookies Milk Tea at Php 200 nett. This Drink of the Month is available from 6 AM to 10 PM daily at Wallstreet Café + Bar.
COCKTAIL OF THE MONTH: GARDEN OF LOVE
Experience a walk in the Garden of Love with every sip of this perfectly curated cocktail with your lover. Perfect notes of agave bouquet, essence of rose, delicate aroma soft elderflower, citrus notes from Hibiscus tea, a hint of bitterness and fragrance from our homemade lavender bitters. You'll be wanting for more of this drink at Php 320 nett available at Marble + Grain Steakhouse, Ume Japanese Cuisine, Lobby Lounge, Twilight Roofdeck, and Pool Bar this 14 February 2023.
CAKE OF THE MONTH: RED VELVET CHEESECAKE BROWNIE
You can never go wrong with Red Velvets on Valentines Season. The queen cake of velvety texture, sweet vanilla, and tanginess from buttermilk now in chewy brownie and cream cheese layers to keep it simply sweet this Valentines Day. Have your Red Velvet Cheesecake Brownie this Season of Love whether for sharing or for one at Php 600 nett for 6-inch-wide cake and Php 250 nett for small cake. This Cake of the Month is available from 6 AM to 10 PM daily at Wallstreet Café + Bar.
For table reservations, orders, and further information, you can call bai Hotel Cebu at (032) 342 8888 or (032) 355 8888 or (032) 888 2500 or message them on Facebook at bai Hotel Cebu.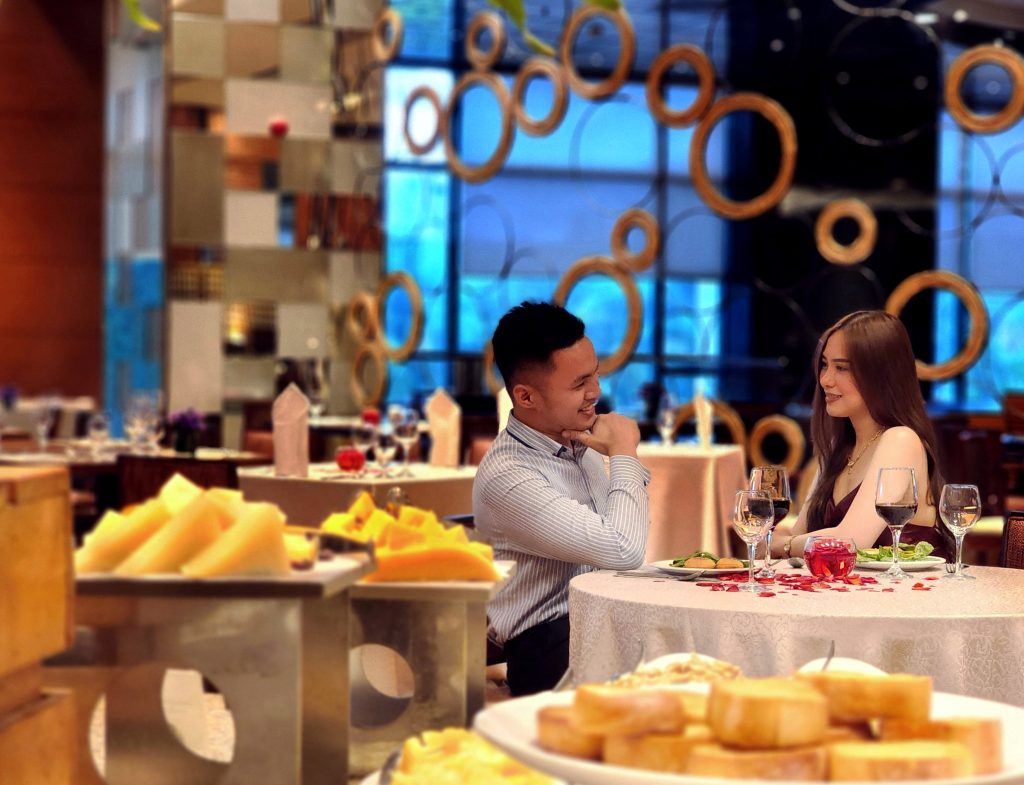 3. There's a Lot to Love at Radisson Blu Cebu.
Radisson Blu Hotel Cebu embraces the month of love with a full program of indulgent and themed offers from the Lobby Bar and Feria restaurant all the way to room service.
Spill the tea over Dilmah Arana teas and refreshingly-filling bites with Afternoon Tea at the Lobby Bar. Served from 1:00 PM to 5:00 PM this month for only PHP 999 net for 2 persons, it's a relaxing way to enjoy your favorite person's company to highlight your day.
For daytime drinking, and well into the night, a series of limited-edition beverages are ready to pique your interest: a coconut-rum-based cocktail, to a strawberry puree mocktail, and a dark chocolate frappe, available all month in the Lobby Bar and the Pool Bar, sweeten any toast to more beautiful memories.
For buffet lovers, Feria restaurant embraces Parisian highlights for Valentine's day, in an ode to the city of love. Beef bourguignonne, duck confit, and ratatouille in the European station join the Japanese, Filipino, Indian, Mediterranean, and Chinese stations featuring Feria's beloved international fare, together with signature paella, whole lechon, and roast US beef. Finish off with crepes as we bring back the crepe station for one night only. Valentine's day dinner buffet on February 14 includes 1 glass of red or white wine and free flowing beer, for just PHP 2,500 net per person.
For a more private experience, the garden welcomes couples to dine under the stars from 6:00 PM to 10:00 PM. Carefully prepared by the hotel's award-winning kitchen team, a 4-course dinner with wine-pairing is the true answer to romance. Asian tuna tartare with mango and miso tahini dressing paired with a chardonnay to start; porcini mushroom soup followed by US braised rib of beef with red wine, fondant potatoes and asparagus, is paired with a cabernet sauvignon; and white and milk chocolate entremets with fresh strawberries is complemented by a lambrusco dessert wine. Dinner under the stars is PHP 3,500 net per person, while live acoustic music serenades guests and ladies receive a special gift.
Romantic rooms service is brought to a whole new level, this month, with a plethora of breakfast favorites including freshly-baked pastries, sliced fruits, waffles or pancakes, fresh salmon, and eggs made how you like it can be arranged at PHP 1,999 net. Level up the romance with a bouquet of roses and a bottle of sparkling wine, sold separately.
Each day can be Valentine's Day, all February, at Radisson Blu Hotel Cebu.

For reservations and other inquiries, please call 032 402 9900 or e-mail rhi_rdce@radisson.com.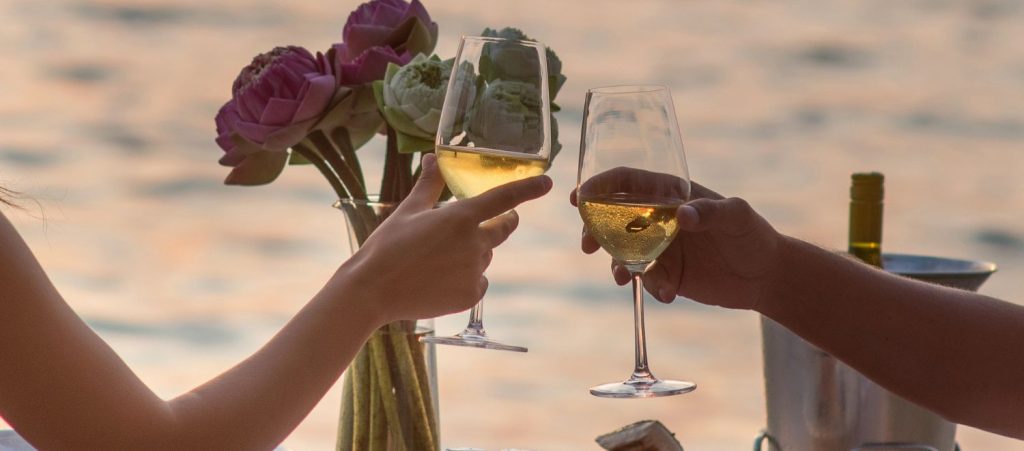 4. A Seaside Rendezvous in Shangri-La Mactan, Cebu
This Valentine's, go on a sweet escape at Shangri-La Mactan, Cebu with your loved ones and have your fill of delightful culinary creations and blissful experiences in any of the 5-star resort's sought-after restaurant outlets.
A Private Seascape Romance
Take pleasure in a dreamy experience overlooking the cerulean blues at the Observatory. This February 14, dine with flair in a scenic and private space, while you feast on an exquisite 6-course menu for two complemented by a bottle of sparkling wine and romantic tunes.
A Coastal Seafood Date at Cowrie Cove
Enjoy the cool breeze, ambient lighting and piquant specialties by the sea with your beau, as you revel in Cowrie Cove's Cupid Surf & Turf Platter from February 10 – 14. Delight in lobsters, prawns, groupers and more— for a truly filling date night!
A Romantic Sojourn in Acqua
This Season of Love, spoil your Mi Amore with blissful selections and taste your way through a romantic tropical evening in an indoor or Al Fresco setting. Revel in Acqua's well-loved Tomahawk Platter, Smoked Salmon, and more with their set menus for two persons.
All for Love: A Valentine's Day Buffet
The real way to someone's heart is through their stomachs! This Valentine' Day — love well, dine well and go on a gastronomic feast with Tides' hearty dinner buffet selections, featuring the Canadian Lobster, Wagyu Rump and decadent, themed desserts priced at Php3,500++ per person.
A Starlit Date by the Beach
See love in the stars and feel it through the coastal breeze, as you dine with your significant other under Mactan's tropical starlit skies. Delight in Breeze Bar's grilled local BBQ specials, perfect for casual conversations by the beach. The grilled set is priced at Php5,000++ for 2 persons.
Sweet Treats for Two
Who doesn't love calm afternoons, with a dash of romance?
This February 10 – 14, spoil your loved ones with exquisite afternoon delights, while whispering sweet nothings amid the golden hour. An intimate setting perfectly paired with delightful treats like French Macaroons and Cherry Scones. The Afternoon Set is priced at Php 1,488++ inclusive of sweets, savories and a pot of coffee or tea.
For table reservations, contact (032) 2310288. You may also follow them on Facebook and Instagram or visit https://www.shangri-la.com/en/landing/mactan-seasonal/
5. Romantic Offerings at Seda Ayala Center Cebu
For those planning to celebrate ahead of the crowd, Seda Ayala Center Cebu's Stay Two-Gether promotion is the best deal—leave the romantic Valentine's room setup to them. They're also throwing in a complimentary bottle of wine, chocolates, and a red rose for the lady. Rates begin at Php6,000 net for a Deluxe Room.
On Valentine's Day, indulge in Love Bites, a gastronomic four-course dinner that is sure to delight your tastebuds. For Php4,000 net for two (2) persons, the dinner includes an appetizer, soup, main course, and dessert trio. Welcome drinks and glasses of wine await!
Their Romantic Rendezvous is the ultimate package beginning at Php9,000 net—aside from being able to lounge in the comfiest accommodation with a beautiful Valentine's room setup, you also get to enjoy their four-course dinner, Love Bites.
Can you feel the love in the air already? We're just as excited as you are.
For inquiries or reservations, please feel free to contact them through their trunkline at (032) 411 5800.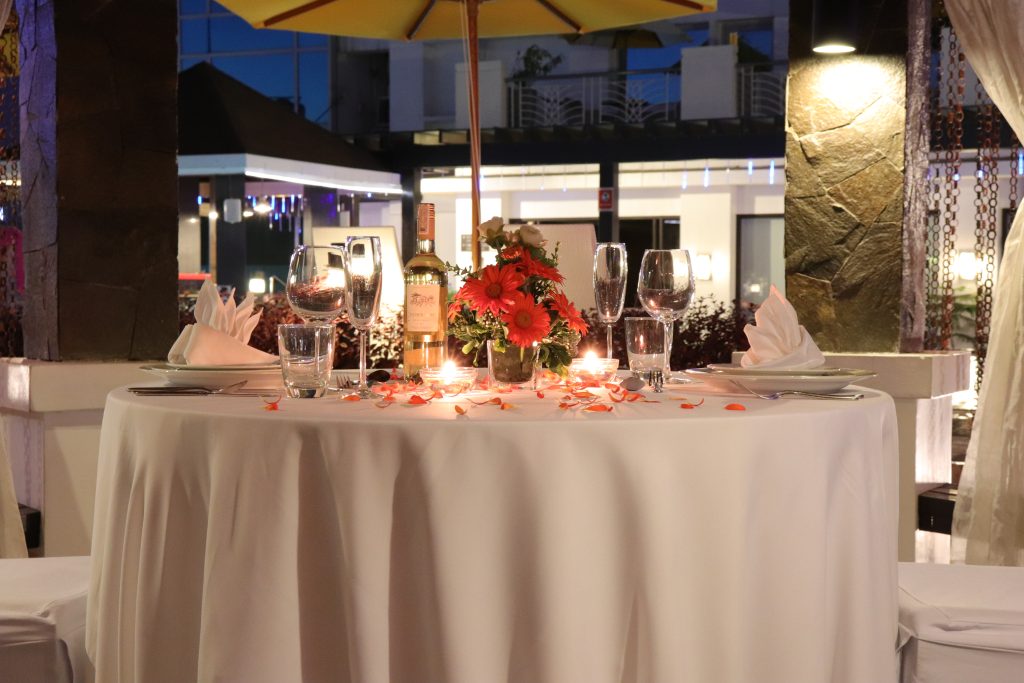 6. Love is in the air at Quest Hotel Cebu and Conference Center
Avail of the Power of Two romantic room promotion for some much-needed down time with the one you love. Make this Valentine's Day doubly special with accommodation for two, a five-course dinner for two in the room, and two glasses of red wine. Choose to have a romantic dinner on the balcony when booking a Premiere Room, and have a romantic setup in the Executive Suite complete with a bath strewn with rose petals. Couples have the option to linger over their five-course dinner by the pool, serenaded by live music. Power of Two room packages begin at Php10,000 nett and include a beautiful rose for the lady, breakfast in the room, or buffet breakfast at Puso Bistro.

Celebrate all types of love, including self love. Pamper yourself with the Indulgent Comfort room package, inclusive of a two-hour in-room massage, movie library with popcorn, and Kir Royales at the Pool Bar for the ultimate solo staycation. Indulgent Comfort rates begin at Php4,900 nett inclusive of breakfast in the room or buffet breakfast at Puso Bistro. For a romantic evening, choose Made for Two, a romantic dinner by the poolside with 5-course dinner.
If celebrating with family, there's no better way than spend it at Puso Bistro and Bar for a feast of all-time favorite Filipino and International specialties.
To reserve a table call Puso Bistro at 09989615734. Valentine room packages are valid for stays during the whole month of February on book and buy basis and subject to availability. Reserve through questhotelsandresorts.com/cebu or walk in at the hotel on Archbishop Reyes Avenue. Follow them on Facebook.com/CebuQuestHotel and on Instagram @questhotelcebu for the latest updates.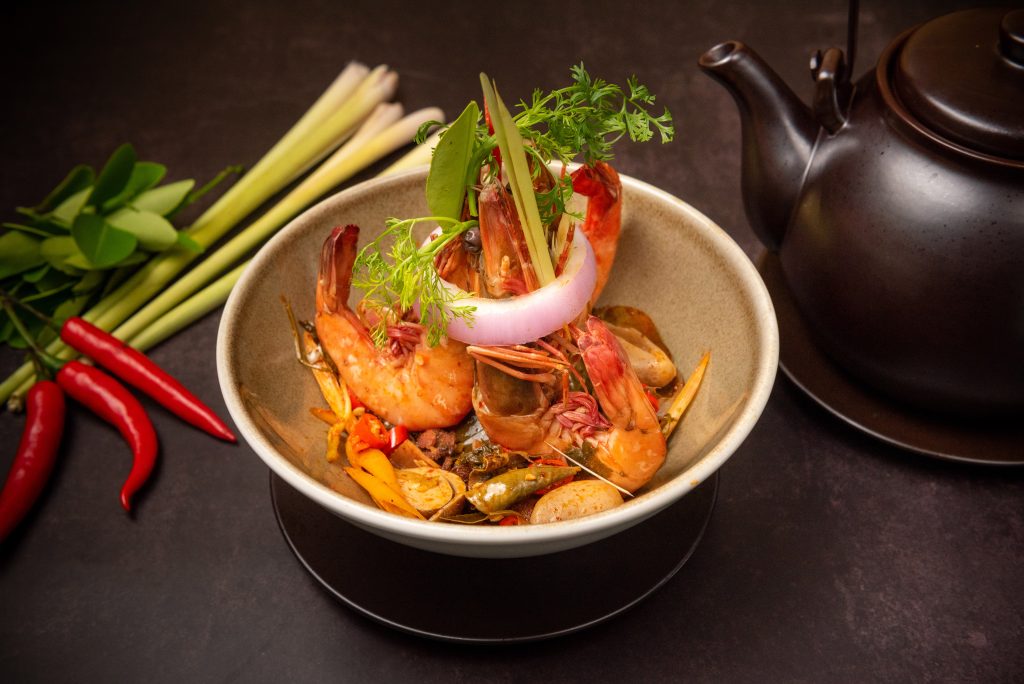 7. A Special Valentine's at Benjarong in Dusit Thani Mactan Cebu
Relish a special authentic Thai seven-course set dinner for Php 5,000 net per couple with a glass of sparkling wine and a live music performance on Valentine's Day.
For table reservations, please call them at (+63) 32 888 1388 or email at benjarong.dtmc@dusit.com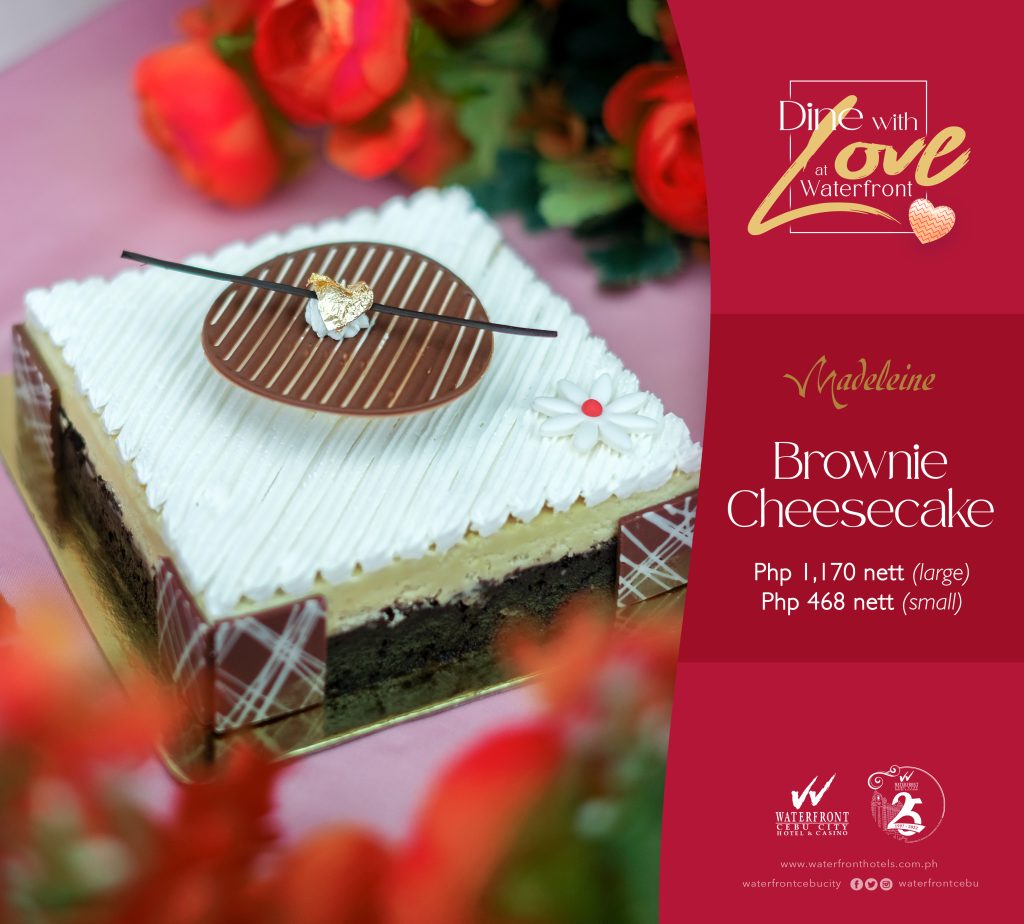 8. Stay & Dine with Love at Waterfront Cebu City Hotel & Casino
Take your partner's hand and stay in love with Waterfront's stunning room rates inclusive of a honeymoon set up, buffet breakfast for 2 and assorted pralines. Get this charming deal starting at a rate of Php 4,000 valid from February 14 – March 15, 2023.
Fall in love all over again as you stroll along Waterfront's gourmet walk for a variety of intimate dining offers.
And to make your Valentine's more romantic, our wine offers are here to create the perfect pair with our lovely dining offers. You may choose between a bottle of Cabernet Sauvignon and Sauvignon Blanc or have a glass to yourself.
Bring home the sweetness of a creamy mousse cake with a vanilla pistachio sponge in between, covered in red glaze and topped with white chocolate for Php 1,200 nett. If you're craving cheesecake, then we got you! You can avail the large Brownie Cheesecake for only Php 1,170 nett and small for Php 468 nett. It's the perfect gift idea to complete your Valentine's experience by treating the people you cherish most.
To know more details and to book our room and F&B promotions, click on the links below:
https://bit.ly/WCCH-RoomPromos
https://bit.ly/WCCH-Dining-Offers.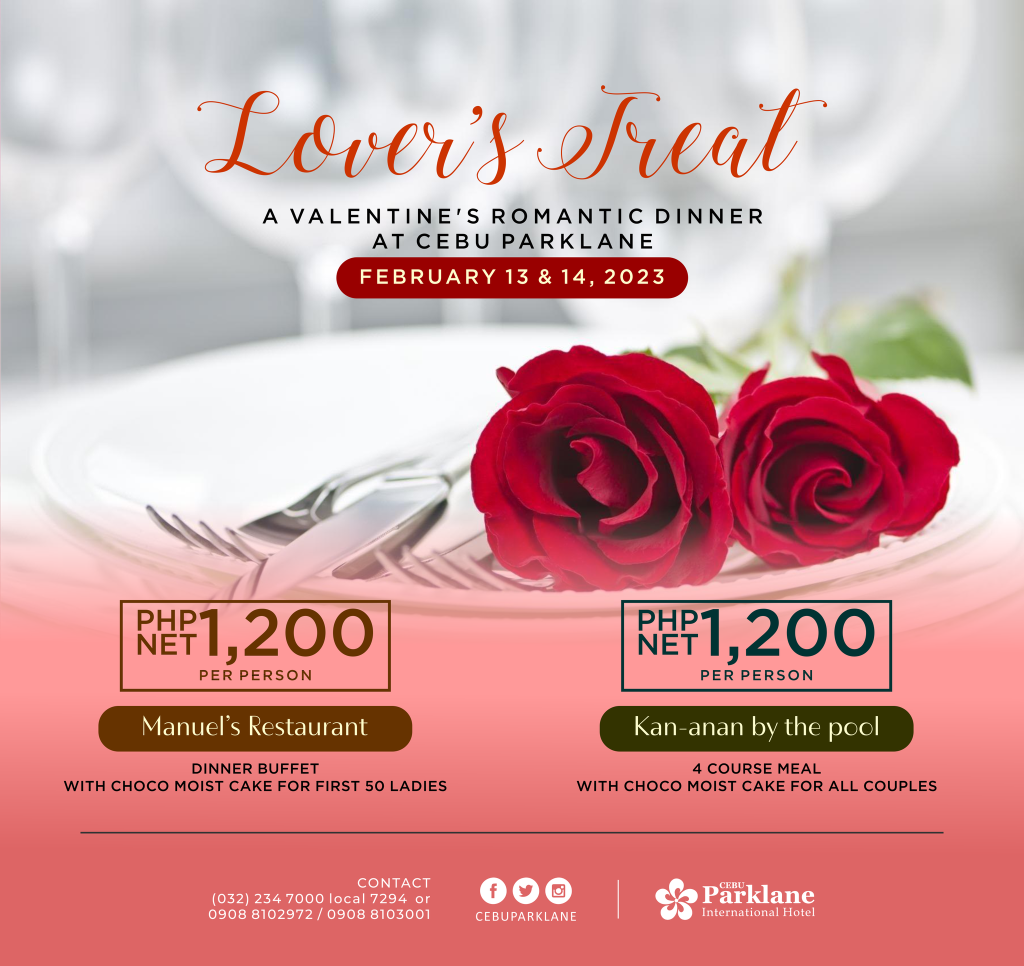 9. Love struck at the Cebu Parklane International Hotel
Cebu Parklane is all about love! And we're not just talking about the romantic kind. We're also big fans of the love you show for your family, friends, loved ones and even your coworkers—which is why we're offering some great deals on Valentine's Day.
We're celebrating by offering these special promotions on February 13 and 14, 2023:
Manuel's Restaurant Dinner Buffet – 𝐏𝟏,𝟐𝟎𝟎 w/ Choco Moist Cake for all couples
Kan-anan 4-course Meal – 𝐏𝟏,𝟐𝟎𝟎 w/ Choco Moist Cake for the first 50 ladies
For inquiries and table reservations, contact us thru these numbers: (032) 234-7000 local 7294 or 0908 810 2972 / 0908 810 3001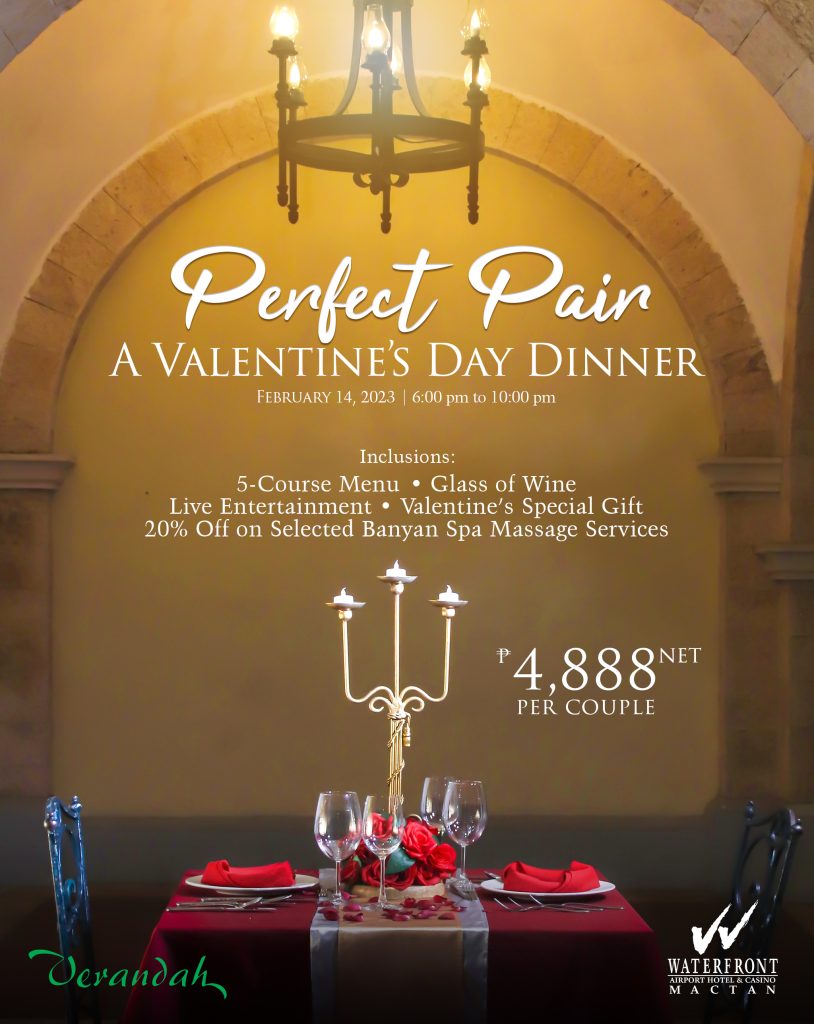 10. A Perfect Pair at Waterfront Airport Hotel & Casino Mactan
Savor the warm feeling of love at Waterfront Mactan's Perfect Pair Valentine's Day Dinner! For only Php4,888 net per couple, enjoy a 5-course menu, glass of wine, live entertainment, a Valentine's Special Gift and 20% off on selected Banyan Spa Massage services! What's not to love?