Iya Villania: Lady in Waiting
Away from the craziness, in the dimly lit, eerily cool and plush Salon de Ning, host, actress, and model Iya Villania fixes her gaze on our camera. With Arcy Gayatin's gown enveloping her every curve, Iya shows us her moves and proves to us why showbiz is lucky to have her.
(assymentrical gown in slivered tweed with hand-sewn lace collage by ARCY GAYATIN, fashion accessories by SM DEPARTMENT STORE)
Show business, with its mass-based appeal, has the power to elevate its denizens to incredible heights, cloaking them with a degree of self-importance and even inaccessibility.
Some thrive with this awareness; some bask in it shamelessly. But there are a few who, somehow, manage to remain untouched and unaffected by the attention and you can count Iya Villania as one of them.
The bright-eyed, Australia-born, pure Filipina (as she likes to stress since she always gets mistaken as a "half-breed" beauty) will be the first to issue a disclaimer about her "popularity."
(Dress in dotted chiffon and crochet bodice with yellow underlining by ARCY GAYATIN; snake skin clutch with coral and turquoise detail by MIA ARCENAS; shoes by SHANDAR; fashion accessories by SM DEPARTMENT STORE; Abalone minaudiere by REME JEWELRY)
But to say the 25-year-old Iya (Raelene Elaine Ebaler Villania in real life) is "not popular"—her words, not mine—is an understatement. Popularity is not just measured by the crowds that gather at your every public appearance nor by the number of endorsement deals you strike and seal; it is gauged by how in-demand you and your talents are in the ever evolving and highly volatile industry that is show business.
The youngest of three girls, Iya—whose parents hail from Pampanga and Bicol—was discovered in Sydney after doing a front act for visiting Filipino artists in 2004. To break into mainstream Philippine entertainment, however, was beyond her imagination. Iya says with a laugh: "This is what my mother has always wanted for me. I think I'm living her dream."
Seven years after, Iya can very well stake a claim as one of the busiest "Kapamilya" ladies from ABS-CBN to date, as she successfully juggles her time among her five current projects. She is a veejay on the MYX music channel and does hosting duties on Studio 23's lifestyle/fashion show Us Girls, ABS-CBN's daily morning program Umagang Kay Ganda, and Sunday variety show ASAP Rocks, plus the newly launched, first-ever "reality serye" on Philippine TV entitled I Dare You. She also scored acting projects and released a studio album in 2008.
Asked to tick off other career highlights, she recalls, "When I got my first job (a texting game show on IBC 13); when I first got into theater, doing Footloose and The Wedding Singer; when I discovered my love for dancing (via the reality dance show U Can Dance)…"
(Black leather sheath dress with macro floral appliqué by ARCY GAYATIN, fashion accessories by SM DEPARTMENT STORE, cracked abalone clutch by REME JEWELRY)
Nevertheless, it isn't hard to notice that her charm certainly lies in her being a host. And her charm as a host lies in her ability not to take herself seriously. Even the "controversies" thrown at her, she dismisses them all with effortless humor. Not that her career is brimming with controversies; in fact, she's one of the few who has reached her stature with nary an issue.
She's oft described as wholesome without even trying. "I don't know why," she says, "because I wear short-shorts, etc., but perhaps it's the attitude."
Well, with her curves and toned figure, she could easily stir the pot by say, posing for men's magazines.
"Actually, I already did for Uno," she admits. "But I won't pose for the other men's mags because of their content. They have pictures which you know what their purposes are for, and I don't want to be part of that."
Even her love life (her boyfriend of seven years is Drew Arellano, a host for the competing network GMA)— usually the tabloid fodder for many a celebrity—is running smoothly and issue-free.
(Black body-con dress and degrained tweed coat embellished with lace by ARCY GAYATIN, fashion accessories by SM DEPARTMENT STORE)
Iya concedes that issues and controversies come with the territory. Take for example, in one showbiz-oriented talk show, she was queried if she was feeling any "insecurity" over being "left behind" by her contemporaries like dramatic actresses Bea Alonzo and Anne Curtis, and she jokingly addressed the question on TV.
But away from the cameras, and at the Manila Peninsula where this interview is unfolding, she puts on a serious tone and shares, "I'm very, very happy with my career. It's funny that I was asked that but I really have no reason to feel insecure because I'm lucky to have work that keeps me busy. Popularity comes with my work and I'm glad that there are people who appreciate me. I've always known that I'm not going to be an Anne Curtis, Bea Alonzo, or Angel Locsin and I don't want that because I'm not an actress. I love hosting, dancing, and singing. So, there's no reason for me to ever feel that way."
She adds that hosting does give her a sense of stability, which is true since acting in soaps have longer breaks in between. "Some of my shows have lasted for three years. I hope my other shows now will also last long."
There's also another remarkable thing that Iya has accomplished while pursuing her showbiz career, and that's finishing her Psychology degree at De La Salle University almost graduating with honors; truly a girl with brains and beauty.
(Black and white printed jersey gown degrained on the bodice by ARCY GAYATIN, shoes by SHANDAR, fashion accessories by SM DEPARTMENT STORE)
"A lot of people doubted if I could do it," she says, "and I wanted to prove them wrong. But I really believe in education—that with knowledge, you can deal with the world and get by. It can empower your decisions in life and in your career."
One thing is certain: she has had no regrets entering the business and she is happily in it for the long haul.
"The pressure here can get very crazy, but it's not something that you cannot cope with. It's the industry where your craft is and if it bothers you much, you find something else and let go of the thing you love. But for me, I'm really grateful and really enjoying where I'm at."
by Nathalie Tomada sittings editor Katsy Borromeo creative direction Mikey Sanchez fashion assistant Karla Ynzon hair and make-up Roman Gravador and Ken Pagaspas photographer Jan Gonzales locale Salon de Ning at The Peninsula Manila 
LONDON IN FULL BLOOM: An Exclusive Look at the recent Chelsea Flower Show
The Chelsea Flower Show in London, one of the most prestigious horticultural events in the world, returned in full glory in May 2023, captivating visitors with its stunning displays and landscape designs. Held annually on the grounds of the Royal Hospital Chelsea in London, this year's show proved to be a true feast for the senses, showcasing an array of breathtaking gardens, vibrant floral arrangements, and innovative landscaping. The 3-day event showcased 36 outdoor gardens, including four balcony gardens for small spaces. Inside the giant pavilion, blooms compete with each other, exotic flowers, roses, and many more.
The 2023 Chelsea Flower Show embraced a Nature's Harmony theme, with a strong focus on sustainability and mental health. The show's organizers emphasized the importance of sustainable gardening practices and biodiversity conservation, inspiring attendees to create beautiful outdoor spaces while preserving and protecting the environment.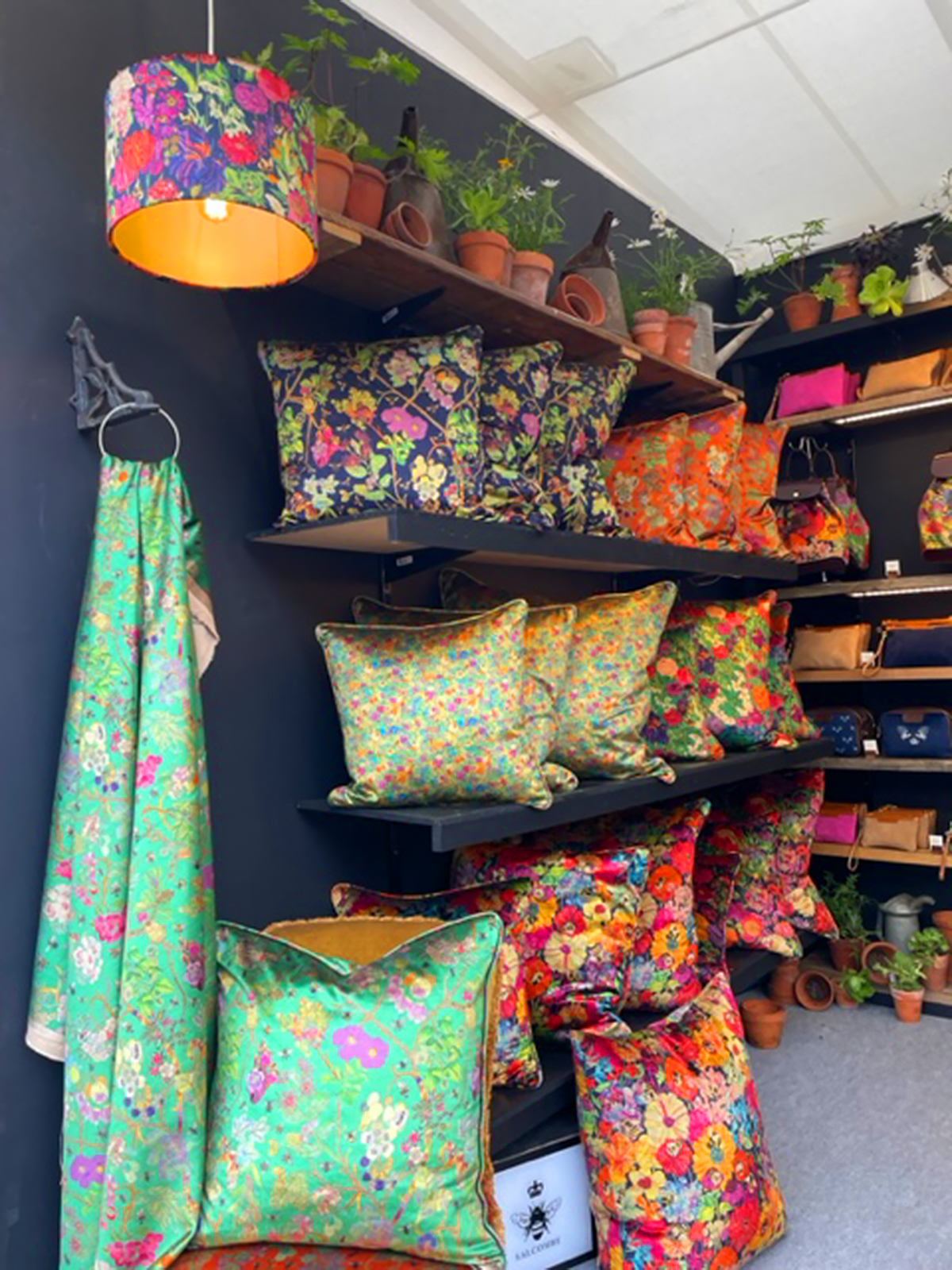 What's Cebu got to do with the Chelsea Flower Show in London? One person. James Doran Webb (https://www.jamesdoranwebb.co.uk), an Englishman working with driftwood, has been displaying his artworks for several years. James collects cast-off driftwood and shapes them into beautiful animal shapes that find places in some of the most iconic gardens. Leaping horses, owls, reindeer, and the occasional dragon, James Webb's creations are avidly collected by landscapers to add accent to gardens in all sizes, using cast-off wood, fitting perfectly with the sustainable element—something Mr. Webb has done quite well for the last decade.
***
The Philippine International Flower Festival will be held at the PICC in Manila from January 14 to 18, 2024. Watch out for more info from our website!