Iya Villania: Lady in Waiting
Away from the craziness, in the dimly lit, eerily cool and plush Salon de Ning, host, actress, and model Iya Villania fixes her gaze on our camera. With Arcy Gayatin's gown enveloping her every curve, Iya shows us her moves and proves to us why showbiz is lucky to have her.
(assymentrical gown in slivered tweed with hand-sewn lace collage by ARCY GAYATIN, fashion accessories by SM DEPARTMENT STORE)
Show business, with its mass-based appeal, has the power to elevate its denizens to incredible heights, cloaking them with a degree of self-importance and even inaccessibility.
Some thrive with this awareness; some bask in it shamelessly. But there are a few who, somehow, manage to remain untouched and unaffected by the attention and you can count Iya Villania as one of them.
The bright-eyed, Australia-born, pure Filipina (as she likes to stress since she always gets mistaken as a "half-breed" beauty) will be the first to issue a disclaimer about her "popularity."
(Dress in dotted chiffon and crochet bodice with yellow underlining by ARCY GAYATIN; snake skin clutch with coral and turquoise detail by MIA ARCENAS; shoes by SHANDAR; fashion accessories by SM DEPARTMENT STORE; Abalone minaudiere by REME JEWELRY)
But to say the 25-year-old Iya (Raelene Elaine Ebaler Villania in real life) is "not popular"—her words, not mine—is an understatement. Popularity is not just measured by the crowds that gather at your every public appearance nor by the number of endorsement deals you strike and seal; it is gauged by how in-demand you and your talents are in the ever evolving and highly volatile industry that is show business.
The youngest of three girls, Iya—whose parents hail from Pampanga and Bicol—was discovered in Sydney after doing a front act for visiting Filipino artists in 2004. To break into mainstream Philippine entertainment, however, was beyond her imagination. Iya says with a laugh: "This is what my mother has always wanted for me. I think I'm living her dream."
Seven years after, Iya can very well stake a claim as one of the busiest "Kapamilya" ladies from ABS-CBN to date, as she successfully juggles her time among her five current projects. She is a veejay on the MYX music channel and does hosting duties on Studio 23's lifestyle/fashion show Us Girls, ABS-CBN's daily morning program Umagang Kay Ganda, and Sunday variety show ASAP Rocks, plus the newly launched, first-ever "reality serye" on Philippine TV entitled I Dare You. She also scored acting projects and released a studio album in 2008.
Asked to tick off other career highlights, she recalls, "When I got my first job (a texting game show on IBC 13); when I first got into theater, doing Footloose and The Wedding Singer; when I discovered my love for dancing (via the reality dance show U Can Dance)…"
(Black leather sheath dress with macro floral appliqué by ARCY GAYATIN, fashion accessories by SM DEPARTMENT STORE, cracked abalone clutch by REME JEWELRY)
Nevertheless, it isn't hard to notice that her charm certainly lies in her being a host. And her charm as a host lies in her ability not to take herself seriously. Even the "controversies" thrown at her, she dismisses them all with effortless humor. Not that her career is brimming with controversies; in fact, she's one of the few who has reached her stature with nary an issue.
She's oft described as wholesome without even trying. "I don't know why," she says, "because I wear short-shorts, etc., but perhaps it's the attitude."
Well, with her curves and toned figure, she could easily stir the pot by say, posing for men's magazines.
"Actually, I already did for Uno," she admits. "But I won't pose for the other men's mags because of their content. They have pictures which you know what their purposes are for, and I don't want to be part of that."
Even her love life (her boyfriend of seven years is Drew Arellano, a host for the competing network GMA)— usually the tabloid fodder for many a celebrity—is running smoothly and issue-free.
(Black body-con dress and degrained tweed coat embellished with lace by ARCY GAYATIN, fashion accessories by SM DEPARTMENT STORE)
Iya concedes that issues and controversies come with the territory. Take for example, in one showbiz-oriented talk show, she was queried if she was feeling any "insecurity" over being "left behind" by her contemporaries like dramatic actresses Bea Alonzo and Anne Curtis, and she jokingly addressed the question on TV.
But away from the cameras, and at the Manila Peninsula where this interview is unfolding, she puts on a serious tone and shares, "I'm very, very happy with my career. It's funny that I was asked that but I really have no reason to feel insecure because I'm lucky to have work that keeps me busy. Popularity comes with my work and I'm glad that there are people who appreciate me. I've always known that I'm not going to be an Anne Curtis, Bea Alonzo, or Angel Locsin and I don't want that because I'm not an actress. I love hosting, dancing, and singing. So, there's no reason for me to ever feel that way."
She adds that hosting does give her a sense of stability, which is true since acting in soaps have longer breaks in between. "Some of my shows have lasted for three years. I hope my other shows now will also last long."
There's also another remarkable thing that Iya has accomplished while pursuing her showbiz career, and that's finishing her Psychology degree at De La Salle University almost graduating with honors; truly a girl with brains and beauty.
(Black and white printed jersey gown degrained on the bodice by ARCY GAYATIN, shoes by SHANDAR, fashion accessories by SM DEPARTMENT STORE)
"A lot of people doubted if I could do it," she says, "and I wanted to prove them wrong. But I really believe in education—that with knowledge, you can deal with the world and get by. It can empower your decisions in life and in your career."
One thing is certain: she has had no regrets entering the business and she is happily in it for the long haul.
"The pressure here can get very crazy, but it's not something that you cannot cope with. It's the industry where your craft is and if it bothers you much, you find something else and let go of the thing you love. But for me, I'm really grateful and really enjoying where I'm at."
by Nathalie Tomada sittings editor Katsy Borromeo creative direction Mikey Sanchez fashion assistant Karla Ynzon hair and make-up Roman Gravador and Ken Pagaspas photographer Jan Gonzales locale Salon de Ning at The Peninsula Manila 
St. Patrick's Day Celebration at Marco Polo Plaza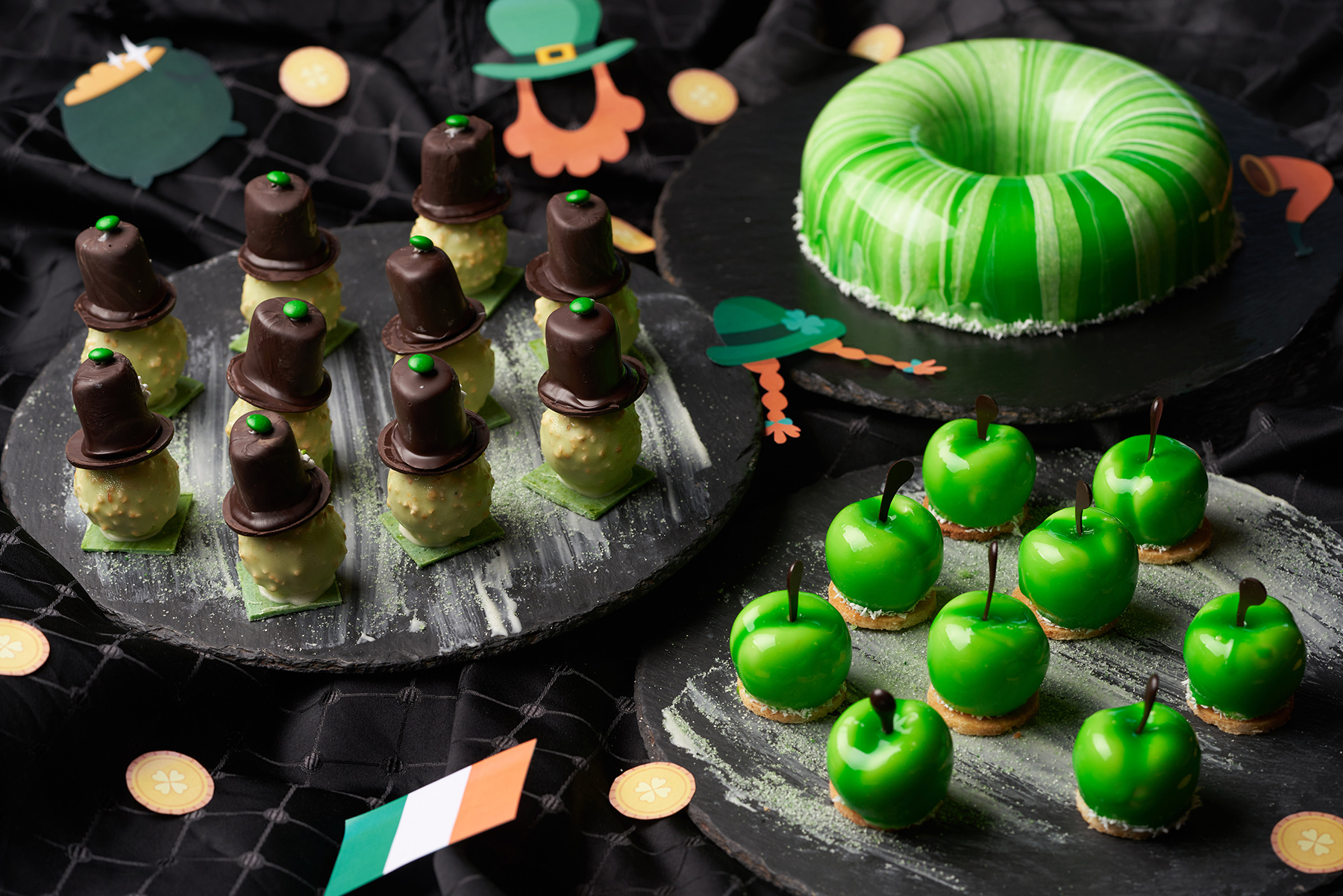 Marco Polo Plaza will be celebrating St. Patrick's Festival with the rest of the Irish community! It's not only a feast of greens and four-leaf clovers but of good food too! From March 17 to 19, dig in and enjoy traditional Irish dishes and delights such as Irish Stew, Potato Nachos, Cheesy Reuben Loaf, Guinness Beef Stew Pot Pie, Beer Mac N' Cheese and many more. These on top of the international lunch and dinner buffet at Cafe Marco. Complete the experience in true Irish fashion with an ice-cold mug of Irish Beer, also available at Cafe Marco.
Gastronomic adventures await at Café Marco! For inquiries and reservations, you can call (032) 253-1111. For real time updates, like the Facebook page at facebook.com/marcopolocebu or follow on Twitter at @5StarInCebu. Visit the website at www.marcopolohotels.com.
For inquiries and reservations, call 253-1111 or email hospitality.ceb@marcopolohotels.com.
La Liga Henerales: Shaping History Awareness Back Again in Cebu
La Liga Henerales is a community of young talents passionately promotes historical awareness through periodic costumes carefully researched for its authenticity and accuracy and promoted as well in events and schools.
Only few individuals before were into pursuit in this historical awareness project until the age of communication where internet is convenient in the palm of our hands through our gadgets. New information travel fast and data is retrievable, yet also possess a disadvantage with the plethora of different social media platforms carried by various makers as well. In a daily basis, historical backgrounds are unearthed making its trend until now as new discoveries are released, but the idea of these information being shown and shared is as close as not valuing or commemorating to its sources leaving this information just a trend.
There is a certain community of Cebuanos that are taking a quest to rewrite and restructure what was in the past, filling the gaps in facts with further research of variable sources that are made debatable but sticks to it true cause, to unveil the truths of our heritage and our origins, as Cebuanos and as Filipinos as well.


La Liga Henerales is a Cebu-based, non-profit organization composed of a group of talented, committed and respectable individuals from different walks of life, schools and profession whose primary aim is to promote both, Cebuano and filipino culture and heritage that was depicted before in pre-colonial and colonial eras via re-enactment with costumes vested in proper research and investigation to achieve authenticity. They also push their cause on schools and other social gatherings promoting and spreading awareness about our local, and national heroes that we look up to. With these said, they also portray a closer look of the lifestyle of the past to where they perform stories, perform forgotten dances and rituals and portray their individual roles, vital in the fight of our country's future during those challenging times, and in honor to spread awareness of the lost practices we had in those times.
The Founder
Louis Kenneth Villaflor, an entrepreneur and an avid history enthusiast and costumer, founded the group on the purpose of re-educating the youth about real local and national history, he saw the opportunity to combine his favourite hobbies which is costuming and story role-playing and the process to instill the historical awareness and value among the youth and in schools, along with a group of fellow enthusiasts who shares his passion about research and history, they took it among themselves to be purposeful in the advocacy in spreading historical awareness in schools or events by wearing periodically correct costumes and sharing the stories and its value to the youth.
Behind the Garments
Meet Rodney "Pee-Wee" Senining, who has been in the fashion industry since the late 90's, strives  in concepts of avant-garde, innovation and cutting edge-fashion forward design. And also a teacher of Architecture, Fine Arts and Design of University of San Carlos, he had grown into research of books like the holy grail in the Library Resource Center and is always fascinated of the periodical times and how to preserve it; Hence, his interest had grown for the affinity of Periodical Costumes and Sustainable Fashion.
 Being part of the group La Liga Henerales, he was tasked to instantly be their mentor for the young talents and as the organization is still new and developing with limited funds, resourcefulness and research were done to come up with a good output of photo shoot and was quite proud of it and still promise on the next editions of pieces to be more historically accurate. Even as teacher for Fashion Design in SAFAD, his expertise comes hand in hand with the members as he helps them do research as well. His passion and interest somehow led him with enough knowledge to key the insights of the significant periods and historical backgrounds of it.
Historical Awareness in Cebu
The strength and progress of a country is anchored on how well they know and honor its history. The means of historical awareness in Cebu is almost non-existent among the Cebuanos, although we push forward in tourism and promote beauty through sceneries and other aspects of culture yet never commemorate deeply on historical icons such as our other local heroes, and ancient cultures as well that is almost been forgotten in an urban Cebu. Nevertheless, as long as communities' like La Liga Henerales are now evolving in a learning state by real discovery by multiple resources, this will always reflect of how we appreciate love, patriotism and honor to our country and would look forward to progress.
Christmas in Colonial Cebu: A Themed Exhibit by Teresin Mendezona and Eva Gullas for Stylescapes 2019
Ever wonder how the yuletide season is celebrated in colonial times? This year at Stylescapes 2019, Teresin Mendezona and Eva Gullas collaborated to showcase the elegance of Christmas during the colonial period, specifically most of the Spanish regime.
This pop-up radiated the ambience of Christmas in the colonial times through the various details used within the setting. Specific pieces like the gansilyo table cloth, oil lamp, and the sketches were from Ms. Mendezona and Gullas themselves.
Aside from that, various table and living room pieces were sourced from Rustans and Metro Ayala, and was curated by Doro Barandino.