Here's a gift guide to kick off your Christmas shopping
Christmas comes once a year, so why not make your gifts worth the wait?
Here's a confession straight from this website's editor: I do most – if not all – of my Christmas shopping at Rustan's.
To most of those my age and income bracket, this is seen as a seemingly indulgent thing. Actually, it is – although not in the way people assume so. Seriously, if people actually just stop dismissing Rustan's as a super high end department store (even though it is), they'd find that they can actually get some very interesting and good quality things with any budget.
But the real extravagance lies in the variety of the store's offerings – from makeup to clothes to home furnishings – and the abundance of cashiers and gift wrapping counters. Shopping in Rustan's, even at the peak of the holiday rush, remains a breeze. You'd find that even though you're like me and prone to doing your shopping at the last minute, the experience is anything but a hassle.
Considering it's a three-floor anchor store in Ayala Center Cebu, it's natural to feel a bit overwhelmed. Zee Lifestyle is here to save the day, with recommendations personally handpicked by the family who runs the show – the Tantocos.
AMB. BIENVENIDO TANTOCO SR.
The father of Rustan's and a man renowned for his exceptional taste, Ambassador Bienvenido Tantoco Sr. chooses an array of timeless pieces – from a handsome Piaget watch, to light casual shirts by Ascot Chang, which are sure to delight all men who appreciate clean, classic styles.
PAOLO TANTOCO AND ANTON HUANG
Paolo Tantoco and Anton Huang offer their own elegant selections that appeal to the younger male market with striking shoes from Harry's of London, and wonderful fashion pieces from Adolfo Dominguez, Faconnable and more.
ZENAIDA TANTOCO
For the CEO's Picks, Zenaida Tantoco chooses a promising selection of feminine yet stunning pieces such as the Damiani Icon Ring and Loewe Flamingo Bag in red for the glamorous, empowered executive. And for her home, nothing is as luxurious as the masterpieces from Lalique and Lladro.
MARILEN TANTOCO
Marilen Tantoco, on the other hand, lends her keen sense of style in choosing dazzling pieces for the ladies in your life. She recommends luxurious Natori ensembles perfect for the everyday and exquisite tea sets by Bernardaud.
MARITESS TANTOCO ENRIQUEZ
For the ladies with more eclectic tastes, Maritess Tantoco Enriquez recommends unique pieces that are statements in themselves – such as the ZIIO Bracelets, Fendi bag charms and an array of fashion-forward heels by Christian Louboutin.
CAMILLE AND NICOLE TANTOCO
Fashionable young ladies, on the other hand, will be inspired by the stylish picks of Camille and Nicole Tantoco, which reflect a more trendy and contemporary take to style. Nicole chooses clean, crisp looks from one of the newest brands Ricardo Preto and complementing accessories by Longchamp and Fendi. Camille goes for a more flirty touch with relaxed, feminine dresses by Darling London and Catwalk Junkie. She spruces this up with MAC beauty essentials and Shashi accessories.
If you're still can't decide on what to pick for yourself or your fashionable friends and family, you can log visit your favorite Rustan's store and allow the expert personal shoppers and sales associates help you discover the great selections of gifts available for all your loved ones and friends. Welcome this season dressed in your stylish best with picks from Rustan's in-house designers and luxury retailers.
This Christmas, Rustan's offers you more rewards as you thoughtfully shop for others. With every gift purchase, get the chance as well to win a once-in-a-lifetime trip to some of the most wonderful destinations in the world.
For every P3,000 minimum single receipt purchase at any Rustan's Department Store, receive a raffle ticket towards a chance at winning one of three wonderful trips to great destinations: New York City with a private tour around the official headquarters of Tiffany & Co; France, with a stay at the the exclusive hotel of Lalique, Hotel Hochber; or Malaysia, with a fun getaway at LEGOLAND Theme Park and Water Park.
Christmas comes but once a year but there are a million and one ways to celebrate it. Let Rustan's be part of your memories and help you make the most of every moment. (with PR)
Claudia Bezza-Yeung's Santorini Cruise Collection Seaside Debut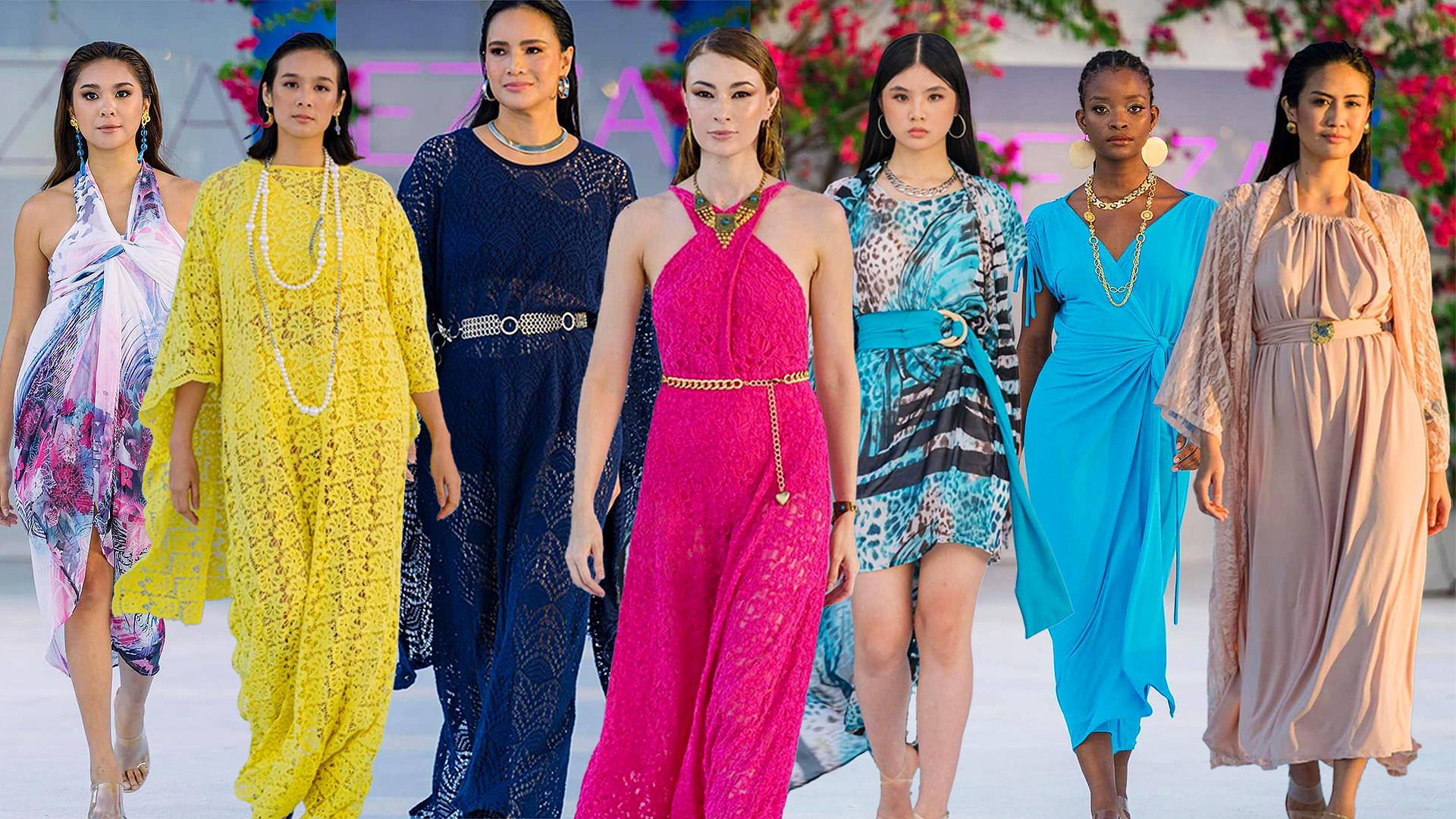 By Kingsley Medalla
The Santorini Cruise Collection launch, Claudia Bezza-Yeung's fifth, held last May in Kandaya Resort in Daanbantayan, was inspired by the Greek island of Santorini. Claudia's designs exude sophistication, and a touch of Mediterranean charm. The collection features flowing maxi dresses in vibrant colors that mirror the azure waters of the Aegean Sea, lightweight fabrics that effortlessly sway with the ocean breeze, and intricate design that adds a touch of opulence to each piece.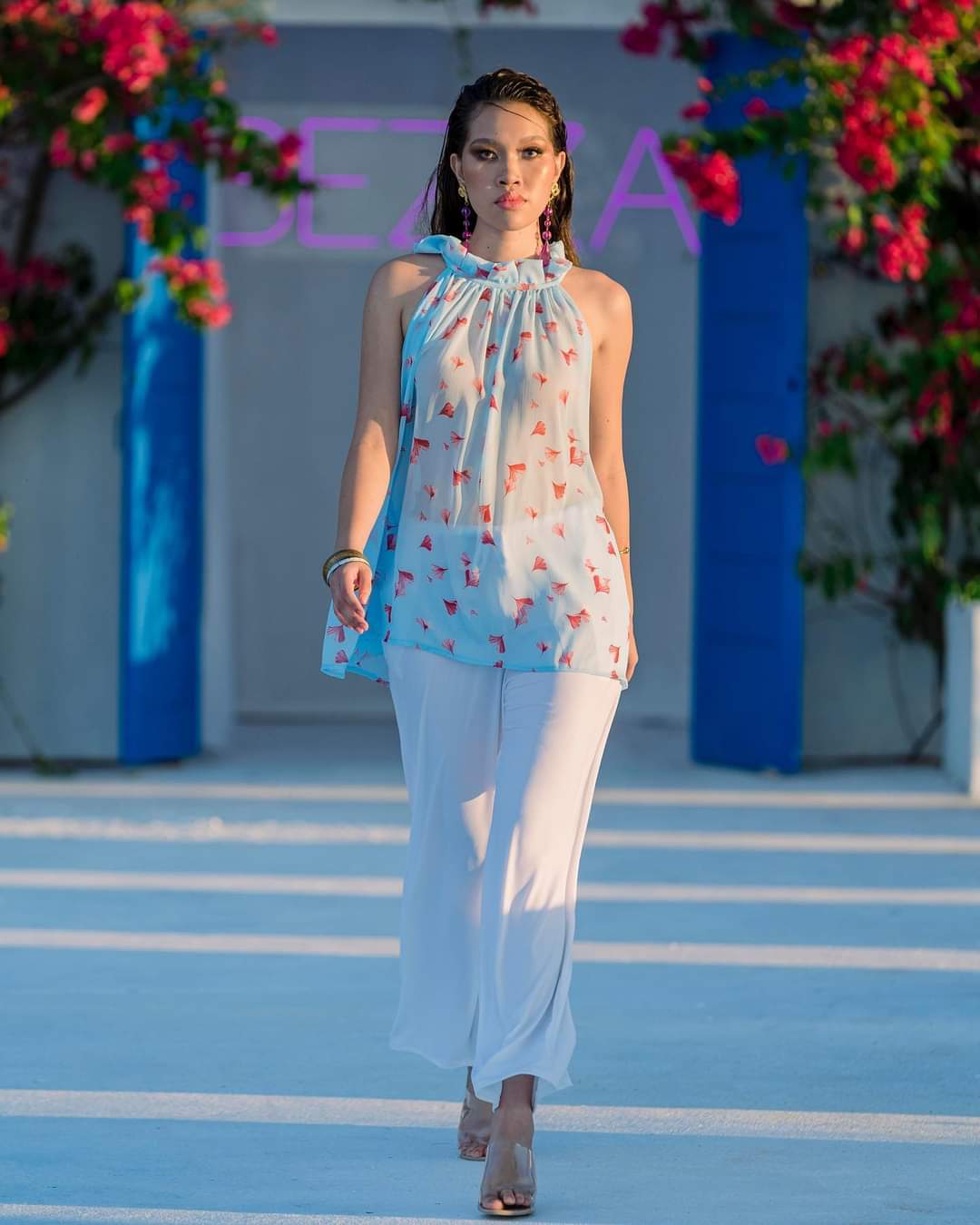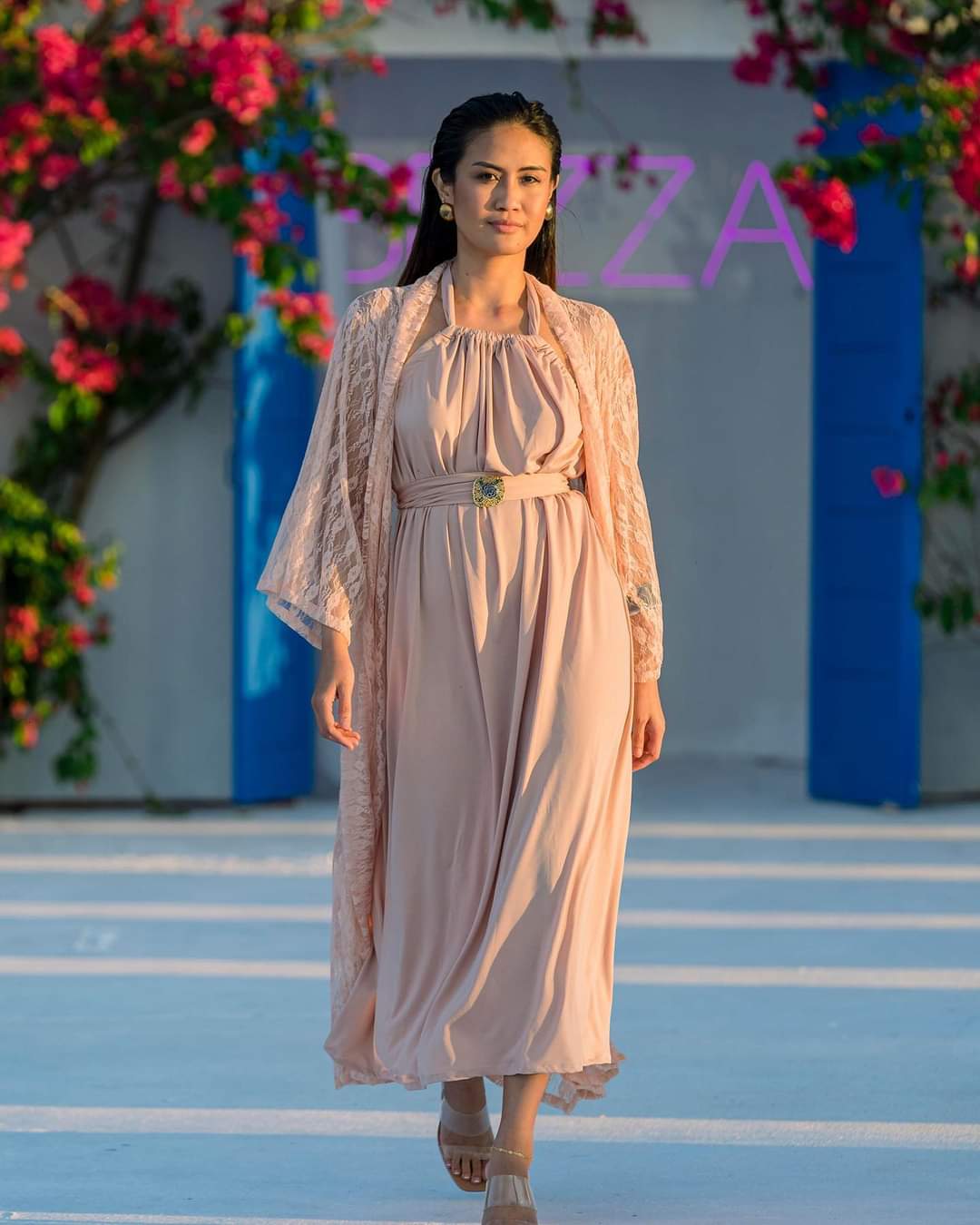 The collection itself is a celebration of summer: mini dresses with headbands and tote bags evoke images of strolls along whitewashed streets. Each piece is carefully crafted to capture the essence of Santorini's charm.
The color palette of soft pastels like pale blues and pinks, are juxtaposed with bold pops of color, like romantic pinks and vibrant yellows. This combination creates a visually striking contrast that adds depth and interest to each look.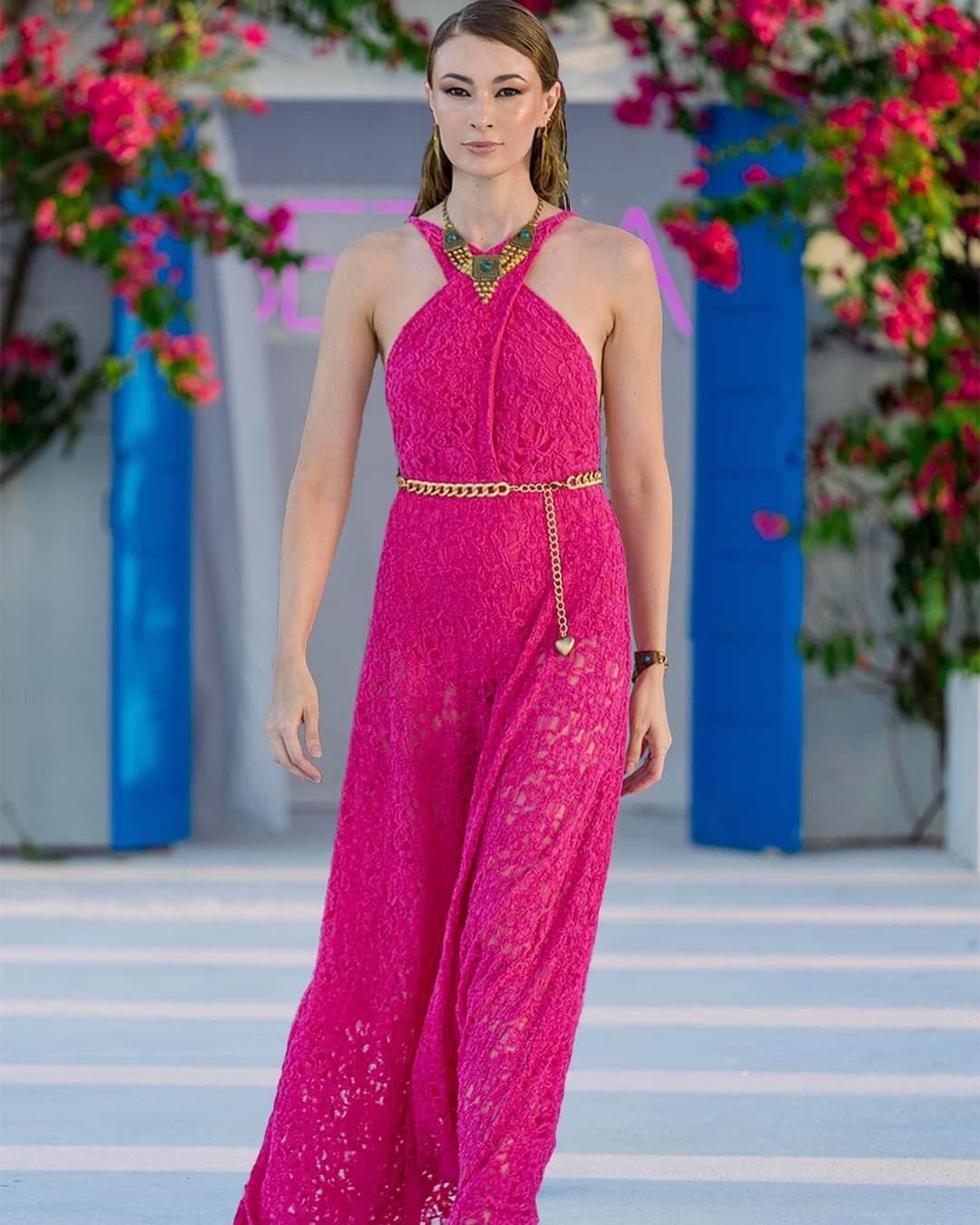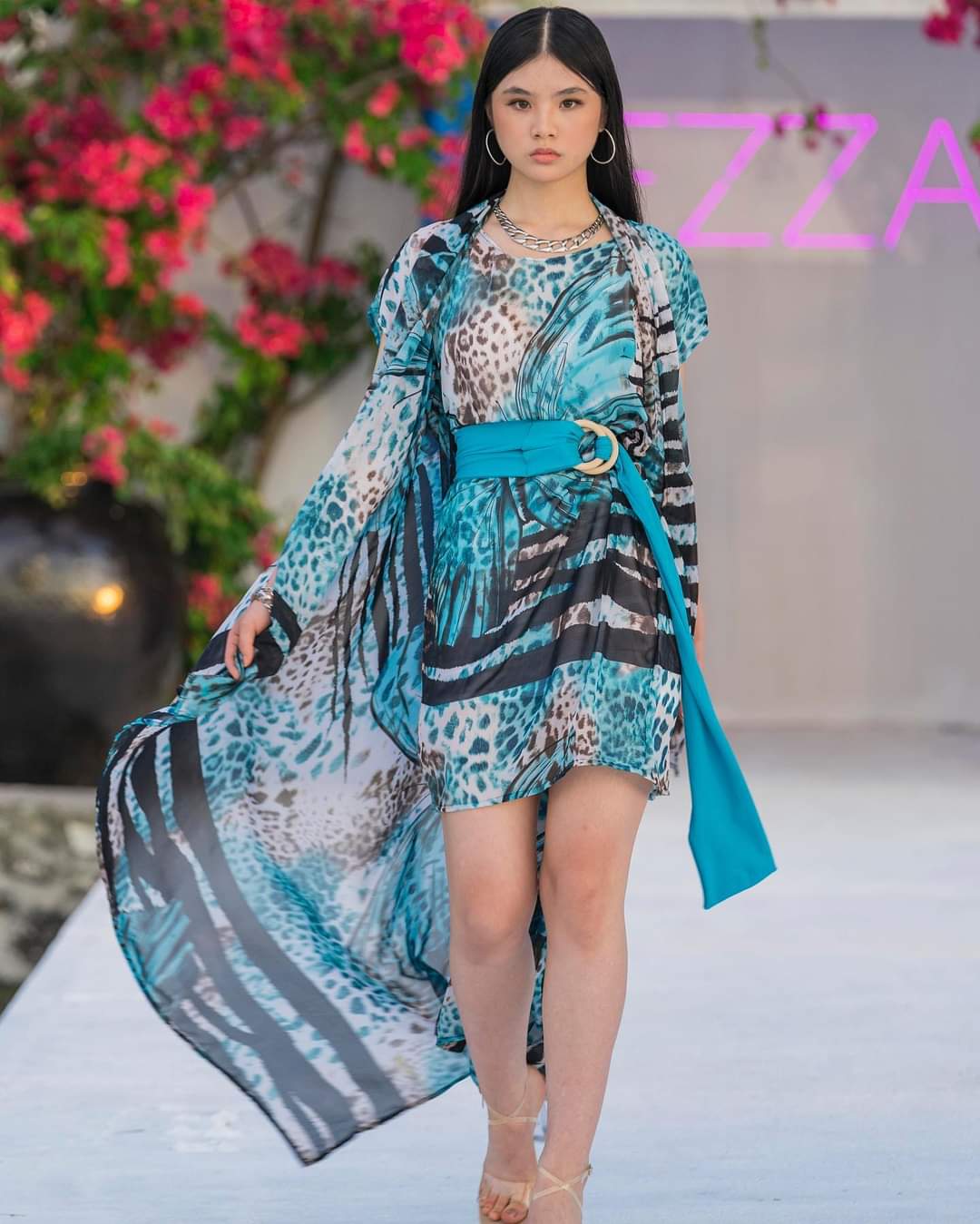 Kandaya Resort, with its breathtaking sunsets and white sand beaches, provides the perfect backdrop for the 55-pieces of beach wear.
"The collection, as with all our pieces, is made from discarded fabric that we source from China and Dubai," shares designer Claudia Bezza Yeung. "The fabrics for this collection were acquired at different times and were kept in storage since the pandemic, and it was only recently that they all came together with this vision: Santorini! "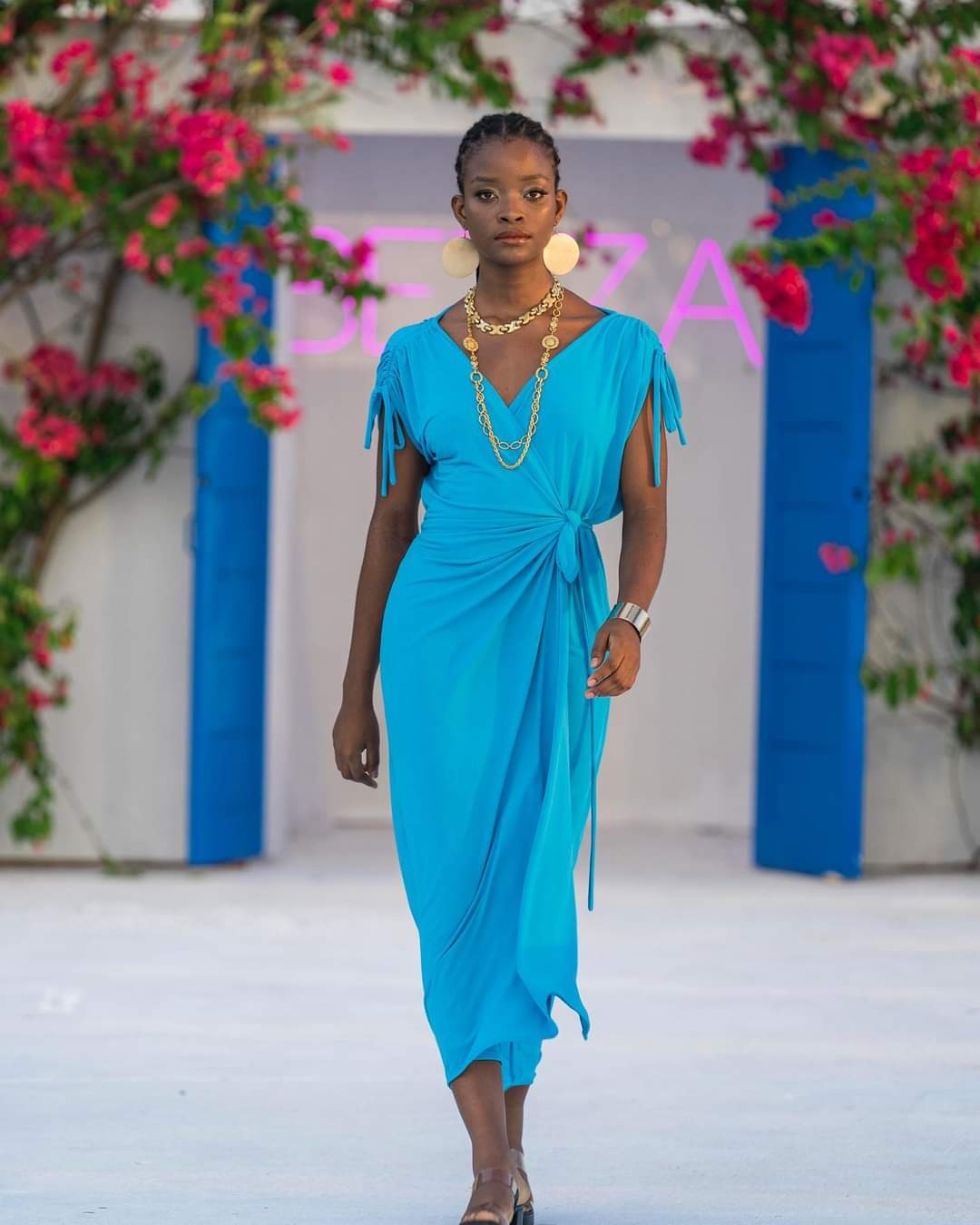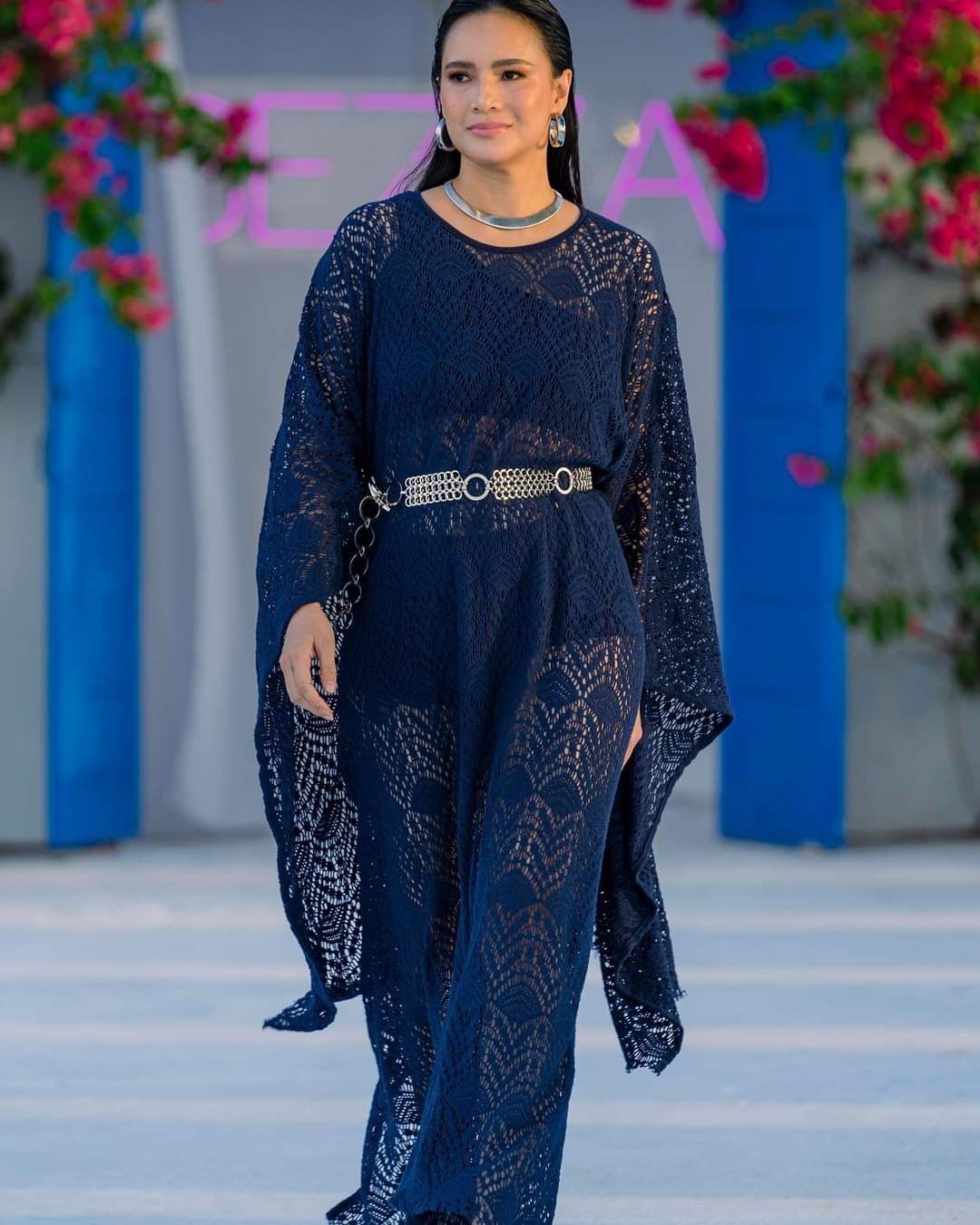 Beyond its aesthetic appeal, this fashion show also serves as an opportunity to showcase Bezza's talent on an international stage. By collaborating with local artisans and incorporating traditional techniques into her designs, this former model-turned-designer pays homage to Santorini's rich cultural heritage.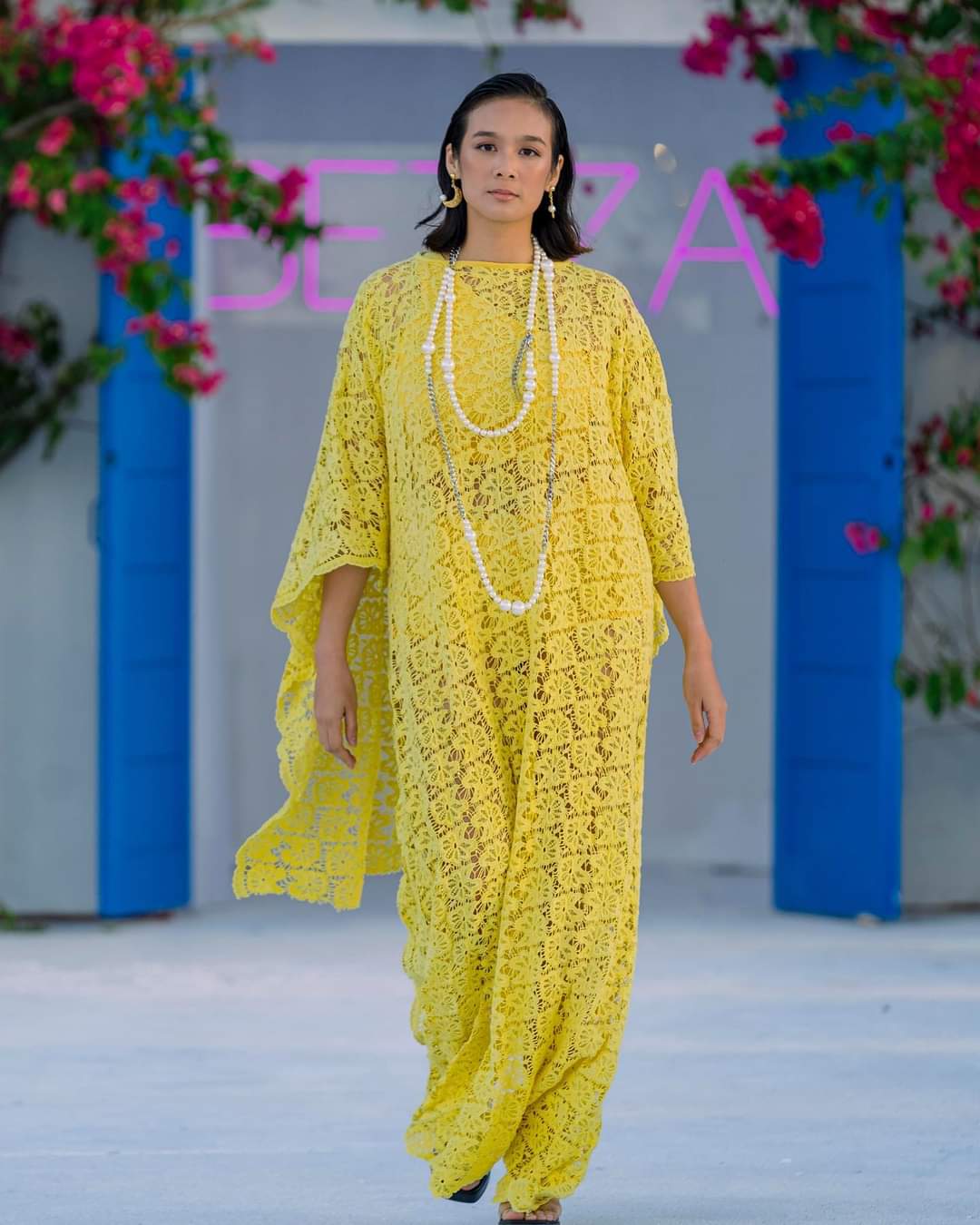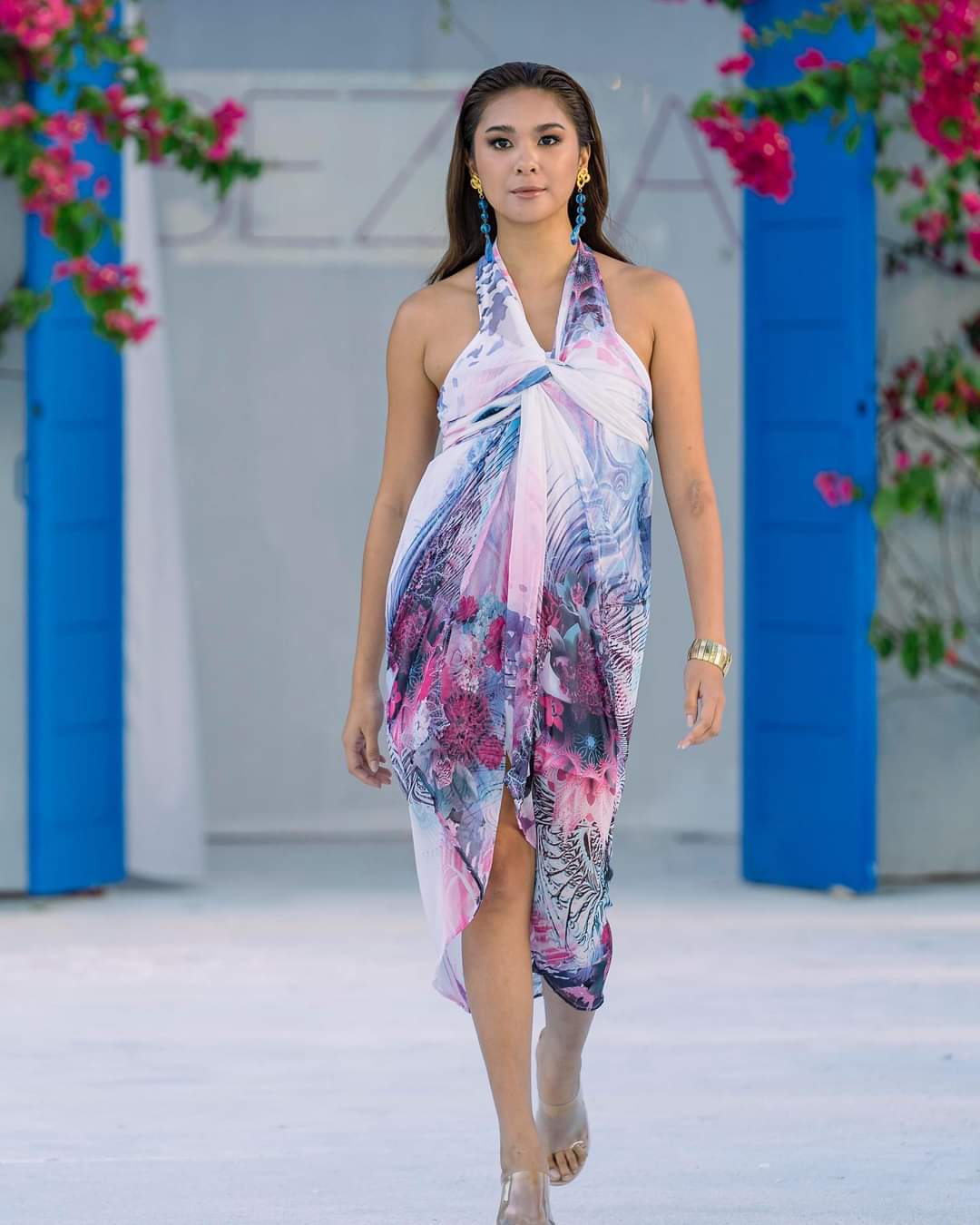 Claudia learned sewing skills from her mother, starting early by dressing up her dolls with fabric scraps. "When I was working and traveling all over the world, I had to decide to carry fewer clothes in my luggage, so I would recycle clothes and customize the ones I already had so they would look different every time." Soon, she began selling her creations to fellow models.
"I do not sketch. I find it better to manipulate fabrics directly on the body," Claudia shares. "I sew and drape directly on my body most of the time, and that's when I get ideas on transforming the dress.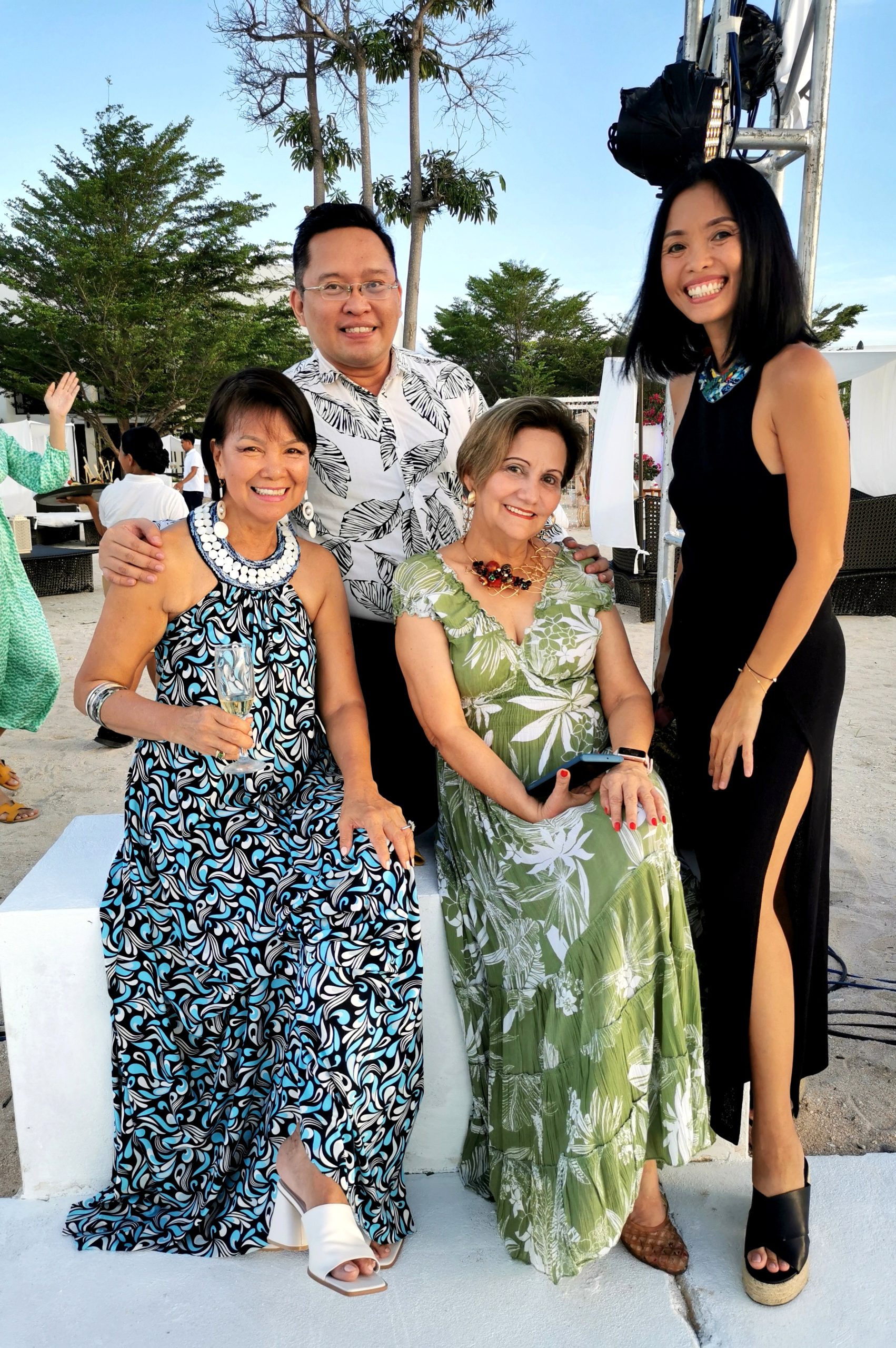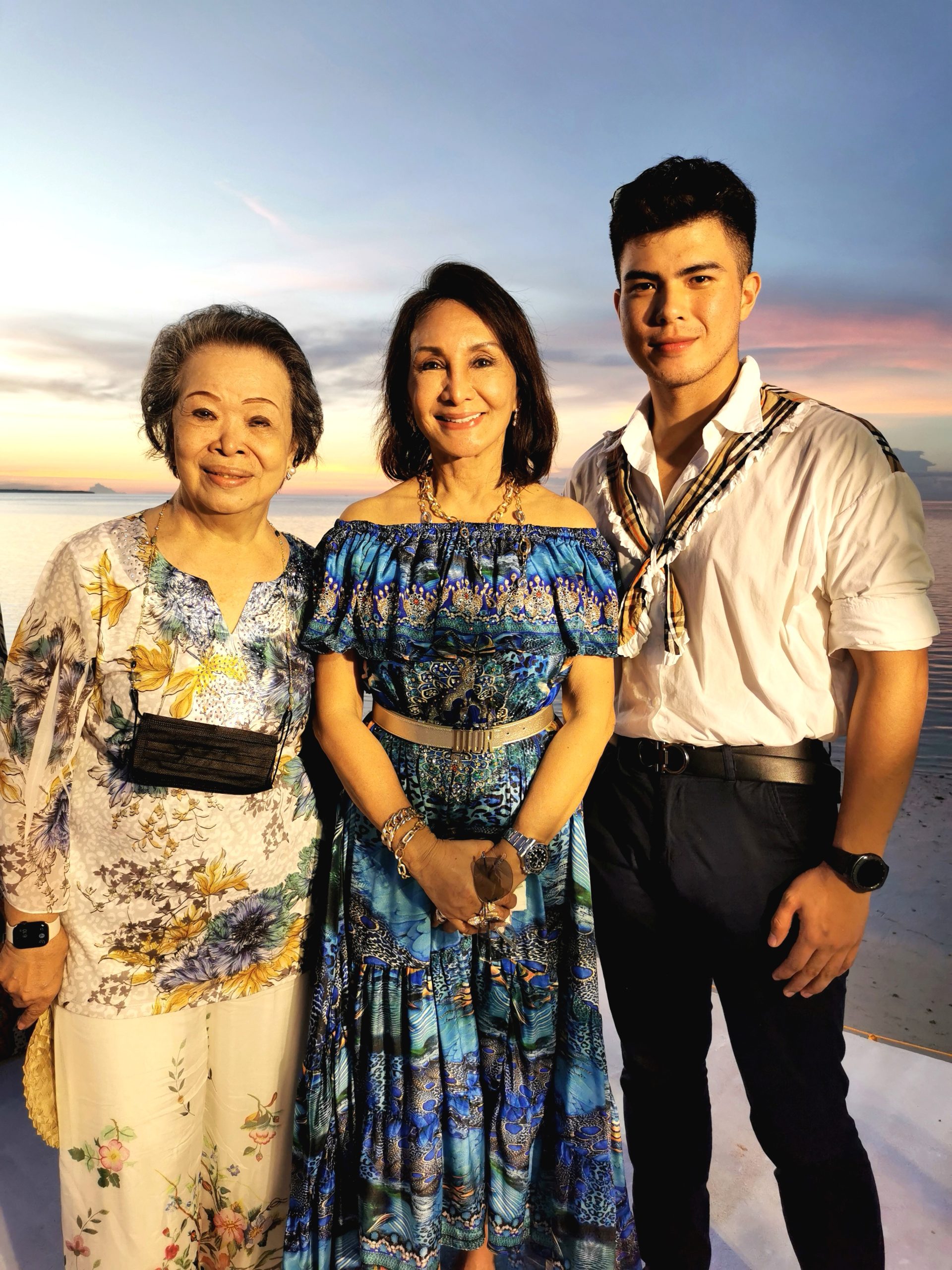 The Santorini Cruise Collection Launch, a Fashion Show on the Beach is not just another runway event but an immersive experience that celebrates both style and culture. Its idyllic setting and stunning designs leave an indelible mark on all fortunate enough to witness it firsthand.
The First Philippine Terno Gala at the Waterfront
On March 10, 2023, important guests and personalities entered the halls of Waterfront Cebu City Hotel & Casino to attend the first Philippine Terno Gala in Cebu brought to you by Cary Santiago.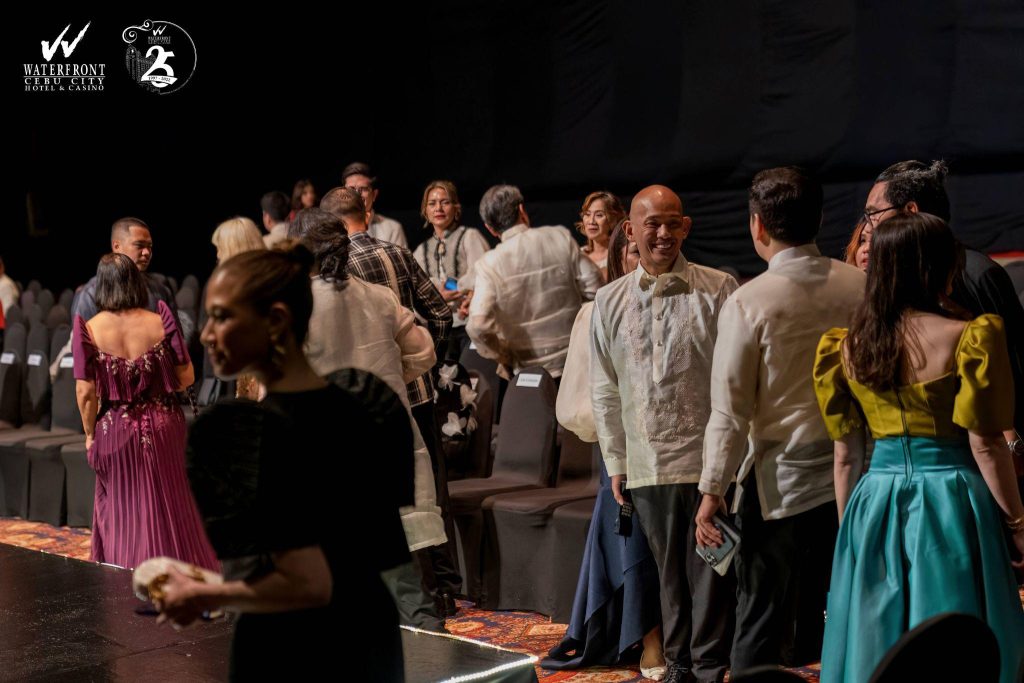 The Philippine Terno Gala's fashion show showcased couture pieces by world class Filipino designers: Rajo Laurel, Mark Bumgarner, Philip Rodriguez, and Cary Santiago.
The event started with Philip Rodriguez' daring designs that left the crowd with the need to see more.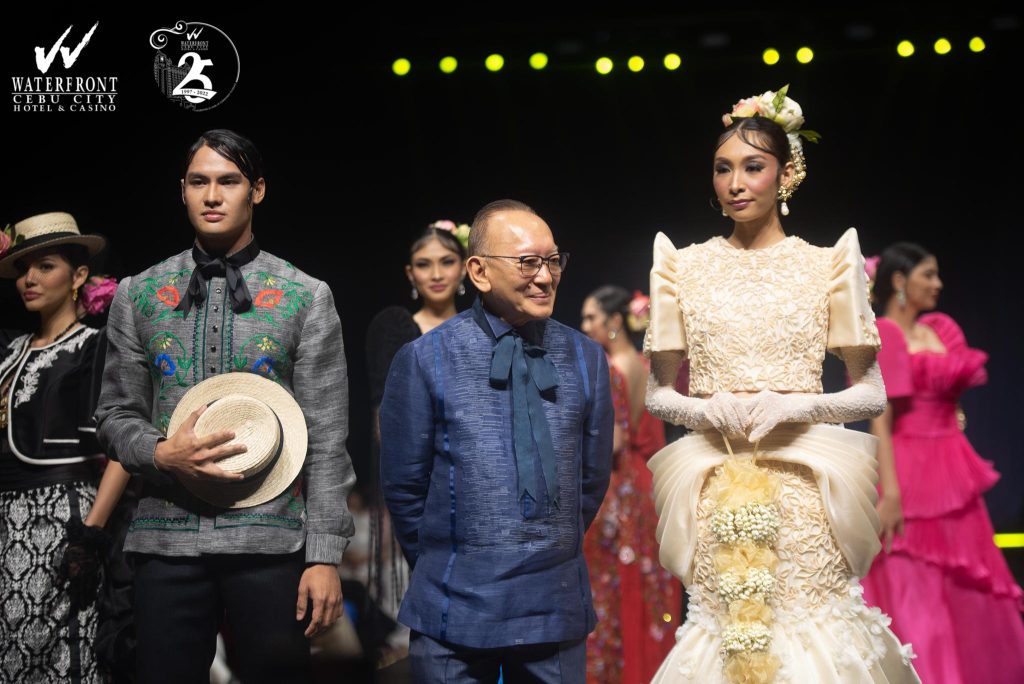 Followed by Rajo Laurel's contemporary pieces, keeping the ongoing gasps and cheers by the crowd alive to fill the ballroom's ambiance.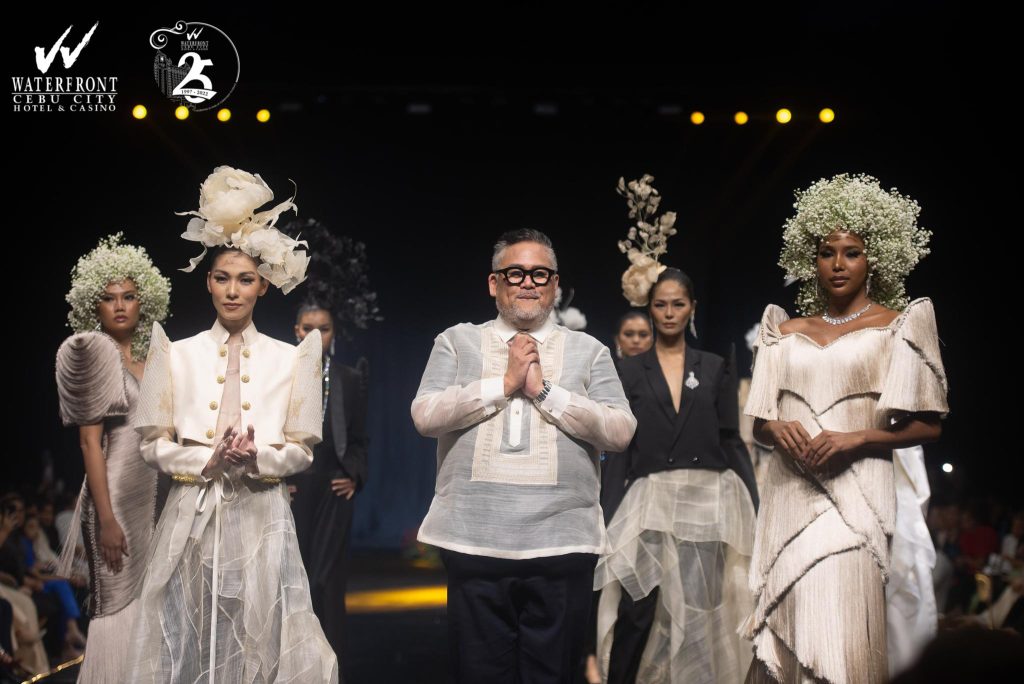 Next to grace the crowd is Mark Bumgarner's elegant designs had everyone raising their cameras to capture the admirable pieces.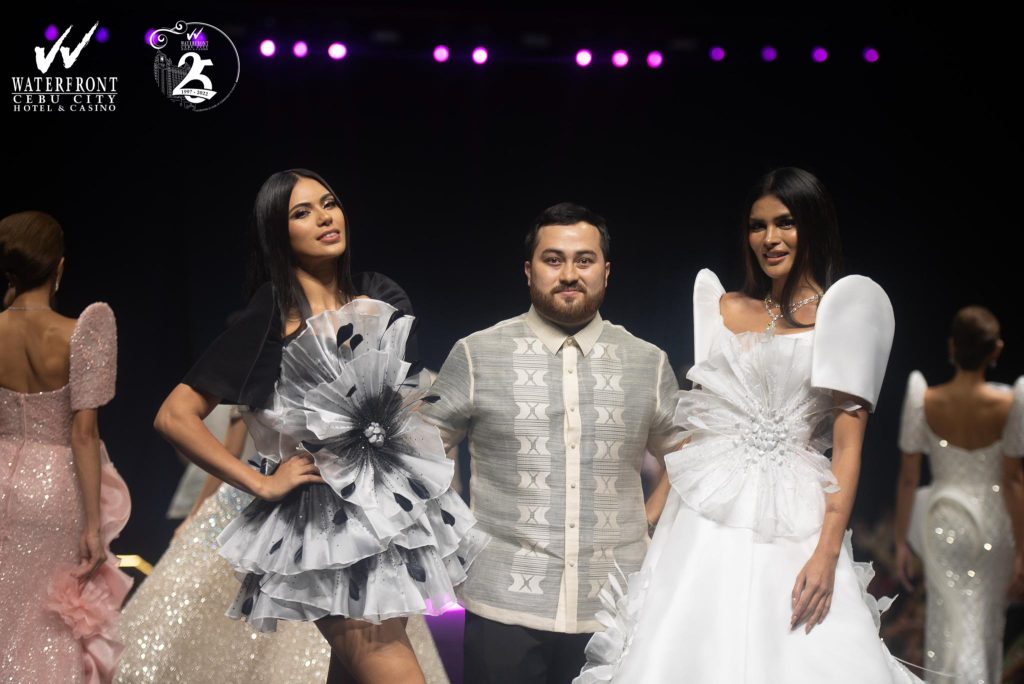 To end the fashion show, Cary Santiago left a statement as the runway welcomed stunning designs leaving the crowd in awe.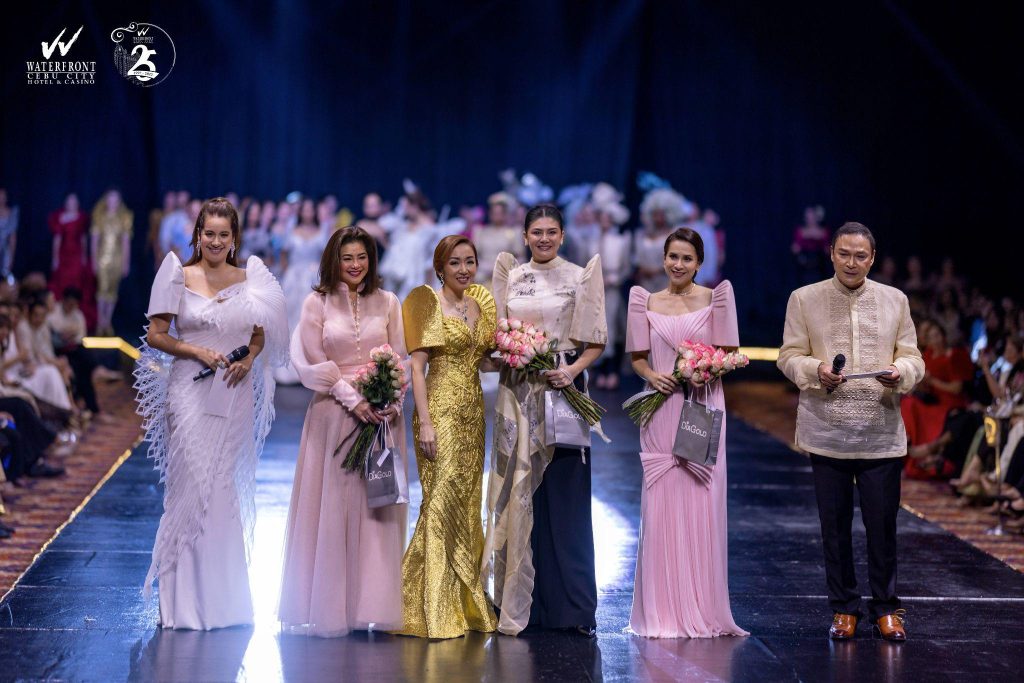 As a surprise to the guests, special rewards were given to the crowd stoppers of the night with special thanks to Dia Gold and Jun Villanel.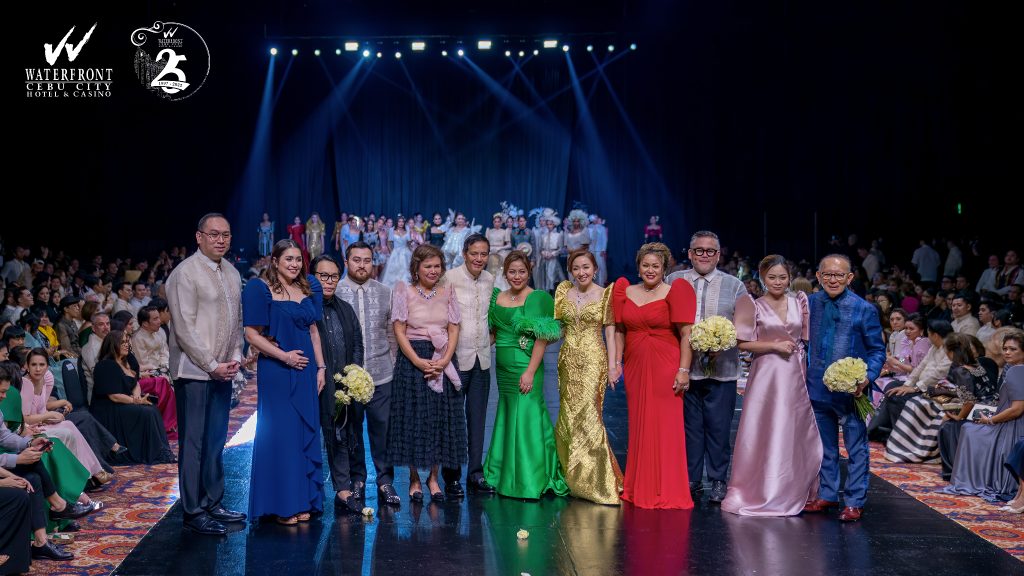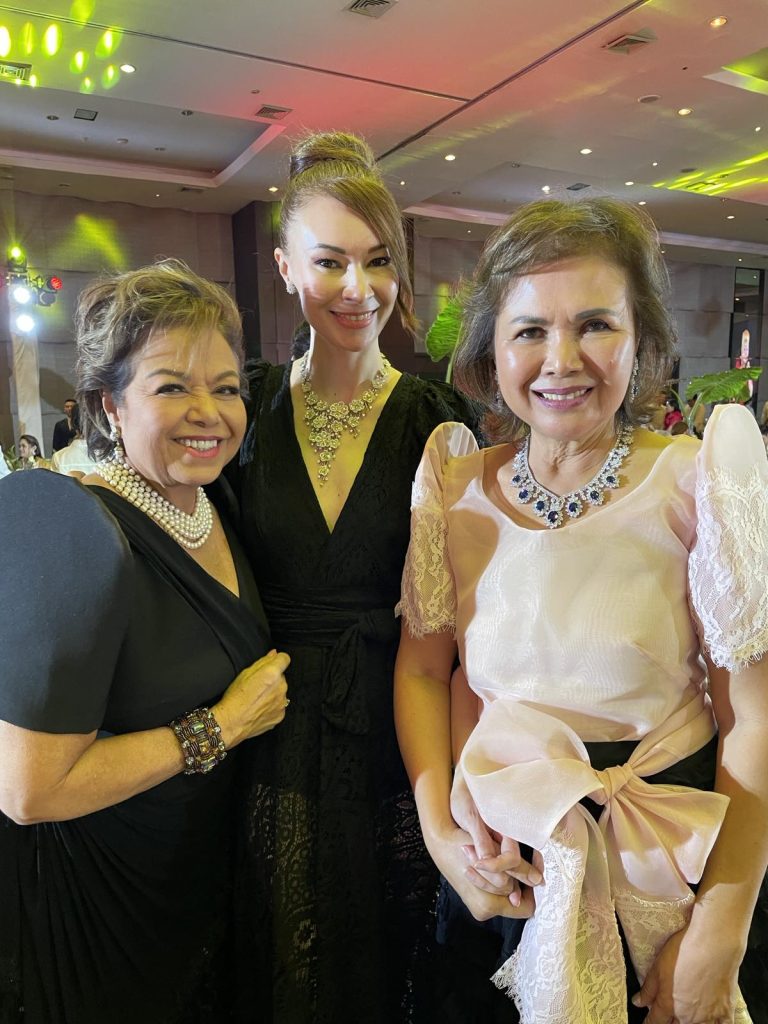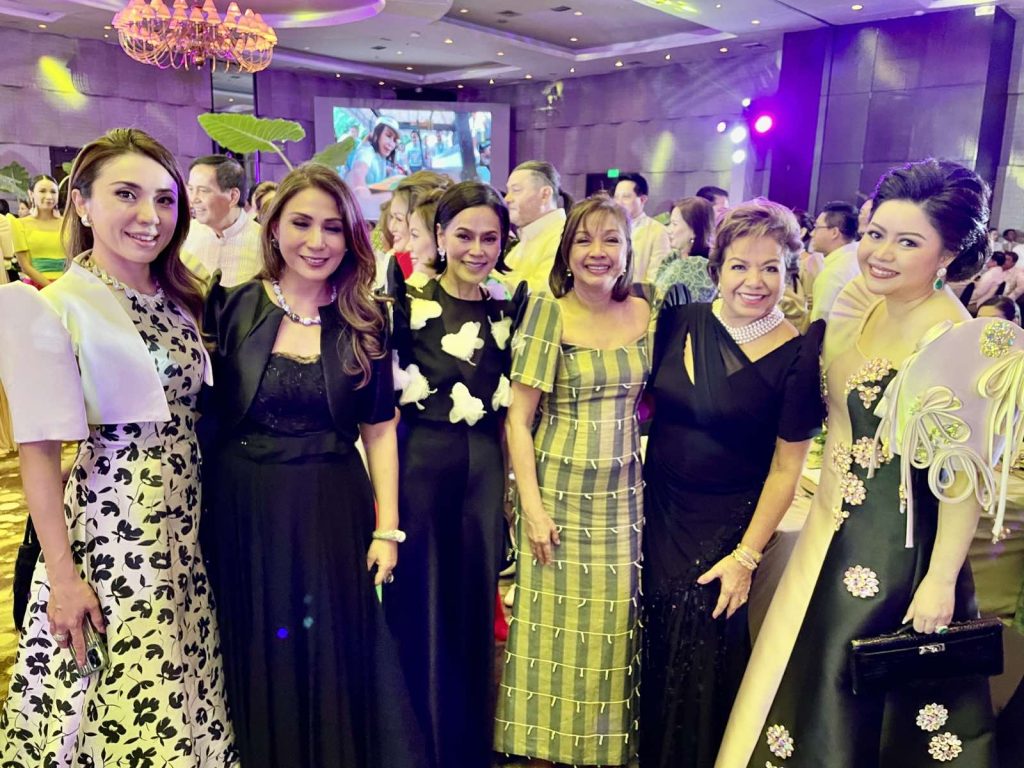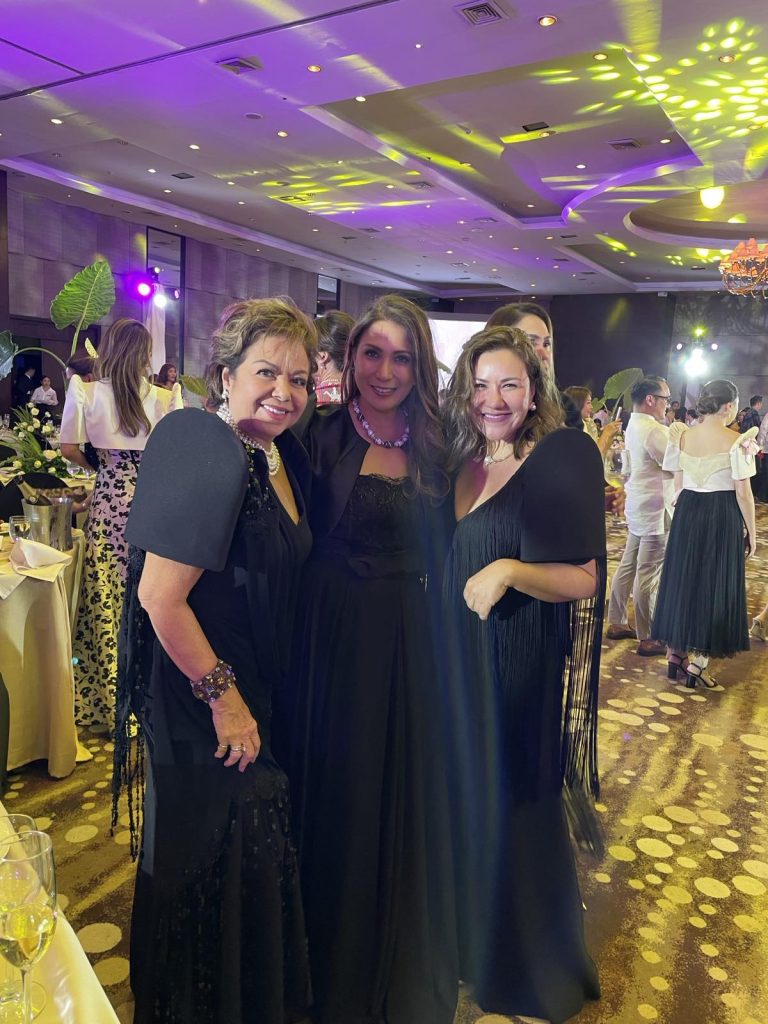 Waterfront Cebu City Hotel & Casino proved once more that they are the premier venue choice for grand events. Waterfront Cebu City Hotel & Casino will see you all in their upcoming events as a part of their year-long celebration of its 25th anniversary.
CEBU KALEIDO: A Night of Fashion and Celebration at Crimson Mactan Resort and Spa
Miranda Konstatinidou's beautiful beach wear and jewellery worn by her guests at an intimate beach party at Crimson Resort in Mactan. Konplott is Miranda's luxury fashion accessory brand sold in Europe, worn by fashion icons and celebrities (no, it's not sold locally) while her exclusive beach wear in silk are fabric designed by her, are also sold in high end resorts around the world. Meanwhile, Crimson Resort in Mactan will officially close temporarily for a makeover as most of their beachfront villas were damaged heavily by last December.s super typhoon Odette. Here's to a great reopening of Crimson in a few months. (photography by Steffen Billhardt)