Geek Chic: The Bow Tie
Considered as a "statement maker", you can see celebrities and important individuals in the fashion industry donning the bow tie.
I have to admit, Whenever bow ties are mentioned, I would immediately associate it with Pee-wee Herman… and I've recently just started to change that pairing from an eccentric fictional character to a more fashion-forward individual.
Considered as a "statement maker", celebrities and fashion-forward men are donning bow ties. A perfect example would be über stylist, Rachel Zoe's former assistant, Brad Goreski who's known for his dapper sense of style which often includes him wearing a bow tie.
The bow tie is a very versatile accessory: If you're the classy type, you can use it on a formal, black tie event… and if you're more directional and would wanna make a statement, those over-sized, quirky bow ties from Lanvin are perfect.

By Mikey Sanchez photo credits: GQ



Hilarious Series ramps up with Season 2
These two comedy series are now airing their season 2 programs.  Highly acclaimed and are must-watch rib ticklers in our opinion.
Resident Alien 2: starring Allan Tudyk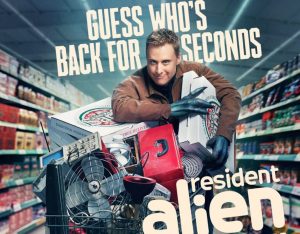 Space Force 2: starring Steve Carell