Five reasons Ayala Center Cebu makes you feel the Christmas spirit
Waltz into Ayala Center Cebu and be welcomed with magnificent sights, dining delights, and fun-filled activities and events for the whole family.
Waltz into Ayala Center Cebu and be welcomed with magnificent sights, dining delights, and fun-filled activities and events for the whole family. Here are five ways to celebrate the holidays at the region's premier lifestyle destination.
Catch the "Symphony of Lights"
Marvel around thousands of dancing and twinkling lights illuminating the beautiful Cebu night sky. Ayala Center Cebu's new tradition, the bigger and brighter "Symphony of Lights" is orchestrated by award-winning lights and sounds director Voltaire De Jesus and is a spectacular show of synchronized lights and carols. Catch it nightly between 6:00 p.m. to 10:00 p.m. until January 31, 2017 at The Terraces.
Listen to 12 Days of Christmas Carols
Get into the spirit of the season with the heartwarming medleys of well-loved Christmas hymns. Choir groups and musical acts like Psalm of David, Euphonious, and Kanta Sugbo, are set to entertain shoppers daily from December 12 to 23 from 5:00 p.m. onwards. Sing along to holiday favorites or groove to the lively Christmas tunes that these special guests bring.
Treat your loved ones to Holiday Happy Hour
'Tis the season not only to be jolly, but also to indulge in mouth-watering selections that restaurants in Ayala Center Cebu have to offer. Visit Mooon Café, Bigby's, Ulli's Café Laguna, Sizzlin Pepper Steak, Tsim Sha Tsui, J.Co, TGIFriday's, Italianni's, Teriyaki Boy, Mooshi, and Pizza Republic from 2:00 p.m. to 5:00 p.m. daily to enjoy special offers until January 25.
Meet Santa Claus
To make Christmas even more merry and bright, gather around the Christmas Tree at The Gallery on all Saturdays and Sundays of December (except December 24) at 5 p.m. for a chance to meet Santa. Make it more meaningful by donating P50 at the Concierge near Vera Moda to meet and greet Santa Claus. All proceeds go to the HERO Foundation.
Have a fun-filled afternoon at Superfans Day
Ayala Center Cebu invites some of the most beloved cartoon characters to spend an afternoon with the kids on December 17. Get a ticket to mingle with Shrek, Alex the Lion and Skipper from Madagascar, Po from Kung Fu Panda, and Snoopy for a minimum purchase of P500 from any children's store from December 10 to 17, including Metro and Rustan's Department Store. Each activity ticket entitles the bearer to join the character poster coloring activity, mall parade and bring home a photo souvenir. A total of 100 tickets will be given away, each for one child and one adult companion. To join the celebration, kids must come in their favorite movie cartoon character and present their tickets at The Gallery on December 17, between 2 p.m. to 5 p.m. For more details on how to get a ticket, visit the Concierge at the new expansion (near Vero Moda).
Share your photos this Christmas season using the hashtag #LovEmThisChristmas.
AYALA CENTER CEBU
Cebu Business Park
6332. 266 2535 | Facebook | Instagram
After the Razzmatazz and Razzle-dazzle: Post-Sinulog Thoughts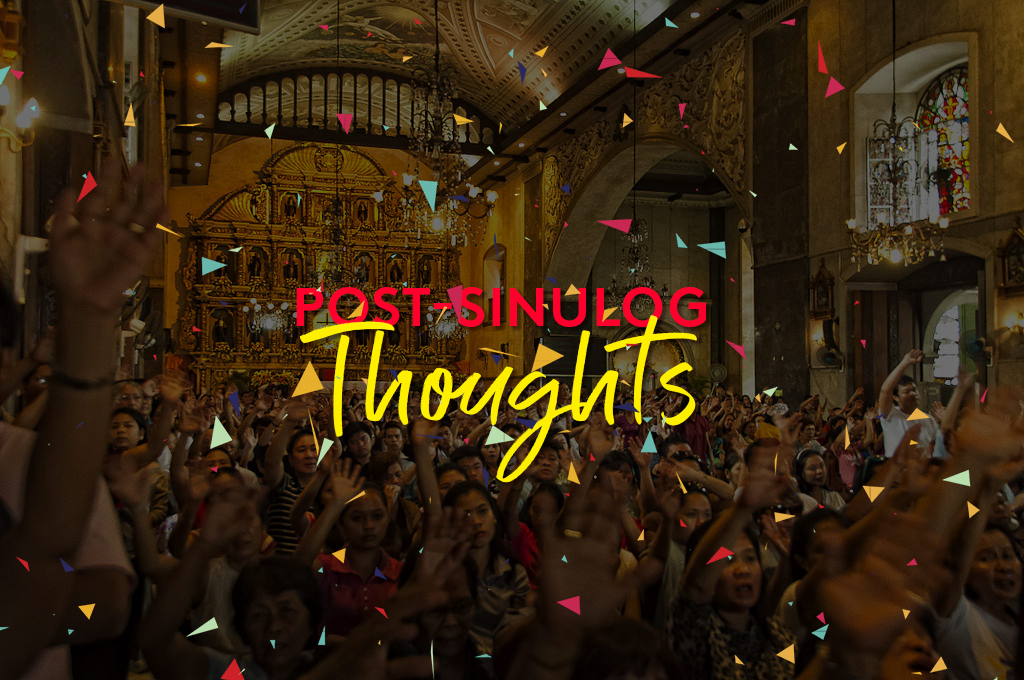 by Chrissy Grey Resaba
Buntings of red and yellow were removed from post to post. Streets were cleared and cleaned. Fireworks displays were faded in the sky. Beats of #prititit and tunes of tourism-booster Cebu tracks were being put to archive once again.
Contingents from different parts of Cebu and Central Visayas had gone back home. Party people had gone sober while some are still recovering. Traffic has gone back to normal. Businesses, as well, has gone back to normal.
However, all the fun and loud chants, smooth grooves, and frenzied choreographies are still replaying from the memory banks of the people who celebrated Sinulog 2020. The queen of all festivals in the Philippines has left again another mark of cultural and festive nostalgia to the people from all parts of the world and Cebuanos alike.
After all the razzmatazz and razzle-dazzle, let's get to know what are these IG and FB personalities' #PostSinulogThoughts about celebrating the newly-culminated Sinulog 2020 and how did they differentiate it to last year's.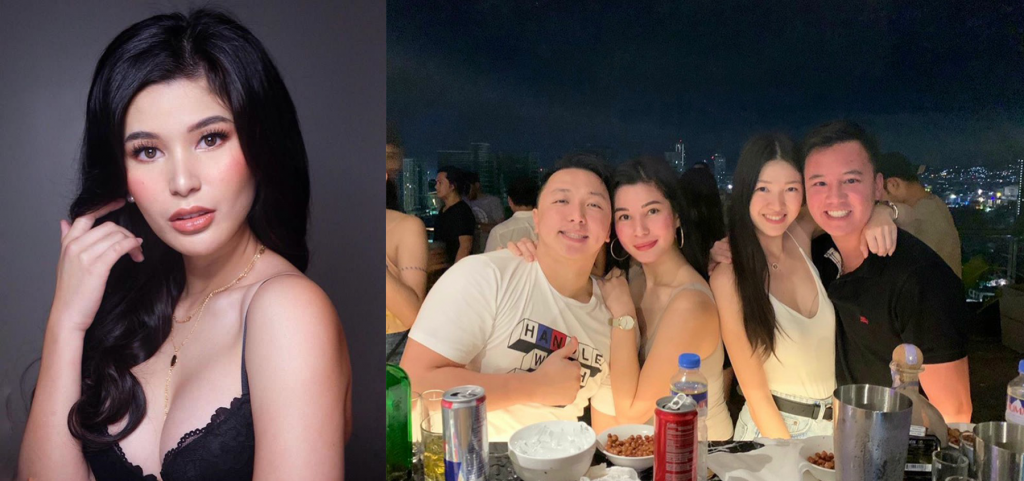 Eva Psychee Patalinjug, Binibining Pilipinas Grand International 2018 @evapatalinjug
I celebrated my Sinulog with my boyfriend and some of my close friends, we decided to choose a place where it's not very crowded where we can see the whole Cebu, talk, and chill the night away. We went to Verified Lounge – Cebu's newest premier sky lounge – located at the rooftop of the Avenir Building. It was something new for me as the night was calm as I was away from the busy streets of Cebu. It's definitely one way of enjoying such festivities.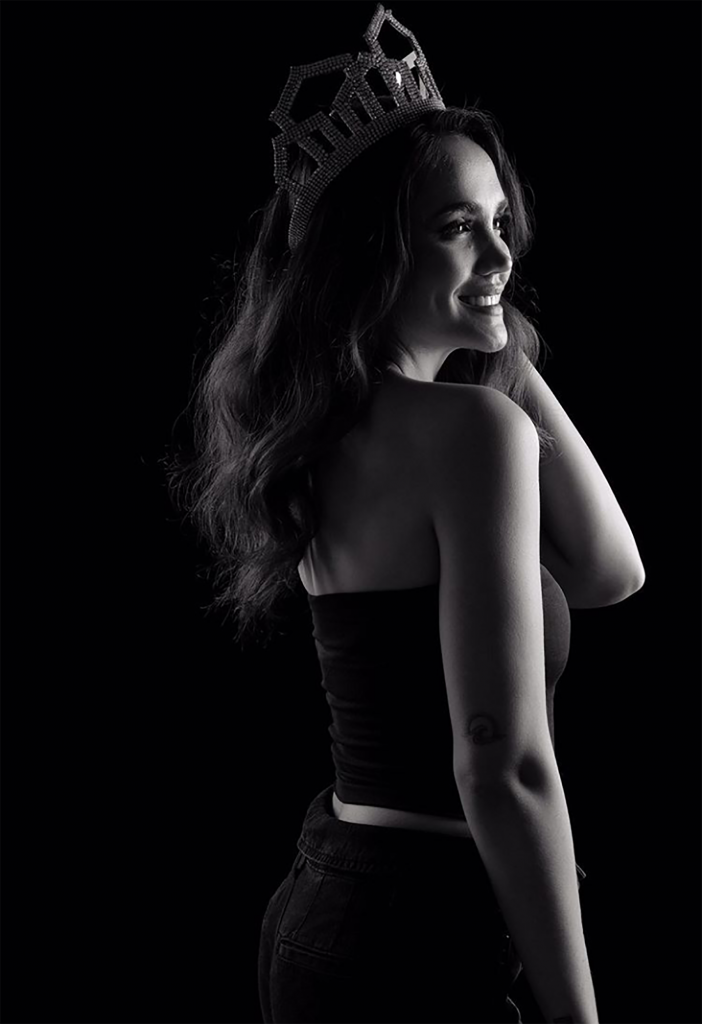 Kim Covert @kimcovert
The Sinulog celebration this year has been one of the most memorable events in my life. Not only was I invited to perform a few of my own songs during the weekend's festivities but I also turned over my Binibining Cebu Tourism crown to my successor. Last year, I was busy with work and was not able to completely grasp the events. This year's festival was more organized which is a great success for Cebu. Many have flown in and had spent time with their families in the "Pit Senyor" spirit, others have enjoyed spending time off with friends and colleagues. It was a great way for me to start my New Year and close my Cebu chapter before I leave to the US in a week.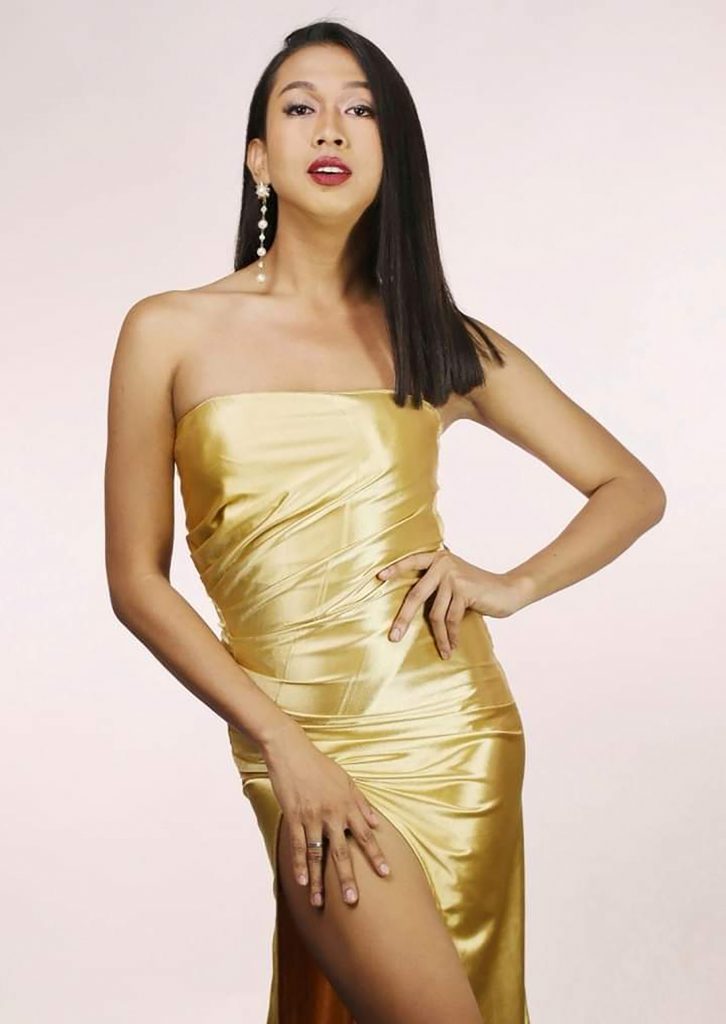 Alem Garcia @thealemgarcia
Well pretty much, I was still busy doing shows and events for Sinulog. But what made it different this year was the religious celebration made me believe even more that Sto. Niño is indeed miraculous and that He is meant to be celebrated. Even though you are successful in your chosen field, furthermore, everything will be meaningless if you do not have the faith.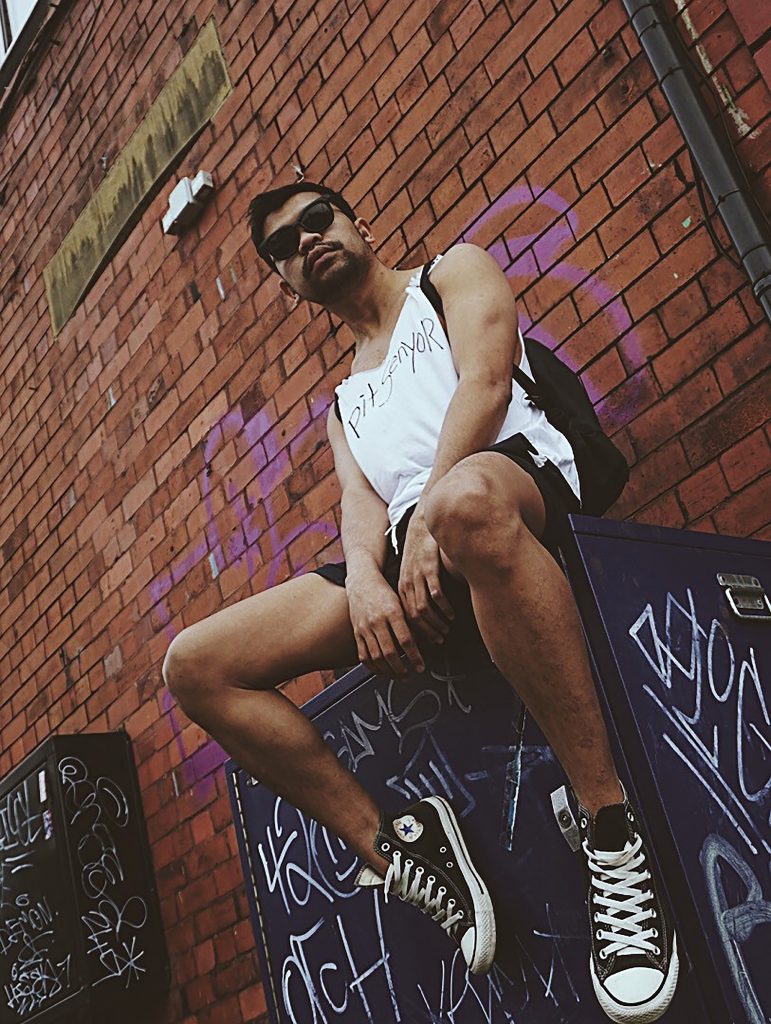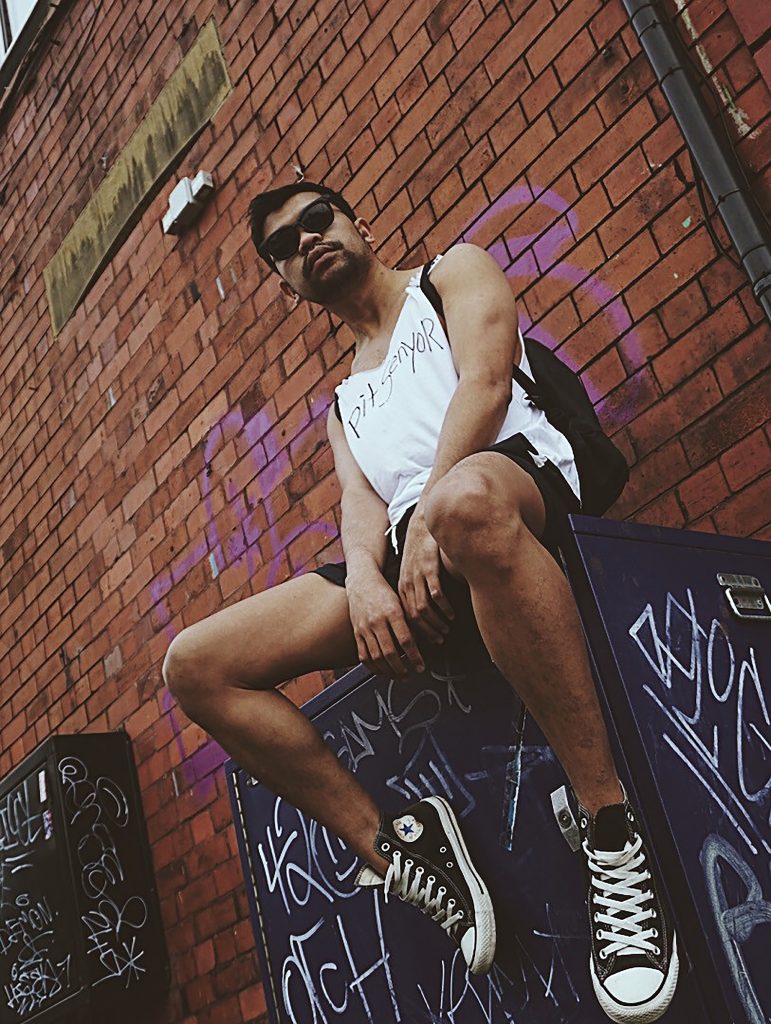 Philip Pingoy @almostablogger
We all have a Sinulog story to tell. It may be a story of losing faith and finding hope. But what is important is our devotion to the Holy Child Jesus (Señor. Sto. Niño). This year, my Sinulog experience was very different since I am already based in the United Kingdom. Thanks to the internet I was still able to watch the mass and all the festivities in Cebu. I am in UK because I prayed to Sto. Niño. So, let us not forget the reason we celebrate Sinulog and let us continue to share to the rest of the world why Sinulog is the grandest festival in the Philippines. Pit Senyor everyone! I hope you had a good one!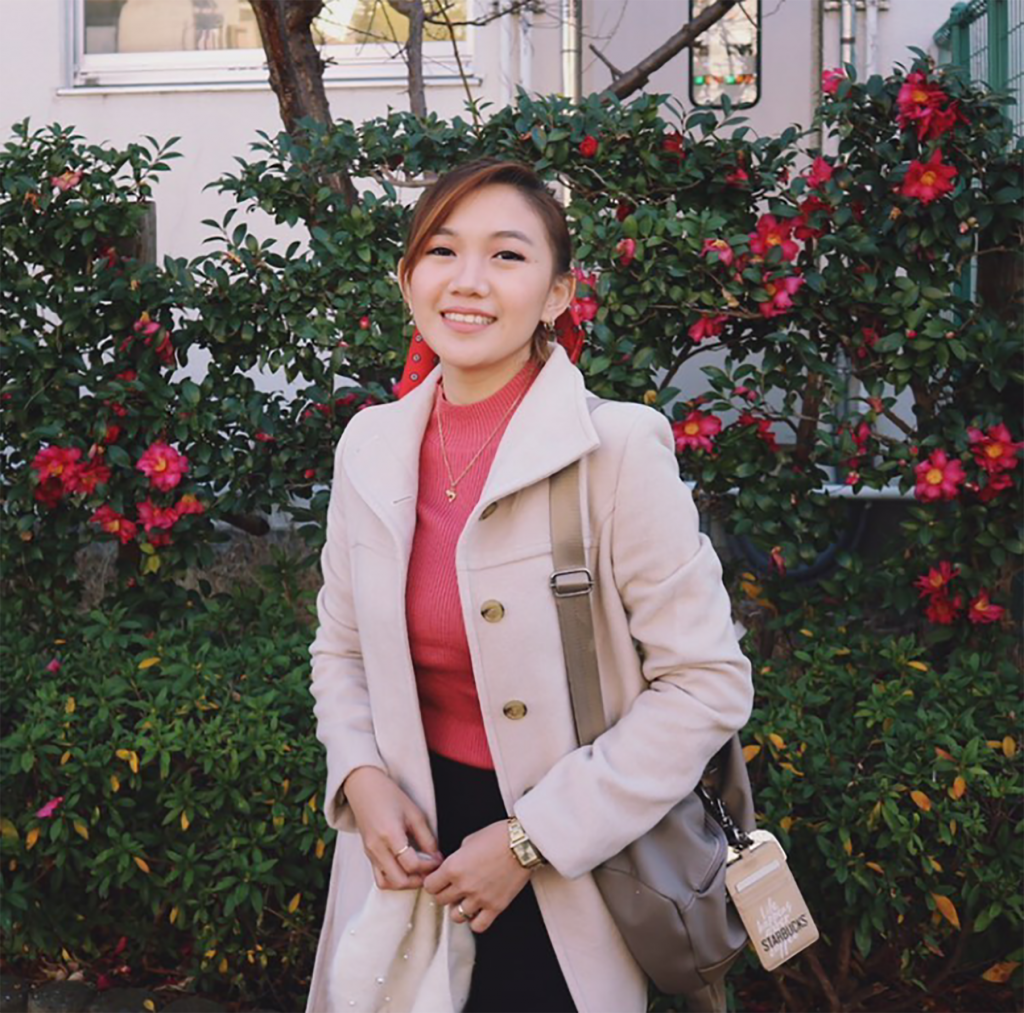 Lyssa Amor @lyssaamor
Sinulog celebrates Filipinos' acceptance of Christianity. This year, I celebrated Sinulog by hearing the word of God. I went to church which I do every Sinulog but the difference now is that I am not in Cebu. It's my first time to celebrate Sinulog away from home because I'm currently in Japan. Although I didn't dance the traditional Sinulog dance this year, I wasn't able to watch the fireworks in Ayala, and didn't spend time with my friends in Mango and IT Park. Snr. Sto. Niño will always be in my heart and I am forever grateful that our ancestors accepted Christianity and we continue to embrace it up until today.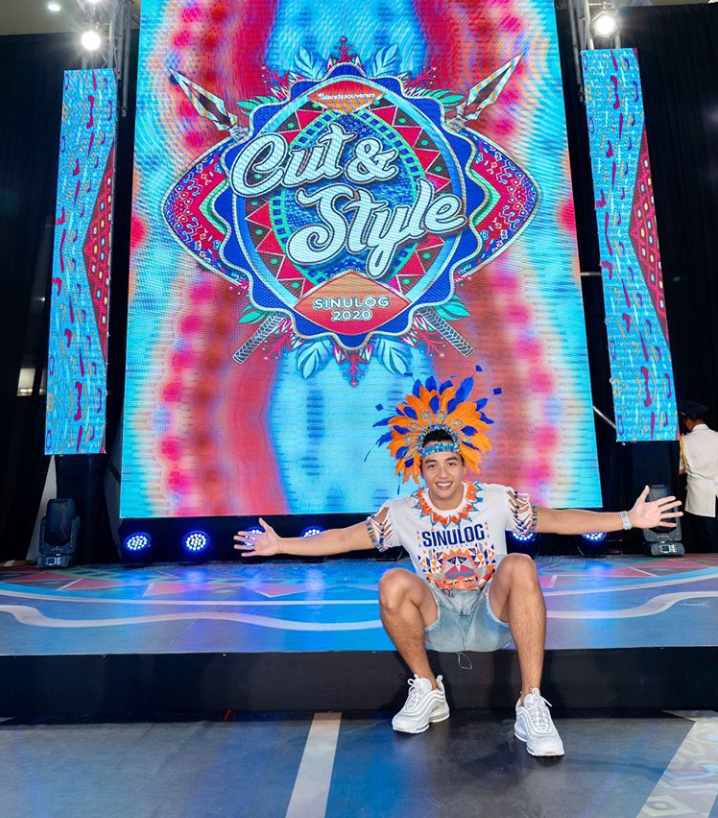 Kevin Geniston @kgeniston
Sinulog will always be a highlight for me as a Cebuano. This year has been fulfilling as I was able to brave the crowd in the Basilica Minore del Santo Niño de Cebu three times to attend the novena mass which had also become like bonding time with my family, daughter, friends and loved ones. I ended the celebration of the Sinulog festivities with a bit of the usual partying and/or clubbing.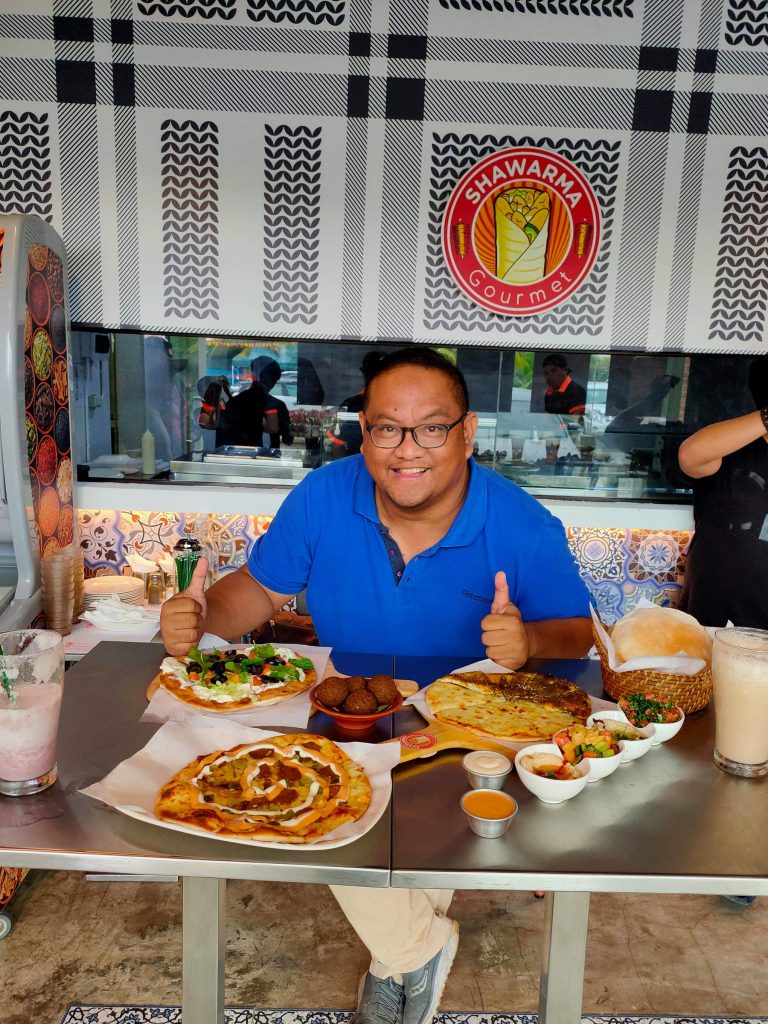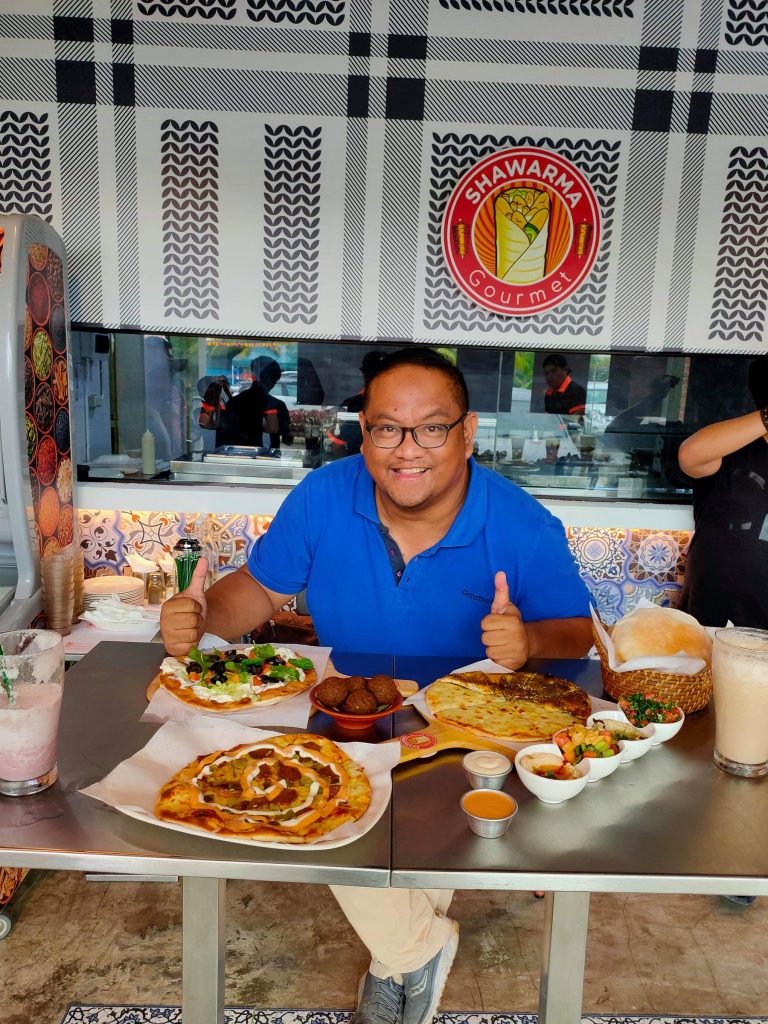 Carlo Andrew Olano @kalamicebu
My Sinulog this year was a great mix of religious and secular activities. I was able to go to the church and somehow witnessed the Traslacion and the fluvial procession. I also went to many side events like parties, mall events, and fireworks exhibitions. Sinulog 2020 had a fantastic balance of fun, faith, and festivities.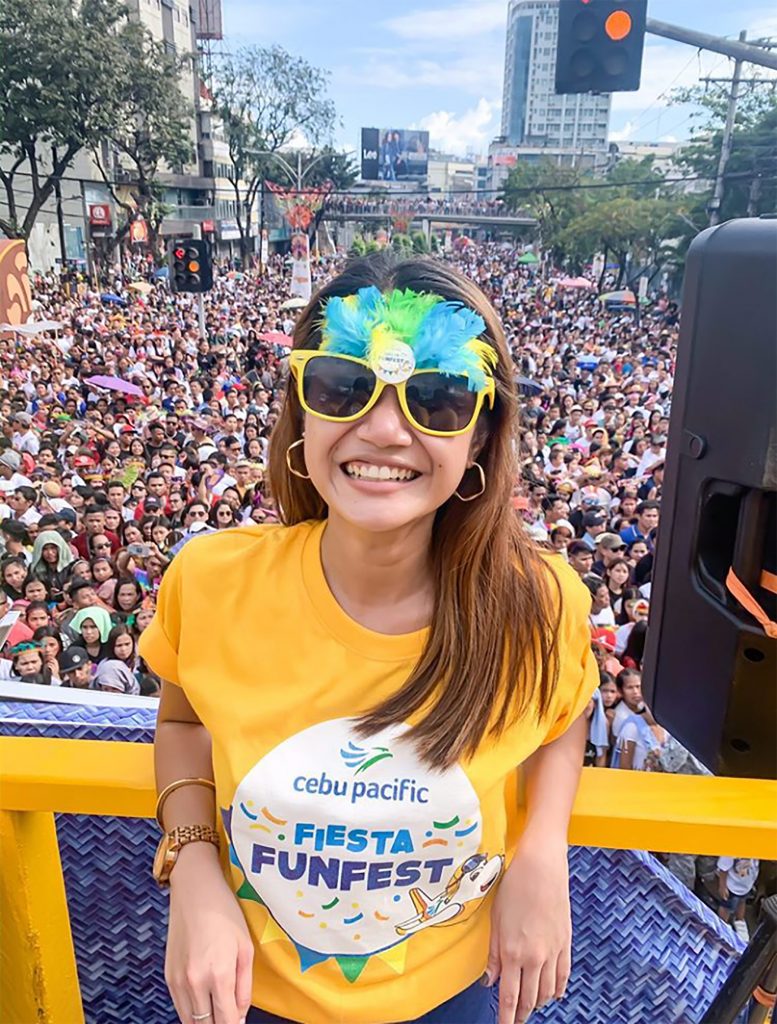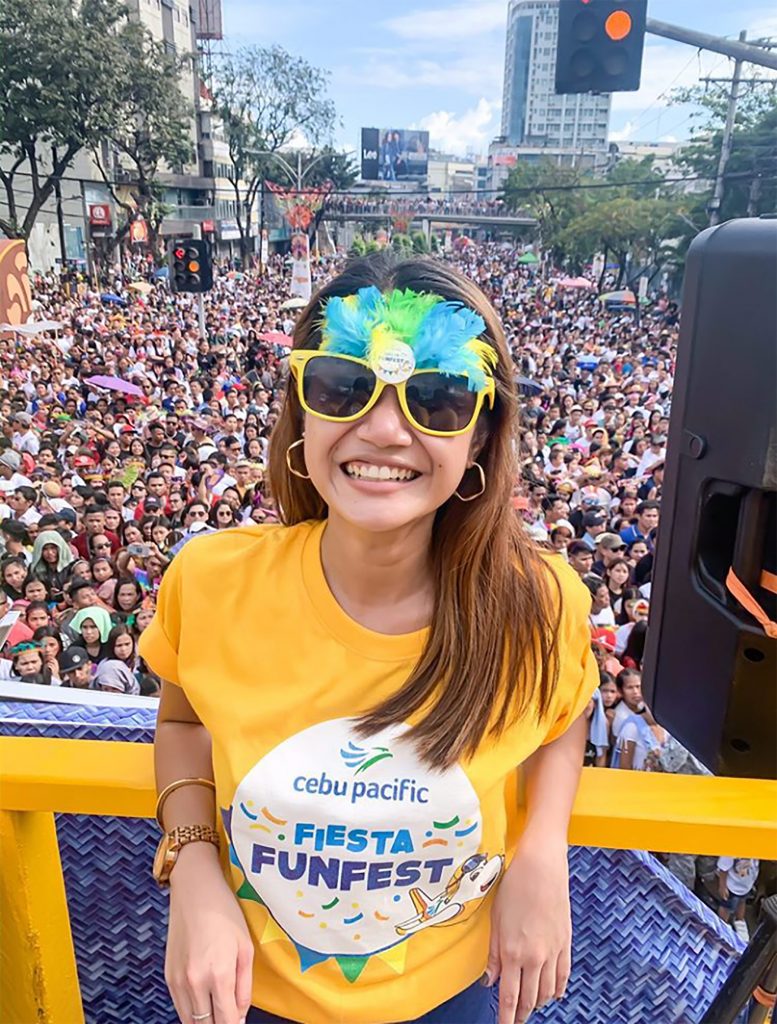 Danna Bacolod @dannabacolod
This is the second time I spent Sinulog with Cebu Pacific. We had series of events prepared during its entire week and participated the grand parade by having a float last Sunday. I always feel excited to join Sinulog Grand Parade and see a lot of people celebrating their own way of Sinulog along the streets of Cebu. Guess it's safe to say that I had so much fun. Even if this was work-related, I didn't feel like I'm actually working as it was always joyful doing events like these.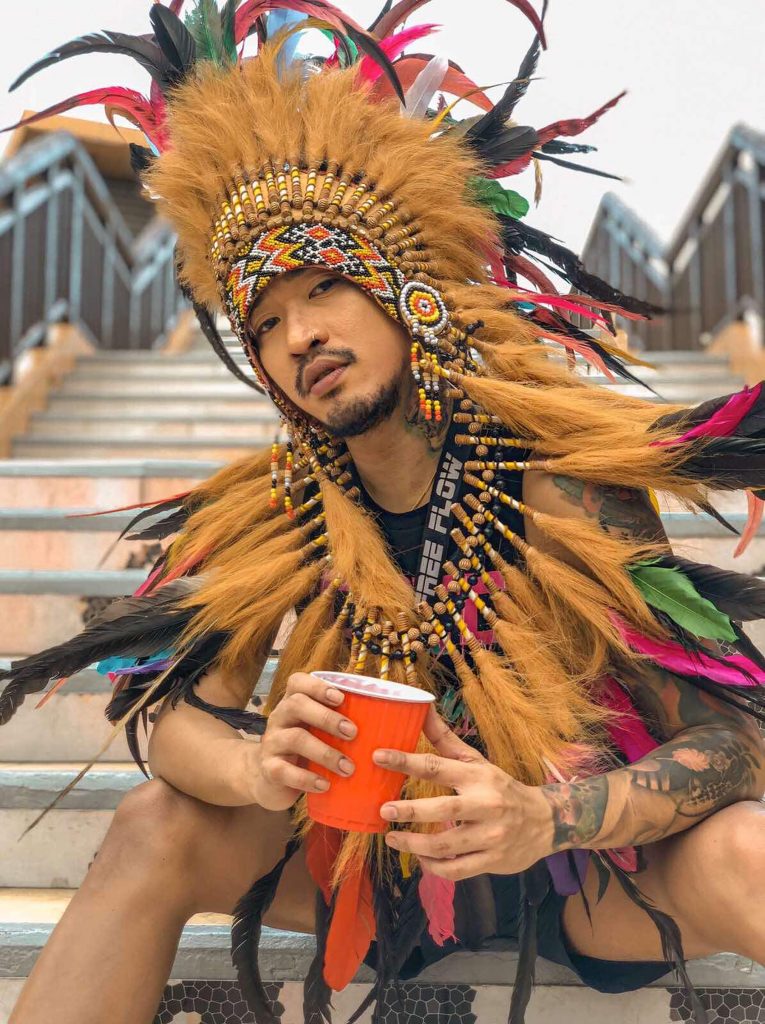 Nimo Hideki @nimo_scheming
You prolly knew this already but, Sinulog 2020 was by far the most phenomenal Sinulog experience: more laidback than the previous years'. The music in every corner of the streets were still there to help you let loose and enjoy the experience. The surge of people had tested you both mentally and physically. But it was an experience you cannot miss like mingling with people from different walks of life and shouting out "Pit Senyor" to everyone. Summing up my Sinulog experience, I was able to get crazy and enjoy all aspects of the fest.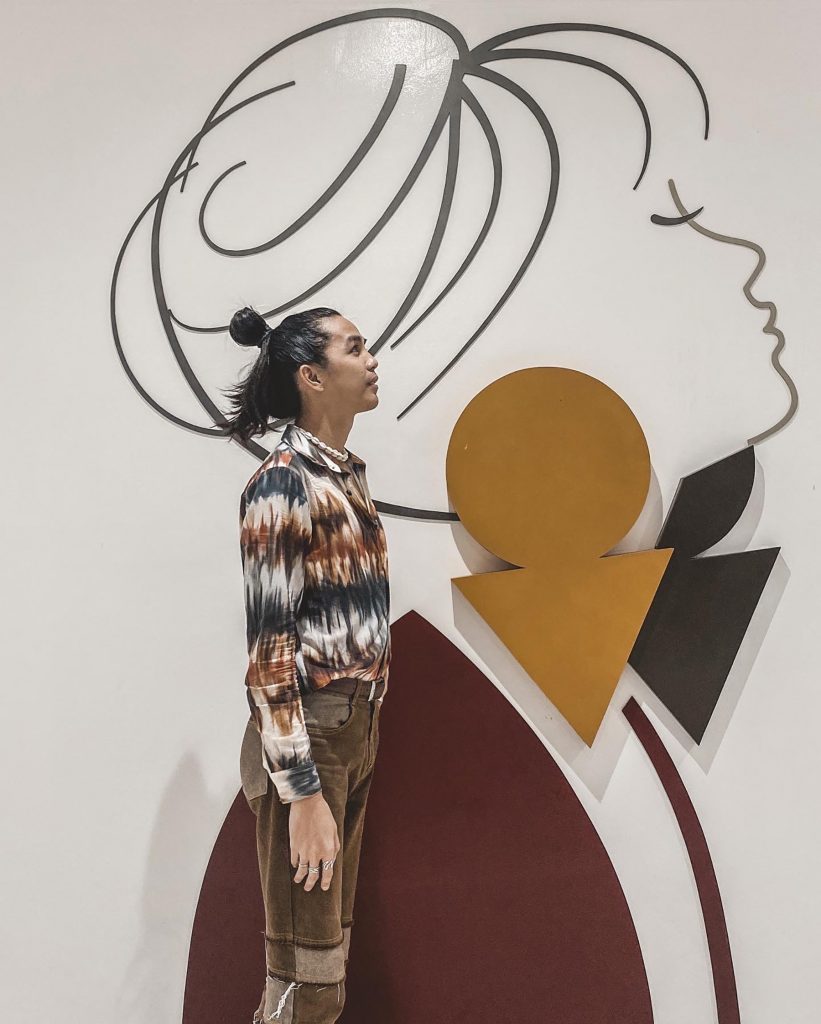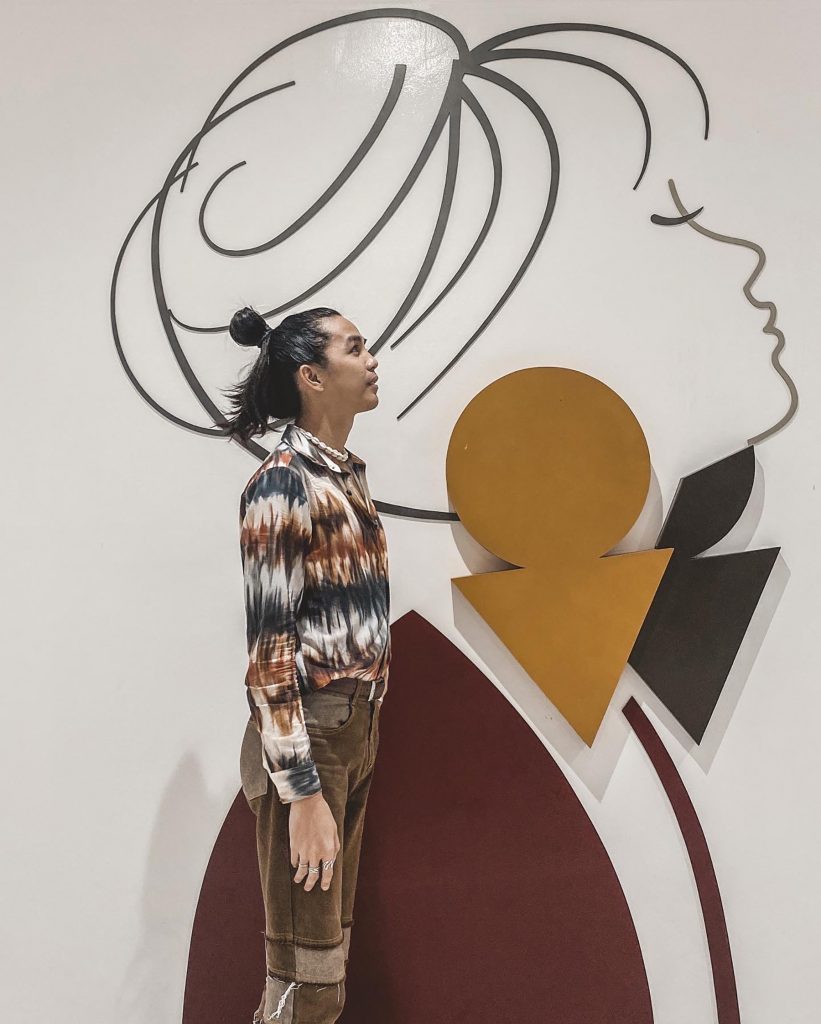 Michael Rey @michaelsomewhere
I had the most relaxed Sinulog experience this year. I did not party and preferred to witness the grand parade instead. I do think that this year's celebration was more colorful and much safer as establishments strictly abided the rules imposed by the Cebu City Government. I was also amazed at how the festival of fashion here in Cebu has evolved throughout the years.
Now, how about you? What are your #PostSinulogThoughts this Prititit 2020? Viva Pit Senyor!
Stellar Set of Music Personalities shine at the First World-class Music Festival in Cebu
by Chrissy Grey Resaba
A day before the grandest celebration of Sinulog Festival this new decade of 2020, a line-up of international DJs and local artists are up gathered to perform for the first time this January 17, 2020, at City Di Mare at the South Reclamation Properties.
Speaking of first, Baladhay is the pioneer music festival in the Queen City of the South that forays top-rate production and technical values. Headlining the event are Spanish house and electro house DJ and producer Danny Avila, British DJ and record producer D.O.D, America EDM, DJ Makasi, and Dutch DJ and record producer duo Blasterjaxx.
Joining the stellar set of musical personalities are top Manila bands Sandwich and Pedicab which rock music resonates in timelessly. Moreover, hit band IV of Spades are paired together with homegrown Cebuano artists Victor Jao, Gino V, Budoy, Intertwined, Mandaue Nights, Sepia Times, and Route 83.
One of the most technically complex setups ever done in Cebu is a combined efforts of Cebu's Blackstraw Productions and Manila's Creative Control Group which deserve to get noticed to the global standard levels with its PMX Audio setting up a full-on L Acoustics K2 rig—the preferred brand and model of international artists, bands and DJs. For the lighting, the event is presenting locally available fixtures pre-mapped and programmed weeks before the event with a Chamsys MQ500 Stadium lighting controller. It is also the very first unit in the country that makes a debut in Cebu courtesy of Forerunner Technologies PH Professional.
Timely and relevant to the Sinulog festivity, this musical event is named after the adviser of Rajah Humabon. Baladhay was responsible for inventing the famous Sinulog dance of "two steps forward, one step backward" after he was healed miraculously from severe illness by the most Holy Child Jesus.
Sinulog 2020: What's and Where's?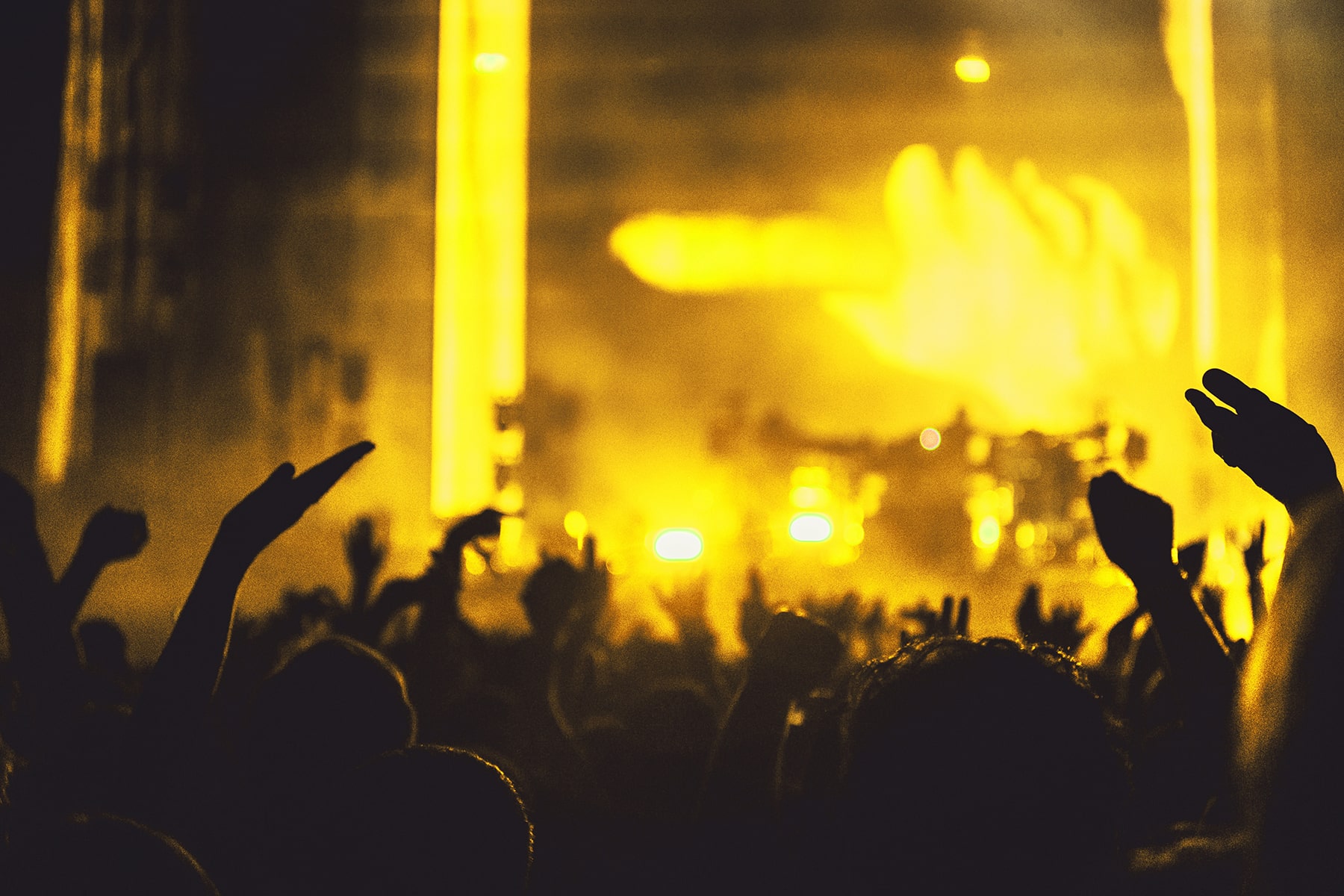 by Allain Dumon Fonte
Sinulog is always the most awaited festival in the Philippines.  Dating back more than 400 years old, the festivities have shown the best of Cebuano culture and heritage. The Sinulog celebration draw more than 300,000 tourists every year, both pilgrims and spectators.  So, here are a few places to visit and events that should not be missed to make the best of your Sinulog experience.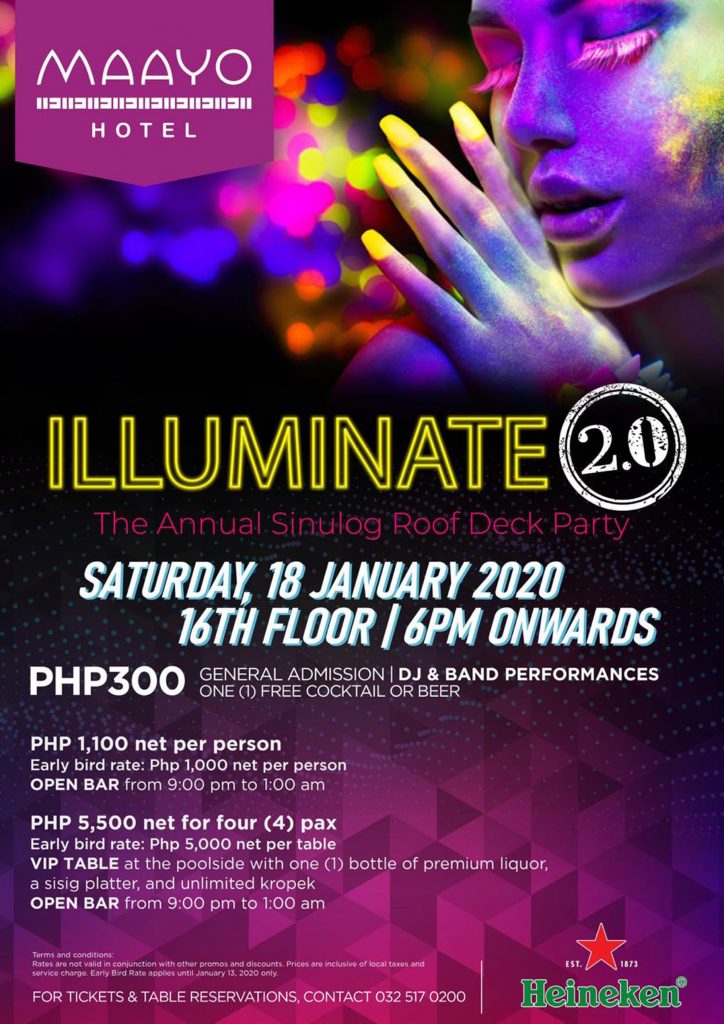 MAAYO Hotel Cebu
168 Plaridel St, Mandaue City, 6014 Cebu
On the 18th of January, MAAYO Hotel Cebu will host ILLUMINATE; neon lights, great music, and an open bar will be the events' highlights.  Illuminate will be at the roofdeck pool bar of the MAAYO hotel.  Live bands will be performing all throughout the night.  Never miss out on their world-class sangria, a signature concoction that can only be enjoyed from the MAYO Hotel bar.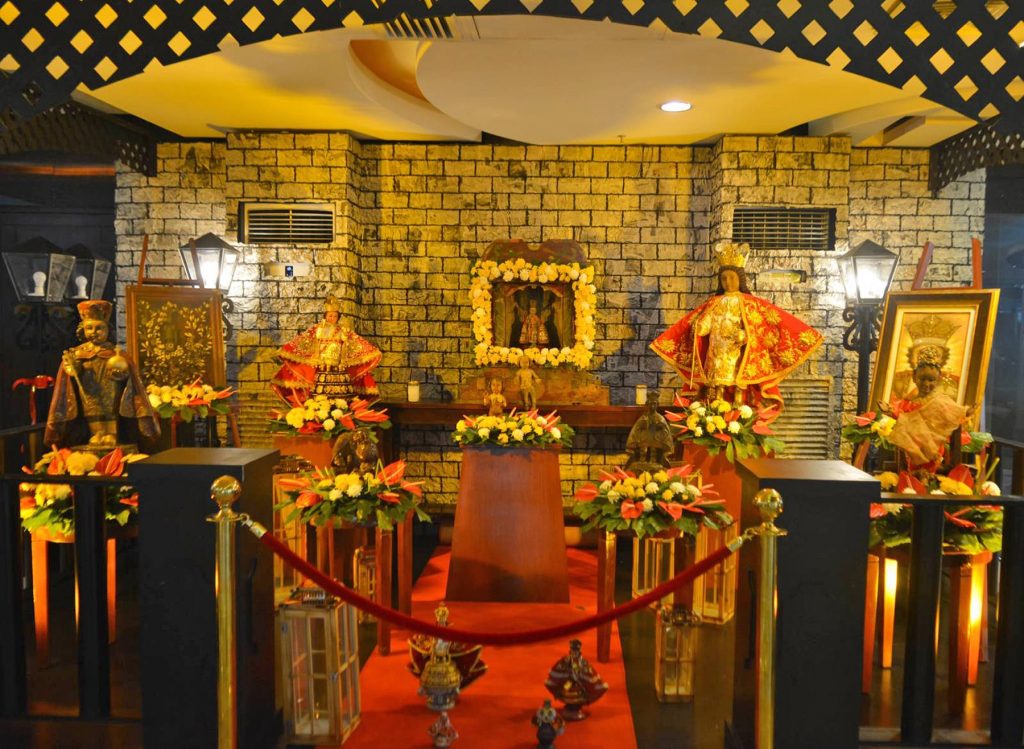 Cebu Parklane International Hotel
N. Escario St, Cebu City, 6000 Cebu
The hotel is best known for its warmth hospitality, sumptuous culinary collection, and for its love and promotion of the Cebuano culture.  The Cebu Parklane International Hotel displays an exquisite collection of Santo Niño images by Madam Josie Pereyra.  With some dated back from the 18th century, with over 50 relics and images are displayed at the hotel's lobby. One of the relics include a century-old Santo Niño from the National Museum.
The hotel also has an exhibition of paintings by Cebu's renowned artist, Ruel Rosello.  While all of his paintings show Cebuano culture, practices, and traditions, the image of the holy child, the Señor Santo Niño, is the central figure in all of the art pieces.  The exhibition is until the 31st of January.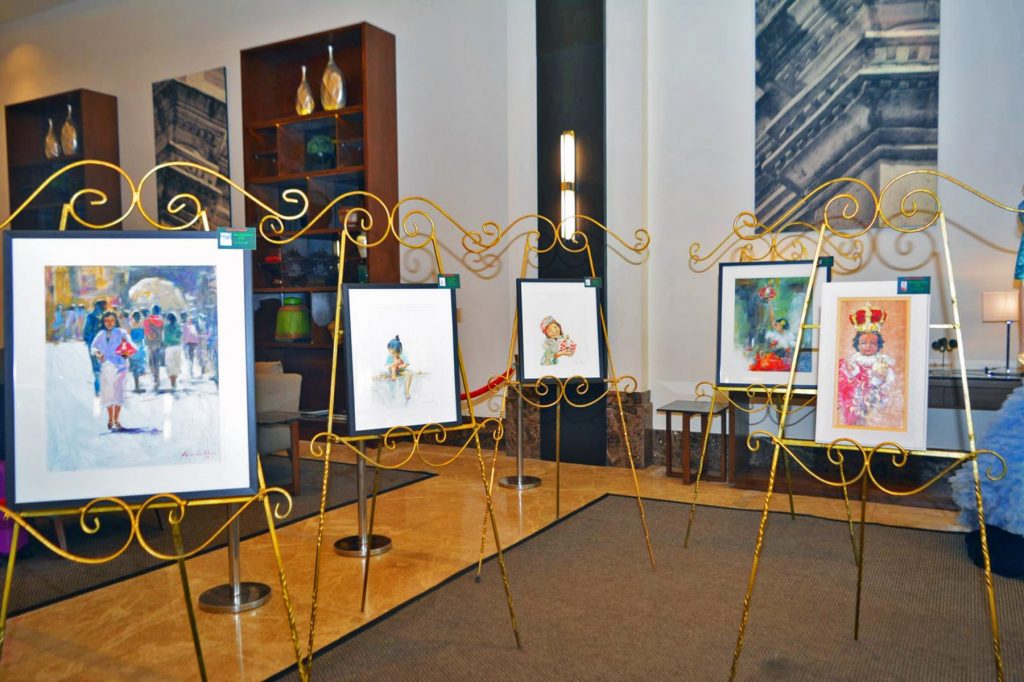 Seda Ayala Center Cebu
Cardinal Rosales Ave, Cebu City, 6000 Cebu
The new Seda Hotel at the Ayala Center Cebu exhibits masterpieces of international painter, Mr. Cesar Castillo.  The paintings depict the faith and devotion of the Filipinos to the Holy Child Señor Santo Niño.  The hotel lobby is also accented with intricately designed Sinulog costumes by Cebu's most sought after costume designer, Miss Malayka Yamas.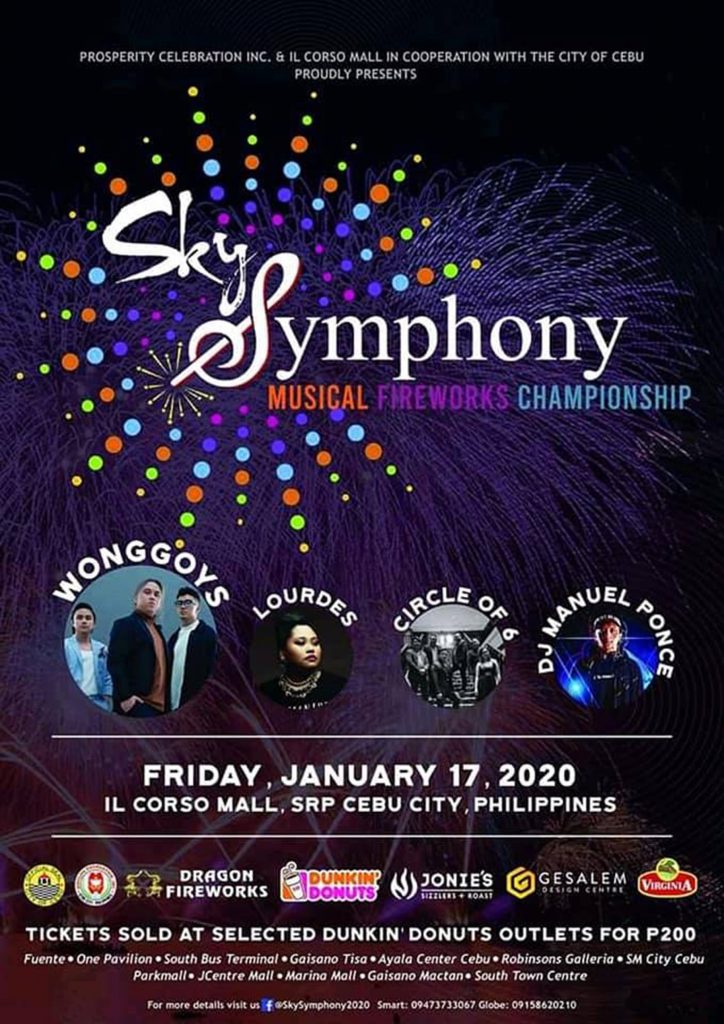 Il Corso Shopping Center
Cebu South Costal Road Properties
Cebu's newest shopping destination has prepared an explosive event this Friday.  The Sky Symphony Musical Fireworks: a grand fireworks competition will happen at the IL CORSO Mall bay area on the 17th of January 2020, at 7:00 in the evening.  The grand fireworks competition will have music from Cebu's best DJ's and live band performances.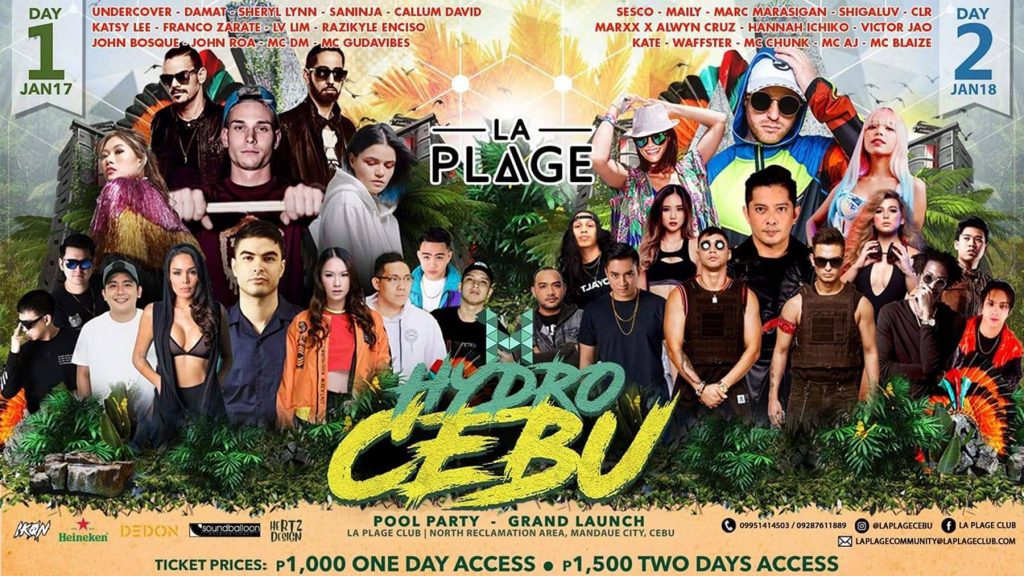 La Plage Pool Club
North Reclamation Area, Mandaue City
The newest lifestyle and pool club in Cebu is hosting the grandest party of the year, Hydro Cebu Music Festival.  La Plage's grand opening will kick off with the music festival on the 17th of January to the 18th of January.  This is an event that should not be missed as the best DJ's in Asia gather for this two-day music and dance party.  Music lovers get ready to get wet and wild!