Balak: Cebuanas Writing Their Heart Out And Speaking Their Mind
Spoken word poetry in Cebu has been celebrated by a ton of people in different cafes and restaurants. With perhaps a cup of coffee or a bottle of beer in hand, one may have witnessed the beauty of literature through spoken word in a number of Cebu's venues and hubs.
It's not always that people start from the top, nor are they blessed with all the talent and skills to cultivate themselves fit for what they wanted to do or pursue. Valerie Tesing started her journey as a poet back when she was in elementary school, reminiscing her childhood when she pushed herself hard to find words that rhymed to perfect her first few poems.
For Valerie, she never really saw herself as someone who could write poems—she didn't even love literature in the first place. She would love to think that it was fate that brought her towards literature, and she thanks the universe for it.
It is said that when one is such a bookworm, it would reflect in their writing, just like two peas in a pod. But for Valerie, she hadn't read that many poems to master the art before she began writing one.
"I could not exactly remember the very first poem I wrote, but I know it only took me a piece of paper and pen to write all the words down. It was as if my mind was already an attic of words, and I never knew it existed until I tried to uncover it," shares Valerie.
Spoken word poetry in Cebu has been celebrated by a ton of people in different cafes and restaurants. With perhaps a cup of coffee or a bottle of beer in hand, one may have witnessed the beauty of literature through spoken word in a number of Cebu's venues and hubs.
For the rest of Valerie's college life, she was known to be one to enjoy slam poetry and the balak. She would go to events catering such an activity and share her pieces which come in a variety of genres.
One of her favorite pieces include one called "Love and War". On why she deemed it her favorite, she shares that it spoke of her story to the LGBTQIA+ community. It is also one of the very first poems she performed to an audience, an event, the "Bundak! Balak! Pride!" The poem speaks about a love not accepted, a love that would mean "suffocation", "loss", and being "wrong". It is part of her advocacy to voice out and express the woes of those seen as minorities in the society.
"Only Warm When I'm Naked", another piece of hers, speaks about her invisibility as an artist in our family and with her peers.
"Poets are not commonly recognized as artists I think, pretty much because we use words rather than paint or cameras, and even recently, some poems are reduced to just "hugot" in our culture so they're not taken seriously as they should be," says Valerie.
Poetry has been a way for Valerie to express her feelings, although it hasn't been easy for her. There are no exact words to describe feelings and emotions such as being in love, or being happy, and according to Valerie, in order for these feelings to be described, poetry has shaped her eyes to search stories she can write about that truly speak out.
"You are able to express love in a story as small as finding a raindrop on your windowsill, or listening to your dog's breaths. Poetry simplifies feelings/emotions in a way that it concretizes the abstract," says Valerie.
When asked how she'd get millennials like her to appreciate literature in today's age, she advises them to read more and sail to a sea of stories because they're all just waiting to be read.
Writing poems and performing spoken word poetry in front of an audience is just some of Juanita Romualdez's talents. You probably know the Cebuana as a video of her doing balak got viral a week ago, a proof of how her words touched a number of people. She is also a nationally renowned singer under Viva Records and has released a number of albums and singles such as "Inday" and "We'll Never Know". Graduating with a Linguistics and Literature majors in college, Juanita is set to be a woman of words.
"This (balak or spoken word poetry) really opened me up to a wide range of poetry styles and forms of literature in general," shares Juanita. Through her Cebuano Poetry major subjects back then, she fell in love at how poetic the language can be. She shares that back then, Balak would be seen as something baduy, and sarcastic remarks such as "ka lawom ba uy! (how deep!)" would ensue.
It was a struggle for Juanita to write her own balak, due to her lack of vocabulary and metaphors that "sprout from a Cebuano sensibility". However, this did not stop her as getting into Cebuano spoken word poetry allowed her to create pieces that work around her writing capabilities.
She recalls her beginnings in poetry writing, which she has done since at a very young age.
"I remember that my yearly gift (for all occasions) to my parents were poorly written poems, but they did come from the heart. And they knew very well that's all my 7-year old self could afford to give," Juanita muses.
Overwhelming support from the family showered Juanita the encouragement she needed to keep on writing, as her family framed these poems she gave out, a testament of how they loved the pieces.
High school came and Juanita started taking writing seriously by entering essay competitions and poetry contests.
"I just love words. Even the simplest ones. Can you believe that my favorite word is 'blue'?", shares Juanita. "I always share this in my workshops. I am not particularly fond of the actual "color blue" , but I love how the B and L roll so naturally into the U and E, it's just such a delight to say! That's the secret of writing, I guess," she adds.
To write with passion, one has to enjoy the words and use the words one is comfortable with, and those that you know how to manipulate to your advantage. Contrary to popular belief, Juanita shares that in writing poetry, it's not all about writing to impress. As much as she can, she made a vow to try to veer away from "lofty" words unless needed.
"The magic happens when you can take simple words and form something wonderful out of them. Because there is no perfect form of literature, but people will fall in love with genuine pieces/stories," Juanita says.
Although she got into writing Bisaya Poetry a little late, she takes pride in some of her pieces. One of her first creations was about a time when she was late for a workshop. It circled around the struggle she went through of finding a ride and resorted to taking a habal-habal. Not only that, the piece also talked about her having to finish putting make-up while the driver zoomed through the streets. With this piece, Juanita was able to see the comical nature of the balak, which was what made her enjoy creating it.
Another Bisaya Poem she loved among her pieces, and was also definitely a crowd's favorite was the one entitled "Isturyahinubog" (drunk talk). It starts with the line "gihigugma rako niya kung hubog siya (but in English I start it with" he never loved me sober"), which makes the crowd go crazy all because at one point in time, we've all experienced this.
When asked of her writing technique, Juanita shares that part of writing a piece is to take a "general concept" which is something that everyone has either experienced or can relate to, and place ideas and words that make it personal to you. The effectiveness in the details would speak to your audience.
Juanita, aside from writing songs, has turned to poetry writing to express herself. She says that poetry is both therapeutic and traumatic. Its ability to let you release your feelings and pour them out on a piece of paper gives you the beautiful work of immortalizing your feelings.
A growing number of millennials have ventured in this art of spoken word poetry. Juanita takes pride in this literature appreciation trend in Cebu, and it is continuing to grow through Cebu LitFest, an avenue promoting literature, most especially spoken word poetry. This 2018, Cebu LitFest is set to kickoff its various activities during the month of July, conducting workshops all over the city and putting up "Open Mic" nights for everyone to express themselves through poetry as well.
The Literary Festival, which is a celebration of the rich literature and art found in Cebu's local scene and all over the world is how Valerie and Juanita learned to master the art of manipulating words through the different forms it can become, more fuller, more beautiful.
The Uncommon Traditions that Mexicans and Filipinos share when celebrating the Day of the Dead.
Dia de los Muertos
By Allain Dumon Fonte
The 2nd of November is All Soul's Day, a holiday that is very important to many Filipinos to remember our loved ones who passed on. This is also widely celebrated in Mexico as "Dia De los Muertos" or in English, "The Day of the Dead". And Mexicans celebrate the 2nd of November grander than they celebrate Christmas. Well, you can witness it from the Disney movie, "Coco".
As All Soul's Day or Dia de los Muertos is about to end, here are some interesting traditions and superstitions that Filipinos and Mexicans share:
1. IT IS NOT ON THE 31st OF OCTOBER
Dia de los Muertos or All Soul's Day is not practiced on October 31st or on the Hallow's Eve as many other western cultures practice; but we celebrate it on the 2nd of November. We celebrate November 1st as All Saint's Day or the Day of the Holy, while in Mexico they call it Dia de los Innocentes or Dia de los Angelitos to commemorate the children who died too early in life.
2. THE RITUAL
Both in Mexico and in the Philippines, we visit the grave of our loved ones and we clean it well. This is a ritual to honour their resting places and to let them know that they are never forgotten.
3. FLOWERS INVITE SPIRITS
In Mexico, they believe that the scent of flowers attract spirits. So the flower offerings are invitation to their dead loved ones to visit the living families. While in the Philippines, we believe that flowers offered to the dead exalt the souls and somehow fill in the sadness that we feel when missing our dead loved ones.
Most of the time, Filipinos choose all-white flowers to offer because white is the absence of colour, which means the absence of Joy and happiness. White also symbolises purity of soul which we hope our dead loved ones will attain as they journey to heaven. While in Mexico, they have the yellow Mexican marigolds as the official flowers of the dead that will guide them in their journey to the afterlife.
4. THE LEGEND OF THE MONARCH BUTTERFLIES
Both cultures believe that monarch butterflies are dead loved ones who visit us and show their appreciation that we have not forgotten them. A presence of monarch butterflies also means that our dead loved ones are always there guiding us and looking after us.
5. A PICNIC IN THE GRAVEYARD
Spending a night at the graveyard and picnicking with the rest of the family may sound very creepy to many; but to both Filipino and Mexican cultures, picnicking and spending a night at the cemetery is a must to show our love to our dearly departed. It is the only time in the year that families gather and tell stories of the dead loved ones and how colourful or how great their lives were.
6. FOOD FOR THE DEAD
In Mexico, they have what they call "ofrendas" or an altar where the pictures of their dead loved ones are displayed and offered with flowers, candles, and their favourite food. Very similar to the Filipino culture of cooking the favourite food of our dead loved ones and everyone in the family enjoys the food for dinner.
My family tradition involves me driving all the way to Colon street and buy that famous Snow Sheen's "pancit canton". This is my granddad's favourite snack. Sadly, the old Visayan Restaurant is no longer there. My late uncle and my late grandpa love their sweet ad and sour fish. We also set up an "ofrenda" on their graveyard and eat their favourite food while picnicking in the cemetery. We do not spend a night in the cemetery; but while we are picnicking there, we usually play the songs of Pilita Corrales and Susan Fuentes that my late grandpa used to listen every afternoon while enjoying his coffee, pan de sal, and pancit canton.
What about your family traditions? Share your thoughts by commenting to this article.
MODEL: Michael Joseph Mortola Enriquez & Alexis Wingfield
PHOTOGRAPHER: Gianne Paolo Anciano
HMUA/DESIGNER: Hazel Ocaba
STYLING: GPA Lifestyle + Clothing
Catch Ted Lasso the Emmy Award Winning Comedy Series on Apple TV+
Rating: *****/ *****
The multi award–winning comedy series airing on Apple TV+ is one of my favorite shows.  Ted Lasso starring Jason Sudeikis is about a fun good-natured American football coached hired by a British soccer club (AFC Richmond in London) to become their new coach.  In spite of the fact that Ted has no experience or knowledge about British football/soccer, his positive demeanor and charm helps him overcome the animosity of the team's players, staff and fans.  Eventually Ted wins over the team and the locals as they fight for position in the English Premier League.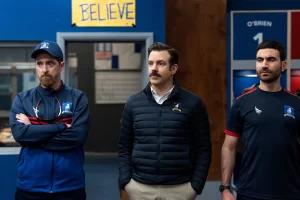 The show won the 2021 Primetime Emmy Award for Outstanding Comedy Series and 7 Emmy Awards in its 2 seasons and Season 3 is just around the corner.  You can catch Seasons 1 & 2 of Ted Lasso on Apple TV+
PANDEMIC DIARIES: Twelve Months Later
Photos taken by Pablo Quiza around Cebu City during the months of March, April and May 202
AS WE APPROACH ONE YEAR under pandemic times, we look back at March 2020 with fascination. And awe. We had 12 months of lockdown and survived the so called new normal. We lived with masks and alcohol even today. Carless roads and dark malls. Those were the early days of March, April and May.
It stretched to October and past Christmas. No Sinulog. Virtual parties on Zoom and virtual mass on You Tube and FB Live. We debated on the best meds to take if we get sick and whether to wear masks (please do!). We scampered for face shields and anti-viral sprays. Vitamins C and D and zinc. Later, we survived being swabbed and we learned the difference between a PCR and an anti-gene test. The latter cost less.
We dreaded the declarations of IATF mandated from Manila. And we got mad at the police chief who had a birthday party while his people were busy locking up everyone violating the lockdown. Most horrifying of all, we needed to produce IDs! Are you a resident of Barangay Lahug or Banilad? Are you employed and why are you still working? Everyone suffered thru endless checkpoints. Most sad of all are those using motorbikes, they seem to get the raw end of the deal since those with cars are not as scrutinized. We managed to trick the system by putting a big handwritten note in front of the car: COMPANY CAR, and zipped tru the police desks in the middle of the road. Don't even think of travelling, by plane, boat or bus. The collection of the required documents is enough for one to get exposed to Covid.
We learned to shop online, order groceries and necessities thru delivery. We slowly moved towards cashless payments. Gcash and banks like Union Bank and China Bank with friendly apps are heroes for making life easy for most of us to spend what little cash we have to spend on Lazada or pay the VECO bill. Oh and we binged on K dramas on Netflix and You Tube, kamsaminada.
As 2021 enters, there are some good news. For those obsessed with news, you already know that 7,000 vaccines arrived last March 2 in Cebu, with more expected in the next few weeks. The death rate is not as high among those who caught this pesky virus, which tells us that doctors in the hospitals have some proven expertise in dealing with Covid. More cures should be in the horizon.
Meanwhile, lets continue dreaming of the day when we can cross borders again, even if its just Bohol or Boracay, Bangkok or Hong Kong. Ready those luggages and bags bought during the 3/3 sale in Shopee in preparation for the day when we can take the ferry or the plane for new adventures.