The Pink House
The Pink House, with a vast garden, sitting in the heart of the city at the gateways between the North, South, and West, is an ultimatum of function and form mixing the old with the new.
Cebu is a city that bridges the past and the present. The Queen City of the South, with its strong pre-Hispanic heritage and colonial history is at present the most progressive city in the country. Amidst the fast growing development and changing architectural landscape of Cebu, one iconic house belonging to an old Cebuano family has withstood the proverbial test of time. A witness to the changing of guards of Cebu society, "The Pink House," as known to many, has transcended from a family home into a cultural hub and haven for both local and international Cebu residents called "La Maison Rose."
William Morris tells us in the Hopes and Fears for Art, "If you want a golden rule that will fit everybody, this is it: Have nothing in your houses that you do not know to be useful, or believe to be beautiful." The Pink House, with a vast garden, sitting in the heart of the city at the gateways between the North, South, and West, is an ultimatum of function and form mixing the old with the new.
Completed in 1939, the art deco abode was the home of young couple Jose Velez and Juanita Velhagen. Jose's mother, Doña Esperanza Velez y Paulin gifted them with the Lahug property, while Juanita's German relatives contributed funds for the construction. It had been host to occasions of all sorts; intimate dinners, birthday celebrations and anniversaries. "When I visited, it looked like the house was frozen in time; as if it hadn't moved. It seemed like it had history and a past, and that is what I loved instantly about the house," says Louis Thevenin, the Director of Alliance Française de Cebu (AFC), and the new tenant of the house. Founded in Paris in 1883, the Alliance Française was the first and now the largest collection of non-profit French teaching associations with local committees interdependent to each other, springing up around the world, with the Cebu branch instigated in by Michel Lhuiller, the honorary consul of France to the Philippines.
COMING UP ROSES We wanted to keep the fixtures of the house, from the windows to the flooring. I think that's what made the owners of the house decide on giving us the lease." The house was occupied by its heirs until 2006 and had stood empty until 2012.
Most visibly, they kept its color. "To be honest, we thought about changing the color, but when someone would ask me where is it, I always say it's the pink house beside the Mormon temple and everybody would know where it is. Why would you change it when everyone knows about it? I think it's as simple as that."
Aptly called La Maison Rose, the new AFC center holds three main functions and Louis tells us it is futile to try to compartmentalize them. "All of the things Alliance Française encompasses should be taken in as a whole." The Pink House serves as a French cultural center where art exhibits, film screenings, and shows are held. Most recently, an art exhibit entitled Liberte held on Bastille Day, featured artists from the Cebu Artists Incorporated, including Cebu-based Parisian artist, Remy Rault. It is also the headquarters for their French language school with 2000 enrollees spread through out the city at the center and at different universities.
But most exciting to curious connoisseurs and oenophiles is the La Maison Rose' restaurant headed by two young chefs from France. The restaurant promises to be a culinary fête, with the belief that the best way to get to know a culture is through the stomach, serving classic dishes like quenelles using local fish and French lechon religiously cooked for eight hours with San Miguel beer. Prices also promise to keep your wallet in tact; a stereotype they wish to address on the price of French cuisine.
"The French are not heavily engrossed in the consumerist culture," say Delphine de Lorme, the woman behind the interiors of La Maison Rose. "We like our antiques; and when something is broken, we fix them; we don't just throw them away and get a new one." Delphine's pop art paintings were exhibited in Singapore, Hong Kong, Seoul and London. She recently collaborated with designer Lani Pasquet on the interiors of GILT artisan lounge in Cebu. Looking for inspiration, the team behind Alliance Française wanted to embody its mission of introducing French culture. In this case, a theme best represented by Indo-chine (French Indochina, an imperial age territory spanning from what is now known as Vietnam, Laos, and Myanmar) and Shanghai in the 30's.
The team behind La Maison Rose had outright said, "The entire renovation focused on keeping intact the 'soul' of the house and to accentuate its 1930's ambiance. The idea was never to remodel the house but to return it to its original." Nothing in the house is brand new with most being old and forgotten pieces that were given "a second life." Guests enter into the house through French doors with lion head knockers painted red. The original tiles carried over after the renovation spread throughout the floor, while the eye-catching walls in Tiffany blue set the room's calm ambience without forgoing it's vibrancy. Spread throughout the restaurant, vintage posters from Shanghai adorn the walls in tangerine, red, and black frames. Lampshades made out of zoetrope of La Tour Eifel and other symbols of French and French-Asian culture light up the corners of the room, whilst paper lanterns set the lounge aglow. Once belonging to Michel Lhuillier, the piano, painted white, sits by the main entrance. The high chairs reupholstered with fabrics from Vietnam bring the room back to its roots. A glance towards the ceiling exposes the house's quirks with vividly colored parasols used as lamps, hand carried from Vietnam by Delphine herself. The sliding doors, bought in an old shop downtown and restyled, lead to the private dining room adorned with a Brigitte Bardot collage in Delphine's signature art nuovo and Sakura flower wallpaper in blush.
The color pink has always been significant to the French. "Pink is the color of love. To live La Vie En Rose means to look at life in a happy way," says Louis. With its novel concept, quirky interiors and excellent French food, you're sure to leave the pink house with a smile.
by David Jones Cua
photos courtesy of Alliance Francaise de Cebu
Photography by Romain Rivierre
St. Patrick's Day Celebration at Marco Polo Plaza
Marco Polo Plaza will be celebrating St. Patrick's Festival with the rest of the Irish community! It's not only a feast of greens and four-leaf clovers but of good food too! From March 17 to 19, dig in and enjoy traditional Irish dishes and delights such as Irish Stew, Potato Nachos, Cheesy Reuben Loaf, Guinness Beef Stew Pot Pie, Beer Mac N' Cheese and many more. These on top of the international lunch and dinner buffet at Cafe Marco. Complete the experience in true Irish fashion with an ice-cold mug of Irish Beer, also available at Cafe Marco.
Gastronomic adventures await at Café Marco! For inquiries and reservations, you can call (032) 253-1111. For real time updates, like the Facebook page at facebook.com/marcopolocebu or follow on Twitter at @5StarInCebu. Visit the website at www.marcopolohotels.com.
For inquiries and reservations, call 253-1111 or email hospitality.ceb@marcopolohotels.com.
La Liga Henerales: Shaping History Awareness Back Again in Cebu
La Liga Henerales is a community of young talents passionately promotes historical awareness through periodic costumes carefully researched for its authenticity and accuracy and promoted as well in events and schools.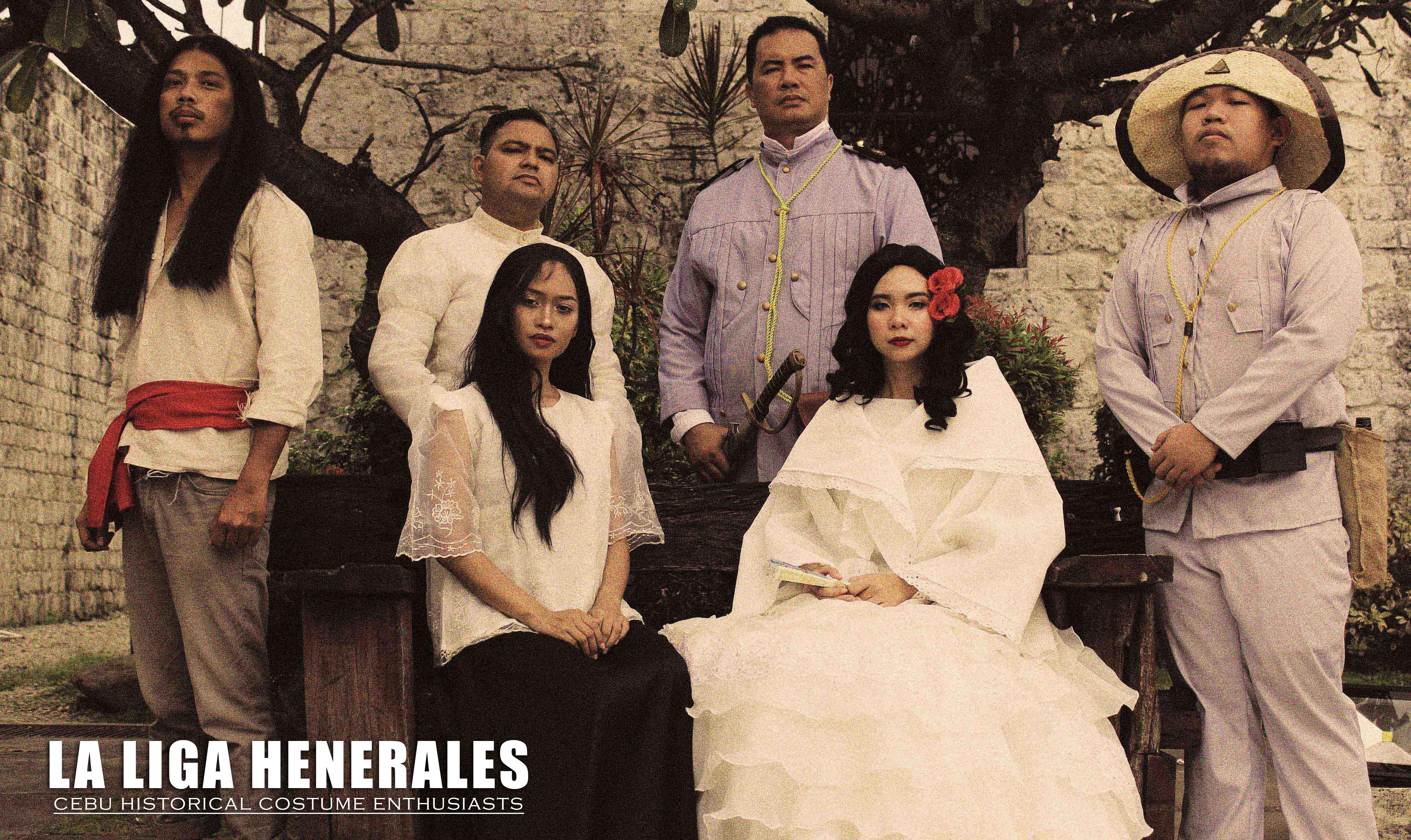 Only few individuals before were into pursuit in this historical awareness project until the age of communication where internet is convenient in the palm of our hands through our gadgets. New information travel fast and data is retrievable, yet also possess a disadvantage with the plethora of different social media platforms carried by various makers as well. In a daily basis, historical backgrounds are unearthed making its trend until now as new discoveries are released, but the idea of these information being shown and shared is as close as not valuing or commemorating to its sources leaving this information just a trend.
There is a certain community of Cebuanos that are taking a quest to rewrite and restructure what was in the past, filling the gaps in facts with further research of variable sources that are made debatable but sticks to it true cause, to unveil the truths of our heritage and our origins, as Cebuanos and as Filipinos as well.


La Liga Henerales is a Cebu-based, non-profit organization composed of a group of talented, committed and respectable individuals from different walks of life, schools and profession whose primary aim is to promote both, Cebuano and filipino culture and heritage that was depicted before in pre-colonial and colonial eras via re-enactment with costumes vested in proper research and investigation to achieve authenticity. They also push their cause on schools and other social gatherings promoting and spreading awareness about our local, and national heroes that we look up to. With these said, they also portray a closer look of the lifestyle of the past to where they perform stories, perform forgotten dances and rituals and portray their individual roles, vital in the fight of our country's future during those challenging times, and in honor to spread awareness of the lost practices we had in those times.
The Founder
Louis Kenneth Villaflor, an entrepreneur and an avid history enthusiast and costumer, founded the group on the purpose of re-educating the youth about real local and national history, he saw the opportunity to combine his favourite hobbies which is costuming and story role-playing and the process to instill the historical awareness and value among the youth and in schools, along with a group of fellow enthusiasts who shares his passion about research and history, they took it among themselves to be purposeful in the advocacy in spreading historical awareness in schools or events by wearing periodically correct costumes and sharing the stories and its value to the youth.
Behind the Garments
Meet Rodney "Pee-Wee" Senining, who has been in the fashion industry since the late 90's, strives  in concepts of avant-garde, innovation and cutting edge-fashion forward design. And also a teacher of Architecture, Fine Arts and Design of University of San Carlos, he had grown into research of books like the holy grail in the Library Resource Center and is always fascinated of the periodical times and how to preserve it; Hence, his interest had grown for the affinity of Periodical Costumes and Sustainable Fashion.
 Being part of the group La Liga Henerales, he was tasked to instantly be their mentor for the young talents and as the organization is still new and developing with limited funds, resourcefulness and research were done to come up with a good output of photo shoot and was quite proud of it and still promise on the next editions of pieces to be more historically accurate. Even as teacher for Fashion Design in SAFAD, his expertise comes hand in hand with the members as he helps them do research as well. His passion and interest somehow led him with enough knowledge to key the insights of the significant periods and historical backgrounds of it.
Historical Awareness in Cebu
The strength and progress of a country is anchored on how well they know and honor its history. The means of historical awareness in Cebu is almost non-existent among the Cebuanos, although we push forward in tourism and promote beauty through sceneries and other aspects of culture yet never commemorate deeply on historical icons such as our other local heroes, and ancient cultures as well that is almost been forgotten in an urban Cebu. Nevertheless, as long as communities' like La Liga Henerales are now evolving in a learning state by real discovery by multiple resources, this will always reflect of how we appreciate love, patriotism and honor to our country and would look forward to progress.
Christmas in Colonial Cebu: A Themed Exhibit by Teresin Mendezona and Eva Gullas for Stylescapes 2019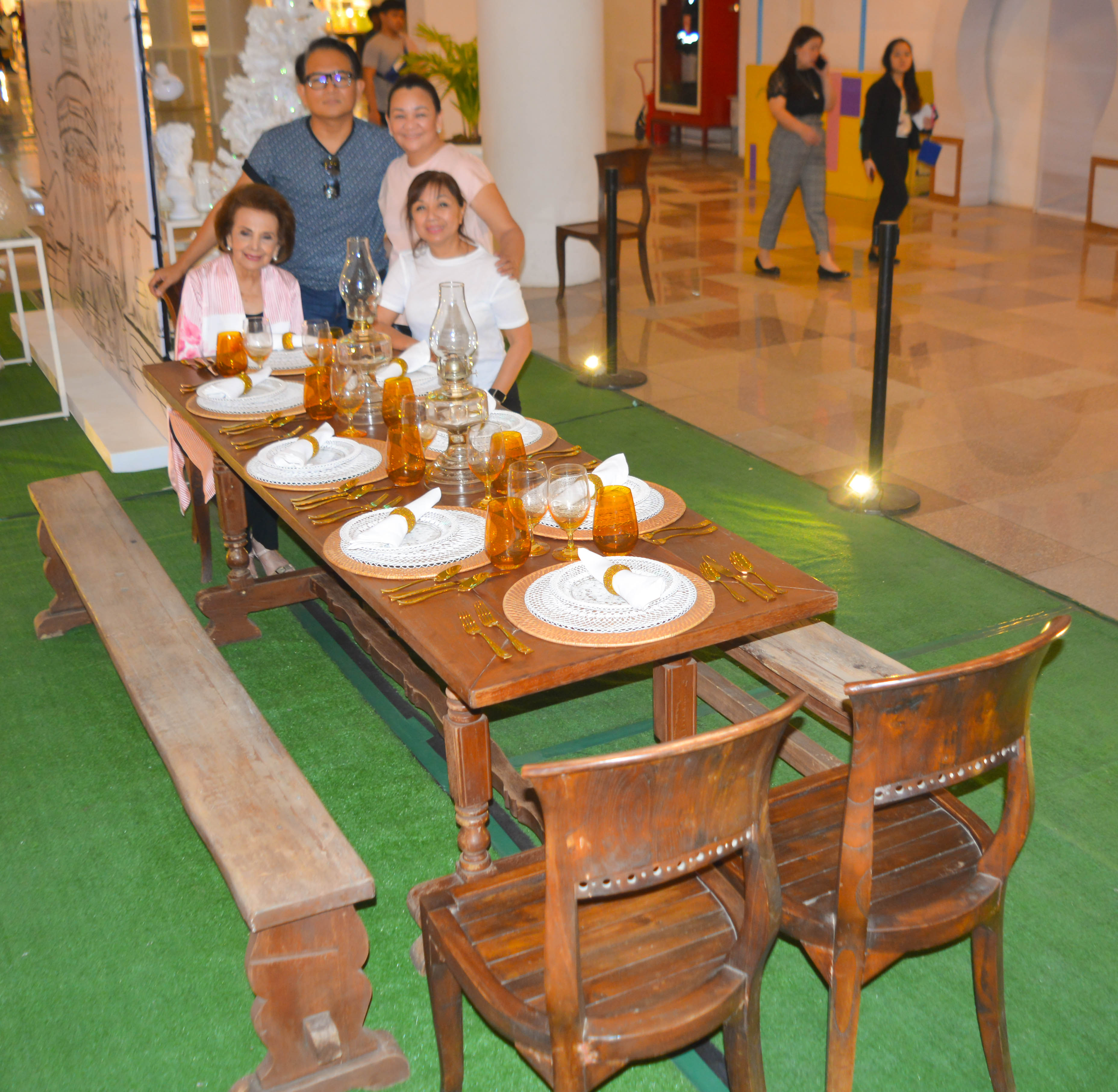 Ever wonder how the yuletide season is celebrated in colonial times? This year at Stylescapes 2019, Teresin Mendezona and Eva Gullas collaborated to showcase the elegance of Christmas during the colonial period, specifically most of the Spanish regime.
This pop-up radiated the ambience of Christmas in the colonial times through the various details used within the setting. Specific pieces like the gansilyo table cloth, oil lamp, and the sketches were from Ms. Mendezona and Gullas themselves.
Aside from that, various table and living room pieces were sourced from Rustans and Metro Ayala, and was curated by Doro Barandino.