The Green Mile
In the new home of a young Tacloban public figure and his family, going the extra green miles brings in a breath of fresh air and the little theatrical drama they need for a great start.
In the new home of a young Tacloban public figure and his family, going the extra green miles brings in a breath of fresh air and the little theatrical drama they need for a great start.
DRIVING INTO THE Yaokasin compound at dusk in Tacloban City, Leyte, one can't help but shift their attention to the dramatically-lit house of Councilor Jerry "Sambo" Yaokasin. Immediately, from the subtle asymmetrical PVC and aluminium roofing, it was clear that this was done by Architect James Jao, and that this was going to be another eco-blueprint, and a first of its kind in this city.
But before anything else, let's get some things right. Going "green" doesn't always and necessarily mean covering your house with solar panels, or spending a fortune, or even growing your own organic garden. It can also mean simply taking measures and initiatives by using products, materials and design schemes that encourage less energy use, and are health-friendly.
This 600-square-meter house is one of two residential houses that rest in this 3,000-square-meter compound beside the Kankabatok Lake. Just like the man of the house who is a father, a businessman, a pastor, and a city councilor, the home is multi-faceted: it incorporates eco-friendly materials and stratagem with modern design. This was going to be an eco-home that not only minimized energy consumption but maximized comfort.
The homeowners were very hands on with the design which took about three months to plan but the construction was not completed until two years. Kathleen, the lady of the house, is the Cebu link, originally being from Lahug. Architect James Jao was recommended by her close friend, Jane Ong, of much-loved Cebu pastry shop Leona fame, and the rest, as they say, is history.
The driveway alone is already eco-friendly. The pavers brick is porous and sturdy. It absorbs the moisture and is therefor very low maintenance. A head turner early on in the entrance is the totem pole-like structure in the fore-garden. Is it an abstract sculpture or just a fossilized wood-plank? "Carved by nature," Architect Jao exclaimed of the drift-wood Councilor Yaokasin had secured from a trip to the nearby provinces. The plank-cum-sculpture adds the perfect touch to the landscape done by Oscar Villanueva.
Taking a small step back, the architect's "interpenetrating" technique allows some flora to break the solidity of the house's design, adding life to the structure itself. Still from a distance one can see that very basic Feng-shui was applied to the structure, but so elementary as it was purely out of logic: the main door faces the east because to the west is a wall to mark the property's boundary; and all downspouts were positioned to be against this same wall so that no water would obstruct the pathways when it rains and thus the rain water is also easily captured (rain water harvesting) and lightly-filtered to be used for household work like laundry or washing cars.
Coming closer to the house, the exterior walls are sandstone tiles from Kaufman in Manila. The solid hardwood double door opens into the foyer and also to the breezeway, a narrow path that leads to the atrium, where another drift-wood-cum-art piece rests. The breezeway distances the rest of the living spaces from the most exterior glass wall. It's not just to minimize the heat but also to allow a little more privacy while still allowing the glass to let in as much natural light as possible. Architect Jao used low-E (Emissivity) glass, which keeps in the cool and in effect lessens the air-conditioning required. As for the air conditioners, the family opted for Samsung's inverter air conditioners. Sure they might be a little heavier on the pocket, but they consume and cost less per kilowatt hour. Going green is about encouraging lower maintenance and in effect, later but bigger, savings.
A whole gamut of other energy conserving techniques were applied to the interiors including the floor tiling, which uses Inalco Slimmker tiles, brought in from their Cebu supplier. What makes these tiles eco-friendly is that they are slimmer, and therefore were produced with seventy percent less of the manufacturing carbon footprint without compromising their durability.
Where there is no low-E glass there is tile, and where there is no tile there is low-VOC paint (a non-toxic, fast-drying paint), "Healthy Home" paint, from Boysen Paints. It is perfect for families with small children. Where there is no paint there is wall-art, a James Jao interior signature. The elegant floor-to-ceiling wall-art in the Yaokasins' living room is of locally-sourced tigerwood: wood bricks shaped by the architect into an abstraction of a mother's womb.
Lighting was also a key element of the overall design, something that the architect is also very particular with. His background in stage design and lighting–having been mentored by National Artist for Theatre, Rolando Tinio, and CCP's Teddy Hilado, in the mid to late 80's–makes Architect Jao very passionate about dramatic lighting. "Because it's all about drama," he mustered. "Everything is basically reflected light, except of course, in the dining and foyer areas, where you need to see everything." All the lighting equipment was secured from Megaman, distributed by Cebu Home and Builders. The up-light in the living room, for example, is a metal-halide, by Endo from Licht and Design. The architect used this instead of the usual chandelier because of its low-maintenance and ambient lighting effect.
The truth is, a green home is more expensive to build, with twenty percent more cost, explained Architect Jao. Cutting costs and corners in design is not what going green is about, but instead it is in taking of such measures that will, in the long run, significantly reduce energy consumption and house bills, and this will surely make the neighbors green with envy.
St. Patrick's Day Celebration at Marco Polo Plaza
Marco Polo Plaza will be celebrating St. Patrick's Festival with the rest of the Irish community! It's not only a feast of greens and four-leaf clovers but of good food too! From March 17 to 19, dig in and enjoy traditional Irish dishes and delights such as Irish Stew, Potato Nachos, Cheesy Reuben Loaf, Guinness Beef Stew Pot Pie, Beer Mac N' Cheese and many more. These on top of the international lunch and dinner buffet at Cafe Marco. Complete the experience in true Irish fashion with an ice-cold mug of Irish Beer, also available at Cafe Marco.
Gastronomic adventures await at Café Marco! For inquiries and reservations, you can call (032) 253-1111. For real time updates, like the Facebook page at facebook.com/marcopolocebu or follow on Twitter at @5StarInCebu. Visit the website at www.marcopolohotels.com.
For inquiries and reservations, call 253-1111 or email hospitality.ceb@marcopolohotels.com.
La Liga Henerales: Shaping History Awareness Back Again in Cebu
La Liga Henerales is a community of young talents passionately promotes historical awareness through periodic costumes carefully researched for its authenticity and accuracy and promoted as well in events and schools.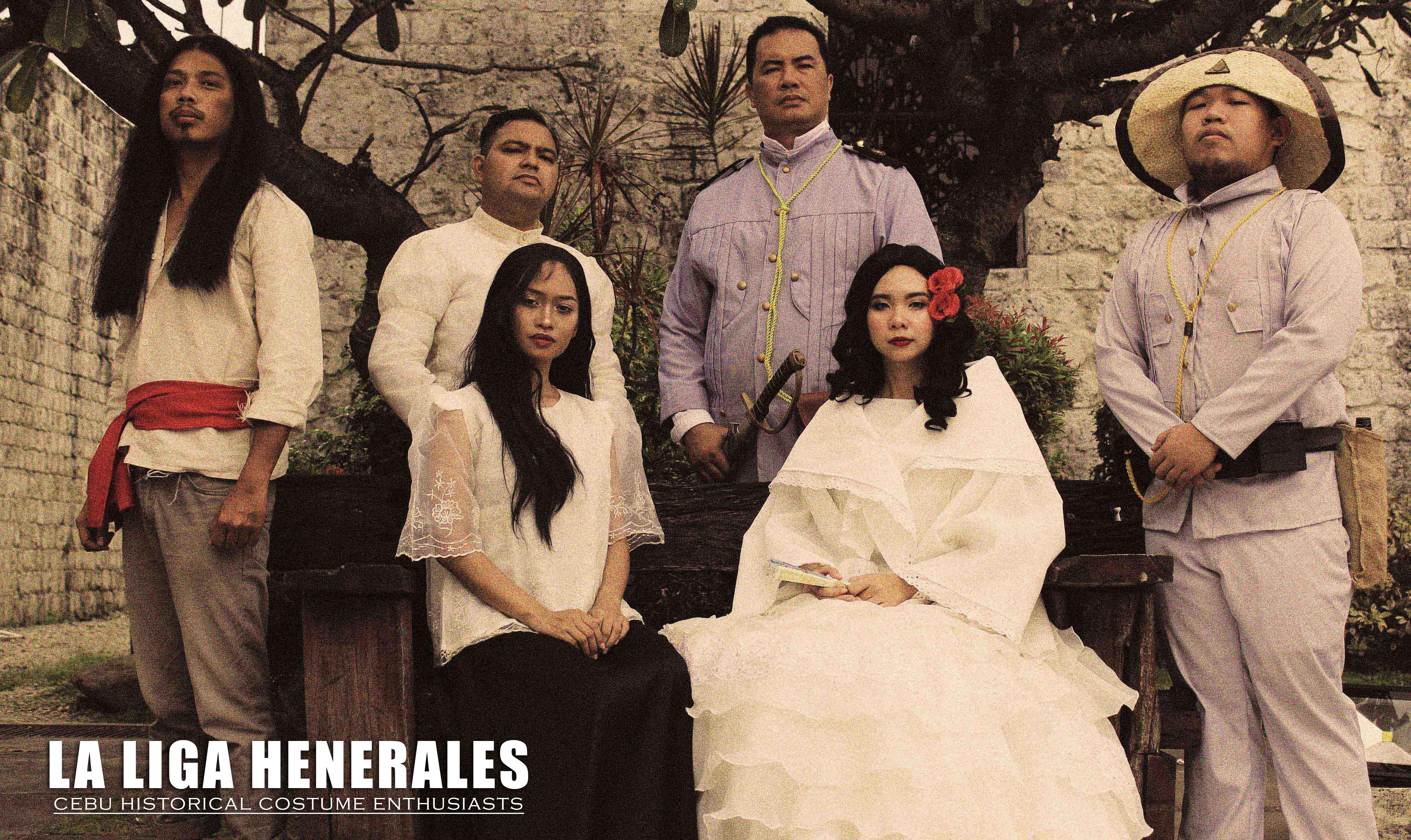 Only few individuals before were into pursuit in this historical awareness project until the age of communication where internet is convenient in the palm of our hands through our gadgets. New information travel fast and data is retrievable, yet also possess a disadvantage with the plethora of different social media platforms carried by various makers as well. In a daily basis, historical backgrounds are unearthed making its trend until now as new discoveries are released, but the idea of these information being shown and shared is as close as not valuing or commemorating to its sources leaving this information just a trend.
There is a certain community of Cebuanos that are taking a quest to rewrite and restructure what was in the past, filling the gaps in facts with further research of variable sources that are made debatable but sticks to it true cause, to unveil the truths of our heritage and our origins, as Cebuanos and as Filipinos as well.


La Liga Henerales is a Cebu-based, non-profit organization composed of a group of talented, committed and respectable individuals from different walks of life, schools and profession whose primary aim is to promote both, Cebuano and filipino culture and heritage that was depicted before in pre-colonial and colonial eras via re-enactment with costumes vested in proper research and investigation to achieve authenticity. They also push their cause on schools and other social gatherings promoting and spreading awareness about our local, and national heroes that we look up to. With these said, they also portray a closer look of the lifestyle of the past to where they perform stories, perform forgotten dances and rituals and portray their individual roles, vital in the fight of our country's future during those challenging times, and in honor to spread awareness of the lost practices we had in those times.
The Founder
Louis Kenneth Villaflor, an entrepreneur and an avid history enthusiast and costumer, founded the group on the purpose of re-educating the youth about real local and national history, he saw the opportunity to combine his favourite hobbies which is costuming and story role-playing and the process to instill the historical awareness and value among the youth and in schools, along with a group of fellow enthusiasts who shares his passion about research and history, they took it among themselves to be purposeful in the advocacy in spreading historical awareness in schools or events by wearing periodically correct costumes and sharing the stories and its value to the youth.
Behind the Garments
Meet Rodney "Pee-Wee" Senining, who has been in the fashion industry since the late 90's, strives  in concepts of avant-garde, innovation and cutting edge-fashion forward design. And also a teacher of Architecture, Fine Arts and Design of University of San Carlos, he had grown into research of books like the holy grail in the Library Resource Center and is always fascinated of the periodical times and how to preserve it; Hence, his interest had grown for the affinity of Periodical Costumes and Sustainable Fashion.
 Being part of the group La Liga Henerales, he was tasked to instantly be their mentor for the young talents and as the organization is still new and developing with limited funds, resourcefulness and research were done to come up with a good output of photo shoot and was quite proud of it and still promise on the next editions of pieces to be more historically accurate. Even as teacher for Fashion Design in SAFAD, his expertise comes hand in hand with the members as he helps them do research as well. His passion and interest somehow led him with enough knowledge to key the insights of the significant periods and historical backgrounds of it.
Historical Awareness in Cebu
The strength and progress of a country is anchored on how well they know and honor its history. The means of historical awareness in Cebu is almost non-existent among the Cebuanos, although we push forward in tourism and promote beauty through sceneries and other aspects of culture yet never commemorate deeply on historical icons such as our other local heroes, and ancient cultures as well that is almost been forgotten in an urban Cebu. Nevertheless, as long as communities' like La Liga Henerales are now evolving in a learning state by real discovery by multiple resources, this will always reflect of how we appreciate love, patriotism and honor to our country and would look forward to progress.
Christmas in Colonial Cebu: A Themed Exhibit by Teresin Mendezona and Eva Gullas for Stylescapes 2019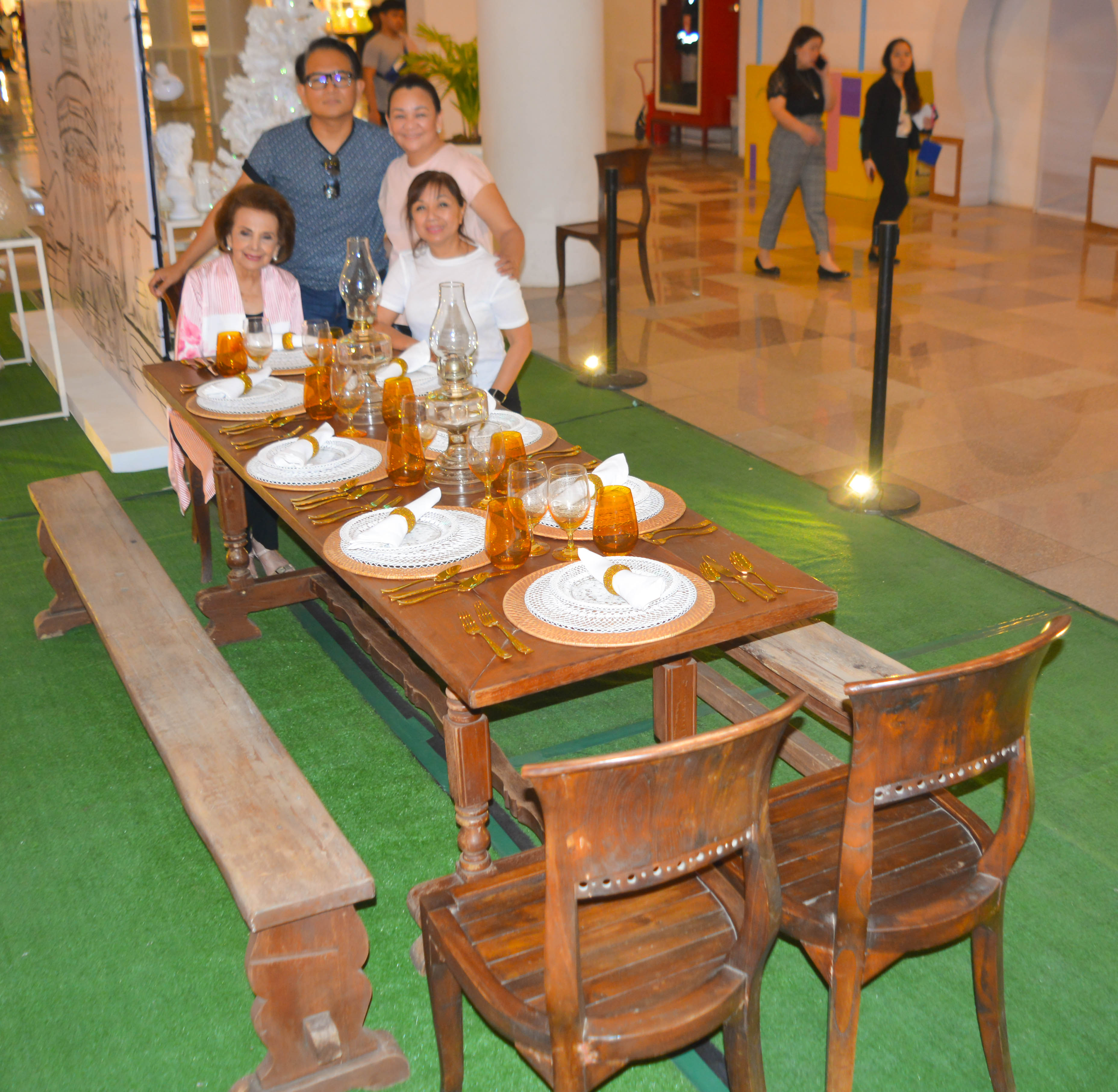 Ever wonder how the yuletide season is celebrated in colonial times? This year at Stylescapes 2019, Teresin Mendezona and Eva Gullas collaborated to showcase the elegance of Christmas during the colonial period, specifically most of the Spanish regime.
This pop-up radiated the ambience of Christmas in the colonial times through the various details used within the setting. Specific pieces like the gansilyo table cloth, oil lamp, and the sketches were from Ms. Mendezona and Gullas themselves.
Aside from that, various table and living room pieces were sourced from Rustans and Metro Ayala, and was curated by Doro Barandino.