The Breakfast Club
How to Start Your Day
Breakfast or brunch? In Cebu, there's always time and room for both.
Breakfast is defined as breaking the fast of last night's slumber, whereas most take brunch to combine a late breakfast and an early lunch. Either way, as first meal of the day, Cebuanos like to have their fill. Think double servings of danggit (dried fish), sunny side up eggs, garlic rice, with a mug of sikwate (native hot chocolate).
But be it traditional or unconventional, take your pick from our list of tongue tickling choices guaranteed to perk your day.
How to Start Your Day: Breakfast or brunch? In Cebu, there's always time and room for both.
Breakfast is defined as breaking the fast of last night's slumber, whereas most take brunch to combine a late breakfast and an early lunch. Either way, as first meal of the day, Cebuanos like to have their fill. Think double servings of danggit (dried fish), sunny side up eggs, garlic rice, with a mug of sikwate (native hot chocolate).
But be it traditional or unconventional, take your pick from our list of tongue tickling choices guaranteed to perk your day.
UCC
In Japan, breakfast is said to be the most valued meal of the day; so it's no shocker they go gaga for their coffee. One of the best imports from the land of the rising sun, UCC Café stands out from other coffee shops for its fine dining aesthetic and Japanese-meets-Western menu. The coffee is somewhat pricier than other cafes', but only due to the tedious measures undertaken to siphon-brew the Japan-cultivated beans to produce a cup that coffeeholics would swear by. Even their lemon iced tea is prepared similarly and poured over ice. Pair this with a shitake mushroom omelette, anchovy fried rice or a waffle with frankfurter. UCC even adds a twist to Filipino classics like the healthy oats caldo in place of the traditional arroz caldo (rice porridge). Another rendezvous that executives prefer, this mall cafe has a flat screen TV forever tuned to CNN and a closed second-storey loft that offers privacy for business meetings. After you've selected an equally delectable confection as a topper to your breakfast meal, just press the button on your table for the waiter to bring you your bill.
UCC Café, The Terraces, Ayala Center, Cebu Business Park, Cebu City
Business hours: 7:00am to 11:00am on weekdays, 7:00am to 12:00mn on weekends
Tel. 6332. 417 1344
A CAFE
Unassumingly nestled behind a thin curtain of bamboo and jessamine shrubs, A Café serves a fine breakfast anytime of the day. The restaurant welcomes you to a spacious enclave whose mix of lime veneer, wood and leather furnishings mimic having your morning meal in an unpredictable setting. The all-day breakfast menu is for the breakfast lover who enjoys a perfectly poached pair of eggs benedict with a rich hollandaise sauce, smoked ham, and potato hash, or a stack of hot and fluffy blueberry pancakes topped with butter. There are of course the lighter options of fresh salads with portions good for two, soups, and sandwiches. But do take your time with the heartier dishes like the eight-ounce angus beef burger, or the hefty skillet breakfast of two fresh farm eggs, bacon, grilled sausage, potato hash, and beans. A Café is one way of enjoying the Abaca Group's top-caliber food and service in the heart of the city.
A Café, Crossroads, Banilad, Cebu City
Business hours: 8:00am to 10:00pm on weekdays, 7:00am to 10:00pm on weekends
Tel. 6332. 505 5692
www.theabacagroup.com
FERIA
In the Roman Rite liturgy, they call the days after Easter, "Feria"—signifying a day of celebration and feasting in all of Rome. Indulge in a hefty feast fit for a Caesar in the luxurious hotel, Radisson Blu. From the moment you walk into the swanky dining room that seats 300, you are greeted by a sweet aroma of freshly baked bread, not to mention a very courteous and interactive staff. Featuring an assortment of local and international cuisine, Feria is well known for its Super Breakfast Buffet. Jumpstart your morning by making your way to the multi-cultural stations: Asian, International, Mediterranean, and Continental. There are also separate stations for egg omelettes and dessert. Have their Chinese dimsum and roast pork drizzled with a saccharine pineapple sauce, or concoct your own soup with your mix of ingredients. It's never too early in the day for a bowl of their special ice cream. Guests checked in at Blu's business suites have the option of "breaking their fast" at the Radisson Club Lounge, the executive lounge on the 20th floor with a panoramic view of the neighboring Mactan Island and Channel. Nothing like starting your day with a gastronomic tour around the world in your choice setting.
Feria, G/F Radisson Blu Hotel Cebu, Sergio Osmeña Boulevard cor. Juan Luna Avenue, Cebu City
Business hours: 6:30am to 10:30am daily (breakfast buffet)
Tel. 6332. 402 9900
www.radissonblu.com/hotel-cebu
THE MARRIOTT GARDEN CAFE
Parking at the Marriott Hotel has never been more convenient with the new, shaded walkway from Ayala Center that cuts straight into the hotel. When it comes to hotel breakfast buffets in the city, it is common knowledge that the Marriott's is among the best. Their buffet is a combination of Filipino, Japanese, American, European, and now, overseen by Korean culinary students, Korean—breakfast elements with general favorites being their chicken tocino, steamed garlic fish, omelettes, a variety of fresh breads (including luscious ensaymada), and a mean bulgogi. Be brave to order something that's not on the regular buffet menu like a refreshing smoothie made with fruit of the season. The restaurant blends with the garden and al fresco deck area where you may enjoy your meal, and feel as though you are dining in an oasis tucked in the heart of the city. There are also sumptuous options for vegetarians and picky eaters so just notify the very attentive staff of your preferences. The Marriott's latest promo to BPOs in the area also lets one avail of a 50% discount off of brunch, but that in itself is a whole other story.
Cebu City Marriott Hotel Garden Café, Cardinal Rosales Avenue, Cebu City
Business hours: 6:00am to 11:00am daily (breakfast buffet)
Tel. 6332. 411 5800
www.marriottcebu.com
THE BEVERLY CAFE
Beverly Café is an all-time favorite breakfast haunt in Cebu. Formerly known as Eddie's Hotel, this restaurant is the closest we can ever hope to having an American diner. The no-nonsense coffee shop décor is agreeable with a breakfast menu that brings in a totally authentic Cebuano clientele. The service is reasonable, and before you can sink your teeth in the homemade goodies, coffee pours endlessly in an atmosphere that is best described as mild breakfast chatter. High on the list is the smoked milkfish with fried eggs and your fruit of choice. Not to miss are the corned beef and the homemade country sausage topped with southern style milk gravy.
Beverly Café, Beverly Boutique Business Hotel, F. Manalo St., Cebu City
Business hours: 6:00am to 11:00pm daily
Tel. 6332. 254 857
www.beverlyboutiquehotel.com
THE PANTRY
Entering The Pantry is like stepping into Grandma's kitchen and getting a whiff of whatever she whips up best. Not surprisingly, this was exactly what the couple who opened the deli-dessert café last year had in mind. The Pantry is designed where you're free to roam and point to what you'd like for breakfast from their wide selection of savories and sweets, making it oh-so-enjoyable for families and friends. Heavy morning eaters will get a kick out of their Dmitri sandwich, which is packed with a beer sausage, maple smoked ham and pepper lyoner, with veggies and a honey mustard dressing. Their Spanish chorizo, which you can have with rice or bread, is sautéed in extra virgin olive oil (EVOO) from Spain. You can have it with native eggs that are delivered regularly from an organic farm. Those with a sweet tooth can choose from among twenty flavors of cupcakes to go with their coffee; the rich peanut butter cupcake is a must-try. With just a transparent glass separating the dining area and the kitchen, diners can watch how their orders are prepared, then purchase the ingredients from the shop.
The Pantry, The Gallery, J. Luna Ave., Mabolo, Cebu City
Business hours: 8:30am to 10:00pm on Sundays, 9:00am to 10:00pm from Mondays thru Thursdays, 9:00am to 11:00pm on Fridays and Saturdays
Tel. 6332.268 9300
www.thepantrycebu.com
PANCAKE HOUSE
"Flat as a pancake" is the last thing you'd say to describe the new Pancake House at Oakridge Business Park. They're fast becoming another favorite breakfast spot in the city evident through their regular market base—corporate groups for early morning meetings, parents after driving their kids to school, BPO employees straight from work, and even the after-church crowd. And though they serve great pancakes from opening to closing, that's not all they're about. Their menu is so diverse that you can swap a traditional breakfast meal for steak. While it's comforting to know that sumptuous steaks can be had that early, their breakfast bestsellers are still their beef tapa, which most Filipinos enjoy, served with a choice of rice, fried egg, and atchara (pickled papaya), as well as their crispy golden brown waffles topped with whipped butter, and hot syrup on the side. The orange interiors also add flavor to the experience with diner-like booths that give a sense of privacy for meetings or special dates.
Pancake House, Oakridge Business Park, A.S. Fortuna St., Mandaue City
Business hours: 7:00am to 10:00pm daily
Tel. 6332. 411 1188
Vienna KAFFEEHAUS
In Cebu, the closest you'll get to the famed Austrian capital is in Vienna Kaffeehaus. Apart from the obvious reference, it has been the go-to place for a steaming plate of Austro-Hungarian goodness for over 25 years. Businessmen and professionals on the go frequent Vienna Kaffeehaus for it opens as early as 6:00 am (in selected branches) and serves hearty breakfast meals any time of the day. Their Banilad branch has the ambience of a Viennese café-cum-diner and the warm-colored upholstery can lull you to relax or wake you up for a busy day ahead. The server ladies approach your table in hip kitsch Bavarian-inspired uniforms, and you are likely to order their new breakfast set which comes with two menus (their sausages are a classic), an egg done your way, rice or bread, and your choice of coffee or juice. If you like your coffee black, you will relish taking sips of their caffeinated drink brewed from Austrian coffee beans. Their succulent corned beef flakes that take a laborious two days to prepare are also a favorite.
Vienna Kaffeehaus, A.S. Fortuna St. cor. Banilad Rd., Cebu City
Business hours: 6:30am to 12:00mn daily
Tel. 6332. 505 3565
www.viennakaffeehaus.com
Other branch addresses:
Pedro Calomarde St. cor. Gorordo Ave., Cebu City
G/F Orchard Hotel and Suites, A.S. Fortuna St., Mandaue City
Goldberry Suites, Quezon National Highway, Pusok, Lapu-Lapu City
The Gallery, J. Luna Ave., Mabolo, Cebu City
DON MERTOS
If you can't make it to Hawaii by morning, you can head down to Don Merto's Restaurant located at Casa Escaño Bed & Breakfast and treat yourself for some Loco Moco. This is a great tasting Hawaiian breakfast dish that consists of rice, a very filling hamburger patty with brown gravy crowned with two fried eggs, and your choice of brewed coffee or juice. Don Merto's is probably the only establishment in Cebu City with this high-protein dish on their breakfast menu, and their morning crowd, many among them early runners, find it perfect for storing up energy before they continue the rest of their day. The eclectic mix of dishes being served at Don Merto's is inspired by old family recipes and Hawaiian cuisine.
Don Merto's Restaurant, Casa Escano Bed & Breakfast
94 Juana Osmena St., Cebu City
Business hours: 6:00am to 10:00pm daily
Tel. 6332. 253 5563
Other branch address:
G/F SM Northwing, SM, North Reclamation Area, Cebu City
ILAPUTI
There's one place in Cebu where you can find clubbers concluding an epic night out and business professionals getting started with their day, all having breakfast at the same time—ilaputi. From the modern, cozy interiors to the tastefully compiled music playlist, everything about this 24-hour restaurant appeals to the senses. But of course, the primary reason people flood to ilaputi is their gourmet comfort food. Have The Stroganov or Nonihm Thai and you will notice a distinct twist to these international hits. Get a great bargain by ordering the Big Breakfast and taste a sampler of nearly everything on their breakfast menu, with garlic rice and two fried eggs. And what is breakfast without a cup of joe? They serve unique blends of high quality coffee by Italian brand Illy. With these morning choices only a fraction of ilaputi's eclectic cuisine, it doesn't matter what you're in the mood for; a culinary adventure awaits you.
THE TINDER BOX
Ask anyone in the city and they'll tell you where The Tinder Box is. The ever reliable deli in Cebu for the past two decades, The Tinder Box is the ideal brunch venue for friendly and business meetings for its chic setting—glass walls that let sunlight settle on steel tables with punchy colored placemats, and chillout music that sounds from their speakers every morning. Take your pick from The Tinder Box's extensive menu of sausages and pair this with their panini bread, omelette, and freshly squeezed orange juice for a European breakfast. The French Toast is sinful in its portions and comes with sliced fruit and crème brulee; the pleasant surprise of tart mango tucked in between the fluffy bread will make you smile. Watch out for new products in their deli next month, including 30 new cheeses to choose from for a mid-morning cheese platter.
Here Are the Highlights of Fete de la Musique 2019
Local talent took centerstage at _ACOUSTIC: Fete de la Musique 2019.
The Return of the Best-Tasting Lechon in Cebu, Rico's Lechon
Cebuanos, rejoice! Rico's Lechon makes a comeback in the city.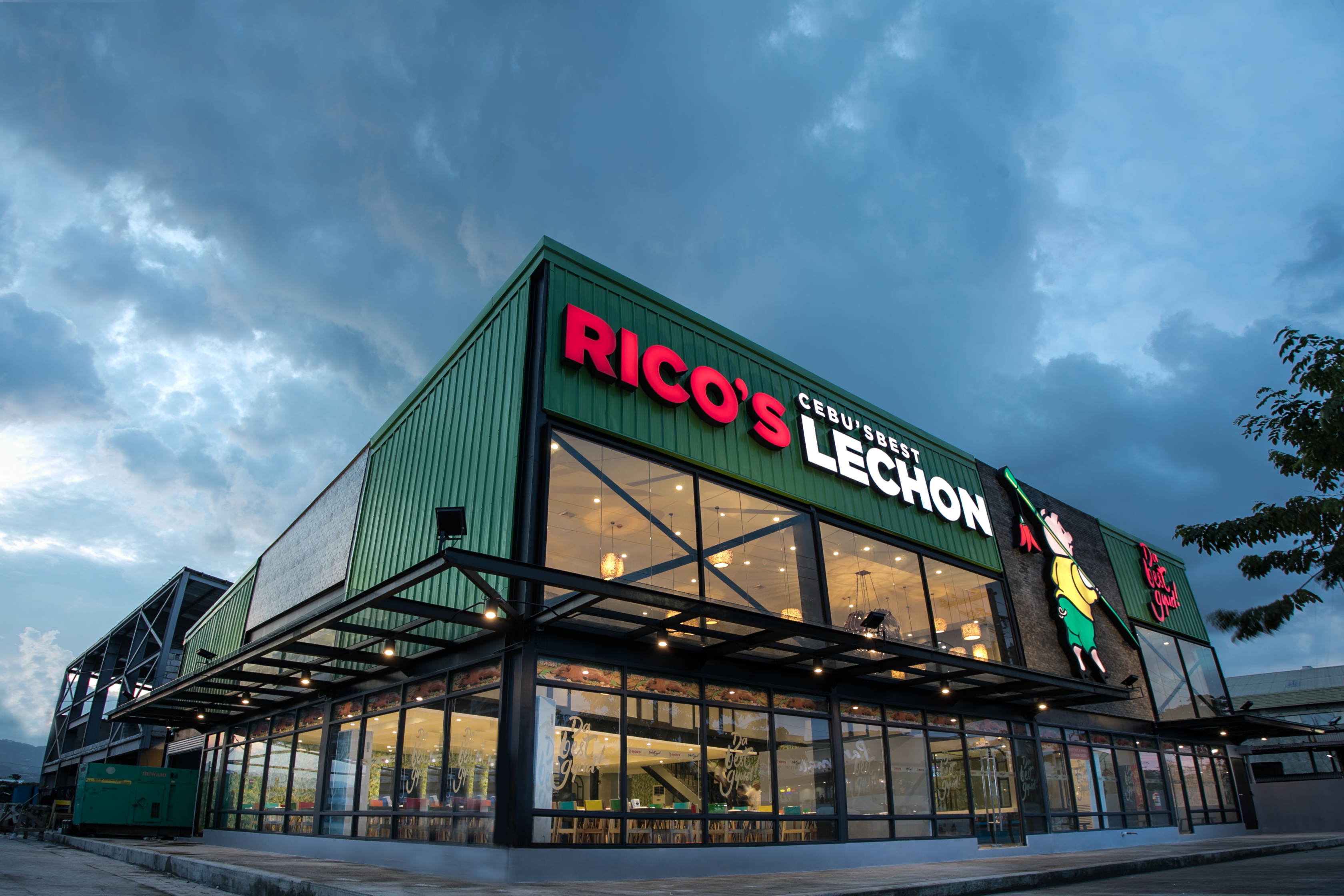 Several minutes to 11:00 on a cloudy Friday morning, a man clad in a pineapple print polo shirt stood in a tight circle of eager faces. His neutral-colored top contrasted with the boldness of their red uniforms. The man wore a serious look occasionally interrupted by a smile as he addressed his small crowd. He meant business. His hand gestures displayed a purposefulness that did not cause distraction but drew attention. The team huddle ended on a positive note as everyone placed their hands atop each other's in the middle of the circle and recited their chant for the day, smiling all the while. The man's smile was among the brightest, and it stayed that way for as long as he was in the room, welcoming people—young and old, foreign and local—to a restaurant that came back to serve the best tasting lechon in the city.
The man was Mr. George Pua, president of Meat Concepts Corporation and new owner of Rico's Lechon. And the restaurant was the biggest one in the chain, which started officially serving the public on June 28, 2019. George had his hands full even before the restaurant opened, but he seemed to have drunk from the well of never-ending energy and enthusiasm as he tirelessly talked with and offered friends and guests a smile. My colleague and I were two of its many recipients. In an exclusive interview in one of the restaurant's function rooms on the second floor, I learned that George's enthusiasm went beyond the successful opening of another business. He was happy to not only be eating Cebu's best lechon but also sharing it with his fellow and potential "lechon fanatics."
A Long-Time Love for Lechon
"Lechon fanatic," was what George called himself when he told us how his young self fell in love with the dish. "I lived in Baclaran, and every time I opened my window, it's all lechon. It's all lechon being paraded. Every time I opened my window I would see lechon and I would ask the maid to buy me ¼ kilo. Every time I opened my window." The repetition in his response left no room for doubt; he was—is—indeed a real lechon fan.
It was this love that brought him on a 5-day trip in the Queen City of the South six years ago, eating nothing else for lunch and dinner but lechon. He was on a mission: to taste the best lechon. He tried all brands he could get his hands on, even when it meant going as far as Talisay and Carcar. One store in the former, which was his host friend's favorite, secured the second spot in George's brief list of best lechon brands. Rico's Lechon came first.
George's list was no surprise. I'm not the biggest lechon fan—I don't crave it when I'm overseas—but I appreciate a great dish when I taste one, Rico's Lechon included. I liked how tender and flavorful the meat was that I didn't even have to dip it in sauce. The skin was not fatty and had just the right crispness, which saved me from feeling jaw pain because of excessive chewing. There was an added sense of gastronomic satisfaction from seeing how the lechon was chopped before it arrived at our table. I might have eaten more than what I intended to.
A Determined Man
George liked the tenderness of the lechon he tasted in Talisay, but the brand only offered the original variant whereas Rico's Lechon offered both original and spicy. "If you are a good businessman, or if you have a business acumen, you would want the original and the spicy," he said.
He soon met Enrico "Rico" Dionson, founder of Rico's Lechon. At that time, George only wanted to know the man who perfected the recipe to the best tasting lechon; he had no intentions of buying or franchising the brand. But he did ask him of potential plans to open a store in Manila, to which the latter responded with a firm no. Since then, George made it a point to eat at Rico's Lechon and chat with Rico every time he visited Cebu. The question of opening a branch in Manila would sometimes come up in these conversations. The third time it did, George took a different approach and asked whether he could instead franchise the brand. Rico was steadfast in his initial response.
Things started to take shape when a common friend reintroduced George to Rico in 2015. This connection solidified the former's love for lechon to the latter, who finally saw George as more than just a businessman eyeing a new venture. And in 2017, amid a busy night of setting up one of his restaurants and preparing for a flight to Japan the next day, George received an unexpected call from Rico. The call caught him off guard that he momentarily forgot who Rico Dionson was. "I should know him because he's in my phonebook," he said with a laugh. He picked up the call, and it was then that thoughts of eating Cebu's best tasting lechon in Manila became reality—Rico offered to sell the entire brand. George had no hesitation in saying yes.
Before the official contract signing in February 2018, George's Feng Shui master came to Manila to "read" him for the next year. George, who then wanted to know his compatibility with Rico as a business partner, asked his ninong to also do a quick reading of Rico. Rico consented. Then the reading happened. "You have a good heart, but you talk too much," George quoted.
Nevertheless, the Feng Shui master gave them his blessings and they soon signed a contract. By May of the same year, Meat Concepts Corp. took over the entire operations. In August, they opened their first Manila store in Bonifacio Global City; in September, Glorietta 1; October, Tiendesitas; November, UP Town Center; and in February 2019, SM Mall of Asia. It was a productive year for George.
"Old Cebu with a Twist"
The success of the great RICOmeback seemed to suggest that this year will be as busy, if not more, as the last. The brand's flagship outlet can accommodate 300 people and has four function rooms, whose names refer to the places where Rico's Lechon used to stand. "We wanted to be reminded of our roots," George explained.
George chose the location because it fits his criteria—not in Cebu City but near it. His friends' opinion, that the area is a new segment of progress in Mandaue, made decision making easier for him.
He was also very much involved in the conceptualization of the restaurant's interior design. He wanted to showcase the "Old Cebu with a Twist," so he incorporated elements of Sinulog into the restaurant. Instead of hanging buntings like people do during fiestas, which can look messy inside a confined space, George asked his Cebuano chair manufacturer to paint the backrests of chairs in bright yellow, green, apple blue, and red. "So, when you lay out the seating arrangement, you all see the different colors. It's like a bunting," he said.
Other Cebuano-made items included tables and hanging lamps. What I found most interesting about the restaurant's interior, however, was the lechon plate chandelier. George revealed that it was the last fixture added and its creation materialized mostly out of a desire to avoid wasting resource. George ordered these plates with the intent of using them for what they really were, but the vendor shipped them to him in the wrong size. Instead of complaining about what went wrong, George focused on the positive and asked his manufacturer to make a chandelier using his oversized lechon plates.
A Foodie's Menu
Rico's Lechon's expansion is evident not only in the restaurant's space but also in its menu. Other than their renowned lechon, they now serve more Filipino favorites like Special Boneless Bangus, Sizzling Lechon Sisig, Monggos, and Bicol Express. New additions to the list include Grilled Pork Belly, Sinigang na Baka at Baboy, Sisig Fried Rice, and Buttered Mixed Seafoods.
The new management may have tweaked the menu, but George promised that they did not and will never change the original lechon recipe. "There's no ego here. I always say [that] it's not who runs it or who owns it. It's just the way that you present it to be the best and only the best, and make people smile and happy. That's the most important thing. It doesn't matter who owns it anymore," he explained.
As a foodie, George understands the feeling of going to one's favorite restaurant and finding out—a true foodie will, almost always immediately—that the management changed their recipe. He does not want his food to be "bastardized," and he assured me that it will never happen in his restaurant.
George shared that he can be adventurous and instinctive when it comes to food. When he goes to a restaurant, he orders a lot and eats them all (food waste is a no-deal). He cited his recent solo travel to Spain as an example, where he ordered about 12 plates of Spanish food for lunch. All for himself. The look on his face as he was narrating this story told me that he still could not believe what he did. And on the 4th day, to change things a bit, he had lunch at KFC.
After sharing a good laugh, I decided to bring the interview to a close. I wished George sincere congratulations and expressed my anticipation for brighter days ahead. With his familiar smile, he thanked me then said: "I promise with all my heart, with all my mind, with all my power, [that] we will maintain the same taste of lechon."
Visit Rico's Lechon Mandaue at Unit F1 Jamestown, Mantawi International Drive, Mandaue City. They are open daily from 10:00 AM to 10:00 PM.
Art Curator Maris Holopainen Recommends Top 5 Young Cebuano Artists You Should Know About Now
Having worked with many artists through Qube Gallery and an avid art collector herself, Maris Holopainen has been advocating young and local talent.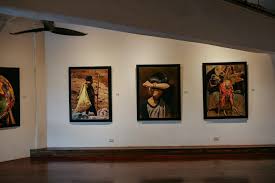 Originally published in Zee Digital Vol. 1.
Photography by Kyla Estoya
Having worked with many artists through Qube Gallery and an avid art collector herself, Maris Holopainen has been advocating young and local talent. Besides representing Cebuano artists at shows around the world, the gallery is also a platform of sorts for creatives who are hoping to make a name for themselves in the industry. Maris shares five up-and-coming artists she believes will soon become buzzed about in the local art scene.
GI Pongasi, Painter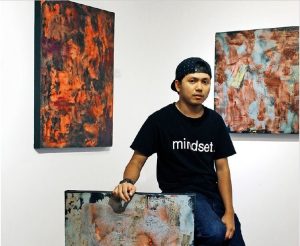 Describe your art.
Mixed media, non-figurative.
How did you break into the industry?
I joined different group exhibitions, and eventually had a chance to mount my own solo exhibit.
Plans for 2018?
After a successful one man show this January, I will continue to create a new series of work, and will be joining group exhibitions. Also, I'm planning to join major art competitions.
Borj Padron, Sculptor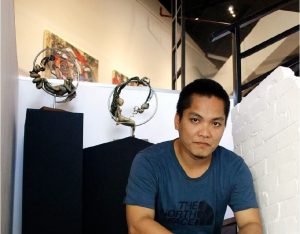 Describe your art.
I am into metal. Even when I was doing my thesis, I was working with metal cables, and stuff like that. Now, I like working with stainless steel.
How did you get into art?
Even when I was a kid, I was into arts. My parents didn't send me to art school; they made me take engineering. when I got to my senior year, I shifted from
engineering and pursued art.
Plans for 2018?
I want to do collaborations with my coartists. I also plan on studying more on metal and wood.
Almun Rey Logronio, Sculptor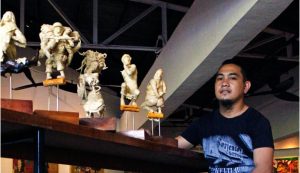 Describe your art.
My art is about comedy. I wanted to avoid the problems, so I converted them into something happy. At least for a moment, I can relieve your stress through my artwork. I experimented with 3D
painting and other materials, and some challenging techniques. For materials, I use polymer resin. My subjects are usually normal people that you'd see everyday.
How did you get into art?
I studied painting in college, but when I went to Dubai, I saw and discovered that I could do sculptures. I practiced and experimented with the materials.
Plans for 2018?
I have plans on doing another exhibit, and continuing making comedy as a statement. I want everyone to be happy. I hope I can make better pieces, and that people will like it more. And I'm planning
to add painting to my sculptures soon.
Mark Belicario, Painter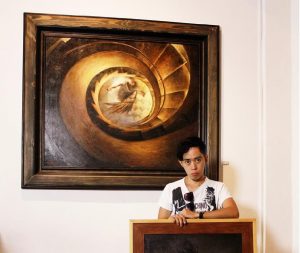 Describe your art.
My art is realism with a bit of surreal, it has some imagination. My medium is oil on canvas.
How did you break into the industry?
I started painting in 2008, together with my co-artists. They have influenced me to do the same. I was inspired by their work. From there, I attended exhibits, competitions, that's where it all started.
Plans for 2018?
To conduct more exhibitions here and abroad, and create another painting. Maybe try a different style of my art.
Francisca Ricablanca, Painter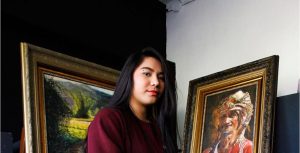 Describe your art.
I describe my art as realism, because in realism I can express my feelings and appreciate the beauty of nature. I feel like I have been enlightened by the Lord, because of what I've seen and what I put
in my art.
How did you get into art?
I started painting when I was 16 years old, and encouraged by a co-artist to join a trip to Samboan. I had no idea
what we were going to do there, I thought it was just another trip. It turned out they were going to do paintings on the spot. One day, they gave me a small canvas, and I finished my painting right away. The next day, they gave me a bigger canvas, and I started painting the guava tree; they were surprised that I was so quiet. I was actually drawing each leaf individually. That's when I started.
Plans for 2018?
I want to continue, and strive harder so that I can make artwork that's even better than what I did last year. I want to continue my career as an artist.