Spending the Holidays in the City? Here's Where You Can Spend Your Christmas Eve!
Here's where you can spend your Christmas Eve!
If you're spending the holidays in the city this year, it's good to plan your agenda beforehand so that all you have to do is relax and you don't have to think about what to prepare because someone else will do that for you. If you're planning on leaving your homes for the night, bring your loved ones because here are some of the things you could do on Christmas eve!
Spending Holidays at Pig & Palm
Loving the City Vibes? You can celebrate the holidays with flexible spaces and a sumptuous holiday menu right in the heart of the city at Pig & Palm. If you're lucky, you might meet the Michelin-starred chef, Jason Atherton. For starters, you can choose from Prawn Cocktail with dill dressing, sun dried tomato and sourdough crisps or Chicken Liver Parfait. Christmas Eve dinner would not be complete without their main entrées which includes familiar favorites on the menu, but with the season's twist such as a Roasted Turkey Breast and Pork Cutlet with caramelized apple, sage crumble and picked carrots. Finish your Holiday dinner with a Sticky Toffee with Christmas pudding ice cream.
Mövenpick Hotel & Resort
Feeling the Seaview on the holidays? On 24 December, indulge in a Swissmas Eve Buffet at The Sails restaurant, which showcases a wide display of this season's culinary delights, classic confections and signature Swiss flavours. It's a culinary treat with the best of the East and West, featuring a delectable variety of holiday specials and classic flavours from different regions. If you feel the call of the beach, you can visit the hotel for some splash and fun, and spend time at The Cabanas which is a perfect addition to your holiday.
Harolds Hotel
Christmas is definitely a special day! So on the eve and day of Christmas, Harolds Hotel offers a Lunch and Dinner buffet spread that will warm you up with traditional yet exciting flavors to celebrate the most wonderful time of the year. You can also stay here overnight in their Deluxe Room with special live performance of Kurio Band and a breathtaking view in their roof top.
Crimson Resort and Spa
If you want to get away from the city for a night, you can come to Crimson Resort and Spa's Saffron Café. They will spoil you with a dinner menu filled with a smorgasbord of holiday staples. Dine on the 24th and 25th of December to enjoy the music of the season through the rendition of Cebu's top saxophonists with the resort's Spanish restaurant that will serve a signature 5-course menu. A weeklong party at Azure Beach Club gives guests three set menu options including seafood and meat platter selection with two side dishes with two glasses of wine or signature Christmas drink perfect for two.
Shangri-La Mactan Resort & Spa
Relish in a luxurious vibe this holiday season with Shangri-La's Merry Feasts, offering Festive Dinner Buffets & Christmas Eve Dinner at Tides with free-flowing red, white and sparkling wine. They also have entertainment featuring a Christmas Choir, Flash Mob Dance, Balloon Sculpture, Strolling Bands and Christmas Lucky Star. At Acqua, they have a four-course dinner and a glass of Prosecco Wine with a magician table by table. You can also spend the night getting all sweetened up by their Lobby Lounge's Chocolate High Tea Buffet.
Last minute shopping? Read more about holiday gift guides: http://zee.ph/gift-guides-for-every-kind-of-cebuano/
22 Tango Records Celebrates 9 Years with Roll-Out
The music label celebrates 9 years of homegrown music.
22 Tango Records celebrates its 9th year of producing and releasing quality local
music by hosting an anniversary event on Saturday, March 30, 2019 at Draft Punk, Mango Square. "Roll-Out" will feature live acts from a carefully curated list of artists signed under the label.
Performing on stage will be Wonggoys, Bethany, Vincent Eco, Lourdes Maglinte, The Labrats, and Mother Folker (aka Cattski).
Along with this grand celebration will be the unveiling of 22 Tango Records' new website, with updated features, music articles, events calendar, lots of music and valuable content not just about the label but also about the local music scene.
"As much as I feel like there's reasons to celebrate, I feel like there's still so much work to do." Cattski expressed, when asked about their anniversary celebration. "We still have a long way to go. But, looking back, I'm proud of what we've done. We've explored the different aspects in the music business – from music creation, promotion, education, distribution, publishing and production – all in the hopes that we'll ultimately co-create a sustainable local music industry."
22 Tango Records has given opportunities for artistic growth and development for all their artists in the span of 9 years, training and guiding them to become better at their craft. The label plans to keep giving its support by continuously creating events designed to cater to different genres and music listeners, giving each a unique brand and working hard to keep it consistent.
"I believe in our potential." Cattski says, "I think to have our own hyper local music industry is something that we strive for. We want the future to have thriving musicians capable and empowered to work for their music using the latest technology, communication means and with a supportive community".
Chief Finance Officer and Co-founder Anne Muntuerto also shares her thoughts about 22 Tango Records advancing into bigger, more eventful years.
"I'm so proud of how 22 Tango Records has made a mark in the Cebu music scene no matter how small it may seem in the last 9 years," she says. "We have been extremely lucky to be supported and surrounded by people who believe in our advocacy— our dedicated street team members, artists, brands and companies who have supported us, and 22T's loyal listeners and followers. It takes a village. And it's this tribe that inspires us to keep going."
Catch Roll-Out on March 30th, Saturday, in Draft Punk, Mango Square. Music starts at 8PM with a door fee of P150, inclusive of one free drink.
For more updates and information, follow us on Facebook, Instagram, and Twitter (@22tangorecords).
You Can't Miss The Final Performances of M. BUTTERFLY in Cebu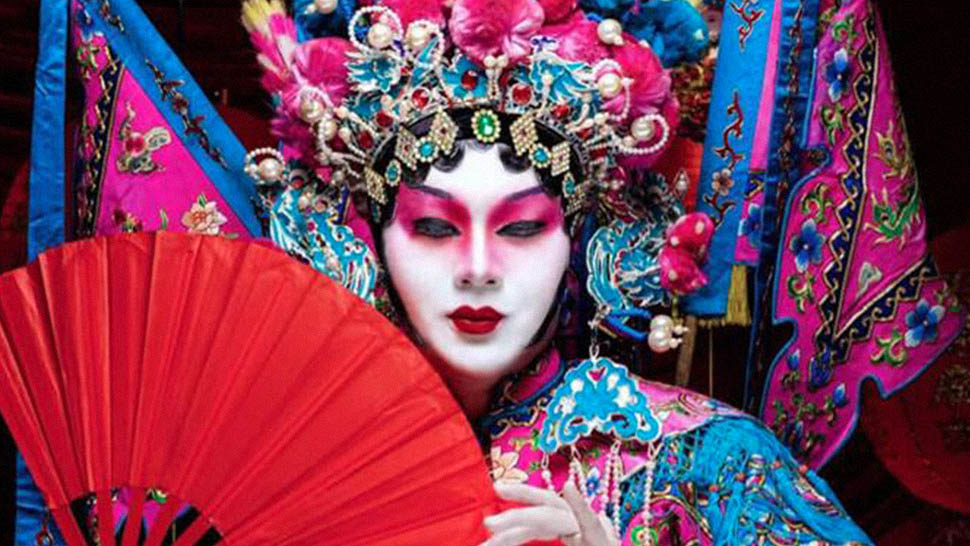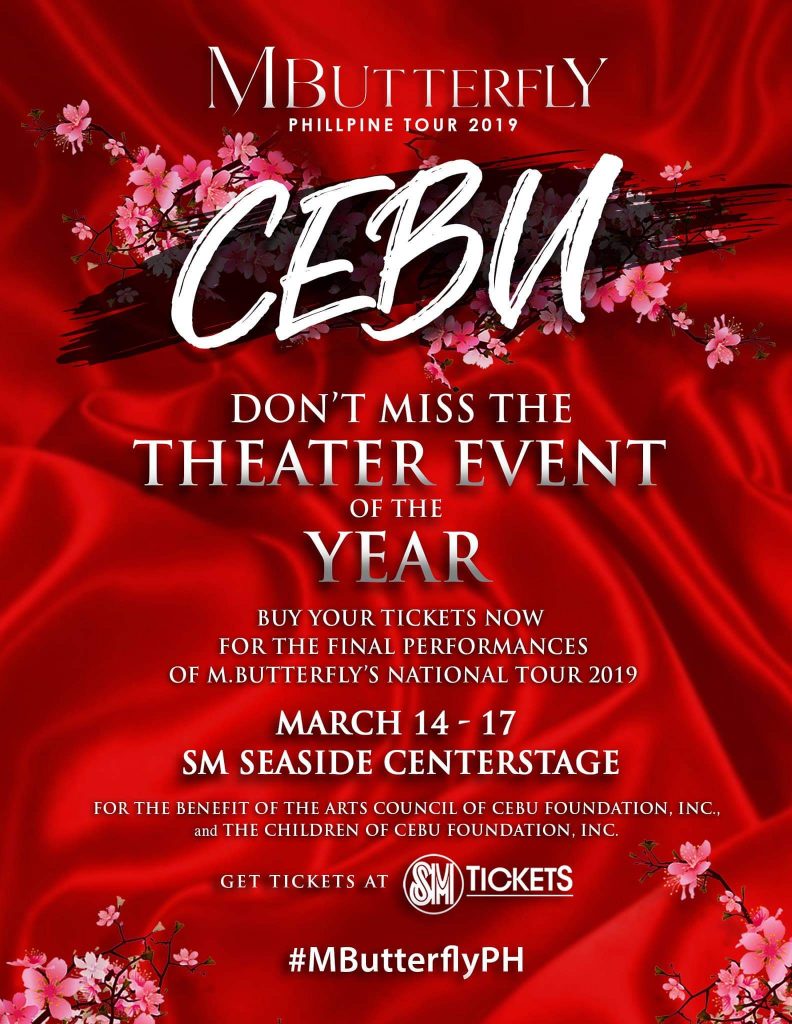 For its final performances, the M. BUTTERFLY National Tour 2019 will spread its wings at SM SEASIDE CEBU from March 14 – 17. Presented by Tony and Grammy award winning producer Jhett Tolentino and FRONTROW Entertainment (producer of highly-acclaimed independent films Bhoy Intsik and Bwaya), this world-class masterpiece is brought closer to those who did not have the opportunity to catch its 2018 Manila run. After all, location should not limit one's exposure to the arts and culture.
Due to many challenges and technical details that come with productions, most theatre companies in the Philippines are often hindered from bringing their projects to other key cities. Because of this, Jhett Tolentino and FRONTROW Entertainment are taking this bolder step to carry on their mission and advocacy in the performing arts and to further enhance audience development throughout the Philippine archipelago.
A revival production of David Henry Hwang's M. BUTTERFLY, this is the winner of the 2018 ALIW AWARDS for Best Play, Best Actor and Best Director and nominations for The Best Featured Actress in a Play.
Targeting audiences between ages 18 and beyond, the producers are
hoping that this classic drama, inspired by Giaccomo Puccini's opera 'Madame Butterfly', will likewise resonate to theater audiences from Luzon, Vizayas and
Mindanao that " love, power and deception holds no boundaries – whether this be
in a rural or urban setting."
The M. BUTTERFLY NATIONAL TOUR 2019 will benefit the following charitable institutions namely: Iloilo Prima Galaw, Philippine National Red Cross Iloilo Chapter, The Children of Cebu Foundation, Silliman University Culture and Arts Council and the Arts Council of Cebu Foundation.
The schedule of performances of M. BUTTERFLY in Cebu are as follows:
Mar. 14 – Thursday – Opening Night – 7pm
Mar. 15 – Friday – 7pm
Mar. 16 – Saturday – 2pm / 7pm
Mar. 17 – Sunday – 2pm / 7pm
VENUE : SM Seaside City Centerstage
For tickets, you can get them at SM Tickets through any SM Mall or SMTickets.com.
You Can't Miss the Benefit Performance of The Vagina Monologues for V-Day Cebu's 17th Year Anniversary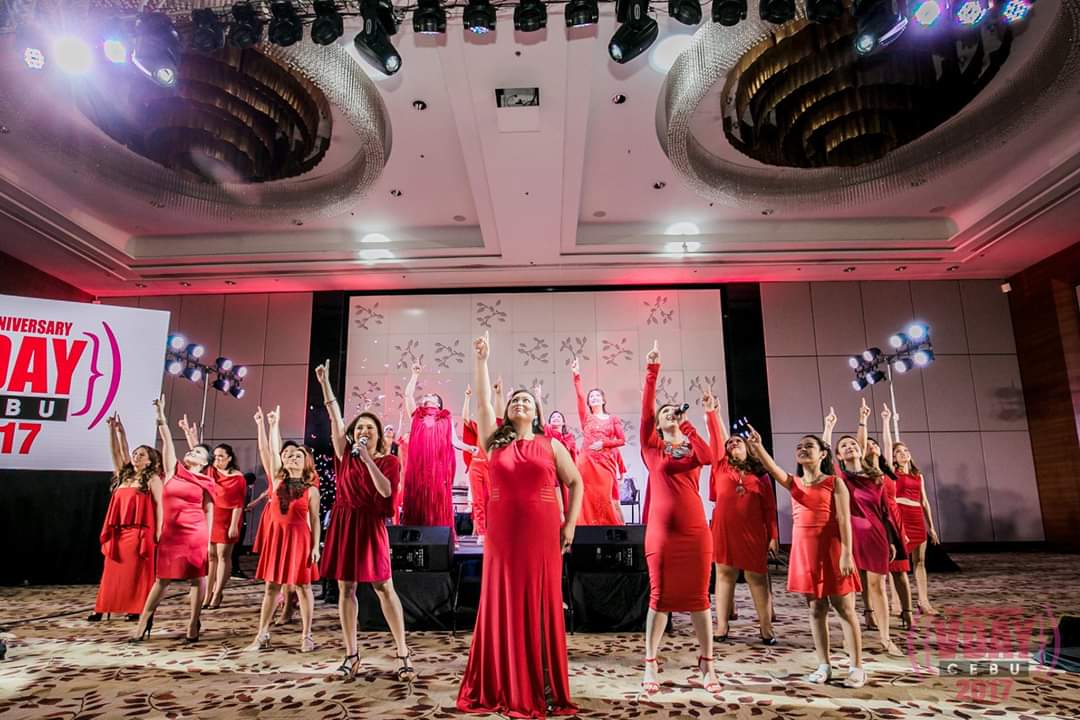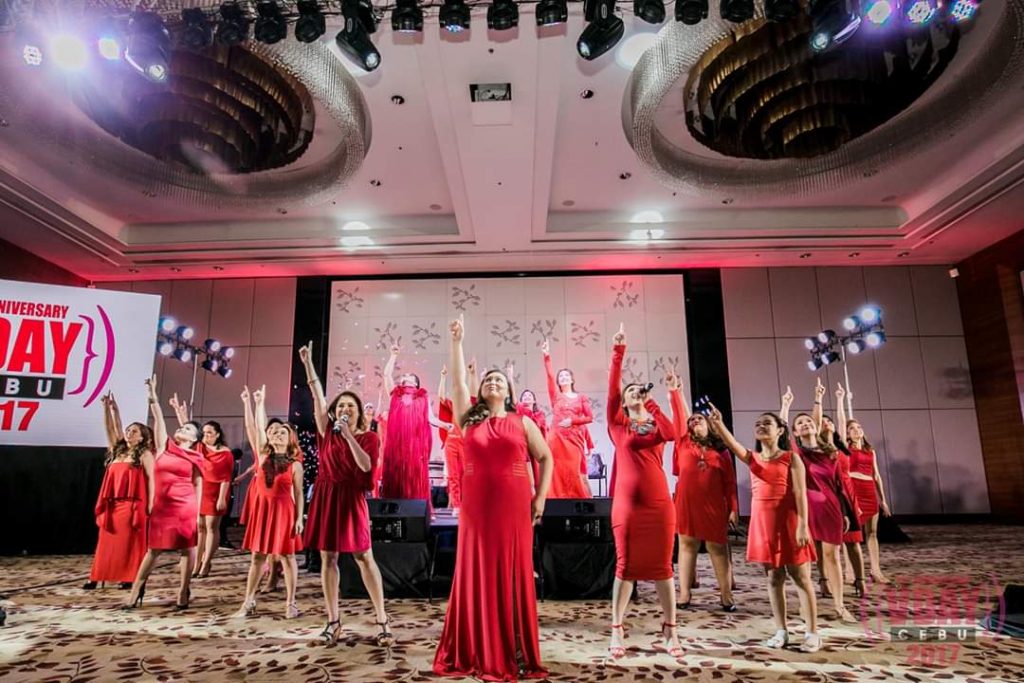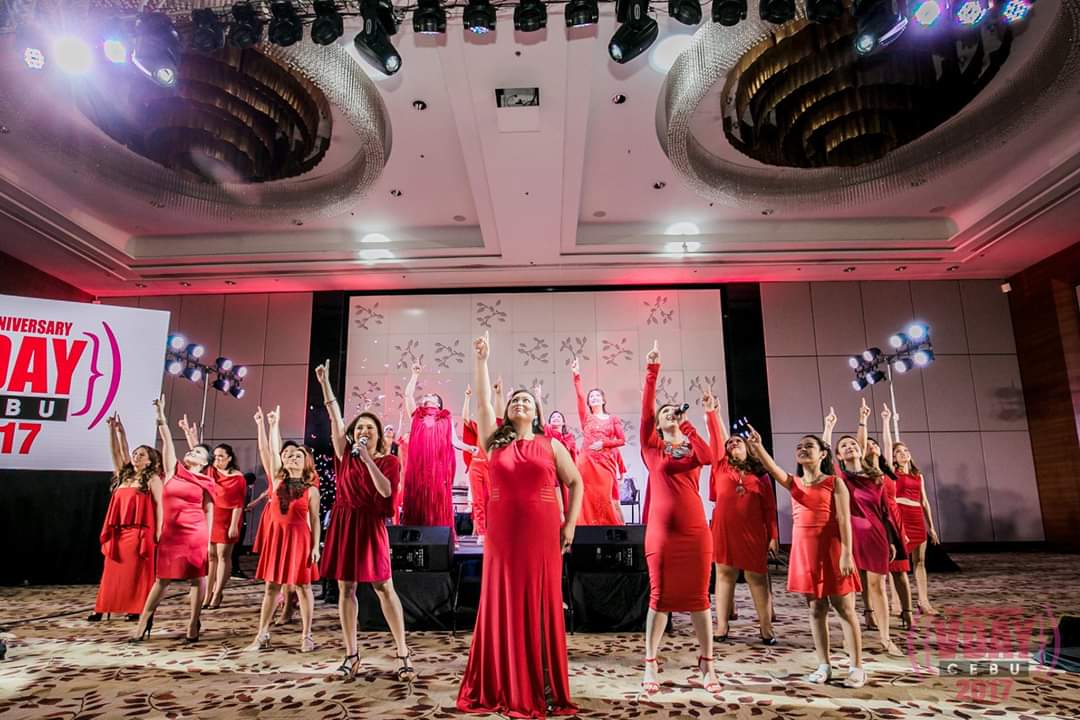 This year, join the Vagina Warriors as they celebrate V-Day yet again with a benefit performance of Eve Ensler's award-winning play, The Vagina Monologues on March 7 & 8, 2019 at 8PM at Asmara Urban Resort & Lifestyle Village.
V-Day Cebu and its current campaign ONE BILLION RISING: REVOLUTION is just one of the thousands of benefits held around the globe to raise funds and awareness toward the empowerment of women. Through the performances of The Vagina Monologues , these events help spread the message of equality, dignity, and freedom for all.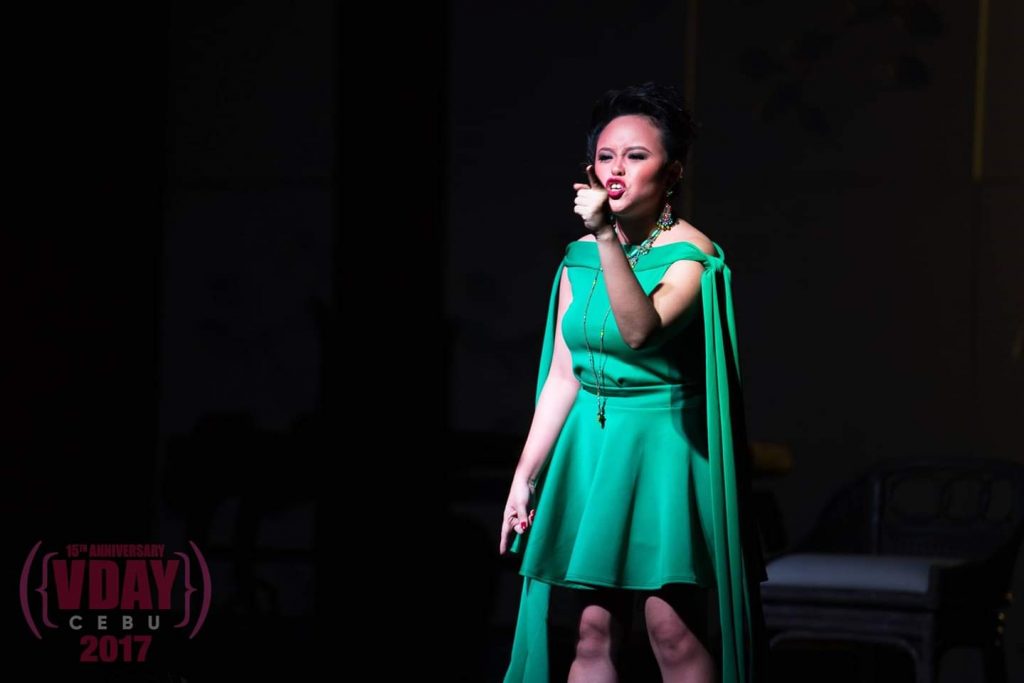 Marking the seventeenth year of V-Day Cebu, this special benefit of The Vagina Monologues will be performed by influential and affluent ladies. Featuring Alem Garcia, Andrea Pateña-Matheu, Anya Lim, Bea Algar Evardone, Brazzy Valdez, Charlene Virlouvet, Christine Tan, Gembelyne Icamen, Jo-ann Abesames Zalumbide, Kim Covert, Liana San Diego, Lourdes May Maglinte, Shiella Pestaño-Gemperoa, Shifrah Bouchikhi-Enclona, Stephanie Sitoy, and Tiffany Neri, and directed by Sarah Mae Enclona-Henderson, this two-night performance will surely touch the hearts of those privileged to see them on stage.
The Vagina Monologues will be performed at the Asmara Urban Resort & Lifestyle Village on March 7 & 8, 2019. Tickets are at priced at ₱500, which also offers all ticket buyers 50% off on all hair-related services at Mira Beauty by Design, located at Basement 1, Robinson's Galleria Cebu. For tickets and reservations, please call 2TinCans at +63 917 896 2181. You can also email plays@2tincans.ph or visit V-Day Cebu and 2TinCans Philippines Inc. on Facebook.
This event is produced by 2TinCans Philippines Inc. and co-presented by Asmara Urban Resort and Lifestyle Village, Atelier-a, Mira Beauty by Design, and Your House Doctors.