Noise and Sounds: An Artform
Throughout the years, Cebu has been a place of continuous experimentation and innovation.
Most people quickly dismiss unpleasant sounds and label anything they don't usually hear as noise, but for some people, different kinds of sounds combined to produce a distinctive form of music can be considered as an artform. This kind of genre in music is very unusual; it's not something you commonly hear, but it is an expressive use of sounds in an unconventional way that challenges the distinction of what is musical and non-musical sound.
Here, I ask some artists from the recent Meltdown 3.0 event about their perspective on how noise and sounds are an artform and how they create their own sounds.
What made you decide to create this kind of music?
Lush Death: "My discovery of Japanese harsh noise immerse me to something until now I couldn't explain well. My fascination with artist like Masonna, Hanatarash, Incapacitants, C.C.C.C. and Hijokaidan excites me and later on I decided to do Noise."
Lush Death is noise killer artist from Binangonan, Rizal. He takes inspiration from almost everything around him. From his feelings, new experiences, films, arts, people and music. He started doing noise since 2008 with his first noise project called thera barra.
Another Artist, PGR also known as Paolo, an Italian guy who grew up musically in Norway and graduated at Milan's jazz music academy in bass guitar said, "I think it has not been a decision so far. More urgence. I needed something I didn't know. I found it in those chaotic sounds."
His inspiration in making Noise Music was triggered when he had to get a way to escape and find a comfortable shelter from the madness and the uselessness of what humans generate, since 2012 he continued creating this kind of music.
Two artists that hail from Cebu, John Caing & Sampipebomb, are known pioneers of Noise Rock—their band Bombo Pluto Ova. When asked why they decided to create this kind of music John said, "Same as everybody else, ganahan mag enjoy sa life while they can, this kind of music it is nothing new, for me this kind of music is rock n roll, just wanna have fun and enjoy. to keep the blood thin." He was inspired by his family and continues to play in the band since 1997.
"I think the reason was I just keep on exploring new music and experimenting sounds. keeping my open mind to the possibilities." Future Teenager is a solo experimental project by Karl Lucente which explore and creates music from ambient to noise. Being a fan of Radiohead, Sonic Youth and Bon Iver, he develop his inspiration from the different level of frequencies such musics are producing but still you can totally grasp it. He started doing this since 2015 when his friends made a show called Abrupt Shift.
How would you describe your music and how is it different from other genres?
"Rock n roll, sound art, I dunno. Call it anything you want, ganahan ra dyud ko mo tukar and have fun while mo tukar. I think pareha raman siguro sa uban naa passion tapos even wala naka time motukar pangitaan gihapon nmu paagi kay kibaw ka inig at the end of the day fullfiling siya para nmu, padayon gihapon ka kay malingaw man dyud ka." -John Caing
"Noise worship" "It's everything they try to avoid on a radio type of music.
"Feedback, static, glitches, unwanted frequencies and a lot of mistakes." -Lush Death
"Medicine for life boredom. Honest. it's just different, as luckily anything else is." -PGR
"As of now, I'm not sure, Future Teenager is still rarely new. Just a different take on appreciating music." -Karl Lucente
How does this kind of genre become art? Or how is this genre an art form?
"Well yes, it is art and there is a lot of discussions about this. But it doesn't matter to me, if people recognized this or not as an art form or music. As long as I feel something in doing it and people who watched me perform live or listen to my record get some kind of a trip or experienced something, well that is more important to me. I tried not to over analyzed everything, art/music whatever they call it." -Lush Death
"Music is Art!" -Karl Lucente
"Self expression, it takes time and patience para ma sharpen ug mugawas natural sa imuha ang gusto nmu buhaton, i think mao sad na ang art, padayun lang dyud permi until kung wala na gana mo tukar di mo undang na." -John Caing
"I am not aiming to art and i don't consider myself an artist. thus i cannot answer to this. Someone would say it's art, but for me it's just pleasing sound. something i like to listen to." -PGR
What is your goal or vision when you create music?
"For me,doing noise is like a therapy. It helps me to cope with my anxiety and ruthless routine." -Lush Death
"Inig tukar nako mag imagine raman ko, tapos ako e transort sa guitara after that imuha na i-let go ang outcome." -John Caing
"As of now, I'm not sure about it but what in my mind while playing was i just wanted to share what's on my mind" -Karl Lucente
"I like the fact that anyone can get to his/her own conclusion. the listening it's open to any response. my goal is to have no goal." -PGR
What is your creative process when making your music and what are the gadgets you use to create sound?
"For recording and live set, its almost the same set of gears. For recordings, I always have a title in mind first, before I record a track. Almost all of my recordings are raw and unedited. Usually its from various things I experience from day to day basis. I love the appeal of one take recordings. For live performance, its on the spot. I just make sure before the show that my gear is working perfectly. I use a contact microphone and feed it to a series of effects pedal. It's pretty much simple, I try to fit everything. I need into a portable suitcase." -Lush Death
Lush Death also uses a contact microphone while playing in his gig in Cebu. It amplifies vibrations and impact and send the signal to any inputs. Which is amazing when your an audience watching the set, trying to listen to the sound produced by every hand gestures.
"The process is totally improvised. on the other hand i know my set up quite well, so i know how to get this or that sound. The set up is very simple. Contact microphones or microphones run into distortion and equaliser pedal. I like to use radio as sound source too." -PGR
PGR's set the energetic one, he moved a lot and even stood up in the table while performing which resembels the energy of the sounds he produces. He also used an old mic from an hifi. Which he puts in his mouth to produces breathing sounds, screams and other sounds to change the feedback frequencies.
"Both, there are times on the spot and sometimes i prepare before a gig. I loop, oscillate and reverb! I just combine it. Something holistic yet destructive kind of sound." -Karl Lucente
"Improvised tanan. Since bombo pluto ova nag start improvisation dyud na. During sa Melt gig wala dyud ko gadget kay ganahan ko raw siya. mas raw siya mas doul sa akong kasing kasing, mas nindot e manipulate ang noise together with rhythm and chords. sa ako lang simplicity sa set up, simple ug concept mas lingaw kaayu ug dali makabuhat sa imuhang imagination tapos imuha e transform sa music gamit imuha guitara, then let go. mao rana." -John Caing
Throughout the years, Cebu has been a place of continuous experimentation and innovation. The music scene opens up new and exciting music while the crowd and the community always support each other.
"The crowd in Cebu seemed to be curious for something which maybe doesn't happen so often in town. I am glad many people showed up. I am confident the other performers and me managed to plant some seeds in the adventors' ears." -PGR
"It always feels good playing in front of other people. It doesn't matter where and to whom i am performing, as long as they are willing to be blessed with static,then we have a deal." -Lush Death
Trying to grasp all kind sounds I heard that night I felt like my ears were overwhealmened but I am simply amazed on how creative we can be with different kinds of medium to produce art. All the artist produced very distictive music that I personally enjoy. When you listen carefully you can distiguish each sound produce by every movement, every click and every material that is being moved. That's what made it fun actually listening to it. Just ignore what you've learn about how music has to be. Enjoy and feel it. Music is an artfrom, It needs to be felt, that's how it's supposed to be.
22 Tango Records Celebrates 9 Years with Roll-Out
The music label celebrates 9 years of homegrown music.
22 Tango Records celebrates its 9th year of producing and releasing quality local
music by hosting an anniversary event on Saturday, March 30, 2019 at Draft Punk, Mango Square. "Roll-Out" will feature live acts from a carefully curated list of artists signed under the label.
Performing on stage will be Wonggoys, Bethany, Vincent Eco, Lourdes Maglinte, The Labrats, and Mother Folker (aka Cattski).
Along with this grand celebration will be the unveiling of 22 Tango Records' new website, with updated features, music articles, events calendar, lots of music and valuable content not just about the label but also about the local music scene.
"As much as I feel like there's reasons to celebrate, I feel like there's still so much work to do." Cattski expressed, when asked about their anniversary celebration. "We still have a long way to go. But, looking back, I'm proud of what we've done. We've explored the different aspects in the music business – from music creation, promotion, education, distribution, publishing and production – all in the hopes that we'll ultimately co-create a sustainable local music industry."
22 Tango Records has given opportunities for artistic growth and development for all their artists in the span of 9 years, training and guiding them to become better at their craft. The label plans to keep giving its support by continuously creating events designed to cater to different genres and music listeners, giving each a unique brand and working hard to keep it consistent.
"I believe in our potential." Cattski says, "I think to have our own hyper local music industry is something that we strive for. We want the future to have thriving musicians capable and empowered to work for their music using the latest technology, communication means and with a supportive community".
Chief Finance Officer and Co-founder Anne Muntuerto also shares her thoughts about 22 Tango Records advancing into bigger, more eventful years.
"I'm so proud of how 22 Tango Records has made a mark in the Cebu music scene no matter how small it may seem in the last 9 years," she says. "We have been extremely lucky to be supported and surrounded by people who believe in our advocacy— our dedicated street team members, artists, brands and companies who have supported us, and 22T's loyal listeners and followers. It takes a village. And it's this tribe that inspires us to keep going."
Catch Roll-Out on March 30th, Saturday, in Draft Punk, Mango Square. Music starts at 8PM with a door fee of P150, inclusive of one free drink.
For more updates and information, follow us on Facebook, Instagram, and Twitter (@22tangorecords).
You Can't Miss The Final Performances of M. BUTTERFLY in Cebu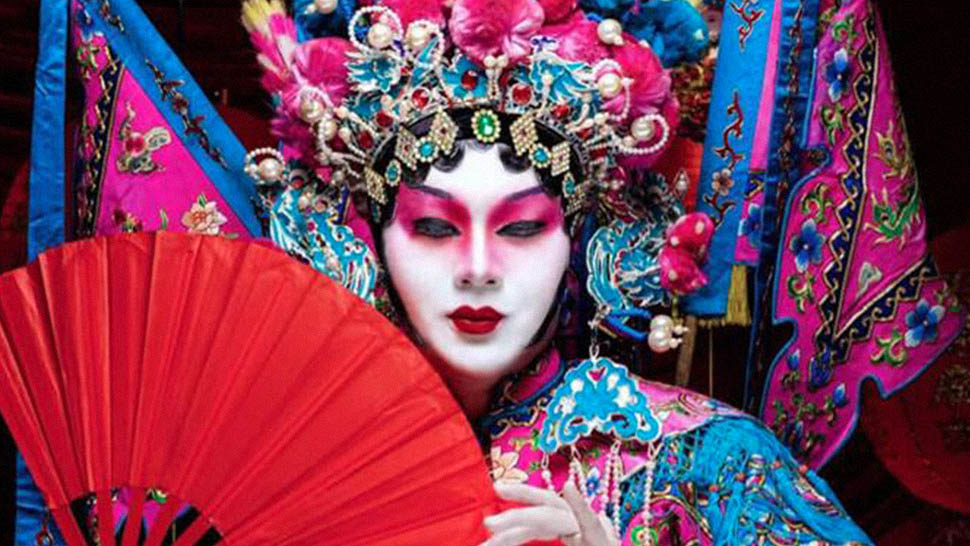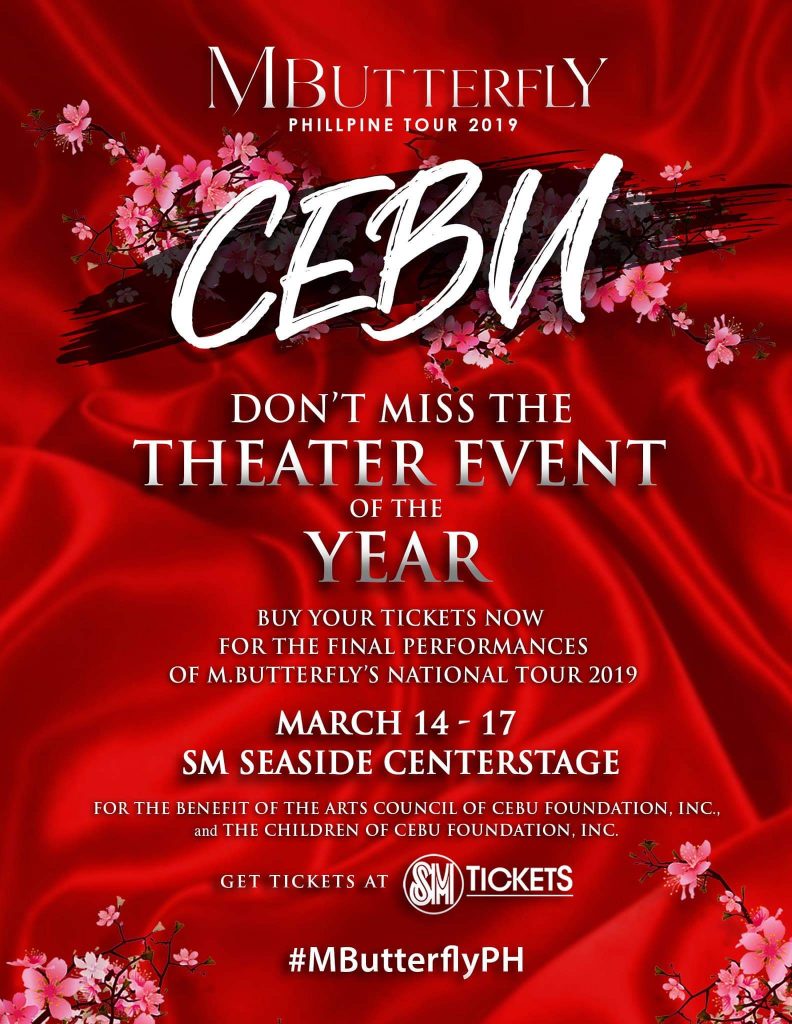 For its final performances, the M. BUTTERFLY National Tour 2019 will spread its wings at SM SEASIDE CEBU from March 14 – 17. Presented by Tony and Grammy award winning producer Jhett Tolentino and FRONTROW Entertainment (producer of highly-acclaimed independent films Bhoy Intsik and Bwaya), this world-class masterpiece is brought closer to those who did not have the opportunity to catch its 2018 Manila run. After all, location should not limit one's exposure to the arts and culture.
Due to many challenges and technical details that come with productions, most theatre companies in the Philippines are often hindered from bringing their projects to other key cities. Because of this, Jhett Tolentino and FRONTROW Entertainment are taking this bolder step to carry on their mission and advocacy in the performing arts and to further enhance audience development throughout the Philippine archipelago.
A revival production of David Henry Hwang's M. BUTTERFLY, this is the winner of the 2018 ALIW AWARDS for Best Play, Best Actor and Best Director and nominations for The Best Featured Actress in a Play.
Targeting audiences between ages 18 and beyond, the producers are
hoping that this classic drama, inspired by Giaccomo Puccini's opera 'Madame Butterfly', will likewise resonate to theater audiences from Luzon, Vizayas and
Mindanao that " love, power and deception holds no boundaries – whether this be
in a rural or urban setting."
The M. BUTTERFLY NATIONAL TOUR 2019 will benefit the following charitable institutions namely: Iloilo Prima Galaw, Philippine National Red Cross Iloilo Chapter, The Children of Cebu Foundation, Silliman University Culture and Arts Council and the Arts Council of Cebu Foundation.
The schedule of performances of M. BUTTERFLY in Cebu are as follows:
Mar. 14 – Thursday – Opening Night – 7pm
Mar. 15 – Friday – 7pm
Mar. 16 – Saturday – 2pm / 7pm
Mar. 17 – Sunday – 2pm / 7pm
VENUE : SM Seaside City Centerstage
For tickets, you can get them at SM Tickets through any SM Mall or SMTickets.com.
You Can't Miss the Benefit Performance of The Vagina Monologues for V-Day Cebu's 17th Year Anniversary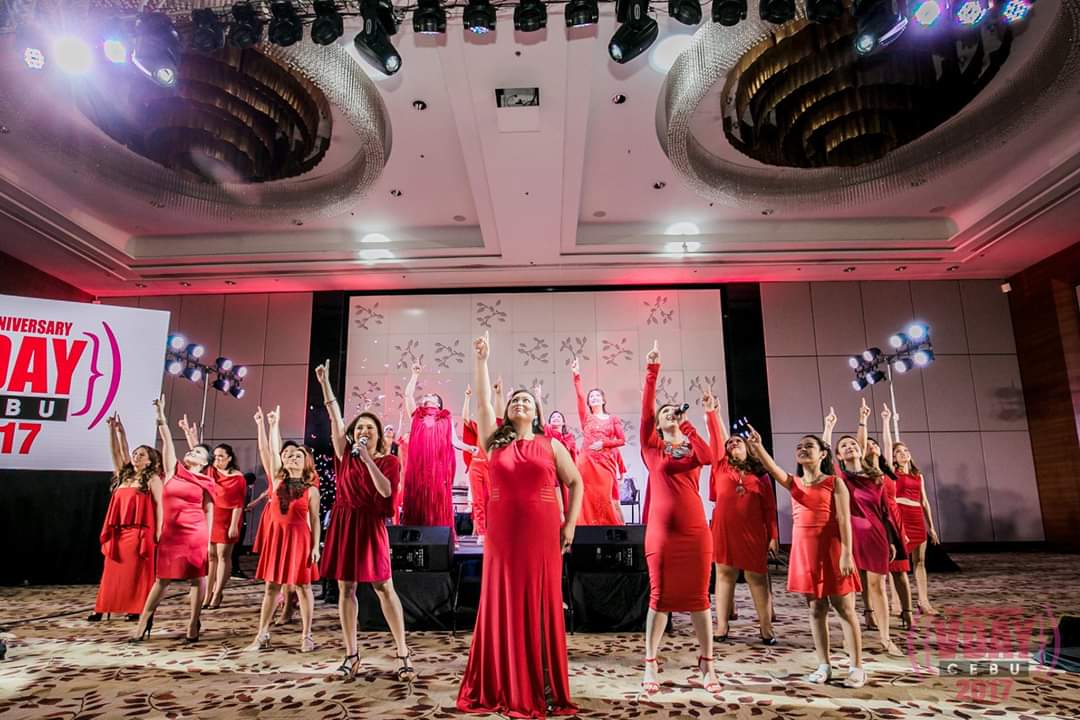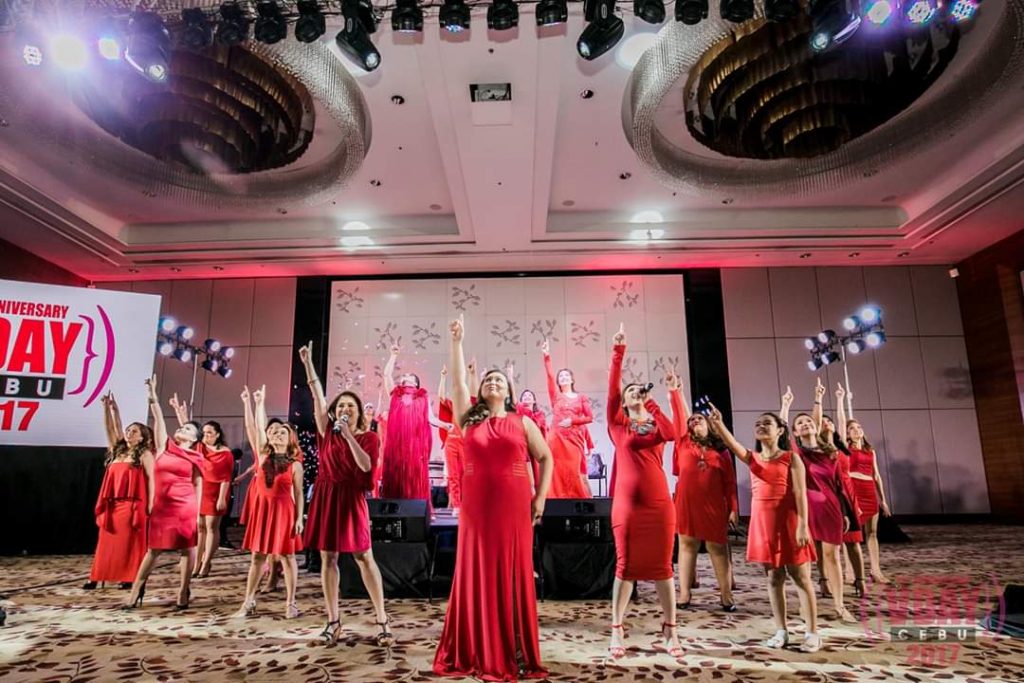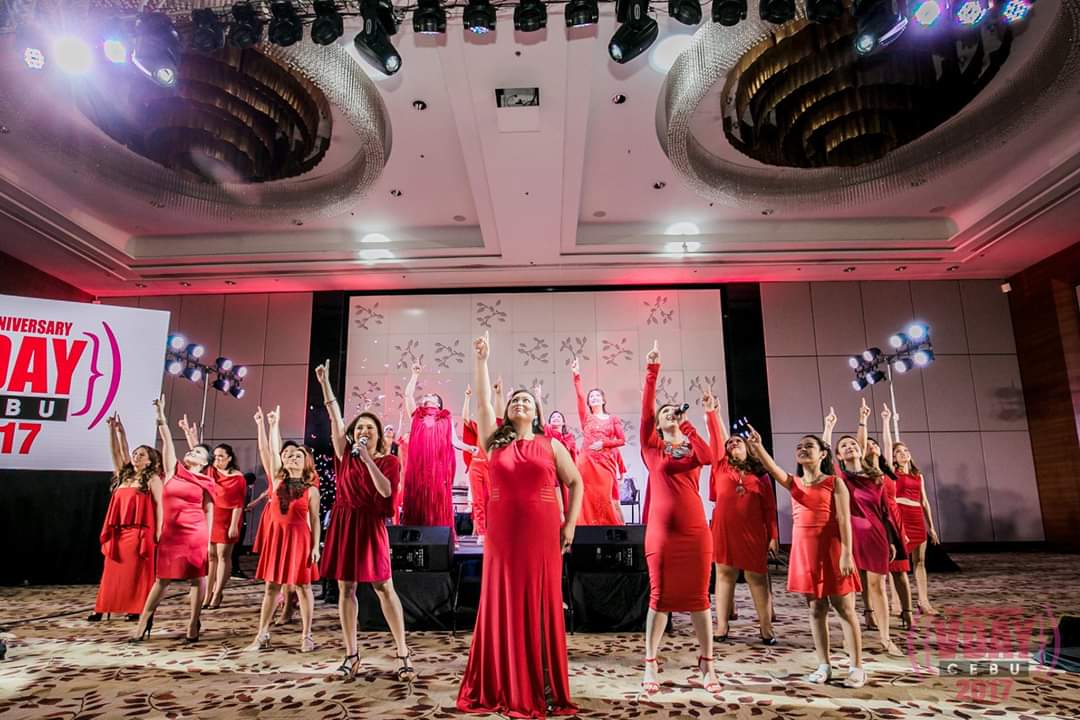 This year, join the Vagina Warriors as they celebrate V-Day yet again with a benefit performance of Eve Ensler's award-winning play, The Vagina Monologues on March 7 & 8, 2019 at 8PM at Asmara Urban Resort & Lifestyle Village.
V-Day Cebu and its current campaign ONE BILLION RISING: REVOLUTION is just one of the thousands of benefits held around the globe to raise funds and awareness toward the empowerment of women. Through the performances of The Vagina Monologues , these events help spread the message of equality, dignity, and freedom for all.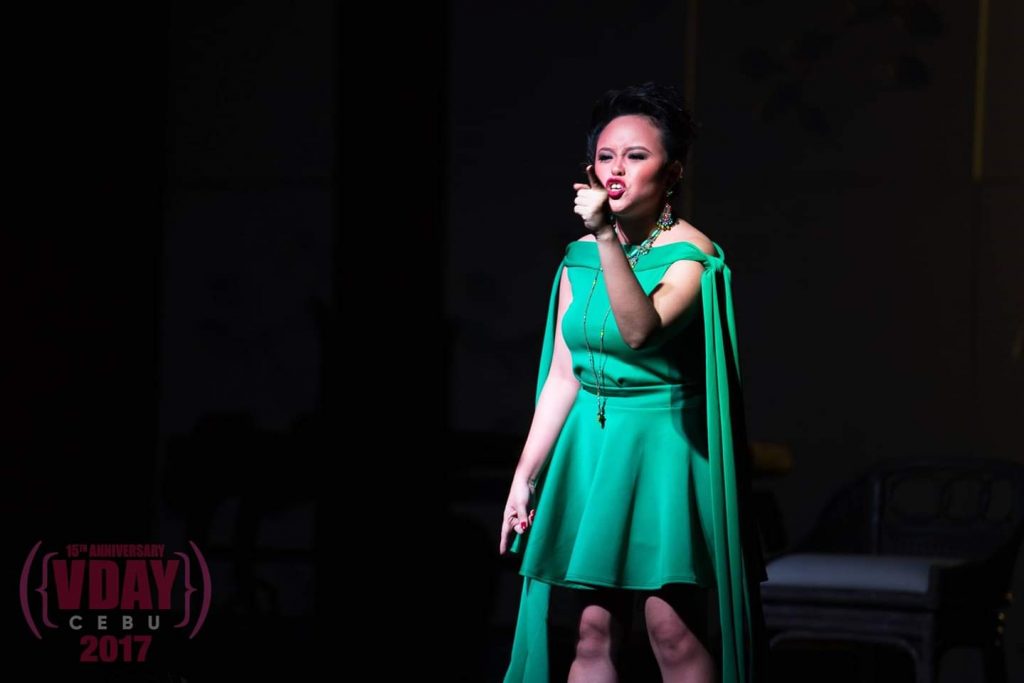 Marking the seventeenth year of V-Day Cebu, this special benefit of The Vagina Monologues will be performed by influential and affluent ladies. Featuring Alem Garcia, Andrea Pateña-Matheu, Anya Lim, Bea Algar Evardone, Brazzy Valdez, Charlene Virlouvet, Christine Tan, Gembelyne Icamen, Jo-ann Abesames Zalumbide, Kim Covert, Liana San Diego, Lourdes May Maglinte, Shiella Pestaño-Gemperoa, Shifrah Bouchikhi-Enclona, Stephanie Sitoy, and Tiffany Neri, and directed by Sarah Mae Enclona-Henderson, this two-night performance will surely touch the hearts of those privileged to see them on stage.
The Vagina Monologues will be performed at the Asmara Urban Resort & Lifestyle Village on March 7 & 8, 2019. Tickets are at priced at ₱500, which also offers all ticket buyers 50% off on all hair-related services at Mira Beauty by Design, located at Basement 1, Robinson's Galleria Cebu. For tickets and reservations, please call 2TinCans at +63 917 896 2181. You can also email plays@2tincans.ph or visit V-Day Cebu and 2TinCans Philippines Inc. on Facebook.
This event is produced by 2TinCans Philippines Inc. and co-presented by Asmara Urban Resort and Lifestyle Village, Atelier-a, Mira Beauty by Design, and Your House Doctors.