Modernbrands Inc. Brings Novacucina to Cebu for You to Pursue Tasteful Living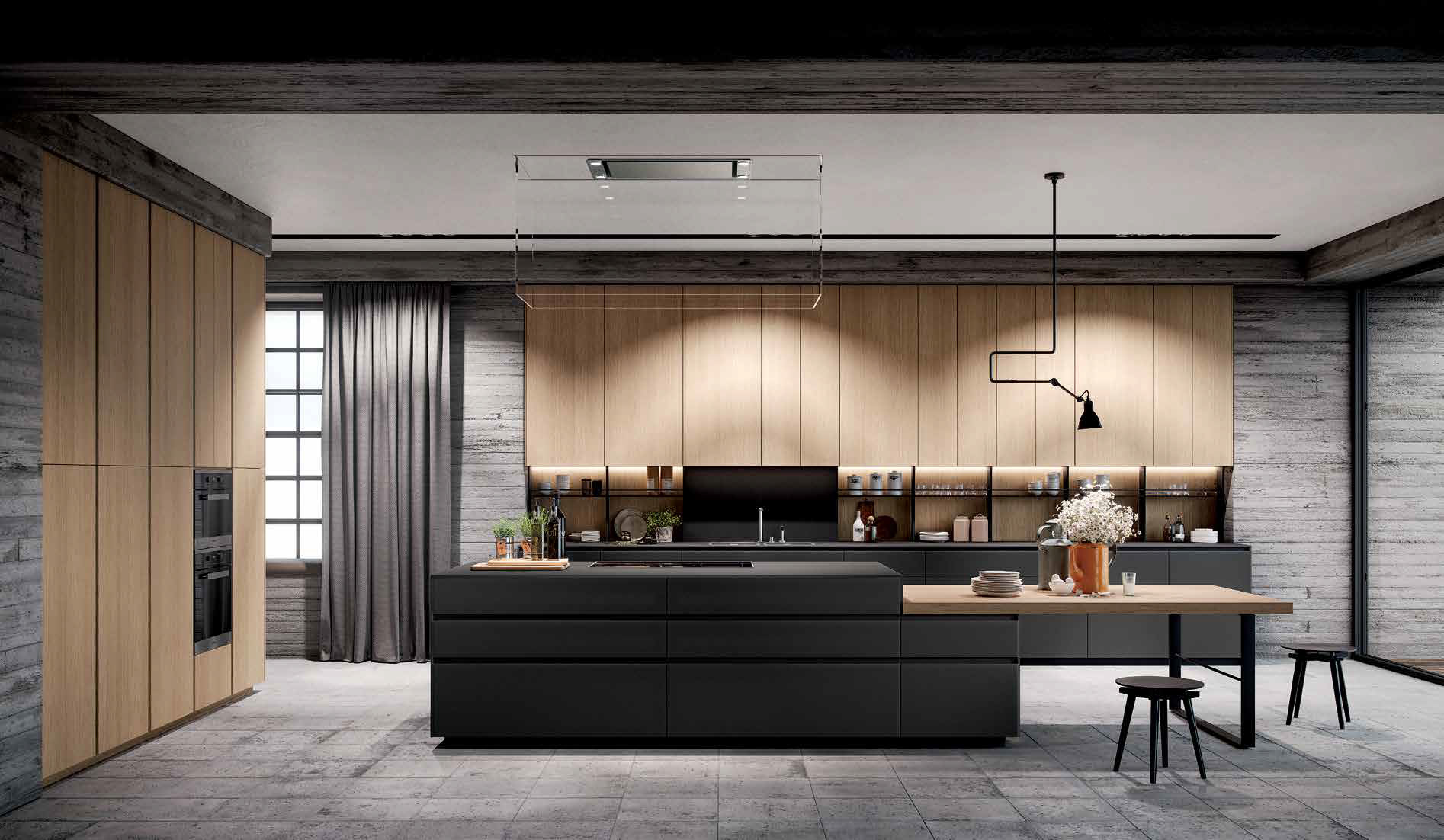 We talked about being one step closer to your dream home before. Now that Modernbrands Inc.
has a home in the Queen City of the South, the lifestyle furniture company is set to make your
dream home a reality. It provides you with tastefully-curated brands from Europe, Asia, North
America, Australia, and Asia.
Modernbrands Inc. showcases different ranges of collections and design frameworks of home
items; to mention a few, these include: furniture, kitchen solutions, wardrobes and all other
accessions and accessories to achieve your highest satisfaction of comfortable and aesthetic
living. Only months after their opening, Modernbrands brings to Cebu more home solutions that
help Cebuanos pursue everyday tasteful living.
Modernbrands brings Italian Kitchen Brand Novacucina to Cebu!
Novacucina has been creating designer cutting-edge kitchens since the year 1990. In the
Philippines, it is officially and exclusively distributed and advertised through showrooms by
Modernbrands. Its elegant showrooms are located across key cities of Makati, Mandaluyong
and Cebu.
Its brand philosophy centers around flexibility and modularity. Novacucina speaks of flexibility,
evident in their designs, which cater to the varying needs of the target clientele. At the same
time, Novacucina adopts modularity, as the different classes of framework designs in their given
space functions as a self-contained component and works independently from the other.
As you go over to the brochures, you will be drawn into the aesthetic themes of the different
sets of kitchen and its kitchenwares together set up to make it pleasing to the eyes and to get
that feeling of suitable beautiful living inside your home.
What is your Ideal Kitchen?
We are one in gesture when speaking of an ideal kitchen. For sure, we want it to be spacious,
clean, and inviting to the senses.
Novacucina shows that she is sophisticated and chic when it comes to her choice of designs
and functionality of each and every component of the kitchen. Whether you choose to be a
discrete cook or opt to portray your inner chef, Novacucina has something to offer to the table.
Novacucina is all about how you see yourself in the kind of kitchen you choose for your home.
As to the materials, colours and finishes, it offers a wide range of options to choose from to suit
one's style: from cement resin, to painted oak to cutting edge marble designs. All varieties are
prepared through showrooms for the interested market. Customization is also possible as one
desire some sort of distinct feature in their homes.
Modernbrands has an in-house team of professional, licensed interior designers to create style
and fashion to your space and put innovation in the dimensions of your dwelling. Modernbrands
offers a 3-year warranty to all projects. So do not hesitate to visit or contact Modernbrands for
further concerns or inquiry.
The ideal kitchen would be that impression you will get from family or guest when they enter
your kitchen: "Just so you know, I'm so much privileged to be one of your invites!"
The Big Reveal
Everyone had a smile on their faces as they entered the main door and greeted each other 'hi,
hello how are you, how have you been?' The official recognition of Modernbrands as the
provider of Novacucina in Cebu was announced by host Jiggy Junior of Y101 FM.
In a short segment, Jiggy invited Architect Buck Sia and Interior Designer Holly Dychango to
join him for a couch talk. Between now and the past five to ten years in Cebu, design has
changed drastically.
"It is something that is very important to me, so I have been proud of lineage of Cebu
modernism from the 70's all the way to the present," Buck replied. "We have a lot of identified
arts and architecture creativity. We have a very bright force in field modernism and that is how I
traded my path in terms of my practice. We are working towards a very progressive architecture
and I know it has influenced a lot in terms of how these all help a lot in developing architecture
here in Cebu in general."
Further to this question, Jiggy had to ask Buck: "Do you impose on your design sensibility or do
you get most of your designs from influence from your potential customers?"
To that, Buck chuckled and replied, "I really have a specific direction in terms of what we do and
because of that I have gathered a nice clientele who understand and support my vision, so there
is a lot of trust between me and my clients. A lot of the times when they approach me, they
know who I am and when I start to do the design process, it is as if a discovery for me of who I
was before."
Jiggy moved the coin to Interior Designer Holly Dychangco and asked, "If a client were building
you a new home, what would be the areas you focus on?"
"Coming from an interior designer's point of view," Holly began, "I'm very big on user
experience. So I actually did my masters in Design Management in User Experience—I really
have to understand what the client needs."
"For me, depending on your client, say he's a chef or a cook, the kitchen has an important
aspect however, or if your client likes to entertain guests, the living space and the communal
areas are very important. " She continued. "And of course, the bedroom. This is your sacred
serene place. It is something that I take as an important place for your home. It is like a heart of
your home as well."
Holly shared that some clients have astounding requests, which border on crazy ideas, but she
does her best to fulfill the client's needs in the way she sees best.
"I have this client who asked me to turn his urban house into a "jungle" with a dancing pole," she
recalled, laughing. "And that's pretty crazy."
Cebu's top personalities in the design industry were all in attendance, which enriched the whole
experience. Guests of Honor include Asia Sales Head, Andrea Reicherl, of Novacucina and
Asia Pacific Sales Manager, Peter Bach, of Innovation Living.
In an exclusive interview with Zee.PH, Andrea talked about Novacucina's edge over its
competitors. "There are some few points to take in, one is—this is crucial—prices," He began,
"Which are competitive in the market and which is what the end users are monitoring. The other
one will be on materials, also the end users can be on them, and the last one will be flexibility.
Novacucina caters to the market's needs."
When it comes to design, Andrea shares that the brand's creative process differs every time.
"Designing kitchen for me is preparing a dish, but not Carbonara, which you already know the
ingredients of. Every design is a new dish. The question is how will I combine together?" He
said, and divulged three things: always listen to the client, design the layout, and finally, select
the finishes. "Together, I always trust teamwork; together we experience the process, and we
deliver the right product to the client.
With Peter Bach, we had to ask what he thought was the ultimate goal in interior design.
"The ultimate goal is to make the client happy," Peter said simply. As a Danish brand,
Innovation Living embodies Danish values—most of which center around minimalism.
"Danish people do not go out too much," Peter divulges, "so Danish people invite their friends at
home and when they look at your home—specially your kitchen—you are being judged with that
to some degree. If you have a beautiful home, a smart home, an innovative home, all will think
that you are doing well. So, to be able to display a home to which there is a sense of beautiful
design, one must be smart and being smart does not necessarily mean being expensive. "
With the wide range of offerings to choose form, there's no doubt that Cebu's homes will have a
piece from Modernbrands Inc. from now on.
Modernbrands Inc. is located at 2/F Design Center AS Fortuna St., Mandaue City. Or, for more
details, click here. Start your innovative living with Modernbrands today!
Seashore Seclusion: A Beachside Abode in San Remigio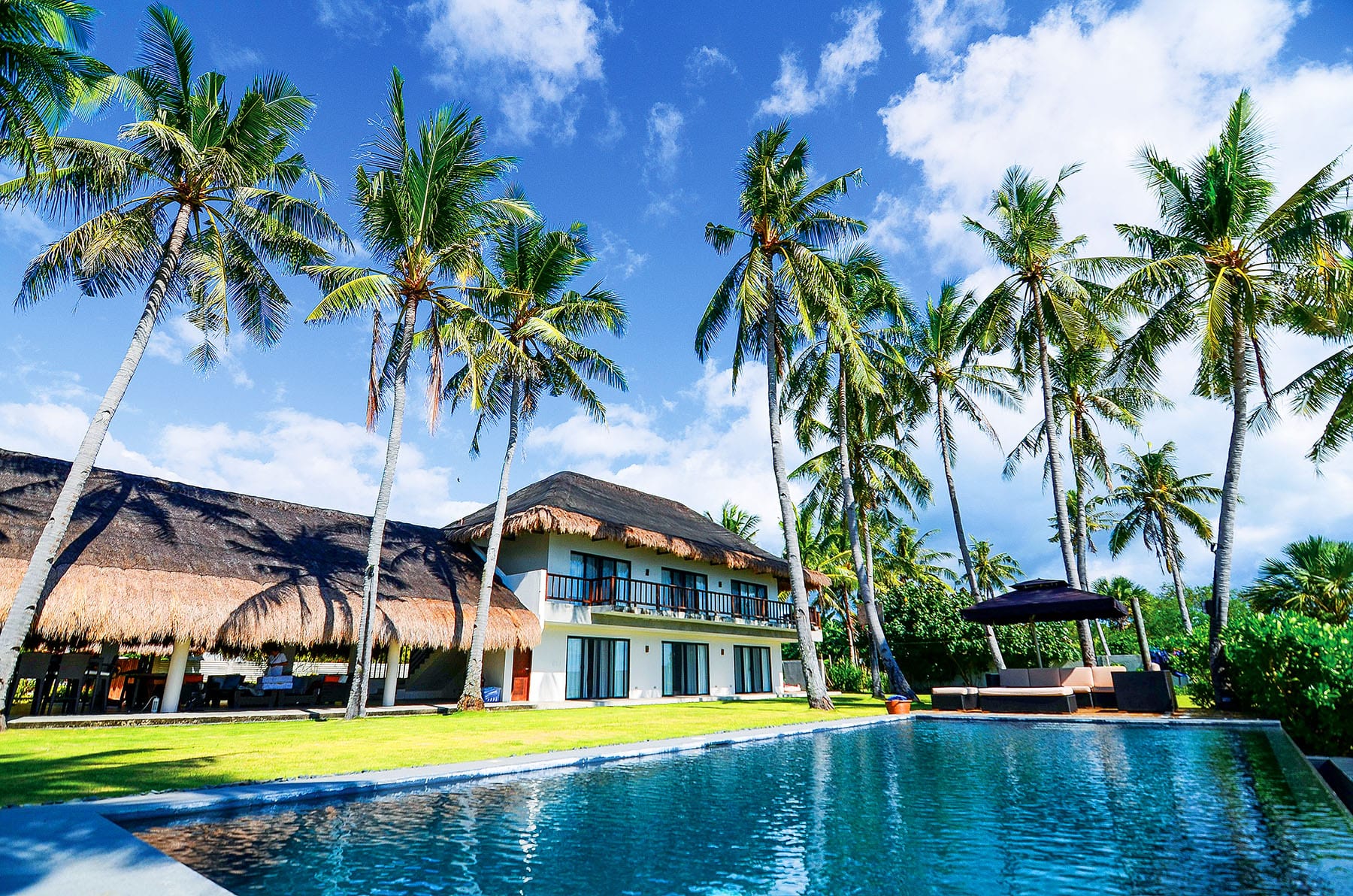 A cozy family getaway in San Remigio epitomizes the charm and simplicity of living by the sea.
by Shari Quimbo
photography Ezekiel Sullano
Admittedly, there are some challenges that come with living in Cebu; but having pockets of paradise being only a few hours' away is an upside that's hard to beat. One such paradise is San Remigio, a town that sits on the northwest side of the island, which means its serene shores are kissed daily by an amazing view of the sunset. Sure, you'll run into some traffic while driving out of the city, but what awaits you makes the drive up north an easy challenge to live with.
When a chance to visit one family's beachside getaway landed on our laps, we couldn't pass it up. After a brief struggle with Mandaue City traffic, we were soon cruising through the towns of the north while the crystalline blue waters of the ocean peeked through every few kilometers.
It wasn't long after when we found ourselves going up a pebbled driveway where a bamboo gate opened up to a footpath that led to the house. "We wanted to keep it simple," the owner explains, sharing that he came up with the design while going through photos of houses online. With a thatched roof, rounded columns and a grooved concrete fence, the space is cozy and informal—a place that definitely exuded a laid-back beachside feel.
The living areas integrate into each other, with casual dining set-ups arranged around the open space, while oversized couches surround a solid wood coffee table. There's a communal vibe that's slightly deliberate. "We have a lot of friends and family that come in during the weekends, so we created a space that's ready for that," says the owner. "We didn't want anything too formal. Some beach houses make you feel embarrassed to come in with your wet, sandy feet. We want a place where everyone would be comfortable moving around."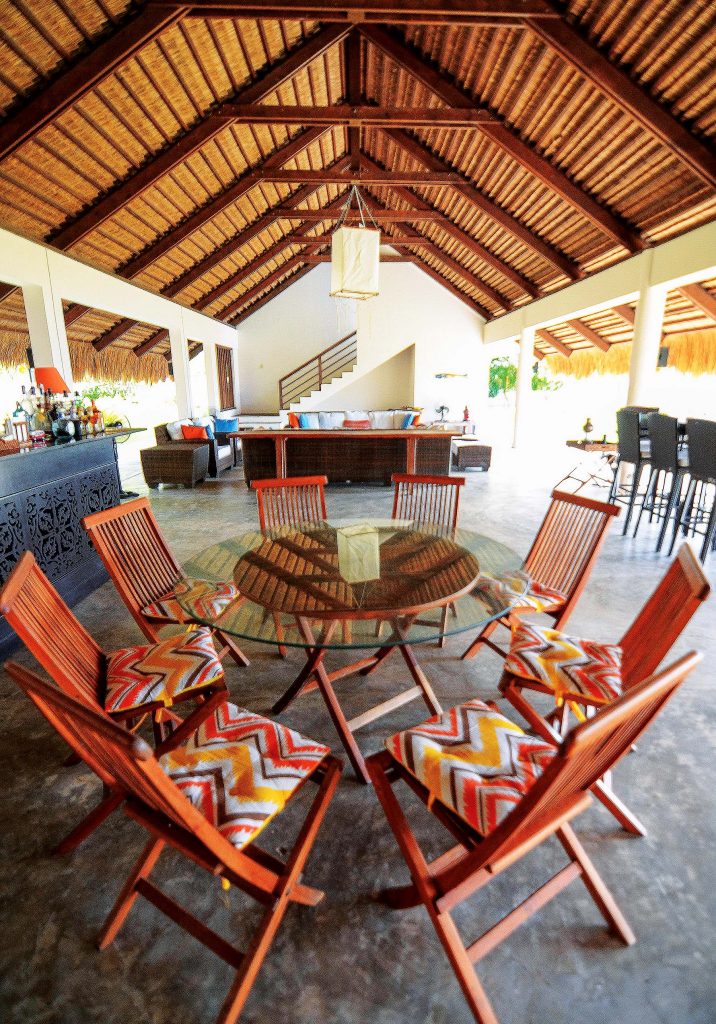 That said, the concrete floors, made for walking around barefoot, lead to the manicured grass where the infinity pool looks like its about to spill out into the beach below. The blues of the sea and sky complement the more natural tones of the house's wooden furniture pieces and painted white walls. Pops of color come in with the throw pillows, hammock and matching bright orange lounge chairs that are around the pool.
As if keeping with the house's casual vibe, the owner's trio of dogs roams freely around the property, curiously coming up to us for attention. "They just showed up one day," he laughs when I ask where he'd gotten the dogs, named Beer, Tequila and Scotch—perhaps giving proof of how fun weekends here can be. A bar sits by one of the dining tables and further cements this theory, as does the homemade lamp made from a bottle of Patron.
Off to the side of the house are the bedrooms, which are simple but spacious. "It's so there's space on the floor to bring in cushions for when we have a lot of people over."
The beach house took just two months to construct about two years ago. "Weirdly enough, we built this house while I was still living in Malaysia," shares the owner. "My sister manages a construction company, and I would just email them instructions and photos of what I wanted. Surprisingly, it was pretty easy."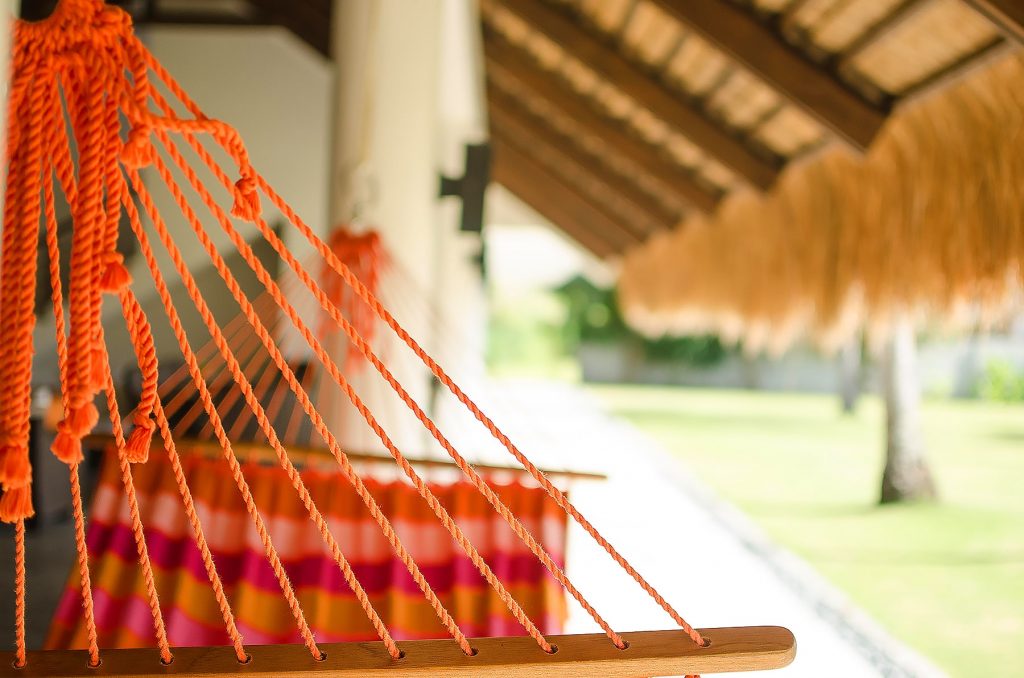 Of course, when typhoon Yolanda hit northern Cebu, the house saw considerable damage. A quick browse through his photo gallery showed the roof completely ripped off the structure. "I came back the weekend after Yolanda. It took me almost a whole day to get here because we had to clear the road as we went," he recalled.
Repairs to the house took a backseat as the family helped residents around the area before they moved to reconstruct their own house. "It took a month or so to fix the roof and everything else that was broken," he says.
Now, the house is as inviting as ever. We spent the minutes leading up to sunset drinking beer by the pool. A few fishing boats float off the shore, with many locals walking through the beach. "I like the idea of having no fences and having people passing through," the owner shares. "I like that it's open. It makes the house feel more alive."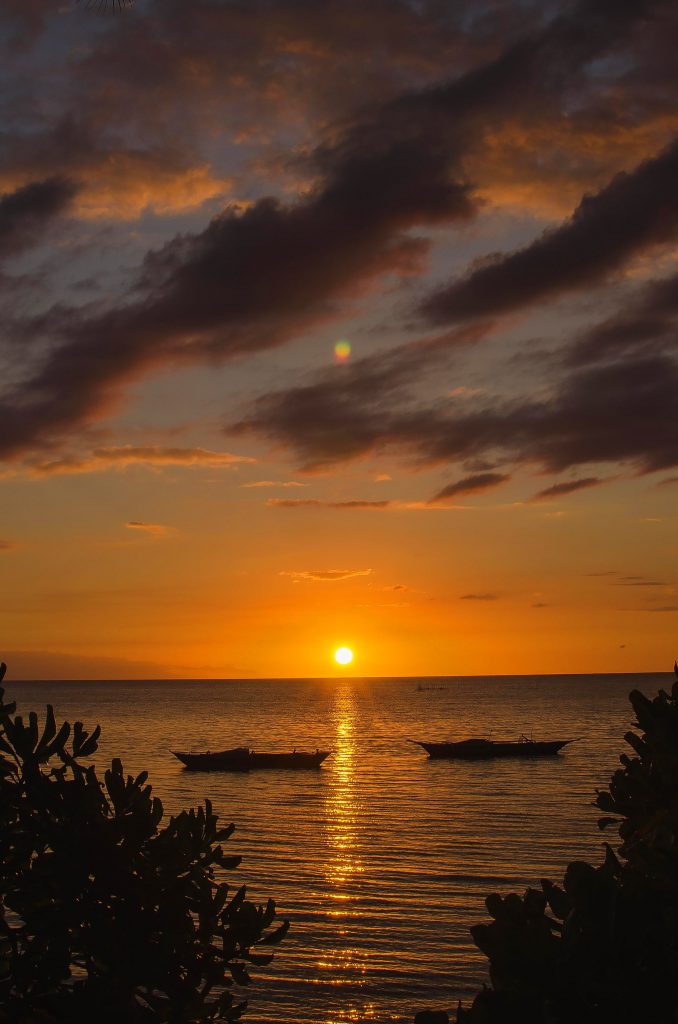 That, in a nutshell, describes the beach house. With its cheerful, casual corners, it surely feels lived in—as if remnants of the happy moments people have spent there still hang in the air and even add to its personality. It's not hard to understand why the owners look forward to the two-hour drive up on the weekends—if we had a space like this, we'd be heading north more often too.
(This article had already been published in Zee Lifestyle's April 2016 Travel Issue, "Beach, Please" on pages 98-101.)
Idyllic Isolation: The La Mer Veille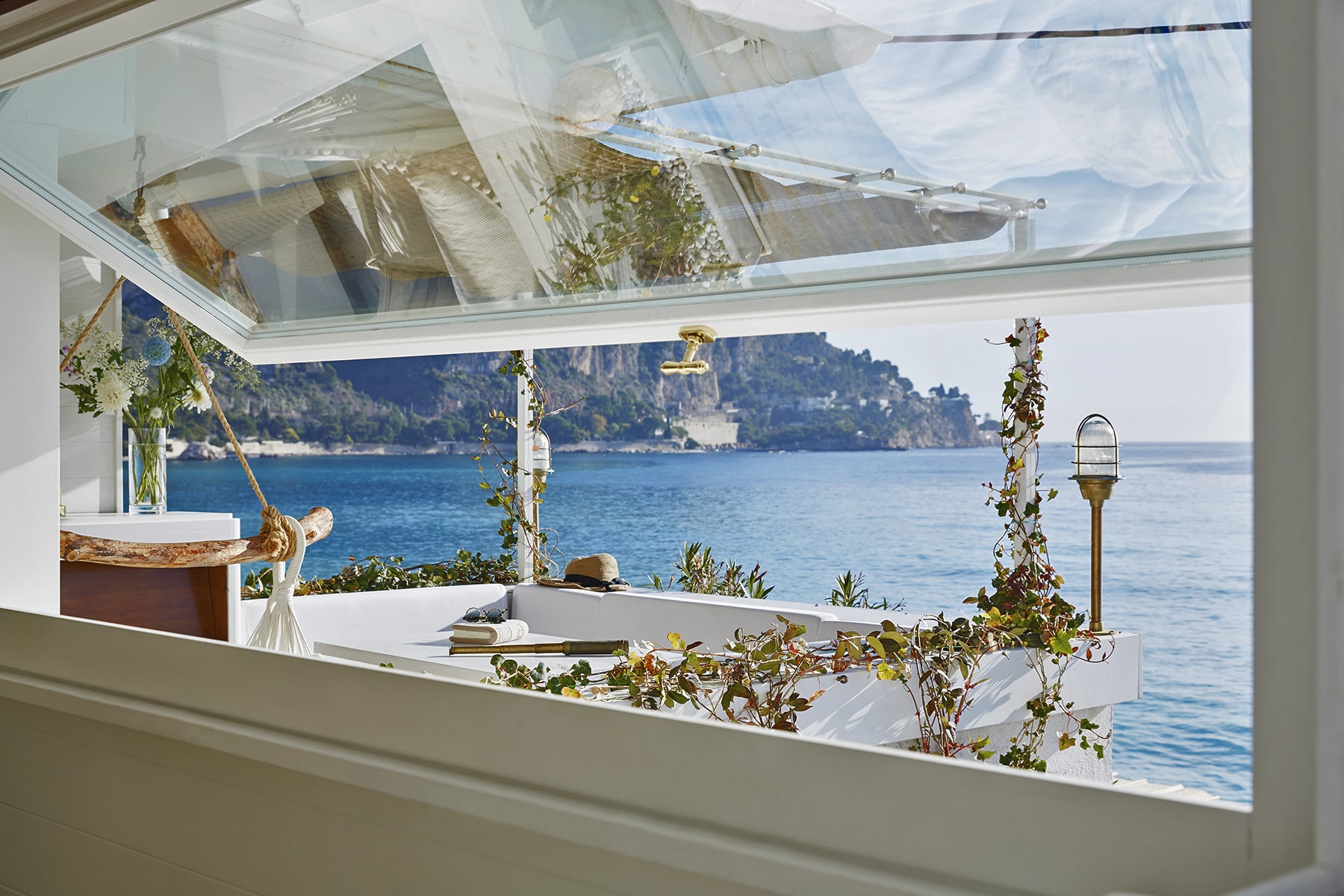 French architectural duo Humbert & Poyet create La Mer Veille in the Italian Riviera, a seaside cabin that has its fair share of charm.
by Shari Quimbo
photos courtesy of Alexandra Public Relations
With the azure sea on one side, the verdant mountains on the other and picturesque towns in between, the Italian Riviera is certainly a dream destination. More than its natural beauty, the region seems frozen in another time—a simpler one, when the days seemed long and the people keen to enjoy the moments.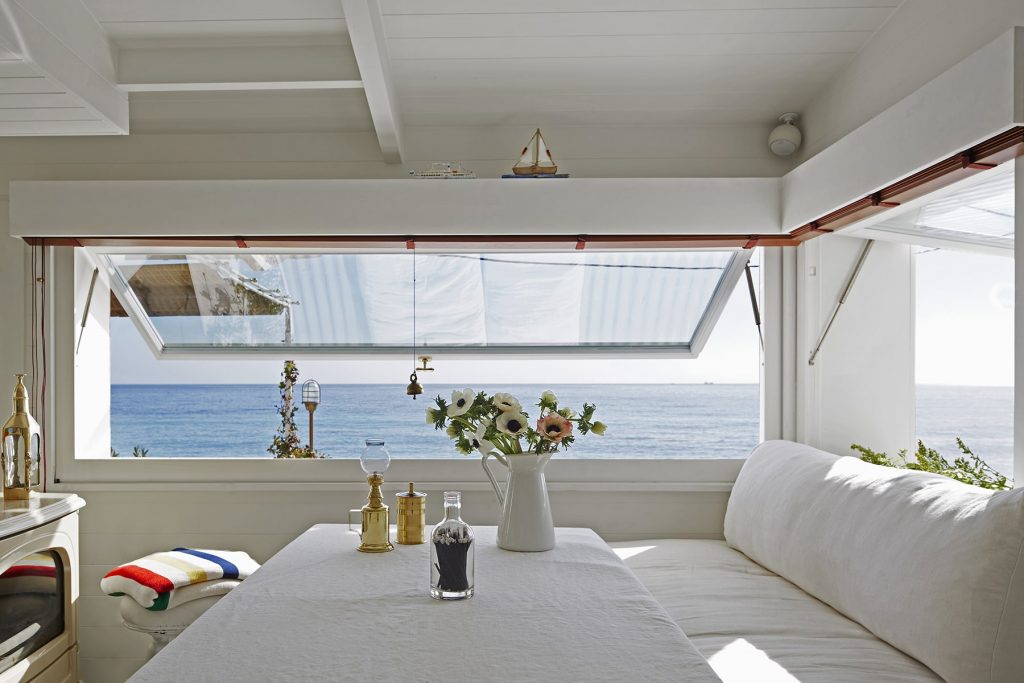 It is here that La Mer Veille sits, a beachfront cabin that epitomizes the simple summer escape. Nestled between Bordighera and San Remo, its stunning views of the Mediterranean Sea are complemented by its predominantly white palette, down-to-earth décor and delicate materials.
The house is the creation of French architects Emil Humbert and Christophe Poyet, the personalities behind the firm Humbert & Poyet. Since they decided to collaborate in 2007, the firm has worked on various projects around the world—the Wine Palace at the Monaco Yacht Club, the curated fashion store 55 Croisette in Cannes, and fashion designer Alexis Mabille's first shop in Paris are just some of the projects the two have worked on together.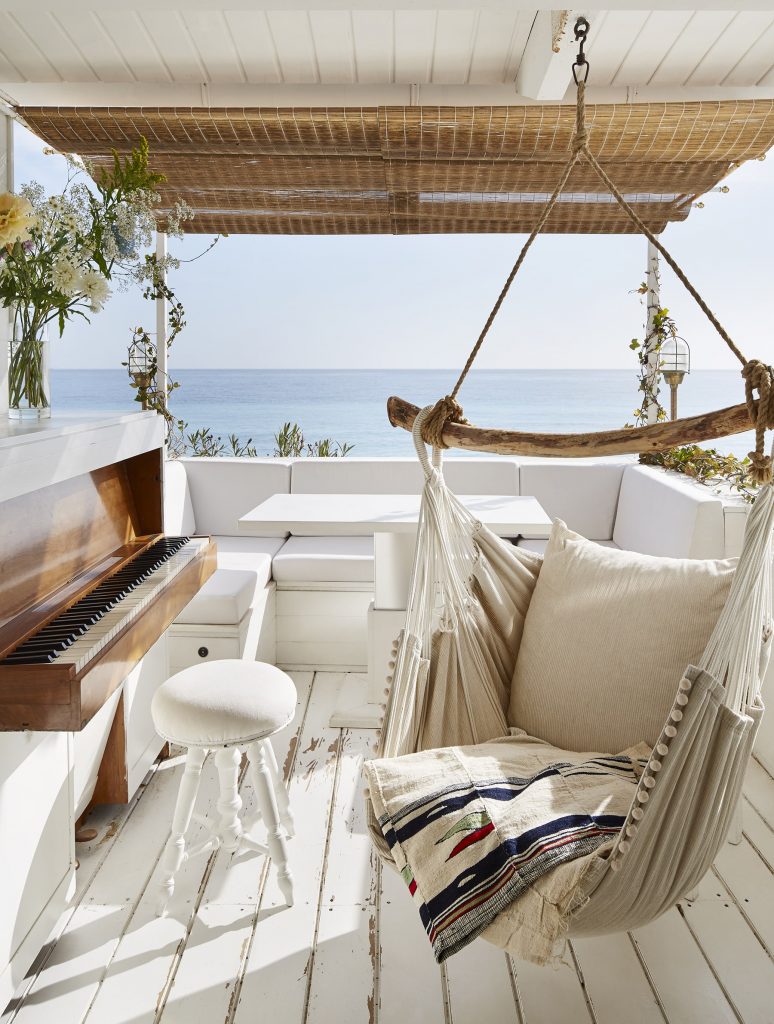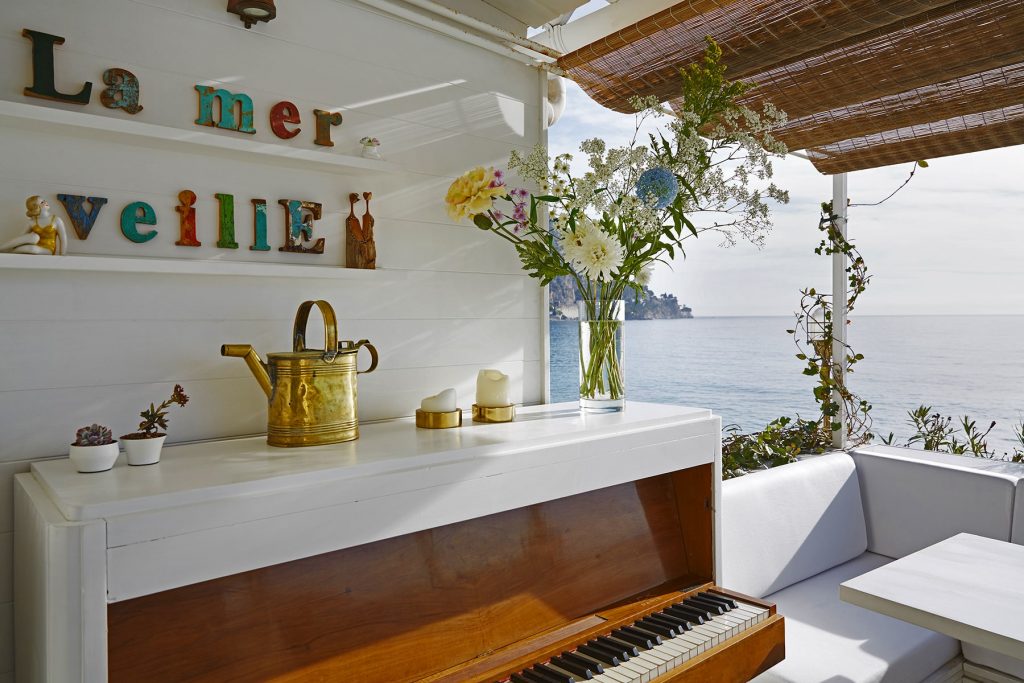 "We communicate constantly throughout a project," Christophe explains. "Our symbiosis forms the foundations of our projects and ensures the space that we've imagined works."
The result is elegant and timeless spaces that meticulously bring together various design elements—the choice of materials and lighting, for example, are carefully thought out to make the most of a space and to ensure the client's needs and personality is reflected in the final design.
It's understandable then why La Mer Veille sits at a perfect vantage point where it surroundings can be admired. The seaside cabin is simple and relatively small, but is put together to exude an unassuming luxury that dares not to compete with the views outside.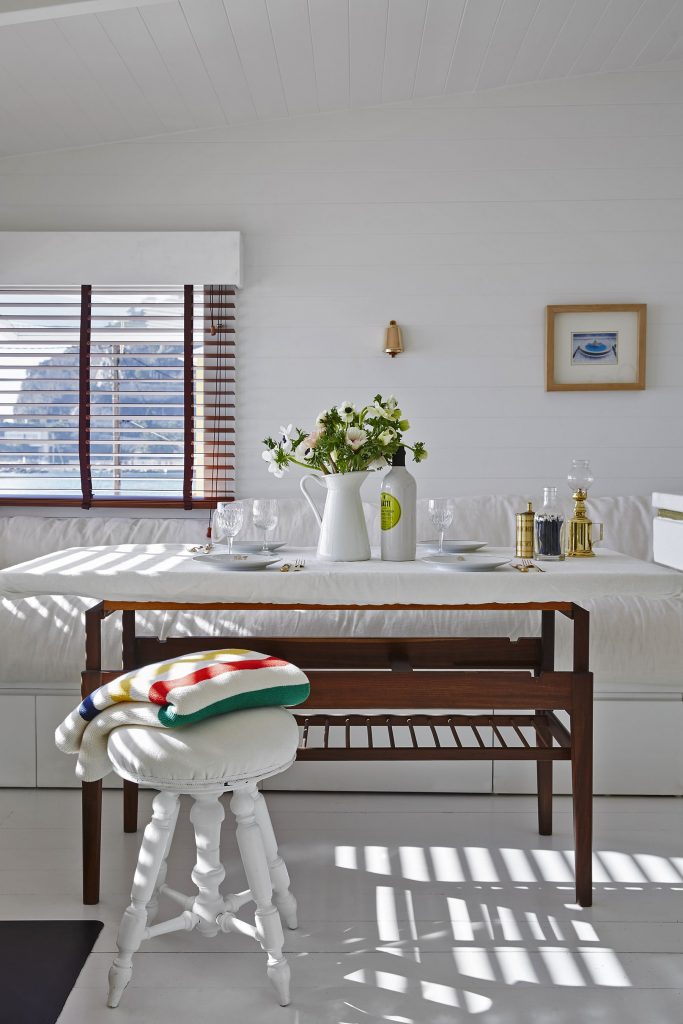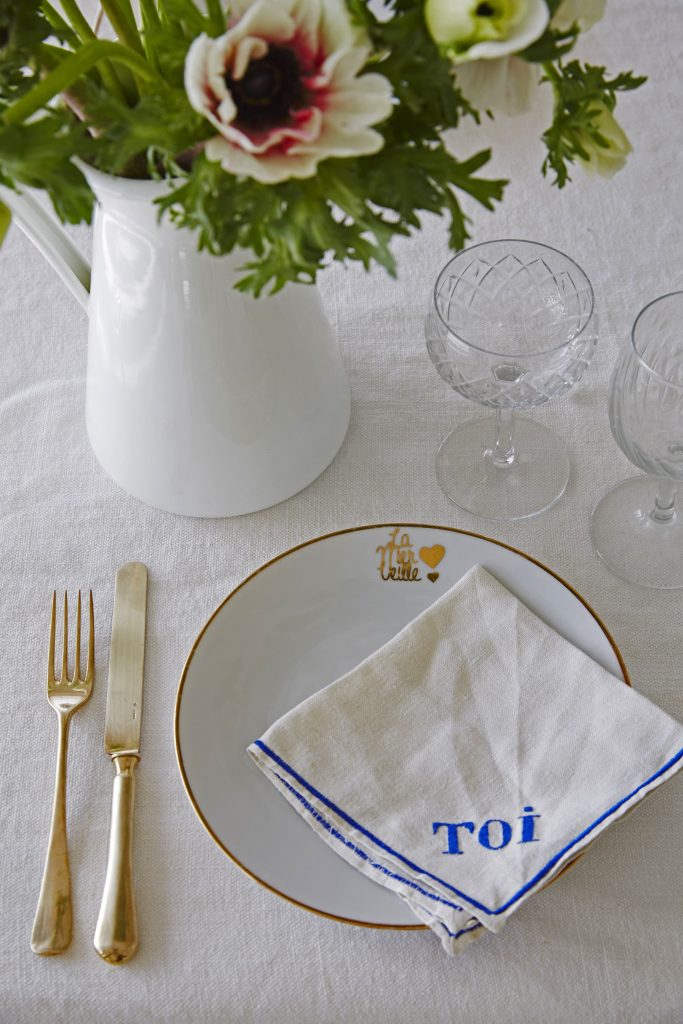 The living area, shared with the dining room and kitchen, is done in shades of white with earthy tone accents. The Carrara marble counters are complemented with brass fixtures, including a brass sink that was custom-made by Humbert & Poyet. The firm also specially constructed the sofa that sits opposite the wooden table, a find from a market in England. Straw-wrapped lighting, an old-fashioned fireplace and a brass backsplash for the stove just add to the overall rustic appeal.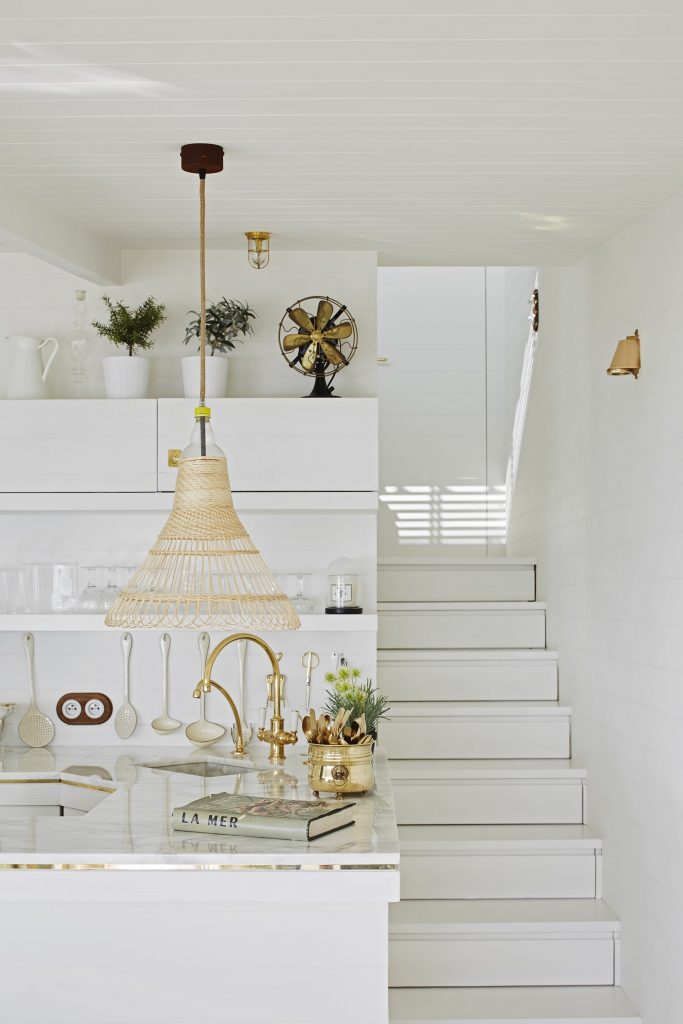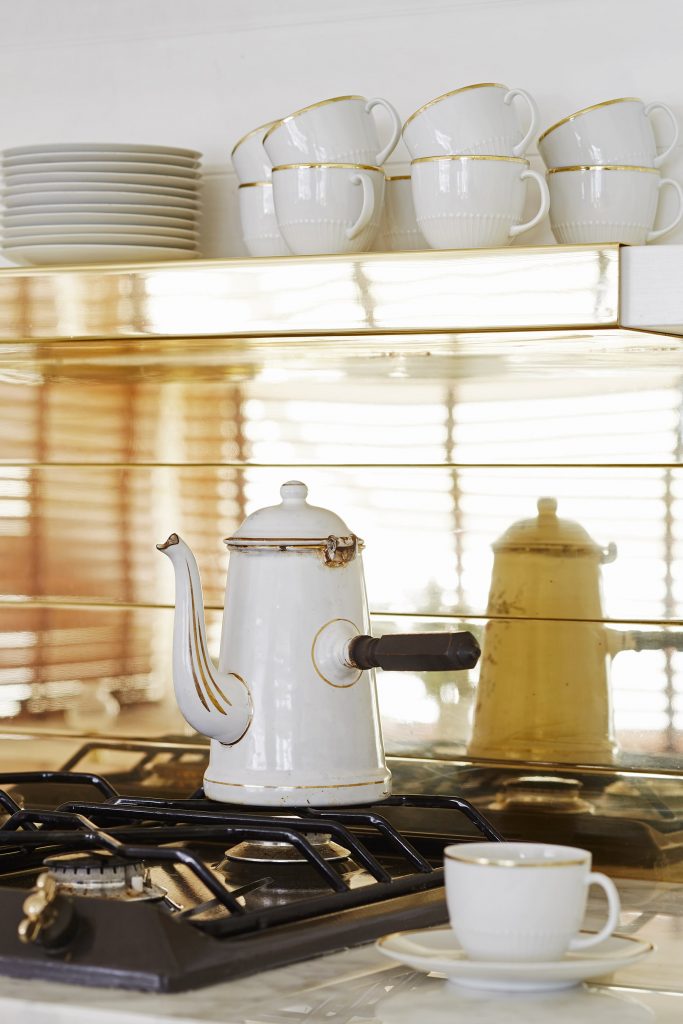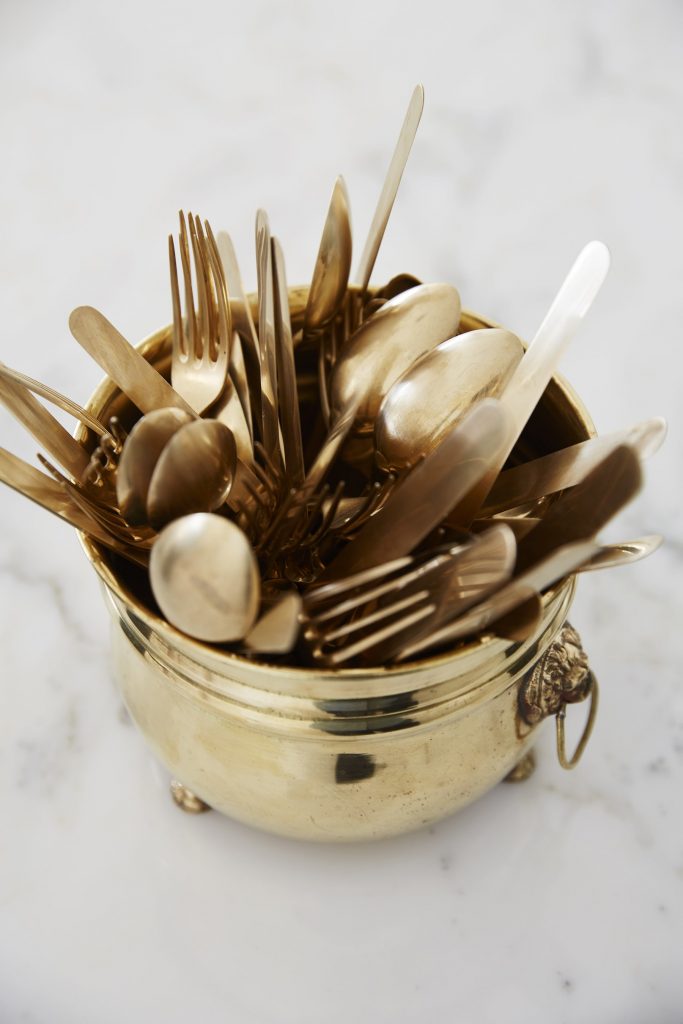 The bedrooms also have that effortless charm, with various nautical details to remind its occupants they are by the sea—just in case they forget the views beyond the picture windows. The master bedroom features a mattress sitting on an elevated wooden platform, topped with an Ancient African throw purchased from an antique shop.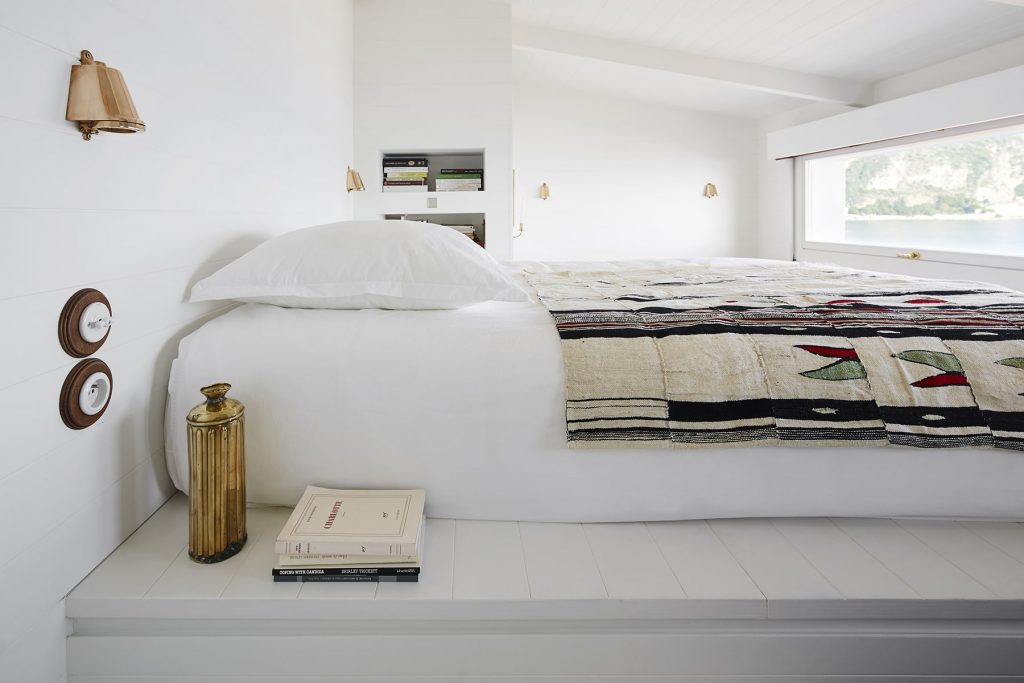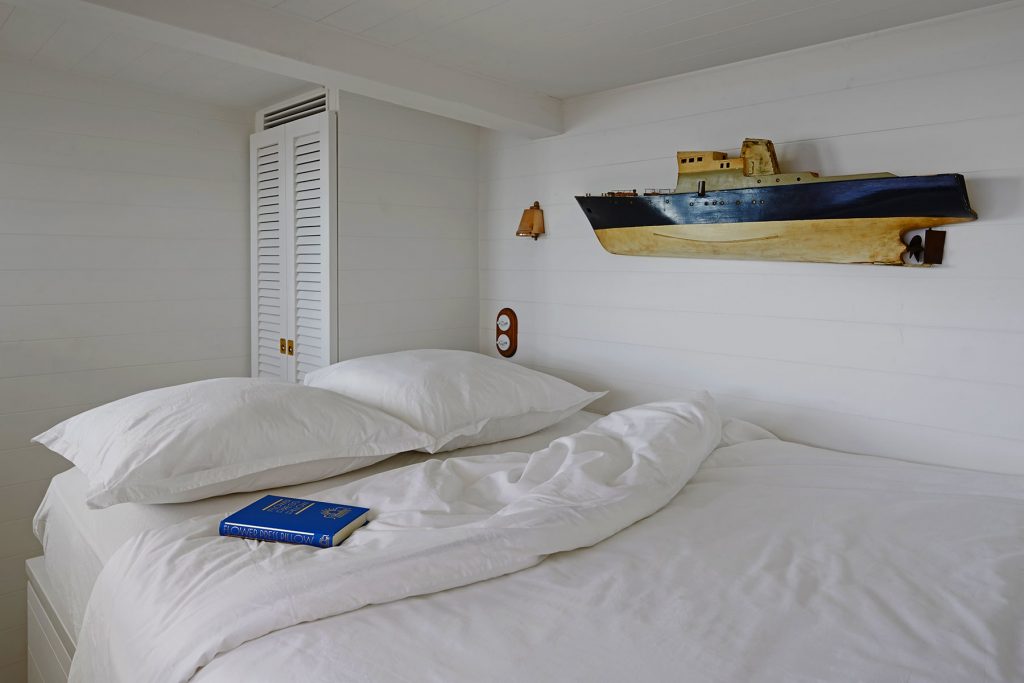 "We communicate constantly throughout a project," Christophe explains. "Our symbiosis forms the foundations of our projects and ensures the space that we've imagined works."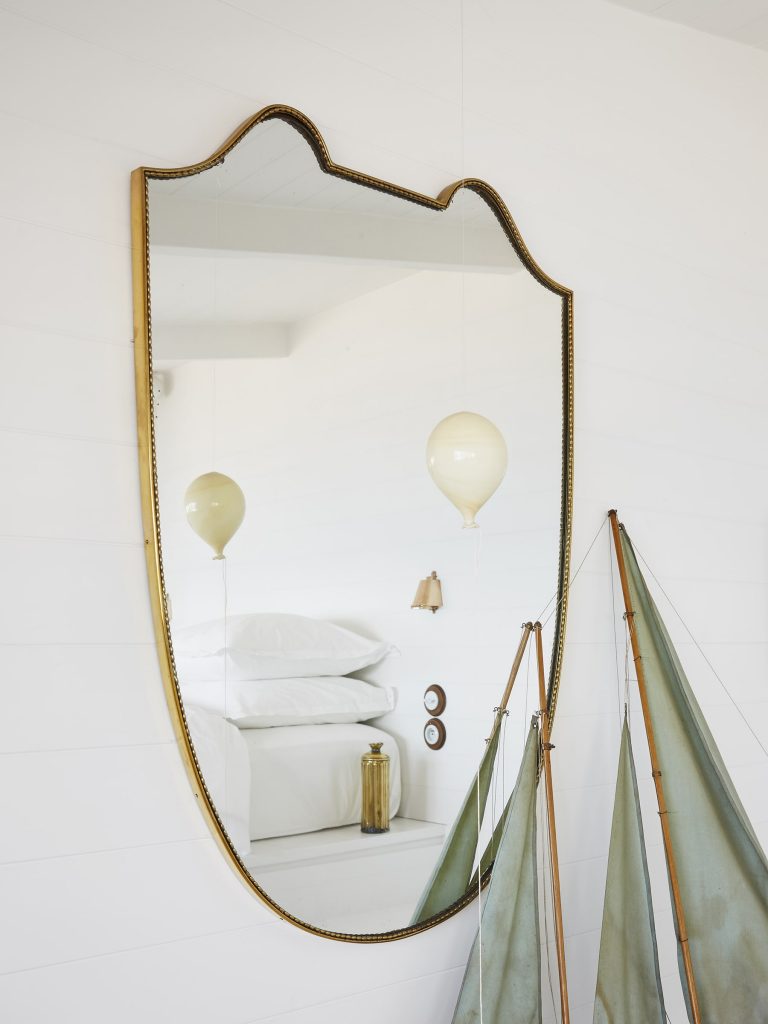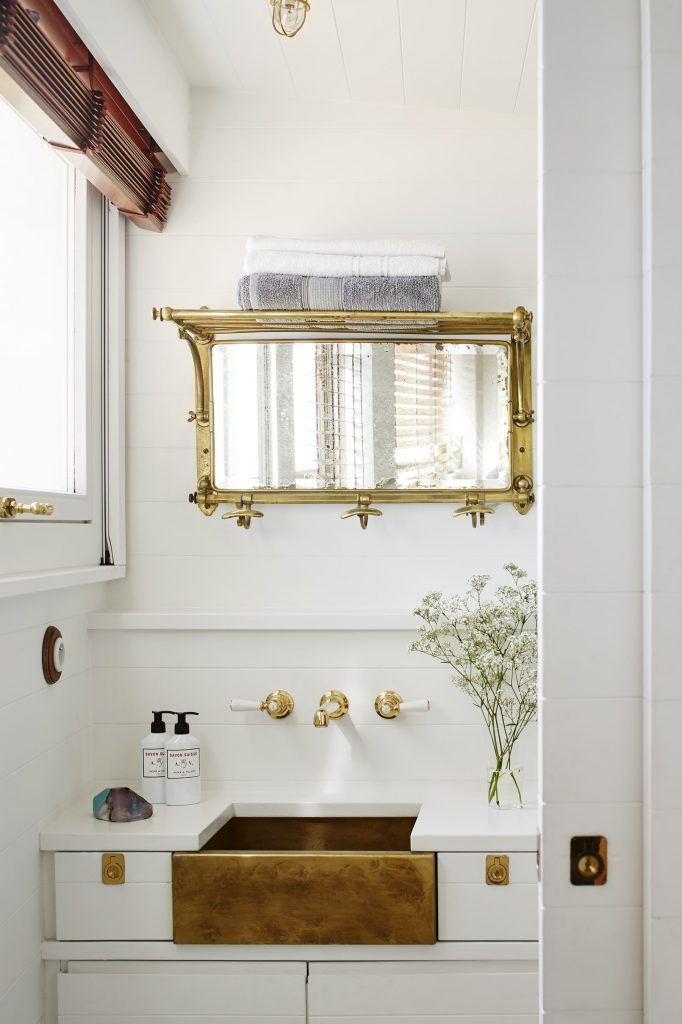 La Mer Veille is a space that celebrates its location, and its location is best enjoyed from the terrace. The creamy white palette is carried over to this outdoor space where distressed wooden floorboards and a cushioned seating area invite you to put up your feet and settle in. The mood is set even further with a hammock chair from Etsy hanging easily from the ceiling and some relaxing music from the piano.
Beyond its architectural details, it is the finishing touches that give this dreamy cabin its character—bunches of baby's breath and other flowers tucked into pitchers and vases in various niches around the house, wooden stools with rounded seats, antique-inspired knickknacks like an old fan sitting on a shelf and a swinging love seat. These details make the house come to life in an interesting way; and with a view such as this, what a life it is.
(This article had already been published in Zee Lifestyle's May 2016 Home Issue, "By the Sea" on pages 72-77.)
Hottest Summer Destinations to Visit in Cebu This 2020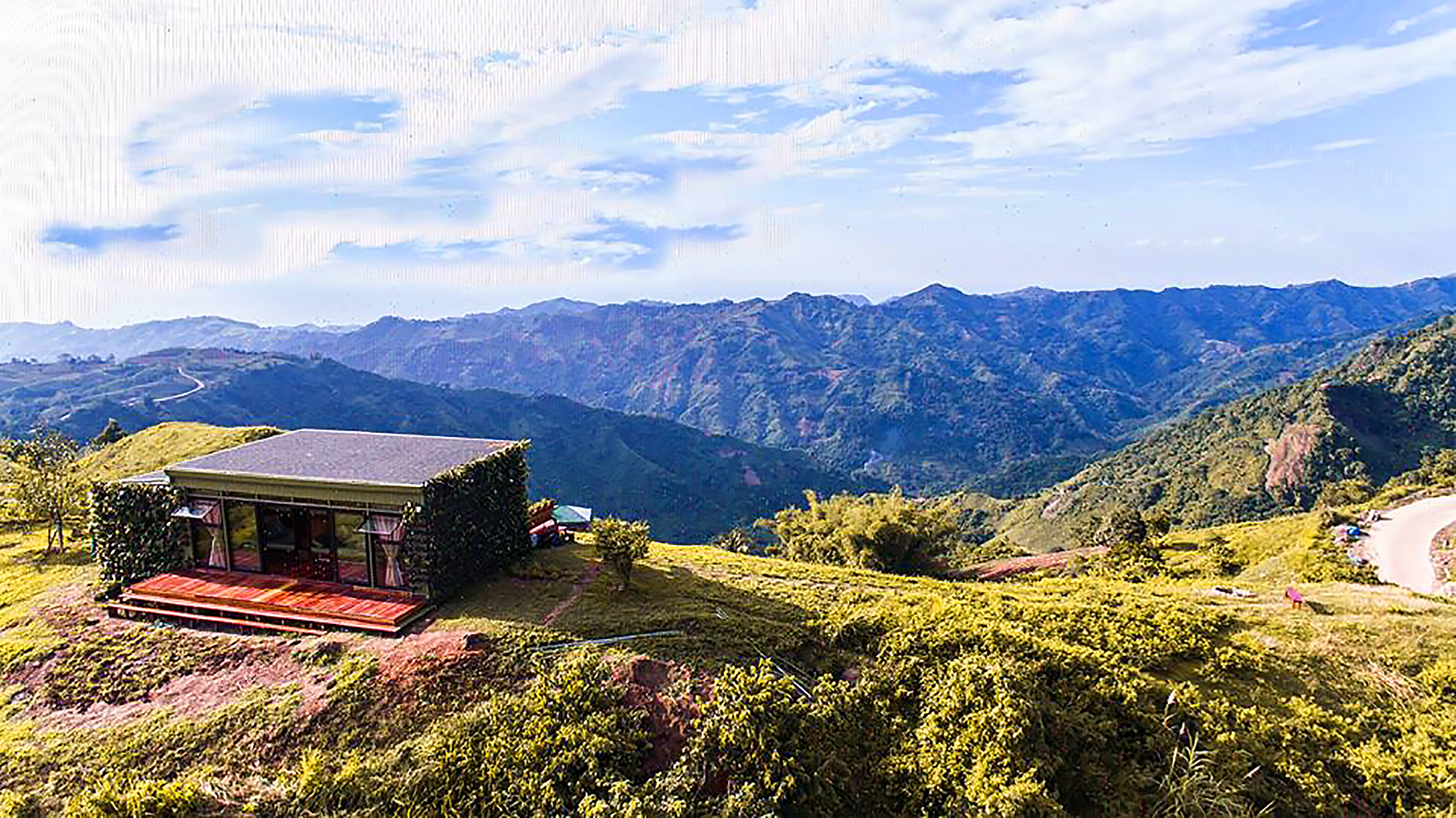 by Chrissy Grey Resaba
Discovering unique travel destinations is getting more challenging every year. Modern-day travelers are seeking new experiences far from the hackneyed summer destinations we always see like the usual snapshots of beaches and bikinis that flood our social media feeds. However, living in Cebu as a local has always been a privilege as we have easy access to these newly-explored places. For our foreign friends though, the city offers countless adventures to experience, new hip activities to enjoy and places to bask or meditate. After all, travel should always be a therapeutic experience.
A few months closer and we can finally say, "It's officially summer!". Of course, as early as now, some are already tapping and scrolling their mobile phones for new and one-of-a-kind destinations and getaways. Sometimes, choosing where to go is quite a dilemma. To make it easier for you, here's our list of the hottest travel destinations in Cebu this summer of 2020 that deserve to be explored by adventurers and thrill-seekers: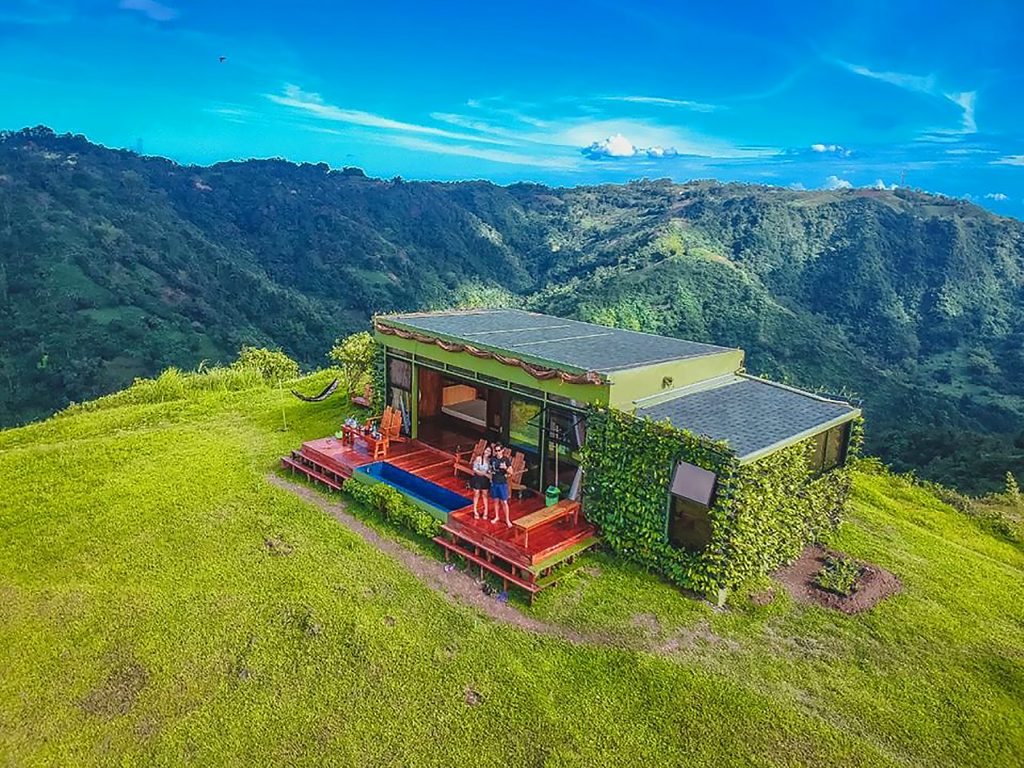 La Vue Cabine – Toledo City, Cebu
Experience luxury in nature. This cabin is atop the mountains of Toledo, overlooking the cerulean Tañon Strait. At the far horizon, in clear and sunny weather is the view of the majestic Mt. Kanlaon. One can truly feel paradise in this haven of relaxation and comfort. Aside from the scenic landscape, the fresh air will surely rejuvenate your senses!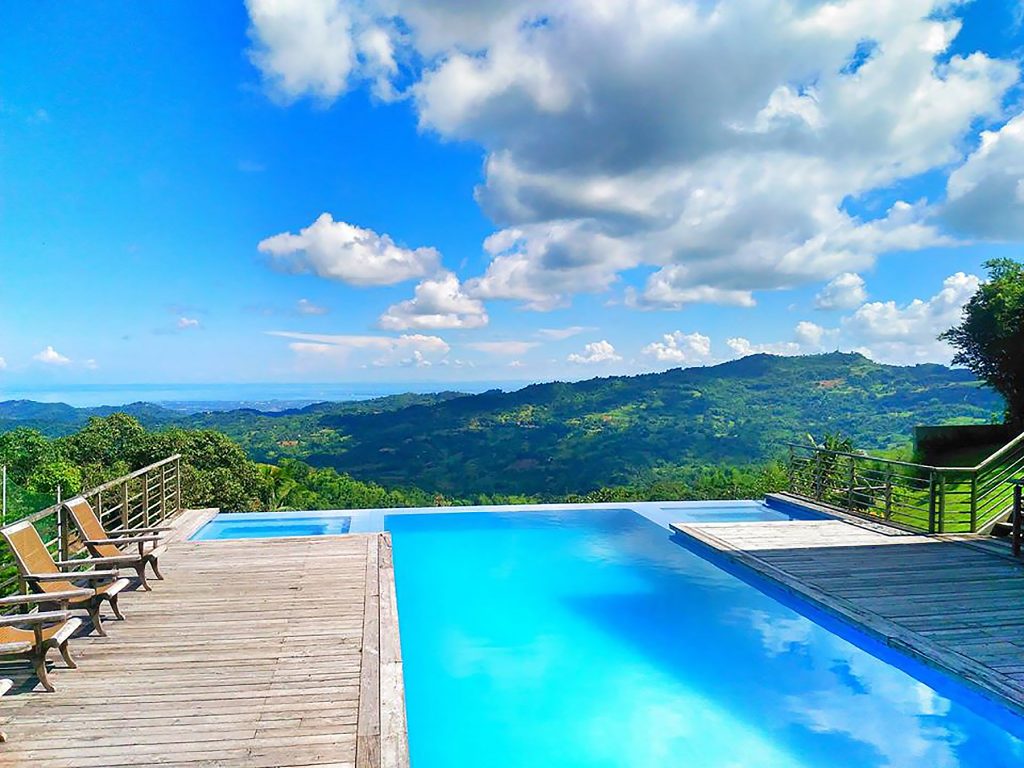 Rancho Cancio – Brgy. Adlaon, Cebu City
For a while now, this place is making rounds on social media. This rest house is located at Brgy. Adlaon in Cebu City, a few kilometers away from Brgy. Busay. Be ready to get mesmerized with what's in store for you at this picturesque destination.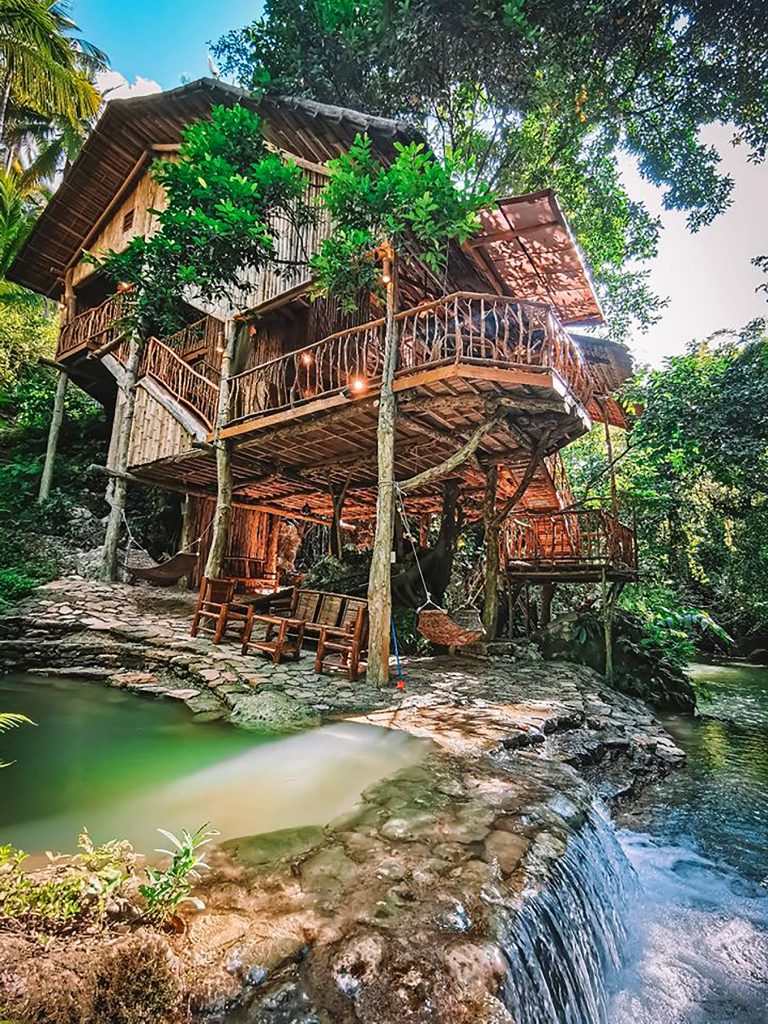 Treehouse De Valentine – Balamban, Cebu
Treehouse De Valentine is best described as nature and rustic luxury in one self-contained space. Unconventional for the right reasons, this dream house is the perfect nest away from the hustle and bustle of the city. What could be an excuse not to list this perfect nook as your next stop for this year's summer adventure?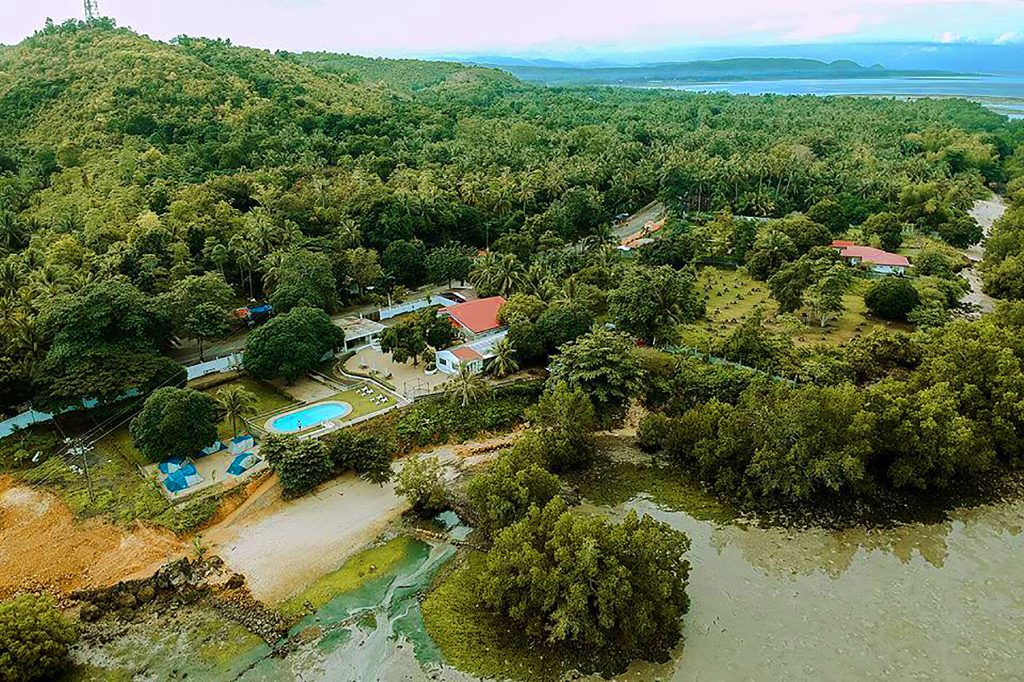 Formosa Camp Resort – Bagasawe, Tuburan, Cebu
Glamping has been the name of the game this season. A term that resulted from combining the words"glamorous" and "camping", glamping  includes outdoor overnight stays in glamorized tents with hotel-like amenities. The experience will surely be a different kind of bliss.