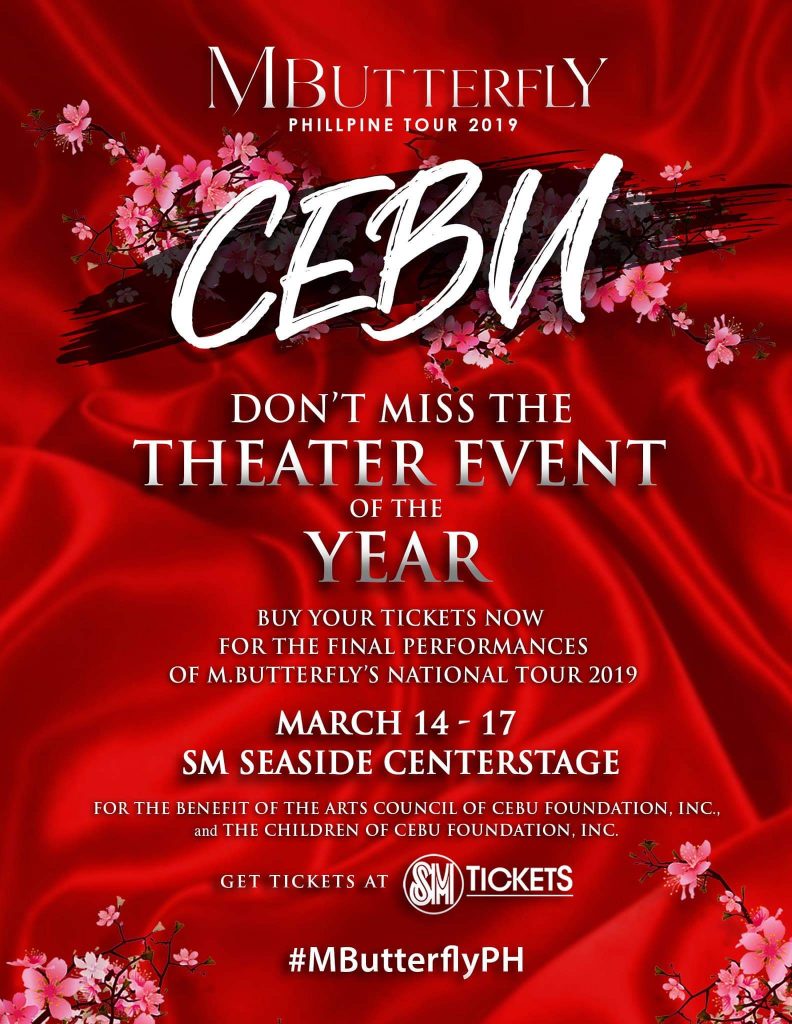 For its final performances, the M. BUTTERFLY National Tour 2019 will spread its wings at SM SEASIDE CEBU from March 14 – 17. Presented by Tony and Grammy award winning producer Jhett Tolentino and FRONTROW Entertainment (producer of highly-acclaimed independent films Bhoy Intsik and Bwaya), this world-class masterpiece is brought closer to those who did not have the opportunity to catch its 2018 Manila run. After all, location should not limit one's exposure to the arts and culture.
Due to many challenges and technical details that come with productions, most theatre companies in the Philippines are often hindered from bringing their projects to other key cities. Because of this, Jhett Tolentino and FRONTROW Entertainment are taking this bolder step to carry on their mission and advocacy in the performing arts and to further enhance audience development throughout the Philippine archipelago.
A revival production of David Henry Hwang's M. BUTTERFLY, this is the winner of the 2018 ALIW AWARDS for Best Play, Best Actor and Best Director and nominations for The Best Featured Actress in a Play.
Targeting audiences between ages 18 and beyond, the producers are
hoping that this classic drama, inspired by Giaccomo Puccini's opera 'Madame Butterfly', will likewise resonate to theater audiences from Luzon, Vizayas and
Mindanao that " love, power and deception holds no boundaries – whether this be
in a rural or urban setting."
The M. BUTTERFLY NATIONAL TOUR 2019 will benefit the following charitable institutions namely: Iloilo Prima Galaw, Philippine National Red Cross Iloilo Chapter, The Children of Cebu Foundation, Silliman University Culture and Arts Council and the Arts Council of Cebu Foundation.
The schedule of performances of M. BUTTERFLY in Cebu are as follows:
Mar. 14 – Thursday – Opening Night – 7pm
Mar. 15 – Friday – 7pm
Mar. 16 – Saturday – 2pm / 7pm
Mar. 17 – Sunday – 2pm / 7pm
VENUE : SM Seaside City Centerstage
For tickets, you can get them at SM Tickets through any SM Mall or SMTickets.com.